| | |
| --- | --- |
| | CALLIKIA's Recent Blog Entries |


Wednesday, May 09, 2012
I've been struggling with the idea of this second job for...well, since I started. On the one hand, the extra money will be great in getting my family back where it needs to be. Hubs is in between paycheck periods from the old job and new, and I knew that this would help us from falling too far behind. That being said, there's a lot of resentment building up inside of me, and I hate that about myself. Hubs is onto a good thing here...I have to keep reminding myself of that...and this is only temporary.

Only...I'm not so good at "only temporary" because I hate letting people down. I hate knowing that good people are trying to train me on things (and, boy, have I been trained!) because they're counting on me to be the help they need right now. I know my assets. I learn fast and I'm always ready and willing to take on any extra responsiblity if it means helping out the team. Of course, this is a major cause for making me lose my dang mind every now and again, so I'm stuck between trying to settle within myself what I need and trying to help other people with their lives. Sometimes I'm just a little TOO compassionate for my own good.

I have 45 days of this probationary period. Either me or my employers can decide within that time that it's just not working out and just up and leave. But I'm not good at quitting...even when I'm failing (like I have been at losing weight), I can't accept failure or defeat. I can't fathom the thought that I "CAN'T" do something because I hate that word and all it means. So as much as I want to quit, I can't bring myself to do it without giving it the old college try.

That being said, I'm exhausted, and everything else seems to be slipping. Try as I might to keep the fire going to lose weight and exercise...it's been really hard fighting the need for sleep and rest. Standing for 5-8 hours a day wears my body out so much that by the time I get home I can't fathom the thought of putting it through any more challenges. I thought my body would be better suited to this job after all the training I've given it...but I don't know how people stand still for 5 hours straight without wanting to pull out their hair. And when I try to keep busy...well, certain people at this job want to give me rules about what I'm not supposed to be doing. "You can't bag for me." "You have to stand there." Blargity-blargh, dude. If I can bag for you and still pay attention to the other things that need my attention, then what are you b!tching about? God forbid someone do MORE than what's expected of them, right? You all might have a friggin' heart attack and die or something because someone did more than was required even though they were only getting minimum wage. (Sorry, I just don't work this way. I like to stay busy. An hour spent watching a clock as I do the least amount required is just wasted time to me.)

And the troubles that the standing still is causing are numerous.
My foot hurts from the PF even though I try to stretch it out all the time.
My ankle has started to hurt so much I'm thinking I might need to wrap it for work. It feels like it's going to snap any minute!
My neck area is suffering...a lot. That darn calcified ligament is not doing me any favors and I can feel it pinching my nerves now and again.
My lower back hurts like an SOB...and I know I need another appointment with the chiropractor...I just can't figure out when I can make that happen since I'm working every day.
I know my hips are majorly "off" again (actually, it's my pelvis, but it causes problems everywhere else).
My knees hurt.
And, the most surprising two - my right shoulder has been hurting a lot (I guess from pulling groceries across the scanner over and over again all day) and the finger pads on my left hand are starting to blister and crack (I have no reasoning for this....no friggin' clue...though it may be caused by the soap in the bathrooms as Hubs' hands were eaten up by the that soap when he started there and we were starting to worry he has psoriasis or something).

All I keep thinking is how this job has stripped me of all my confidence and made me feel like the uncapable fat girl once again. I can walk 10 miles but I can't stand still for an hour without wanting to rip out my own insides in order to redirect the pain or make it stop.

All that being said...there have been slight improvements.
Yesterday I worked 5 hours at the store. (Training in yet another area.)
On my 15 minute break, I made myself a protein shake with 2 scoops of powder and a bunch of water.
After work, I grabbed some ham, roasted chicken breast and cheese from the deli and, instead of stopping by one of the 10 food places around me to get food, I went home and made a sandwich instead.
(Bad: I made 2 sandwiches. However, I hadn't eaten since about 8:30am that morning and had only had the shake to keep me going. It should have been enough...but it wasn't.)
For dinner, my oldest whipped up some tacos with ground turkey breast and I made "refried beans" by just blending up some black beans in the food processor.
(Bad: I ate a little too much, but I tried to keep myself in check as much as possible.)

However, I didn't log. Finding time to log has been a major PITA...even though I know I'm not going to get ANYWHERE if I don't do it. I have to log. I can trick myself into thinking I did great and then have a day where I've eaten 3k calories because I didn't remember that I had that cookie or an extra serving of cereal or something.

I feel like I'm starting all over again, so I guess that's what I'll have to do.
I can't be a calorie nazi right now, I just have to know what I'm doing right and what I'm doing wrong so I can make changes later to adjust.

I also was inspired by my 10-year-old yesterday and the two of us did some ST moves while watching Glee and New Girl last night.

25 modified pushups
15 burpees
150 crunches (well, I've passed that goal for May already!)

It wasn't a lot...but it was better than the nothing I felt like doing. And I would have done more burpees if it weren't for the fact that they hurt my @ss right now. I somehow pulled my gluteal muscles while stretching the other day. Maybe all this standing is giving me a tight tushy or something. *shrug*

The only downside is...I have no desire to go to the gym tonight.
None.
Nada.
I want to cancel my supervised workout and go home and clean like a madwoman and cook the soup I've been trying to find time to make for the past 5 days. There are too many things on my to-do list and not nearly enough hours in the day.

Plus, I get off work at 4:30pm, which means I COULD be home before 6...but I couldn't get my trainer before 6pm...which means if I do choose to workout tonight, I'll be staying at the gym from 4:45pm until probably 7pm...and I do NOT want to do that. At all.

I might cancel.
Seriously.
Just reschedule it for next week and go burn some calories doing what I really NEED to do.

But I don't want to skip another day of Stronglifts...because I skipped Monday when I pulled my butt. (yes, I know this sounds funny, but it's totally true!)

ARGH!
Decisions.
Hate making them.
I feel like I'm going to let myself down no matter what I do.

And how the hell am I going to feel after working out for 2 hours...because that's what I'll do if I stick around. I can't just "relax" for an hour while I wait for my appointment. I don't work that way. So if I go tonight, I'll do my Stronglift set and THEN do another 45 minutes with the trainer. And how the hell am I going to walk after doing all that?! *sigh*

I guess we'll see...

...I need a nap...
...and a stiff drink...





Monday, May 07, 2012
As in...this is trying my patience and resilience.
And as in...but I'm still trying.

No, my food choices have not the best. I haven't been able to get enough water in me. I can't seem to find a second to breathe, let alone get a workout in. And my body aches like I just ran a marathon (I'm guessing).

The last day I had off was last Sunday. I have literally worked every day in May. And it's getting really difficult to stay on track as I try to adjust.

Let's just get right to it. I haven't done the best job at keeping up with it. But I've been taking mental notes and trying to figure out how I'm going to adjust and make this work.

I'm learning that some of my expectations are unrealistic.
And some of them...well, I just have to figure out how to make it work.
This seems like a huge adjustment period all around, but I have faith that I will get used to it eventually. (Or, at least, I hope I do each and every day.)

Last Monday through Thursday I worked my regular desk job.
And then Friday, Saturday, and Sunday each I put in 8 hours at the store.
And it was the first of the month, so anyone who has worked in a grocery store can tell you that we've been completely swamped. I was supposed to train in the front office (customer service desk) on Saturday, but we were so busy all dang day that I ended up training for no more than about 30 minutes and the rest of the time I spent at a register ringing people up.
I have a newfound respect for grocery store cashiers, I can tell you that.

Last night I pulled the late shift and was the very last person on the front end to leave...at midnight. *bangs head on desk* Thank goodness I didn't have to be at work today until 8:30am and I got to sleep in a tiny bit.

I do have a feeling that there are going to be no more early morning (as in 4am) wake up calls for workouts. I'm going to have to switch to evening workouts again, I'm pretty sure.

As for food... Well, I work in a grocery store...you'd think it'd be pretty easy to find something to eat there. But there's not really anywhere to prepare anything. Plus, we only get 30 minutes to buy food, cook food, and eat food. So that doesn't really leave very much time. A sandwich from the deli and a side of carrots and hummus works, and I've bought a few protein bars and am basically living off of G2 while at the store. Adjustments need to be made and I really need to work on getting used to all the standing around so that I can focus on me for those 30 minutes and what my body really needs in that time.

Did I mention that I don't have a single day off this week? Tomorrow the state is off for election day, but I'm pulling a shift at the store. Wednesday through Friday I'll be at my "normal" job, and then Saturday I've pulled another shift. The only good thing I can say is that they're not both 8-hour shifts. 5 hours tomorrow and 5.5 on Saturday. And then who knows...our schedule for next week will be out on Friday.

So, yeah...I'm struggling a bit. I was at 305 on Sunday, but I can't say if that's a true read or not. 1) I haven't been getting all my water in. 2) I've been on my feet more than ever this weekend. 3) I'm stressed beyond all belief. 4) My body, and my mind, are both confused as to what the hell is going on.

I do know that I haven't had a fresh homecooked meal in 2 weeks. And it's killing me. I MUST find time to cook...but I'm going to have to be quick about it to fit it all in. So I'll be on the hunt for quick and healthy recipes.

Trying ....
we'll see how it goes.

BTW - If you see my sanity, could you let it know I need it back? Thanks!





Thursday, May 03, 2012
So, I bit the bullet last night and asked my son to take some progress shots of me. I probably should have put on better pants as these don't quite fit me anymore, but, alas, such are the woes of "weight loss".

We've all been told a million times that the scale is not a good measure of weight loss. We can fluctuate from day to day. Water retention. Bloating. "Muscle weighs more than fat." (BTW - if you don't already see the flaw in logic behind that one, look harder. The correct phrase is - "Muscle is more dense than fat.") Ya-de-ya-de-ya.

Trust me, I, like so many of you, thought it was nonsense BS fed to people like us that are having trouble staying motivated when we aren't seeing progress on the scale.

Which I haven't.
Like, at all.

The past few months...okay, basically all of this year and the better part of 2011...has looked like friggin' sketch for a very boring roller coaster at a local amusement park when plotted on a graph. My yo-yo plateau has become the source of many "inside jokes" in my family. "Ooh, you're eating a carrot! You're going to gain two pounds!" "Ooh, you went pee?! There goes 5 pounds!"

It's kinda funny...until it's not.

But I'm going to take all of those doubts and worries right out of your pretty little heads right now and tell you the one most important lesson I've learned that you don't want to hear again.

That scale of yours doesn't know JACK!
He's a liar!
He likes to cheat you and trick you and steal from you.
He's only trying to get you down.
He's the worst emotional abuser I've ever had the displeasure of meeting.

And he means NOTHING. I promise.
And I have proof.

What you are about to see are progress pictures from January 2012 to yesterday, May 2, 2012. The weight loss difference displayed in these two pictures is miniscule. About 2-4 pounds, tops...according to that friggin' liar with his little beeping dial of doom.

(And, for the record, I tried to weigh myself today, just for the purposes of this blog. I feel bloated today and I'm likely ABOVE the weight of the January pictures...but three tries on the scale and it was a no-go. Even Mr. Scale knows we're taking a break...and apparently he's none too pleased. Ah-well. Time for him to feel the emotional sting! HAHA!)

Now... on to the photographic evidence.
Before Pictures - January 2012, Weight: 306 pounds
After Pictures - May 2012, Weight: *shrug* Last I checked it was 302 (Sunday)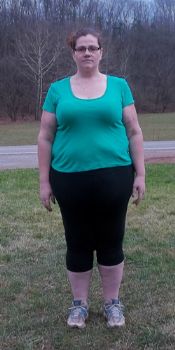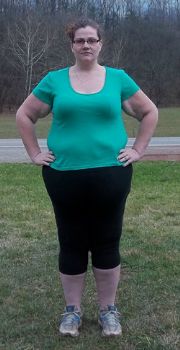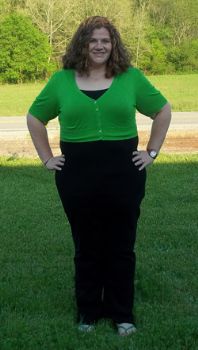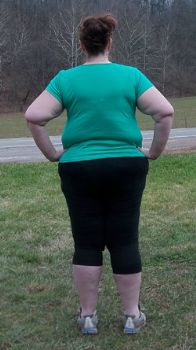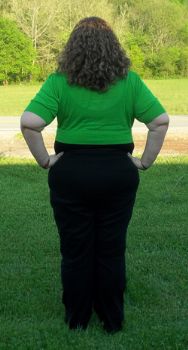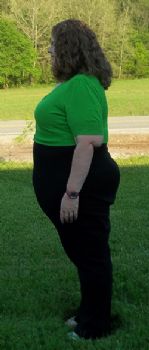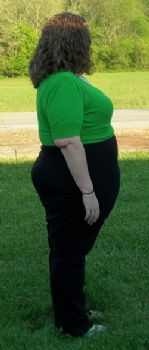 Be sure to check the waist/hips area, as that's where I've seen the most improvements (well, my legs too, but you can't see them for my poor choice in attire).
There you go. Enjoy!

I would also like to note that the progress you see before you was mostly achieved through strength training in the form of heavy lifting and body weight exercises. LITTLE to NO CARDIO WAS INVOLVED.

Yea, I heard you gasp. Go ahead, don't believe me.

In December of last year I started to develop serious plantar fasciitis in my right foot. It remains to this day (although, thankfully, it has been healing since I've basically sworn off most forms of cardio exercise...even walking). So I stopped running. And Zumba was a no go. And not long after I had to give up most walking workouts as well. Everything bothered my foot (and still does to this day). Yes, even the rowing machine and the bike tweak it, though not as much as the treadmill or the elliptical. So I did the only thing I could...I started lifting and working on building lean muscle.

So for those of you firmly under the belief that you MUST do cardio in order to "lose weight"...well, maybe you're right. Remember, I've only lost, at most, four pounds in 4 months. But, even so, I'm sorry you had to see those pictures...because they might just prove that you can get lean without running 20 miles on the treadmill. *shrug*

(For the record, I'm not saying running is bad. In fact, you can ask most of my closest friends and they'll tell you I miss running so much that it hurts my wee 'lil heart sometimes. I'm just saying that there might be truth in what every figure competitor and bodybuilder has ever said -- Cardio is not necessary to slim down.)

Just in case you've forgotten...here are pictures from exactly 2 years ago today, when I was weighing 403 pounds and just really starting out.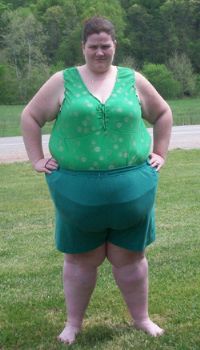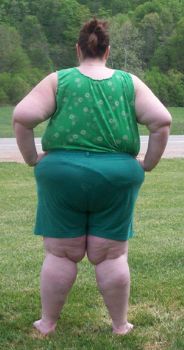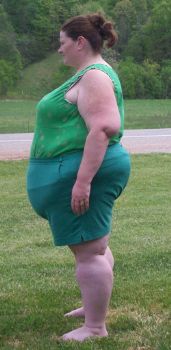 And, just for fun and because we were taking pictures last night...here's my progress on Dancer Pose and Standing Split Pose.

Dancer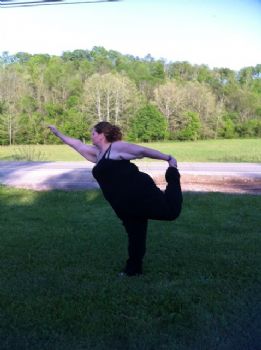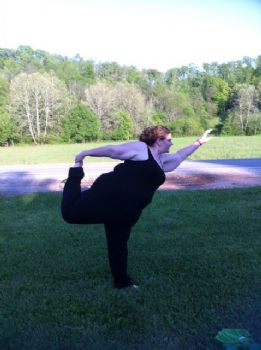 Standing Split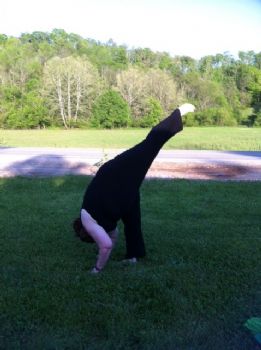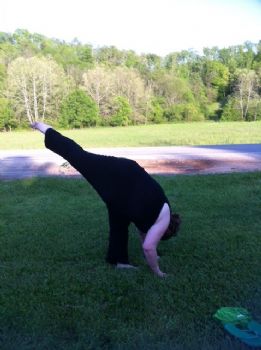 For the record, the kids and I only completed one round last night of my crazy homemade circuit. We're going to try to amp it up on Saturday and do 2 or 3 in a row. We've made a competition out of my May "Iso" Goals as well. Each of us put $2 in a jar on the kitchen counter. The person who does the most of the pushups, planks, crunches, burpees, mountain climbers, etc. that I have mapped out for May will win the entire $6 pot. Should be a fun challenge for all of us! I love getting the kids involved (and am SO happy that my oldest, Logan, decided to join Ethan and I in the challenge)!

Stronglift Workout B scheduled for after work tonight...then maybe a late dinner with a friend. We shall see!





Wednesday, May 02, 2012
Yesterday was a great day. It was also a bad day.

Let me start off by thanking all of my new Sparkfriends and the goodie but oldies who stopped by to lend support and encouragement after my "Lightbulb Moment" blog yesterday. (And special thanks again to my girl Karvs - she's back! - for inspiring it.) I wrote it mostly for me, but also for all of you...because I think we all need to empower ourselves. No matter what shape, size, or configurement (*lol*) we have our own worth...we just have to learn to reach out and claim it.

But as much as I can tell you that the scale doesn't run my life, just know that, like most of you, it still haunts me. I had to force myself to stay off of it this morning. Breaking up is hard to do my friends...but he was no good for me and we really do need some time apart.

This morning I almost did backslide, though. (Thanks, New Girl for the new phrase!)

In addition to this difficult breakup, my life is full of chaos and turmoil right now as changes have been set in motion that seem to be defining the next chapter of my life. Hubs is moving into a new venture and while it's exciting and promising as all get out, I'm the kinda girl that both loves change and is scared as hell by it. Add to that my new part-time job, which is also promising, but poses its own set of challenges and, well, I haven't slept in about two weeks. Not really. I'll fall asleep and then wake up gasping because of all the worries that are plaguing me. (Hubs says it's pretty annoying, actually... *lol* I told him he should be thankful he's been able to actually sleep and not have to live it.)

But yesterday, after finally owning up and releasing some of my weight loss woes...
Last night I slept.
I slept long and hard.
And I even woke up this morning at 4am for my morning workout...
and then chose to sleep some more.

Don't worry, I'll get my workout in. I've been looking forward to this one for two days, actually. I'm going to get started on checking off my "iso" stuff from my May goal sheet. I've created a killer (probably) circuit that I can do ANYWHERE. Which meant I didn't need to go to the gym at all today if I didn't want to. I think that in itself also released a lot of my fears and tensions and worries allowing me to sleep last night. I even asked my youngest (who has been working out about 4 times a week with my NTC app in an effort to condition himself for the upcoming football season) if he maybe wanted to do it with me tonight.

I can't tell you how pumped I am.
And scared.
But mostly pumped.

I think I might actually challenge my son to join me this month and see if we both can't hit my May goals...and see if there's any he'd like to add to them. Maybe each weekend we'll challenge each other in to a "Workout Off" (kinda like a dance off, but with ST moves and stuff). Could be fun, right?

If I learned anything yesterday after reading and watching brilliant blogs and vlogs from MOSTMOM1 (seriously, check her out! it's inspiring!) it's that exercise doesn't have to be dull and boring. Sure, some of it is serious business (my Stronglift 5x5), but the rest can be fun and silly and goofy.

I think it's high time I brought some fun back into this world of mine!

Goals for today:

* Eat on track. I'm going to shoot for an average calorie intake of 2147. I like the oddness of that number. *lol*

* Stay away from the ice cream! *lol*

* Workout tonight with my son. Here's our circuit, which we'll do 2x:

15 modified pushups
1 minute mountain climbers
15 regular crunches
5 burpees
1 minute plank
1 minute jump rope
15 raised leg crunches
1 minute mountain climbers
15 pushups
5 burpees
15 "BigTinys"
1 minute jump rope
1 minute modified plank
1 minute mountain climbers
15 reverse crunches
5 burpees
1 minute side plank
15 oblique crunches (each side)

Breathe! and Repeat once

* Take progress pictures.

One other challenge for myself. I'd like to start photographically recording the new yoga challenge moves I've set for myself. For the record, a while back I challenged myself with Dancer Pose: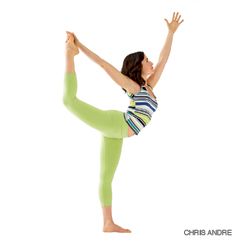 I had to hold onto support at first, but now I can do this pretty consistently (though it's not exactly pretty and graceful yet! *lol*). I still have more work to do to get it a little more advanced:



(Nowhere near this yet!)

And then last month I challenged myself with a standing split: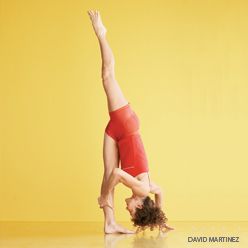 At first I simply raised one leg from downward dog pose. Then I progressed to bringing my arms in closer to my leg. Just yesterday I was able to bend at the waist while bringing one foot in the air behind me and place my hands on the floor next to my foot. But my back leg isn't quite straight yet...that's the progress I'll have to make (if possible).

I thought to myself yesterday, though... Wouldn't it be nice for all of you to see this big girl struggle and then progress through poses most people would think aren't possible? *shrug* It could lend some support to people out there who have that silly mindset that fat girls don't do yoga. I promise you, they do. (At least, this one does!) And it'll be a great reminder to me of other NSVs I've marked down along this thing I no longer call a journey of weight loss but a journey of self-betterment.

Any interest in seeing some not graceful attempts at some beautiful poses? *lol*
And feel free to hit me with new pose challenges, but understand that I might have to turn some down because I have considerations (back issues, a misaligned pelvis, osteoarthritis in my knees, and a calcified ligament in my neck) that have to be taken into account. (Not to mention body weight, which does affect my ability to do some moves.

Have a happy day, everyone! It's May! Only 8 weeks until summer! Let's make 'em count!!


now...

later! :)

(Photos courtesy of www.magnetictimes.com.au and www.yogajournal.com.)






Tuesday, May 01, 2012
My girl Karvs said it best yesterday when she said, "I'm glad that May means that you won't be fixated on getting to the 200s for good..." She's right you know? I have been fixated on this one goal since about 2005. I busted my butt to get out of the 400s and then the 300s just mocked me for years. "You're 300 pounds!" became quite the negative mantra in my head. I belittled myself and berated myself while I watched other people enter the 200s and even the 100s without looking back.

What was wrong with me?
Where did I go wrong?
Sure, I'm not perfect...but certainly they weren't either.
I was making excuses for myself.
I was doing everything I could and nothing was working.
I was meant to be 300 pounds.
I was never going to succeed.
I was never going to have what I wanted.
Eat less, exercise more.
Eat more, exercise less.
Eat whatever, don't exercise...because it doesn't really matter anyhow.
Ooh! 298! Yay! I did it.
Oh, sh!t. Back to the 300s. *sobs*

Truthfully, I've put my family through hell over this. I can't tell you how many times I've started a week yelling and screaming and acting like a 5-year-old ranting about how life isn't fair and telling them that something MUST be wrong with me. Telling them I was weak. Telling them I wasn't good enough. And all the time still trying to make it work. I'd spend the better part of each Sunday in tears, and then I'd pull myself up on Monday and try again. And got disappointed again. And round and round we went.

I'm sure that my AB girls and my Spark Friends are sick to death of hearing about my struggle to reach 299...or, as I prefer, 298. (Because, for some reason, 299 isn't "good enough" either.) I've ranted and raved and talked about giving up more times than I can count.

But the worst part of all is that I've let myself believe this BS I have floating around in my head.

I'm going to have an Oprah moment here, so bear with me. The other day as I was flipping through the channels, I saw one of Oprah's "Life Class" episodes on OWN and Tony Robbins was on. I caught a few glimpses of him talking to some woman about success, and why we think we always fail to achieve it...and how we can get past that and grab success by the horns and ride off into the sunset. He had the woman stand up and he asked her, "Whose love did you want more than anyone's growing up? Mom or Dad?" The woman was taken aback. Whose love did you WANT the most? I answered the question in my head along with the woman on stage. Dad's. I know this. I fought for years to MAKE him love me...and he never would...nothing I could do could make him love me the way I wanted him to...the way I NEEDED him to. Tony: "And what could you never be for him?" The woman thought for a while and then finally answered in an "ah-ha moment" type way...but I don't remember a word of what she said. Because the one word that popped into my head (and hasn't left since) is "enough". I could never be enough for my father. I wasn't strong enough, brave enough, smart enough, pretty enough, clever enough. It didn't matter what I did, I lived my entire childhood trying desparately to simply be "enough"....good enough for him to love me. And time after time I fell short.

I remember camping once. My parents were Girl Scout leaders and we didn't have a lot of money so camping was a go-to vacation idea for the summer. We were camping as a family once and my father and I were tossing a softball back and forth. I remember so clearly him throwing the ball at me with all his might, me missing it in my glove and it pummeling me in leg. I felt like my lower leg bone was shattering. I collapsed and starting crying. Holy HELL that hurt! And then I remember the remarks that came flying out of his mouth. I was a wimp. (Not strong enough.) Why the hell was I crying? (Not tough enough.) He wasn't going to "play" with me anymore if I was going to act like that. (Not worthy enough of his time.) I got up. I made myself stop crying. It still hurt. I could still feel it burning. I wiped my tears and grabbed the ball, but he was gone. And we never played catch again after that. I kept thinking in my head that I wasn't "boy enough" for him. Even from a young age I knew he would have rather had a boy than a "stupid, silly girl". He already had my sister and she was perfect...so why did he need a flawed little girl after that?

This memory haunts me to this day. And there are plenty more "not enoughs" to go with it. (And if my father were to read this, he'd go on and on about how horrible I am because I only remember the bad things and none of the good. But all of the good I remember was followed by moments like these...moments of "not enough" berated into my head over and over again.)

So as I've fought for this milestone I thought was the most important thing I could ever achieve in my life - hitting the 200s - and didn't make it, it became very clear to me...I wasn't good enough at this. I didn't deserve it. I wasn't worthy.





What?!?!

Hold the flippin' phone there, buddy!
You aren't "good enough" to lose weight? WTF is that about?
How does that even make sense?

When Karvs (Okay, I know her screenname is RUNNINGCHUNKY now, but she will always be my Karvs) said that it hit me right square in the gut. In a good way.

"Single-minded to the point of recklessness." (2 points if you know what movie that's from.)

I promised you all progress pics...but I don't have them taken yet. But even taking my monthly "face shot" hit me today...as well as looking at some pics on my phone I'd taken of myself throughout the month of April.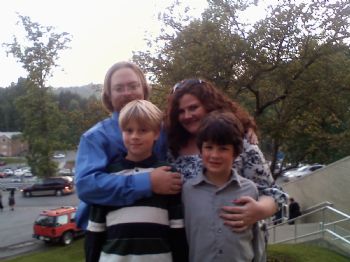 That's me in 2009. See me? Hiding WAAAAY in the back. Covering myself up with my own children as human camera shields? You gotta look closely.

I had given up the fight then. I didn't think I was strong enough to keep fighting. So I just gave up.

And then April 19, 2010, less than a year later, I woke the fluck up. Finally.
I joined Spark and stopped hiding. (You can note, I even let my Sparkversary pass without a second thought...because I didn't seem to care about that number either.)
At 416.2 pounds, I thought nothing of whether I was any "enough" to do anything. I just put my chin down and went forward. Come what may. If I failed, so what? If I succeeded, cool. But I just wanted to try.

It came on like a storm.
*I* came on like a storm.
I did things I wasn't supposed to be "enough" to do.

I wasn't skinny or fit enough to walk a 5k - especially not one with a monster hill to start - just 4 months after trying to lose weight.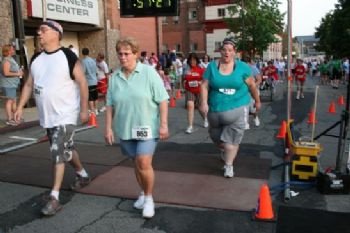 I guess I didn't realize that at the time.

I wasn't "cool enough" to meet one of my Spark idols. Someone who inspires me still to this day.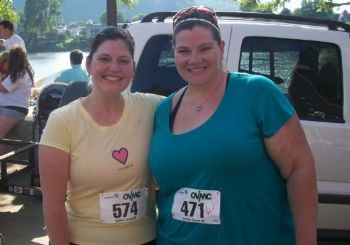 It took two seconds of Hello to vanish that thought from my mind.

I wasn't cool enough to be anyone anyone wanted to know about.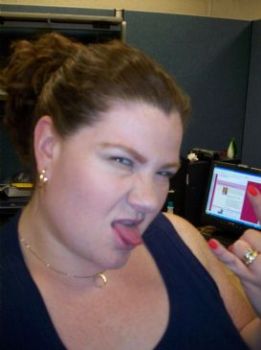 But I became a Spark Motivator anyhow.

I wasn't tough enough to brave a gym with all the hard bodies and rock hard abs staring my fat belly in the face.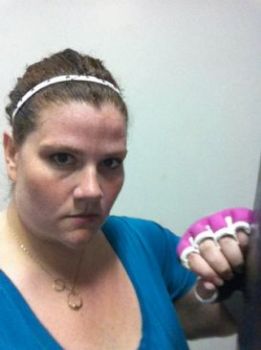 Well, maybe sometimes I just "faked" my way through...

Suddenly...I stopped hiding and started shining. I kept a strict record of each recorded weight for each picture I took and, yet, I don't remember how "big" I was when I hiked for 5.5 hours after getting lost in June of 2010. I do remember being brave enough to climb over rocks bigger than I was and walking down narrow slick paths that should have meant the death of me. I remember my family telling me how great it was that I remembered to pack filling, healthy, protein and fiber packed meals. To this day Hubs remarks that had I not packed properly, we likely would not have made it through that hike in one piece.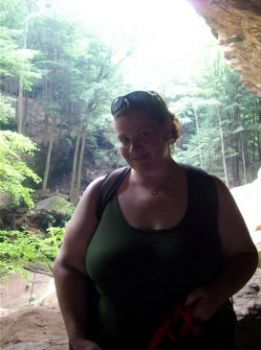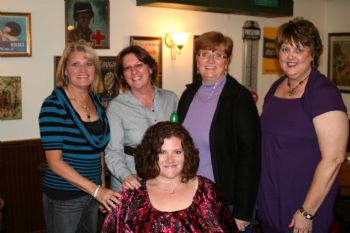 I was silly enough and good enough to be included in "reunion" type anniversary photos of my aunt's wedding (I was the flower girl around age 4 or so).



I was "brave enough" to buy my first car...and take a full-body side shot in front of it.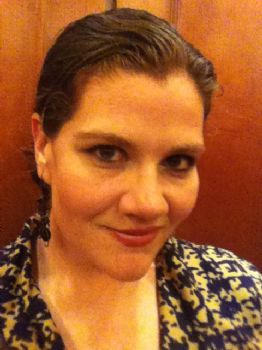 I was chic enough to visit the Greenbrier Resort in White Sulphur Springs.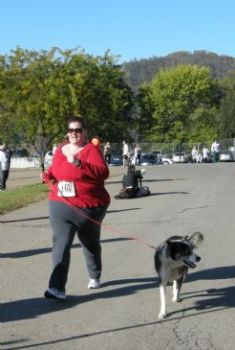 I was "fit enough" to start running.



I was strong enough to run a mile without stopping.



I was seriously done hiding.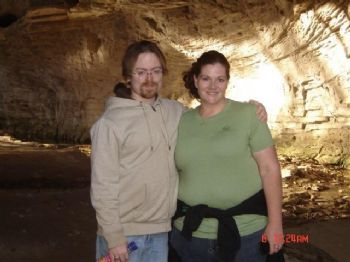 And I began to reclaim the life I once dreamed I would have.

It didn't matter that I was "still 300 pounds". It didn't matter that my weight loss had stalled out like the fading embers of a fire long forgotten. None of that mattered the tiniest bit.

And as I looked through my pictures and thought, "My! How I've changed!" A thought occurred to me...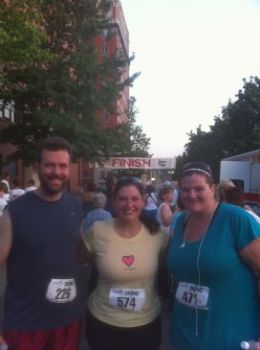 No...I haven't...not really.

I've always been bold and silly and goofy and wild and crazy.
I've never accepted that what other people say I can do is the limit of my abilities.

For no matter how many times I was told I was not "enough"...I knew that I could show myself, if not anyone else, that I was more than enough. I mattered. I was important.

I'm not here today to boast that I'm in the 200s now.
In fact, I refused to weigh myself this morning.
I'm done weighing myself right now...because Karvs made me realize how reckless I've been to become so fixated on a silly number.

I've come to celebrate the fact that not only have I lost 115 pounds with Spark...and not only have I lost more than 165 pounds through simple changes in diet and exercise since 2005...my biggest accomplishments are a different set of numbers entirely.

Numbers like:
3.1 - My first 5k, and several that have followed
1 - The first mile I ever ran without stopping
5 - The total number of miles I was able to run without stopping
2 - The number of children that have changed their eating habits and have started playing outside more and exercising and being more active
1 - The number of Husbands I aim to shock each and every time I hit another NSV

And even more important are other numbers that don't even have a definite value, because they are too numerous to count...

The number of pictures I've "posed" for without trying to hide since April 2010.
The number of times I refused to give up even when it got hard.
The number of people whose lives may have been touched just a tiny bit by my unwillingness to give up, even though the road is long and full of dusty, rocky, bone-shattering pot holes.
The number of people I have encouraged to try, or to keep going, or to give it a go simply by setting a good example.
The number of times I've allowed myself to be brave, and goofy, and wild, and vulnerable in front of other people, always afraid I won't be "enough" for them, but never letting that stop me from trying.

Remember, the scale is not the end all, be all of this journey.

It's in the number of steps you take toward living a healthier life.
It's in the lowered risk of death and disease from having a healthy heart and lungs.
It's certainly in the number of pounds you can squat on a barbell! ;)

For now, the scale has been excused from this journey.
I don't know if it will return on Sunday for weigh-in, or if I will stay away from it for several weeks or all of May.
It's really not all that important.

What IS important is...

...the number of beads of sweat pouring down your face in the gym.
...the number of grunts coming out of your mouth when the going gets tough and the lift is pretty hard.
...the number of swipes of a gym card.
...the number of minutes spent cooking healthy meals, making healthy plans, feeding a healthy heart with the proper nutrition and exercise.
...and the number of breaths that this new chosen life of ours has allowed us...simply because we took the first step, and followed it with another, and refused to give up or give in or say die.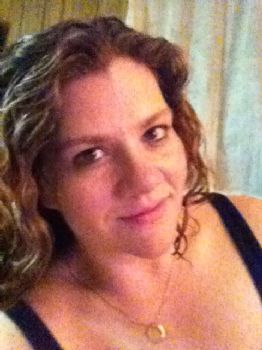 I'm good enough to put the time and effort into....are you?



First Page
1
2
3
4
5
6
7
8
9
10
11
12
13
14
15
16
17
18
19
20
21
22
23 24 25 26 27 28 29 30 31 32 33 34 35 36 37 38 39 40 41 42 43 44 45 46 47 48 49 50 51 52 53 54 55 56 57 58 59 60 61 62 63 64 65 66 67 68 69 70 71 72 73 74 75 76 77 78 79 80 81 82 83 84 85 86 87 88 89 90 91 92 93 94 95 96 97 98 99 100 101 102 103 104 105 106 107 108 109 110 111 112 113 114 115 116 117 118 119 120 Last Page

Get An Email Alert Each Time CALLIKIA Posts