| | |
| --- | --- |
| | CALLIKIA's Recent Blog Entries |



Sunday, August 28, 2011
So, yes, it's been a LONG time coming. I had so many dreams about how I would post this blog and what would be in it. Surprisingly, because of the challenges I've faced this year, this blog is going to be so much different than I ever anticipated it would be...and I'm actually thinking that's a good thing.

First things first, for all my buddies out there, and strangers I have yet to make my buddies, the ones struggling to lose more than 100 pounds and feel like they're fighting tooth and nail to get there, I'm with you! For those just starting out and wondering if it's possible - it is, but it takes a LOT of hard work. For some it's a little easier than for others. But some of us struggle. We get through the first 80 in a pretty easy fashion, and then we fizzle out or meet challenges or let life get in the way and we struggle against struggle, fighting for those last 20 pounds and the opportunity to finally say, "I lost 100 pounds!" What have I learned from this journey? The fight is hard, but it is SO worth it!

Let's review my journey, shall we? And settle in, because I have a feeling this is going to be a LONG one!

I started Spark on April 18, 2010 at 416.2 pounds, but that's not where my journey starts. It starts way back in 2004 when I weighed in at 466.6 pounds at an appointment/consultation considering gastric bypass surgery (I never got the surgery). When I saw those numbers, I wanted to cry. What I did instead was buckle down and get to work. It was hard. I was mostly bedridden. It hurt to do anything. I was always out of breath and could barely move. I felt horrible, ugly, as unsexy as any woman probably can. I had let myself go because I didn't see the point anymore. I was digging myself a slow grave and I tried not to show that I cared. I tried to make people think I thought I was still worth their time, but I didn't even feel like it was worth my own.

I started counting calories. I started driving 30 minutes into town to weigh in on a doctor's scale that would weigh over 400 pounds. I started Walk Away the Pounds. It was slow going. Some weeks I'd lose several pounds. Some weeks it would be a couple ounces. On the weeks I lost none at all or gained, I talked myself into continuing somehow and I kept going. Eventually I bought my own scale that weighed up to 440 pounds. I had worked my way into being able to use it and I was fighting the good fight. And then we decided to move, and things got in the way, as they tend to do. I fought tooth and nail to finally get down to 366 pounds so I could say, "I lost 100 pounds!" And then I quit. It was too hard. I was tired, and sore, and oh, so busy. I didn't know the area. I didn't have a solid support system. I didn't care anymore because I couldn't see the light at the end of the tunnel. So I gave up and let go of any hopes of ever getting to where I wanted to be. I told myself I wasn't ever meant to be skinny or fit. This was my lot in life and I needed to just accept it.

The weekend before I started Spark, I went to visit an old friend in Ohio. We had a fun weekend, but she was working on losing weight and I kept thinking, "Why is it that I gave up? I have the ability and drive to do this." I knew I was working 2 jobs and going to school full-time so I knew the dedication to it would be difficult, but I couldn't wait any longer. I came home and Googled "free calorie log" or something of that sort and found Sparkpeople...and thus THIS portion of my journey began.

I didn't set lofty goals at first. The Spark plan was perfect because it told me not to worry about losing at first, just to start logging everything so I knew where I was. But the atmosphere swept me up and the support carried me. As soon as I started logging, I started watching what I ate. I didn't want to log 5000 calories a day. I wanted to be able to log fitness minutes. I started slow. At 416.2 pounds, I was almost back to where I had been at 466.6 pounds. It hurt to move. Stairs killed me. Walking was a challenge.

I started walking at the school track. I bought a inStride cycle on Amazon.com and started vowing to do 15 minutes from the safety of my recliner. Each day I'd log that measly workout and each day it made me feel better that I was doing something. It wasn't ever, "You're not doing enough..." it was "You're finally doing something! Good for you!!" By the end of week 1 I had lost 9.6 pounds and was feeling pretty good about it.

In April I lost 13.2 pounds.
In May, 7.4. I had finally reached the 300s again!

In June I surprised myself and my family as I endured a 5 and a half hour hike through Hocking Hills. It wasn't planned or expected...we got lost...and somehow I found myself along the path while we tried to find camp. It was a huge experience for me and I still bring it to mind when I have trouble. By the end of that month I had lost another 16.3 pounds!

In July I started struggling with a singular question - who am I and what do I really want from life? I started asking about what emotionally drove me and that was a huge step in the right direction as well, because it made me realize that I could define myself. It also made me realize that I hate being defined by weight limits that hold me back from doing things I want to do. I was struggling by the end of July, but I still lost 10.1 pounds.

In August I walked my first 5k. I felt out of place among all the runners, but the support of the crowd, and one stranger who I felt I may have inspired, I found my strength to continue with the most horrible blister on my foot and complete the entire 3.1 miles in under an hour. It was a huge lesson in fueling myself with pride in myself for what I was doing, not in how I compared to those around me. I was working HARD for that time, harder than most of the runners, and I deserved to commend myself for my efforts. It was another month of struggle as I fought to finally push past that 366.6 mark I'd already seen the first time around and enter more uncharted territory. By the end of the month, I had lost another 10.8 pounds.

In September I walked a 10k with my youngest son and I found joy in pushing my children toward a healthy lifestyle. I began to see outside myself and how this journey could affect my loved ones in a positive way. I started including them more in my journey and started making it OUR journey to becoming one of those fit, active families I never thought we'd be. I started toying with how to work the system a little better. I tried Midday Calorie Loading. I attempted a bunch of adjustments just trying to get to where I wanted to be and by the end of the month I'd lost another 7.2 pounds.

In October I started mentioning the P word. Things were slowing down and I was getting annoyed. I was scared of what was ahead and scared I'd never get there. I started to feel like it wasn't enough and I started to lose a little steam. But this was also the month that I completed 2 more 5ks...and ran portions of both. In Dayton, I ran with my entire family and a Sparkie. It was a family event and it felt great to see us all as fit. In Wheeling, I ran with another Sparkie who had done my first 5k with me...and I ran with my dog, who actually slowed me down! *lol* I started to see that there could be more, that it might be possible for me to become a runner and, boy, did I ever want that! By the end of the month, I had lost another 4 pounds and I started to feel like I was running out of steam. I still had my dreams, but I was afraid that I was already reaching the slow down when I still had SO FAR to go.

In November I took my first yoga class (love!) and my first and only pilates class (HATED! *lol*). I was trying to rebuild my self-esteem and drive and motivation. I felt like I couldn't afford another month like October. I fought my way to losing another 8.8 pounds that month, even with the holidays and that felt great!

In December, the crap hit the fan. I tried to ignore the pains I was feeling. I was still trying to run. I remained active while in DC for work training. I kept walking, running when possible, kept trying to make healthy choices, and by the end of the year I was reflecting on a great turn of events to 2010. By the end of December I had lost another 7.6 pounds for a total in 2010 of 85.4 pounds lost.

You can see a bunch of before pics in my end of the year blog: www.sparkpeople.com/mypage_public_jo
urnal_individual.asp?blog_id=3872023

I started 2011 with an ear infection (my first in my adult life), a bum hip, and, yet, somehow, a positive outlook. I was at 330.8 pounds and ready to tackle the last 30. I didn't expect to start hitting the brick wall over and over again...

By the end of January I had experienced an amazing trip in Vegas for my birthday, my first ever boxing lesson, and a gain of 2.2 pounds for the month. Uh-oh...

In February, I fought back HARD, and found my way to a loss for the month of 7.2 pounds, so things were moving again...

In March, I fell apart emotionally. I met a bunch of great girls in Minnesota but I couldn't get out of my own head. I kept comparing myself to them and every time, in my eyes, they won and I lost. I couldn't make myself feel the love I had for myself any more. I was trying so hard to "find myself" that I forgot that I could create myself. I was angry, pissed off, scared, and I wanted to quit. I hurt physically and emotionally and I felt like I'd never get to where I wanted to be - able to run - able to fly - able to be my own person and be proud of that. I lost another 5.5 pounds, but it was getting so hard to fight for every ounce and my confidence was wearing thin.

In April, I wrote this:
--
I'm tired.
I'm bored.
I'm frustrated.
I hurt ALL OVER.
I'm not seeing results.
And I feel like I'm drowning.
--
What happened? I didn't meet the expectations I had set for myself. I wanted my 1 year Sparkversary to also mark my 100 pounds lost with SP. I didn't take into account that I was still losing and still successful. I had missed my goal and therefore I felt it wasn't worth my time. It was a crazy notion - an all or nothing kind of emotion that flooded me. I had failed, therefore, I was a failure. But that wasn't true at all...I just couldn't see it at the time. I lost like 2 pounds that month. I was going to the PT and struggling with him taking me off all my favorite workouts - running and Zumba were out. Even the elliptical was a no-no. I had to sit my butt on the recumbent bike...and I HATE that machine...and I pouted and fussed and talked myself out of it. The light in the darkness, however, was discovering a new love for ST and being able to continue that even when my favorite standbys were out. I realized I could still build a great body through ST and I realized it was something I'd let fall to the wayside throughout most of my journey thus far. I hadn't really been devoted to ST and thought it didn't matter as much as cardio hours. But I was realizing the benefits now and I found a new exercise *LOVE*!

By the end of May I had fought my way out of the 320s, but I was still struggling, and since then I've yo-yoed between 322 and 319. I was floundering. I was still in a lot of pain. I was lost and defeated and I did everything half-way. I started letting in the "I don't care anymore"s a whole lot more. I stopped fighting so hard and just tried to be, to live, and to do the best I could.

April through August was a struggle much the same. For four months I fought back and then let go over and over again. I was trying to figure out what was wrong and I didn't realize it was as much emotional as it was physical. The weight loss success had faded and I felt myself fading as well. It hurt to do the things I loved and at times, I tried to do them anyways because I loved them, and then further injured myself and needed a few days off to recover. I needed to find balance. And that's when, like I said, I made the decision to just be okay with halfway. I knew these feelings...they were the same ones that had me quitting back in 2005 when things got hard. I did NOT want to gain back 50 pounds. I didn't want to gain back 10! I wasn't losing anymore, but I had to be okay with realizing that plateauing was better than sinking back into the abyss.

I can't tell you that I "woke up" or anything. The past few weeks, with the final diagnosis with x-rays from the chiro, I started to realize that my physical pains were real. It was okay that I hurt all the time. It wasn't me giving up, it was me realizing that I was sore and injured. We started working on the problem to fix it, and while he tried to fix my bones, I tried to fix my heart and my will and my self-esteem. I'm still struggling. I still hurt. And while I hope the hurt isn't everlasting, I know the struggle will be.

Last week I weighed in at 321.4 pounds.
This week I'm 315.4.
I lost 6 pounds just by refocusing myself and doing the best I could. I wasn't perfect. I realize now that I'll never be completely perfect, but knowing that I've got the ability again to lose, I'm ready to keep going. I've got a solid plan. I'll take into account the things that pop up. I'll try to work through the pain, but I'll let myself rest when I know it's needed.

My chiro is readjusting my bones.
My AB girls and Sparkies are helping rebuild my courage.
And me? I'm rebuilding my life. I'm putting the pieces back together and realizing they are stronger now because of how they suffered. I fought through. I could've quit so many times. I wanted to. At times I thought it was the only option I had left. But I didn't. I kept moving.

Losing 100 pounds isn't easy for anyone, but for some of us it's even harder. But fighting our way through can lead to us realizing the strength we really possess. Give me an open door and I'll run through it! Yesterday I tried again to run 2 miles straight, and I had to stop at 1. I didn't fail, I just didn't make it there yet. As I told my boys, "I will try every week from now until eternity and one day I will run those 2 miles and I'll feel better that I fought for it." Life is given to us, but we have to choose what to do with it. And Spark gives you the tools, but you have to be the one to take them and put them to good use.

I could've lost 100 pounds faster if I had dropped my calories ridiculously low. I could've strangled myself with the guilt and lived in confinement. But I didn't. I lived. This entire year I tried new things, some of them I loved (boxing!) and some of them I quit before I started because I realized I hated them (ice skating! EEK!). But I realized that the only person stopping me is myself. I get to say yes or no. I get to put the brakes on. I get to put my foot on the gas and keep going. Sometimes there's a speed limit, but if I stay steady I'll eventually get to where I need to be.

And now for the pics. I didn't take actual "starting" pics until May 1st when I was 403 pounds. Today I put on the same shorts and a shirt from my "starting" closet and took more pics...just for comparison's sake.

May 2010 - 403 pounds


Today - 315.4 pounds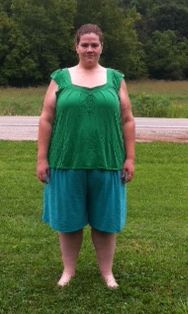 May 2010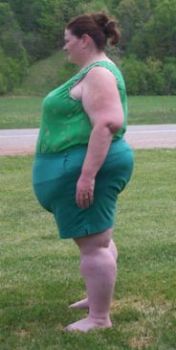 Today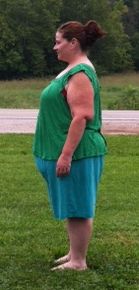 May 2010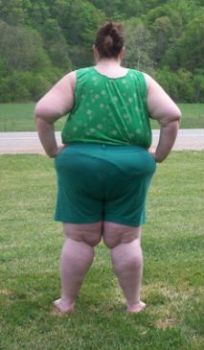 (I never noticed the "tilt" before...I thought it was just how I was standing and now I realize it could have been an indicator of the deeper problem - the pelvis tilt that still needs more adjusting.

Today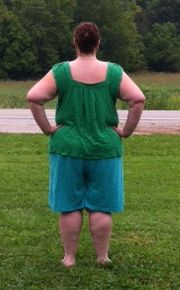 This picture was actually taken the day before I started Sparking: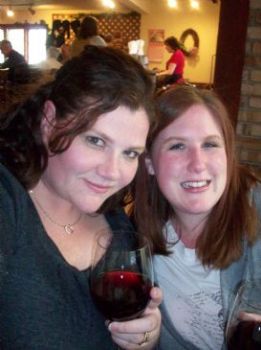 And this was today: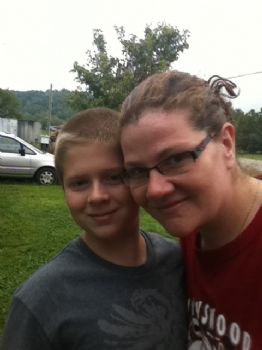 This is the new me. I'm stronger than I ever knew. I have the courage and strength and determination and willpower to continue...and continue I will!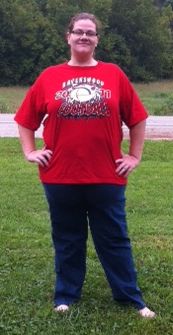 Thank you to all the Sparkies that helped me get there. But thanks, most of all, to myself - who even when she wasn't having strong "successes" was still working ever so slowly on building a better body I can begin part 3 of the journey with. Thanks to her, I have an athlete's heart, the ability to run a mile, the ability to walk up stairs without getting winded, and the courage to know that I can do anything if I set my mind to it and work hard to get there.

Original Starting Weight (2004): 466.6 pounds
SP Starting Weight (April 2010): 416.2 pounds
Weight Today: 315.4 pounds

Weight lost with SP: 100.8 pounds!
Weight lost overall: 151.2 pounds!





Saturday, August 27, 2011
I had a talk with the exercise physiologist at the gym yesterday. As I was telling her that I was plugging away but was not really counting on the results because of the crazy year I've had, she asked me something, "So, Esther, what's the positives?"

It's true. 2011 has been a very rough year.

At the end of 2010 I started feeling a horrible nagging hip pain that kept me from my goal of finishing C25k. I didn't know then that my pelvis was horribly out of balance and it was causing an extreme amount of pain whenever I did anything - walking, running, Zumba, etc. Suddenly, all my progress was put on hold as I tried desperately to heal. I saw a physical therapist and that relieved the hip pain, but the back pain remained and caused headaches so bad I had to call off work. It wasn't until this Monday that I saw the x-rays which show the problems in my neck, lower back, and pelvis.

I labeled this year "The Year of Adventures" and my goal was to try a bunch of new things in the hopes of "finding my bliss." So I went to Vegas with a friend for a week. I took boxing lessons and loved them. I went back to Vegas and Utah for a friend's wedding. I lost some friends along the way. I got frustrated and angry that while attempting to find myself, I felt like I was getting lost. I started out well, but then I faced challenges. My boxing fell to the wayside as I tried to reschedule and could never get a date from my instructor. My Vegas/Utah trip turned into one of the most horrible adventures to date - an "adventure" in which I was ignored, screamed at, called fat, and told I was incredibly selfish, all when I had tried my best to be the best friend I could be. My Minnesota trip turned into a cry fest when I realized that I compared myself to people I had no business comparing myself to. It's been a hard year of hard lessons in trusting myself, taking care of myself, and not pinning my dreams on other people.

And through all of it, I was still trying to focus, but having a horrible time with it. I felt the pull of "it's just too much to overcome" in me, but I refused to let myself quit. And that is why, instead of losing the 80 pounds I wanted to lose this year, I've lost about 10. Yes, 10 pounds. That's all I've lost all year.

So, what's the good?

Well, when I was taking a journey like this years ago, when I first weighed in at 466.6 pounds, I lost the first 85 or so and felt that pull of "too much to overcome." I tried to fight it, and I did for a while. I got myself to 100 pounds lost, and then I gave up. It was too hard. I was too tired, too sore, too busy. I let myself off the hook completely...and what happened? I gained 50 pounds back. So when I saw the signs of that happening again, I told myself that this time I would stick with it. I would keep trying even if it didn't get me anywhere. I didn't want to go backwards, so I would just stay even with where I was instead. That way, I thought, when I got my mojo back and started again, I wouldn't have to retrace my steps. I could start on this same step I'd been on when it all fell apart around me.

"That's a decision you made, Esther." That's what my physiologist said. And she's right. I made the decision to go halfway instead of not at all because it seemed too hard to go full-steam anymore. I made the decision to let myself off the hook only a little. And what I have to show for it is that now that I'm in a better mindset and things are getting fixed (my back, neck and pelvis) I'm seeing success again and it's not the same old numbers I'd already fought for before.

So I could say that I "only" lost 10 pounds so far this year. OR I could say that through emotional turmoil, grief over the loss of good friends, and major injuries, I still managed to fight my way through and lose 10 pounds so far this year. And I could remind myself that this year isn't over. "I know what needs to happen," I told my EP. "I just have to do it again." And I am. I haven't gotten everything done this week that I set out to do, but I've tried to stay on top of the game. I only had one day that I ate over my calories...and while I missed 1 ST session and 2 cardio sessions, I can still feel the soreness in my body from getting done the majority of what I set out to do. And this week was the first week in a long time where I didn't let the guilt of missing a workout or overeating once make me think that the whole day/week was shot. I got right back on the horse and I'm seeing the results of that every morning.

Right now I'm nervous. I'm nervous because I have a run scheduled for today. I'm nervous that I won't get through it. I'm scared. I'm afraid. Those are the right words. For work we started reading, "Who Moved My Cheese" and it's opened my eyes a little bit about what kind of person I am. I've found that I'm able to laugh at my own folly (finally) and move with the cheese. And I keep thinking of the one quote in the book "What would you do if you were not afraid?" I would run. I would go out there and enjoy my run. I would remind myself that while I can't be in Wisconsin with my girls, I can share this with them. I can join them for their runs by running here with them in my thoughts. I'm going to let their words of encouragement move me forward and push me on. I'm going to push past my fear, let go of it, and keep moving, keep looking for success.

One final note - even though I still haven't completed C25k entirely, even though I haven't dropped weight or noticed a considerable drop in my clothes sizes or my body shape (though I have a sneaky suspicion that my legs are getting smaller), I have improved my cardiovascular skills so much! When I first went to the Chiropractor last week they took my BP and pulse. My BP, again, was good. And my pulse? 49 BPM. *double take* HUH? That's like REALLY low! I was in the 60s range before, and now I'm at 49? WTF? Turns out that's in the "athlete" range. Yesterday with my EP, it was 52 and she confirmed it was super slow. Turns out that running has changed me inside more than out...and for someone who is still as big as I am to have an athlete's heart ...well, that's something good, right?!

So, yes...I "only" lost 10 pounds so far this year.
But...

....I can now run over a mile.
....I have an athlete's heart.
....I fought through heartache and body aches and injury and didn't move backward.
....I've gotten myself back on track.
....I've done it all the healthy way. I didn't resort to those "fast result" stupid methods of weight loss that only lead to trouble later.

I'm hoping that tomorrow I can finally write my "100 pounds lost with SP" blog...and then I'll move on from there. I'm still afraid, yes, but I'm pushing past the fear of not succeeding. I CAN be successful...I just have to keep working what I know works. Maybe this year wasn't what I thought it would be, what I wanted it to be, but I've still learned a lot about myself. And maybe, just maybe, it was what I needed...





Wednesday, August 24, 2011
So between the stress of recent weeks, the chiro appointments that are adjusting problems I had gotten used to, and getting my butt back to the gym and into shape again, well, I'm sore...all over sore. Yesterday I hit failure on the 3rd set of incline dumbbell presses...on the first rep...and nearly hit myself in the face with a 20lb. dumbbell. Oops! So, how am I handling the sore? I'm fighting against it.

Now I know logic says that I should rest, take a break, ease up. Okay, so that's just what my inner quitter is saying right now. But I know several things:

1) Getting back at it when you've been gone for a while feels like this. I'm pushing my body again, and that's a good thing. The sore is not so much so that I can't walk and/or otherwise function.

2) The soreness is not just from my workouts. A good majority of it is from 2 visits so far this week with the chiro, the last of which hurt A LOT!

3) CuteChiro told me NOT to stop working out. Here's his thinking - if I stop, we'll get the adjustment done faster, but as soon as I go back to it WHAM! It'll go out again. If, however, I push through, it will take us longer to get the adjustment, but it's more likely that the adjustment will stay longer. So the theory is to tell myself during this adjustment period, "This is what I'm expecting of you." That way there aren't any surprises for it later...at least not a lot and at least not intentionally.

4) Superheroes don't just give up because the enemy landed a good hit. They don't say, "Okay, UNCLE! I give up. You got me!" and walk away sore. They walk away completed victorious or not at all. They put their all into it. And while I'm not really willing to die for my sport, I am willing to take on a little soreness to get me where I need to be.

It'll get easier. Well, not really...I'll just get better at it. ;)

So while I mentally want to call off the exercise wagon tonight, tell 'em not to worry about stopping by to pick me up and I'll see 'em all tomorrow...I just can't do that. Tonight's workout is pretty simple. No ST, just 20 minutes on the bike. Part of me thought I could just read my book while on the bike, but I can't do that either. When I'm there to workout, I need to be there 100% - mentally and physically. It's the only way this works for me. I need to check-in completely, even if I'm only there for an easy workout that doesn't cause the sweat to pour in buckets. Being there will make my muscles respond more effectively and will lead to better results.

So, unless something goes major wrong at the Chiro's tonight, I'll be at the gym tonight warming the bike seat and making my legs move. Just TWENTY minutes. That is all I need. Just 20 minutes. I can do that - sore and all.

And then ...that dang Jambalaya that has been taunting me all week. I got home last night ready to get it made and then realized I was out of rice. Sorry, I just don't eat my jambalaya without brown rice...no way, no how.

Plan for the day:
Fight the sore.
Accept the pain as weakness leaving the body.
Know that adjustments take time, but they are worth it in the end (at least that's what I'm told).
Get another stressful client interview out of the way.
Work until 4:30pm and then head to see my friend, CC. :)
Then the gym, Kroger (for rice), and home to put the Jambalaya on.

OR, and more likely - CC, Kroger (for rice), home (to put jambalaya on), and then gym while it cooks.

Did you know I realized yesterday that I haven't been this consistent in MONTHS!? Crazy, right?! And I'm only 2 days in - both days I drank all my water, ate within my ranges, and followed my workout plan with cardio and ST. I'm not letting a hump day take that from me!

Onward!!





Monday, August 22, 2011
...and I spoiled myself ROTTEN today with bad@ssery...and boy did it feel good to feel that way again!

Woke up late. Oops! I'd been trying to get up early lately, but today, I rolled out of bed in a tizzy at 6:40 am. Knowing Logan had to be at the bus garage by 6:55, I hurried to his room and whipped him up and at 'em while I put on whatever clothes I could find. (I wasn't getting out of the car to see anyone so really I could've gone in my nightgown besides the fact that I live on the man road and would've been "caught" as soon as I got out the door.) Got Logan there 3 minutes before the bus left and hurried back home to get the other boy off.

Ethan was easier. He was outside waiting for the bus at least 10 minutes before it was due to arrive, singing and just having a generally fantastic morning. *lol*

So as I was prowling SP, I was trying to convince myself to get outside and go for an early morning run. That had been my plan all along, you know...I couldn't get to work early because the Chiropractor (who I am now calling CC - Cute Chiro) who saw me Friday wanted me back in his office Monday morning (more on that later). So since I had some time to myself in the morning, and because I knew Monday was leg ST night (which had me basically unable to walk two days after I did it last time) I figured it'd be nice to get in an easy morning run. But as I faced the morning, staring at the computer, fighting off the urge to sleep, I found myself fighting against the plan...again.

I eventually went back to bed. I told myself I would lay there for 10 minutes and make my decision. I didn't turn the alarm on because I wanted to force myself to get up after those 10 minutes and make the conscious decision to either do the run or get some sleep. I was going to face my inner villain head on, I wasn't going to let myself ignore it...

I told myself that a workout would wake me up, while more sleep would likely make me more tired. I told myself that it'd be nice to write a report here of "I did it" instead of "I slept in" and even though I wasn't doing it for you, I could feed on that pride and accomplishment the rest of the day. And then 8 minutes later, I pulled myself out of the comfort of bed, pulled on my running clothes and hit the road. I wanted to run a mile with a 1/4 mile warm up and 1/4 mile cool down. Unfortunately I was nearly to my running goal when my knee popped. I tried to continue on but I could tell I was babying the knee and after talking to the chiropractor, I felt it best to walk the rest of the way. 1.58 miles and 25:45 later I was back at home (having to potty AGAIN...darn those morning runs!) and hungry as all get out!

I showered, dressed, and headed off to the chiropractor. While it went well Friday and I felt better after, I didn't have the same experience this morning. It hurt. I was still sore and it hurt. He showed me my x-rays and I now know why I always felt like I had one leg shorter than the other and why when I watched my finishing tape from the Get Lucky 7k I was limp-running. Turns out my pelvis is askew in a rather major way. CC says that he usually sees millimeters off, but I'm in the half inches range. You can actually see the slant in the x-rays and it made me both want to cry and rejoice. Rejoice over what I have endured. Rejoice in my determination and follow-through even when my body was so messed up. Rejoice in finally having some answers. And then I wanted to cry, because it's so messed up and I hate knowing things are wrong with me. I wanted to cry because he admitted I might need semi-regular adjustments. Cry because it felt good to finally have validation of my constant pain.

In addition to the pelvic problems, I also have horrible positioning in my neck. Your neck is supposed to be curved and mine is straight. This is why I've been having headaches because it's pinching the nerves in my neck. And then, the best news of all (sarcasm here), he discovered that one of my ligaments in my neck have calcified. *sigh* CC doesn't know why and this isn't reversible. That means headaches could be a forever thing as well. We're hoping I can correct it with my posture but...we shall see.

So, I was in pain when I left after the adjustments...with a ton of appointments already made until October 7th. *sigh* I go back Wednesday for another adjustment and I just hope to God it doesn't hurt as bad this next time. He said the soreness should fade, which is good because I feel alright tonight but I was actually comparing the pain on Friday to the pain after giving birth to my first son (brutal...I'll spare you the details). It wasn't just the back pain, but also the DOMS issues and not being able to even walk really after that killer leg workout. So, yeah, hoping Wednesday is better.

So I got to work, dealt a little better with my 2 clients that are being PITAes, and got a few laughs out of some attempts to lie by people who thought I wouldn't know any better. I did nearly fall asleep once, but I pulled myself out of it. I drank my water, ate some chicken breast and a baked potato for lunch, and then had my Luna bar around 5:30pm. I cannot tell you how much I forgot that fueling before a workout makes the workout go easier.

2 sets of 15 jump squats felt easier this time.
Plie dumbbells were challenging, but not overly painful
Dumbbell lunges still hurt, but the weight lifting gloves at least ease the hand pain
Narrow Stance leg press? Yeah, I got up to 300 pounds now! I knew that would come back!
I skipped the stiff-legged dumbbell deadlifts because of my talk with CC - don't trust my form
Lying Leg Curls were rockin, but I was starting to feel it
And the standing calf raises were easier with some stretching in between (DUH!)
40 minutes later and I felt strong and my legs were sore and I stretched out before heading home.

Oh, but not before stopping off at the grocery store, because we needed an onion for the Jambalaya I need to put in the crockpot. While there, I found a deal on veggies that would expire tonight and some green Asian spinach-type stuff that said it'd be great in stir fry dishes. I knew I had ground chicken that needed to be used today, but I didn't know how well that would work out...but I had to try.

Ground chicken
Portobello mushrooms
Veggie stir fry mix (green/red pepper and onion)
A little fish sauce and sesame oil
Some of the Asian spinach stuffs
Some vermicelli rice noodles and pad thai sauce
and my superheroine talents made an amazing dinner that was HUGE and wonderful dish that was 350 calories and only 6 grams of fat. *smiles*

And, because I am counting, that's 2 nights in a row that I've made dinner at home after so long not cooking at home for weeks!

So, I AM the victor...and what are the spoils??

Pride!
I made myself do that run and it ran my whole day. I checked things off my to do list with confidence and accomplishment.

Semi-Homemade Pad Thai Stir Fry
Because Ethan proclaims that he HATES healthy food (read: onions, mushrooms), there is a whole other serving of my pad thai left...which is exciting. Not only is it amazingly good, but it's filling as well!

Grapes!
Yep, that is what I bought for dessert. Yes, I did have 2 mini Hershey bars today. *blushes* But I'm happy and full and the grapes topped off a great night!

Sore legs!
*lol* I'm hoping it won't be as bad this time as it was last time with muscle memory and all kicking in.

And a solid foundation for tomorrow. When I doubt myself, I can simply remind myself that I did it today, I can do it again. Be victorious this week, y'all! Remind yourself that you can and it'll kick that villain right out of your head. Phew! Forgot how good it feels to go to bed this proud of myself! *big grin*





Friday, August 19, 2011
Yes, I am a superhero. And, yes, I can do it all on my own. But that doesn't mean it feels good to get bashed over the head repeatedly! Superheroes need love too! What would Superman be without Lois Lane? Gotta have something to fight for that is outside ones self.

Yesterday I got yelled at for over an hour by a client who was sure I was "out to get her" in some way. I explained to her that I don't have the authority she was trying to accuse me of, but she wasn't listening. Over an hour on the phone and from beginning to end I thought I had managed to calm her down. I felt good about it. I felt I had done a great job of fighting the irrationalities of what she was saying and making her see the truth. She decided to stop by my office later, though, and decided to tell everyone there how mean and evil of a person I was. *face palm* Geez, woman. I TOLD you I'm not trying to make your life hell, I'm just trying to do my job here! So I spent the next hour in the conference room trying to calm her down again. Another coworker stepped in at some point, trying to diffuse the situation, and he too could see that she wasn't listening AT ALL. She had these irrational fears and she was standing by them. And when she left, she patted him on the back and said again that I was a horrible person. *sigh* Love that that's what I get for my efforts. I tried not to let it get to me, but I felt like I'd been in the worst fight of my life and it turned out a draw. Until next time, arch nemesis!

And in between the phone call and her visit, I had another client writing me letters, avoiding answering questions that she knew I both needed the answers to and she was able to provide. She's been avoiding answering these for a couple months now and I'm getting frustrated with her evasive maneuvers. Stand up and fight me like a woman...because I'll win this fight! Vented a bit, and then cooled off and tried again to tell her that I did, in fact, have the authority to get the information from her.

Funny how all my fights yesterday were about my authority and how far it extended.

So, yes, after a day of being raked over the coals, I was exhausted both physically and mentally. DOMS had set in from the crazy routine I did the night before and I could barely walk. Instead of Zumba, I picked up the boys and we went out to enjoy a night together. I did pretty well at dinner (hadn't eaten much all day anyhow) and then we went home so I could fill out the homework assigned to every parent on the first day of school. 20 pages later, I was exhausted and hit the bed HARD!

This morning, my legs are still very sore, but my mind is settled. I did the best I could. I handled the situation the best way I knew how. Irrational people are never going to be made into rational people, you just have to fight against the irrational nature as much as possible and hope it comes out in your favor. And if it doesn't, you have to remember that you did your job to the best of your ability and there was no more you could've done.

The plan for the day is simple.
1) Take shower. *lol* I'm actually looking forward to it this morning. Need to wash off any remnants from yesterday.

2) Head to the chiropractor. Have a 9:15am appointment, though they want me there at 9:00am. I'm scared out of my mind...just my irrational fears coming to light. (Do fat people go to chiropractors or is it just for skinny people?) I'm hopeful, though, that this might be just what I need to get my back to where it is supposed to be again. My tailbone still hurts all the time, hip pain from time to time, pinching in my shoulder area, and then last night another wonderful headache. Hubs is going with me. His parents used to work for a chiropractor and I mentioned that I really wish he could be there to settle my nerves.

3) Drop a check off at the bank. Much more fun than paying bills.

4) Hit the gym at some point. Going to stick to upper body ST and some cardio. I'm thinking I'll do a cardio circuit or hit the bike. I really want to get the bike worked into my routine somehow. Hate the thing, but I know it works.

5) Football practice for Ethan later. I can't wait to see him play again. He's so much better this year and that makes Football Momma proud!

6) Plan meals for the week and maybe get some cooking in today. Thinking Stuffed Eggplant for dinner.

So that's it. Just have to remember to drink my water, eat healthy, and take care of my body. Gotta get that workout in because skipping 2 days in a row is not an excuse anymore. Here's to this superheroine picking herself up out of the ashes, dusting herself off, shining her boots and getting to steppin' again. There's a life to save (my own) and slacking on the job is not in my job description!



First Page
1
2
3
4
5
6
7
8
9
10
11
12
13
14
15
16
17
18
19
20
21
22
23
24
25
26
27
28
29
30
31
32
33
34
35
36
37
38
39
40
41
42
43
44
45
46
47
48 49 50 51 52 53 54 55 56 57 58 59 60 61 62 63 64 65 66 67 68 69 70 71 72 73 74 75 76 77 78 79 80 81 82 83 84 85 86 87 88 89 90 91 92 93 94 95 96 97 98 99 100 101 102 103 104 105 106 107 108 109 110 111 112 113 114 115 116 117 118 119 120 121 Last Page

Get An Email Alert Each Time CALLIKIA Posts