| | |
| --- | --- |
| | CALLIKIA's Recent Blog Entries |


Tuesday, April 26, 2011
As you can tell, I'm not lying when I say that sometimes I just need to hide. Like a turtle, I retreat into my shell when I feel threatened. Of course, this time the threatening was being done by me, but the outside world was only adding to both the temptation and frustration. I needed time to make repairs...and I'm not saying I'm done yet...so I have been lurking and not really allowing myself to say anything.

"If you don't have anything nice to say, don't say anything at all."

Truth is, when I get like this, I get defensive. Instead of telling myself to snap out of it, I find external motivation that will allow me to continue on my self-destructive path. I find justification and reinforcement by making everyone else the enemy. Hubs has played this role lately, and I must remember to apologize to him again once I get my head on straight (thankfully, this time I recognize when I do it and I actually do apologize either in the moment or after saying something like, "I know this sounds stupid right now, but I can't help feeling this way..." and later, "I'm just sorry I took it out on you. I'm just really frustrated right now.")

My self-hatred in these times turns to hatred of everyone else around me. It's a brutal thing, and something I've been trying so hard to conceal for years. This time, I tried turning things around on myself. It's not that I was beating myself up, but I was calling myself out on things that didn't make sense.

Example:
Esther reads a race recap where a person is a little disappointed over their 10:39 pace time.
Esther gets furious and wants to sprout out some comment about how they should shut their pie hole and just be happy they can run. She wants to tell them to stop complaining about how they don't WANT to do their training runs because she can't do any training runs. Hell, she can't even ZUMBA anymore. She wants to tell said person that they are ungrateful and unappreciative and they need to shut their traps and stop effin' whining. She also wants to tell them that they are effin' skinny already so they should stop rubbing it in my face that they lost 2 pounds when I can't even lose a half a pound. She wants to tell them to bugger off and leave the fatties to their diets, which will inevitably fail anyway.
Instead of spewing hate that has nothing to do with said person, Esther closes the window and tells herself to stop being so mean to everyone. She tells herself that it is PAIN and HURT she's feeling, and she's only turning it to ANGER in order to deal with it.

And, that, my dears, is why I hide. Because I don't want to say something I really DO NOT mean. I don't want to take down someone else just because I need to build myself up. (And, btw, stop wondering if the person in that example is you because it's not. It was completely random example...I would never reveal a real situation in order to make myself feel better - that's exactly what I'm avoiding right now!)

Unfortunately, some people don't understand this about me and start to feel hurt and abandoned by me. Totally understandable. And I'm deeply sorry for this, but it's the only way I've found to deal. I swear that I love you all still the same - but sometimes I have to back away to save both myself AND our friendship.

That being said, I'm feeling a lot better each and every day. After reading SUGIRL's blogs yesterday about her new plan of attack, I thought to myself, "That's exactly what I need! A NEW plan!" Silly how I didn't think of it before. Or maybe it just didn't stick because I wasn't ready. I've been making plans for weeks and not following through on them or getting frustrated after only a couple days. I know I'm still not going to be perfect, but I decided last night that I was going to struggle through and do the absolute BEST I could muster.

So I spent the day on BodyBuilding.com watching the beautifully built Jamie Eason talk about things I really already knew. Somehow, they sounded different, reinforced or something, and I devoted myself to a basic plan of attack with some changes along the way...working back toward what I wanted to do all along. ALWAYS have a plan, my friends. And if it fails, make another - again and again until it sticks.

With the program that Jamie Eason suggested for me on BodyBuilding.com (yes, I do pretend that Jamie Eason and I had a conversation yesterday, rather than me watching mass produced and marketed videos of her...let me have my fantasy! ;) ), and the talk I had with the exercise physiologist at my gym last Friday, I'm coming up with a new plan of action...and a couple back up plans as well.

Oh, let me back track and mention what I talked to the physiologist about on Friday. Truth is, I made the girl cry...and I almost cried to. She basically started the conversation with, "So, what's up?" and I laid into her like she was my own private shrink. I kept wondering what I needed to pay her for the hour and if she had a cot hidden away somewhere that would make this heart pouring session a little easier to take. I told her that I was hurt and lost. I explained my injuries and that both the doctor and the physical therapist had suggested that I basically do nothing for the next however many weeks and still somehow manage to lose weight. I suggested that I not eat for the next couple months, but that didn't seem like the most logical answer to the problem. I told her that while I'm usually the kind of person that does not like things like meal plans and exercise routines "assigned" to me, that was exactly what I needed right now. "I need someone to just say - 'Stop your whining. Do this, this and this and we'll meet again in a few weeks to see how that's going.' I need a kick in the pants."

I explained to the physiologist that because I was being stripped of everything I knew worked, and because I felt like I was all alone, especially since the closure of the daycare means that Hubs can no longer be my workout partner, that I was angry and confused. I told her that being at the gym, working the stationary bike like it's my biatch is more difficult than I ever imagined. Not only do I effin' hate that machine for how dull it is, my legs and feet go numb if I do more than 20 minute, my heart rate never hits the higher points it was reaching when I was running and doing Zumba, and I kept looking around at everyone around me doing all the things I wanted to be doing instead and I just wanted to quit.

I told her that quitting was not acceptable. That this was my cry for help. "I don't want to keep losing 100 pounds, gain 50 back and then wait another 5 years before I try again." I explained that I knew that feeling was coming back - all those feelings of defeat and loss that I had before I started. Those well known phrases had returned of "Maybe I'm just always destined to be fat" (which, I have determined may actually be a possibility according to society's understanding of the word "fat" considering that my last measurement of Fat-Free Mass was 170+ pounds on a 5'8 frame). I looked straight at her and said, "I'm not done. I can't be done. I can't be done at 330 pounds and still about 50% body fat. It's not acceptable. I'm not accepting it. Now I need you to help me - to push me back up on the horse before I fall off and vow never to ride again."

It wasn't until we talked about how difficult it was for me to ask for help that I made her cry. She explained that everyone, no matter their size or sex, have huge difficulty speaking up and asking for help - I'm assuming she really meant herself. She stopped for a moment and composed herself before telling me how brave she thought I was and how happy she was that I got the courage to stop her and ask for her help - and she admitted that she didn't know if she was that courageous. She finally said that she would spend the weekend devising a plan for me centered around, of all things, weight resistance training. She asked me how skiddish or resistant I was to being in the weight lifting room with the big dudes, and I told her that those guys were like my friends now. I told her that lifing barbells made me feel powerful and more in control than weight machines did. I told her to avoid pull-ups and maybe the squatting machine where you support the weight on your shoulders (because it worries me with my knee) but that everything else was fair game. She told me she would have a routine ready for me in the next week.

As for cardio? The goal is simple - fit in cardio 3-5 times a week. And do what works for me. We talked about avoiding the gym for cardio if it only manages to piss me off. And I told her that lately it was about me being creative to get it in. I told her that earlier that day I spent an hour scrubbing my bathroom from top to bottom as a form of cardio and she said that things like that, as well as walks with the kids and tennis with the Hubs - fun things I actually liked, were key. She said to be careful of my hip/back and, if it hurt to simply stop and find something else.

And then, because I know she had a tendancy to not follow through and I didn't want to rely upon her promise of a program for the gym last night, I ended up on bodybuilding.com...which, I guess, was a good place for me to be yesterday.



The Plan
It's a 6-week plan. Jamie told me (*wink*) that we should change up the routine every 6-8 weeks to avoid both boredom from the program and our bodies adjusting to the exercises too much. It centers on weight training as a means of building lean muscle and sucking out the fat, and as a way to maintain a semblance of a routine while my hip/back tries to heal. It pulls in cardio, which I may have to change to accomodate the hip, and which I have given full permission to myself to change completely in order to keep myself on task, 3-5 times a week. Btw - I have decided that 20 minutes of burning fewer calories in a lesser intensive cardio exercise is still 20 minutes and is better than doing nothing because I'm pissed about it. Period. End of story.

Day 1: Upper Body Weight Training and 20 minutes on the Stairmaster

Okay, just the thought of doing the Stairmaster for 20 minutes makes me want to laugh and vomit at the same time. I doubt I could, but I'm willing to try and see how far I get, attempting to increase the time each week. I will, however, have to be careful of the hip/back situation on this one. That being said, yesterday was day one. I had decided this AFTER my 20 minute walk to the market and back for lunch, and while I considered doing the stairmaster later, I ended up opting out of it completely when Hubs was ready to go - babysitters run scarce in this town and we have to work on their schedules. *sigh* It wasn't until this morning that I realized - I did 20 minutes cardio. DUH! I'm calling it a great day, especially considering I THINK I was below or at my calorie goals (which, btw - the bodybuilding.com site needs to reassess their calorie needs calculator because that thing told me to eat nearly 5k calories A DAY! Wow. Uhm, no. I know better) and I drank a TON of water.

Day 2: 30-40 minutes Stationary Bike at moderate pace

This is the plan for tonight. Well, actually, this is plan B. Plan A, if it is sunny enough and the ground is not too soaked (which it likely will be after the storms last night) is to mow the front lawn with the new mower. Actually, I think the bike is plan C, because if the lawn is too wet and the sun is still out, I'd rather prefer to pick up all the boys and go play tennis or walk at the park or something...I'd even prefer to steal Hubs' bike and attempt an outdoor bike ride. Anything other than riding that stupid stationary bike for 40 minutes while attempting the entire time to get my heart rate up and also attempting to strangle, choke, and maim the people across from me running on the treadmill and my Zumba class next to me bouncing up and down.

Day 3: Rest, Rejuvenate and Remotivate

So, Jamie told me that rest is super important to losing fat and building muscle. For some reason, I believed her. It may have something to do with her killer arms or her rock hard abs, or it could have just been the way she explained it (it was probably the abs). Either way, she explained that I should take 1-2 days off each week to rest my muscles. She explained that it wasn't necessary for me to do absolutely nothing on both of those days, but that one day should be devoted to rest from all exercise. The other, she said, should be used as an uber-light day using something like yoga and stretching techniques to aid in the muscle repair process, build flexibility, but not overwork any muscles completely. Other things she suggested for these days? Batch cooking - getting my meals in order for the week. Brilliant! I thought. Use the off days to be prep days for the on days. Work another angle. I know that last week I needed to focus on the food over the exercise. Some days I NEED that. I can use my rest days for that. I can also use them to rejuvenate myself with a nice bath - rewarding myself for the week's work I'm putting in. I can relax that night and focus on settling my mind, getting it ready for the rest of the week. I can find ways to keep myself motivated on this day by reading Spark articles and fitness magazines and really keeping that fire alive. I LOVE this idea of using a "rest" day as a training day for the mind and spirit. I say it again -- BRILLIANT!

Day 4: Lower Body Weight Training and 20 minutes on the Treadmill jogging (or, for me, fast walking)

More weight training. Last night, Hubs and I only managed to eek out 2 circuits of the 3 circuit plan that Jamie gave me (yep, the physiologist failed me and didn't leave anything for me at the front...at least not that I saw). Still, we left telling each other, "Dang! That was a GOOD workout!" It's been a while since we've really had one of those days. Of course, Jamie suggests for other people to jog on the treadmill, but I'm going to modify that and walk quickly on the thing - more at a race pace to challenge myself. And, of course, this treadmill fast-walking will be a plan B or C as I try to find more productive things that will burn calories - like cleaning the kitchen from top to bottom, or the garage! *lol* Although, more than likely, it would be better for me to just do that cardio spurt as a walk at lunch - splitting up my workout time so I don't constantly feel like I'm at the gym punishing myself.

Day 5: 30-40 minutes Elliptical

Again, another cardio day. The elliptical is something else that the docs are iffy on if I should try again. I've been told I can try, but if it hurts I should stop. Again, another plan B or C as I try to find something fun outside - a sport with the kids! - or some sort of cleaning spurt that will take up the same amount of time. My bedroom could certainly use a good deep clean as I get rid of all the clothes I can no longer wear.

Day 6 - HIT Full Body Weight Training -- NO Cardio

Okay, I have to admit it, the idea of having a high-intensity weight training day without also doing cardio both confused me and thrilled me. ONE DAY when I don't have to worry about cardio WHATSOEVER. Beyond the 5 minute warm-up and cool down, I don't have to even touch a treadmill or elliptical or come up with some brilliant plan to avoid those machines while still getting in my minutes. According to Jamie, the way we do these in circuits keeps my heart rate up anyhow and will really help me lose fat. Sounds good to me, Jamie! I trust your abs...err, I mean, you. So this will be the day I get to say that I'm "hitting it hard" at the gym. I get to leave with my muscles pulsing feeling like a darn rockstar. I can't hardly wait! I'm also super stoked that it will fall on a Saturday, which means that I will need to get up early that morning, get my breakfast, and then get to the gym to get it fit in during the small window they're open Saturday (10a-2p). I think I need to start my weekends with a workout like that because that way I'll remember that when I start preparing meals.

Day 7: Rest, Rejuvenate, and Remotivate

Ah, and somehow magically, I get my final rest day on Sunday - the day that I have most normally reserved for my batch cooking days. Brilliant!!



So now that we've got that under control - we need to figure out



They've set down a diet on bodybuilding.com not unlike Spark's plan. Of course, they think I should eat 5k calories a day, which is absolutely hilarious, but otherwise, I can adjust. I know I need to stay around 1600-1800 calories a day. Jamie says I need to shoot for that 40/40/20 goal. You know it -- 40% protein, 40% complex carbs, and 20% healthy fats. They set down a diet plan that works for someone consuming about 2200 calories and will need to be modified. The things I noticed on the list and have taken away from it, however are -

1. Keep it simple. Grilled chicken, brown rice, and olive oil can make a great meal.
2. Find a way to eat oats. I have heard so many great things about them and I'm sure with some spice/honey/milk or whatever magic I can find a perfect way to eat oats that is still healthy.
3. Lots of green vegetables. Broccoli and spinach are our friends.
4. Do meals that are easy to construct for lunches throughout the week and keep well.
5. For at least one meal a day, eat just a lean protein and vegetables.
6. Eat every 2.5 to 3 hours.
7. Drink 1/2 to 1 gallon of water - even more on days when I'm working out.
8. Eat protein at EVERY meal.
9. Eat 1-1.5 hours before a workout - protein and carbs. And find a great post-workout meal or shake (the protein shakes are returning!) along with a carb post-workout.

Most of these principles I follow already, but I've been off the wagon so long, that I have to find a way to stick to a bland and boring diet for a week or two (at least mostly) so I remember to savor the wonderful flavors that are already in my healthy meals that I cook. I've taken it for granted. So, next week, if I can force myself to do it -- LORD HELP ME! I'm going to try to be completely 100% boring when it comes to food. I hope it will help me focus on food as fuel instead of food as fun.

Breakfast will consist of mostly egg whites with one whole egg, cooked somehow, along with a 1/2 cup of oats.
Meal 2 will be a peanut butter sandwich on wheat bread with a fruit like strawberries.
Meal 3 will be chicken, a sweet potato (lord, help me...I'm not a fan), broccoli.
Meal 3 will be chicken, brown rice, spinach.
Meal 4 is fish, brown rice, and mixed vegetables.
And post-workout I'll need to have a protein shake and a carb.

The only problem I'm having is that I've always been told not to have fish more than 2-3 times a week. Maybe I've heard wrong all these years, but I can't get past that. My other problem? OMG that sounds like a LOT of food. *shrug*

I'll admit it, I hate the thought of being so damn boring when I know it's not necessary. I don't want to diet, I want to live healthy - and I don't want to eat chicken, rice and broccoli for every single meal for the rest of my life. BLAH! So, I'm thinking about it. I'm considering doing it for a week or two and then gradually incorporating back in some meals that I like. Of course, every moment I think about it, I'm leaning more toward just finding a way to adapt my healthy style of eating to the 40/40/20 rule and that is sounding brilliant right about now. Don't get me wrong, I love chicken, brown rice, and broccoli - but I don't want to eat it for every meal...end of story. The one thing I WILL take away from this is the whole eggs and oats for breakfast. I'm going to try that one because I think it will start my day out a little better. We shall see.



Do you follow the 40/40/20 rule? How do you ensure you still get variety while you maintain eating healthy and sticking to the "rules"? And how often do you treat yourself.

Three other things I caught on the site -

1. Only have sundaes on Sunday.
2. Pick lunch or dinner to have dessert, not both.
3. Once every couple weeks, go ahead and treat yourself.

I think I'll take those three with me, whether or not I follow the "boring, but simple" plan.



So, there it is. I have a plan. Sorta. *lol* I got day one completed yesterday. Sorta. And I'm plenty happy with that. I really am glad I found the site and I think I'm going to buy a couple things from them - vitamins, some powder drink for during workouts (to add to your water), and some fish oil capsules. They really talk a lot of supplements over there, but I'm really not all crazy about all of that. I do think the fish oil and vitamins are a great idea, and the Xtend stuff - I have to try it. I feel like it might help me get through the tough lifting days. Worse comes to worse I waste a few bucks and nothing happens...I haven't seen anyone complain about anything except for the taste of some of the flavors or it not really working for them. We shall see...

Today, I'm going to lunch with a friend at my favorite burger place, so I need to see what else they have and what I'm going to fit in today for lunch.

I've got a couple more days this week, and I've got to make sure I get all my cobra stretches in each day. I've been pretty good about it - I even pulled out a blanket in my FIL's garage on Saturday night and did my stretches at Hubs' birthday party. But I forget now and again, so I'm trying but I'm not perfect...that's just going to have to be good enough. I see the PT again on Thursday so I hope we can start healing me up (the hip is feeling better..the back is starting to hurt, though).

Also, I'm thinking I need a weekend me day. Well, me and AM. I'm going to see if my friend is free this weekend. I'm thinking lunch, dress shopping for our bridesmaid dresses, drinks maybe, maybe a movie - ooh, I could get my hair cut while I'm down here...maybe we could do mani/pedis? Either way, I think we need some quality time...I know *I* do!





Friday, April 22, 2011
It's something I never mentioned in my Spark blog about what I learned last year with SP, because I guess I was learning it at the time. Asking for help. Sometimes it's necessary to break down and scream and call in reinforcements. I kept saying all week, "I just need ONE good day" but what I didn't realize is that I had to MAKE that good day.

After I wrote my ranting blog, I cried a lot...and then buckled down. I skipped my first snack of the day to remind myself what hungry felt like. I also thought that if I could get through the morning in better shape then falling apart that night wouldn't hurt so much calorie-wise. Well, it worked, in a way. I went to bed well under my calorie limits, something I don't normally recommend but I guess I needed in a way. I forced myself to do short bursts of activity throughout the day. 10 minutes of yoga here, a 20 minute walk at lunch, so by the time I went home, skipping the gym was okay because I'd already gotten in 30 minutes of exercise. Besides, I realized that my evening focus that night needed to be on NOT eating out and actually going straight home to start making up a few dinners I had planned for the week and never made.

I stopped off at Kroger and spent 30 bucks on salad ingredients for a huge salad at work, and the ingredients for a creamy homemade dressing. Both of which I intended to take to work the next day for our Easter Luncheon. I figured if I had a huge salad to eat, I might be able to resist the other temptations. And even though Ethan dumped about half my dressing on the floor and I got completely frustrated, we still managed to finish the night with the following foods made:

* Stuffed Red Peppers
* Cassoulet
* Creamy Greek Dressing
* A HUGE salad with leaf lettuce, red leaf lettuce, and romaine lettuce, mushrooms, broccoli, radishes, carrots, and purple cabbage

Even after eating a serving of the stuffed red peppers and a half a serving of cassoulet, I still managed to be under my calorie goals and went to bed feeling like I had accomplished something.

Yesterday was a little hit or miss. I got to work and hurried to finish up a few things before a triage meeting. Triage went well, and then it was off to my physical therapy appointment.

My PT thinks the problem may actually be in my spine. I have to stretch in a back bend sort of way whenever I get up from sitting too long, and I have to fit in 3 sets of 10 reps of cobra stretches. He said I'll know if we're on the right track if the pain starts moving to my lower back. (He said he thinks it may be a problem with a disc in my spine...he actually said he HOPES that's what it is because the treatment for it is a little easier.) He also suggested that we may have to get some x-rays done at some point of my spine/hip, but no plans for that yet. He also commented on my great flexibility. *big grin* I was honest with him - which made me quite proud. I told him about my knee, about my PT failures at 16 when I lied and told my PT I'd done my homework, and told him that WOULD NOT happen again. I was 30 years old and ready to listen and do what I was supposed to do. I told him about my weight loss and explained that I could NOT give up exercising completely. He told me I had done GREAT in the past year and that he, also, did not want me to give up my exercises. He was impressed with the whole insert = magical no pain incident and asked what kind of inserts they were. He explained that it likely went away because the inserts got broken down by my running on them and we both agreed it was silly to think I needed to spend $15-20 every 3 weeks for new inserts. He said no running or Zumba until I can walk with zero pain. Oh, and I have to make a rolled towel my new friend to provide lumbar support whenever I'm sitting. (My plan for today is to make one of these.)

I will see him again next Thursday and we'll see how things have been working (or not).

After my appointment, I rushed back to work really hungry and ready for the luncheon. I didn't do a stellar job, but I did alright. I had one meatball, a small slice of bread with a smear of I Can't Believe It's Not Butter, a few bites of mac-n-cheese, a few bites of baked beans, 1 deviled egg (1/2 of the egg, you know...), a small piece of ham, and some of my salad with my new salad dressing. For dessert? I was lost. Everything was just too calorie heavy and I knew I'd be tempted to overeat...until one of our judges showed up with angel food cake and some BEAUTIFUL strawberries. I grabbed a tiny slice of the cake and about 5 strawberries and thanked the judge for bringing something I COULD eat.

About an hour later, I found myself at the table again. *facepalm* I got a little more mac-n-cheese, a little more baked beans, 2 more meatballs, another piece of bread and 2 more deviled eggs, along with a container of another slice of angel food cake, 5 strawberries, a slice of blueberry bread, and a slice of lemon bread/cake. As I sat at my desk chowing down, hoarding and hiding my food...I made myself stop, put down the fork and throw the rest in the trash. Wow. It can sneak up on me just like that...I took the dessert goodies home to the boys.

I skipped the gym again. I wanted to do something active outside and actually got mad at Hubs for mowing the lawn. Unfortunately, no one was ready to go out with me, so after about 30-45 minutes of waiting around, I decided I didn't want to go out anymore (plus, I knew they were all hungry, which meant if we left the house we'd end up eating out). We stayed in, watched a movie, I had some cassoulet and a bit of rice chex later and I fell asleep during movie 2. And this morning I woke up feeling much lighter and better than I have in weeks, maybe months.

It may have something to do with the gallons of water I've had in the past 2 days. On Wednesday I started drinking water early and just couldn't seem to get enough. Apparently dehydrated, I ended up drinking 8 16oz glasses of water at work and then another 2 or so at home that night. Yesterday I had 3 glasses at work and then drank another 2 at home.

Yesterday I also took a moment to call the trainer girl at the gym. She's also the manager and I wanted to ask her about the closing of the kids' room at the gym. She told me that the change was permanent and the reason was that the kids were "tearing up the room." She said the problem had been going on for a while (I wish they would've mentioned something at some point for crying out loud - one day it's up, the next it's down. WTF?). I also told her that I didn't think it was fair that she didn't show up at our appointment last Thursday night and never called to tell me she'd be there. Her response? "I didn't think you'd go if I told you I wasn't coming, and I needed your measurements." Yes, she needs my measurements so the insurance company will continue to pay her. *rolls eyes* My response to her? "I'm ALWAYS there. That's not fair at all." She apologized and said that I was right and that she'd had that problem with other people in the past but she shouldn't generalize and assume I wouldn't show up. I told her that I've been NEEDING her help right now to get around these injuries and she said, "Esther, you can always call me when you need help." My response? "I'm calling you RIGHT NOW." I told her how difficult it is for me to ask for help. I told her that *I* would generalize now and say that, in my experience, it was difficult for a LOT of overweight people to ask for help, especially women. We've got this stigma that we can't take care of ourselves by ourselves and that's why we're fat, so asking for help sometimes feels like confirming that belief. She was quiet and listened. I nearly cried as I explained how hard it was for me to admit that I was lost and couldn't do it on my own. So we made an appointment to meet today at 4:30pm.

As for the kids' room? I asked her to reconsider. I know that the kids tear up the room because they're bored. I'm bored if I spend more than 10 minutes in there! She said that a lot of times the kids don't even want to be there. DUH! I told her that I didn't know what the gym's financial situation was like and if it was even possible, but it might be worth it to invest in someone to watch the kids and do active things with them while they're there. "Let them be active while their parents are in the gym being active!" I told her, "Even if you don't want to hire someone to be there full-time, maybe you could have someone in for a couple hours in the morning and a couple hours in the evening so that parents could bring their kids during those scheduled times when they want to have some daycare and be able to work out." She told me that they had supervision in that room at one point, and they paid the person but also had the parents pay like a buck an hour when their kids were in there, but that people stopped using the room altogether. Then she paused and said, "Maybe that would be good." *lol* I told her that I might be willing to help out with this project if she would consider it. She promised to consider it.

I came home and told Hubs about what I had talked to her about and, surprisingly, he got excited too. "Could you imagine if the kids had a Kinect in there?" I told him that I had considered telling them to put a Wii in there and let the kids play Wii Sports...but, he's right, the Kinect would be even more fun (and less worry over the whole breaking the TV with the remote thing) *lol* I told him that I thought it would be fun to have a kids' exercise class in that room. The kids could work out - doing fun things, you know? A kind of circuit training for kids with things like jumping jacks and push-ups. I said that our boys would be a great resource in finding out what kids would think is fun. I said that I'd be willing to work the room a few nights even. And then my husband surprised me again by saying, "You could take our Kinect down there. I mean, you couldn't leave it there, but you could take it for them to use." *lol* It was great to see him on the same page. And we BOTH agreed that we had NO problem paying a fee to use the kids' room for our boys. He even said that he'd been thinking about donating our old 27 inch TV to them (which is currently sitting in our kitchen taking up space). So I guess I'll talk to Cissy about it tonight and see what she thinks. I might have a new second job as the Kids' Gym Director if I play my cards right! *lol*

So, yes, I've learned more.
1) You can't just HAVE one good day, you have to MAKE one good day.
2) You can't expect the good day to do magic, but you can build upon it.
3) Sometimes you simply have to ask for help, no matter how scary that is or how much it hurts your ego to do.

I didn't work out yesterday besides the exercises I did with the physical therapist, but I'm not stressing. I have an appointment at the gym at 4:30 pm to set up a new plan of attack - a workout for the injured Esther that I hope to be able to pull out whenever things get a little difficult for me. And I'm excited to think that I could be a source of helping some of the kids here find some active things to do at the gym. I don't know, maybe I'm being too optimistic, but I really think parents would be willing to pay if their kids really liked it...and it might get the parents there more if the kids are begging to go. Sounds like a win-win for everyone.





Wednesday, April 20, 2011
I should be doing a reflection day blog right now, but I need to write something else.

I have failed this week. For a few weeks, actually. I've held up my head and put on my brave face and kept forging through as best I could, but it wasn't until last night and this morning that the wave of "this must stop" hit me.

I've gained weight in the past few weeks. I've half-@$$ed my workouts almost to non-existence. I can't fight the feeling in my gut that the end is near and I'm about to fall over the edge. I've tried every trick I've ever used before to pull out of this nosedive but nothing seems to be working. I feel broken, beaten and used. I feel betrayed by myself. I feel completely, 100%, and undeniably lost.

TOM has been raging all week and I've blamed all my bad days on it, but as I have been reflecting back on the last year I'm starting to see that I have a lot of "excuses" for my "bad days." I thought by now I'd be having less of the bad days, but lately it's been all bad days. I feel like a failure every night when I go to bed. I make it through half the day and then fall apart so completely and I don't know how to pull myself up by my bootstraps because I seemed to have misplaced my boots.

Last night I abandoned my workout. I was raging at the gym, feeling betrayed by the one thing that has kept me together for almost a year. I was in a eating cycle all day at work and trying my best to ignore it or hold it off, but as I drove home my will broke and I just gave up. Chinese buffet followed by ice cream AND a candy bar. I felt like my old self...the self I NEVER wanted to be again.

How could I go from that girl last summer who felt so in control, so powerful and brave and hopeful and ready to take on the world, back to this girl who sees fat and thinks all hope is lost? I'm so bloated today that I am in physical pain, and all I can think is, "My body has abandoned me" when I know that I've abandoned it.

So today is obviously that day of TOM week that is completely emotional. I can't stop tears from welling up in my eyes, though I refuse to let them fall (it's only a matter of time, I'm sure). I want to crawl underneath my desk and not emerge. I want to disappear and never be heard of again. And I don't know WHY.

Yesterday I told myself that I would spend 5 minutes every morning after arriving at work and before completing any work to de-stress and center myself - whatever that meant. This morning I slapped on some makeup and wrote a to-do list for the day, but before I did anything else, I put on my headphones and set my iPod to shuffle. A nice, soothing song came on and I moved from my chair to the floor. I spent the next 5-10 minutes doing yoga and ballet stretches, already feeling better. And then I figured I'd done enough and stopped. Not 10 minutes later I felt those feelings of UGH return. I just can't hold it together today.

I feel like I need a break from work. This would normally be about the time I'd be counting down days to a family vacation - but with money being tight and the wedding in July in Utah, we've had to abandon those plans for now. I need to save my annual leave, and I need to save my cash too. I've tried pulling together fun stuff on the weekends, but it's just not enough. I NEED a weeklong break to pull myself together and remind myself why I wake up every morning. Plus, with all the work, working out, and other pressures on me lately - I MISS my family terribly. I see them every day, and they get on my nerves more often then not, but I can't help but feel like I'm not getting enough of them. I need a week secluded with them away from the troubles of bill paying and work schedules and training and whatever else BS always seems to crop up. I NEED a break and I can't have one.

I now regret Vegas.
I regret saying yes to being a bridesmaid.
I regret Minnesota.

I feel selfish and worthless right now. I should've saved that time and money for my family. It wasn't the same without them.

I don't know what I need right now other than a swift kick in the pants.
Until I figure out how to feel better about my lot in life, I'll just work on just doing what I'm supposed to do.
It's only 9:20am and I am dreading having to go to the gym tonight.
I don't want to work out.
I don't want to waste my time there.
What's the point?

BAH!

I promise I'm trying, people, but if I disappear off the face of the earth for a few days, just know that I'm beating myself up somewhere and then trying to find some way to build myself back up.

This can't be it.
I can't be done.
330 pounds is not acceptable.
47% body fat is not acceptable.
It means I will never again ride a horse or experience a zipline if I don't continue.
I won't be able to live without restrictions.
I won't be able to feel good about myself or wear nice clothes.

I want my months of 8-10 pound weight loss back.
I want to stop fighting with food.
I want to stop struggling to even get to the gym.
I want energy-fueled workouts again.
I want my life back!
I want to be fully healed and healthy again and not have every exercise, no matter how small feel like I will have to pay for it for the next 2 days. My hip/pelvic region is NOT getting any better still (physical therapy tomorrow...maybe they'll help pull me out of this). My back is killing me. I get headaches almost every day. My foot hurts some days and my elbows the next. I feel broken.

And do you know what else I want? I want someone to help me.
I feel like all these people (like the people on the insurance program) offered me help before, but I didn't need it then. And now that I need it? I feel abandoned.
My boxing instructor hasn't called me back to reschedule.
My PT hasn't seen me since FEBRUARY.
My nutritionist is about to have a baby so I don't know when I'll see her again.

I feel lost and completely alone, and my usual scouting of SP for inspiration is not working.
Not sure what to do.
Not sure where I'll be a year from now.
Afraid I will gain it all back.
Afraid this is the start of the lull I had last time that led to me gaining back half of what I lost.
I can't keep doing this.
Why does it have to take so long?
Why do I have to be SO fat?
Why is it so hard for me to lose just ONE pound?

*pounds head on desk*

Don't mind me...just having a mental break down.
Go workout and enjoy your skinny lives!








Tuesday, April 19, 2011
I will not abandon another goal I set for myself. I said 12 days of reflections and I will do them. I'm in a better place already after doing days 1-3, but I'm still needing some work, as my anger last night at the gym and subsequent eating marathon at LJS last night can attest to. (See, a year in and I *STILL* make mistakes. The difference is that I admit them, move on, and keep going.)

Day 4 - Reflecting on July 19-August 20 (2010)

The month started with me excited about some changes...like my rings starting to be loose on my fingers. It's true, in January I had a guy at the jewelry store measure my ring finger. It was at about an 8.5...and I think I'm down to an 8 now. When I got married 9 years ago, the ring we bought for that finger was a size 10.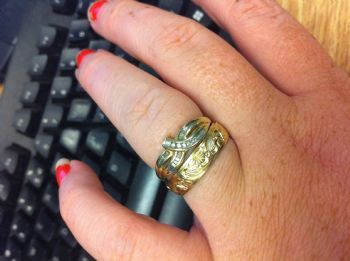 July 19, 2010 - had to stack another ring (size 9) on top of my wedding band so it didn't fall off.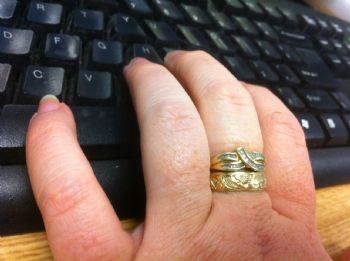 After a while, that wasn't working because the size 9 ring was too big. Most days I wear them like this - ESPECIALLY when it's cold outside. The wedding band cannot be resized, but if I could find the paperwork from when we bought it, we have a lifetime warranty on it and they'd have to order me in a copy in the new size. As a reward of sorts, I've been on Hubs to get me a new ring as well. I thought he would get me one for our anniversary this year (major fail - he went to WalMart at 11pm the night before our anniversary and bought me a fountain thing for my desk at work *facepalm*). But next year is 10 years and you had better believe I will be on him from November until February 2nd (our anniversary) to get me a an anniversary band. I'm not asking for any more than I've been willing to give since I replaced the ring that no longer fits him (he wears his wedding band on a necklace now) a few years ago with a beautiful new ring. (Of course, the other day I realized he had gotten confused and put it on his right hand. I smacked him! ...*lol* not really, I just called him a dork and made him fix it.) So - next year, buster! February 2, 2012. There had BETTER be a beautiful anniversary ring waiting for me!

Also that month:
* I talked myself into putting positive or even combative thoughts in the heads of other people at the gym...thoughts that would spur me to do better, go faster, and be stronger. And it worked!
* I had some bad days...and some good ones too.

I also talked a lot about goals...which I realized yesterday I've confused one too many times with expectations. You see, that post yesterday you all liked so much? It wasn't the post I have been wanting to write for the past 11 months or so. Somewhere in my head I made an expectation for myself that, in order to be successful, I had to be able to post that I had lost 100 pounds in 1 year with SP. And when I realized I wouldn't reach that mark...I had a bit of a meltdown. It didn't help when I realized that others had done it - friends who started with me posted their 100 pounds in a year posts and instead of being happy for them, I turned on myself. "See, Loser? You couldn't do it, but they could! You suck! You've done nothing this year. A year wasted!"

Can you believe I talked to myself like that? *ashamed*

What the heck is my problem? 90 pounds is nothing? A year sticking to it again is nothing? Plus, this isn't my first time at the rodeo, clown! I started way back in 2004, when I worked to lose my first 100 pounds. I started this whole 'weight loss/get healthy' thing at 466.6 pounds, so really I have lost 140 pounds since my highest weight. ONE HUNDRED AND FORTY POUNDS, people! I lost a person already! It took me years to do, but I have no plan to ever find those 140 pounds again...go ahead and make another person out of them, kthnxbye!

I need to remember to set GOALS for myself, not expectations. I have to remember that my body doesn't always do what I want it to do. I have to remember that I can't be perfect all the time. And I have to remember too that even if I don't meet the goals I set, it does not diminish the work I have put in to get where I am. Good or bad, I made those decisions. I need to learn from them and move on.

One thing that I do want to take with me from that month - I actually wrote out a committment to myself for the month of August. It was beautiful and a great way to gain some focus. I must remember to revive this practice.

August was a HUGE month for me. I did my first 5k where I met my first Sparkie, SPUNKYDUCKY, a girl that has inspired me beyond measure.
I earned my very first popular blog post for "51 Things Spark Taught Me - A Pound for Pound Wrap-Up"
www.sparkpeople.com/mypage_public_jo
urnal_individual.asp?blog_id=3522066
I was nominated a SP Motivator and was Done Girl of the Day.
And then I went and did something crazy and started training for a 10k.
I was a walking, talking, posting, exercising, fitness-loving machine of awesomeness. I must never forget that. Plus, I can't forget that even during that time of "highs" I had lows now and again...but I managed through.





Day 5: August 19-September 18

All the highs of August brought a lull of lows. I wrote that I felt like a deflated balloon. I struggled with consistency. I struggled with wanting to run and being unable to, and with feeling like the soreness I felt (and feel) every day was beyond what anyone could endure, and that caused me many times to just give up and skip the workout for a day when I should've put in a little work. I finally declared war on myself and the scale. I needed a resurgence of willpower. I struggled with the misconceptions I had of other people, and made a bunch of confessions. But by struggling through and making myself do it. By calling upon my inner Jillian, I lost 5.6 pounds the first week of my "war." Impressive, right?!

It was a lesson in how "phoning it in" is always better than "letting the answering machine get it." ;)

And by the end of that month, I had walked a 10k and then got asked to be a bridesmaid in my friend's wedding the following year (now it's just months away...start the freak out! ;) ).

It's important that I remember August and September...because I seem to be repeating them in a different way. And what I need to remember is that I fought my way through it, and I can do that again. The inner demons don't have to win, but when they do, I don't have to believe it's any reason to quit. Back on the horse. Off we go again. We can DO this if we give ourselves a fighting chance.

"It doesn't get easier, we just get better."

I honestly believe that.





Day 6: September 19-October 18

The month started off like this: "I didn't want to...but I did."

I need some more of that in my life right now! What else do I need? More humor!!
If you didn't get a chance to read it before, read this hilarious blog!
www.sparkpeople.com/mypage_public_jo
urnal_individual.asp?blog_id=3661946
AHAHAHAHA! Ironic I'd see that today since I woke up this morning with cramps so bad I was doubled over most of the morning as I tried to get ready for work.

I want to laugh again. I want to enjoy with humor the bad times that crop up. I think I've forgotten lately how powerful smiles and belly laughs are. I think it might be time for a weekend movie marathon of the funniest movies I can think of and track down. I think it might be time for tickle fights and games of tag, and swinging! I want to swing at the playground!

Last night I got super angry at the gym. I tried to call Hubs when I was about 10 minutes out to ask if he was going to meet me. He didn't answer. When I got to the gym, he pulled up behind me and honked at me, and we had a mock little fight in the parking lot wherein I "kicked" his car and he called me a witch. And then we laughed. But not moments later I was steaming. My gym up and decided to close down the kids playroom without informing ANY of the patrons. Hell, the girl at the front desk didn't even know what was going on. She didn't know why it was closed or when or even IF it would reopen. It's this HUGE mystery and it pisses me off because it means Hubs and I don't get our special gym time. He said he had to leave (to take the kids home) and I wanted to punch someone. I knew getting through a workout would be REALLY hard after that. He's been a huge help getting me through my workouts lately and I NEEDED him last night.

Three minutes later we met each other outside. I didn't WANT to workout there. I wanted my damn money back because they've been acting horrible there lately. The people are nice, but there is just this atmosphere of "you don't matter" around there. Plus, the way the PT always talks down to me, and her inability to even SHOW UP for our appointments, and the fact that I KNOW she's not doing everything she's supposed to do - I was SO angry I knew I wouldn't be able to stay. "Screw this!" I thought. I had already swiped my card for the insurance company, I was free to go...go spend time working out WITH my family.

I met Hubs as he was coming in to tell me they would wait outside for me. I told him that we were leaving that stupid place and going up to the park for some tennis. I put my watch on and promised myself I'd do 30 minutes and I'd be okay with that. I did about 35, actually. And I was actually starting to get BETTER as time went on! *lol* And I burned a lot of calories. SO :P gym.

Even though I followed that with WAY too much greasy food at LJS after, I feel like I won last night. Instead of giving up completely, I changed the plans. I flipped the script and actually enjoyed myself even more!

Live. Laugh. Love. --- All THREE are important. I MUST remember that.

And, for the record, and since I'm reflecting upon October of 2010, I should remind myself that this is the month that I "half-ran" TWO 5ks in a week. One on Sunday, another on Saturday. With family. With Sparkers. With my dog. And I felt like a champ!

So maybe it was the training that got me through it all. Or maybe, just maybe, it was the fun and laughter and joy. The ability to look on the bright side of things and make the most out of a bad situation. As I continue through my life, I hope to take this lesson with me. -- nothing is as fun as laughing with kids, friends, and family. NOTHING.






Monday, April 18, 2011

Water is a beautiful, wonderful amazing thing. Find a way to get your glasses in in the beginning and by the time a year is up, you won't know how you ever lived life without it. You'll go to bed knowing instinctively by how your body feels whether you gave it enough water or not.



You DO NOT have to learn to hate food. You DO NOT have to rely upon tasteless recipes or pre-packaged foods. With enough searching and trial and error you can find tasty, delicious and completely healthy recipes that the ENTIRE family will enjoy. Honey Garlic Pork Chops anyone? Ooh, or how about some herb grilled salmon and roasted vegetables? Yes, please!



This guy never, never, never leaves. Sometimes you're able to get around him. Sometimes you can actually use him to your advantage. But sometimes you give in and you feel the F word coming on. Ignore it. Crap happens. You WILL have good days and bad days. You WILL fall down. At some point you will consider giving up. But if you just remember to get up and keep trying, scraped knees and all, every single time, YOU will eventually win.



Sometimes you have to put up a battle against all the inner demons. Sometimes you have to create a battle plan to combat those days when you just "don't feel like it." You may not be fond of calling it "war on yourself" but think of it this way - it's war on all the bad habits you've picked up over time, all the things you've become comfortable with just ignoring. Sometimes you have to build the path ahead through the muck and brush before you find pavement and civilization once again.



The scale does not mean a hill of beans in this game. In a world dominated by numbers - clothing size, shoe size, annual salary, and, yes, weight - we hinge all our hopes on silly things that are far beyond our complete control. If you want to pay attention to numbers pay attention to these - miles walked/run/biked, minutes spent exercising, number of healthy meals added to your regular routine, number of fresh veggies and fruits consumed in a day, number of glasses of water, amount of push-ups in one minute, pounds of extra weight on the leg press machine, heaviness of the dumbbells you're curling, etc.



Keep your friends close. When you feel like you're all alone, branch out and be there for someone else. Somehow, that makes what you're going through that much easier. Somehow, by lifting someone else up when you're feeling down, you find yourself pulling out of the slump you feel like you're in. When you're too far in your own head, force yourself to focus on others and you'll find some clarity.



Be generous and kind to yourself. Turn the negatives to positives because positive reinforcements hold up so much better under the weight of the world. Make your life a stroke of positivity that others can follow. And when the negative monster bites you in the butt, pull out the positive laser gun and give him a taste of his own medicine. There are two sides to every story...be on your side.



Learn to take a compliment. Don't twist peoples words around to something negative. Don't put words in their mouths or heads. That's not at all fair to them or to you! How would you like it if you approached a friend and said, "Oh my! You look great!" and she wigged out on you? Don't be the person you can't stand to be around. A simple thank you and a return compliment do just fine. "Thanks! I'm loving these shoes you're wearing! So stylish!"



You WILL make mistakes. The sooner you accept that, the sooner you can get over the fear of the possibility of making them.



Heavy lifting is one of the best ways to get your body into tip-top shape. However, be kind to yourself because the weight may not adjust as you want it. Like me, you may end up gaining 1/2 a pound from February to April, but if you take a closer look, you'll realize that all of what you gained PLUS SOME is muscle. You're leaner and smaller, even if the scale says you've stayed the same weight. Do not get discouraged. If you are continuing to increase your reps or weight, you are improving and building lean muscle.



Sushi can be delicious AND nutritious. Just stay away from cream cheese and understand that avacado, while healthy as all get out, still packs a good punch of calories and fat in comparison to other choices.



Do the thing you fear you cannot. And do it until you can. One year ago I could not hold a plank at all. Getting in plank position was pretty much impossible. Now I'm gaining on a 2-minute plank time. How? I just kept trying.



Figure out what kind of exercises and activities will take you through EVERY season. Don't fall victim to the "too cold" excuse. Find something you can do in the snow - even if it's just shoveling or building a snow angel.



The gym will not lose your weight for you. You must show up and do the work. And don't think that a gym is even required. Make the world your gym. Roll down a hill. Go for a hike. Row across a lake. Swim, jog, run, walk, skip, jump, whatever. The only excuse that always works is, "I'm dead."



Find your calm, and use it. After serious panic attacks all week, I'm realizing that I need that time back - that time of peace and calm and me, without worrying about what I still need to do, who needs to be paid, what needs to go where, who needs to be dropped off and picked up and taken to the doctor and whatever. I need that time...and I'm still working on figuring out how to get it.



You hear how important sleep is all the time, but we've built up this image that those who need the least amount of sleep are somehow better, more productive. Ignore that idea. Sleep is amazing. Sleep is necessary. And enough sleep will make you unstoppable!



There will always be another opportunity for cake, donuts, etc. Stop thinking "well, it's here, and I don't know when it will be here again, so I better eat it now." Stop that crazy talk. It's your son's birthday? Who cares? There is no way your son is going to have a crappy year just because you didn't finish off half of his birthday cake. There will always be another opportunity. What's better, there are always ingredients at the store - you can make your own...and make it healthy or vegan and feel better about yourself. St. Patty's day will go off just fine without green beers or Shamrock Shakes. Easter will not fall apart without chocolate peanut butter eggs. Fourth of July will not end all the fireworks if you pass on the beefy hot dog and slip in some grilled chicken. I promise!



Plans are an excellent tool...but knowing how to make a back-up plan in a hurry if things fall apart? That is invaluable!



And finally - the tools are there, you just have to use them. Period.

1 Year with SP
90 pounds lost
From 416 to 326 pounds
Over 45 inches lost in hips, thigh, waist, neck, upper arm, and calf alone
Size 30 to a size 24
Unsure and sad to confident and proud
5 races finished
30 minute miles to 16 minute miles (walking)
Zumba
Rowing
Circuit Training
Boxing
Running injured
Yoga and flexibility
Kids that cook vegetables because they want to.
Husbands that just smile when they see you and can't stop telling you how beautiful you are and always have been.

Here's to a body fat % under 50%!
Here's to a lowered BMI!
And HERE is to not caring about any number as much as I care about how I feel in my mind, body, and spirit!



First Page
1
2
3
4
5
6
7
8
9
10
11
12
13
14
15
16
17
18
19
20
21
22
23
24
25
26
27
28
29
30
31
32
33
34
35
36
37
38
39
40
41
42
43
44
45
46
47
48
49
50
51
52
53
54
55
56
57 58 59 60 61 62 63 64 65 66 67 68 69 70 71 72 73 74 75 76 77 78 79 80 81 82 83 84 85 86 87 88 89 90 91 92 93 94 95 96 97 98 99 100 101 102 103 104 105 106 107 108 109 110 111 112 113 114 115 116 117 118 119 120 Last Page

Get An Email Alert Each Time CALLIKIA Posts