| | |
| --- | --- |
| | CALLIKIA's Recent Blog Entries |


Tuesday, April 19, 2011
I will not abandon another goal I set for myself. I said 12 days of reflections and I will do them. I'm in a better place already after doing days 1-3, but I'm still needing some work, as my anger last night at the gym and subsequent eating marathon at LJS last night can attest to. (See, a year in and I *STILL* make mistakes. The difference is that I admit them, move on, and keep going.)

Day 4 - Reflecting on July 19-August 20 (2010)

The month started with me excited about some changes...like my rings starting to be loose on my fingers. It's true, in January I had a guy at the jewelry store measure my ring finger. It was at about an 8.5...and I think I'm down to an 8 now. When I got married 9 years ago, the ring we bought for that finger was a size 10.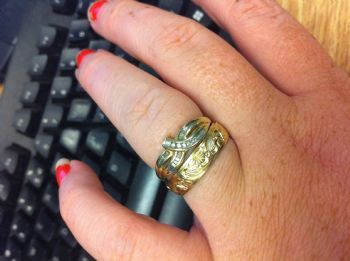 July 19, 2010 - had to stack another ring (size 9) on top of my wedding band so it didn't fall off.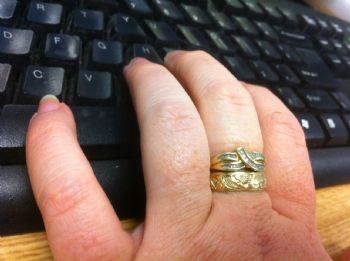 After a while, that wasn't working because the size 9 ring was too big. Most days I wear them like this - ESPECIALLY when it's cold outside. The wedding band cannot be resized, but if I could find the paperwork from when we bought it, we have a lifetime warranty on it and they'd have to order me in a copy in the new size. As a reward of sorts, I've been on Hubs to get me a new ring as well. I thought he would get me one for our anniversary this year (major fail - he went to WalMart at 11pm the night before our anniversary and bought me a fountain thing for my desk at work *facepalm*). But next year is 10 years and you had better believe I will be on him from November until February 2nd (our anniversary) to get me a an anniversary band. I'm not asking for any more than I've been willing to give since I replaced the ring that no longer fits him (he wears his wedding band on a necklace now) a few years ago with a beautiful new ring. (Of course, the other day I realized he had gotten confused and put it on his right hand. I smacked him! ...*lol* not really, I just called him a dork and made him fix it.) So - next year, buster! February 2, 2012. There had BETTER be a beautiful anniversary ring waiting for me!

Also that month:
* I talked myself into putting positive or even combative thoughts in the heads of other people at the gym...thoughts that would spur me to do better, go faster, and be stronger. And it worked!
* I had some bad days...and some good ones too.

I also talked a lot about goals...which I realized yesterday I've confused one too many times with expectations. You see, that post yesterday you all liked so much? It wasn't the post I have been wanting to write for the past 11 months or so. Somewhere in my head I made an expectation for myself that, in order to be successful, I had to be able to post that I had lost 100 pounds in 1 year with SP. And when I realized I wouldn't reach that mark...I had a bit of a meltdown. It didn't help when I realized that others had done it - friends who started with me posted their 100 pounds in a year posts and instead of being happy for them, I turned on myself. "See, Loser? You couldn't do it, but they could! You suck! You've done nothing this year. A year wasted!"

Can you believe I talked to myself like that? *ashamed*

What the heck is my problem? 90 pounds is nothing? A year sticking to it again is nothing? Plus, this isn't my first time at the rodeo, clown! I started way back in 2004, when I worked to lose my first 100 pounds. I started this whole 'weight loss/get healthy' thing at 466.6 pounds, so really I have lost 140 pounds since my highest weight. ONE HUNDRED AND FORTY POUNDS, people! I lost a person already! It took me years to do, but I have no plan to ever find those 140 pounds again...go ahead and make another person out of them, kthnxbye!

I need to remember to set GOALS for myself, not expectations. I have to remember that my body doesn't always do what I want it to do. I have to remember that I can't be perfect all the time. And I have to remember too that even if I don't meet the goals I set, it does not diminish the work I have put in to get where I am. Good or bad, I made those decisions. I need to learn from them and move on.

One thing that I do want to take with me from that month - I actually wrote out a committment to myself for the month of August. It was beautiful and a great way to gain some focus. I must remember to revive this practice.

August was a HUGE month for me. I did my first 5k where I met my first Sparkie, SPUNKYDUCKY, a girl that has inspired me beyond measure.
I earned my very first popular blog post for "51 Things Spark Taught Me - A Pound for Pound Wrap-Up"
www.sparkpeople.com/mypage_public_jo
urnal_individual.asp?blog_id=3522066
I was nominated a SP Motivator and was Done Girl of the Day.
And then I went and did something crazy and started training for a 10k.
I was a walking, talking, posting, exercising, fitness-loving machine of awesomeness. I must never forget that. Plus, I can't forget that even during that time of "highs" I had lows now and again...but I managed through.





Day 5: August 19-September 18

All the highs of August brought a lull of lows. I wrote that I felt like a deflated balloon. I struggled with consistency. I struggled with wanting to run and being unable to, and with feeling like the soreness I felt (and feel) every day was beyond what anyone could endure, and that caused me many times to just give up and skip the workout for a day when I should've put in a little work. I finally declared war on myself and the scale. I needed a resurgence of willpower. I struggled with the misconceptions I had of other people, and made a bunch of confessions. But by struggling through and making myself do it. By calling upon my inner Jillian, I lost 5.6 pounds the first week of my "war." Impressive, right?!

It was a lesson in how "phoning it in" is always better than "letting the answering machine get it." ;)

And by the end of that month, I had walked a 10k and then got asked to be a bridesmaid in my friend's wedding the following year (now it's just months away...start the freak out! ;) ).

It's important that I remember August and September...because I seem to be repeating them in a different way. And what I need to remember is that I fought my way through it, and I can do that again. The inner demons don't have to win, but when they do, I don't have to believe it's any reason to quit. Back on the horse. Off we go again. We can DO this if we give ourselves a fighting chance.

"It doesn't get easier, we just get better."

I honestly believe that.





Day 6: September 19-October 18

The month started off like this: "I didn't want to...but I did."

I need some more of that in my life right now! What else do I need? More humor!!
If you didn't get a chance to read it before, read this hilarious blog!
www.sparkpeople.com/mypage_public_jo
urnal_individual.asp?blog_id=3661946
AHAHAHAHA! Ironic I'd see that today since I woke up this morning with cramps so bad I was doubled over most of the morning as I tried to get ready for work.

I want to laugh again. I want to enjoy with humor the bad times that crop up. I think I've forgotten lately how powerful smiles and belly laughs are. I think it might be time for a weekend movie marathon of the funniest movies I can think of and track down. I think it might be time for tickle fights and games of tag, and swinging! I want to swing at the playground!

Last night I got super angry at the gym. I tried to call Hubs when I was about 10 minutes out to ask if he was going to meet me. He didn't answer. When I got to the gym, he pulled up behind me and honked at me, and we had a mock little fight in the parking lot wherein I "kicked" his car and he called me a witch. And then we laughed. But not moments later I was steaming. My gym up and decided to close down the kids playroom without informing ANY of the patrons. Hell, the girl at the front desk didn't even know what was going on. She didn't know why it was closed or when or even IF it would reopen. It's this HUGE mystery and it pisses me off because it means Hubs and I don't get our special gym time. He said he had to leave (to take the kids home) and I wanted to punch someone. I knew getting through a workout would be REALLY hard after that. He's been a huge help getting me through my workouts lately and I NEEDED him last night.

Three minutes later we met each other outside. I didn't WANT to workout there. I wanted my damn money back because they've been acting horrible there lately. The people are nice, but there is just this atmosphere of "you don't matter" around there. Plus, the way the PT always talks down to me, and her inability to even SHOW UP for our appointments, and the fact that I KNOW she's not doing everything she's supposed to do - I was SO angry I knew I wouldn't be able to stay. "Screw this!" I thought. I had already swiped my card for the insurance company, I was free to go...go spend time working out WITH my family.

I met Hubs as he was coming in to tell me they would wait outside for me. I told him that we were leaving that stupid place and going up to the park for some tennis. I put my watch on and promised myself I'd do 30 minutes and I'd be okay with that. I did about 35, actually. And I was actually starting to get BETTER as time went on! *lol* And I burned a lot of calories. SO :P gym.

Even though I followed that with WAY too much greasy food at LJS after, I feel like I won last night. Instead of giving up completely, I changed the plans. I flipped the script and actually enjoyed myself even more!

Live. Laugh. Love. --- All THREE are important. I MUST remember that.

And, for the record, and since I'm reflecting upon October of 2010, I should remind myself that this is the month that I "half-ran" TWO 5ks in a week. One on Sunday, another on Saturday. With family. With Sparkers. With my dog. And I felt like a champ!

So maybe it was the training that got me through it all. Or maybe, just maybe, it was the fun and laughter and joy. The ability to look on the bright side of things and make the most out of a bad situation. As I continue through my life, I hope to take this lesson with me. -- nothing is as fun as laughing with kids, friends, and family. NOTHING.






Monday, April 18, 2011

Water is a beautiful, wonderful amazing thing. Find a way to get your glasses in in the beginning and by the time a year is up, you won't know how you ever lived life without it. You'll go to bed knowing instinctively by how your body feels whether you gave it enough water or not.



You DO NOT have to learn to hate food. You DO NOT have to rely upon tasteless recipes or pre-packaged foods. With enough searching and trial and error you can find tasty, delicious and completely healthy recipes that the ENTIRE family will enjoy. Honey Garlic Pork Chops anyone? Ooh, or how about some herb grilled salmon and roasted vegetables? Yes, please!



This guy never, never, never leaves. Sometimes you're able to get around him. Sometimes you can actually use him to your advantage. But sometimes you give in and you feel the F word coming on. Ignore it. Crap happens. You WILL have good days and bad days. You WILL fall down. At some point you will consider giving up. But if you just remember to get up and keep trying, scraped knees and all, every single time, YOU will eventually win.



Sometimes you have to put up a battle against all the inner demons. Sometimes you have to create a battle plan to combat those days when you just "don't feel like it." You may not be fond of calling it "war on yourself" but think of it this way - it's war on all the bad habits you've picked up over time, all the things you've become comfortable with just ignoring. Sometimes you have to build the path ahead through the muck and brush before you find pavement and civilization once again.



The scale does not mean a hill of beans in this game. In a world dominated by numbers - clothing size, shoe size, annual salary, and, yes, weight - we hinge all our hopes on silly things that are far beyond our complete control. If you want to pay attention to numbers pay attention to these - miles walked/run/biked, minutes spent exercising, number of healthy meals added to your regular routine, number of fresh veggies and fruits consumed in a day, number of glasses of water, amount of push-ups in one minute, pounds of extra weight on the leg press machine, heaviness of the dumbbells you're curling, etc.



Keep your friends close. When you feel like you're all alone, branch out and be there for someone else. Somehow, that makes what you're going through that much easier. Somehow, by lifting someone else up when you're feeling down, you find yourself pulling out of the slump you feel like you're in. When you're too far in your own head, force yourself to focus on others and you'll find some clarity.



Be generous and kind to yourself. Turn the negatives to positives because positive reinforcements hold up so much better under the weight of the world. Make your life a stroke of positivity that others can follow. And when the negative monster bites you in the butt, pull out the positive laser gun and give him a taste of his own medicine. There are two sides to every story...be on your side.



Learn to take a compliment. Don't twist peoples words around to something negative. Don't put words in their mouths or heads. That's not at all fair to them or to you! How would you like it if you approached a friend and said, "Oh my! You look great!" and she wigged out on you? Don't be the person you can't stand to be around. A simple thank you and a return compliment do just fine. "Thanks! I'm loving these shoes you're wearing! So stylish!"



You WILL make mistakes. The sooner you accept that, the sooner you can get over the fear of the possibility of making them.



Heavy lifting is one of the best ways to get your body into tip-top shape. However, be kind to yourself because the weight may not adjust as you want it. Like me, you may end up gaining 1/2 a pound from February to April, but if you take a closer look, you'll realize that all of what you gained PLUS SOME is muscle. You're leaner and smaller, even if the scale says you've stayed the same weight. Do not get discouraged. If you are continuing to increase your reps or weight, you are improving and building lean muscle.



Sushi can be delicious AND nutritious. Just stay away from cream cheese and understand that avacado, while healthy as all get out, still packs a good punch of calories and fat in comparison to other choices.



Do the thing you fear you cannot. And do it until you can. One year ago I could not hold a plank at all. Getting in plank position was pretty much impossible. Now I'm gaining on a 2-minute plank time. How? I just kept trying.



Figure out what kind of exercises and activities will take you through EVERY season. Don't fall victim to the "too cold" excuse. Find something you can do in the snow - even if it's just shoveling or building a snow angel.



The gym will not lose your weight for you. You must show up and do the work. And don't think that a gym is even required. Make the world your gym. Roll down a hill. Go for a hike. Row across a lake. Swim, jog, run, walk, skip, jump, whatever. The only excuse that always works is, "I'm dead."



Find your calm, and use it. After serious panic attacks all week, I'm realizing that I need that time back - that time of peace and calm and me, without worrying about what I still need to do, who needs to be paid, what needs to go where, who needs to be dropped off and picked up and taken to the doctor and whatever. I need that time...and I'm still working on figuring out how to get it.



You hear how important sleep is all the time, but we've built up this image that those who need the least amount of sleep are somehow better, more productive. Ignore that idea. Sleep is amazing. Sleep is necessary. And enough sleep will make you unstoppable!



There will always be another opportunity for cake, donuts, etc. Stop thinking "well, it's here, and I don't know when it will be here again, so I better eat it now." Stop that crazy talk. It's your son's birthday? Who cares? There is no way your son is going to have a crappy year just because you didn't finish off half of his birthday cake. There will always be another opportunity. What's better, there are always ingredients at the store - you can make your own...and make it healthy or vegan and feel better about yourself. St. Patty's day will go off just fine without green beers or Shamrock Shakes. Easter will not fall apart without chocolate peanut butter eggs. Fourth of July will not end all the fireworks if you pass on the beefy hot dog and slip in some grilled chicken. I promise!



Plans are an excellent tool...but knowing how to make a back-up plan in a hurry if things fall apart? That is invaluable!



And finally - the tools are there, you just have to use them. Period.

1 Year with SP
90 pounds lost
From 416 to 326 pounds
Over 45 inches lost in hips, thigh, waist, neck, upper arm, and calf alone
Size 30 to a size 24
Unsure and sad to confident and proud
5 races finished
30 minute miles to 16 minute miles (walking)
Zumba
Rowing
Circuit Training
Boxing
Running injured
Yoga and flexibility
Kids that cook vegetables because they want to.
Husbands that just smile when they see you and can't stop telling you how beautiful you are and always have been.

Here's to a body fat % under 50%!
Here's to a lowered BMI!
And HERE is to not caring about any number as much as I care about how I feel in my mind, body, and spirit!





Monday, April 18, 2011

Food:
* Chicken and Broccoli Alfredo
* Cassoulet
* "Fried" Tofu and Rice
* Stuffed Red Peppers
* Herb Salmon Filets with Veggies



Lunches:
* Leftovers
* Lunchmeat sandwiches
* Salads



Cardio Workouts:
Monday - 30m Cardio Circuit
Tuesday - 45m "spinning"
Wednesday - 30m Cardio Circuit
Thursday - 45m "spinning"
Friday - 30-45m Cardio Circuit or Walking or Tennis
Saturday - 30m Cardio Circuit or Walking or Tennis

Cardio Circuits can include 10-15 minutes of each:
* Boxing
* Rowing
* Walking (TM)
* Elliptical (moderate)
* Stationary Bike



Strength Workouts:
Monday - Arms
Tuesday - Legs
Wednesday - Rest
Thursday - Back/Chest/Abs
Friday - Legs
Saturday - Arms

OR
Monday - Full Body
Tuesday - Rest
Wednesday - Full Body
Thursday - Rest
Friday - Full Body
Saturday - Rest



Exercises for this week:
Arms
1) Incline Bench Press
2) Dumbbell Preacher Curls
3) Barbell Tricep Extensions
4) Planks and Pushups

Legs
1) Leg Press
2) Calf Raises on Leg Press Machine
3) Squats
4) Lunges

Back/Chest
1) Barbell Incline Press
2) Dumbbell Incline Fly
3) T-Bar Row
4) Seated Cable Row

Abs
1) Hyperextensions
2) Crunch
3) Bicycle Crunch
4) Crunch with Twist

Just trying to plan out my week. TOM hit, so I'm feeling AWFUL today. Going to take me a lot to push through this week, but it explains a lot of why I've felt so hungry lately. If I use this week to my advantage and get back on track, it could seriously help me bounce back into a state of progress. Need to ride this wave to my 100 pound lost mark! And I know after reflections on the last year that the best way to do that is for me to just buckle down and start fighting. HARD!

And, I've been working on a "year with SP" blog for today, but the pressure and ALL the stuff I want to say is clouding my head. So, until then, I'm just logging what the plan is for this week.





Saturday, April 16, 2011
On the weekend of June 20th, I took the kids, Hubs and dog camping in Hocking Hills, OH for a weekend adventure. Hubs thought it was crazy that I had lived in Ohio for most of my life but had never really explored Old Man's Cave and the Hocking Hills area.

When we set out one morning to hike to the waterfall that Hubs remembered really enjoying, I packed some sandwiches and some trail mix and we headed off on foot through the campsites. As a child, I don't know that we would've tried the hike. I think we more than likely would have driven to each site and hiked down into Old Man's Cave, Cedar Falls and Ash Cave. It was just easier that way. That weekend last year, we set off on foot.

We got lost. Hiking for 5.5 hours through rough terrain. Over hills, through paths now covered by huge fallen boulders, I struggled through. We had to stop a lot, but I kept going even when it got hard, even when Hubs offered to go get the car and pick us up. I just kept going. I cried a lot that day, but I kept going and when we made it back to the camp I felt like I had really accomplished something.

This year we plan on heading back to the area and attempting the hike again - new fitter mom in tow. But after the day I had yesterday, I wonder how different this trip will be this year, so many pounds lighter and so much stronger.

Yesterday I tilled our garden area, just as I did last year. But what took me 2 hours to do last year and made me feel like I was dying or going to get pushed over the hill and into the creek by the cranky tiller machine, was much different this year. About 30 minutes after starting, I was done with both small garden areas. It felt much different this time around. I was whipping around the machine like *I* was the master. Up, around and back, and again. It required much less effort and I barely broke a sweat. I filled up one bed with garden soil I bought at the store and tilled it into the dirt there to make sure that area was more fertile for this year - I want to have a GREAT year of gardening and cooking fresh foods! It took me 10 minutes to till the new dirt in, and then I looked around wondering what else needed done.

Later, I raked the yard. Even Hubs commented on how quickly I accomplished each task. *shrug* It was just EASIER this year. And that got me thinking about how much *I* had changed, because the tasks hadn't changed, but the effort required of me to complete them had. Let's face it. Carrying less weight around and having these strong muscles behind me, muscles I built in the gym through cardio, regular ST and heavy lifting, made me more able to handle the task at hand.

And all I can think is to pat my old self on the back a little more.

My 380+ pound self did some AMAZING things last year. No one expected me to be able to hike for 5.5 hours...not even me. But I did. I fought my way through. AMAZING work, Esther! You deserve a TON of credit for taking that on. And that effort right there, has gotten me to where I am today.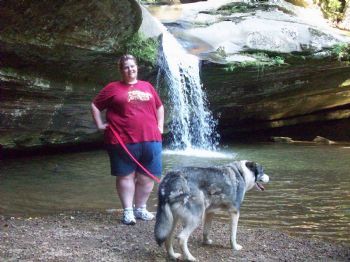 Last year, with our dog. It'll be interesting to compare this picture to the next one, but for today I'm thinking - YOU ARE AMAZING woman!

In addition to that fantastic camping trip, I was also brave when I flew to NYC for one day for an interview. BRAVE girl! I faced all my demons in one day and I had a great trip. Never got the job, but that's not what is important. What IS important is that I had the courage to even take on these challenges. The old me would not have even attempted that out of fear. Another mad props to the girl that began this change a year ago!

And by the end of that month, I had faced another challenge. I joined the gym. Without the support and encouragement of my insurance company's program (which I had applied to but which was too slow for my tastes in approving me), I joined up and started working out. I faced the demons of wondering what people would think of me. I just went full speed ahead, sure that what I needed from that gym far outweighed whatever fears I had about it. HURRAH! old girl! It's funny to think that just a week or two ago I was approached by people at the gym who commented on how they had been "watching me" come in and out nearly every day and who wanted to congratulate me for all the hard work I was putting in and all the great work I had done. I can't believe I haven't even been there a year yet. I'm such a regular that most people there know me, see me just about every night and smile and nod when I come in. What a change from the scared, yet brave enough to try, girl that signed up last year!

Dear Esther of Last Year,
Thank you so much for being so brave and taking on the challenges you are facing now. I know it seems hard now. I know you're worried all the time that you won't make it. But every day you're making strides toward a better you. Every day you're getting stronger, building speed and endurance, and building amazingly strong muscles. All I can do is thank you for that. I would not be where I am today without your courage, strength, and determination. You fought through the hard stuff. You forced out of your mind every thought of what others would think about you being there, seemingly out of your element, seemingly not belonging. You were brave enough to push on anyhow. And thanks to your continual perseverance through this hard time, I am able to enjoy and celebrate the life I have now. I apologize for not acknowledging your accomplishments sooner. Sometimes it takes us too long to recognize how what we are doing right now is changing our very lives. But today I am able to do the things I do because you put in 3 times the effort and charged through them then. Thank you. I love and appreciate you. And I vow to you now that I will follow your example so that the Esther of Next Year will one day have both of us to thank for the life she is able to fully realize in the future.
Love,
Esther of Today





Friday, April 15, 2011
So my first blog of my second month (written on May 19th) was appropriately titled "One Foot in Front of the Other." It was a month of starting to learn to cook appropriately. I even got a blog comment from my mom on one of the "just throw things together" meals I cooked that said that she wanted to be able to cook like me! *lol*

Growing up, we lived on boxed and canned foods. Money was tight and we could usually find these things in the inexpensive category. Boxed mac-n-cheese (the blue box was a splurge). Canned vegetables. Frozen bags of chicken breast and other meat-like products. I honestly don't ever remember having grilled chicken with roasted vegetables like EVER. I thought they were gross. Now it's my favorite fall-back meal. (Though I still buy bagged chicken breast because it's great to have back-ups in the freezer. Pre-packaged frozen salmon fillets work well there too!) I also didn't know much about spices. We added what a recipe called for and it was usually fall backs, like those pre-mixed "Italian Seasoning" things.

Now I'm in love with spices. Rosemary. Fresh garlic (as opposed to garlic salt or powder). Basil, thyme, oregano, parsley. My kids have gotten into the game too. The other night I had a package of 3 split chicken breasts that had been on sale at Kroger. We took all the spices out of the cupboard and picked 2 for each breast. One had thyme and oregano. Another mild curry spice and something else. I can't even remember what all we put on them, but it felt like arts & crafts or a science experiment. And when they came out, each person picked their favorite. (Hubs and the youngest LOVE curry, apparently. Me? Not so much.)

I'm in love with fresh foods now, and I can't believe I never realized how amazing WV is for that. I picked fresh strawberries from a farm not 15 miles from my house. Great price, great berries, not having to worry about chemicals because I know they do it up right out here...plus? It was an AMAZING hour-long workout! I cannot wait to do that again this summer! It makes me wonder what wonderful things I was missing my entire life up in Ohio. Sure, produce at the store can be a little pricey, but the way to cut down on that is to get it right from the growers. We did a few field trips to farms on the east-side of Columbus growing up, but I often wonder what would've happened if I would've opened my eyes a little more and really took in the resources around me. Now that I'm learning and here in WV, I'm excited every spring and summer because I know my local farms will be out in full-force with their amazingly fresh veggies and fruits. What's more - I know my garden will be going strong very soon as well. Oh, how my life has changed in ways I would have never imagined.

So when I think about "giving up" sometimes, one thing does not change. I CRAVE fresh food. I've come to prefer the way fresh veggies prepped on the grill MY way taste in my mouth. I decide if they're crunchy or soft. I decide how salty they are or what spices go on them. And that connection to my food has become much better than other connections I've made in the past.

Learning to live healthy has nothing to do with learning to hate food. In fact, it's the opposite. It's learning to love, savor, taste, enjoy. It's taking the time to slow down and learn what you like best, how the food melts in your mouth, getting a good crunch from a pepper and feeling it burst onto your tongue. It's controlling food so that it perfectly fits what your taste buds most enjoy. I don't have to have protein bars. I can make my own trail mix or granola if I want - one that is just mine, made for me, and tastes exactly how I want it.

Of course, this does not mean I will never have processed foods again. Sorry, my life is just a little too crazy at times. I have a stocked pantry of canned beans, back-up veggies, broths, soups, and pre-diced and seasoned tomatoes. Sometimes I need those. But I've learned that I would much rather cut them up myself and enjoy the freshness of "right out of the garden" goodness.

The first time I lost 100 pounds, I did it almost completely with processed foods. I remember buying those pre-cut and cooked chicken breast pieces from Tyson, popping those in the microwave and adding some cheese and eating it on a Flatout wrap. Now this is a GREAT backup if you need something quick, but today I would make my own chicken breast, put some in the fridge, pull it out when I wanted a wrap, add a bunch of pre-grilled veggies that I made - onions, peppers, etc - and then wrap it up in a whole-wheat tortilla. (OMG, that sounds amazing right now!)

In this journey we often focus so much on the changes on the scale or the tape measure. Last night I weighed-in at the gym. It actually said I was up 1/2 a pound since February. I saw the number 330 again and wanted to punch someone. And then I saw another number. 47. Can't be! It was. While my weight has stayed basically the same all year, each month my body fat % has gone down a smidge. Since February, I went from 50% to 47% body fat. While I weigh the same amount number wise, my body is full of more muscles, less fat, and I actually have numbers to prove that my muscles are getting LEANER. And even though the number has not changed, my goal number did. How funny is that? We're working toward 30% body fat right now...so even though I still weigh 330 pounds, my goal is no longer to lose 100 pounds and get to 230. My new goal is to lose 82 pounds and get to 248. Is it really any wonder that I'm struggling to get to the 200s?

I started thinking last night about goal weights, and about numbers in general. Even the guy who weighed me said, "It's kinda sad that women, who have greater weight fluctuations than men, rely upon that scale number so much, when it really isn't the important thing." He pointed to my results again. He's right, you know. When I first started losing weight, I was so depressed because I thought I SHOULD be 170 pounds. Stupid effin' BMI charts! This meant I needed to lose almost 300 pounds to get where I should be. It's such a daunting number! I mean, yes, I was severely overweight, but come on! I didn't need to lose a person, I needed to lose an OBESE person! OMG! And the only way I was able to lose anything, was to let that number go and just work with the first 5 pounds, the first 20, etc. I couldn't think long term because it kept me from short-term successes.

The first time the girl at the gym set my goal at 230 pounds, I wanted to punch her. I thought, "You mean I have to be FAT forever?" Oh, my...silly girl. 30% body fat is not exactly a SUPER FAT person, right? I mean I saw someone the other day with 17% bodyfat and I thought they looked TOO skinny. So getting to 230 = 30% body fat. Okay...here are the classifications I have found for women.

Essential Fat = 10-12%
Athletes = 14-20%
Fitness = 21-24%
Acceptable = 25-31%
Obese = 32%+

Yes, I know that some charts add the overweight category, but let's just use the word "acceptable" because I like it more. :P So, let's go back and think on this. When I started at the gym, I was told I needed to lose like 120 pound or something and get to 230. In February, my number was still 230 as a goal and I needed to lose 100 pounds to get there. Now? Now I'm STILL 330 pounds, but my goal number is 248 and I only need to lose 82 pounds (if I maintain my muscle mass). Who would have thought that being almost 250 pounds for a woman would put her in the acceptable range? And who is to say that even if I get to the fitness level - 24% body fat - that I won't still be over 200 pounds (My fat-free mass right now is 173 pounds by itself!)? Numbers can change depending on the composition.

So, it seems, focusing on numbers like we do is crazy nonsense talk! *lol* It shouldn't always be, "I've lost 90-some pounds!" It should be, "I am a stronger, fitter, more capable person because I have shred a lot of unwanted and unneeded fat from my body. I am making myself into a lean, strong, healthy person through regular fitness, weight lifting and various cardio routines."

And, what's more - I should focus on other changes as well.
I no longer rely solely upon processed foods. They are back-ups now.
My body is cleaner. My body works better now because I eat whole foods, fresh foods. I've learned how to cook in a healthy way (and I was thinking the other night - if I can cook this good with no training -- just THINK what I'd be with some formal cooking classes! *lol*).

I guess what I've learned in my reflection today is that not all changes are number-based. In fact, the best changes have no numbers behind them. The best changes occur when we're trying to do our best, and we learn new habits that make us healthier people. Sure, we did it to get the numbers - but just think of where we are now, numbers or not. I used to be the girl that ate whatever was put in front of me. Now I'm picky about freshness and variety and taste. I feel more connected to nature, and I love that I can now walk outside and pick a pepper and have it for dinner tonight.

That's one change that should NOT go unnoticed!



First Page
1
2
3
4
5
6
7
8
9
10
11
12
13
14
15
16
17
18
19
20
21
22
23
24
25
26
27
28
29
30
31
32
33
34
35
36
37
38
39
40
41
42
43
44
45
46
47
48
49
50
51
52
53
54
55
56
57
58
59 60 61 62 63 64 65 66 67 68 69 70 71 72 73 74 75 76 77 78 79 80 81 82 83 84 85 86 87 88 89 90 91 92 93 94 95 96 97 98 99 100 101 102 103 104 105 106 107 108 109 110 111 112 113 114 115 116 117 118 119 120 121 Last Page

Get An Email Alert Each Time CALLIKIA Posts