| | |
| --- | --- |
| | CALLIKIA's Recent Blog Entries |


Friday, April 01, 2011
First, let's start with a March recap, shall we? Actually, I have one better for you. Remember at the beginning of the year when I told you I broke up my goals into 4 3-month segments? Guess what? We are a quarter of the way through 2011. (Shocking, I know! Just remember there's only 3/4 of the year yet to hit your yearly goals. Sobering thought...)

So here's my recap of how my first "Quarter" went.

1. Log 90 miles

Now I said I could do this on the elliptical, rowing machine, walking, running, biking - whatever. Problem was...I wasn't always the best at logging. From what I can figure out, though, these are my monthly estimates.

January - 26 miles
February - 12 miles
March - 29 miles

Total: 67/90 miles

So, no, I didn't hit my goal. But you know what? I'm gonna log killer miles in the upcoming months as long as my running holds out. Remember, I was not running (and super depressed about it) for all of January and February and MOST of March. I'll be finishing up week ONE of C25k today, and I'm logging, on average, over 2 miles with each run. Plus...well, I got some really good plans for the upcoming months as far as walking/running/biking are concerned.

Most importantly...
What I learned from this goal: Don't let what you CAN'T do, stop you from doing what you CAN.
I couldn't run. Got it. I still could have logged miles walking, on the elliptical, rowing, and on the stationary bike in the gym (though I HATE that thing!). I lost focus because I got hurt running and felt like an utter failure. It wasn't until a week or two ago that I said, "Screw this! I AM a runner. I'm just a runner who can't run right now." I told myself to stop throwing that ridiculous pity party and get on with it. Funny...as soon as I did that I found the secret to being able to run pain free. *lol* Life is funny that way...always trying to teach the lesson FIRST. And you have to learn it fully to get your prize. Yesterday I got a card in the mail reminding me that Paula (MEZZOANGEL) bought me a gift subscription to Runner's World magazine and I'm (im)patiently awaiting my first issue.

2. Lose 20 pounds

Oh, I thought I was SO clever with this goal. My estimate was -2 pounds per week would equal -24 pounds...and I thought I was giving myself some wiggle room for mistake weeks. HA! Monthly totals follow...

January: -0 pounds
February: -5 pounds
March: -5.5 pounds

Total: -10.5 pounds.
A little over HALF of my goal is what I got. January was SO difficult for me and I'm not sure I remember why. February was a little better. And by March...I had recommitted and got my stride back. I could sit here and lament those extra 9.5 pounds I didn't lose. I could do what I usually do and remind myself how I "wasted" those 3 months. But I'm not doing it. I learned SO much in those three months that I wouldn't trade those lessons for those 9.5 pounds. There, I said it. I WOULDN'T TRADE! Those lessons are going to carry me through the next 10.5 pounds...and the 10.5 after that. I earned those lessons. And I earned those 10.5 pounds lost. I'm happy for myself.

What I learned with this goal:
It's not always about numbers on the scale.
What a HUGE lesson to learn so early!

3. Complete C25k Program
This one made me sad for SO long. The last time I was able to run pain-free was in December in Washington D.C. Since that time I was plagued with hip pain and other pains and heart pain more than anything. I have the heart of a runner. I WANT to run nearly every day. And letting go of that took me months. When I finally came to terms with it, like I said, I got my stride back. Wednesday's run (W1D2) was pure magic. I overran a running segment on accident and almost didn't realize it. And when I finished, I wanted to do it all over again immediately! I can't say that it will always be like that...but it felt good to feel like a runner (however slow) once again. I'm back! And this one is going BACK on my list. I will complete C25k. And as soon as I'm done? Well....there's a plan to start a 14 week HM training program. Yep, I just said that. Of course, that's if everything holds out and I progress like a dream. If I don't, I've learned to readjust.

(I just realized I overslept and completely forgot about my Dr.'s appointment this morning. *smacks forehead* I've rescheduled for next Friday. OOPS! Funny, all I've been able to think about is getting out for my run... *lol*)

4. Finish 2 Races

I got one done - the Get Lucky 7k. And I cannot tell you what this one race meant to me. I thought about scrambling to find another race before the month of March was out, but then I decided it was best to just wait for training runs and the like, to get my confidence back. I've already got 5 planned for the rest of the year, and I might go filling in some more holes later. We shall see.

5. Complete 30 Day Shred
In February, I changed this goal to completing the 8-week freetrainers.com strength training/lifting program. I missed days here and there, but I did NOT quit. In fact, I got back on this week and scheduled another 8-week program.

What I learned from this goal: I LOVE heavy lifting
I'll have to post a pic later of the guns I've got now. *big grin*

6. Finish "Winning After Losing"

Nope, didn't do it. And I thought about feeling bad about it, but I don't. Some of these lessons need time to sink in. I have to read them, adapt them to my life, and work them out in my head until I realize what I need to take from them. I'm keeping it with me, reading a lesson here and there and learning as I go. It's not about speed, it's about the learning.

7. Read 3 Books (including 1 for research)

TOTALLY did that one! WOOT! :)

8. Do 1-Minute Plank

HA! GOAL MET, SUCKERS! *snickers* I can now do a minute and a half plank. *SO proud!*

9. Log 3,900 Fitness Minutes

Alright, look, I did all my totals, but now I'm being told that Spark sets a cap on fitness minutes each day. Monthly totals according to Spark and my estimates...

January - 1620
February - 630
March - 1253

Total: 3503

But now I think Spark lies. Hell, I spent nearly one entire day in March working out (Get Lucky 7k day) and that whole weekend was jam packed with fitness minutes. I'm either going to have to rework this goal, or start keeping track better on my own. I may have hit it, or not, but at least I got pretty close.

10. Attend 20 Zumba classes

Major fail. This is the only one I'm sad about. I did like 6-8 classes in 3 months. It was a lot of hip pain problems, some depression, working that 2nd job on Thursday nights, and a whole mess of other things that attributed to that. In order to not dwell, I'm focusing on starting April WITH Zumba. That's right. Tonight I'm doing a Masters Class WITH my regular Zumba instructor....at 9pm! (I don't much care for that part...esp. considering it's in Charleston, so I won't be home until like midnight or later...but whatever.)

11. Fit into size 24 jeans

Yep. Most days I do. I float between 24s and 26s right now depending on store, material, brand, style, etc. But I am getting smaller...and that makes me happy!

--------------------------

Measurements.

Alright, this one is pissing me off. If anything I think I gained about an inch. *cries* I don't get it. Where is all my effort going? Where'd those 5.5 pounds come from? *sigh*

--------------------------

Okay, so what's up for April?

I will NOT be an April Fool! I have goals.

- Get to (and hopefully under) 316.2 pounds!
- Keep C25k going
- Eat clean as much as possible
- Work toward 2 minute plank and 1 minute side and modified planks
- Get to being able to do 15 regular pushups
- Crunch more! (I want inches lost!!)

I don't have my calendar in front of me, so I'll have to share all of that tomorrow, but it involves:
* running
* yoga
* ST (might change this a little, but will do it still...want inches lost!)
* long distance walks
* and a boxing lesson

*****
Note: I was SO happy to write this blog until I realized my inches are going NOWHERE. Seriously? I'm nowhere near where I should be. I need some friggin' progress in inches, even if it's just 1/4 of an inch. NOT happy about this.






Thursday, March 31, 2011
First, I'm going to get my serious question out, because it's been getting to me. It's probably more a combination of questions, but it all centers around one idea -- "Your Ideal Weight".

Okay, let's face it, I'm far from ANYONE'S ideal weight for me. I know that. But I also know that I've been on this path for almost 8 years and I've lost almost 150 pounds in that time. I also know that I've been reading about (and have had forced down my throat) fad diets, healthy living, healthy eating, and diet and exercise for nearly my entire life. So, yeah, take it as you will, but this is just my 2 cents. (And remind me of this when I finally get there.)

Part 1 - Fad Diets
Okay, so I've stumbled upon a lot of blogs through my time here about different diet plans people are on. And it makes me sad. Why, you ask. Why should I be sad if people have found a way that helps them lose weight? Why should I negate their efforts just because they've found some sort of system that fits with their way of thinking and helps them achieve their goals? I should be happy for them, right!? *sigh*

I've been on those diets. I've done diet pills and Weight Watchers and all kinds of "try this and slim down" diet techniques since about the age of 8. Yes, I said EIGHT. My entire family was obese and they, lovingly?, didn't want me repeating the habits. So, yes, I did weight watchers. I bought into the diet pills and fads for a long time. And, yes, they do work. And I'll tell you why.

Limiting carb diet - also decreases your calories since carbs (at least the ones we really like to NOM) tend to be calorie dense
Weight Watchers - you may not realize this, but THEY are counting your calories for you...again, it limits your calorie intake
Slimfast, Jenny Craig, Nutrasystem, etc. All of them LIMIT calorie intakes. Some of them even 'trick' you into thinking it's easier than actually counting the calories yourself. *shrug* Maybe it is - but it's just a different tool to reach the same general effect.

And what do they get out of it? For their tricky, sneaky ways of making you limit your calorie intake (something you can do all on your own, mind you), they get your money. And LOTS of it. The diet industry is making a KILLING out there by tricking people into doing what they could do themselves. The problem is, when the money well runs dry, they leave you on your own, scrambling to figure out what you should already know. If you had realized you were counting calories and limiting your caloric intake the entire time, and if you had found some way to do that on your own without some sneaky method that made it seem easy, you wouldn't be so lost by the end.

And, no, I'm not insulting your intelligence. If you use one of these programs and are able to figure out how to live without dropping them money for the rest of your life using their rules, than I fully support that. But I've seen too many people fall into the yo-yo swing when they stop these programs and gain all the weight back and plus some. I did.

Part 2 - Extreme Fad Diets

Okay, so now we have the extreme diets. Way back, my mom was actually prescribed "black beauty" or Speed by her physician to aid in weight loss. No lie. She said it was great in getting her to keep her house spotless. I've been in this loop too long to ignore what's been happening. Now we have HCG (that's pregnant woman's pee, btw...approved by the FDA for fertility treatments, not for a dietary aid) and I'm sure there are others that I've simply chosen to ignore.

Along with HCG, and some other diets like this, are EXTREME calorie limiting. We're talking 500-1000 calories a day. Breakfasts that consists of coffee only. A small slice of grilled chicken and some veggies for lunch and then a shake for dinner. (Slimfast anyone?) Do you know why they work? They limit your calorie intake. (BAM! There it is again!)

Part 3 - Figuring It Out on Your Own

I cannot BEGIN to tell you how important this is. Again, I am now 30 years old and have been fed nothing but diet nonsense since the age of eight. NONE of it worked and I continued to gain the weight. Things that did work, failed once I stopped doing them and I would gain more weight and more on top of that! With each pregnancy, I gained weight because I thought it was my license to eat whatever I wanted. (In fairness, actually I *lost* weight in my first pregnancy. 45 pounds in the first trimester. NOT because I was watching what I ate, but because my BABY was regulating the types of food I was consuming...and that boy LOVED him some salads and vegetables!) The point was, no matter what I was told, I KEPT gaining weight.

To this day only one thing actually sticks with me. I went to the program once and in it we learned about how much space fat takes up compared to muscle. We learned how to cook healthy. How to make healthy food choices. How to have fun exercising. I think I was 12 or something? If the program had been geared a little more toward my intelligence (it was a little too "baby" for my maturity) I have no doubt I would have learned a ton...but even the small time I spent there (about 3 hours) I learned more than I learned from YEARS on Weight Watchers and the like.

Part 4 - What Works?

Okay, so I know you're asking me what the point of all this is, and I'm coming to it. First of all, let's discuss what works, shall we? What did all of those diets have in common? What do anorexia and bulemia share with those diets? CALORIE RESTRICTION.

That's right. I said it.

Limit the calories you consume.

But there is a RIGHT way, and a wrong way to do that. I know you're shocked that I lumped Weight Watchers and doctor's supervised HCG diets together with anorexia and bulemia, but they all share the same major theme -- limit caloric intake = lose weight. DUH! That being said, anorexia, bulemia, and, yes, I have to believe even doctor's supervised diets that ask you to limit your calories to a DANGEROUS 500 calories a day (that's less than some anorexics eat!) are harmful to your body's systems. Many of you would not argue with me on that.

What might cause an argument, is my belief that diets like Weight Watchers and Jenny Craig are dangerous to your mind. It's just another trick to keep you putting your hard earned money in the hands of more than likely well-meaning, but also quite wealthy business people. It's true. Our society is always LOOKING for the easy way out, and I'm not saying these diet systems are BAD, just that they've found a way to "help" those consumers out who don't believe that they can figure this out on their own.

I've been more than encouraged lately by some shifts in the diet industry on that end. And one thing they've ALWAYS had right is maintaining a support group system for dieters. (One of the reasons I find Spark to be practically PERFECT in every regard.)

I'll stop ranting about Jenny Craig and Weight Watchers in a moment, but I just want people to recognize that they are doing the exact same thing you can be doing on your own. And I know you're asking, "How is Spark any different?" Well, because while Spark gives you step-by-step guides and calorie trackers and fitness trackers and the like, tools to help you succeed...they spend a lot of time also trying to educate you so when you walk away from Spark one day (if ever!) you will still be armed with all the tools you need to succeed.

Finally...one last thing.

Part 5 - Ideal Body Weight

Many of the people that I see going to extreme measures - extreme calorie limiting, extreme workout regimens are actually quite thin...quite close, in fact, to their originally set "goal weight." And I encourage persistence absolutely. But I need you to make me a promise. I need you to one day decide that the scale will not be the judge of who you should be and what you should look like. I don't know, maybe it's because I'm so far away and I don't understand, but I hear people sometimes with this number stuck in their heads. They seem completely healthy (and are!) and yet, the number on the scale doesn't match the number in their head, so they stoop to extreme measures to get there. A few things I've always wanted to tell you...

1) Love yourself for exactly who you are.
2) Do not stoop to harming yourself to fit into anyone's idea of what you should weigh.
3) NO ONE knows what you weigh unless you tell them, so stop focusing SO MUCH on that stupid number!
4) It takes TIME. I once read that it can take TWO YEARS for skin to "snap back" where it was before. (Doesn't sound like what we think of when we say "snap back" does it?) Maybe it takes time to develop muscle definition and lose those last little inches of belly fat.
5) Do NOT forget strength training. And by that I mean - try heavy lifting. If you've tried everything else you have nothing to lose right? And, no ladies, you will not get all buff like those guys you see on TV.

There is a female bodybuilder at my gym and I cannot tell you how much MORE she has to do to compete with the bigger guys at my gym (none of which have bodybuilder physiques). It's SUPER tough to be a female body builder because you're fighting what the female body is supposed to look like in its natural state. Women are supposed to have a little roundness...our bodies protect our fat because we're built for baby producing. (Okay, stop feminists...I'm just talking "let's go back to caveman days and think" and not "all women should get in the kitchen and have a bunch of babies" nonsense. And if I'm wrong, I will admit it with the right amount of proof to back it up...these are just theories and thoughts I've developed over 20 years of being fed everything in the book about diet, wellness, fitness and exercise and had to wade through to make my own sense of it and find success.)

So maybe...yes, I'm going to say it...you've been at 150 pounds for the past six months despite your dedication to diet and exercise because your body needs to, wants to, is built to be there. MAYBE. (Of course, there IS such a thing as a plateau, and my doctor always says, "Just keep doing what you're doing and the results will have to come eventually...your body just needs to do the adjusting.")

In short (I should have told you to skip down here first, right?):

1) There is no diet weight loss pill that is safe, effective, and longterm that I know of.
2) Everything those diet companies do for you, you can do on your own and empower yourself.
3) Lower calories in + More calories burned = Weight loss.
4) Sometimes it just takes time.
5) Love yourself and your body at EVERY stage and have patience with it. It deserves at least that much from you!
6) Eating under 1200 calories for a woman (and more for a man) is UNSAFE. Ask a scientist.
7) Keep your money in your pocket and join Spark.
8) Don't believe everything you hear, read, or are told by TV or doctors or TV doctors.
9) Arm yourself with KNOWLEDGE!
10) Finally, don't forget the heavy lifting.

Let's make some strong, empowered, powerful women, mmmkay? If we're creating ourselves - why not make ourselves that?

/end rant

EDIT: I realize there is no question in this "Serious Question" blog. *lol* It's just something I've been questioning myself with. Take it or leave it.





Wednesday, March 30, 2011
Alright, ladies and gents. My body is still sore from all the workouts I've handed it the past few days. For this reason, I do NOT want to push it for a HM in just a month's time. The most I've ever walked is 7 miles, really...and to basically double that in 4 weeks? It just doesn't sound like a good idea...especially since I'm back on the running wagon again. Plus, I think it will be MORE hilarious NEXT year when I RUN the Flying Pig HM. Yep. I said it. Next year. If all goes well, I should be more than ready to RUN the half marathon in May in Cinci. That sounds VERY good to me. So, yes. Plans can change. New plan? Coming Right Up!

First of all, I'm going to keep working the C25k program. I'll take it as slow as I need to, but I have high hopes of making it to week 5 this time around. While I'm doing that, I have a doctor's appointment Friday to get a referral for either an orthopedic surgeon or a podiatrist, or both. I'd love to get fitted with a knee brace and to make sure I have all I need to be a successful runner from here on out.

So I got this crazy idea this morning. A crazy, brilliant idea!

April 23rd is the Distance for Diabetes 5k here in Charleston.
April 30th is the Beer Mug 5k/10k in Hilliard, OH.
May 7th is the Capital City Quarter/Half Marathon in Columbus, OH.

Does that sound crazy wonderful to you?
Saturday 1 - 5k
Saturday 2 - 10k
Saturday 3 - Quarter Marathon

And the 8th of May? Yes. That's Mother's Day and I will be asking Hubs tonight for the BEST. GIFT. EVER. A spa package at the local day spa in town. Now, I realize that the flaw in my plan is that they are closed on Sundays (would have been great to get my massage and such on Sunday after the QM), but I can just tack it on to the end.

Saturday 4 - Spa day? Yes, please!

Now, this is the plan in a perfect world. And things could get flawed. I can tell you right now that I will dial the spa FOR HIM if I have to because I want this more than anything - and they have affordable min-packages that include a massage, so I'd be good with that. (Dream day? Massage, facial, manicure...but I won't be picky about it.)

I haven't researched quite enough to find good races for May and June, so I may refocus then and go into swimming mode. (I admitted to Hubs the other night that doing a Tri is my ultimate goal one day....to be fit enough to complete 3 different athletic events in one day, back to back? That sounds like a winner to me! I'm no where near ready for it yet...but that doesn't mean I can't start on some training.)

June is also hiking month. Ever since our 5.5 hour hike last year at Old Man's Cave, I vowed to return the next year and try it again, just to see how much my body had changed. So June will be the month for that trip and I'm SO looking forward to it. This time the goal is to NOT get lost and to go from OMC to Cedar Falls to Ash Cave and back again.

July? Well, there's the Beerathlon in OH that I've teased Hubs that we should invite our old buddies to. We had a group that used to all get together and hang out. Now we're basically coupled off, those of us who have survived...and most of us are in some way concerned with health/fitness activities and eating right. So I'm going to pitch it to them here soon. W&K, A&D, and Hubs and I. Let's ALL OF US walk or run the Beerathlon, which ends at BW3s where we'll consume mass quantities of crap-for-us food with the knowledge that we worked it off first (yea, right! I'm talking about 3 vegetarians and 2 health food nuts...we do all drink beer, though... ;) ). I think it'd be a blast just to say we did it. We could get some sort of matching gimicky outfits. More than ever this year I realize that I don't JUST want a race challenge - I want a race to be FUN!

Of course August will be the Debbie Green Memorial. I promised myself I would return the next year to (hopefully) RUN the 5k I first walked.

And, no, I didn't abandon HM goals. All of this will put me in great shape with plenty of training time to do the Emerald City HM in September...placing me as far away from Charleston as I care to get, and away from the memories that just about broke my son's heart (and mine in return) last year at the 10k there. It's my kick in the face to them. I will NOT compete in that race again until they fix what they broke. Done and done. For me, that's redemption.

So, yes. It's crazy. But I think it just might work. Hubs will HATE those 3 weekends in a row, but I have to let him know it's all for a reason. I need this. I need to get my race spirit back and reclaim everything that is good about races. PRs and fundraising for great charities and the fun of it all and a giddy, motivational atmosphere. That was what I got out of my first 5k and the last 2 as well of 2010. And I MUST reclaim that. Part of that started this month at the 7k, when I got swept away with joy at the end realizing I had PRed, but I made a promise that day to do every race for SOME reason. A GOOD reason. It had to mean something to me other than distance. It had to fit into MY plans and MY path and what I wanted out of a race. I love PRs. I love pretty medals. And I love knowing that my money goes to a good cause. I love racing with friends and sharing that spirit with them at the finish line when it's all over. Time to leave all the past "woe is me"s behind.

That being said, I'm scared. I'm scared I won't follow through. I'm scared my body won't hold out. But if I have learned anything so far this year, it is to face what you fear head on.
"He has not learned the lesson of life who does not every day surmount a fear." - Ralph Waldo Emerson

So, without further ado...



Race Schedule 2011


* 4/23/11 - Distance for Diabetes 5k - Charleston, WV
* 4/30/11 - Beer Mug 10k - Hilliard, OH
* 5/7/11 - Capital City Quarter-Marathon - Columbus, OH
* 7/17/11 - Beerathlon 5k - Columbus, OH
* 8/6/11 - Debbie Green Memorial 5k - Wheeling, WV
* 9/4/11 - Emerald City HM - Dublin, OH




P.S. ....I can't WAIT to run today! *lol*

EDIT: P.P.S. I signed up for a Zumba Master's class on Friday night. I'll be working out WITH my Zumba Instructor instead of behind her. :)





Tuesday, March 29, 2011
Yes, yes. They've been all around my office too. Truth? I don't buy GS cookies...not anymore. When I was a Girl Scout and had money to spare, I'd buy a box...and eat all of it in one sitting. It's part of what I've been thinking about lately, recognizing and acknowledging my binge eating disorder and how I've come to control it (for the most part). But that's not really what this blog is about...at least not intentionally.

Let me start with a story.

I grew up on a quiet street in a suburb of Columbus, Ohio. On the east side, before it turned nasty and then got an overhaul. The house next to us filtered in and out of owners like the place was haunted, but most of the rest of the street remained relatively unchanged.

Across the street from us was Teresa and her son (my age) and daughter (my sister's age). I still remember the day they moved in. We were so hopeful that we'd finally have friends to play with. Jeremy, their son, turned out to be one of those popular kids. At school, he was forced to keep up appearances, but when it was just he and I, he was sweet and kind to me and I helped him with his math homework. Thankfully, we went to separate schools (yes, our town was strange like that...across the street was a different school entirely) so our two worlds never had to collide. We soon grew out of our friendship, but knowing he was kind at heart made all the news of the trouble-making he'd done at school that much harder to believe for my innocent mind. As I grew, I wanted to make him better. It was my first lesson in how you can't change people, no matter how hard you try to care about them. (There is a lesson here, or else I wouldn't have jumped to writing it when this story is not about Jeremy...so I'll save this here for later.)

Two doors down from Jeremy was an older lady named Doris. Doris was that cool older woman on the street. She didn't get on you because your hair was weird or you listened to the wrong music. She'd feed you cookies and milk when you came over. Every Halloween she'd set up some crazy scary straw man with a bowl of candy in his lap and then encourage each child (who she felt was old enough) to take as much as they wanted. I loved her in a way I couldn't describe. And one thing about Doris - she LOVED Girl Scout cookies. Every year when this time would come around, I'd go to Doris's house first, knowing she was always up for buying a couple boxes. Two boxes actually. Exactly two every time like clockwork. Doris was not a big lady. In fact, she was in good shape. She looked great for her age, no doubt due to an excellent diet and her hours spent maintaining her beautiful lawn and home. But every year, Doris bought 2 boxes of Girl Scout cookies.

One day I asked her about it. I asked her why always two. (I probably wondered why she wasn't stocking her house full of them like I would so I could have a box a day!) She explained to me that every year when her cookies came, she would have one or two right out of the box before sealing the entire rest of the package and sticking them in her freezer. She told me that every now and again, she'd have one or two cookies from the package and then she'd put them away again. By the time I rolled around the next year, Doris was just finishing up her second box of cookies.

Yes, you heard me right. It took her ONE YEAR to eat 2 boxes of Girl Scout cookies.

And, just for added proof, I got this from the GS's website:
"Girl Scout Cookies do not contain preservatives. They are all made with pure vegetable shortening, are kosher, and freeze well to extend their shelf life."

That doesn't sound SO bad, does it?!

What's the point of this story? Isn't it obvious. Doris taught me my very first lesson about treats in moderation. I still think of her when I think about how I want a cookie. It's one of the ways I've managed this Binge Eating Disorder or Compulsive Eating Disorder in the way I have...systematically.

Let me give you another example.

When I went to Minnesota, I bought a package of Lindor truffles to take with me. Somehow they made it into Paula's house from my car and I heard someone at some point shunningly say, "Who brought those?!" Me. Yep. I did. And I'll tell you why...there's a method to my anti-binging madness.

Sweets are a huge downfall. So whenever I want a sweet, I tell myself it had better be REALLY good if I'm going to waste my calories on it now. If I'm going to sacrifice part of my dinner and a snack, or if I'm going to sacrifice a pound on the scale because I wanted something sweet - it had better be heavenly delicious. I no longer settle for just "okay"...and that has made a ton of difference.

I knew I wanted something sweet when I went to MN. I knew driving in that car all day that I would feel the "need" for something road-trip snacky. Protein bars were NOT going to cut it. And instead of simply buying out their selection of Little Debbie snack cakes, like I would have done previously. I spent nearly 4 bucks on a bag of tiny chocolatey heaven. Three little balls were something like 220 calories. The upside? I could rarely eat 3 of them at once because the sugar and sweet taste overwhelmed me after a year of eating well.

So what I do is splurge on the expensive, best tasting treat on my list.
If I'm going to indulge, it had BETTER be worth it.

On my way to Minnesota I ate 1 truffle. On my way back, I ate 2. I had none in between. (Though I did have some amazing vegan chocolate cake to celebrate Paula's birthday.) I didn't go crazy and eat the whole bag. (Though I did later have a bag of pretzel M&Ms there and one on the way back.) For me? This was a progression from past road trips to now. For me, this is healthier than I've been probably all my life.

My mom, to this day, after 10+ years after Gastric Bypass surgery and keeping off the majority of her weight, still keeps some small chocolate thing near her. It used to be mini Reese cups. After dinner, she'd pop one into her mouth and enjoy it like it was the best piece of candy ever made. I guess I got some of this lesson from her.

And what I'm trying to say is - there are ways around our vices. There are. You have to find what works for you. Some people have to give up candy and sweets altogether. For me? That leads to more binging when I just can't take the deprivation anymore. So I splurge with my pocketbook instead of my stomach, and I SAVOR my treat, and I do NOT feel guilty about it.

There are still 2 truffles in my fridge. Every once in a while, I'll go by and grab one and sit down and savor it's goodness....but a bag of chocolate in my house for nearly a month?! That would have been unheard of before now.

I call that progress.

So go ahead and freeze your Girl Scout Cookies. Have your treat, but make sure it's worth your while. I kid you not, there have been times when I REALLY wanted some REALLY GOOD chocolate cake. I looked around for weeks and months for something that seemed good enough and NEVER found it (until that Vegan cake! *licks lips*). Nothing could compare to the image I had of it in my head and I knew they were all going to taste like crap. So instead of eating a crappy substitute, I'm holding out for something like my favorite slice at the Cheesecake Factory.

Only settle for the best...and always try to find your way through.






Tuesday, March 29, 2011
Last night, when I went to bed, Hubs tucked me in as usual and climbed in bed to hug and kiss me, saying "Goodnight, my boxer runner chick...err...my boxing chick that runs." I laughed and told him most boxers do run as part of their training, but it felt good to have those accomplishments recognized.

Sunday's boxing lesson was crazy-stupid hard, and I loved every minute of it. We started a little late as my instructor, CT, was waiting to let some guys in upstairs for some practice on the mats. I had brought my oldest son, Logan, with me and we walked around as he punched some of the punching bags and we played around with the tennis balls hanging on strings, using them like speedbags to test our reflexes. At one point I looked over and found this sign on the water tank:



It says:
"As your manager/trainer I vow to maintain a healthy relationship with you, the fighter, in order to aid in your transition from childhood to adulthood/amatuer to professional. I vow to help you acquire the skills needed to become a better athlete, student and person using such tools as respect, discipline, accountability and self-awareness. I vow to help you set and achieve personal and professional goals. I vow to take your hand and walk you to the rivers of your dreams and show you the correct techniques to navigate those rough waters so that you may find your ocean of success. I understand that this is a process. Mistakes and errors will occur and I vow to remain loyal to you during such ebbs and flows, however, should you become a continuous plunger from the "STUPID BRIDGE"....well....you hit the water alone."
Copyright 2002 CT KING

I love it. And I vowed then and there to be a good student. To practice when not in front of CT so that every opportunity to train with him makes me a better, stronger, more competant boxer, even if I never make my way into a ring for an actual match.

We started, as always, with CT wrapping my hands. I explained to him that I'll likely be buying handwraps next time and want him to teach me how to do this on my own. I told him for practice all I use is handwrap gloves I found at Dick's so I don't have to worry about handwrapping and he nodded. He also told me a bunch of girls had ordered boxing gloves from him so he has a box of pink boxing gloves in the back room. I'll admit it...I got giddy. Momma Wants! (Logan, ever faithful, vowed to take pictures for me and did a great job at getting a ton of great - yet blurry - shots!)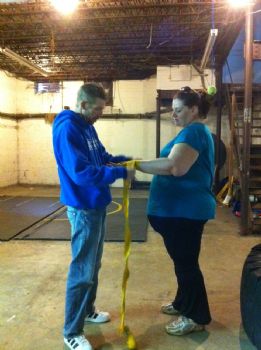 After wrapping, he grabbed some 2 lb. dumbbells, as always, and asked me to loosen up with them by doing 1-2 punches walking up and down the mat in my boxing stance. I usually do one or two rounds of this. This time I did two rounds and then he switched out the 2lb. dumbbells for 4lb. dumbbells, explaining that he really wanted me loose. (I should have KNOWN something was up! *lol*)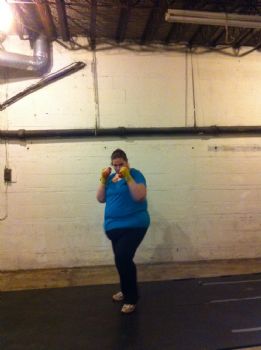 Looking through pictures, I was struck by the shrinking of my legs. Hrm...maybe I have been working on those runner's legs...even without the running. ;)

After three rounds I already needed a water break. CT fumbled with my water bottle after putting some gloves on me, trying to figure out how the thing worked. *lol* I eventually grabbed it from him, however ackward, as I've learned how to open the thing and drink without the use of my hands now. *lol* Logan helped me every time after that.

I was already sweating, but I didn't even realize that we were moving into a TON of work. I think this solo boxing training was much better for me. It kept my heartrate up the whole time. I sweated so much as he walked in front of me (him walking backwards, me following). I knew immediately he was trying to work my footwork without me noticing...something I certainly need help with. I had previously learned #1 - jab, #2 - right cross, #3 - left hook. This time I learned #4 - right hook/body shot (he called it "smack my @ss shot...though he kindly whispered it to me so Logan wouldn't hear *lol*), #5 and #6 which are left and right uppercuts, respectively.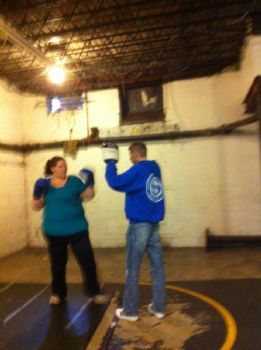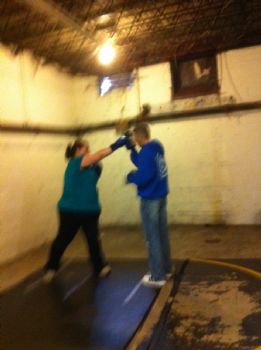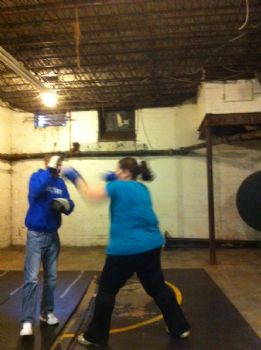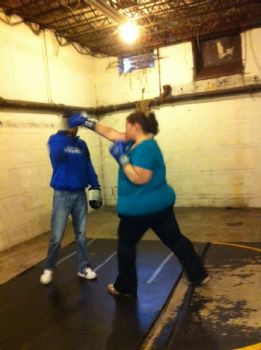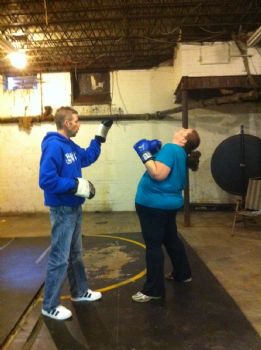 I have no idea what happened in that last pic. *lol* I promise CT did not punch me out, although he does bop me on the head when I think too much and get a combination wrong. (This is something we've talked about, my overthinking getting in the way. I'm counting it as part of his promise of self-awareness.)

I noticed my punches were faster, harder. The footwork started to come more naturally as I followed him around the mat in crazy combinations. He'd tell me "Okay, we're going to do 2-3-2-3-4." We'd do it slow once and then each time we'd repeat it he'd shout, "Quicker!" It was something I lamented last time - that the guy with me was SO quick and I was so slow. CT told me I was doing it right. He said quickness would come. I didn't think it'd happen that quickly though. Before I knew it I was throwing 1-6 punches all over...my absolute favorites are hook shots to the body and face because I love how powerful they sound. Something else I noticed was that as I got faster and hit harder, and brought my punches to the middle like CT showed me, I was engaging my hips more. I could feel my abs and hips getting involved and it made me that much stronger. It goes to prove what I tell everyone about boxing -- it involves your entire body, not just your arms. If you're body isn't involved you aren't supporting yourself right and won't get the right effect from the effort you put in. CT told me that involving my hips like this was good not only for boxers, but for people like me who really wanted a good workout. :)

Then we moved on to the uppercut bag. I hate uppercuts...they seem so week. It's funny, in my mind I know they can do good damage, but on the bag it's just such a dull sound. Hooks, on the other hand, sound like PLOMPH! Momma Like! :) Two (two minute) rounds on the uppercut bag, me talking to CT more, getting to know him as he held the bag (I still have troubles moving with the bag...it feels awkward and he saw me fumbling and heard the word "awkward" and came and held the bag still for me). He told me that he had just been to my hometown in Columbus the day before and we talked about the mall they went to, the mall I grew up visiting all the time. It was neat to form that kind of connection between a girl from Ohio, now living in WV and a dude from NY (i think) living in WV.

After two rounds on the uppercut bag, we moved to the heavy bag and I found myself throwing a million different combinations. He'd call out an "add a 2!" or something here or there, but I no longer felt lost as to what to do when I got up to the bag. MAN! What a difference one month makes! It was like it all suddenly clicked! I even found myself floating around the bag in my boxing stance...not proficiently, but well enough to make it work.

Two rounds there and CT asked me, "So...how you feeling?" It was already 4pm and we had started late, so he said we would go late to make up for it. I looked at him, breathing heavy, sweat dripping and said, "Tired." He asked if I wanted to go two more rounds on Bob (the torso punching thing) and I said I would. "Well, I didn't know if you wanted to..." he trailed off. I looked right at him and said, "I said I was TIRED, not dead." I think he smiled and said, "Alright, then. At the bell..." I hit Bob a LOT. I loved how my body shots sounded on him. CT sat next to me yelling for me to HIT HARDER! By the end I didn't know what else I had left in me and was hitting, seriously, "like a girl." *lol* What I mean is, my punches were barely touching Bob and I wasn't following through with proper form. I was exhausted. My entire body was beat. In my last round, CT yelled - "Okay. Last one! Hit him! HARDER!!" He gave me a warning when I was down to a minute and I pulled some more energy out of my butt and put everything behind it. A few seconds later I said, "How much longer?" "You're hungry?" he replied. "No! How much LONGER!?" He laughed and told me 30 seconds, explained he thought I said I was "hungry" like "hungry like a wolf" and was psyching myself up for more. What I was doing is trying to psych myself into finishing strong with the last 30 seconds, then 15, then 5. My body wanted to quit, but I'm always better able to talk it into more if I give it a "only 15 more seconds! Leave it here now! Give it all you got!"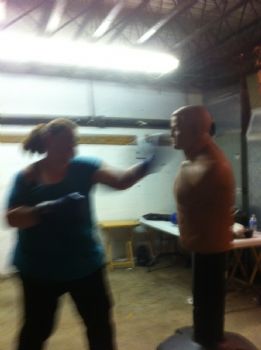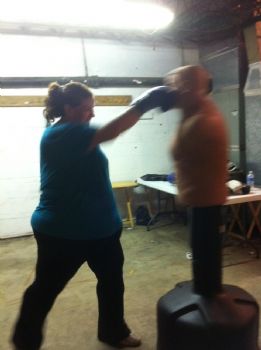 Me and Bob. :)

By the end I wasn't sure my legs were functioning properly anymore. I slowly walked up the stairs and paid for my visit. By the time we got to the car, Logan was hungry. It's strange, at least my family thinks it is, but I'm NEVER hungry right after a workout. I'm good for at least 30 minutes before the hunger hits, and then when it does, it hits like a ton of bricks on my stomach. But it takes a few minutes for that to happen. I had already mixed myself a protein shake for recovery, but I promised Logan a trip to my favorite market down the street. I bought him an apple, some cocoa dusted almonds (HEAVEN!), got him and his brother a couple gummy snakes, and bought myself a pear and some granola (because I remembered I was all out). He said he liked the market, that it was a cool place, and he wanted to go back again. He loved looking at piles of dry beans and all the nuts and fruits and such. And I'm sure the small candy section didn't hurt anything. It was nice to do something healthy like this with him and have him enjoy it so much. I refused to buy him any of the delicious, yet SUPER expensive hand-made chocolate at the chocolate shop, walked him through The Wine Shop and into the new place at the end that sells a lot of homemade stuff (I'm going back for pineapple jam! OMG!).

Yesterday, I followed that stellar boxing workout with my first new try at C25k. I really, really wanted to get back into running, and the insert felt good on my trial run Saturday. I figured I'd already done half, so I could at least get that far. My favorite treadmill was out of order, so I decided to run the track instead, which, I'm told, has 17 laps equalling 1 mile. I counted each time I went around and kept that count in my head while my iPhone app told me when to walk and run. Hubs started out walking with me, and then soon fell behind, and later just sat down, giving me a thumbs up every time I passed him.

It was a difficult run. I was worried the entire time that my hip would pop out. I felt slow and big, not like Saturday. I had taken out the insert in my right foot and was running with just one, but I felt more of the pounding in my right foot now. (I may put the insert back in for tomorrow's run and try again...maybe I just need to get adjusted to it.) By the halfway point I was trying to figure out how many runs I had left. I had already done 4 and, for some reason, I was sure there were only 6. Which explains why I went all out on the end of my 6th run. Of course, I came ot find out there were 2 more running segments after that, so I pushed on through. Each time I thought negatively, I reminded myself what it had taken to just get here. Who cares if I was back at Week 1 Day 1?! I was RUNNING! And running WITHOUT pain. It still shocks me every time I feel that dull twinge while I'm walking, and then I start to run and it melts away. My hips are still sore after the fact, but during? NOT AT ALL. It astounds me. Is this what it's supposed to feel like?! OMG!

The entire run I could feel the power in my legs. I was happy to be on the track alone, not having to dodge people and worry about making the wrong step. I took the turns easy and counted as I went...getting to 36 laps by the end, which equals about 2.12 miles...making my pace even faster than when I was doing Week 3 back in December! I'm getting closer to the 12 minute mile mark every single time (the point when Spark finally recognizes that I AM, in fact, RUNNING! *rolls eyes*). And all that ST on my legs and everywhere else must have certainly helped, because my quads were fully engaged and I could feel the weight of them behind me. Even running AFTER my lifting didn't stop me from finishing. I was tired, yes, but I would NOT be denied. I ended up with the reddest post-exercise face I've ever had...and laughed about it in the locker room! *lol*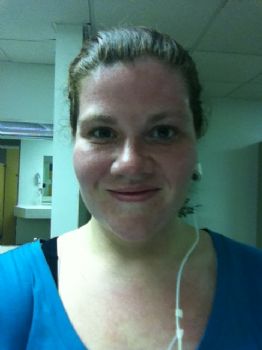 There it is. Proof. C25k W1D1 DONE! (again! *lol*) And PAIN FREE!

For dinner, I decided to give Hubs a treat. He loves pasta and I rarely cook it anymore. I don't really know why, but grilled chicken and steamed veggies just sounds more appetizing most days. *shrug* I still LIKE pasta...maybe I'm afraid I'll overindulge. Anyhow, I used to always make Skillet Pasta - rotini, sauce, smoked sausage, with a heavy covering of mozz. cheese melted over it. Everyone would eat it all up and loved it. Last night, I made a variation of that dish. Whole wheat thin spaghetti. Lite smoked sausage. Minced garlic. A can of tomatoes with garlic, oregano and basil. A garden veggie sauce. With a light sprinkle each of part-skim mozz. and parm. cheese. Considering it was supposed to be my "guilt free rest day" I told myself I could have as much as I wanted. I ended up with about a cup and a half and felt full. And the family REALLY loved it. I didn't feel guilty AT ALL.

Let me end this with a warning of sorts, or a note to myself -- There are some emotional issues I'm working through right now that I simply don't wish to discuss (mainly because I don't know how), but, for now, I'm in a good place. Being the "Boxer Runner Chick" sounds quite alright to me and I plan on getting better at both. That hope well is springing anew, and I'm taking all the sips I can from it. Here's to 319! (Which I saw on the scale today and hope to see that or lower on official weigh-in day Sunday.)

Boxer Runner Chick...signing out!






First Page
1
2
3
4
5
6
7
8
9
10
11
12
13
14
15
16
17
18
19
20
21
22
23
24
25
26
27
28
29
30
31
32
33
34
35
36
37
38
39
40
41
42
43
44
45
46
47
48
49
50
51
52
53
54
55
56
57
58
59
60
61
62 63 64 65 66 67 68 69 70 71 72 73 74 75 76 77 78 79 80 81 82 83 84 85 86 87 88 89 90 91 92 93 94 95 96 97 98 99 100 101 102 103 104 105 106 107 108 109 110 111 112 113 114 115 116 117 118 119 120 121 122 Last Page

Get An Email Alert Each Time CALLIKIA Posts