| | |
| --- | --- |
| | CALLIKIA's Recent Blog Entries |


Monday, October 11, 2010
FRIDAY - DAY OF WAITING

So Friday consisted of breakfast with Hubs, tennis, and 2 hours of cleaning out the car, but the theme for the day ended up being "wait." When the kids got home I finally had to track down Hubs, who had an appointment to get new tires on his car at 1pm. By 4pm I was over at the tire place and his car was JUST coming out of the garage. Apparently the truck with the tires was super late and Hubs waited around the shop for 4 hours for 4 new tires. WTF?

After I dropped off Ethan with Hubs, Logan and I headed up to my mom's house. After a call from Mom, we ended up stopping at our usual "halfway" point - Tim Hortons. The workers thought I was crazy because I wouldn't order a donut until I found out how many calories was in a Pumpkin Spice donut, to see if I could fit one into my day. Took me a bit, but I found out it was only 250 calories, and I could squeeze it in. (I didn't have a lot of time to eat on Friday because I was SOO busy.)

We got to my Mom's house after a quick trip at the local Wal-Mart to make sure I had some of the foods I've come to rely upon. (Wheat bagels, Greek yogurt, etc.) And then it was just a waiting game, waiting for Becks to get into town. Once she got there, she was greeted by 2 tired women and a tired little boy. We hugged like we'd known each other forever, and then chatted for at least an hour before we all crashed.




My mom's dog, Bailey, waiting with us.

SATURDAY - GETTING TO KNOW A FRIEND

I had a horrible time attempting to sleep Friday night/Saturday morning due to what I'm pretty sure is a sinus infection, but once we got up, Becky and I were off to explore. We decided to go to the local Renaissance Festival and just "hang out." It was a lot of fun, a lot of walking.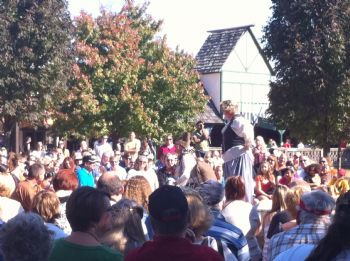 Crazy, wacky shows.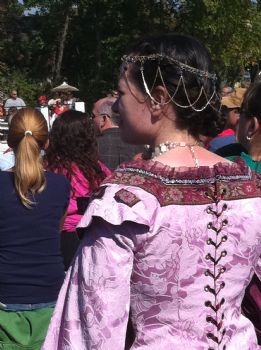 Beautiful costumes. Though...not all of them were. *lol* We had fun pointing out the wacky from the beautiful from the hoochie!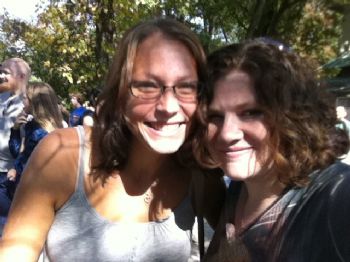 Becky (RAVENSONG) and I at the Ren Faire.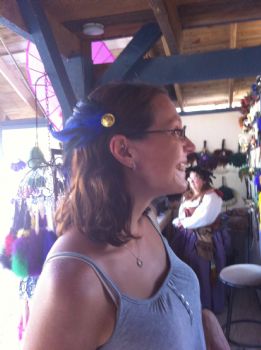 Isn't she just beautiful? And that little clip = SO cute!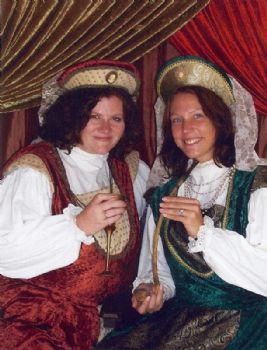 We got some costume pics done by a real skeevie guy.

We were at the park from about 11am to 2pm or so, walking most of the time, so it was a good day. It was a lot of fun and it got us a chance to really get to know each other. After we got back to my mom's house, we headed out to Dayton to pick up our race packets (and $500 gift certificates for Red Star sunglasses!)

After that, all that was left was Starbucks (YAY!) and dinner. Mom made some yummy chicken breasts, mashed potatoes, and then Becky and I prepped as many veggies as we could find for huge salads.

SUNDAY - RACE REPORT

10/10/10 - Dayton Corridor Classic 5k

The goal was simple - get Mom to the finish. It was her first ever 5k and she was really worried that she couldn't do it. What I didn't expect was that the overall support would leave us all running to the finish!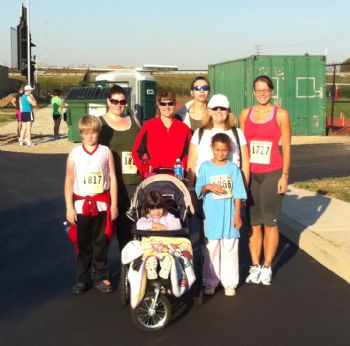 The whole gang.
Back row - Me, my step-brother Justin
Middle Row - Logan (my son), Mandy (my sister), Mom, Becky
Front Row - Librada and Tracy (my nieces)

We started late, but once we were off I could tell immediately that I had a challenge ahead of me. It's really hard to get a good breath when you can't breathe from a sinus infection, but I just focused myself and kept going. My only thought was to keep up with the group. About halfway through the first mile, the kids were eager to run. Justin, Logan and Tracy all took off and kept ahead of us the entire time. One thing we learned was that my step-brother looks like a runner. After the race we wished we had just let him go at the start line and run all out to see what his finish would have been.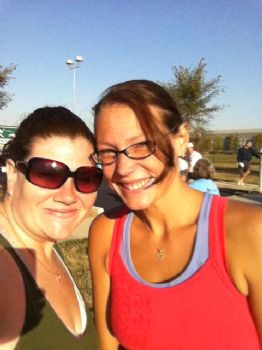 Me and Becks ready for the gun to sound the start of the race.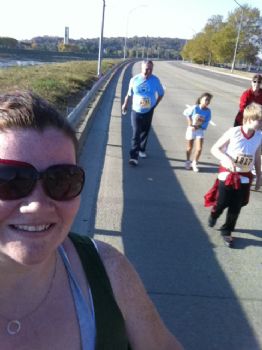 Still feeling pretty good in mile 1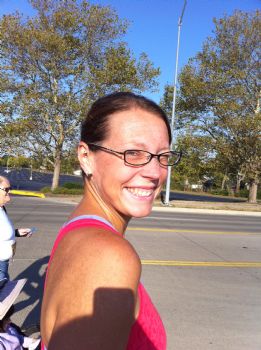 Things I learned about Becky this weekend: She's beautiful, inside and out. She fits right in with my family. Like I expected, she's definitely my SFAM (sister from another mother).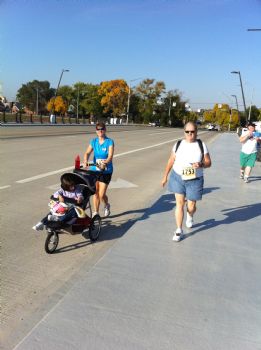 As we were crossing the first bridge, I looked over and pointed out the first mile marker to my Mom. "Already?" she said. My sister updated her on her pace (around 18:40) and mom felt encouraged. After the mile marker we initiated her into the drink cup throw (even though she had her camelback on and didn't really need the water...we knew it was just something everyone has to do in their first race. It made her giggle and that made us all smile.) After that mile, though, she already felt the need to pee and, thankfully, they placed a potty right there (and no line!). We waited for her, even though she told us to go on without her, and what really surprised her was that mile 2 was much faster than mile one, even with the stop.



Starting around the end of mile 1, Becky really started pushing my Mom. "If you can talk that much, Chatty Cathy, then you can go faster!" Surprisingly, it worked! Mom pushed herself to run a bit here and there. Once we got past mile marker 2, Becky said, "Leave it all out on the course!" Mom was confused and we all explained to her that she had just 1 mile left and then she didn't have to do any more, this was the time to push and get her very best time. She admitted to us that my step-dad had asked her, "What makes you think you can do it under an hour?" and that she really wanted to prove him wrong. That's all we needed to know, and the encouragement to leave it all out on the field gave my mom the real push she needed. She ran when she could, she stepped up her pace, and when we turned the corner to go into the stadium and she said, "I'm saving it," we asked her WHY. She didn't have an answer...we were almost there. No more saving! We turned the corner just as the first HMer was coming in.

It was funny, as they cheered for the HMer, we pretended it was all for us. (I really need to get that picture from Becky of my mom with her YAY pose! *lol*)

Suddenly, I didn't know what was happening, but my mom was running...and I was running with her. We ran half the track around to the finish line, the four of us finish together - My sister, me, mom, and Becky. And then Mom and I just about collapsed! *lol* We just hadn't trained for running that much. I felt like walking after about 1/4 of the track, but then the finish line was RIGHT THERE...I would feel stupid to run part of the finish and then WALK in. I couldn't stop. It took all my strength, all my breath, all of it, but I pushed it in, and so did Mom. I was completely 100% proud of both of us.

And how did we do time wise? Mom and I both finished in 56:09. It's actually a little over a minute under my first 5k time in August, which surprised me because I wasn't really even trying to make a PR. Felt good!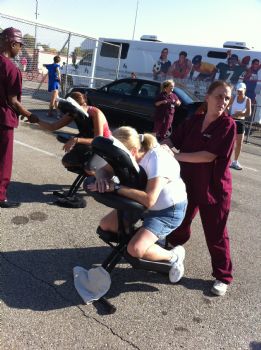 After the race, we got free massages from students at a local school.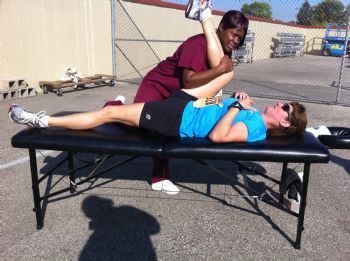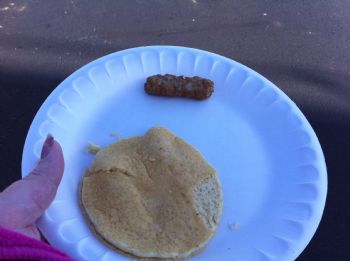 Post-race food options were great! Bananas, yogurt (lite and fruit-on-the-bottom), pancakes and sausage, and pizza.

We got some free stuff, relaxed, and then checked our times and found out that both Tracy and Logan were the only kids in their age ranges, therefore, both won gold medals for the race!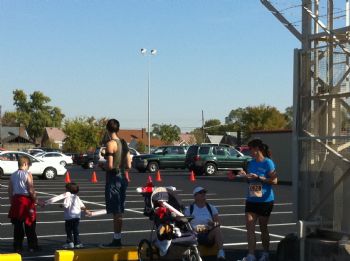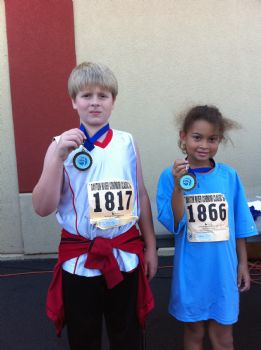 We were already talking about next year and the next race. I think Mom has the racing bug too now. And both my sister and Becky have HMs coming up this weekend. I'm already thinking that I really want to do the Auggie's 5k this weekend and do better than 55, but I need to check with Shane to make sure we don't have any other plans.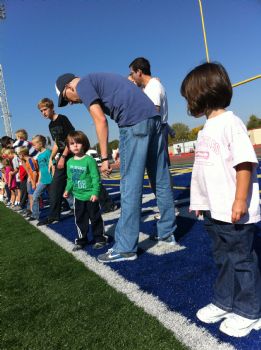 Around 11pm they had a kids fun race. They lined all the kids up at one end zone and then had them run to the other end and back. Librada LOVED it! She did it 3 times and wanted to do it a 4th time! *lol* It was really great because they had all these little medals for all the kids who ran. Adorable!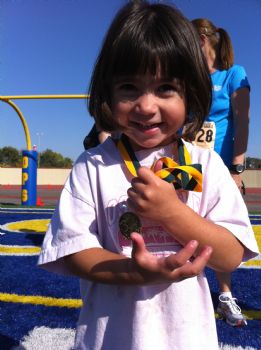 Both Mom and I were sore after the race, so we headed back to the house, watched the Bengals game (because we couldn't get the Chiefs game in for Becky :( ) and then Becky and I both packed up and left.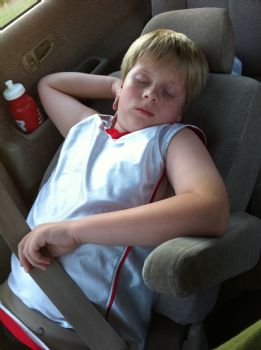 And that's my boy after all the racing and a crazy weekend! *lol* Why do all my kids end up like this after racing? WHAT? *lol*
----

So that was my weekend. I had a great time other than getting sick. I still haven't broken my plateau, and I think I've decided not to step on the scale for a week or two and just dedicate myself to really setting my fitness and nutrition goals and meeting them. Hopefully in a couple weeks the big P will break and I'll feel better.

I must admit that I had a mini-meltdown on Sunday. First it was listening to Mom and Becky talk about all the changes that have been made since losing all their weight, changes I haven't really gotten to see, changes that are SOO far away. And then again when I realized that in a huge group of family and friends, I didn't feel like I fit. I'm the only one left who is still fat...and it's going to take me years to get anywhere near where I'll feel like I really fit with them again. It was a really sad couple moments. I just want to belong physically with the people I fit most emotionally and mentally...but both this plateau, and the large amount of weight I still have to lose leave me feeling hopeless sometimes. I'm not saying I'll "quit," just that I still get very, very frustrated. My main goal lately has been to fit into 24s by Thanksgiving or Christmas...but I don't see that coming about anytime soon because I'm still stressing over a lack of progress. *sigh*

It's really difficult, you know...feeling like you're working so hard and then realizing that you still have SO far to go. Realizing that many of the people struggling with you are likely to see their "final" success before you even get to the halfway point. I just want to make sure I remember later how hard this was for me. I'm not saying it's not hard for people who only have 40 pounds to lose...I don't discredit that struggle at all, I just want to remember the emotional challenge of always feeling so far behind everyone else. It's that same feeling you have when the HMer passes you up before you even see the finish line, to realize they could run circles around you. It makes you feel emotionally broken and the mountain grows larger mentally with each step.





Friday, October 08, 2010
People say I write too much usually, but I don't have a lot of time right now so here I go...challenging myself to be brief.

* I went to the doctor. She took blood for a thyroid test, but think I'm just generally a cold person and losing 65 pounds has caused me to be even more cold without that extra insulation. She also pricked me for a glucose test. 118 after about an hour of eating a fig bar = really good, they said. As for the plateau and the 3-week TOM? Basically, she told me to just deal. The Depo takes 6-12 months to regulate finally (I'm on month 5) and the plateau will break eventually.

* This morning I ate scrambled eggs, some hasbrown potatoes, and one slice of bacon. I tried to eat a biscuit, but could only manage one bite. No matter what, I just don't eat like I used to anymore. It was a high calorie breakfast, but manageable. I'm not breaking my goals just because I'm P.O.ed at the scale.

* Today's workout? About 45 minutes of tennis with the Hubs and then 2 hours of cleaning/detailing my car. Yep, it took me that long, it was a MESS! It's still not 100% but I had to rush to get to the doctor's office. As for the tennis - we're both getting better. I've got a pretty good jump serve worked out, and we had one pass were we got like 7 returns! It felt good!!

* I'm about to leave (as soon as Hubs returns or I track him down...he went to get tires on his car 3 hours ago!) for my mom's house. I'm taking my oldest, Logan (11) and we'll be there through either Sunday night or Monday afternoon. RAVENSONG is already on her way there (I'll still beat her! *lol*) and will spend the weekend with us! I'm so excited I can hardly sit still and I'm acting all goofy crazy today! Should be a great weekend!

* Pray for my mom Sunday. (Go stop by her page and wish her luck if you'd like - she's SNOWFLAKE57 on my friends list.) The Dayton Corridor Classic 5k (Walk). The crew includes: Myself, my mother, my younger step-brother, my oldest son, my sister, my 2 nieces, and Becky (RAVENSONG). All we're hoping for is my mom's safe finish, time does not matter. Wish us luck!






Thursday, October 07, 2010
I had a talk with my coworker again today. She's always saying that she envies my motivation. (Don't worry, I told her that motivation is a lie, a myth people tell themselves to keep them from having to put in the work.) The other day she said, "If I could just lose like 10 pounds, I know I'd be motivated to really do it!" (Wow…there's something telling in that statement!) I've heard it all before and I've said it all before. Finally today she said something again about how she needs to do SOMETHING. This time I got, "But I'm so tired when I get home." Finally I said, "You know, exercise will make you less tired. I used to say the same thing, and then one day I just decided that I was tired, yes, but I could do 10 minutes. Just 10 minutes. One day you'll decide that you're done talking about doing something and you'll do it. You'll do just 10 minutes. And the next night, you'll think, 'Hey, I did it last night when I was tired, I can do it again.' And you'll start a streak." She didn't respond, but I hope and pray I put just a little glimmer of doubt in the truth of her excuses. Maybe not this week or next, but someday she's going to do 10 minutes of exercise and she's going to realize that it's not REALLY that hard. Oh, the lies we tell ourselves when we don't want to face the truth!

Lie, blame, avoid, deny. We've all done it – it's part of human nature. Do you remember the first time you blamed a broken toy on someone else? I think it's a bit of the survival instinct, learning to lie. We know that telling the truth will lead to getting in trouble, so we try out a lie. And you know what we learn? That lies are very powerful things!

I remember when I was a kid, about 6 or so, my sister told me that I could take some candy from the Brach's mix and match candy section in the grocery store. She said it was alright and that people do it all the time, and she asked me to grab a few pieces for her as well. I walked out of that store with pockets full of candy. And then my mom found out, and she marched me back to the store, made me hand it back to them and apologize for stealing it. My sister didn't say a word. Last year, she finally admitted to me and my mom that she had convinced me to take that candy. A lie that held for 23 years! That's a big, powerful weapon, isn't it?!

When I was a kid I was addicted to lying. I lied so my friends thought I was cool. I lied so they thought I had money. I lied to keep myself out of trouble from my abusive father (though that rarely worked). I lied CONSTANTLY. And I was damn good at it too! It wasn't until I had kids and grew up a little that I realized I didn't want to be known as a liar. I wanted people to know that I meant what I said and said what I meant (for the most part). For a while I was brutally honest. It took me time to learn a good lie from a bad one. And it took me even longer to realize that I was better at lying to myself than I was anyone else. I actually believed the "I can't"s and "I'm not good enough"s. It's really quite crazy if you consider that I KNEW I was telling a lie, but it was so much easier to believe that I couldn't do something than to put in the effort and risk failing. So I started questioning everything I told myself. "Will you REALLY do that?" "Do you really mean that?" "Do you know that to be a fact?" And I started being brutally honest with myself.

You know what I learned? Honesty is also a powerful tool! It doesn't give you power over others, though. It gives you power over yourself. I decide what I am and am not willing to try. Jump out of a perfectly good airplane? Yea, I don't think so. Not for me. Rock climb the side of a huge cliff? Well…maybe. Sounds a little fun actually. Could I do both of these things? Do I have the ability to tackle both challenges? Absolutely. I may need to lose some more poundage before I trust both the parachute and the cords keeping me up on the cliff, but they are both completely, 100% doable and achievable. Sure, I'm going to have to put some major work in to get there, but I'm no longer a stranger to hard work. I can DO what I want. I suddenly have the choice and the world is wide open.

What can't I do? I can't make someone love me. I can't make a friend treat me right. (Though I can show people how I want to be treated by treating myself and others with respect.) I can't make an employer hire me. (Heck, I've tried! But I can sell myself the best I know how, have confidence in my abilities, and really make a great impression…still, the final decision is not in my hands.) I can't make my coworker workout either. (Though I can keep encouraging her and spreading that Spark, hoping it will catch.)

Control over others = can't.
Control over self = CAN!

So while both lies and honesty are powerful tools, the honest truth? A lie, in itself, is a lie. It gives us a feeling of power over other people. Yeah, we can convince that adult that it was that little boy that broke the toy, not us. But both me and that little boy will always know the truth. Who really has the power here? Honesty is powerful because there's no denying it. It reminds me of what we learned in science about a fact. A scientific fact is something that has been proven, but that can be tested over and over again with the same results. The theory? That no fact is a definite fact unless every test that attempts to deny its validity fails. Try testing those lies of yours. They fall down quite quickly.

I can't run.
Have you tried? Have you done all you need to train for that level of fitness? Have you worked your way into it? Do you have legs? Can you breathe air? Do your muscles function?

Sure, for some people "I can't run" is a fact. But, for you, is it fact or a lie you tell yourself to make it a little easier to accept that you don't run or won't try? Is it your fear holding you back instead? Give yourself a little honesty and try it on for a bit. Maybe you don't WANT to run. Maybe that's never been anything that interested you. Fine! Go with that! Be honest with yourself and say, "I can run, I just chose not to. I like to do other things instead, like swimming!" Or, "I can run, I'm just afraid of the injuries I've heard runners get. I think it's safer for me to stick to my aerobics classes." Nobody can tell you that you're wrong. They can try, but trying to deny honesty is like trying to teach a hippo how to play the piano - funny, but completely useless.

So my challenge for your today is to question all the lies you tell yourself.

"I'm not pretty!"
By whose standards? Who decides what is pretty? If I polled 100 random people, would they all agree that I'm not pretty? Is pretty even something that can be determined objectively?

"I can't lose weight!"
Are you following the guidelines that you know work? Have you talked to your doctor? Has it been medically proven that it's impossible for you to lose weight?

"I'm too tired to exercise!"
Are you too tired to lay on the couch and watch TV? Have you tried just moving? March in place or do crunches. If you feel yourself getting faint, then, yes, you're too tired to exercise. But if you can make it through 10 minutes of even something light in the way of movement, then you prove to yourself that it was a lie. You weren't too tired to exercise, you just didn't want to put in the energy because you were feeling lazy.

Trust true power of honesty, not the false power of lies. It's amazing how in control you begin to feel!





Wednesday, October 06, 2010
First of all, thank you all for your responses to my breakfast questions! I've got a lot of new breakfasts to try within the upcoming weeks, so that should be fun!

Yesterday I did something else I've never done before --- I hit ALL of my SP-set nutritional goals. In the past, even when I hit my calories, protein, and fat requirements, I'd lag behind on my carb goals…but somehow yesterday, I found a magic combination and was in every single one of my ranges! WOOT! I'm eating much of the same stuff today, so I'm on track to do it over again. One problem I had was that I felt like I was eating constantly after lunch, just trying to get everything down my gullet that I had set to hit those goals. So today I decided to start a little earlier in the day with my food intake. I ate my normal breakfast with coffee on the way to work, but after arriving I sat down with some Greek yogurt (blueberry!) and a banana. YUMS! About a half hour ago I ate my slice of Quiche for the day and I'm feeling quite good about the whole thing.

For lunch today? Another beautiful salad! Baby greens, feta cheese and almonds! YUM! I also have a Ranch Cheddar Turkey Burger (though I forgot a bun…ah-well, I'll eat it without one!) and lots of yummy, fresh watermelon!

Snacks for later include: an apple, a cheese stick (string cheese), and a Luna bar (Peanut Butter Cookie! YUMS!)!

Then when I get home after my workout tonight I'll have my regular omelet with whole-grain toast, and I even get to make a brownie sundae tonight with one of my little Chocolate Pumpkin Brownies, some French Silk ice cream and a couple little dollops of Cool Whip Lite! YUMS!

Breakfast – 225 calories
Midmorning Snack – 245 calories
Pre-Lunch Snack – 142 calories
Lunch – 608 calories
Midday Snack – 311 calories (I will likely split it into 2 snacks)
Dinner – 354 calories
After-dinner Snack – 396 calories

Total Calories: 2281 (range 2130-2480)
Total Carbs: 283 (range 268-387)
Total Fat: 85 (range 53-93)
Total Protein: 115 (range 60-208)

Now, let me first say that I'm not entirely happy at the after-dinner snack. Yep, it is dessert…and it has more calories than my dinner! BUT, it fits within my goals and ranges. It makes the cut because it fits into what I need to eat SP-suggested for the day, but it doesn't quite feel right. I feel naughty, I swear! But because I'm really trying to break through this plateau (weight today – 350.2! *lol*), I'm attempting to eat a little higher than normal and eat actually WITHIN my ranges. So, while the method of delivery isn't perfect, it's better than yesterday and I have to give myself props for improvement.

Truth is, I burn about 4,000 calories a week in exercise, just in general and on average. So I have to really hit my calorie goals (according to Spark) in order to really reach my 2lb. per week loss goal. We'll see how it works!

Second of all, I don't like that my fat is still that high. I'm getting better, but I will continue to work on this one. Part of it is the regular Italian dressing I bought for my salad, which I normally wouldn't eat, but it's all CVS had yesterday AND it does fit within my ranges. I'd still like to work on getting this number down, but the progress of keeping that fat content within range while still getting in my calories and carbs is MAJOR improvement on my part!

Tomorrow and the rest of the week is going to be a challenge, though. I can't just eat the same thing I always do because I have a long day tomorrow. Now, for me, it makes me thrilled because it means SUSHI! Yep, twice a month I have sushi for dinner. I treat myself and love every guiltless second of it. I get a tuna roll and two cucumber rolls which still = low calories! I sometimes also get edamame as a little pre-dinner treat, but I never eat all they give me. So I'm going to work later to see what I have to eat during the day to really round out my day right and get within those ranges again.

Friday will be off as well. I'll be home most of the day while Logan's at school. I think I'm going to try to get Hubs out to the tennis courts again, and then lunch out with him, our only real "date time" we ever get. After that I have to clean the car and make sure Logan and I are all packed to head out the door as soon as he gets off the bus from school. Oh, and I have a doctor's appointment at 1:30pm. *sigh* When he gets home, it's a 3-hour drive to my mom's house. And, yes, I will likely stop by McDonald's or Wendy's to grab a bite to eat at some point, unless I can find some tiny time to squeeze in packing a lunch (I'm really going to try!). We'll probably get there around dinner time, so I'll be at the mercy of what Mom and I want to throw together or order for dinner.

Saturday is all up in the air. If Becks makes it out Friday night, as is the plan, we'll likely spend the day out, doing something, but I have no clue what yet! *lol* We've talked about trying some new food this weekend, something out of my comfort zone, but I may reserve that for Sunday, after the race! (Don't do new things before a race…I know that one!) We have to pick up race packets from 3-5 in Dayton and then the rest of the night is open, we just have to get to bed early.

Sunday is race day. I'm concerned about my mom because she's stressing MAJOR! I keep telling her to chill, that even if it takes us all day and we have to stop and take a break for her, that we'll stick by her and we'll make sure she makes it through so she can actually say that she completed a 5k. I really want that for her! The race will be early in the morning and they're talking pancakes to follow! YUM! (Can I sneak in some strawberries or blueberries to go on top? I guess I'd have to carry them 3.1 miles first! No thanks…)
After the race…who knows!? Mom is talking about a bonfire at a friend's house. I'm thinking about Korean food! Something that scares the crap out of me, but I still REALLY want to try. That's right, I might not even think about logging my food on Sunday. No clue…we'll see what happens that day.

Monday is the return trip home, so it will be emotional (because I don't want to leave and I won't want Becks to leave either if she actually makes it out!). Plus, there's the added stress of another 3-hour drive home, which could mean more fast food unless I think to plan ahead.

I do know that I'll be taking my scale with me this weekend. Good or bad, win or lose, I have to know what my body is doing.

So…what are you doing this holiday weekend? (It's Columbus Day for those of us in the States. For our neighbors up in the cold country, it's Canadian Thanksgiving.)
How do you plan to use this holiday as an example for some of the more difficult times coming up? (I've already broken out the Peppermint Mocha coffee creamer because they aren't selling any Pumpkin Spice variety here! BOO Krogers!)

Have some happy holidays, all!





Tuesday, October 05, 2010
FYI - My breakfasts are becoming quite boring. Plus, this small breakfast thing is fine, but I need a little BOOST of calories when I get into work to keep me from having to chow down all afternoon, seriously! (I'm trying to HIT my calorie goals this week, the SP designed ones, not my lower goals.) What's that mean? It means I'm out of ideas and ---

I WANT TO EAT YOUR BREAKFASTS!

So leave me a note here. Tell me what you eat for breakfast. Include brands or recipes, if necessary. I'm also going to need the calorie/carb/fat/protein breakdown please, unless you have your breakfast on your tracker and have shared it.

I'm going to start trying these breakfasts out and see if I find a new thing to love in the morning! So - GIVE ME YOUR EGGO...or whatever it is you eat! NOM NOM NOM!

----------------------------











~*~ WTF??? Template 10/5 - 10/10 ~*~












I forgive myself for [[not meeting every single one of my fitness goals]] last week.

Forgiving doesn't mean forgetting, so this week I will [[set more reasonable goals that I know I can reach]] to make sure it doesn't happen again.

FITNESS AND NUTRITION

For my last template, I was able to accomplish [[2 Zumba classes, 1 rowing session, 2 elliptical session, 2 ST sessions including a double session, lots of new ST with the cable machine, my SIBCCT, time on the stationary bike, 3 planks getting up to 45-seconds, 2 racquetball sessions, and 2 tennis sessions]]. (PHEW! I'm tired just listing that!)

I also did [[500+ fitness minutes!]] So this week, I will attempt to achieve [[much of the same! Tennis, racquetball, and fun things that make the exercise seem less like a chore!]].



Three things I will restrain myself from indulging in are:
1. Chips
2. Candy Bars
3. French Fries
(It's time for a road trip so these can KILL me!)

My power food/go-to meal/snack this week will be [[Crustless Spinach, Onion and Feta Quiche or Almonds with Fruit!]].

My main goal this week is to [[eat IN my SP calorie ranges]] and I wont let [[my fear of not progressing]] keep me from doing it.

Last week, I was [[super serious]], this week I will be [[reflective, but fun!]].

LIFE IN GENERAL

For my specially set-aside me time this week, I am going to [[spend some much-needed quality time with my Momma and, hopefully, Becks!]].

I'm going to keep the negative voices in my head at bay by [[reminding myself that it will work, if I work it, in it's own time and eventually]].

And I will STOP PROCRASTINATING when it comes to [[cleaning out my van! *lol* and talking to my Doctor about questions I've been having]].


[[I have earned this weekend away! I will not go crazy because I will be surrounded by people who not only know and believe in my goals, but who share them. We will work to keep each other on task and will enjoy our time together. I will race on Sunday full of the knowledge that fitness does not always have to be such serious business, it can be a fun activity that can bring the entire family together. I will not stress about PRs or even the time, but will simply walk for the joy of being one in a healthier place with my family.]]

[[I will focus my time until then on figuring out more about balance and finding the right balance for my life, and will spend some much needed time with the 2 boys I must leave behind on Friday.]]














First Page
1
2
3
4
5
6
7
8
9
10
11
12
13
14
15
16
17
18
19
20
21
22
23
24
25
26
27
28
29
30
31
32
33
34
35
36
37
38
39
40
41
42
43
44
45
46
47
48
49
50
51
52
53
54
55
56
57
58
59
60
61
62
63
64
65
66
67
68
69
70
71
72
73
74
75
76
77
78
79
80
81
82
83
84 85 86 87 88 89 90 91 92 93 94 95 96 97 98 99 100 101 102 103 104 105 106 107 108 109 110 111 112 113 114 115 116 117 118 119 120 121 122 Last Page

Get An Email Alert Each Time CALLIKIA Posts