| | |
| --- | --- |
| | CALLIKIA's Recent Blog Entries |


Sunday, September 12, 2010


Weigh-in Day

Starting Weight: 466.6
SP SW: 416.2
Last Week: 356.2
This Week: 355.8
Loss/Gain: -0.4
SP Total Loss: 60.4
Total Loss: 110.8

Quote of the Day:
"Take rest; a field that has rested gives a bountiful crop."

Ethan Quote of the Day:
When asked, "Why should Mommy eat healthy and exercise today?"
"Uhm...because you ate cake yesterday..."

Logan Quote of the Day:
When I asked Logan the same thing he said...
"To lose weight!" I asked, "But why today? Why don't I just do it tomorrow?"
Answer: "Because you've already lost weight! You ate cake yesterday and lost weight."
So I asked him why I can't just keep eating cake and lose weight and Ethan butted in,
"Cause it's fattening!"

*lol* It was a funny conversation. It was like the voices in my head but voiced between the three of us, and their thought was simple - there's no excuse I can come up with that will beat the "you'll lose weight" answer. They're right. They are.

Friday I went home and admitted to my husband that I used some of our savings to buy running shoes. He didn't put up much of a fight, just did a "hmph" kind of response. (MUCH better than what I expected.) I spent the rest of the night watching a nail-biting game between WVU and Marshall...a game WVU should have easily won but went in to too cocky and had to make it all up in the 4th quarter. I also baked cakes in between commercials and half-time. I did find out that Pillsbury now makes a sugar-free boxed cake mix (and it tastes wonderful!). I got to bed late after cake baking and frosting. I'll come back and post a pic of the Earth & Moon cake I made for my son. CRAZY! We had pizza for dinner because it was quick and cheap and already prepared. I'm not gonna lie, It tasted GREAT!! But I didn't feel so great the next day...

EDIT: I totally forgot, after I posted about my rest week on Friday, I walked to the farmer's market. It's not much of a workout anymore, but I had to go quick because I had short lunches last week. My body hated me and it reinforced my need for rest this weekend. Still, it was great to see all the fall stuff and I bought some WV-grown plums and 2 onions.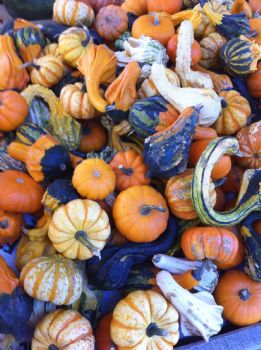 Then went inside to the whole foods market and restocked on granola, peas, and mushrooms and got a couple fig bars for the week.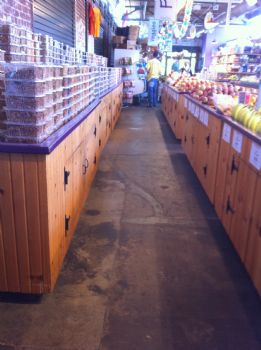 Saturday we headed over to the park at 10:30am to grab a shelter for his party. I was completely bummed that only 2 kids out of the 24 invited actually showed up...but Logan had fun anyhow riding bikes with the two girls that did show up. His grandparents also came, and great-grandpa and they all seemed to enjoy themselves at the park. It was a nice day. Cool, no rain. Nice. We all sat around and ate veggies and fruit and then had some cake. I ate a small piece, with a tiny bit of chocolate (not sugar-free) and some of the yellow (sugar-free) cake. I tried to eat more but my stomach protested! Have NO CLUE how half the people at the party finished TWO WHOLE PIECES! (I probably would've done the same 5 months ago, though.) I ate a few chips for lunch while trying to prep for the party...I admit it. It was there, it was quick, and I was busy as heck. I did feed half of the small Doritos bag to the dog though. *lol* He had nacho cheese breath all afternoon and it cracked me up that I was sitting there sharing chips with the dog. After the party we rushed home for the OSU v. Miami game, which started off just as surprising as the WVU game. WTF, guys? Thankfully OSU pulled it out in the end and all was well. At halftime Hubs agreed to go out and get us something to eat...but I said "nevermind!" and had tuna sandwiches and vegetarian bean dip (with too much cheese! EEP!). Let's just say I ate halfway healthy (and much better than sending him out for Taco Bell or Pizza or McDonald's or something...) until I decided I should have another piece of cake. I couldn't eat all of it and didn't eat most of the frosting, but the damage was done. I don't feel so good today.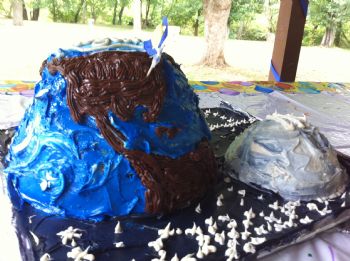 My body is trying to heal, but the more I rested the more ailments I noticed:
- my right thumb hurts. It's been hurting for weeks. No clue why.
- my right foot still hurts from the blister in early August at the 5k, which blistered in the new skin on the 10k even with the moleskin on it. It's getting better, though.
- my thighs were screaming, but they finally started feeling better yesterday.
- my hip is healing (finally!!). So far today no real complaints from it.
- there's a sore spot/bruise under my chin. WTF?
- my shoulder was hurting too on Friday...but it was feeling better yesterday.

The only exercise I did was prepping the cake (frosting a cake that big might've been the problem with the shoulder), decorating for the party, a small bike ride around the parking lot at the park (but Hubs' bike's seat hurts my hoo-hah!), a small jog back from the bathroom at the park (I wanted to know if my body liked jogging on grass better...it does), and about 70 crunches when I ended up on the floor of the living room for one of the games we watched (I got bored *lol*).

What I learned this rest weekend:
- No food I ate this week made my body feel good. I've felt like crap for 2 days and I'm totally done with that feeling! It's back to health foods as much as possible. I want my good tummy feeling back.
- It felt so good to just chill on the couch with the kitty and not feel overly guilty for not doing something. I was tired and worn out, and my body loved the rest.
- Skinny kids eat like skinny people. Overweight kids eat like me. Yeah, I learned that lesson and I'm gonna go back to eating like a skinny kid.
- Friend parties for my sons are overrated. I'd much rather save the $90 I spent on that party that 2 kids showed up to on the family. I kept thinking, "We could've taken a small trip or gone to the movies or gone hiking or something!" I think I'll be doing it differently next year.
- I still want to run. Yep, the desire is still there, and when my shoes get here I'm going to try them out...but I'm compromising with myself. C25k and C2F5k will combine. 1 jog segment, 1 fast walk segment, 1 jog segment, 1 fast walk segment. Let's try that and see if I still need to dial it back some.
- I miss my Sparkies! *lol* I stalked you all but I was so busy I wasn't able to really make the rounds and comment. I missed it.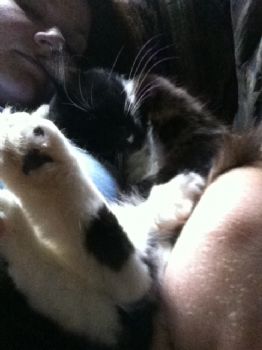 Today is Ethan's game. I also get to see my Momma! YAY! She's coming down and wants to do lunch with Logan for his birthday after the game. I'm hoping Logan picks some place good where I can portion-control and not go crazy. I want to feel tummy-good on Monday morning! I also hope to get a small walk in later. If the weather holds out I'm thinking of taking the dog to the park and giving him some walk time. He's restless now that the weather is cooler and he really wants to go run around and play with us. But the other part of me is thinking SLEEP, SLEEP, SLEEP. We'll see what happens.

I'm also going to be thinking about my goals for this week. I know that I want to get back to the gym and really start working out...but I want to change my focus from fitness minutes to calories burned. I want to get the best bang for my buck from the machines. I can put 30 minutes in on the elliptical and burn a ton more calories than an 3 mile walk. I hope my shoes come soon so I can try them out, but if they take all week I'll just hold off on the C25k stuff until they get here.





Friday, September 10, 2010
So this week has been crazy emotional for me. After walking that 10k on Sunday, then dealing with the lack of finisher medals for walkers for my son, and then my oldest son's birthday party, I've just been all over the place. This morning I came in ready to sit down and really set out my September training calendar full of workouts for the month, much like I did last month, and I kept having to put these big fat zeros on days this week for exercise. And the thought hit me that I'm going to have to look at this calendar all month, and this week's lack of motivation and progress are going to pull me down all month (and here I thought September was going to totally rock!)...and I decided that instead of having those big zeros staring me down all month, I was going to write one thing for this entire week - REST.

Sunday I attempted the Couch to 5k program and hurt my hip in the third running segment. It was demoralizing, especially considering how awfully bad I want to run and how boring just walking has become.

Monday I rested. I wasn't feeling it.
Tuesday was much the same.

Then Wednesday I found this fire in me. I did 3 workouts, one in the morning, one midday and one after work, and tacked on another try at that Couch to 5k program again...this time my hip hurt in all three running segments, and even though I took them very slow and made it through three of them, I was still feeling awful. I tried to just fast walk the rest of the running segments, but I felt like my program was mocking me everytime it told me to run and I couldn't. I finished a 20 minute workout (this was after a ride on the elliptical and some ST at the gym) but I didn't feel great about myself, about my workout, or about anything.

Yesterday I was sore. I was wrapped up in my son's birthday and while my eating was fine all day, by the time the kids went to bed I was starting to feel guilty about my lack of exercise minutes for the day and I ate not 1, not 2, but 3 hot dogs, 2 of them with bread. And that just made me even more sad and guilty. I also didn't sleep last night worrying about all the party plans, about what kind of cake I needed to make and when I was going to fit in cake making to my Friday plans because, unlike most weeks, I have to work on a Friday this week.

I was sitting here staring at that calendar trying to figure out how to figure it all in this morning. I'm still store in my legs and hip and I didn't want to attempt anything today as far as a big workout is concerned. Well, that's not true, I want to...badly...but the timing and the actual doing of it keeps getting groans from my body. I also got hit with some bad news that my best friend lost her grandmother yesterday and the viewing is tonight at 5pm and the funeral is tomorrow. Oh, and did I mention that there's a WVU game on tonight that hubs and Ethan are super excited to watch (and so am I dangit!). *sigh* There's too much to do and too little time and I'm stressing out completely.

So instead of pushing myself to the brink and making myself sick this week, I'm using this week as a rest period. Things come up that we don't expect, and while I try to be superwoman and supermom and do it all, sometimes I simply have to learn to say no. I'm still not sure if I can make it to the viewing tonight, but I texted my friend and let her know that I'm here for her if she needs me and apologized for not being able to come tomorrow to the funeral because of Logan's birthday party. She said it was alright and that her Sitti would actually want me to celebrate his birthday instead. (Even though I never met her grandmother, I know from all I've heard that she was a wonderful woman, full of joy and life, who would rather throw a party at her funeral than have people be sad.)

Today's schedule looks like this:
Work until 4:30pm
Possibly make an appearance at the viewing at 5pm
Get gas
Head to Wal-Mart to pick up cake supplies
Make cake while watching WVU game
Make signs and get favors together for the party tomorrow

Saturday is Logan's birthday party at 2pm, but I have to get to the park early in order to grab a pavilion and reserve it. Not sure if I'm going to be able to get Hubs to take some shifts at the shelter, so I may just be up there by myself with my laptop and a book for a few hours. Hubs' bike will be up there, so maybe I can get some bike riding in and learn what that feels like again...or maybe not. I have a ton of decorating to do and things to get ready for the party before the kids start arriving around 2pm. At 4pm his party officially ends and the rest of the night I still need to somehow get to the grocery store and start batch cooking for next week.

Sunday is Ethan's game and (perhaps) a lunch with my mom for Logan's birthday (since she can't be here tomorrow because she's in charge of a float in her town's Corn Festival Parade). The game starts at 1pm but we usually have to be there at least an hour early. I really hope their team can pull out a win this week. They're a good team but the past two weeks the other teams have just been better.

So my choices were to sit around feeling guilty about spending time doing things OTHER than exercising, or to simply give myself a blanket pass and not expect that from me for a few more days. On the upside, it should give my body time to heal, and should also give my shoes time to get here (I just ordered some Nike Pegasus +27 shoes online after researching a bunch, and a Nike strap thing and sensor to work with my iPhone's Nike + iPod app. (I can't wait for that! It's supposed to shuffle your music for you and all you have to do is pick your run/walk distance or time. I don't know everything about it, but at least I'll have all the gear I need to use it. Plus the strap can be used as a watch so no more having to use my iPhone to time me because that's getting tedious pulling it out of my bra to check the time! *lol*)

So here is my very own free pass to myself. I will not stress about workouts for the next 3 days. I will take care of the things in life that call for my attention. I will use any extra time to plan for next week. I will not worry about tracking that much, but will watch my portions and food choices. And I will not stress over what the scale says Sunday, even though I will still weigh in so I have a good judge for next week. Because the more and more I try to find motivation here on blogs and articles, the more clear one message came through -- this is not a sprint, it's a long distance marathon journey. Not every day is going to be stellar, but who cares? Your life is changing, so take the time to learn how to fit family and work obligations into your new life without giving into stress (and, thus, stress eating and ANTs - automatic negative thoughts). (BTW - I don't remember who came up with ANTs but it's awesome!)

So if the next 3 days you see blogs from me on life stuff and not healthy living stuff, understand that this is what important to me right now. This is where my focus has to be for the next three days. I'm not jumping off the bandwagon, I'm just riding on the side with my gaze in another direction. And if it happens that I don't get time to blog, just understand that I'm taking care of me and mine. I don't plan on staying away from Spark completely, because I'm hoping that this rest will only help to fuel my fire and reSpark what carried me through August with such success, but I wanted to give you all a heads-up at least. Because the truth is, what is healthy living without the living part? I'm not crash dieting, I'm building a new life for myself, and sometimes rest and reSparking is so important to keep the journey going. THAT'S the difference between everything I've done before and what I'm doing now here with all of you. I'm learning to live healthier while still living my own life.

Finally, thank you all for all of your support and encouragement, both in the past and much more recently. You have all been a tremendous help and support to me, from advice on things to do, to support to just keep going, the amount of positivity I get from all of you helps bury those ANTs every single day! Thank you, thank you, thank you!

Upcoming possible blogs (a note to remind me what else is on my mind): Questions about Running and Running Stance/Posture, Sparking a Wildfire Around Me, Batch Food Blogs and/or Food Blogs, Spark-Member Organized Convention (see ~Indygirl's blog if you want to learn about this now), and The Problems with Goals and Rewards





Thursday, September 09, 2010










~*~ TIKI CHALLENGE ENDPLATE! ~*~ (DUE SEPTEMBER 9)












STARTING WEIGHT: 380.8
ENDING WEIGHT: 358.4
TOTAL LOSS/GAIN: -22.4

STARTING MEASUREMENTS:
waist: 53.25"
hips: 66.5"
thigh: 29.5"
calf: 23.25"
boobnage: 52"
upper arm: 19.5" (loose) 17.5" (tight)
back fat/abs: 55"
knee: 21"

ENDING MEASUREMENTS:
waist: 49.25"
hips: 62"
thigh: 26"
calf: 21.5"
boobnage: ack! left this at work
upper arm: 17" (loose) 16.5" (tight)
back fat/abs: ack! left this at work
knee: ack! left this at work

TOTAL INCHES LOST/GAINED: -21

STARTING BMI or HIP TO WAIST Ratio:
hip:waist= .8
BMI: 57.9 - pear, decreased risk of heart disease, diabetes

CURRENT BMI or HIP TO WAIST Ratio:
hip:waist= .79 -pear, decreased risk
BMI: 54.4


MY BEFORE/AFTER PICS WILL BE POSTED IN TEAM PHOTOS.


During the TIKI Challenge, my cardio was mostly focused on TRAINING FOR RACES and it worked well for me because IT KEPT ME TO A SCHEDULE. I feel that I improved MY ENDURANCE. I want to stick with it because SCHEDULES KEEP ME ON TRACK, but I also want to change it up because I DON'T WANT TO GET BORED. I feel that I have the ability to ANYTHING I PUT MY MIND TO now.


During the TIKI Challenge, my strength training was mostly focused on STARTING STRENGTH TRAINING and it worked well for me because MY ARMS ARE FINALLY SHRINKING, AS IS MY WAIST AND HIPS. I feel that I improved MY STRENGTH AND STAMINA. I want to stick with it up because I KNOW IT WORKS, IT MAKES ME FEEL POWERFUL AND STRONG, AND I JUST PLAIN LIKE IT. I feel that I have the ability to PLANKS!! now.


During the TIKI Challenge, my flexibility and rest work was mostly focused on LEARNING ABOUT ACTIVE REST, TAKING TIME FOR MYSELF AND NOT FEELING GUILTY, AND USING YOGA AS STRETCHING and it worked well for me because I AM MORE FLEXIBLE AND MY MIND IS BETTER ADJUSTED (MOST DAYS). I feel that I improved MY OVERALL FLEXIBILITY. I want to stick with it because I KNOW NOW THAT STRETCHING IS SUPER IMPORTANT AND REST SETTLES MY HEAD. I feel that I have the ability to MORE DIFFICULT YOGA MOVES now.


During the TIKI Challenge, my nutrition was mostly KEEPING WITHIN MY CALORIES, LEARNING GOOD FALL BACK FOODS, AND BATCH COOKING ON THE WEEKENDS. I feel that I improved on BATCH COOKING and could use some more work when it comes to BUDGETING AND STICKING TO MY CALORIE GOALS MORE CONSISTENTLY.


What I learned about myself in the last two months was I CAN DO MORE THAN I THOUGHT I COULD, BUT MY EMOTIONAL BAGGAGE FOLLOWS ME WHEREVER I GO. I NEED TO LEARN TO DEAL WITH IT AND SETTLE THE DEMONS.

I learned that when it comes to motivation, HELPING OTHERS OR TALKING OUT THE MESS IN MY HEAD REALLY HELPS BRING MY FOCUS BACK.

I learned that the best way to get myself moving is TO HAVE SOMETHING TO WORK TOWARD AND/OR TO JUST GET OFF MY ARSE AND DO IT.

I learned that I am STRONG.

I learned that I can MOVE OTHERS JUST BY BEING HONEST.

I knew all along that I COULD TACKLE WALKING LONGER DISTANCES and now I have proved it to myself.

My next big goal is LEARNING TO RUN OR GETTING TO A SEMI-COMFORTABLE 15-MINUTE MILE WALKING PACE.

In the next challenge, I need more focus placed on NUTRITION and would like to see EVERYONE LEARN (INCLUDING ME) TO FORGIVE OURSELVES AND MOVE ON.

What I am most proud of from my TIKI challenge is I STUCK WITH IT! (AND COMPLETED BOTH A 5K AND 10K RACE!!) and I can't wait to see what I am capable of doing next.













And for all of you...my boy with his "official" medal from the race.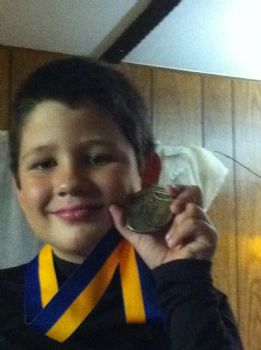 He wore it to school today and showed everyone. He also told them, "My mom complained so much that they sent me a medal! I'm the only one who got one!" *lol*





Thursday, September 09, 2010


Eleven years ago today I was in a hospital in serious pain, being encouraged to drink as much water as possible in order to make myself pee. Yeah, it was an extra special day. *lol* I went into the hospital on 9/8/9 to be induced to give birth to my first son. He wasn't due until the 12th but there had been issues. The biggest issue? In my first trimester I lost a lot of weight...like 30-40 pounds! (Whoever thought THAT would have been an ISSUE?) I signed in around 6pm, didn't get the induction meds until like 9pm, and by 10pm was in serious pain = labor. *lol*

A few hours later, after happy drugs and then only like 15-20 minutes of pushing, out came my beautiful boy...and then they stitched for 45 minutes. OW! So for days I was pretty much bedridden and in extreme pain. I couldn't hardly walk, let alone do any form of physical exercise! (Talk about progress! *lol*) He was beautiful and everyone fell in love with him immediately.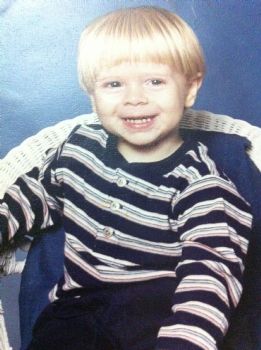 The next two years were...interesting. I struggled with trying to figure out motherhood, moving in with my boyfriend, starting college, and attempting to understand finances and how my life had been turned completely upside down. I'm sure I probably gained a lot of weight...and I gained more in the next couple years until I hit that highest weight - 466.6. I tried enjoying my boy, but I was struggling internally with trying to simply live through each day. It was a huge struggle. Depression. A rough home life. No money. I loved my son, but I wasn't really happy...at all.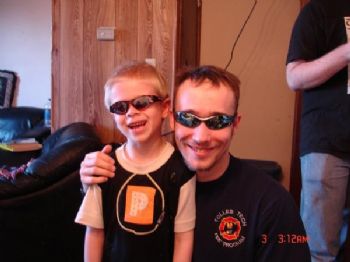 Logan with his godfather.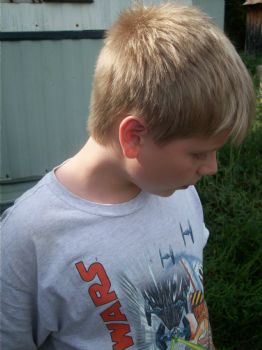 Fast forward to this year. I took the day off work to take lunch to my son. His friends all said hello to me. I didn't hear one negative comment. I was proud to sit next to my boy and give him his Sky & Telescope magazine (present #1). I was happy and was able to do what every mother should be able to do on her child's birthday -- focus on my son. He's growing up way too fast, but he's beautiful and wonderful and I'm so proud that I got through those years of pain and struggle in order to get to here.

Yesterday his mother was strong and powerful and someone to he could be proud of...and that made me extremely happy.

10 minutes of morning Yoga
6 minutes Midday Cardio Warm-up
Midday ST including:
15 push-ups
1 30-second plank
100 crunches
15 lunges
15 squats
10 tricep dips
15 minutes on the elliptical after work
ST on the gym equipment (though a lot of our machines are out of order)
C25K attempt 2 - got through 3 run segments, 2 fast walk segments - 20 mins total

I was thinking of trying to fit in 30DS - L1D2, but I just couldn't after the 2nd attempt of C25K. My hip still hurts when I try to run. I need new shoes. I know that. Just have to figure out the money issue first.

So while I'm changing me for me, there's this added bonus of being able to really enjoy the life of my son. I wasn't the best mother before. A happy mother is much better for a child, I know that. And this version of me is much happier, healthier, and better to focus on him, his struggles, and what he's dealing with as he enters those crazy tween years. I feel like I know my son better. Today when I went to leave school after lunch, he came up and hugged me. In front of the entire 3rd, 4th, and 5th grade my son hugged me. For an 11 year old, that's really saying something!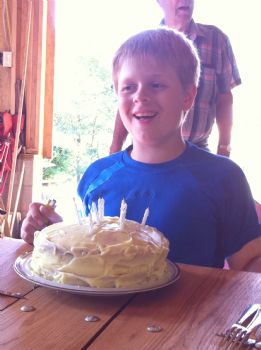 I'd like to get to the gym today, but I can't make that promise right now. I need to run to the bank and the store, and then the boy gets home and we'll do homework, and then cake at Grandma's house, and then I should be able to get some sort of workout in. Whether in the gym or taking a walk with my birthday boy, I'll make sure I get my time in today, but the most important thing to me today is to focus on my son and make his birthday just lovely!






Wednesday, September 08, 2010
This song has been following me around and I think I know why...

Lyrics - "I'm Not Afraid" by Eminem (just a few I've chosen to share)
----------------------------------------
-----------------------------------------
Yeah, It's been a ride...
I guess I had to go to that place to get to this one
Now some of you might still be in that place
If you're trying to get out, just follow me
I'll get you there
...
I'mma be what I set out to be, without a doubt undoubtedly
And all those who look down on me I'm tearing down your balcony
No if ands or buts don't try to ask him why or how can he
...
I'm not afraid to take a stand
Everybody come take my hand
We'll walk this road together, through the storm
Whatever weather, cold or warm
Just let you know that, you're not alone
Holla if you feel that you've been down the same road
----------------------------------------
--------------------------------------
-----------

First of all "I had to get to that place to get to this one" is SO important. Because I've been realizing lately that I had to be the 466 pound recluse in order to really get here and enjoy it. I don't take my strength for granted very often because I know what it's like to be without it. I breathe much easier than I did four months ago. I'm no longer embarrased to walk next to my friend for a stroll because I know I won't be breathing heavily after just 5 minutes of walking. I can do a (slow) jog across the parking lot if it's raining without feeling like there's no oxygen left in my body. And the only reason I recognize this is because just months ago, that wasn't where I was. I had to be there to get here and really appreciate it for what it is. I may still be 350+ pounds, but I'm so much stronger than I've been in a very long time! I am strong and powerful because I put the time in to make myself that way.

Second of all, "I'mma be what I set out to be, without a doubt undoubtedly." It's a determination I strive toward. Because I'm still nervous I'll never get there. I'm still nervous that I will never know what it's like to run a 5k, or to wear a size 16, or to really feel comfortable in front of a camera without having to take 15 pictures to find one that I like. Yes, I'm scared. Out of my mind scared that I'll say that I will and then I won't...but that fear should never hold me back. Because no matter what size I am, runner or not, skinny waif or curvy 250 pound woman who can walk circles around you, my goal is to be fit and strong and healthy. That I can control. That seems reasonable because I'm already noticing how much healthier I am now that I've worked out for almost 5 months. So I'm going to be what I set out to be without a doubt. I'm going to be a woman not held back by her health or inability to set out on adventures. I'll travel and hike and enjoy my life. I'll get to that place where I feel comfortable just being me. Undoubtedly. (Such a powerful word!)

Third, "Now some of you might still be in that place/If you're trying to get out, just follow me." This is my Spark line, as is the hook at the end. This community is bonded together because we've all felt basically the same thing, and for me to think that my experience is just SOOO different from yours because you "only" had 40 pounds to lose and I had over 200, is just rediculous, and not at all fair to you! Wherever we are, we all struggle with the emotions of not feeling right within ourselves, of embarassment over pictures of ourselves tagged on Facebook by our friends, of humiliation when we can't do something our friends are capable of - whether it be fitting into a booth, going hiking for 5 hours, or even just jogging down the street to catch up with someone. We've been there. We struggle with the emotions of food - of wanting to eat all the delicious things presented to us, but knowing that our metabolisms just don't fit the lifestyle of eat all, gain none. We all struggle with comfort foods (be honest, we ALL have them), holidays full of food-sharing, of addictions (whether major or minor) to candy and sweets (CHOCOLATE!! YUM!).

But then, at different times, at different places in our journey through life, in different parts of the world, we all stumbled upon the same road. And as we reach out to members new and old, everytime we hit an "I Like This" button or spin that Spark Wheel or post on a team thread, we're saying one thing - we'll walk this road together. We'll band together and help each other along. Many of us realize that we can't have a "no man left behind" mentality, because there are friends we might never see again, who just aren't ready for the committment, but the secret is if we keep going, if we stay on this road...they know where to find us when they stumble back out of the wilderness. This path was laid for us, but it's up to all of us to take it...but we don't have to make the journey completely alone. That's why I pour my honest feelings into my blogs, because someone else might be affected by the same feelings, because someone might pick me up off the ground and offer to hold my hand for a while, or because someone who feels kicked to the side might see it and say, "Hey! Over here! I'm down here with you!" and we can get up together, dust each other off and continue on our way.

Yesterday I did nothing yet again but slink back into my old habits. I kept asking myself why I was doing it, but my only answer was, "I don't want to talk to you. I don't care." I was a 3 year old who had been picked last for the kickball team again, grumpy and hurt. And while I still never got an answer from that grumpy girl, I let her know that it was okay to feel that way. And I tried again to make some plans while she sulked in the corner. And this morning she didn't want to get out of bed for the simple TEN MINUTES of morning Yoga I had scheduled for her. And still, she didn't want to talk. So I went about my business, and I ate some breakfast and had some coffee and we just didn't talk.

And on the way to work I felt like she felt a little better. Like she had somehow won the stand-off. And I let her keep on feeling that way as I coaxed her into those 10 minutes in my cubicle before we sat down at the computer. Now, that isn't to say that she won't rebel again later when it's time to do the other small things I have on the list for her today, but for right now, there is this sense of calm. I'm not taking it so seriously today. I'm moving on from intense training mode with a sense of pride and a renewed sense of adventure. This is my chance to try new things! I don't have anything to train for right now...all I have next month is a 5-mile trail challenge and two 5ks, both I feel confident about being able to complete if they were scheduled for today. So it's time to explore this world of freedom.

I made up little lists and already gave myself a little star for my morning yoga workout. And whatever I do or don't get done today and tonight, I'm going to try to have fun with it! I'm even considering taking tomorrow off work (it's my oldest son's birthday and I just want to spend some time with him).

My boss took me this morning to a shop that makes trophies and medals and she paid for a medal for my son, which she has instructed me to mail to him so it looks "official." (Yes, I have that kind of boss...which is why I don't leave this place even when the job and salary suck, she saves it/me every time I feel like I'm sinking. She's like a second grandmother to me and I feel almost like a part of her family. She kept saying over and over, "They should be ashamed of themselves! I kept thinking all night about how his feelings were hurt and it makes me mad!")

So, my dear Spark Friends...don't be afraid of this journey. We'll walk it together!



First Page
1
2
3
4
5
6
7
8
9
10
11
12
13
14
15
16
17
18
19
20
21
22
23
24
25
26
27
28
29
30
31
32
33
34
35
36
37
38
39
40
41
42
43
44
45
46
47
48
49
50
51
52
53
54
55
56
57
58
59
60
61
62
63
64
65
66
67
68
69
70
71
72
73
74
75
76
77
78
79
80
81
82
83
84
85
86
87
88 89 90 91 92 93 94 95 96 97 98 99 100 101 102 103 104 105 106 107 108 109 110 111 112 113 114 115 116 117 118 119 120 Last Page

Get An Email Alert Each Time CALLIKIA Posts