| | |
| --- | --- |
| | CALLIKIA's Recent Blog Entries |


Thursday, September 09, 2010


Eleven years ago today I was in a hospital in serious pain, being encouraged to drink as much water as possible in order to make myself pee. Yeah, it was an extra special day. *lol* I went into the hospital on 9/8/9 to be induced to give birth to my first son. He wasn't due until the 12th but there had been issues. The biggest issue? In my first trimester I lost a lot of weight...like 30-40 pounds! (Whoever thought THAT would have been an ISSUE?) I signed in around 6pm, didn't get the induction meds until like 9pm, and by 10pm was in serious pain = labor. *lol*

A few hours later, after happy drugs and then only like 15-20 minutes of pushing, out came my beautiful boy...and then they stitched for 45 minutes. OW! So for days I was pretty much bedridden and in extreme pain. I couldn't hardly walk, let alone do any form of physical exercise! (Talk about progress! *lol*) He was beautiful and everyone fell in love with him immediately.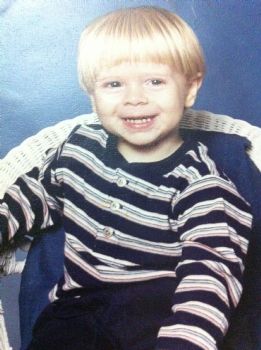 The next two years were...interesting. I struggled with trying to figure out motherhood, moving in with my boyfriend, starting college, and attempting to understand finances and how my life had been turned completely upside down. I'm sure I probably gained a lot of weight...and I gained more in the next couple years until I hit that highest weight - 466.6. I tried enjoying my boy, but I was struggling internally with trying to simply live through each day. It was a huge struggle. Depression. A rough home life. No money. I loved my son, but I wasn't really happy...at all.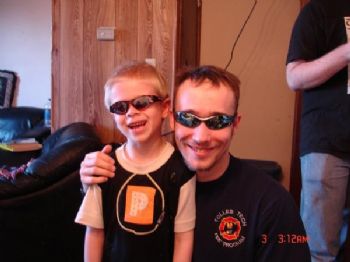 Logan with his godfather.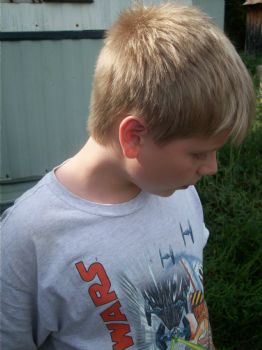 Fast forward to this year. I took the day off work to take lunch to my son. His friends all said hello to me. I didn't hear one negative comment. I was proud to sit next to my boy and give him his Sky & Telescope magazine (present #1). I was happy and was able to do what every mother should be able to do on her child's birthday -- focus on my son. He's growing up way too fast, but he's beautiful and wonderful and I'm so proud that I got through those years of pain and struggle in order to get to here.

Yesterday his mother was strong and powerful and someone to he could be proud of...and that made me extremely happy.

10 minutes of morning Yoga
6 minutes Midday Cardio Warm-up
Midday ST including:
15 push-ups
1 30-second plank
100 crunches
15 lunges
15 squats
10 tricep dips
15 minutes on the elliptical after work
ST on the gym equipment (though a lot of our machines are out of order)
C25K attempt 2 - got through 3 run segments, 2 fast walk segments - 20 mins total

I was thinking of trying to fit in 30DS - L1D2, but I just couldn't after the 2nd attempt of C25K. My hip still hurts when I try to run. I need new shoes. I know that. Just have to figure out the money issue first.

So while I'm changing me for me, there's this added bonus of being able to really enjoy the life of my son. I wasn't the best mother before. A happy mother is much better for a child, I know that. And this version of me is much happier, healthier, and better to focus on him, his struggles, and what he's dealing with as he enters those crazy tween years. I feel like I know my son better. Today when I went to leave school after lunch, he came up and hugged me. In front of the entire 3rd, 4th, and 5th grade my son hugged me. For an 11 year old, that's really saying something!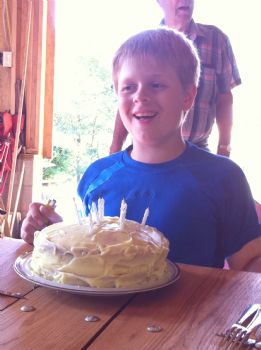 I'd like to get to the gym today, but I can't make that promise right now. I need to run to the bank and the store, and then the boy gets home and we'll do homework, and then cake at Grandma's house, and then I should be able to get some sort of workout in. Whether in the gym or taking a walk with my birthday boy, I'll make sure I get my time in today, but the most important thing to me today is to focus on my son and make his birthday just lovely!






Wednesday, September 08, 2010
This song has been following me around and I think I know why...

Lyrics - "I'm Not Afraid" by Eminem (just a few I've chosen to share)
----------------------------------------
-----------------------------------------
Yeah, It's been a ride...
I guess I had to go to that place to get to this one
Now some of you might still be in that place
If you're trying to get out, just follow me
I'll get you there
...
I'mma be what I set out to be, without a doubt undoubtedly
And all those who look down on me I'm tearing down your balcony
No if ands or buts don't try to ask him why or how can he
...
I'm not afraid to take a stand
Everybody come take my hand
We'll walk this road together, through the storm
Whatever weather, cold or warm
Just let you know that, you're not alone
Holla if you feel that you've been down the same road
----------------------------------------
--------------------------------------
-----------

First of all "I had to get to that place to get to this one" is SO important. Because I've been realizing lately that I had to be the 466 pound recluse in order to really get here and enjoy it. I don't take my strength for granted very often because I know what it's like to be without it. I breathe much easier than I did four months ago. I'm no longer embarrased to walk next to my friend for a stroll because I know I won't be breathing heavily after just 5 minutes of walking. I can do a (slow) jog across the parking lot if it's raining without feeling like there's no oxygen left in my body. And the only reason I recognize this is because just months ago, that wasn't where I was. I had to be there to get here and really appreciate it for what it is. I may still be 350+ pounds, but I'm so much stronger than I've been in a very long time! I am strong and powerful because I put the time in to make myself that way.

Second of all, "I'mma be what I set out to be, without a doubt undoubtedly." It's a determination I strive toward. Because I'm still nervous I'll never get there. I'm still nervous that I will never know what it's like to run a 5k, or to wear a size 16, or to really feel comfortable in front of a camera without having to take 15 pictures to find one that I like. Yes, I'm scared. Out of my mind scared that I'll say that I will and then I won't...but that fear should never hold me back. Because no matter what size I am, runner or not, skinny waif or curvy 250 pound woman who can walk circles around you, my goal is to be fit and strong and healthy. That I can control. That seems reasonable because I'm already noticing how much healthier I am now that I've worked out for almost 5 months. So I'm going to be what I set out to be without a doubt. I'm going to be a woman not held back by her health or inability to set out on adventures. I'll travel and hike and enjoy my life. I'll get to that place where I feel comfortable just being me. Undoubtedly. (Such a powerful word!)

Third, "Now some of you might still be in that place/If you're trying to get out, just follow me." This is my Spark line, as is the hook at the end. This community is bonded together because we've all felt basically the same thing, and for me to think that my experience is just SOOO different from yours because you "only" had 40 pounds to lose and I had over 200, is just rediculous, and not at all fair to you! Wherever we are, we all struggle with the emotions of not feeling right within ourselves, of embarassment over pictures of ourselves tagged on Facebook by our friends, of humiliation when we can't do something our friends are capable of - whether it be fitting into a booth, going hiking for 5 hours, or even just jogging down the street to catch up with someone. We've been there. We struggle with the emotions of food - of wanting to eat all the delicious things presented to us, but knowing that our metabolisms just don't fit the lifestyle of eat all, gain none. We all struggle with comfort foods (be honest, we ALL have them), holidays full of food-sharing, of addictions (whether major or minor) to candy and sweets (CHOCOLATE!! YUM!).

But then, at different times, at different places in our journey through life, in different parts of the world, we all stumbled upon the same road. And as we reach out to members new and old, everytime we hit an "I Like This" button or spin that Spark Wheel or post on a team thread, we're saying one thing - we'll walk this road together. We'll band together and help each other along. Many of us realize that we can't have a "no man left behind" mentality, because there are friends we might never see again, who just aren't ready for the committment, but the secret is if we keep going, if we stay on this road...they know where to find us when they stumble back out of the wilderness. This path was laid for us, but it's up to all of us to take it...but we don't have to make the journey completely alone. That's why I pour my honest feelings into my blogs, because someone else might be affected by the same feelings, because someone might pick me up off the ground and offer to hold my hand for a while, or because someone who feels kicked to the side might see it and say, "Hey! Over here! I'm down here with you!" and we can get up together, dust each other off and continue on our way.

Yesterday I did nothing yet again but slink back into my old habits. I kept asking myself why I was doing it, but my only answer was, "I don't want to talk to you. I don't care." I was a 3 year old who had been picked last for the kickball team again, grumpy and hurt. And while I still never got an answer from that grumpy girl, I let her know that it was okay to feel that way. And I tried again to make some plans while she sulked in the corner. And this morning she didn't want to get out of bed for the simple TEN MINUTES of morning Yoga I had scheduled for her. And still, she didn't want to talk. So I went about my business, and I ate some breakfast and had some coffee and we just didn't talk.

And on the way to work I felt like she felt a little better. Like she had somehow won the stand-off. And I let her keep on feeling that way as I coaxed her into those 10 minutes in my cubicle before we sat down at the computer. Now, that isn't to say that she won't rebel again later when it's time to do the other small things I have on the list for her today, but for right now, there is this sense of calm. I'm not taking it so seriously today. I'm moving on from intense training mode with a sense of pride and a renewed sense of adventure. This is my chance to try new things! I don't have anything to train for right now...all I have next month is a 5-mile trail challenge and two 5ks, both I feel confident about being able to complete if they were scheduled for today. So it's time to explore this world of freedom.

I made up little lists and already gave myself a little star for my morning yoga workout. And whatever I do or don't get done today and tonight, I'm going to try to have fun with it! I'm even considering taking tomorrow off work (it's my oldest son's birthday and I just want to spend some time with him).

My boss took me this morning to a shop that makes trophies and medals and she paid for a medal for my son, which she has instructed me to mail to him so it looks "official." (Yes, I have that kind of boss...which is why I don't leave this place even when the job and salary suck, she saves it/me every time I feel like I'm sinking. She's like a second grandmother to me and I feel almost like a part of her family. She kept saying over and over, "They should be ashamed of themselves! I kept thinking all night about how his feelings were hurt and it makes me mad!")

So, my dear Spark Friends...don't be afraid of this journey. We'll walk it together!





Tuesday, September 07, 2010
I just finished reading JUST_TRI_IT's Momentum blog and it's got me thinking.
www.sparkpeople.com/mypage_public_jo
urnal_individual.asp?blog_id=3613697

Unlike my friend there, who feels a rush of momentum from completing a challenge, I have the opposite feeling. It's the same feeling I had this weekend when I walked over the timing strips and past the finish line and realized that there was nobody but my son and I to realize what we had just done. It's a big sigh once I realize I've finished something I set out to do. It's boredom. It's frustration, only it's worse. It's a feeling of being lost.

All along the way, the way was marked for me. In training, I had my Smart Coach app that told me what walks to do when and how many miles. I wrote it all down on my calendar. I carried it with me everywhere I went and if I lost my way at any time, I could simply pull out my little chart and check to see where I was supposed to be. During the race, the road was marked with spray paint on the ground. Go left, right, straight, up, down it told me. And I followed. Paths not meant to be taken were roped off and arrows clearly painted on the ground before me. The way was marked. My path was set. All I had to do was follow.

But once you cross that finish line, there is no one there to tell you which way to go. You are ushered off the track and thanked for your participation and then you have to find your own way. You have to start making the decisions again - do I want pizza? soda? to go back to the car and just go home? I hate to say it, but the feeling of "it's over" is almost always followed with that feeling of "which way now?"

Yesterday I was still lost (hence the "What Now?" blog). I couldn't figure out what my next move should be. And while I started my day the same way I do every day, when the chips and dip were pulled out by my son around lunchtime, I found myself slipping back to pre-Spark patterns. Not once in the past 4+ months have I regressed this far. I spent the entire day in my nightgown watching TV, movies, Gilmore Girls episodes. I made excuses like "my hip still hurts" and let those keep me from even leaving the house. I told myself I was ugly and didn't want anyone to see me. And I actually repeated those words, aloud, to my husband. (Points to him for telling me that was a silly thought and reminding me how beautiful I am, but I just couldn't believe him yesterday.)

It's not that I wanted my "old life" back. Not at all. I was bored and cranky and fed up with everything. And as far as food went, it went a little something like this:

Egg Beaters Omelet with cheese and mushrooms
2 cups of coffee, light cream
Chips and Dip - a lot, too much
A cup of Ice Cream with hot fudge
A cheeseburger with lettuce, pickles, light mayo, ketchup, on white bun
2 Light hot dogs, on white buns with ketchup
2 pieces of leftover Pizza Hut pizza (pepperoni, mushrooms, and sausage)
More ice cream with hot fudge in a waffle bowl

And I felt sick and tired and horrified, and then unfeeling and uncaring and depressed. And I realized that I felt like the old me again. And then I realized something else...I didn't like it. I wanted the me from the day before back. The one who is addicted to sweat and sun. The one that can't let a day pass without taking a short walk or doing some sort of activity that gets the blood pumping. The one who feels confident and strong and amazing and beautiful. Let's face it -- I was lost...again.

Around 8pm I considered just going to sleep and throwing in the towel for the day, and then I realized that I needed something emotionally. I was stunting and silencing myself and I needed to write, to organize, to get it out and see it on paper. A blog just wouldn't work, because I wasn't ready to face SP yet. I wasn't ready to admit my failures to all my friends. It had to start with me. I looked down and found a journal on the floor in front of my dresser. Perfect! I'll go old school and just write it out. I tracked down a pencil and then opened it to the first page. It was then that I realized that this was my journal from my "new life" journey attempt years ago, when I was coming down from 466.6. I hadn't seen it in years. I stopped writing in it right after our move to WV. The last weight recorded in it was 377.

KITHKINCAID made a suggestion on my What Now? blog yesterday that really had me thinking. She said, "I would just set it as your goal to just "exist" for a while at your new weight." But when I found that journal, I knew I wasn't ready for that yet. See, when I moved to WV, when I stopped writing in that journal, that's exactly what I was doing. I was exisiting at my new weight. But something else started to happen to, I stopped focusing on what the right things to do where. Exercise came to a halt. Eating right slowly became less and less important. And I spiraled into a world of living at 377 pounds. I lost another 11 pounds to get to 366 and hit that century mark, but I quickly got myself back to 380 or so, and stayed there for a long time. I'm not willing or ready to do that yet.

Thankfully, KITHKINCAID also made another suggestion - fast walking the jogging sprints in C25k is the actual program is still too difficult. And that thought sounds much better to me, because it gives me a clear path to follow. I'll have directions, goals, things laid out for me to accomplish along the way. And, for now, that's really important.

Because 356 is not good enough. It's great, don't get me wrong, but it's not enough for me right now. The last time I did this, I was happy to sit at 380 for a while and try it on for size. It was a new me completely from the 466 nearly bed-ridden woman I had created. And it was fun to see what new things I could do and try at this weight. But 356 isn't quite different enough. I still feel like just a little smaller version of myself. Yes, I know I can do a LOT more, I realize that every day, but I feel in my heart and soul a desire to do even MORE. I can't let that fire die down...not yet.

(BTW - NOTHING against KITHKINCAID, and I will consider this idea of just learning to be a new me when I think I'm ready to handle it...because I believe it's important to settle into your new life....I just don't trust myself with that yet without worrying I'll ruin it.)

So, no resting for me yet. Hubs helped me last night diagnose the wear on the soles of my shoes and my feet to try to determine my gait from these cues. (I know it's ideal to get fitted at a running store, but the closest one I know of is 2.5 hours away...though I MAY have found one in Parkersburg...which I will be looking into.) I already know I have high arches, and from the wear on my shoes it seems I likely have a more natural gait, which leads me to cushioning shoes. While I'd love to verify and be sure, I may not be able to wait for that. I may have to just order my best guess perfect running shoe and see how it fits when it gets here.

The goal is to attempt C25k with the appropriate equipment. And then, if it is still too difficult, to dial it back again and complete C2F5K first (Couch to Faster 5k *lol*). I'll walk my regular 20 minute pace or so during the walking segments, but then really push to speed walk as close to a 15-minute pace as possible during the jogging segments. If I can make it through and improve my walk pace, I'll be just that much closer to really running! (A dream I can't seem to abandon...and why should I? My doctor has never told me not to try, just to be careful and take stock and interest in what my body is telling me it can or can't yet do.)

After my experience yesterday, the scale has me up 1 pound, back to 357. If I hop right back on the wagon I may hope to see 355 this week and be done with Battle 2. All is not lost.





Monday, September 06, 2010
First of all, here's my weigh-in update from yesterday. (The 10k blog was too important! *lol*)



Weigh-in Day (Yesterday)

Starting Weight: 466.6
SP SW: 416.2
Last Week: 358.4
This Week: 356.2
Loss/Gain: -2.2
SP Total Loss: 60 pounds!
Total Loss: 110.4

Quote of the Day:
"Man's mind stretched to a new idea never goes back to its original dimensions."

All yesterday, I kept thinking one thing... "Okay...now what?"

When I started SP on April 18, 2010 I:
* could hardly walk a mile.
* took 45 minutes or so to walk 1 mile around the track.
* used my inStride cycle for 10 minutes when I got home from work a few times a week.
* worked out just 3 days a week, from 15-30 minutes.
* just measured and counted food we were eating regularly.
* switched from white bread to wheat bread.
* used my lunch breaks to walk around the ball park.
* started drinking 8 glasses of water a day.

Since then I have progressed to:
* using whole wheat, whole grain bread.
* started cooking fresh meals at home on the weekends for the week.
* discovered at least a dozen new healthy recipes my family enjoys.
* started branching out to cooking without a recipe.
* learned to enjoy fresh fruits and vegetables more.
* cut my fat intake to more reasonable levels.
* joined the gym.
* working out 5 days a week.
* using my rest days as active rest days, doing some small exercise.
* started Zumba classes.
* found out I can ride a bike again and gave up the inStride cycle.
* went hiking and loved and hated it, loved more than hated.
* walking 2-3 miles on my slow days, and 5-6 on LWD (long walk days).
* walking a comfortable 20 minute mile.
* walked a 5k race at a little over an 18 minute/mile pace.
* walked a 10k race with my son.
* conquered rock walls and huge hills.
* went from not able to finish 2000m on the rowing machine to finishing in 12.20.
* boxing regularly and now can work the speed bag.
* strength training 3 times a week.
* completing 100 crunches in a session.
* working out for 45-120 minutes in a session.
* completed a 30 second plank (couldn't do a plank at all before).

So, what now? What's next for my big life makeover? I do have plenty of options of things I can try, things I've been interested in...I just have to figure out what I want to tackle next. From the traditional to the strange forms of exercise I can use and challenge myself for the next few weeks. If you have other ideas, lay them on me! I need something to work toward for improvement! These exercise-related NSV keep me going and keep me from focusing on the numbers on the scale! They also keep me from getting bored.

Options:
* half-marathon walk training.
* 30-Day Shred.
* try Couch 2 5k again. (Need $$ to buy running shoes.)
* challenge speed on the speed bag.
* improve my boxing techniques and really use boxing as training.
* really tackle the rowing machine and tackle more programs on the machine.
* tackle the elliptical training programs on the machine.
* work toward a comfortable 15 minute/mile pace walking.
* work on the house - super-clean, super-organized, fixed and mended everything.
* take up racquetball.
* train on the free weights for more diverse strength training.
* Yoga! More moves, super flexibility.
* Pilates. I've never done anything like this...*shrug*
* start biking outside. (Need $$ to buy a bike first, though.)

Yesterday I tried C25k again. It went well for the first 10 minutes, my knee felt pretty good the whole time and I didn't die during the first 2 running segments. And then the 3rd running segment came and I pulled something in my left hip (I think it was my hip flexor muscle...I've pulled it before). I did a lot of stretching last night and felt much better this morning. I'm not sure if it's the way I run (my stance) or if I'm just still too big to do this. I might try again next week. Even if I just take it one day a week and keep working W1D1 until I can make it through it fully. I don't care if I have to take it slow as long as I'm seeing progress.

Challenges:
* AB: TIKI challenge has ended (have to post my endplate today and some pics), but we have the WTF (What the Fall?) challenge coming up in a couple weeks.
* Team 300 lbs. Plus: I'm still co-captaining the Biggest Loser End of Summer Challenge. This challenge ends September 14th.
* Self challenge: I'm still working on Battle 2, to get to 355. I'm SO close, and then the final push of Battle 3 will begin, to get under 350.

I'm frustrated and lost right now. *lol* That sounds completely absurd, but it's completely honest. If anyone has suggestions or input, let me know! Until I figure it out, I'm just going to spend the day trying to figure out my next move.

I know I still have some races coming up:
* October 2nd - Barkcamp 5-mile trail challenge. No planned goal for this one and not sure I'll do it. I'm not really all that scared of 5 miles anymore, but I think the trail part could be interesting.
* October 10th - Dayton 5k. This is all about family time. I'll be walking with my mom, step-brother, son, and sister.
* October 16th - Auggies 5k. My challenge to myself is to either run part of this one or improve my race walking pace. I'd like to do it under 50 minutes.

Okay...that's it for today. Just trying to plan my next move. Does anyone else freak out like this after completing something you trained for weeks for? Please tell me I'm not alone in this!! *lol*





Sunday, September 05, 2010
Yesterday Ethan and I were signed up to walk the Charleston Distance Walk's 10k. 6.2 miles with a killer hill in mile 3-4 we had dubbed "The Monster."

We woke up 5 a.m. groggy and freezing! A crisp fall-like morning was upon us. We dressed in the clothes we set aside the night before for the race and grabbed jackets that we could strip when we felt it had warmed up enough. I put moleskin on both of our feet and grabbed everything I thought we would need. Putting my contacts in was the last step before we headed out the door for the nearly hour drive to Charleston (and we were only about 10-15 minutes behind schedule!). I stopped at McDonald's for breakfast and coffee (which I didn't drink much of because I was afraid it would make me want to pee throughout the entire race! *lol*) and then headed south. I kept hoping the sun would come up before our 7:30 a.m. start!

We arrived at West Virginia's gold dome, parked, fed the meter (apparently we didn't need to! GRRR!) and went to pick up our race packets. It was still pitch dark outside, but we were excited to be going into the capitol building, which neither of us had ever been in.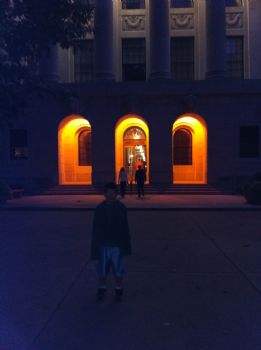 Ethan in front of the big, heavy doors of the capitol building.

After picking up our 2 shirts and hat, as well as our numbers, we headed back to the car to finish prep and drop everything off.



A big glass chandelier in the inside of the dome.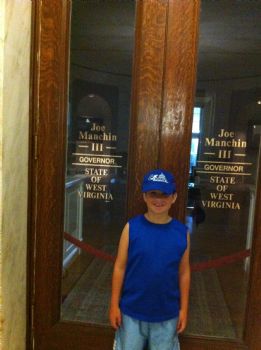 Ethan with his hat, in front of the Governor's office.

I put the body glide stuff on both of us and we put our numbers on and headed to potty once more before the start. I barely made it to the start line and stretched for a minute when the cannon went off to start the race. It still took us a little time to get over the starting line as we were back behind most of the runners of the 5k.

Mile 1: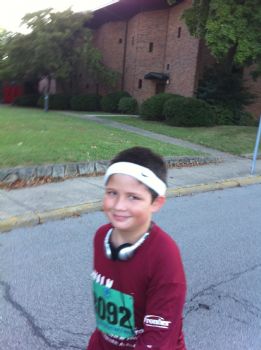 We joked and laughed our way through the first mile. Turns out my race pace is much faster than Ethan's so I just slowed down a bit while pushing him just enough to keep up. I told him how important it was that we just weren't last and he tried to up his pace a bit. Still, I resigned myself to just finishing, even if my boy needed a little more time to do that than I did.

He was amused by the water stations and thought it was awesome that he could pitch his cup on the ground if he wanted (though they kept up pretty well with trash bins and trash pickers nearby). He was happy to see the mile 1 marker, but was frustrated with his headphones which wouldn't play his music over a whisper.

Mile 2:
i pushed a little bit to keep pace with the people around us, but Ethan suddenly realized he hadn't stretched beforehand. His legs were really starting to feel it! I promised him that once we got to mile marker 2 I would stop and give him the chance to stretch out, and that's just what we did. I tried to let the fact that we were getting passed not affect me...but it did a little. I picked up the pace just after our stop to get back to where we had been before.

Mile 3:
All first 3 miles were streets I had walked on lunch breaks over the past 4 months. They were streets I knew very well and I kept pointing out things to Ethan to keep him distracted. I knew he was starting to feel a bit tired already and I worried he wouldn't be able to finish. And then I reminded him that most people would soon be turning off and giving up, but that we were going to set off in a different direction and challenge The Monster. He loved the idea of a challenge and pushed through.

Miles 4 and 5:
It's hard for me to gauge when and where miles 4 and 5 stopped and started. Once we broke off from the 5k pack there were no mile markers or indications of how far we had gone (strike 1 for the race organizers, in my book! Those mile markers are SO important!!). I know there was one water stop where we actually had to refuse water because we'd been given so much already! My tummy was sloshing and it didn't feel very good. So I politely refused and we headed up The Monster.

The Monster:
461 feet. That's what the race course map's elevation chart told me we would have to tackle. And it was all very UPhill! I had to take just a couple tiny breaks to catch my breath, but suddenly Ethan was catching up and having to set his pace back for me! *lol*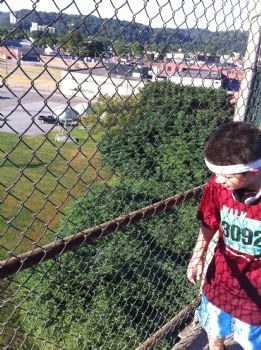 Ethan overlooking the freeway below.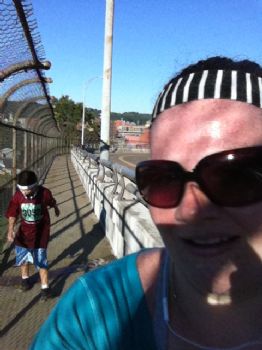 We're still in this!



Break 1 looking back at what we'd already done!



And looking up at how much we still had to do!

We reached the top and found the water station before entering the cemetery...and Ethan found a tree! *lol* He had to pee and there were no bathrooms or port-o-johns available along the 6.2 miles anywhere! He found his tree but I could tell he wasn't feeling too hot. (Apparently it wasn't just a pee...and apparently he chose the wrong leaf AGAIN! He likes to pick ferns to wipe with, and those don't feel so great on the bum! OMG - don't tell him I told you about this! *lol*) Still, we headed into a cemetery with a word of ...encouragement?... from the water station girls. It went something like this! "Just go down there. It's all downhill, until it's uphill again!" WTF? We thought we were done with the hill! (Boy, were we wrong!)

We went downhill for like a second before we found more hills. We guessed we were about at mile 4.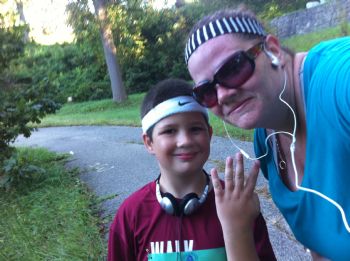 No, those aren't gang signs. He thought we should have a mile marker. *lol*

The cemetery was pretty with the morning sun coming over the hill. I tried to let that distract me from the climb, flat, climb more, flat, climb more, more, more of the trek.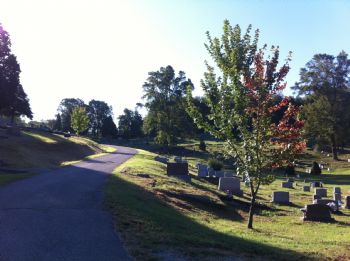 I joked with Ethan that they put the cemetery on this course so that if people just keeled over from the climb, they wouldn't even have to take them anywhere to dispose of the bodies. Just dig a hole! *lol* We tried joking a lot for distraction and most times it actually worked.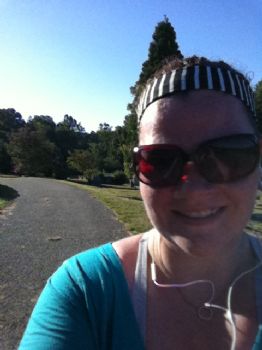 Look! We beat it! We reached the top and are FINALLY headed downhill!!

Miles 5 and 6:
Still no mile markers. Most of this was back down The Monster. I jogged a bit to make up some time, but my right ankle was bugging me after all that uphill climbing. Still, I jogged because it was easier than trying to balance a walk downhill. We made it out of the cemetery and I started to realize there were only 2 people behind us. We tried to shake them but we couldn't. And these weren't just any two people. They were wearing jeans and tie-dyed shirts. They looked like they were out for a Sunday morning stroll and thought it would be fun to put a number on and follow a group struggling up the hill. It looked like they were having no trouble at all, and that irked the heck out of me as I struggled! I was reaching that point where I wanted the finish line...and Ethan was faring much worse. At one point down the hill I actually said, "OMG! I'm done." but we kept walking anyhow.

Ethan kept saying, "Mom, we can't turn back now. The only way out of this is forward." and he was right. So we kept going. I jogged when I could and we brought back some laughter and jokes by trying to shake the people behind us...and by chanting "really big cheeseburgers!" *lol* I had promised him on the way up The Monster that when it was all over I would take him to a good restaurant and we would both order huge cheeseburgers to celebrate finishing the race. (Don't get on me about cheeseburgers after a workout. I didn't care then and I don't care now. I've been basically avoiding the things for months but this day called for cheeseburgers and french fries...and the thought of that got us through the next 2.2 miles!)

As we headed down The Monster I pointed out the stadium where the finish line was. "Look! We're SOO close!" so we sped up and made it off the hill and around the corner, with 15 mile runners flanking us on either side, passing us up but cheering on my boy as we passed. The whole race people cheered for my son. Told him he was doing a great job. Told him he was awesome. And that felt better than any praise anyone could have given me! (I actually enjoyed them clapping for him instead of my pity claps I usually get!)

All we had to do now was walk straight and then head around the track to finish. I kept telling Ethan that as he slowed to almost a crawl. He was exhausted and I knew it. Once we got in the stadium I took his hand and pulled him ahead of me. "We've got this, baby. The finish is right around this corner!" Suddenly we were greeted by crowds of people cheering for the 15 mile finishers, who were distracted by my son...and they clapped for him and cheered for him, and suddenly his pace increased and I struggled just to keep up! *lol* (He did it all for the glory!!) I told him to look up and see that the finish line was right there. He was a little disappointed that it said 2:08.something, but I reminded him that we hadn't crossed the start right at second 1 and that we could still finish under 2:10 if we hurried. An we hurried and walked across the finish line together.

"We did it!" I told him...and he was tired, but proud. That was until he saw all of the 15-mile runners receiving a finisher's medal and he realized he wasn't going to get one. No one was there to welcome the walkers. No one seemed to care that we had done this amazing thing. And my wonderful son looked up at me and said, "Mom? Where's my medal?" And my heart broke. We were told to get off the track and while he cooled down in the water sprayer, I tried to reason myself away from that same thought that plagues me -- walking isn't all that amazing at all. Running is much harder. We suck!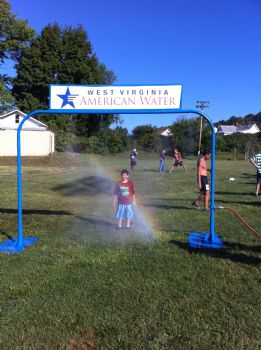 But you know what? We deserve respect for what we just did! We deserve clapping and cheers and a finisher's medal. We paid for this race just like those runners did. We finished it. We put in the effort. We nearly tore holes in our feet walking up a 461 foot Monster of a hill. And that's what I plan on telling the race organizers when I call them on Tuesday. Because I want my son to have a medal for what he did. And that's that.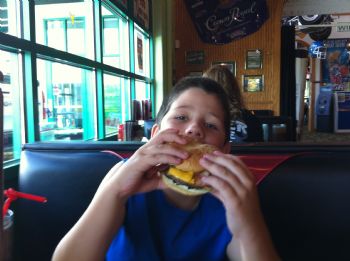 Finally, those really big cheeseburgers I had promised. We each only ate 1/2 of ours, had a couple onion rings and some fries and were stuffed. We headed home proud, but still a little angry (at least I was!).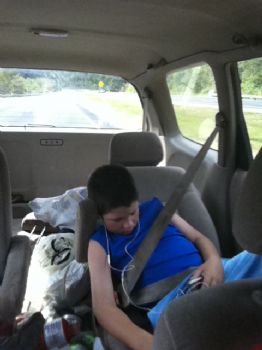 But medal or no medal. Respect or no respect. This little boy deserves a huge amount of credit for what he did yesterday. While I had trained for this race for weeks and worked my way up to 5-mile walks, this boy used only what endurance he gained through football practices and games to make his way through 6.2 miles, a 461-foot climb up the Monster, a grueling jog back down, and a strong finish.

You guys tell me all the time how amazing I am for what I've done. But I have a secret to tell...I'm just trying to live up to the fire this boy and his brother put in my heart every day. I want them to be proud of their mom, and these races are a way for me to show them that I can put my mind to something and succeed...to show them that it's possible so they know that they can do it too.

I am only half as amazing as that boy is right there.




----
In other news: Weigh in today has me down another 2.2 pounds (to 356.2), for a total of 60 lost since April 18th!

EDIT: Official results for Ethan and I:

3091 Esther 29 F Sandyville WV 2:09:01.72
3092 Ethan 8 M Sandyville WV 2:09:01.20

There were two 70+ year olds behind us at 2:12. *lol* Ah-well, we weren't dead last at least.

EDIT 2: The response I got from the race director regarding the lack of finisher medals:
"I am sorry to report that due to money, we did not offer medals to walkers. This is an issue that I will be happy to take up at the next committee meeting on September 27 and I will be sure to mention your son's feelings. I hope other than the lack of finishing medals, you and your son had a great time. It is quite an accomplishment on the part of your 8 year old son."

So, there was enough money for the runners to get medals but not the walkers? Hrm...interesting. AND WRONG!




First Page
1
2
3
4
5
6
7
8
9
10
11
12
13
14
15
16
17
18
19
20
21
22
23
24
25
26
27
28
29
30
31
32
33
34
35
36
37
38
39
40
41
42
43
44
45
46
47
48
49
50
51
52
53
54
55
56
57
58
59
60
61
62
63
64
65
66
67
68
69
70
71
72
73
74
75
76
77
78
79
80
81
82
83
84
85
86
87
88
89
90 91 92 93 94 95 96 97 98 99 100 101 102 103 104 105 106 107 108 109 110 111 112 113 114 115 116 117 118 119 120 121 Last Page

Get An Email Alert Each Time CALLIKIA Posts