| | |
| --- | --- |
| | CALLIKIA's Recent Blog Entries |


Monday, August 23, 2010
Today I woke up and had my very own version of the "sexy" breakfast that YOOVIE always talks about. I don't normally call it a "sexy" breakfast more than I call it a "calm, destressing breakfast" that prepares me for my day more than my former routine (wake up late, shower, dress, grab McD's and eat in the car on the way to work).

I set my alarm for 5am, yes. But I needed more sleep than that, so I took an hour nap (*lol*) before being woken up by pancakes in my face. (*love* me some Hubs!) As he asked if I was getting out of bed soon (as he wanted to get in...he worked all night) I said, "No! I'm eating right here in bed." Two bites later I realized I was missing my morning routine. I grabbed my pancakes and went out to watch my Angel reruns and sip some coffee (and add some bananas to my pancakes, because I just can't have pancakes without some sort of fruit). Halfway into the pancakes I was full (*shhh* ...he made too much ...he made an 'old Esther' serving of pancakes) and set the rest aside to enjoy my show and my coffee for a few minutes. I thought about waking the kids, but they have little to get ready in the morning and I thought I would wait until I went back for my shower at 6:30am.

I spent the next 15 minutes or so with myself. I logged on to check my SparkPage once, but then I closed up the laptop and just sat back and enjoyed the silence that is the morning.

I actually started having "one of those" mornings after the boys woke up. I couldn't find my belt. The only shirt I could find was the one that's too big and I don't much care for. I spilled almost my entire water bottle in my work bag. I spilled my coffee right on the boob of my shirt. (EDIT: I also forgot my cell phone at home, which is also my iPod for the gym, as well as a paper I needed for today at work.) I just shook my head, considered going back to bed for like a second, packed up my healthy lunch and snacks, and headed off to work - kissing my boys goodbye first and telling them to have a good day.

It wasn't until about 15 minutes ago (it's almost 10am now) that I realized that every misstep this morning that could've (and, in the past, would've) thrown me off just...didn't. And why? Because this whole "lifestyle change" nonsense? It's not really nonsense after all. This whole "exercise makes you happy" crap? Yea, it's not really crap either. And that "sexy" and/or "calm, destressing breakfast" really does help start my morning right. I got through several things that could've ruined my day because I'm better adapted to handling the stress. I can roll with the punches better than I ever did before.

And as I ate my snack of greek yogurt with strawberry freezer jam (homemade) and granola I thought about how much my life has changed in just four short months...

This "lifestyle change" they talk about doesn't take you from overeating, couch potato, TV-loving slob one day to overly active, never home, hiking mountains, granola vegan-eating, race winning, no TVs in the house health nut the next. Sorry, it doesn't work that way. It's a gradual change from the person you've settled into being to the person you always wanted to be.

It starts really small. For me it started with stopping my morning McDonald's addiction. It started with getting up a little earlier (like 2-5 minutes earlier) each day until I found the right time to get in my rest time before I had to start my day. It started with a cheese omelet and a slice of wheat bread. Every morning I had the same breakfast because I wasn't sure of my abilities and I was sure of my one choice - my egg and cheese omelet measured out (1/2 cup of egg beaters, 1/4 cup of shredded cheddar). (Lately I've added wheat bagels and cream cheese or peanut butter -- or Fiber One Pancakes if I can swing it have a little extra time (or Hubs surprises me).)

As time has progressed I've gotten used to my morning routine...so much so that even though I tried to resist it this morning and eat in bed, I just couldn't. I needed my routine! And while I'm not saying that eating pancakes in front of the TV while drinking creamer-laden coffee is "healthy" per se...it's better than what I was doing three months ago. And this small change, this morning routine, even though it doesn't include a morning run like I'd love for it to, even though it's just about silence and centering before the chaos of the day commences, helped me get through the crazy that followed.

I'm looking forward to more changes as they come, but for now I've got down a much better morning routine, I have a gym routine following a long work day that's seemingly solid most days, my daily eating works like clockwork and my mind feels calm a lot more these days. For me, that's a huge lifestyle change from the stressed out, overworked, underpaid, unappreciated, suffering, surviving, barely breathing, pulling her hair out woman that stumbled upon Spark 4 months ago.

My lifestyle may not be the poster child for healthy living yet, but it sure has changed! Has yours??





Sunday, August 22, 2010
Okay, so I'm feigning excitement right now because while I want it to be fantastic, I'm just trying to remember everything I need to do in order to be successful this week. Yes, I'm going through the motions, because that's what I have to do. Fake it til you make it.




Weigh-In Day

Starting Weight: 466.6
SP SW: 416.2
Last Week: 362.8
This Week: 364.0
Loss/Gain: +1.2
SP Total Loss: 52.2
Total Loss: 102.6

Hence the stress and the faking it. Could be because my eating was off a few days this week. Could be because I ate out more than usual = high salt intake. Could be because I worked out hard and I never lose much when I push it like that until the next week. Could be a ton of things, but I'm trying to not worry about the why and just move on.

So for today the plan is simple. Clean and Cook. I've got a list of 4-5 meals I'm going to try to prep for this week. They include:

Chicken Fried Rice
Chicken Fingers with Baked Fries
Lentil Rice Casserole
Tator Tot Casserole (likely eaten today b/c the kids love it)
Slow Cooker Chicken Dinner

I've got the Chocolate Zucchini Bread in the fridge and everyone loves it, so it will make a nice sweet snack today.

I may have to head over to Wal-Mart to pick up a few more take out dishes so I can pack all this stuff up for the week.

All of these are either recipes I know work, or recipes I've found on SparkRecipes.

I'm trying to find stuff that's easy to make, easy to store, easy to reheat, etc. I also have on the list burgers and grilled corn, which can't be reheated and will just have to be made whatever night we choose.

Grocery shopping went well this week. We didn't have a list prepared so I stuck mostly to the outside of the store. I did pick up a bag of frozen chicken breasts because it's an easy fall back. Also picked up some lettuce for a big salad sometime this week. I got some frozen veggies and frozen fruits as other fall backs for smoothies and sides. With coupons and discounts we spent about 100 bucks. My goal is to not spend more than 30 bucks this week on extras. That include meals out and anything I have to go back to the grocery store for (we're out of deli meat, which is important for our football game and practice days).

Exercise for the week planned:

Today - I'd like to take a break between cooking and cleaning to go for a walk or head to the park with the dog and the boys.

Monday - 2-3 miles, 15 minutes rowing, ST
Tuesday - Zumba
Wednesday - 5 miles, ST? (I have to figure out how to fit this in...maybe I'll have to go back to ST on my own midday)
Thursday - Zumba, 20 minutes boxing
Friday - elliptical (45 minutes?), ST, cleaning
Saturday - 6 miles

I did clean out some of my old (too big) clothes last night from my room. Some of these remained from my 466 days and it was time to really let them go. I've got them in a bag to head to Goodwill later today.

Pic of the day:


So I guess someone's happy about the shorts I can no longer get away with wearing because they're just too big. Mad Max thinks it's a great carrying pouch....





Saturday, August 21, 2010
So I was wondering today how on task I was with my August goals...I went back and checked and this is what I said on the first of this month:

========
So the plan for August? Keep at it. Work the nutrition goals you set for yourself in the beginning and get back on track with eating more fresh fruits and vegetables. Play time is over...time to work! (Though I can have fun doing it and then it feels a lot like play time.)

8/8 - 367
8/15 - 365
8/22 - 363
8/29 - 361

I'm so ready to see those 350s!

I, Esther, vow that today I am recommitting myself to the program I have set for myself. I will eat more healthy foods. I will cook at home instead of going out to eat. I will pick some fresh vegetables from my garden and enjoy the bounty the earth gives me. I will not let myself punish myself for missteps. I will learn and grow from the challenges I face in order to become a better, happier, healthier new me. I will stop focusing on the future of "the end" and start focusing on today and the here and now. I will ensure that my workouts benefit my heart and my soul. I will learn something new this month to add to my list of healthy activities. I will challenge myself to do better and allow myself the time to rest now and again. I will realize that I am not perfect and I could never try to be. Sometimes I will fall, but I will get back up again. I will not let the scale control my actions today or any day. I will remember that in life there is no scale following me around announcing my weight to those I meet. I am my own ambassador. A smile on my face and confidence in my step will show them that I am a strong, powerful woman who takes care of herself body, mind, and spirit. I will remember that by taking care of myself I am teaching my children healthy habits. And I will enjoy having my kids with me on active outings once again. I am recommitting myself to this process because it makes me feel like I can conquer the world. It makes me feel strong and wise and gives my heart the fullness it needs. I promise this to myself.

Signed:
Esther
===========

Now, let's see...this is what I've done so far as far as weight:

8/8 - 365.2
8/15 - 362.8

So it seems I've been under my goals so far. I have no clue what the scale will say tomorrow...all week it's been up and down (mostly up).

So what if I gain tomorrow?

No, really...what if? My eating has been a little erratic this week, and my exercise has been insane this week. I missed 2 ST sessions this week due to intense cardio session and/or the need to be at home with my boys. My body is sore. My knee went out in bed on Thursday, but it went right back in and I was good again. Today it's sore so even though I'm supposed to walk 6 miles, I know it's best to just rest it today and let it heal correctly. I'll focus on my son's game today. If I feel good I'll walk around the field when my son isn't playing. So IF I gain or maintain tomorrow, I'll just keep going anyways. Crap happens, and I have plenty of accomplishments to be proud of this week.

As far today is concerned, I'm in the middle of cooking a batch of Chocolate Zucchini Bread. I'll let you know how it goes. Sounds yum, though! (Just waiting on Hubs to get back from borrowing vanilla from the MIL.) In a couple hours we'll be headed to Parkersburg for Ethan's first game. They keep moving him around and there's talk that he'll be on both first string and second string offense...one as a guard, the other as center. He's excited and so am I!

So, one more full week of August. Time to show myself the discipline in eating I've learned over the past four months and send the summer out in high-style! I seriously can't wait to see (and then beat) the 350s.





Friday, August 20, 2010
So I'm at the gym peddling away on the recumbent bike and bored out of my mind. I think I hate the bike. It's boring. My feet get numb in that position. And I never feel like I'm pushing enough, sweating enough, accomplishing enough. But I know I'm burning calories, and I'm maintaining a 60-70 pace, so why am I so hung up on what I think isn't happening? And why does this feeling always seem to come a day or two after a huge accomplishment?

Yesterday I was sore but flying high emotionally. I had finally conquered my 5-miler, and I felt like I had done something brave and powerful. But I know I can't push like that every day. I can't conquer myself each and every day or I'll burn out or overdo it. Even Hubs commented yesterday that he thought my 5-miler was too soon, too fast while we were talking about how my body was so sore all day and I asked him what vitamins I could take to reduce the waste products brought about through the muscle tearing that happens in a work out. He looked at me, wondering why I needed such a quick fix, wondering why I couldn't just back off a little and let my body rest.

I know that I need to rest. I've done enough research on exercising and training and I know how important those rest periods are for repairing your muscles so they can continue to perform at their best. And I'm not necessarily looking for a quick fix for weight loss as I seem to be searching for a quick fix for muscle recovery so I can do it again, best myself, accomplish something. But as I was sitting there super bored I thought to myself, "OMG, is accomplishment a drug?" I'm a lot like an addict. My fixes are that pride in accomplishment...that feeling you get when you surprise yourself and do something you didn't think you really could. When I first started out my high lasted a long time, but more and more it only lasts a day or two. Not even 48 hours after my 5-miler accomplishment and I'm looking for my next fix.

I've heard a lot about how some food addicts end up switching that addiction for exercise, and a time or two I've even teased that I wish I could be one of those people because at least I'd be skinny. But I've been searching for balance, not addiction. I want to find a peace in my life. I don't want to be searching for any fix - food, exercise, drug or otherwise. If anything, I want to be high on life...So I'm worried...has pride become my drug???

Pride tends to be a dirty word in my mind. It's a selfish and egotistical word. Pride isn't good...isn't it one of the 7 Deadly Sins? OMG! ...that's what I kept telling myself.

--------



Wikipedia says this:
Pride is, depending on the interactional and cultural context, either a high sense of one's personal status (i.e., leading to judgments of personality and character) or the specific mostly positive emotion that is a product of praise or independent self-reflection. Philosophers and social psychologists have noted that pride is a complex secondary emotion which requires the development of a sense of self and the mastery of relevant conceptual distinctions (e.g., that pride is distinct from happiness and joy) through language-based interaction with others[1]. Some social psychologists identify it as linked to a signal of high social status.[2] One definition of pride in the first sense comes from St. Augustine: "the love of one's own excellence".[3] In this sense, the opposite of pride is humility.

Pride is sometimes viewed as excessive or as a vice, sometimes as proper or as a virtue. While some philosophers such as Aristotle (and George Bernard Shaw) consider pride a profound virtue, most world religions consider it a sin.

According to the Concise Oxford Dictionary, proud comes from late Old English prut, probably from Old French prud "brave, valiant" (11th century) (which became preux in French), from Late Latin term prodis "useful", which is compared with the Latin prodesse "be of use".[4] The sense of "having a high opinion of oneself", not in French, may reflect the Anglo-Saxons' opinion of the Norman knights who called themselves "proud", like the French knights preux.[citation needed]

When viewed as a virtue, pride in one's appearance and abilities is known as virtuous pride, greatness of soul or magnanimity, but when viewed as a vice it is often termed vanity or vainglory.
------

For the past 24 or so years (I'm giving myself my early years, because we don't tend to criticize ourselves when we're super young) I've had humility shoved down my throat as a virtue. Be selfless. Do not be proud. Be a good loser. Don't be a sore winner. Show respect to your competitors. You aren't that good, that special. Don't think too highly of yourself. Don't get a big head. Don't be narcissistic. Be humble. Think of others, not yourself.

And I did that. For a long time I put myself last. For a long time I made sure my friends, family, kids, husband were happy, even if I didn't really feel happy at all. And I hated myself most days.

So maybe pride isn't such a bad thing. I'm realizing that people around me seem more happy with me when I'm happy. It's much easier to get along with those around me when I feel fulfilled, and for right now this training for a 10k is driving my ambition...but that doesn't mean it will always be that way. This "journey" we're all on is a narcissistic journey in itself. We spend a lot of time trying to change our appearance so we're constantly focused on what we look like, how we're getting fit, how our body is changing, etc.

But I'm still cautious. Is pride my drug right now?? I don't know...maybe. But I'm going to be more aware of this as I go and be proud of other accomplishments, like healing and rest days. I'm going to be proud that I'm giving my body the rest it needs and thank my muscles for healing so I can call upon them again soon. Maybe right now it's not about getting rid of my pride (because I'm starting to think that pride in one's self isn't as bad as all the stories and religions have made it out to be) but being proud of more than just my physical accomplishments.

What do you think? Are you chasing an exercise high? Do you experience down days when you have to hold back? Are you anxious to get to those challenge days?

Just for fun I've been going through some old pictures. Here's a picture of "skinny" Esther.


Age 4. Probably a picture for Easter. What the crap is up with the red sailor bow thing on that dress? Wow!






Thursday, August 19, 2010


This is a picture of a girl who is unsure of herself.
This is a picture of a girl who is embarassed by the way she looks.
This is a picture of a girl who feels broken, alone, scared for the future, and unsure of what will happen next.
This is a picture of a girl who wants to be taken seriously.
This is a picture of a girl standing in a dark room in a gym, afraid that everyone around her is judging her.
This is a picture of a girl who wants it to be understood that while she may look like a 'fat slob,' she is doing everything she can to change - to make the outside match the inside so people will look at her and want to get to know her before deciding they already know who she is and what she's about.

But this...?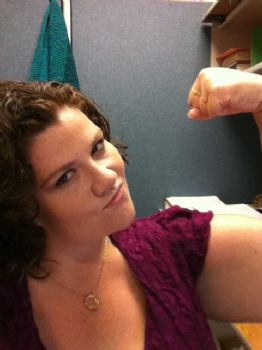 This is a picture of a girl who knows exactly who she is.
This is a picture of a girl who is proud of the muscles she has built that are starting to show themselves already.
This is a picture of a girl who feels strong, united with her fellow athletes, excited for the future, and sure that the next step will be even better than the last.
This is a picture of a girl who demands to be taken seriously.
This is a picture of a girl sitting at her desk at work, who even though is tired and sore from her training at the gym last night, feels confident and proud and doesn't care what anyone around her thinks about her outside appearance because she can feel the power within.
This is a picture of a girl who understands that appearances don't matter as much as action, that she has made positive changes and will continue to make them, and understands that the people who are worth knowing will try to get know her before ever attempting to make a judgement on who she is or what she is all about.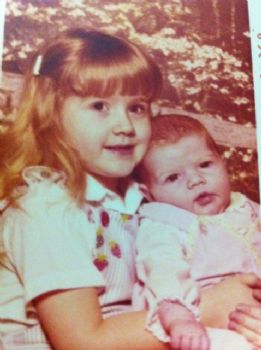 That red-headed baby being held by her blonde sister had no clue that she would suffer through life, but would somehow find the courage to come out the other side. She had no clue that one day she would find herself 29 and weighing 366 pounds, and would still find the courage and strength to ignore those numbers and try for another - 5. Five miles of walking. Five miles, taking every step in defiance of what she was called in the past, of what she was made to feel like, of the judgements that were made about her. And she had no idea that she would come out of those five miles more sure of herself and her abilities, unafraid of numbers. Six miles? Sure. Ten miles? I can work my way up to that. Thirteen? Not at all spooky.

August 18, 2010
4 Month SparkVersary
The day I conquered the 5-miler
Time: 1:36
Faster, stronger, braver than ever before.
Today I feel like a warrior!

Yes, I am sore. Yes, I managed to get a blister on the OTHER foot. (OUCH!) But it feels so good to wear these battle scars, because --

Yes, I can walk 5 miles! (and do it under a 20-min/mile pace!)






First Page
1
2
3
4
5
6
7
8
9
10
11
12
13
14
15
16
17
18
19
20
21
22
23
24
25
26
27
28
29
30
31
32
33
34
35
36
37
38
39
40
41
42
43
44
45
46
47
48
49
50
51
52
53
54
55
56
57
58
59
60
61
62
63
64
65
66
67
68
69
70
71
72
73
74
75
76
77
78
79
80
81
82
83
84
85
86
87
88
89
90
91
92
93 94 95 96 97 98 99 100 101 102 103 104 105 106 107 108 109 110 111 112 113 114 115 116 117 118 119 120 Last Page

Get An Email Alert Each Time CALLIKIA Posts