| | |
| --- | --- |
| | CALLIKIA's Recent Blog Entries |



Thursday, August 19, 2010


This is a picture of a girl who is unsure of herself.
This is a picture of a girl who is embarassed by the way she looks.
This is a picture of a girl who feels broken, alone, scared for the future, and unsure of what will happen next.
This is a picture of a girl who wants to be taken seriously.
This is a picture of a girl standing in a dark room in a gym, afraid that everyone around her is judging her.
This is a picture of a girl who wants it to be understood that while she may look like a 'fat slob,' she is doing everything she can to change - to make the outside match the inside so people will look at her and want to get to know her before deciding they already know who she is and what she's about.

But this...?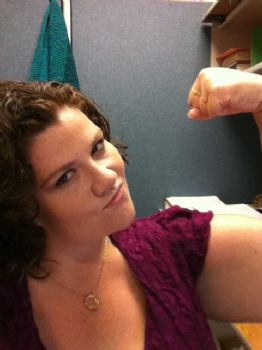 This is a picture of a girl who knows exactly who she is.
This is a picture of a girl who is proud of the muscles she has built that are starting to show themselves already.
This is a picture of a girl who feels strong, united with her fellow athletes, excited for the future, and sure that the next step will be even better than the last.
This is a picture of a girl who demands to be taken seriously.
This is a picture of a girl sitting at her desk at work, who even though is tired and sore from her training at the gym last night, feels confident and proud and doesn't care what anyone around her thinks about her outside appearance because she can feel the power within.
This is a picture of a girl who understands that appearances don't matter as much as action, that she has made positive changes and will continue to make them, and understands that the people who are worth knowing will try to get know her before ever attempting to make a judgement on who she is or what she is all about.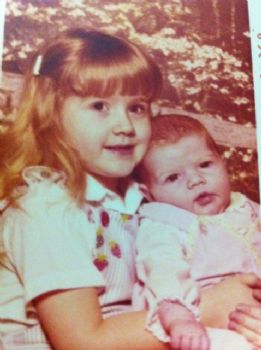 That red-headed baby being held by her blonde sister had no clue that she would suffer through life, but would somehow find the courage to come out the other side. She had no clue that one day she would find herself 29 and weighing 366 pounds, and would still find the courage and strength to ignore those numbers and try for another - 5. Five miles of walking. Five miles, taking every step in defiance of what she was called in the past, of what she was made to feel like, of the judgements that were made about her. And she had no idea that she would come out of those five miles more sure of herself and her abilities, unafraid of numbers. Six miles? Sure. Ten miles? I can work my way up to that. Thirteen? Not at all spooky.

August 18, 2010
4 Month SparkVersary
The day I conquered the 5-miler
Time: 1:36
Faster, stronger, braver than ever before.
Today I feel like a warrior!

Yes, I am sore. Yes, I managed to get a blister on the OTHER foot. (OUCH!) But it feels so good to wear these battle scars, because --

Yes, I can walk 5 miles! (and do it under a 20-min/mile pace!)








Wednesday, August 18, 2010
On April 19th I arrived home following a trip to a friend's house in Ohio. That friend had been working out and so had several other people around me. I guess I caught the bug, because when I got home I sat down at my computer and thought - Okay, let's make this work. From losing weight previously, I knew how important it was to log my calories, so I searched Google for a free site that would allow me to do that, and up popped SparkPeople. Sure, I'll check it out. Looked good enough. I liked that I could have my own space, and I'm always attracted to blogs, because I think they're a lot like journaling and that's always been a HUGE part of it for me. I made myself a promise - be honest. I told myself that no one was watching me anyways and that the most important thing was to be completely 100% raw honest with myself. Sugar-coating crap led me to one thing only - donuts...and cake...and cupcakes, okay, maybe a few things.

Now four months later, one of my biggest accomplishments and one of the biggest things that makes me love Spark more and more every day is that my honesty is appreciated and respected. If I had been faced with people bashing me for being honest, I would never have stayed and likely would have given up the whole shebang of trying to lose weight. But Spark has become synonomous with the word "support" and I have to give props to all my Spark Friends and anyone who just stumbles by for your advice, support, suggestions, encouragement, and simple *love*.

So in four months, I can honestly say that I've become a different version of myself. This version was always there in spirit, she just didn't know how to break free of the shell I had created for her and stuffed her into. Everything was just TOO HARD before, and now things are becoming easier each and every day. I have accomplished so much and have so much to be proud of after just four months of hard work!!

April 18th to August 18th, 2010



I have lost 50 pounds!
I was SO SO happy when the scale came down today to 366.2 so I could honestly say that I had lost 50 pounds from April 18th to today!



I have lost a total of 27.25 inches!
- 6.75 in the waist
- 7.5 off the hips
- 3 from my neck
- 5.5 from my thigh
- 2.5 off my calf
- 2 from my upper arm



I've gone from being able to do about 2 (yes, just 2) modified ("girly" as my boys say) push-ups to today being able to do 12 regular pushups in one minute. Granted, I can't go down that far, but this is a HUGE improvement.



After doing those pushups today I now realize that I am able to do a plank! I don't know for how long yet, but I couldn't even stay in the position long enough to count to one before!



I've gone from being able to do about 12 (very difficult) crunches, to doing 49 non-stop in a minute! (I'm so friggin proud! I'm loving my core today!)



My resting heart rate is around 65 now, which is in the low range. No clue what it was before, but I can assure you it was probably UP THERE! (I'll ask the doc when I go in next week what it was before.)



I have logged 5,874 fitness minutes in 4 months! That's an average of 1,468.5 fitness minutes a month!



I completed 30 in 30 - 30 consecutive days of working out in June! (I'm thinking of shooting for 50 or 100 the next time...but after I finish my 10k training...)



I went from barely being able to complete a full mile (walking) to doing 2 and 3 milers at least once a week. (And tonight is my 5-mile training, which I'm actually feeling a LOT better about today.)



I walked my first (non-competitive) 5k at home (5/26) in 1:15.39.



I walked my first ever competitive 5k (8/7) in 57.21! That's 18.18 off my previous time!



I've earned over 5,000 Spark Points (I don't concern myself too much with Spark Points usually unless I'm bored one day and try to start racking up a score by reading articles and doing polls. *shrug*)



I started merely walking and using my inStride cycle. Now I do Zumba, stationary bike, boxing, row machine, rowing on the lake, elliptical, treadmill, walking, (real) gardening, (fake) gardening, swimming, water aerobics (self-guided at the lake), hiking - and I just can't wait to try more things! I use as many opportunities as I can to burn calories...that's why they call me the Calorie Killa! ;)



I have gone from 0 ST to Spark's suggested ST routine, to a full round on the ST machines 3 times a week at the gym. I do anywhere from 50-70 crunches a day (where I used to do about 20).



I stretch before and after all my exercises and sometimes in between and have found that I'm much more flexible than I ever was before!



I went from not being able to complete a full Zumba class, to modifying the entire thing (taking out jumps and turns) to last night doing the full 35-40 minutes doing EVERYTHING everyone else did!



I have gone from my knee popping out once or twice a month to no popping since May. I still watch it and try to back off it feels loose or sore, but I can tell every day that it's stronger than it has been since probably high school!



I've found some great Spark Friends that I feel extremely close to!



I've met two Sparkies in the real world - and they were wonderful! And I hope to have more meetings within the next 6 months!!



I was nominated Spark Motivator (8/10). A huge boost to the ego. I thank you ALL for your support!



I received a Popular Blog Post Award (8/10) and met some wonderful new Sparkies through it!



I was Done Girl of the Day (8/13)! Thanks Donies!! :)



I volunteered to be Co-Captain of the Awesome Adventurers team for the Biggest Loser End of Summer Challenge in Team 300lbs. Plus! (GO ADVENTURERS!!)



I've gone from a woman trying to lose weight to an athlete training for her next event. From a woman obsessed with how horrible she thought she looked to a woman proud of the strength in her body and proud of how her body seems to be taking on a better shape. I've gone from a girl who hated to shop to one who can't wait to get to the stores to see what else fits now! (And I'm trying so hard to stay away in order to save money!! *lol*)

Spark has seeped into other aspects of my life as well. My youngest son is constantly paying attention to his body and feeding it the right fuel for football practice. He works on his days off to improve his strength and flexibility. He asks ME, yes MEE!!, for advice on how to get better, stronger, faster, and more effective on the field. I find work easier to get through (though I still hate it) and I'm constantly demanding more from myself while still trying to give myself the rest and credit I deserve. I'm not afraid to speak in front of people. I have more confidence because I've built this strong sense of self-worth. And even though it wavers from time to time (see yesterday's blog), I snatch it back in a day or two and feel stong and powerful again.

And I'm not sure if it's because of me or just coincidental, but I've noticed a change in my friends too. Each day on Facebook I see more comments from friends about working out, going to the gym, starting a program and committing to a healthier life. Let's hope we're all spreading that Spark throughout the world!

So here's to another four months (and more!) of learning, of growing in self-confidence and self-worth, and shrinking physically!! Here's to us Sparkies, and the troubles we face and conquer every day! Here's to those who said we couldn't and those who always believed we could (including our fellow Sparkies!). Here's to knowing that we are doing right by our bodies and creating a fulfilling and quality life! My health teacher once asked us what was more important - quantity of life, or quality. We all knew the answer, I'm just glad all of you here have decided to take the challenge of making it so!











Wednesday, August 18, 2010
Ignore this...look over there...

Oh, and for your information - it's really no wonder Stella got her groove back...



Wouldn't you if you had that standing next to you and smiling at ya??






Tuesday, August 17, 2010
The AB team has a forum thread with this exact title and I feel like I should honor it here. It's time to get real, my homies! (Sorry...just watched RAVENSONG gansta dance it out...got me in a mood.)

Confession #1:
As much as I try to set an example...as much as I want to be noticed and recognized for my accomplishments, I've been experiencing a bit of a freak out moment over all the attention lately. This is no disrespect to anyone who has friended me recently, who has posted on previous blogs, who has nominated me for Spark Motivator, or anything of the sort. This is also not a call to be left alone (see Confession #2). What this is is me fessing up. When you feel like the world is watching you, it's SO HARD not to feel the pressure to stay perfect. I just want you all to understand that I love the love you've shown me, but I hope you realize that I am in no way perfect. I am still morbidly obese, even after 100 pounds lost...and I have a ways to go before I get under that. I still get attacked by the "IDUNWANNA"s and the "SCREWTHIS"s from time to time, usually once a week. And right now, in this moment, I'm pissed because the scale tells me that by going off track one day I gained something like 8 pounds. In one day! GRRR! So don't be upset or surprised when your SP Motivators have bad days...remember that we're struggling right along with you and we can't always be rainbows and butterflies happy and on point.




Confession #2:
I feel lonely - a lot! As much as I'm surrounded here on Spark by people fighting the same battle, I often feel like I've only been accepted into the "club" because it's PC to do so. No disrespect to any of my Spark Friends, as corny as it sounds (but it's true) - it's not you, it's me. I've spent my life as the fat friend, and I've often felt like I was "kept around" so that I could make those around me feel better about themselves. Me and friends rarely work out for very long because they find other (skinnier) girls they can relate to better. I've never been in a friend's wedding, even the friend I knew since the age of about 6. And I always felt like it's because they would hate to ruin their wedding pictures with the huge girl taking up all the space on the end. (And because finding a dress to fit me would screw up all the other bridesmaid dresses.) It's a source of discomfort to admit it, but that's how it feels to be the fat friend. (And I'm sure many of you have felt this from time to time.)

I also feel very lonely at the gym. I get stared at a lot. Sometimes I get a smile like, "You go girl!" and other times it's the look of, "What the hell are YOU doing here? You're going to break the friggin' machine!" (which I do worry about all the time, btw) I often wish I could bring my support system with me (husband, kids), but hard as I try, hubs is not interested in bulking up and making himself into a lean machine. Hubs thinks he looks great and has no self-esteem issues. And when his gut grows a little too big for his liking, he simply cuts back a bit on his eating of sweets and he's good to go again. (I'm so jealous of his wonderful self-esteem and ability to self-regulate like that!) So until anything changes, I'm alone there just doing the best I can, Spark Friend comments in my ear pushing me on. (Which is why I love the support, no matter what I said in Confession #1.)

See Confession #5 for more on why I feel "lonely" at times.




Confession #3:
It took a long time for me to start taking credit for my own weight problems, but I still honestly believe that some of that blame should be shared. I went from a tiny little thing before the age of four to the fatty by age five. (My mother tells me that people used to ask her if she ever fed me because I was so skinny. She said I was more interested in playing than I was in food. Food, back then, was only used as fuel to sustain my childhood energy. --Oh how I wish I could've held onto that habit!!) The only thing that changed? My father came home...from prison. My father was...hrm, how do I put this nicely?...a big jerk. He believed me to be the reason for all of his problems most days, and while he treated my older sister like she was his pride and joy, I was the girl he wanted to hide (bury?) in the basement. I always got the distinct feeling growing up that life for my parents and sister would improve 100-fold if I simply did not exist.

ACK! I'm not going for the sympathy vote here, I'm just trying to explain. I remember very little from my childhood -- VERY, VERY little!, and no one really knows why -- but I remember that meals were to be finished. Clean platers club was 100% necessary because we didn't have the money for food to begin with and me, the little brat, was not going to waste what we did have. I distinctly remember being about 16 years old (after my father was finally kicked out of the house) and sitting at the dinner table staring at my plate, anxious and nervous because I was full and there was still more left on my plate to be cleared... and my mother looks over and says to me, "Esther, you don't have to eat it if you don't want it." At 16 years old I was finally given permission to stop when I was full, but the damage was done. Bad eating habits were learned and I stuck with them. I still have trouble leaving food on my plate (I had this problem just last night until Hubs offered to finish it for me...and I thanked him for finishing my food so I wouldn't. How sad is that?)

I know a big part of this is me, but a bigger part (and the hardest part to fess up to, because people don't like to hear that someone else is to blame for a problem like this) is that I was taught these behaviors and I have to take the time to unlearn them. This is a big reason why I'm so big on our boys learning to feed themselves properly, learning to stop when they're full and learning that we can save the rest for later and still not be wasteful. They say that children are born with this instinct to eat right, and as parents we have to let them develop it. Is it any wonder that my metabolism is shot to hell and I have so many issues with food?




Confession #4:
I'm very nervous about losing weight. I have never been skinny (okay, when I was 4, but seriously, I don't remember it AT ALL!) and I don't know what it feels like. I imagine it's wonderful, but I have no idea. I have asked my husband more than a dozen times on random occassions, "What does it feel like to be skinny?" and he has no idea how to answer the question because he doesn't understand what it feels like to NOT be skinny.

And sometimes I mourn the little girl that never got to learn what it was like to be treated nicely in school. Sometime I mourn the little girl that felt left out and stepped on everywhere, even at home. My mom is my rock, but she couldn't stop my father's anger, so I was rarely treated as anything even remotely special, except in still quiet moments with my mom away from everyone.

So while I'm so glad to be losing the weight, and I DO want to know what it's like to walk in a store and buy jeans off the rack, I'm scared that it will never happen...and I'm scared that it will. I don't know what skinny feels like. And I don't know if my body will EVER look acceptable because I have spent my entire life stretching skin that will likely never go back - EVER. That seems a little sad to me, knowing that I can never strut around in a bikini. So, yes, I'm scared to be skinny sometimes.




Confession #5:
This is for all my really big girls out there, EDIT: or for any of you that have ever felt this way...

First of all, I know you might feel like nobody really understands what it's like to be you. There are people out there, but sometimes it feels like they are few and far between. (Of course, it could be just me.)

Pro - We can work less on exercise and fitness and lose more. Because our weight is so high, burning calories comes easy and quickly because it takes our bodies SO MUCH just to move. So we can start out super small and get away with it.

Con - We have to lose a lot more weight to have our efforts noticed by those around us. Generally they say that for those carrying a considerable amount of extra weight, you will have to lose 30 pounds before anyone starts to notice. By 40 we really start getting attention for it. So while skinnier girls can rock a 10 pound weight loss and get stares and smiles from admirers around them, we have to fight a little more to get the recognition.

Con - We face every day the fact that we have SO MUCH MORE to lose than most of you. I cannot tell you how many days I sit here wishing I was "only" 280 pounds. (I know that sounds rediculous, but it's how I think sometimes.) When I joined Spark I refused to put in my actual goal weight in my ticker. Why? Because it seemed so daunting. I came in at 416.2, and my goal would be about 160. For those keeping track, that's a weight loss of 256 pounds! That's not just losing a person, that's losing a fat person, or two skinny chicks. So please understand when we our energy or motivation falls, that 9 times out of 10, it's because we realize in our hearts that the number we need to lose is so huge...and it's really hard to ever imagine us losing that much weight. Even in magazines we read of people who brag, "I lost over 100 pounds!" but I rarely see one (in fact, I'm not sure I ever have) that says, "I lost 250 pounds!" If you want to get really picky, if I EVER get to 160, I will have lost a total of 300 pounds. I have never seen that done by a woman without medical intervention. Daunting. Heavy. Tiring to realize.

Con - When some people start to lose weight, they seem to drop a pant size every month or two. But when you start out really big, dropping pants sizes comes VERY slow (I'm hoping this is just at first). I have been here for 4 months (tomorrow is my 4 month SparkVersary) and am barely down from a 30 to a 28...barely. And the other day I was heart broken when a pair of my new 28s split a rip down the front. (These shorts were "distressed" already, and I would have never bought them if they hadn't been the only size 28 shorts in the store. A word to the wise - do not buy distressed jeans if you're a big girl and/or if they're tight and you're trying to shrink into them.) This whole pants size thing is especially true when you've reached the point to where you're only really buying elastic waist pants. You'll wear these for a WHILE before ever needing a smaller size, it seems.

For the really big girls out there, I'm with you. I understand. My heart yearns for us both/all to feel those same triumps others feel. We may have to work longer and harder for it, and our bodies might look a little different in the end, but just think of what we can say we've accomplished when all is said and done! Talk about taking inspiration and motivation to the next level!




Alright, so there they are - five confessions of things that have been haunting my mind. Today is an emotional day. I woke up late. I didn't finish my workout last night because hubs called and wanted me home so we could go out to dinner as a family. The scale says I'm back up to 368 (which friggin' blows dude, I hate this crap!). I'm back here at work for another forever-long day. And that stupid 5-miler is tomorrow. The lateness of waking up led me to the McDonald's line for breakfast and will force me to go out and get something for lunch. *sigh* Emotions are running high and I'm trying to deal.

EDITED for misconceptions *I* made. Not afraid to admit I am wrong...and it feels good to know it's not just me.

EDIT #2: Please know that this is not meant to discredit any of you for your weight loss efforts, even if you only have 10 pounds to lose. I know the way is hard for everyone, I just wanted to fess up to the crap cluttering my mind today. I do NOT think your weight loss is anything but extraordinary, because it's all so hard to fight physiology and society. I'm starting to understand that #5 is my biggest misconception...and that more people understand than I've ever been willing to admit. And that's a really important lesson for me to learn, so thank you for your comments on this!





Monday, August 16, 2010
So even though I blogged and had every intention of squeezing out that 5 mile training walk this weekend, it simply didn't happen. Maybe it was fear. Maybe it was lack of motivation. Maybe it was being sick or TOM or the sun. Whatever it was, it just didn't happen.

Friday was great. I packed up my youngest and took him with me to the gym (they have a playroom for the kids so the parents can get some workout time in). He got a chance to see me box and walk the indoor track, but it was a one time deal considering the rules of the gym state that until he's 10 he has to stay in that playroom the whole time, except for potty breaks. I did 30 minutes on the stationary bike (and wowie! my hips were hurting after!) and then got in 15 minutes of boxing (getting faster on the speedbag) followed by a full round of ST, including an extra machine - the seated bench press.

Saturday is where is all started falling apart. First of all, let me tell you that waking up at 6am is not my idea of a good time on a Saturday. But we got up and got everyone ready and headed to Mineral Wells/Parkersburg for the football scrimmage. Ethan somehow got taken off his defensive spot (no clue why) and was only on offense as a left or right guard. In 4 hours I got to see my boy play probably 15 minutes (in 3 five-minute increments). It was quite...well, annoying. I spent much of the time avoiding the sun, which started out alright when we planted ourselves next to two of those canopy things. In the early morning hours this worked out well as the sun was slanted in from the other side and we enjoyed the shade most of the time. But as the time passed and the sun rose higher in the sky, we ended up in full sun. And while I loved the coolness of the heavy breeze blowing in, it made it nearly impossible for us to seek shelter under the umbrella I had. By hour 3 I was starting to feel the effects of the sun, even though I slathered myself in SPF 50 no less than 3 times while we were there, I ended up feeling sick to my stomach in the last 20 minutes or so.

By the time we left the game Ethan was begging for food and instead of pulling out the ingredients of a healthy sandwich (which we had packed and had ourselves enjoyed while watching him), I pulled through the Wendy's drive-thru. (BAD!) I ended up munching on french fries and a small chocolate frosty on the way home (figured out later that my calories were too low that morning and I was starving for some sort of food!). (BAD again!) I got home with only one goal in mind - time in the water at the lake. It wasn't until I sat down to wait for Logan to find his swimming trunks that I realized I was exhausted. But I took them anyhow, because I had promised them this and I knew if we stayed home I wouldn't be active.

Fast forward to another application of sunscreen and another 2 hours in the sun (and water) and by the time I got home I had just enough energy to undress and crash on the bed. Woke up two hours later feeling the effects of what I can only assume was sun poisoning. It really didn't make much sense to me...the sunburn on my shoulders was just a soft pink, barely there at all, but perhaps my already tanned skin masked the visual effects a little. I know this feeling of too much sun, growing up a fair-skinned redhead you learn quickly that sunscreen is your friend and that it doesn't always help.

Sunday I woke up not feeling so hot, but still intent upon getting my 5 miles in...later...when it cooled down a bit. Around noon my oldest and I tried to tackle the garden a bit, but after 30 minutes I got a severe dizzy spell and knew that I needed to lay down. I went inside and stayed dizzy and sick the rest of the day. Everytime I got up I felt like the room was spinning. Half the time I was laying down and closing my eyes it felt like *I* was spinning. It was NOT a good feeling. And I ended up laying on the couch in front of the fan, sweating from the heat and humidity, angry, upset, and confused, and DIZZY! Hubs grabbed some Chinese for dinner, which I proceeded to eat too much of, and then I had a pumpkin white chocolate chunk cookie as we watched movie after movie on the TV until bedtime.

This morning my shoulders still feel like they're on fire. I had horrible dreams last night that kept waking me up and I overslept and missed a little work this morning. I'm trying to push through, but I just feel emotionally and physically drained.

I'm pretty darn good at doing what I'm supposed to do even if it hurts, (I would've never gotten through 3 whole years of FT school + FT work + PT work if I wasn't) but all I keep waiting for is a break. It feels a lot like work right now with this training schedule and I can't wait to go back to it feeling a little more fun. Once this 10k business is over, I'm giving myself some time off from training. I'll still do the 5ks, because I know I can. I'll still walk as much as possible so that I'm prepped for them, but I can't stick to suck a strict schedule all the time. Sometimes, it just has to be fun. Sometimes I just have to have that feeling that the gym is my jewelry box and I can wear whatever I want to make myself feel pretty, sexy, and accomplished.

My five miles didn't happen, but I have another go-round scheduled for Wednesday and I'll get it done somehow. I'm planning on trying to get more sleep this week so that I don't feel so drained in the morning. That's going to be a challenge considering I work until 6pm and don't usually get to the gym until 7pm, but I've got to make it work somehow. It's going to be a go home, eat, shower, bed kinda week. Ethan's first game is on Saturday (thankfully, not until 5pm!) and I can't wait to see him get a little more game time (I hope! They just have SO many players and they're trying to get everyone in...).

I know what you're thinking - I should work out in the morning. Yea, that doesn't usually work for me. I am NOT a morning person and I already get up at 5:30am just to get myself ready to leave the house by 7am for work. (I commute nearly an hour to work...) Maybe I can give this a go again soon, but first I need to focus on that one goal - the 10k. What's more...I need to focus on one part of that goal first - 5 miles. It sounds so daunting and time consuming, and that's part of what is scaring me off. I know in my heart I can do it, I'm just plain scared of it, and angry with it for some reason. Time to focus and make it happen anyway, I'll deal with the rest of it later.



First Page
1
2
3
4
5
6
7
8
9
10
11
12
13
14
15
16
17
18
19
20
21
22
23
24
25
26
27
28
29
30
31
32
33
34
35
36
37
38
39
40
41
42
43
44
45
46
47
48
49
50
51
52
53
54
55
56
57
58
59
60
61
62
63
64
65
66
67
68
69
70
71
72
73
74
75
76
77
78
79
80
81
82
83
84
85
86
87
88
89
90
91
92
93
94
95 96 97 98 99 100 101 102 103 104 105 106 107 108 109 110 111 112 113 114 115 116 117 118 119 120 121 Last Page

Get An Email Alert Each Time CALLIKIA Posts