| | |
| --- | --- |
| | CALLIKIA's Recent Blog Entries |


Monday, August 16, 2010
So even though I blogged and had every intention of squeezing out that 5 mile training walk this weekend, it simply didn't happen. Maybe it was fear. Maybe it was lack of motivation. Maybe it was being sick or TOM or the sun. Whatever it was, it just didn't happen.

Friday was great. I packed up my youngest and took him with me to the gym (they have a playroom for the kids so the parents can get some workout time in). He got a chance to see me box and walk the indoor track, but it was a one time deal considering the rules of the gym state that until he's 10 he has to stay in that playroom the whole time, except for potty breaks. I did 30 minutes on the stationary bike (and wowie! my hips were hurting after!) and then got in 15 minutes of boxing (getting faster on the speedbag) followed by a full round of ST, including an extra machine - the seated bench press.

Saturday is where is all started falling apart. First of all, let me tell you that waking up at 6am is not my idea of a good time on a Saturday. But we got up and got everyone ready and headed to Mineral Wells/Parkersburg for the football scrimmage. Ethan somehow got taken off his defensive spot (no clue why) and was only on offense as a left or right guard. In 4 hours I got to see my boy play probably 15 minutes (in 3 five-minute increments). It was quite...well, annoying. I spent much of the time avoiding the sun, which started out alright when we planted ourselves next to two of those canopy things. In the early morning hours this worked out well as the sun was slanted in from the other side and we enjoyed the shade most of the time. But as the time passed and the sun rose higher in the sky, we ended up in full sun. And while I loved the coolness of the heavy breeze blowing in, it made it nearly impossible for us to seek shelter under the umbrella I had. By hour 3 I was starting to feel the effects of the sun, even though I slathered myself in SPF 50 no less than 3 times while we were there, I ended up feeling sick to my stomach in the last 20 minutes or so.

By the time we left the game Ethan was begging for food and instead of pulling out the ingredients of a healthy sandwich (which we had packed and had ourselves enjoyed while watching him), I pulled through the Wendy's drive-thru. (BAD!) I ended up munching on french fries and a small chocolate frosty on the way home (figured out later that my calories were too low that morning and I was starving for some sort of food!). (BAD again!) I got home with only one goal in mind - time in the water at the lake. It wasn't until I sat down to wait for Logan to find his swimming trunks that I realized I was exhausted. But I took them anyhow, because I had promised them this and I knew if we stayed home I wouldn't be active.

Fast forward to another application of sunscreen and another 2 hours in the sun (and water) and by the time I got home I had just enough energy to undress and crash on the bed. Woke up two hours later feeling the effects of what I can only assume was sun poisoning. It really didn't make much sense to me...the sunburn on my shoulders was just a soft pink, barely there at all, but perhaps my already tanned skin masked the visual effects a little. I know this feeling of too much sun, growing up a fair-skinned redhead you learn quickly that sunscreen is your friend and that it doesn't always help.

Sunday I woke up not feeling so hot, but still intent upon getting my 5 miles in...later...when it cooled down a bit. Around noon my oldest and I tried to tackle the garden a bit, but after 30 minutes I got a severe dizzy spell and knew that I needed to lay down. I went inside and stayed dizzy and sick the rest of the day. Everytime I got up I felt like the room was spinning. Half the time I was laying down and closing my eyes it felt like *I* was spinning. It was NOT a good feeling. And I ended up laying on the couch in front of the fan, sweating from the heat and humidity, angry, upset, and confused, and DIZZY! Hubs grabbed some Chinese for dinner, which I proceeded to eat too much of, and then I had a pumpkin white chocolate chunk cookie as we watched movie after movie on the TV until bedtime.

This morning my shoulders still feel like they're on fire. I had horrible dreams last night that kept waking me up and I overslept and missed a little work this morning. I'm trying to push through, but I just feel emotionally and physically drained.

I'm pretty darn good at doing what I'm supposed to do even if it hurts, (I would've never gotten through 3 whole years of FT school + FT work + PT work if I wasn't) but all I keep waiting for is a break. It feels a lot like work right now with this training schedule and I can't wait to go back to it feeling a little more fun. Once this 10k business is over, I'm giving myself some time off from training. I'll still do the 5ks, because I know I can. I'll still walk as much as possible so that I'm prepped for them, but I can't stick to suck a strict schedule all the time. Sometimes, it just has to be fun. Sometimes I just have to have that feeling that the gym is my jewelry box and I can wear whatever I want to make myself feel pretty, sexy, and accomplished.

My five miles didn't happen, but I have another go-round scheduled for Wednesday and I'll get it done somehow. I'm planning on trying to get more sleep this week so that I don't feel so drained in the morning. That's going to be a challenge considering I work until 6pm and don't usually get to the gym until 7pm, but I've got to make it work somehow. It's going to be a go home, eat, shower, bed kinda week. Ethan's first game is on Saturday (thankfully, not until 5pm!) and I can't wait to see him get a little more game time (I hope! They just have SO many players and they're trying to get everyone in...).

I know what you're thinking - I should work out in the morning. Yea, that doesn't usually work for me. I am NOT a morning person and I already get up at 5:30am just to get myself ready to leave the house by 7am for work. (I commute nearly an hour to work...) Maybe I can give this a go again soon, but first I need to focus on that one goal - the 10k. What's more...I need to focus on one part of that goal first - 5 miles. It sounds so daunting and time consuming, and that's part of what is scaring me off. I know in my heart I can do it, I'm just plain scared of it, and angry with it for some reason. Time to focus and make it happen anyway, I'll deal with the rest of it later.





Friday, August 13, 2010
First of all, TOM is here which means I'm cranky and bloated and the scale is being mean...I've decided to ignore it and just pretend like it's any other day/week. Plus, my internal clock woke me up this morning before 7am. I'm praying for a nap sometime today! *lol*

Yesterday - I did go to my Zumba class. We ended up with a sub who worked a 45 minute non-stop class. It was insanely hard!! After I survived it, I went and got on the rowing machine, because I promised myself I would. I set it for the smallest workout again - 2000m - and promised myself 15 minutes, finished or not. I had to take a few breaks (okay, a lot of them), but I finished the 2000m in 14:14.6! Felt good considering last time I couldn't finish and only got 8 minutes in on the same machine. Rowing is hard, and I love it! You work your entire body on this machine and, yet, you don't have to use your feet! (Bonus for the bruise where my blister was, which felt a little sore in Zumba!) Today my hips are SO SORE, as well as my legs and arms being just plain good sore. Fun!

Arriving home I was greeted with the smell of a yummy pot roast recipe in the crock pot. Yum! I ate 2 servings because I was just SOO hungry! (Probably not good, but still within my ranges.) It was the perfect evening until Hubs brought Ethan home from football practice and I learned that we have to be in Parkersburg on Saturday for his scrimmage at 8:30am!

ACK!! I have my 5 mile training walk scheduled for Saturday, and I thought I'd just get up super early in order to get it done before the game. Guess THAT isn't happening. We have to leave the house at 7:30am in order to get there on time, and it will take me at least an hour to make sure everyone and everything is ready. (Have to pack food.)

So I have a decision to make.

A) Do my walk that evening, after it cools down...and pray it actually does cool down.

B) Do the 5 miles today. (This is likely not going to happen. I rowed last night so I could have that day of recovery on my legs beforehand. GRR!)

C) Do it Sunday. (This seems like the most likely plan B, if A doesn't work out. I could technically switch my rest day from Sunday to Saturday, and I only have to do 2 miles on Monday.)

If you'll notice, NOT on this list is to not do it. I love my son and I will not miss his first game, even if it's not a in-season game! I will work around the complication but I cannot give up on my training. The most important thing about this 5 mile training is gauging whether I can attempt the 6.2 of the 10k. If I feel like I can survive 5 miles (with a few more weeks of training) I can go ahead and sign up. I have to sign up by either the 23rd or 25th of August and the only question on my mind right now is -- 5k or 10k? So I will do the training, I just have to work around the complications being put in my way.

It's kinda strange how much easier it gets to overcome the roadblocks along the way. It used to just defeat me, not it's put me into plan mode! Hope it stays that way!!

EDIT: P.S. My baby made first-string offense at the Left Guard position! I'm SO proud!!!





Thursday, August 12, 2010
Yesterday was rough. Like super hard. Like beat your head against the wall and not care what happens hard. Okay, well not all of yesterday, but the evening workout anyway.

Truth is, I was tired. T-I-R-E-D. I yawned through my 10-hour work shift and could tell my body was craving more fuel throughout the day than normal. (It was trying to keep me going, trying to stay awake!) And even though my physical body was tired, my mind and spirit were wired and focused. With all the wonderful compliments I've been getting lately, here and "in the real world," it's hard to say sleep. It's hard not to keep pushing, even through the blah of tired. So at 5:55pm I changed into my gym clothes and 5 minutes later was headed out the door for home...I mean the gym.

There was no internal mental struggle to go to the gym. It's become such a habit that I don't even think about it. Go to work, go to the gym, go home. Nothing much changes from day to day (except weekends, of course). I got there, tied my laces up and headed upstairs for the treadmill. I had to wait a few minutes for the RIGHT treadmill (yes, I have a favorite treadmill *lol*) but I simply did a couple laps around the indoor track until I saw Sweaty Runner Boy get off.

I got on (and tried to avoid the mass amounts of boy sweat he left behind - EWW!) and settled in for a good 3 mile walk, as scheduled in my training for the week...and then 2 and a half minutes in (I kid you not) I was begging for mercy. I was tired. I didn't want to do it. My legs were moving and I felt physically fine, but I was just DONE for the night. And that's when the hard work started.

I have these mental battles with myself that usually go something like this:



Screw this! I'm too tired!


What the crap? Come on! You're not "tired," that's just an excuse.


Maybe...but so what? I've worked so hard, don't I deserve a break?


Sure you do! And you'll get one...on Sunday.


But I'm sick of walking, and I think my blister hurts.


Are you kidding me? Really?? Uh-oh.



Hey, wait! No it is not! It's uncomfortable, yes...but it's not hurting. You can still walk on it and just keep a mental eye on how it's doing.


But I just don't want to...*pout*


I know you don't. Sometimes walking is boring...and you forgot your book at home. I'll make you a deal though...


A deal? Ooh...what is it?


Don't think about 3 miles anymore. It's really okay if you can't do it today...you ARE tired. But just go as long as you can.


Okay...I guess that's alright...
*1.67 miles in*


OMG! It's SOOO hard! Why is it so hard?


Let's not think about "hard," let's figure out how to get through this for just a LITTLE bit longer, okay? I mean, you are halfway there already!


Yeah. Okay...you're right. So I guess when this thing cycles through the scan feature it equals about 2 one-hundredths of a mile.


That's good! Now let's just focus on getting to 1.69 then.


1.69....1.69....1.69....169...169...169... Phew! There it is! Okay, let's get to 1.71 then.


You can do this! Just get to 2 miles...that's all I ask of you today!


Okay. Two miles. Yes. I can do that!
*2 miles in*


Good job! Can you do any more?



Yes...

3 miles and 59 minutes...my legs were definitely worked out and while I still didn't feel great about the walk, I had done it. I could give myself a sticker later. And even though I knew I was supposed to row for 15 minutes after, I knew my body couldn't do it. I went through the same reasoning and realized it was a reason, not an excuse. So I opted out of rowing for the day and figured I'd either try to squeeze it in later this week, or I would just be happy with my 3 miles for the day. And because I knew it was ST night, and I didn't really want to do that either, I used my every-ready excuse-repellant:

If you don't do it tonight, you're just going to have to do it tomorrow...which will make your next day Saturday...the day of your 5 miles. Do you REALLY want to come to the gym after your 5 miler to do ST?....Uhm, no.

So I finished out with 60 crunches with the 4lb medicine ball and a full round of ST. And then I went home and ate and spent the rest of the night feeling strong, but still very tired.

I'm still very scared about my 5 miles on Saturday. I have to get up very early to do it because Ethan has a scrimmage all day in Parkersburg that day (still not sure of the time, but probably sometime after 11am at least), and because I can't complete this at the gym. The treadmills are set up for 60 minutes, because they don't want people hogging them for any longer than that...and I don't blame them! I would hate to see someone hogging MY treadmill for an hour and a half! Plus, I figure it's better for me to train for this road race by doing my long Saturday walks on...well, the road. (DUH!) I think the hills just about killed me last Saturday because I hadn't walked outside for a while.

So the plan is to map out the route using Spark's map route feature, and then check the satellite image so I can get an idea of where I should stop and turn around. I'm going to avoid the two major hills by the house, but other than that, it's on like Donkey Kong. I've decided that I will time myself only to see how long it took me, but I will not push myself to go super fast. The goal is endurance on Saturday, so I will simply remind myself to endure. If I need a break, I will take it. I will take some extra water with me to make sure I stay hydrated, and I will make sure that by the end of the 5 miles I can tell Hubs and the boys, "Mommy did it!"

Onwards and downwards (on the scale)!





Wednesday, August 11, 2010
Picture of the Day: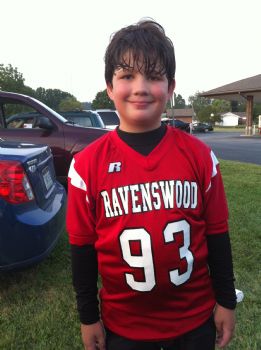 First of all, thank you to all of you for your outpouring of support and encouragement! It really means the world to me! I wish I could thank you all one by one, but ...well, I'd never get to the gym if I tried that! (We can't have that happening, now can we?)

This week has gone pretty well. The foot blister is healing well and I've been able to do my exercises on it. The elliptical is a bit of a pain, but otherwise we're good.

Last night I opted for a quicker workout than what I had planned, but for good reason. That little boy up there at the top? Yeah, that's my youngest son, Ethan. He was so bummed that I can't be at every practice, so when I found the opportunity yesterday to skip out of work a little early, I took it! I headed straight for the gym and instead of evening Zumba class (which doesn't start until 7pm), I just hopped on the elliptical and committed to do at least 30 minutes. It was a HARD 30 minutes on that blister, but I managed. I did my cool down around the indoor track, stretched and then rushed to the showers. Quick shower later, I was out the door and ready to surprise my boy! (His face positively LIT UP when he saw that I made it to practice!) I was able to watch the last half of the game and then take him out for pizza after. (Yes, I ate pizza...I had a low calorie day so I had the calories to do it. Still kinda wish I hadn't though! *lol* Oh, the mark of being a mother...you want to take the boy for pizza but you really just want a healthy dinner at home. And, in my case, you don't want to have to cook it! *lol*)

Tonight I'm here for the long haul. I'll be off at 6pm and should be at the gym by 6:50pm or so, depending on traffic. I've got at least an hour and a half tonight at the gym as I have planned an "easy" (my program calls them ALL easy walks...stupid liar!) 3 mile training walk, followed by 15 minutes on the rowing machine, and then a full set of ST. I recently added the leg machines to my ST routine to help the knee a little more. So far, so good! Once I feel like this latest increase in weight is too easy I'll start doing multiple sets before moving up in weight again. (Already lifting 50-80 on some of the lower body and ab machines, doing 30-40 on the arms.)

Just have to butt in (on myself) to mention that Hubs has been absolutely wonderful. Sure, there *MAY* have been a joke on Saturday about husbands packing lunches for their wives, but I never expected him to take it to heart. Yesterday he handed me a container of chili for my lunch. Today he made me a yummy healthy sandwich! He also made me breakfast BOTH mornings! (Sorry, girls...he's mine!)

Eating has been good lately (except for the pizza, of course). I've been adding back some more fruit and have been honestly craving veggies lately! I have 3 more gigantor zucchinis waiting for me at home, so I think this weekend I WILL be finding a great (healthy) zucchini bread recipe. And maybe get Hubs to make his, "Oops, I Forgot the Eggplant! Zucchini Soup" again. (If he can remember how!! *lol*) SOO good!

I have noticed that this week's lesson seems to be about learning to juggle. I had one coworker comment on how amazing I look, and another ask me why I've been ignoring her just today! I've been given additional responsibilities at work, added to football practice (a scrimmage this Saturday and then games start next weekend), and school coming up, in addition to the 10k training I'm doing right now... I told the first coworker thank you and the second that I'm overwhelmed recently. I'm trying to be present, consistent and adapt to changes as they come, but it's been a struggle to make sure all of my relationships remain 100%. (And, let's face it...my family comes first!)

Learning...still learning...always learning...




Events I'm interested in right now:

9/4/10 - Charleston Distance Run - Charleston, WV - 10k Walk
10/2/10 - The Barkcamp Race - Bethesda, OH - 5 Mile Trail Challenge
10/10/10 - Dayton River Corridor Classic - Dayton, OH - 5k Walk*
10/16/10 - Auggie's 5k - Wheeling, OH - 5k Walk**
11/13/10 - Nick Caldwell Memorial - St. Albans, WV - 5k Run***

*A 5k with my Momma! (SNOWFLAKE57)
**Great cause! (SPCA)
**Need to see if there's a walk division for the 5k. Another great cause!








Tuesday, August 10, 2010
So this little tidbit got tacked onto my race recap, only because they both happened in the same weekend....

Sunday was Weigh-In Day




Highest Weight: 466.6
SP Starting Weight: 416.2
Last Week: 369.2
Goal This Week: 366.0
Actual: 365.2
Weight Loss This Week: 4 pounds!
Total Weight Loss with SP: 51 pounds!!
Total Overall Weight Loss: 101.4 pounds!!!

So, finally, I'm going to give you:

51 Things Spark Taught Me

1. Honesty is refreshing.

2. People on the same path need your support as much as you need theirs.

3. Every day is a chance to make a better life for yourself!

4. Finding opportunities to eat right and exercise are never as hard as we make them out to be in the beginning.

5. Excuses are evil... and can be overcome or ignored.

6. It's important to recognize reasons from excuses. Injuries can hinder the long-term, and reasons talk you out of pushing them. Excuses? See #5.

7. "If I can do it, you can!" may be corny, but it's true!

8. The human body is astounding in its ability to heal and survive!

9. Even a 400-pound woman (who is now 365 pounds, thank you) can become an athlete.

10. Everyone's level of exercise is, and always will be different. I may never compete in a triathlon, and I might, I'll never know until I try...and I'm okay if I don't.

11. If it ain't broke, don't try to fix it.

12. Plans are great, but flexibility endures!

13. When in doubt, take a walk. Just go! Move! Even for 10 minutes!

14. You can do anything for 5 minutes...and eventually for 5 minutes more.

15. Increasing your exercise and "switching it up" are so important to keep things interesting. I'm hardly ever bored, and when I am, I switch it up again.

16. You can be your own personal trainer. The internet and Spark are amazing tools!

17. Always talk to your doctor, because you never know what kind of support, encouragement, and advice you're going to get from him/her.

18. You can eat anything you want, just not every day and not as much as you want.

19. That swelling in your ankles comes from salt. Salt may taste good, but other things taste better!

20. Switch out your Morton's salt for cracked sea salt, better taste and you use less!! YUM!

21. Learn to cook vegetables. Whatever your veggie, keep them on hand at all times. (I'm jonesing today cuz Hubs packed lunch and forgot a veggie! EEP!)

22. Balance means something! Balance your meals, your workouts, and your life for a better chance at success!

23. Having trouble staying on task? Set a month-long challenge, and keep starting it until you finish it. Exercise used to be a chore, until I did my 30 in 30...now it's become a habit! (Thanks SPUNKYDUCKY!)

24. Give what you take. Then again, give more.

25. Feel ignored and overlooked? What have you been looking at lately? Visit other pages and find some new friends...maybe someone out there needs more support than you do today.

26. Sometimes you have to say "can't"...but add a yet for now. (I can't run...yet. Maybe when my knees are stronger.) (Accepting this was super hard for me. I hate waiting for anything I want! *lol*)

27. Run, walk, or swim your own race.

28. If you're brave enough to try, start learning what the healthiest fattening options are at the local food joints. That way when things come up and someone wants a meal on the town to celebrate (or the kids just want to grab McDonald's) you can make the right choice in the moment and not feel overly guilty about it.

29. Moderation doesn't work for everyone, and not with everything. There are some things just better suited for special occasions, meaning a special trip to the store, than a regular seat in your freezer/pantry/fridge.

30. Fruit is a great dessert option!

31. Smoothies = yum! Top with some light cool whip and, well, see #30!

32. Sure, the journey is long, but if every week is something fun it doesn't seem like such a chore!

33. Setting goals is important...and HARD!

34. Fear of success is just silly. So is fear of failure. Healthy fear for safety is one thing, but fear of how others will view you is not your concern.

35. What's the saying, "I've never regretted a workout I did, only the ones I didn't do?" Not true. I've regretted a few in that I shouldn't have moved so fast, but I learned from every single one. I learn nothing from nothing.

36. It really is as simple as eat less, exercise more.

37. Drinking your water is KEY! A good week can be given or taken from my water intake.

38. You don't have to be skinny to go to the gym.

39. You will be questioned and stared at, but all by people who either don't understand or don't matter. Either explain and lead them to the light, or let them on their ignorant way.

40. A large shrinking body can look funny sometimes, but every rut is an area that was once a place where fat was and now no longer is. Rejoice in your divots!

41. You can't believe everything you read. Do research, make a reasonable judgement, and if it works for you keep doing it. If not, stop. If you still don't know, ask around.

42. Trying new foods = fun!

43. You don't have to follow "I've lost 50 pounds" with "I still have SO MUCH MORE to go."

44. You'll catch yourself doing #43 anyways.

45. Don't give up on those people who say, "I wish I could be thin" while eating a chocolate bar, unless they show you they are just not ready. Lead by example!

46. If you have a real craving, indulge. Try to do it on a day when you feel powerful. When I can logically think out how much I want of something vs. how many calories I have to spare, that's when I indulge...because I'M in control, not the craving!

47. Sparkies are great, especially in person!

48. Your blogs are for you and no one else. If they help others, great! Otherwise they are a tool to help you on your journey to discover who you are and what makes you tick.

49. Sweat will not kill you. (Though, yes, it will make your hair look like crap. But a skinny body with some jacked up frizzy hair will feel amazing, who cares about fly-aways when you feel strong and powerful? You will probably feel like you could kick anyone's butt who looked at you the wrong way anyhow!)

50. Admire yourself for a change!

51. Nothing, and I mean nothing, can take the place of the right frame of mind. Mental power is stronger than you could ever imagine!



*I'll add pictures later.*



First Page
1
2
3
4
5
6
7
8
9
10
11
12
13
14
15
16
17
18
19
20
21
22
23
24
25
26
27
28
29
30
31
32
33
34
35
36
37
38
39
40
41
42
43
44
45
46
47
48
49
50
51
52
53
54
55
56
57
58
59
60
61
62
63
64
65
66
67
68
69
70
71
72
73
74
75
76
77
78
79
80
81
82
83
84
85
86
87
88
89
90
91
92 93 94 95 96 97 98 99 100 101 102 103 104 105 106 107 108 109 110 111 112 113 114 115 116 117 118 Last Page

Get An Email Alert Each Time CALLIKIA Posts