| | |
| --- | --- |
| | CALLIKIA's Recent Blog Entries |



Tuesday, August 10, 2010
So this little tidbit got tacked onto my race recap, only because they both happened in the same weekend....

Sunday was Weigh-In Day




Highest Weight: 466.6
SP Starting Weight: 416.2
Last Week: 369.2
Goal This Week: 366.0
Actual: 365.2
Weight Loss This Week: 4 pounds!
Total Weight Loss with SP: 51 pounds!!
Total Overall Weight Loss: 101.4 pounds!!!

So, finally, I'm going to give you:

51 Things Spark Taught Me

1. Honesty is refreshing.

2. People on the same path need your support as much as you need theirs.

3. Every day is a chance to make a better life for yourself!

4. Finding opportunities to eat right and exercise are never as hard as we make them out to be in the beginning.

5. Excuses are evil... and can be overcome or ignored.

6. It's important to recognize reasons from excuses. Injuries can hinder the long-term, and reasons talk you out of pushing them. Excuses? See #5.

7. "If I can do it, you can!" may be corny, but it's true!

8. The human body is astounding in its ability to heal and survive!

9. Even a 400-pound woman (who is now 365 pounds, thank you) can become an athlete.

10. Everyone's level of exercise is, and always will be different. I may never compete in a triathlon, and I might, I'll never know until I try...and I'm okay if I don't.

11. If it ain't broke, don't try to fix it.

12. Plans are great, but flexibility endures!

13. When in doubt, take a walk. Just go! Move! Even for 10 minutes!

14. You can do anything for 5 minutes...and eventually for 5 minutes more.

15. Increasing your exercise and "switching it up" are so important to keep things interesting. I'm hardly ever bored, and when I am, I switch it up again.

16. You can be your own personal trainer. The internet and Spark are amazing tools!

17. Always talk to your doctor, because you never know what kind of support, encouragement, and advice you're going to get from him/her.

18. You can eat anything you want, just not every day and not as much as you want.

19. That swelling in your ankles comes from salt. Salt may taste good, but other things taste better!

20. Switch out your Morton's salt for cracked sea salt, better taste and you use less!! YUM!

21. Learn to cook vegetables. Whatever your veggie, keep them on hand at all times. (I'm jonesing today cuz Hubs packed lunch and forgot a veggie! EEP!)

22. Balance means something! Balance your meals, your workouts, and your life for a better chance at success!

23. Having trouble staying on task? Set a month-long challenge, and keep starting it until you finish it. Exercise used to be a chore, until I did my 30 in 30...now it's become a habit! (Thanks SPUNKYDUCKY!)

24. Give what you take. Then again, give more.

25. Feel ignored and overlooked? What have you been looking at lately? Visit other pages and find some new friends...maybe someone out there needs more support than you do today.

26. Sometimes you have to say "can't"...but add a yet for now. (I can't run...yet. Maybe when my knees are stronger.) (Accepting this was super hard for me. I hate waiting for anything I want! *lol*)

27. Run, walk, or swim your own race.

28. If you're brave enough to try, start learning what the healthiest fattening options are at the local food joints. That way when things come up and someone wants a meal on the town to celebrate (or the kids just want to grab McDonald's) you can make the right choice in the moment and not feel overly guilty about it.

29. Moderation doesn't work for everyone, and not with everything. There are some things just better suited for special occasions, meaning a special trip to the store, than a regular seat in your freezer/pantry/fridge.

30. Fruit is a great dessert option!

31. Smoothies = yum! Top with some light cool whip and, well, see #30!

32. Sure, the journey is long, but if every week is something fun it doesn't seem like such a chore!

33. Setting goals is important...and HARD!

34. Fear of success is just silly. So is fear of failure. Healthy fear for safety is one thing, but fear of how others will view you is not your concern.

35. What's the saying, "I've never regretted a workout I did, only the ones I didn't do?" Not true. I've regretted a few in that I shouldn't have moved so fast, but I learned from every single one. I learn nothing from nothing.

36. It really is as simple as eat less, exercise more.

37. Drinking your water is KEY! A good week can be given or taken from my water intake.

38. You don't have to be skinny to go to the gym.

39. You will be questioned and stared at, but all by people who either don't understand or don't matter. Either explain and lead them to the light, or let them on their ignorant way.

40. A large shrinking body can look funny sometimes, but every rut is an area that was once a place where fat was and now no longer is. Rejoice in your divots!

41. You can't believe everything you read. Do research, make a reasonable judgement, and if it works for you keep doing it. If not, stop. If you still don't know, ask around.

42. Trying new foods = fun!

43. You don't have to follow "I've lost 50 pounds" with "I still have SO MUCH MORE to go."

44. You'll catch yourself doing #43 anyways.

45. Don't give up on those people who say, "I wish I could be thin" while eating a chocolate bar, unless they show you they are just not ready. Lead by example!

46. If you have a real craving, indulge. Try to do it on a day when you feel powerful. When I can logically think out how much I want of something vs. how many calories I have to spare, that's when I indulge...because I'M in control, not the craving!

47. Sparkies are great, especially in person!

48. Your blogs are for you and no one else. If they help others, great! Otherwise they are a tool to help you on your journey to discover who you are and what makes you tick.

49. Sweat will not kill you. (Though, yes, it will make your hair look like crap. But a skinny body with some jacked up frizzy hair will feel amazing, who cares about fly-aways when you feel strong and powerful? You will probably feel like you could kick anyone's butt who looked at you the wrong way anyhow!)

50. Admire yourself for a change!

51. Nothing, and I mean nothing, can take the place of the right frame of mind. Mental power is stronger than you could ever imagine!



*I'll add pictures later.*






Sunday, August 08, 2010
FYI - This is LONG!

Yesterday I had Hubs drive me two hours north to Wheeling so I could "compete" in the Debbie Green Memorial 5k. So here's how it all went down...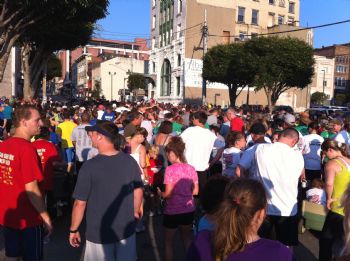 First of all, the number of people was astounding! I did some calculations using the race results and there were over 1200 finishers (both runners and walkers). I picked up my race packet and then headed to the car to drop it off before the race. On the way back, I stop to retie my shoe (tied it too loose after I put my chip on) and as I'm getting back up I see Hollynn (SPUNKYDUCKY) run right by me. I turn to Hubs with the biggest smile ever and say, "OMG! That's totally her! I KNOW it!" Turns out it took her a moment and soon enough her and her Hubs were turning around to say hello. We hugged like we'd known each other forever and then introduced our men.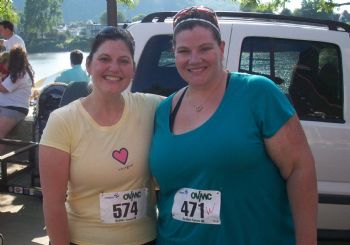 Hollynn and I pre-race.

Reflecting on the race all the way home, it meant so much to me that not only was it my first race, but it was my first time meeting a fellow Sparkie (other than my Momma, of course). She was so sweet and her husband was amazing. Attentive, interested, funny. It was a great experience! She gave me a lot of advice about not only the upcoming race, but about future races and promised she would be there to watch me cross the finish line. We spent about an hour pre-race just chatting away, getting to know each other, sharing our experiences, and having a blast! I didn't even have a chance to get nervous before we parted ways so they could head up towards the front where the runners should be and I fell back to the walking crowd.

I loaded up my iPhone with the TIKI mix (Thanks so much STAYFOCUSEDASH!) with one addition to start me off - La Roux's Bulletproof. Before we had even started, the older gentleman at the parking lot said to me, "You walk your own race out there and don't push yourself to do what anyone else is doing." So I kept telling myself "Walk your own race." And then we were off (after a small delay due to a small house fire on the course! EEP!).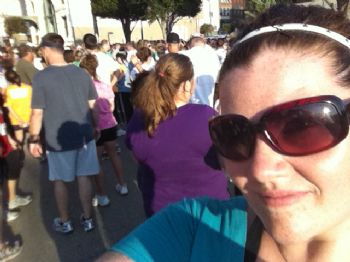 Ready to Race.

The Start:
Sucks. Seriously dude. You're jammed in this huge crowd and you spend the first tenth of a mile or so trying not to step on people. Plus, they started us off with a friggin' huge hill. (WTF dude? *sigh*) Once we took the first turn people started to break up as the faster people headed ahead and the slower ones stayed back.

Mile One:
Like I said, it was hills like WOAH! First up half of it, then a flat patch to the right, then back up again, and up again, and then DOWN DOWN DOWN! I started noticing as we turned left after the downhill that my right foot was already getting a blister. "Oh, great!" I think. I also thought at this point of giving up. I was really starting to get frustrated with being passed by people who didn't seem to be having any trouble and I felt like even though I was keeping my steady pace that I was struggling more than usual. I thought, "I can just go home now...nobody has to know." But my Sparkie ahead of me would certainly know. And I would know. And then I put my arms back in the right position and pushed forward. "I don't care if I have a shoe full of blood at the end of this," I thought. "I am finishing. Period."

And then I take a left turn and I see one of those time clocks and it says 17 something and I think, "Holy crap! I'm going fast! Is that the mile marker?" Sure enough, I pass Ron Green (the race organizer and Debbie Green's brother) and he says, "Mile one! 18:10! Great job guys!" as I pass. 18:10? Okay...I'm doing great!!

Mile Two:
By the time we got to the water station, I was so friggin' happy to see them! I didn't hydrate enough beforehand and was parched. I didn't get a lot in my mouth because I did NOT want to slow down...and dodging paper cups kinda blows. I thanked the little boy holding the cup and proceeding to spill half of the cup down the front of my shirt! *lol* I kept pushing through. I remembered that I had been working out to this playlist before and I knew what my pace should be. I figured I was right on if not a tiny bit ahead. It was a really, really hard mile. I kept searching for the mile marker and not seeing it. I was cursing everyone in my head...and then we walked down a street full of homes where people were outside watching the race.

Out of the corner of my eye I see this very large woman sitting on her stoop, and I see her look at me and suddenly she starts clapping and cheering...and I knew it was because of me. I knew because she kept watching me and cheering and it made me feel like perhaps I was inspiring someone...and that always makes me push through.

Around the corner I see a race worker and he says 1.3 miles left. You guys are doing great! We turn back around the block and I hear a girl behind me go, "Oh my God! Thank God we're not last...I thought we were!" I realized then that I was not last...and that made me feel a little better. And then I saw the time marker at the second mile marker. 34:10. What the crap dude? I start doing the math in my head and realize that I've done the past mile in 16 minutes! OH MY! I am MOVING! This is an excellent pace for me...the best I've ever done, and when I did it last at that pace I really thought I was going to die! But I still had something left in me...and then my blister popped.

The Third Mile:
Yeah, walking on the right foot was really starting to get to me. It hurt...it hurt a LOT. But I didn't care. I WOULD finish this race. It felt like it took forever. It was the longest mile of my life...and I kept going through the race course map in my head. When we took the next corner I realized that I was nearly there. I heard loud music and I knew that soon I'd be turning a corner to see the Finish line. I buckled down and got my second wind...and starting actually passing some people! *lol* I see the WesBanco building and realize we're almost there. And then I hear cheering! Off to the left are SPUNKYDUCKY and her husband cheering me on! LOUDLY! *lol*

I reached into myself and thought, "This is it...the final push." I could see the finish line and all I wanted was to cross it! I pumped my arms and legs up the final hill (WTF is up with the hills, dude? GRRRR!) and I pretend my foot is fine and after a bit I don't even really feel the pain anymore. And then I see that I'm about to cross that line and it says 57 something and I think...I've done it! I've done what I've come here to do.

And I pass the finish line panting like a dog on a 13 mile run. *lol* But I did it. And there's my Sparkie pulling me over to the water, cheering me on, telling me I've done amazing! (I only wish I could have seen her and her hubs cross that finish line.) "You did it!" she said. "You're done!" And I kept repeating that one word -- DONE...DONE.



Ron, Hollynn and I after our 5k!

So now for the final results:
471 661 28 Esther Hupp, 29*, Sandyville, WV 57:21 18:30

I was 661 out of 750 walkers.
I was 28th in my age class for women out of 34 (age 25-29).
My final time was 57:21 (though I'm not sure that's from when I crossed the finish line, but I'm not being picky).
And my pace time was 18:30...which is friggin' amazing for me!

So after I rehydrated with a couple bottles of water, we head down to watch the closing and (more importantly) see if we won the door prize trip to NYC! *lol* (We didn't win. :( ) There was a super long line for the free food for racers after, but it looked like nasty pasta, an icky salad soaked in some sort of oil, and pizza...and none of that looked a bit appetizing. Hollynn and Ron pulled out a big surprise when they brought out a cooler of yummy healthy food. *love* this! Totally stealing this idea for my next race! So instead we had turkey wraps and strawberries with our water. I just couldn't stop laughing -- this is a total Sparkie thing to do, bring your own food for after your race! *lol* So I snapped a picture...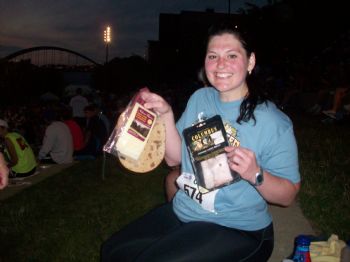 Around 9:45pm, with the Hubs impatiently waiting to leave, I hobbled back to the car, changed out of my sweaty shirt and settled in for the long ride home only after checking on my foot. No blood...no real clue what happened, but it doesn't feel too good. Thankfully I brought the medicated bandaid and slapped one on immediately before heading home...then I lay back and let Hubs drive us the two hours home.

And for your viewing pleasure...or displeasure, actually...this is what my foot looked like when I got home.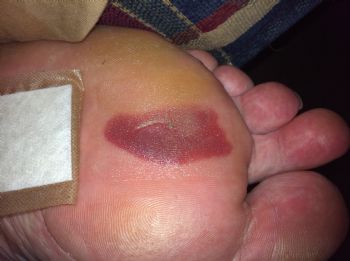 Finally, because it's Sunday it's also Weigh-In Day.





Highest Weight: 466.6
SP Starting Weight: 416.2
Last Week: 369.2
Goal This Week: 366.0
Actual: 365.2
Weight Loss This Week: 4 pounds!
Total Weight Loss with SP: 51 pounds!!
Total Overall Weight Loss: 101.4 pounds!!!

I did NOT expect this! Usually when I work out super hard it takes my body a week to catch up...but I did have that gain last week. So there it is...my 366...actually, I skipped that! Three hundred sixty five! Holy crap! I'm feeling pretty darn good about myself. I finished my first 5k. I've lost 100 pounds again and surpassed it. I've lost 51 pounds since April 18th, since starting SP! Ask me today and I'll tell you -- I totally rock!

Thank you Hubs!
Thank you Hollynn and Ron!
Thank you Spark Friends!

I can't WAIT to tell my kids when they come home here soon!!!





Saturday, August 07, 2010



"Debbie Green was a 7 year old girl from Benwood, WV. She was like every other little girl…she loved going to school, cheerleading, and playing with her friends. Debbie was loved by all who knew her. She enjoyed life to the fullest. In 1970, Debbie was diagnosed with leukemia. For two long years, she battled the disease with courage and determination. On February 10, 1972, friends from all over the Ohio Valley put on a benefit show for her, calling it "Debbie Green Day", helping her during her difficult time. That day meant so much to Debbie and her family, but in less than 2 months, on April 4, 1972, Debbie lost her courageous battle with leukemia. Now, from tragedy comes triumph, and from sadness comes hope. Debbie's memory lives on with this wonderful event which benefits local children who also suffer from leukemia and need our love and support, just like Debbie did 38 years ago."

Yesterday I struggled with the "why am I doing this" question. Hubs thinks that driving 2 hours to walk 3.1 miles is just plain silly. He's trying to be supportive, but he just doesn't get it. And I can't blame him for that. But this morning I posted a link to the race on Facebook and up pops Debbie Green's story...and it hit me. The outcome doesn't really matter for me. Why did I pay money to walk 3 miles? "Proceeds of the event will benefit a local recipient who suffers from leukemia."

This is for a fellow West Virginian. It's for someone who can't think about things like running/walking a 5k, 10k, HM, or Marathon...because their thoughts are focused on getting better, on surviving. They don't question whether living is important because the choice is literally life or death. And if my little bit of money helps them or their family even a little with hospital costs or living costs, then it's completely worth it. I need to remember that tonight...it's really not about me.

The motto or tagline of this race is simple -- Race for a reason. That's what I hope to do tonight. For the WVian suffering with lukemia, for my kids who believe I can do anything and never doubt me, for my husband who puts up with what I want even when he doesn't really understand, for people here on Spark who don't think they could ever walk a 5k, and for the child I was and the woman I want to be. (Okay, so it's a little about me.)

My clothes are in the dryer now. My iPhone is charging. My kids are getting ready to go up to Grandma's for a camping trip. Hubs is getting a little more sleep. I'm looking up directions and am about to print out my receipt so I make sure I have proof that I signed up and paid. And then we're off around 2:30pm. I'll post some pictures tomorrow for everyone. And, most of all, I'm not going to focus on the fact that the scale isn't budging and I'm getting a little frustrated by it. (I'll deal with that tomorrow.)

I'll be back tomorrow as a woman who has completed a 5k.







Friday, August 06, 2010
So I went to the gym today and made myself go through 30 minutes on the elliptical in order to earn my boxing time. This is a new activity for me so it's more like fun time than working out. I struggled through the first 20 minutes or so of those 30 minutes, but I earned my time and I put on my gloves and headed into the boxing room.

I don't really know what I'm doing. I just do whatever I want...that's why I have to earn it. But today I saw the speedbag there and I have always really wanted to learn how to work that silly thing.

First of all, it's the prettiest piece of equipment in there. It's red with black lining, and has a cute little white lacing up one side.

Second, I have no coordination, and I really want to be coordinated. I'm hoping I'm not to old to learn.

But the last time I tried to hit the speedbag, the thing popped right off the little ring it's hooked on, and I felt silly and inexperienced and ....like a bad little kid who was gonna break somebody's toy. But today, I didn't care. Today I reasoned that there was no one in the room with me. The gym was pretty quiet. I kept my headphones in and vowed to figure out how to hit the thing with some rhythm, even if it was REALLY slow.

After about 10 minutes I did find my rhythm. It was super fun to figure out where to hit the bag with my hand to get the right bounce back, where exactly I had to strike the bag (and where not to hit the bag...it popped off about 4 times as I tried to figure it out, each time I learned something new), and when to hit the bag on the bounce back.

I kept thinking about how all of this is a learning process. What foods to eat when, what works for me as far as calories burned and calories consumed. It's all about the right combo, the right left right hit on the speedbag.

By the time I left the gym I felt renewed. I can still learn and I will continue to learn for the rest of my life.

I also felt something else...powerful.

Powerful is a great feeling. For the rest of my workout I kept on my handwrap gloves like they were my very own version of Wonder Woman bracelets. It was the big S on my chest that propelled me through 50 crunches with a medicine ball and a full set of strength training. I didn't want the power to end.

I finally took my gloves off during stretching and, you know what? I still felt powerful. You can't cut my hair and steal my strength...because it's within me. That power I feel is the confidence I have in my ability to learn and grow as a person.

No, the scale hasn't moved in 2 days (which is weird because my weight never stays the exact same two days in a row), but my muscles are looking great. And I feel so much stronger than I ever have.

I hope I feel powerful again tomorrow at the 5k. I don't have any worries about doing 3 miles, but I feel....unsupported by family and friends right now (not my Sparkies though! Feeling the love there!). Hubs doesn't want to make the drive. I don't think he sees the point of driving 2 hours so I can walk 3 miles when I can walk out the door and walk 3 miles down the street. And I can't seem to find a way to explain it to him. I just need this. I'm chasing that powerful feeling. I'm chasing the high of confidence. (And maybe I worry that I won't get that high...and I'm scared that I feel the need for it...)

But whether I go alone or Hubs comes with me, I will go tomorrow. And I will do it up right. I will wear the right clothes and put my star headband on, and put my arms in the right position, and push my legs to do their best for me. And when I'm done...I'll be done...and then I'll try to gauge how I feel...

I'd love to end this on a high, but all I feel like doing is .... *shrug*





Thursday, August 05, 2010
So yesterday was brilliant. Seriously. I had a good day at work, followed by a great time at the gym and then blissfully quiet evening with the Hubs.

I ended up doing 3.06 miles in 60 minutes on the treadmill (after a warm-up on the indoor track) and then did 5 or 6 minutes of cool down on the indoor track. About mile 2.5 I hit that wall and thought I'd die, and then I pushed through and felt like I was flying! I *love* that feeling! Following that performance, I'm not too too worried about Saturday (except for the weather because it's been storming like crazy here in WV!).

Weird Gym Story:

So last night I'm reading my book on the treadmill, doing a solid 3.1 pace and I feel good. And then this guy comes up and gets on the machine next to me. He sticks in his headphones and gets a steady walk going before upping to a run and doing a few intervals. I think nothing of it. And then the guy starts talking, and singing, and muttering under his breath. I mean, I couldn't understand everything he was saying, it was just super annoying. Half the time he's mumbling the words to a song (I assume) and the other times he's telling himself "Come on!" and "Let's go!" I honestly think that unless you're relatively alone in your part of the gym you should keep these pep talks to yourself. Sure, I've slipped every now and again, but not for like 20 minutes straight! I nearly lost it when I thought I overheard him say, "Ow! My ball sack!" No lie.

Needless to say, I nearly hugged the next guy who didn't talk to himself at all and seemed relatively normal. Of course, I didn't want to seem abnormal so I kept that thought to myself.

After the gym I showered and put on the tight shorts (which won't be tight in a couple more weeks, mark my words!) and headed to dinner with the Hubs. Mexican. Chicken fajitas. Relatively healthy considering. I curbed my munch on the chips and salsa and drank a ton of water. Then Hubs decided we should go somewhere after dinner. Now in the near hickville town near our home, there is rarely anything open late other than the bar, and even they close early sometimes (and the other one, I learned, had no electricity because of the storms), so where we ended up was Wal-Mart. We walked around leisurely for an hour. We circled the entire store and looked at everything from batteries to tires to workout clothes (sports bras and socks and shirts in my basket, oh my!). I finally turned to him and said, "Hun? I'm exhausted. I think I need to go home now." And home we did. And in bed I did soon collapse.

Apparently I didn't sleep enough because I feel like poo on a stick right now. It took everything in me to get myself out of the bed this morning. I thought I was going to kill someone if they looked at me wrong, and then I just got giddy, and I've been there pretty much all day. And it's an ugly day. And I'm sore and tired. And I have to work 11 hours here and then another 3-4 at the paper. And all I want to do is crawl into a ball and snore and dream. And instead I ate 4 servings of honey roasted peanuts for a snack, which I bought on a tired shopping trip to CVS, which I went to in order to get cash out to give a co-worker for the ham and cheese sub she brought me back. Moral of the story? Esther needs more sleep. And Esther is using today as her rest day because if I tried to do a push-up I'd probably fall on the ground and wouldn't be able to get up.



---I'm jealous of this emoticon right now.



First Page
1
2
3
4
5
6
7
8
9
10
11
12
13
14
15
16
17
18
19
20
21
22
23
24
25
26
27
28
29
30
31
32
33
34
35
36
37
38
39
40
41
42
43
44
45
46
47
48
49
50
51
52
53
54
55
56
57
58
59
60
61
62
63
64
65
66
67
68
69
70
71
72
73
74
75
76
77
78
79
80
81
82
83
84
85
86
87
88
89
90
91
92
93
94
95
96
97 98 99 100 101 102 103 104 105 106 107 108 109 110 111 112 113 114 115 116 117 118 119 120 121 122 Last Page

Get An Email Alert Each Time CALLIKIA Posts