| | |
| --- | --- |
| | BWILBUR25's Recent Blog Entries |


Friday, June 08, 2012
I have been doing the No S diet for about 5 months and I love it more and more every week! I have lost about 8 pounds and tweaked a bunch of bad habits into good ones that are easy and pleasurable to do.

Here are a few of the things I think are making the biggest impact on my weight-

1)Not snacking during the weekdays- it makes me realize how often I was eating before! Not snacking has easily cut out 300-400 calories each day, and I almost never feel hungry between meals because I am eating 3 full meals of real full-fat food that tastes great.

2) Not drinking as much beer/wine as I was- I have one drink a night at home now instead of the two drinks I was having before. I still have two or three drinks if I am out with friends, but I think a big part of me losing weight is just replacing one of the glasses of wine I would have had with dinner with a tasty herbal ice tea or just water. I still enjoy hitting the sauce, but I am doing it a bit less then before.

3) MOVING more! I started out doing 10 minutes of weight lifting or kickboxing every weekday morning, but that has gotten boring, so i have started taking a 20 minute walk with my husband every weekday. It is nice to be outside now, but I bet I will go back to doing videos when the weather gets foul.

I am going to sign out now, as I have had a super busy day. Time to get my beauty sleep! Just wanted to tell all you Sparkies how much I am digging No S.

High fives all around!





Sunday, January 29, 2012
Over the last 6 months or so I have been feeling pretty bad. With the way my clothes fit, the way my body felt and about how much I reached for food when I really didn't need to. I am sure most everyone who is reading this blog has been there. It was bad, I was feeling desperate.

I felt like I would NEVER lose this weight. Mostly because I was realizing how much I am NOT going to track my food calories for the rest of my life. In fact the only time I lost a large amount of weight in my life was on Weight Watchers old 'Core' diet. Where basically you can eat as much of the 'good food' as you need not to feel hungry and just had to keep track and restrict the 'bad food'. So I learned how to cook edamame, whole wheat couscous and i ate a lot of broccoli and Soba noodles. It was great! I actually really loved it, and I loved what I was eating. Plus going to meeting was an excellent way to keep at it. It was expensive, a bit obtrusive and obviously not sustainable. But it worked!

Until I started cooking for more then one person. hmm, it didn't quite 'stick' then. I love to blame it on my husband's love of Velveeta (don't tell our friends!!) but the truth is that *I* was the one who put things that were NOT Core in MY mouth and gained back all the weight I had lost.

So in review: #1) I know that I can not make a habit of eating only a certain kind of food and strictly forbid 'bad foods' anymore. In my new life of cooking for more then one person, the temptations are too strong, I would never last long before the siren's call of the Mexican Velveeta in the fridge overtook me. Call me weak, but it's the honest truth.

#2) I HATE tracking for more then a few weeks at a time, so while that helps me lose weight when I do it, it is not sustainable for me. So scratch that off the list of permanent solution for me.

But I ran across a post from a spark member named Oohlala and saw that in her post signature was written "The No S diet saved my emotional life"

Being the curious cat that I am, I googled "No S Diet" and found a hilariously snarky website promoting a way of eating that goes like this.

No Snacks
No Seconds
No Sweets
Except (sometimes) on days that start with S.




That is it.

I know, its so *weird* how simple it is. It kinda seems like a joke. I wasn't won over, but I started poking around and realized that This. Sounds. Awesome.

You eat three meals a day. (I love routine) You eat one plateful of whatever you want at each meal. (perfect, I still cook rather healthy and I always eat veggies at meals, plus I LOVE all food. Yahtzee) Then on the weekends you can eat sweets or snacks if you want (thank god). You can have snacks, seconds and sweets on "S"pecial days. (good, cause I was gonna do that anyway, I look forward too my birthday cake all year) These would be birthdays, religious holidays and anniversaries.

Anyway, I am blabing on about this because I think this sounds perfect for me! I CAN do this kind of thing! I eat way too much between meals and I have a tendency to treat my hunger like an emergency. No S can help all of that. I know I will be eating a meal soonish, so I can now enjoy being a bit hungry and enjoy eating food that my husband and I love. Plus I can see this being a way of life for me, it is so sensible and old timey. You save eating special foods for special times (like chocolate sometimes on the weekends, not everyday) and I can enjoy them, That Much More.

I started eating like this about two weeks ago and so far I have lost a few pounds and started to see how this "easy thing" is going to take some getting used too. But I am tracking on my calendar which days I succeed and which days I slip up.

I feel good about it. I feel hopeful. I feel in control. I feel so much better.





Thursday, January 12, 2012
In full disclosure: this blog is kinda dorky, but hey, as my mom always tells me "Normal is just a setting on the washing machine"

Anyway.......

Recently my hubby and I have been taking this slower-work time to do some home improvementy things. We live in a trailer from the early 70's, so things need to be fixed all the time. We actually really love our house and work really hard to make it a nice, relaxing place to be. Mostly because we work from home, so we have no where else to go!

This week we have been working a bunch in the kitchen as we are getting a new fridge delivered today (YES!) , but we had to fix the floor boards as our old fridge was all messed up from the uneven flooring. While we had the fridge, stove and such pulled out from the wall I repainted the wall and fixed a messed up outlet that has been bugging me forever. In the middle of all this mess I was thinking about how much I LOVE being in my kitchen. I missed it so much the days it was all ripped up. So Here is my ode to my kitchen or "The Best Things In my Kitchen"


1. Cast Iron Pans - I have two of these that we use Every Single Day. They are so amazing, I cook almost everything in them. I use them for baked mac and cheese, fried eggs, cornbread, pasta sauce, searing meats, cooking greens.. the list just goes on and on. I even threw my round cake pans away because i can make a layered cake with both of them. Plus they make all our food look so sexy against that deep black patina.

2. Penzey's Creamy Peppercorn Dressing Mix - If you have never heard of Penzey's spices, please check them out. They are a mail order type company and they have the most amazing fresh spices. The Creamy Peppercorn Dressing is kinda like ranch mix... except so much better and with no nasty chemicals. The ingredients are: Tellecherry black pepper, coarse salt, sugar, minced garlic, thyme and minced parsley. It sounds so simple, but for some reason it just tastes so damn good! I put it on popcorn, on veggies, in my salad dressing, in grits, greens, hummus... pretty much everything that needs a bit of salt tastes better with this stuff. I am a hopeless addict.

3. Pizza Oven - Last year we bought a new stove and picked out one that has a large bottom oven and a small half size oven right above the big one. The Stove looks like this-

The top oven can keep things warm or be used like a toaster oven. Of course it also can bake like a normal oven. Because there is just two of us, i often just make one casserole or a half dozen muffins and don't need a whole big oven. This little guy is such a workhorse. Love it. It was our big house splurge last year and I don't want to ever live without it.

4. Fage 0% Greek Yogurt - I must be the last person in the world to realize how amazing Greek yogurt is. Dare I say better then sour cream?

5. Homemade Vinaigrette's - 1 part vinegar : 1 part oil + some honey and spices = the best salad dressing I have ever had. Wish someone had told me sooner how easy it is to make homemade dressings.

6. Crock Pot - I use mine every week. Mostly for cooking beans and soups, but it sure does a good job making broth.

7. Sourdough Starter - I just started one this summer and all I ever do with it is make sourdough pancakes but they are the best pancakes I have ever had. And the whole wheat recipe is by far the best. Plus it it like a pet, but it never barks if you forget to feed it.

8. Garbage Disposal in my sink - Just got one for the first time this year and it rocks. Don't take it for granted. I probably spent days worth of my time in 2010 unclogging my sink.

9. Eggs - More flexible then a master Yogi and comes a cute compost-able container. Need I say more?

10. Fermentation - I did my first lacto-fermented pickles this year

11. Beautiful Dishes- when I first met my husband I was sooo impressed he had matching plates, bowls and nice matching silverware. (is it strange that I find a man with matching plates and bowls a turn on?) They are dark brown with drippy light brown glaze around the edges. They are a pretty common pattern from the 70's. My parents always kept there beautiful 'special' dishes in antique hutch, so eating with nice matching dishes everyday makes me feel so special, like a little girl at a tea party.





Tuesday, March 01, 2011
It has been so long since I last blogged on SP (almost a whole year!). So I will catch you up on what I have been doing in a nutshell. I stopped caring about my weigh loss goals around july of 2010. I am not transferring blame (cause I am the captain of my ship for sure :) but just stating a fact that the farm work was totally overwhelming. We had a rough year and ended up losing 1/2 of tomatoes plants to a major flood here in iowa. But I learned SO much about weeds and 2010 made me a better farmer.

I also experienced some crazy anxiety about the farm that I had never felt before. In July my cucumber plant ALL got bacterial wilt from cucumber beetles and my zucchini and sunflowers all got Vineboarer damage that was fatal.
It was a big blow and I reacted with some nutty anxiety that kept me up some nights. It was bad but I survived. I learned a lot about my stress response and will try to keep everything in perspective for next season.

Here is a pic of me at market last year.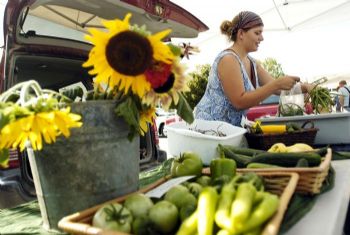 My winter was wonderful! I had a great christmas and helped Dan (mr. Hubby) with his business's christmas rush. It was great to feel like I could help him after he put in so many hours helping me. If you want to check out his website it is here at www.dankartistry.etsy.com He makes every piece by hand and puts so much love into it, I am so proud of him!

Then I got a part time job helping a friend take care of her father with Parkinson. Talk about a learning experience! Wow, I will never take my good health for granted again!

We also did some really fun things over the winter, like go to a river aquarium/museum on the Missouri river. It was a blast and we saw this HUGE catfish that blew me away!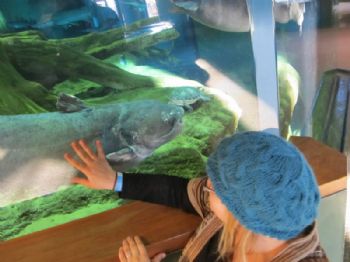 Which bring us to the present, I am feeling so crummy today. It is just a stupid cold, but I am feeling weak, whiny and lazy. So please ignore anything I say that sounds like I may have been written under the influence of the blahs.

In the last two weeks or so I have been more committed to losing the weight I gained over the winter.

I am starting by drinking my water everyday. Its not to hard right now, I am sucking down the ginger tea like it is going out of style!



Bottoms Up!

P.S I AM STILL SMOKE FREE! 9 MONTHS WITHOUT SMOKING!












Monday, May 24, 2010
Hello friends,

Does anyone want some free spinach? We are drowning in greens from the garden, which is a good thing, it inspired us to plan a southern brunch! Cornbread, greens, scrambled eggs with lots of butter+herbs (drooool), fruit and rhubarb crisp. It was scrumptious and we got to catch up with our friend who now works out of town on weekdays. She works with the DNR getting rid of invasive species, so she camps with her crew all week long. We used to all hang out often during the week when everyone else had 9-5's… but now she has one of those too! I think I need more friends who have control over their own schedule.

Later in the day I planted sweet potatoes with my parents, which felt cozy and warm. It reminded me of when we used to garden just for the joy of it, when I was a younger. Nowadays they usually don't help on the farm because they are busy folks and its my thing/job. But yesterday I was short on hands and they were chillin' anyway. It was really nice. After running home DH and I went to a potluck with some other dear friends we don't see enough (are you seeing a theme here?). We had a blast! I jumped on the trampoline with the kids and French braided all the little girls hair… here's a pic of DH and I snuggling on the trampoline.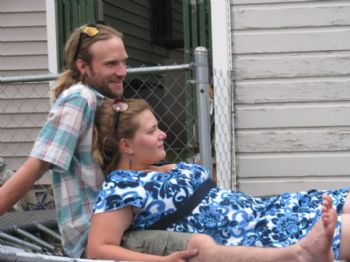 I love how small my belly looks in this picture, I can really tell what a difference 15 pounds makes on my frame. It's the difference between being comfortable and feeling claustrophobic in my own skin. I was having so much fun at this party I forgot to eat a bunch of food. ☺ I did remember to drink some wine… great day.

Saturday I was at the market early and had a really busy day. Everyone needed salad greens! Awesome! Later in the day on Saturday we went for a long walk to the grocery store late at night. Right by our house (we live in town and farm in the country best of both worlds) we have a long wooded bike path with lots of lovely bridges. We stopped on our favorite bridge and watched the clouds and moon for a long time. Beautiful. Moments like that make life magical.

Friday, Thursday and Wednesday were hard worken days, its time to plant tomatoes and peppers here, so we dug, tilled, planted, watered and started over. It's nice to see things fill up the field but it's a LOT of work. And we are not even close to being finished. As I write this I am procrastinating…. I really should have my hands dirty. Today I am planting basil, beans, more carrots, squash and putting the cucumber trellises (we have tons of cucumber plants to plant). Wish me luck!

P.S. I have been eating consistently over my cal range for about 2 week and in that time I have lost 4 pounds. What?? I am confused. But whatever, I had decided before I weighed in that

1) I am not giving up. Ever.

2) I lots of time to develop the habits I will need to reach all my goals. Aka, this is not a race.

3) I am SO proud of myself for making better choices. Not to mention quitting smoking! 12 days and counting smoke free. Yippeeee!

4) My weight does not define me.

I was expecting to see a gain, so the lose is great, but as I said I had already decided that whatever the scale said wasn't 'that' big of a deal. Know what I mean? Gotta keep everything in perspective and in BALANCE.

Hugs and Wishes, Beth




1 2 Last Page

Get An Email Alert Each Time BWILBUR25 Posts