| | |
| --- | --- |
| | BUTTERCUPP76's Recent Blog Entries |


Tuesday, August 12, 2014
Oh my goodness, where to start! So much has been going on since the last time I posted a blog entry. Many changes some good, some not so good. A huge change that has happened is I started clinicals last fall and my stress levels went through the roof. My schedule also got crazy. I have to admit I haven't handled this well and have gained roughly 20 pounds since then. I could easily come up with a billion excuses but that is all it would be, an excuse. I have consciously made the decisions about what goes into my mouth and what doesn't. I beat myself up about the weight I have gained but then I eat a dozen cookies, literally. No lie. A DOZEN! I'll go to Subway and get a grilled chicken breast with lots of veggies and then get 3 cookies and eat them all. Not sure what happens in my brain when I do things like this. I guess I think no one will know when everyone sees me getting bigger and bigger. It also doesn't help that I don't think I look as big as I do but then I will see a picture of me and I can't see anything but how fat I am and how bad I've let myself go.

Well any way, it's time to get back on that band wagon and get to cracking! I can't always make the exercise classes at my gym due to my schedule, but that doesn't mean I can't exercise at all. So, I have my calendar out and am scheduling workout time. I've been missing working out and getting a good sweat on.

I don't know how well I will be at checking in here all the time but I am hoping to do much better than I have of late.




Wednesday, June 19, 2013


Warning: This is a rant to me, about me!!!


Just get up and do it. Don't put crap in your mouth that you are gonna kick yourself for later and then complain about not being able to lose weight anymore. It is sad, pathetic and enough is enough. Go after your dreams and goals. You wanna wear a smaller size scrub for clinicals this fall? Guess what? YOU are going to have to get off your duff and make it happen. No one can do this for you, no one but YOU, SARA! You sooooo got this you busted your hump at the first part of year and you make awesome progress. MAKE IT HAPPEN AGAIN!!!!
FOCUS!!!



There now hopefully I have sufficiently kicked my butt and motivated me all at the same time!






Friday, April 26, 2013
It absolutely, completely totally sucks that weight comes back so easily. I worked my butt off to lose that 15 pounds since January. After all that hard work, BAM! a week and half of not watching what I eat and I gain half of it back! I want to lay in the floor and cry! It's not fair, it's just not fair!!!!!!

Ok, pity party over, lol!

It is true however that weight comes back much easier than it goes away. However, I take full responsibility for the gain. And it stops right now. My mom had knee replacement surgery a few weeks ago and since we live in a small town in the south, that means everybody brings food. Thankfully, it hasn't been a lot, but what has come has been bad! Doughnuts, cake, pie, fried chicken, potato salad, bbq. I was talking with my husband and we decided that the next time we send food, we are going to send something not quite so unhealthy. I really don't want to eat this food, but I feel bad because our family and friends went to the trouble to get it and bring it to us. I suggested we just throw away the doughnuts because none of us need them. My dad was very indignant and said that's just wasteful, so and so brought us that we can't throw it out! I did throw out some potato salad that had been in fridge almost a week and the comment was made: don't tell her she'll come fuss at you for being wasteful. So, I feel obligated to eat some of the stuff that has been brought. Needless to say, I've gained quite a few pounds back. I really hope that now Mom is doing so well, that the food will stop.

I was talking with my Mom and sister last week about gaining weight and why I have such a hard time sticking to my healthy habits when at home with my parents. When I am at my home, hubby and I are quite healthy and I exercise like a beast, lol! Why does that all stop when I go home? I think it boils down to habit and there are so many memories tied to my son when I am at home. Definitely something to work on.

I have been pretty much stuck in the house with Mom though because she has needed a lot of help getting around and she just can't hold out to cook, wash clothes and do all her exercises for her knee. She is now off her walker and is getting around really well. She still needs help because she gives out quite easily. Please don't think I mind helping, I don't mind at all. My mom is my best friend and I love her to pieces :) I'd do anything I could for her or Dad. I just need to put myself on a schedule and exercise when Mom is doing her exercises since she doesn't need help to do those. Going to zumba in the morning so hopefully that will spark my motivation here to stay on the healthy road from now until I go back to my home in a few weeks. I know that I would have setbacks, but I don't want to go all the way back to my starting point!

So, beast mode on!





Tuesday, April 09, 2013
I've had this blog rumbling around in my head for a while, but just haven't taken the time to type it out and post it.

I had been toying with the idea of resetting all my goals to better reflect the ones I am currently pursuing. The only downside was that I would lose all my tracked info, weight, food, exercise, etc. I hesitated to do that, but decided to take the plunge and reset my goals as of April 1. Nothing really new there, just a way of recommitting to my journey, and being able to see when I am meeting my 5% goals that I have set for myself. I am making good progress, I have my days where I don't want to do anything, but I remind myself of my goals. It is also really interesting to see the trends of my weight loss. Even though I am doing the same exercises every week, and am staying close to my calorie range with some higher days and some lower. I usually have one week where I lose upwards of 3 pounds and then for about 3 weeks after that I will lose anywhere from half to one pound. It is cool to be able to see trends!

I had a little bit of a downer moment today. My warrior dash is coming up the 20th. Me and two other girls are going and we were going to dress similarly. Well, one girl picked out what she wanted to wear and gave us the website. I am not comfortable buying off a website where you can't return it and don't know if it will fit. I went to Sports Authority to try on some different styles, but I am still to large to wear them comfortably. It is a little discouraging to be the "fat friend." So, I will have to be the odd one. I have to admit, I got a little down about it.

But then I reminded myself of all the changes I have made over these last months and I am seeing some awesome results! It is just going to take time to meet my goals. And I won't be odd, I'll be unique! So I recommitted to continue my journey and went to workout class tonight and kicked butts and took names!

That's doing it Sparkler Done style







Thursday, March 07, 2013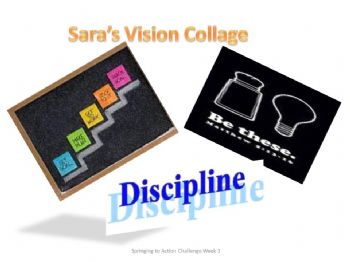 Well, here it is. It has taken me a while to get this done and I am obviously not very artistic. The other collages I've seen are very cool looking and I just couldn't get my to look like that. But, it works, lol!

My absolute favorite picture I found while searching for this is the salt shaker and light bulb picture. Matthew 5: 13-16 says: '13 You are the salt of the earth. But if the salt loses its saltiness, how can it be made salty again? It is no longer good for anything, except to be thrown out and trampled by men. 14 You are the light of the world. A city on a hill cannot be hidden. 15 Neither do people light a lamp and put it under a bowl. Instead they put it on its stand, and it gives light to everyone in the house. 16 In the same way, let your light shine before men, that they may see your good deeds and praise your Father in heaven.' Part of this challenge also collides with Lent. It is a very solemn time in the life of a Christian. It is where we reflect on ourselves and work to make ourselves better Christians through the example of Jesus Christ. I am studying my Bible more and really trying to live what I am learning.

My next picture is disclipine. I so lack this in my everyday life. As a student, I have the disclipine I need to get my work done and done well. In other aspects of my life it is missing. I am also really bad about starting out strong and then completely falling off the wagon and disappearing. I love the team aspect here and the fact that you all will help make me accountable and I promise to work at keeping you accountable as well.

And we reach the goal picture. Ah goals, we have a rocky past to say the least. It is so sad on my part, but I can't remember the last time I met a big goal. I've met a few of my smaller goals, but as for my ultimate goal, not even close. So at the end of our 17 weeks together, I want to be able to stamp SUCCESS and have a

on my page!

So there you have it friends! Let's keep rocking our challenges!



1 2 3 4 5 6 7 Last Page

Get An Email Alert Each Time BUTTERCUPP76 Posts