| | |
| --- | --- |
| | BUNNYKICKS's Recent Blog Entries |



Friday, July 19, 2013
Ok. So. Down 50#. In one-derland. Feeling good, confident... walking tall, smiling often. Can this be undone with one click of a digital camera?

Well, yes... almost.

Yesterday I attended a staff barbeque. Wearing my polka-dot dress that I first wore in May 2013 (at 213#). That I thought I looked soooooo good in. I feel great when I wear it. My Spark profile pic of choice displays this dress, as do several photos in my gallery. I wore it to my son's high school graduation banquet. I wore it to dinner in a fancy restaurant. I wore it to a family function. Every time I put it on, I get compliments. I am intellectually aware that it is a regular size 18, which has become somewhat loose on me in the weeks since I first bought it... so, really, the numbers say, "I must look OK."

And then I saw these pictures of me at the barbeque.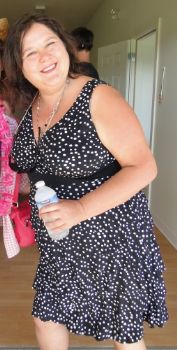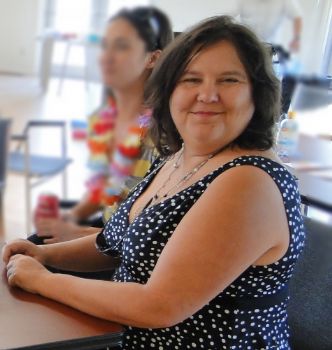 Initial reaction: "OH MY GOD LOOK HOW HUGE I AM."
Second reaction: "HOW CAN I STILL BE SO BIG AFTER LOSING 50#!"
Third reaction: "I LOOK TERRIBLE HOW EMBARRASSING THAT EVERYONE WILL SEE THIS."
ad infinitum.

Basically, my internal dialogue could be visualized like so: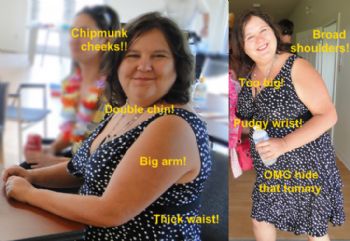 WHY is the first reaction, so critical, so cruel? WHY does looking at these pictures make me want to scream "I look terrible, how could I ever have let myself believe I looked nice?! I look just as large as I did when I was 245#!!"

It really bothered me.

To try and reassure myself that it wasn't *that* bad, I hauled out some "before" pictures. Some really "true" before pictures, that I haven't had the guts to look at in a long time, that I've never had the nerve to publish here.

And, yeah. Ok, maybe I'm not at "goal weight" yet (whatever weight that may be). But I feel better once I recognize and reflect on just how far I've really come. I DO look a lot different now. And it isn't ONLY "the difference in weight"...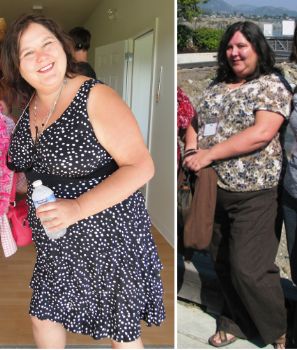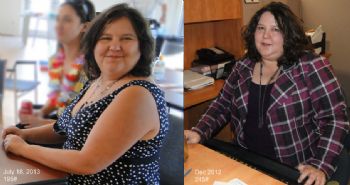 I think that the "difference in weight" is actually the least important thing to note, when I compare these before-vs-now pictures side by side. Look at my posture - leaning in, TOWARDS the camera, vs shrinking back, arms clasped in front of me like a shield. Look at my expression - a big smile-for-the-camera, vs a panic how-can-I-escape look of fear in my eyes.

Yeah, Ok, I'm still a "big girl" but DAMMIT I LOOK ALRIGHT.

If I say this often enough... my mind may slowly come around to agree.

To help it out, I've made one more picture, for myself. To remind me... it isn't all about "size" anyways. It is about living, laughing, smiling, accepting who and what I am with confidence and pride.

Yes, I'm doing just fine. I will turn my head around. These pictures will LIFT ME UP, *not* bring me down. I post this last one for me, to remind me always of what I just said.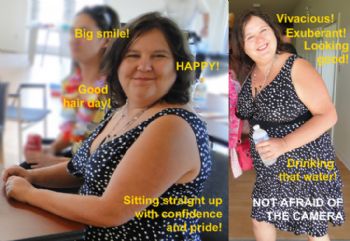 Monday, July 15, 2013
This past weekend I had the opportunity to do something I haven't done in many years - go hiking in the sub-alpine meadows of Manning Park in Beautiful British Columbia, Canada.

I used to go there often. Initially into the front-country campgrounds, doing loop day-hikes around lakes and nature trails. Later when I first took up backpacking, my first "test runs" were into Manning Park. I vividly remember one enthusiastic evening, taking off from work, driving to the base of the Heather Trail, and literally running 5km, backpack and all, to arrive at Buckthorn Camp while there was still a glimmer of daylight. Good times!

Somewhere along the way... this all stopped. Initially due to "baby" (though we would still camp and do day-hikes with the little guy in a baby-backpack). But it slowly faded away... and next thing you knew, I wouldn't have been able to snap up the waist strap of my backpack, let alone walk any distance (with or without pack). I haven't done a proper hike in several years. I haven't been in the Manning Park subalpine in almost 2 decades.

So, there we were. Setting out along the Heather Trail... 5km to Buckthorn... should we? Or should we stick with Paintbrush Loop? Awww, let's go to Buckthorn, if it seems too much we can turn back at the halfway point.

About 1.25 hours later.... there we were. HOLY COW!!!!! That wasn't even bad!!!!!! Perched on a raised tent pad overlooking a small stream and chowed down on a packet of beef jerky and some cherry tomatoes. Swatted mosquitoes. Thought about how it hasn't changed much in 20 years. Contemplated that it would not be any problem to overnight here... it was EASY with a daypack and certainly do-able with a light backpack..... my gosh.... rolling back the years, i'm 20-something again, eagerly planning my next hike!

Then we ascended 5km back to the parking lot. Oh, ok. Yeah it's labelled an "easy" trail - and I know it is - I've been on "moderate" and "hard" before, I know this is a walk-in-the-park compared to what a cross-country hike can be. But still, there was elevation gain every step of that 5km. And yet.. and yet... although my body let me know about it, it just wasn't as hard as I expected.

Well. Until we were almost back, and decided instead of taking the longer switchback route, we'd take the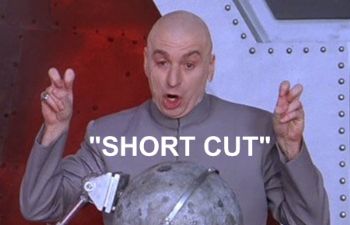 up the hill. Ah yes, Dr. Evil, you use your air quotes well. A "short cut" never comes without strings attached. And a SHORT cut UP to the parking lot... Short + Up = STEEP.

Sure enough, came around a corner and there it was. A staircase built into the trail. A million steps at least! Holy! That's a lot of steps! Wow! This is going to be difficult!!!!!

One.. two.. three.. four...
Twenty six... twenty seven...
Fifty nine... sixty...
Seventy and counting...
Eighty nine, ninety......... NINETY ONE.

Ninety one steps and I did NOT stop once.

(though, I was puffing pretty hard on that 91st step and pretty glad there wasn't a 92nd).

Cut back to August 2012. I was travelling in New Zealand. Came to an interesting waterfall. The trail took you to the top of the falls, but you could climb down to the bottom. I got HALFWAY down, and knew that going upwards would be a challenge, so I ultimately refused to go to the bottom. From the halfway point back up was about 100 steps. I only made it by breaking it into 10-step increments. Ten stairs.... rest. Ten more... rest (longer). Ten... well ok eight... rest. Five... rest. Five... oh just leave me here to die!!!! Descending, I hadn't been able to appreciate the beauty of where I was, because all I could focus on was "how will i get back up"... ascending was sheer hell.

And fifty pounds lighter - I POWERED up NINETY ONE steps in a row. As if i were some 28-year old, hmm!

This is the most exciting thing about weight loss.... the rolling-back-the-years.







Saturday, July 06, 2013
WELL it was bound to happen eventually! 26th weigh-in, and for the first time since the beginning of January, I have recorded a "gain" on the scale.

I guess I am human after all! I have to say, I was really starting to wonder when the Scale Day of Reckoning was going to arrive - 25 consecutive weeks of loss does seem somewhat miraculous (no matter how hard I worked for it - other people work just as hard as I do, yet fight regularly with The Scale - oh, Scale, you are so fickle with your attention, so cruel!)

And here it is - my first "gain." Now, I KNOW it isn't an actual gain of FAT. That would be impossible. Since my last weigh-in, I've eaten at "maintenance" levels for 4 days (1800-2000) and "reduction" levels for 3 days (1300-1500). No fat stores have been created. Some may have been depleted. Yet the stable-to-loss status of my underlying body mass has been masked by Normal Fluctuations in Water Weight.

Yep, summer hit, it got hot, and I puffed up like a water balloon held too long over the tap, my body swelling in preparation to defend against drought and dehydration. My fingers, hands, ankles are visibly puffy. I can FEEL the swelling when I clench a fist. I have felt like this ever since last Monday.

Mid-week, I felt curious about what havoc this was going to wreak on the scale. And against my "once a week, first thing Saturday morning" rule, I stepped on, on a hot Wednesday night. At the peak of my sweaty wishing-my-house-had-aircon misery, after gulping down yet another cup of water. At that point, the scale said ONE NINE NINE. I leapt off as fast as I'd stepped on, and wished I hadn't succumbed to my need to know where things stood between the scale and I. Rationalizations immediately followed. "You just drank a 12-ounce glass of water - that's 3/4 of a pound right there!" "It's evening, whereas you always weigh in the morning - probably explains another couple pounds right there!" "I bet you ate sodium! I bet you did! And I know you drank an alcoholic beverage! No wonder you're so puffy, serves you right!" So, much chagrined, I turned my back on the scale and waited for the weekend to come.

Thursday - still hot. Still puffy. Uh oh. This water retention nonsense might not be over by the weekend...

Friday - a gracious break in the weather, more tolerable temperatures - but still puffed up like a marshmallow over a campfire. Plus Friday night out, a restaurant dinner and wine. Oh dear... 12 hours to weigh in, this is not going to be pretty. Quick, how to fight water retention? Oh, of course, better hydration! *Guzzles copious amounts of water before bed; not the best idea if one is looking for an uninterrupted 8 hours of sleep, but, I digress*

Saturday. Sigh. I feel more "normal" than I had on Wednesday, but... well fine, let's just get this over with. Yep, as suspected, "up 2 pounds from last weigh in."

- Oh no! This means i've only lost a net 2# over the last 4 weeks!
- Oh no! This means I've reversed the losses of the past 2 weeks completely, and then some!
- Oh no! This puts me totally off-target for my Sept 1st goal!
- Oh no! Does this herald A Plateau?!
- Oh no! Maybe I shouldn't have had those "maintenance level" days!
- Oh no! Maybe I should question how accurate my counting has been! What If I've been underestimating by a hundred calories or so, per day!
- Oh no! Oh no! Oh no!!!!!

Alright - I KNOW THIS IS CRAZY-TALK. I know it's unfounded, reactionary, and just plain stupid. I know it does me zero good, to think this way. I KNOW how "normal changes in water retention" affect The Scale - I've pointed it out to countless other panicked "gainers" in the forums, time and time again, there-there, it's just water! There-there, it will resolve on its own in a week or two! There-there, based on what you ate, you'll have experienced actual fat loss, it's only temporarily masked! There-there, sodium, alcohol, hormones, heat! Worry not!

YEAH IT'S REALLY EASY TO SAY THESE THINGS WHEN IT IS SOMEONE ELSE'S WATER RETENTION!!

At the end of the day, though, I just have to laugh at myself and my crazy-talk and celebrate the fact that I am "normal" with successes and challenges and good days and bad days and motivational thoughts and silly thoughts just like anyone else. I have to laugh at myself and my reaction to The Numbers and my immediate need to start playing with those numbers, rationalizing those numbers, as if Numbers were the be-all and end-all, as if nothing else meant anything, as if Winning at the Numbers Game were my actual goal. It isn't. I know that. So why such an internal drama? Who knows. I will laugh until the anxiety passes, and then I will laugh some more.

And next week I will slay that scale! (I mean... *cough*... what I meant to say was... if the number on the scale mattered, I would... but it doesn't... so... what will be, will be).










Wednesday, July 03, 2013
I have to say, I've enjoyed my foray into the world of blogging. I enjoy writing, and blogging gives me a reason for doing so. I want to do more of it, with a bit more consistency and purpose. But darned if I don't have the hardest time coming up with topics. Except for ONE topic, upon which I can talk and write and think and write and talk for hours on end, which is:

FOOD IS AWESOME. Oh, I love food!!!!

But - don't we all? That's why we're here, right? Because food, glorious food, led us down the path of temptation and encouraged us to stay awhile, like Winnie the Pooh lured by the honey pots in Rabbit's burrow, irresistible! But before you know it, you can't return to the world beyond the rabbit hole... the consequences of yielding to the temptation of food can trap you in.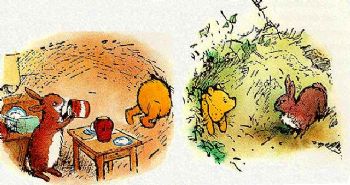 Food is the enemy. Food is entrapment. Food is out to get you. Food must be denied.

Well. No!

Let me qualify that "no" by agreeing that SOME food really IS out to get you, SOME food really should be denied. Highly processed "food" is manufactured to trigger our basest instincts, while providing us with little nutrition in the bargain. So I'm not talking about that kind of "food" when I say Food is Awesome - mostly because I barely view it as food. It is calories, it is sustenance... and because it is so cleverly constructed it can be compellingly addictive. But it isn't capital-F Food.

But I don't want to focus on these non-foods. I want to talk about FOOD food. The awesome stuff! So I'll leave off on my rant against Industrial Food-like Products with a link to a very good book, highly recommended reading on the matter: Michael Moss's "Salt Sugar Fat": www.amazon.com/Salt-Sugar-Fat-Giants
-Hooked/dp/1400069807

Now. Back to Awesome Food.

I have been busily reconnecting with food and home-cooking. I've been experimenting with new recipes and trying new ingredients, new cuisines. When I eat out, I've been ordering outside-the-box (but not off the obligatory Lean Menu). For example, I had dinner recently at restaurant with a sort of Italian-West-Coast-Fusion menu... Old Me would have stuck to the familiar lasagne or some other standard-familiar pasta dish. New Me ordered Warm Seafood Salad, "Scallops, prawns & squid sauteed with black beans served on crisp greens with feta cheese." HOLY MOLY was that good! And light, healthful, appropriately portioned. THAT was some Awesome Food!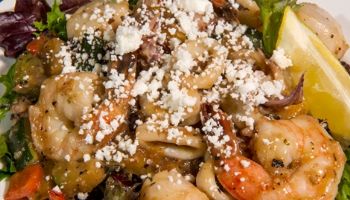 Last night, I made (for the first time ever) a Tuna Nicoise salad. Canned tuna, sliced cold boiled potatoes, hard boiled egg, olives, over assorted vegetables (lettuce mix, tomatoes, cucumbers) and topped with capers and a tangy vinaigrette laced with dijon mustard and red wine vinegar. BEAUTIFUL!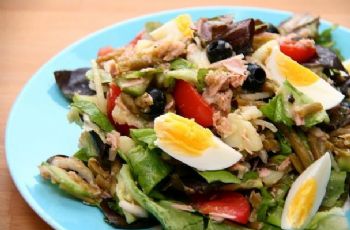 I pulled the recipe from here: www.foodrepublic.com/2011/07/13/simp
le-ni%C3%A7oise-salad-recipe (with a few modifications based on what ingredients I had on hand, and just how much oil I was willing to put in the dressing). It was so simple to put together (basically, slice the stuff that was in the fridge, and crack open a can of tuna), and so aesthetically appealing... in fact it was almost a creative outlet, assembling it. A Google Image search for "Nicoise" will toss up a hundred different pictures and a hundred different interpretations of how it should be composed on the plate. And was it good? OH YEAH. Ha, my leftover potatoes, an egg and a can of tuna were pretty easy on the pocketbook, but yet (with minimal effort) yielded something that you'd happily pay ten or fifteen bucks for in a restaurant!

Now THAT is some Awesome Food!

I have seen enough people try to "diet" by setting up their relationship with food as if at war, on a battleground. I have seen enough people try to "diet" with approaches such as "if the food tastes terrible you won't be so inclined to overeat." I have seen enough people try to "diet" by substituting flavour with blandness and expecting that their suffering denial-of-enjoyment will earn them a trimmer waistline. "I tried so hard, I gave up so much, I denied myself the things I really wanted! Surely it is only right and fair that I should lose weight!" But - IT DOESN'T WORK LIKE THAT. It is not a game of Sacrifice and Reward.

If anything, the sacrifice part makes it even harder. Because when we give up too much - there comes a day of reckoning, when we rebel.

But surely I am "sacrificing," right? I mean, I've lost 50 pounds in 6 months, you don't get that kind of result without Denial, Sacrifice, Iron-Fisted Control, and "giving up the things you love," right? Well.... I DO sacrifice in the arena of portion size. I eat my Warm Seafood Salad but I pass on the bread. I eat my Nicoise but knock back on the oil and olives a bit. I enjoy my cheese and my ice cream, but only an ounce or a half-cup at a time. And - that's ok. It doesn't FEEL like sacrifice... and why? Because the foods that I am giving myself are so rewarding, so delicious, so appealing, so enjoyable, that I can have my portion and walk away, SATISFIED.

A lifestyle change cannot be grounded in taking-things-away. For me, it's more a matter of giving myself BETTER options. Instead of saying "I can't have that" I will say "instead of that, I could have THIS!" and the result is that, during this so-called "diet" - I am enjoying my food more than I have in a really long time. Appreciating the flavours, the colours, the variety of the seasons, the self-satisfaction of home preparation, the luxurious indulgence of a GOOD restaurant meal...

The less I say "food is the enemy" and the more I say "Food is Awesome" - the better it gets.

I am losing weight by loving food.

Who knew that could happen?





Tuesday, July 02, 2013
Whaaaaaattt oh my gosh my last blog got a "voted popular" stamp?! So, PEOPLE ARE WATCHING MY CAMPING FOOD CHOICES!!!





Well then! It's only fair that I should report back post-excursion, and let you know how this plan for Healthy Camping Meals worked out!

I would say - it worked very well. I actually came back with leftover salads (which become my lunch for today and tomorrow). Also, ALL the individual snak-pak junky breakfast cereal boxes that were allotted to "me" - nope, I had better things to eat than Froot Loops (Ohmygosh did I just say that?! Now I KNOW I'm getting somewhere!).

Friday night, the guys had hot dogs. I had a hot dog bun filled with baba ghanoush and sliced cucumbers, with black bean salad. MmmmmMmmmM!!!!! This even left me with room enough for a "health cookie" (I picked up a packet of these discs of home-baked goodness from the farmers' market on my way out of town).

Saturday morning. Bacon (2 slices) and a fried egg sandwich. One egg, no butter, lots of ketchup. Yum! Yes, that tasted like Camping Breakfast to me!

Saturday lunch - burgers done over the campfire. One burger, no cheese, tons of dill pickle slices, tomato and onion. Side of roasted sweet potato salad. Cooking over an open fire works its magic - YUM! Eat your flame-broiled heart out, Burger King - this was the real deal!!

Saturday dinner - chicken breast done over the campfire, assorted salads (a bit of tossed, a bit of black bean, a bit of sweet potato) and some fresh boiled green beans.

Sunday breakfast - half a whole-wheat bagel, peanut butter, soft boiled egg, fresh cherries. Ha, somehow the aesthetics of it screamed "old people breakfast" - but hey, I'm not so young, so, what the heck. It was good and went well with the Baileys Coffee :)

Sunday lunch - cold plate of salads, baba ghanoush, assorted cheese, crackers, cucumbers, pickles, etc.

Sunday dinner - T Bone Steak! Fresh nugget potatoes, pan full of sauteed mushrooms, salad.

Monday breakfast - I made my typical yogurt-oatmeal-apple concoction, and daringly dumped it over top of five small "dollar pancakes" - a drizzle of syrup more as a "garnish" than a "sweetener" and one slice of bacon to balance it all out.

Did I eat any "junk"? Well, a little bit, yes. Over the course of 3 days, I ate a few things that I "could have lived without" - a small piece of cake offered by the camp hosts, two campfire-roasted marshmallows (passed on the graham crackers), a couple 90-cal frozen-yogurt bars. Extra "health" cookies (1 per day). I had a wine spritzer or two, some zinfandel, a dash of Baileys in my morning coffee. These things made the difference between a couple of "weight loss" days and a couple of "weight maintenance" days. I didn't track but I did bring my scale and weigh/count-in-my-head as I went along; no day over 2000 calories.

I really enjoyed eating this way - there was NO LOSS in not having the junky foods on hand. I chose my treats selectively, and truly enjoyed them. I enjoyed everything! And in the mix, I threw in some good long walks with the dog, which was FUN and ENJOYABLE, given that I can move once again. It was awesome! Even had to do some fancy footwork balancing on a trail that was a bit "swampy" - kept my balance and my footing on the rocks and logs that led me through it. That would NOT have happened last year, I would have been defeated by the first glimpse of sodden ground.

Yeah, last year I barely even wanted to go camping at all. This year - I can hardly WAIT till the next time I get an opportunity to spend a couple days in the woods.

Life is good.

:D



1 2 3 4 5 6 Last Page

Get An Email Alert Each Time BUNNYKICKS Posts