| | |
| --- | --- |
| | BULLET's Recent Blog Entries |


Wednesday, April 06, 2011
I haven't used weights in such a long time, 3-4 years at the max. With my knees bothering me and other problems.. I was afraid to do so. A week or two ago, I decided to start up again.. just for other workout options.

I wanted to document today as a turning point for strenght training. I never had an orientation before and I knew it was important to do so. I wanted to understand the machine further and how to adjust them.




Tuesday, April 20, 2010
Acouple days after my belt test, Sat. Mar. 27th, I decided to take time off. I thought I deserved it and that it was a benefit to me. I was going to take time off before my testing, but I didn't want to delay the test any longer. I wrote my instructor a note, which he read. What I asked from him in return was too... help me not to lose my way and then make sure I return.

I'm now been on my leave about a month now and enjoy it! I was miserable the first couple days about it, but I finally got over it. Acouple people tried to force me back, but after a few NO's...they left me alone. Now they ask.. "When are you returning", which I can answer freely. I've started a journal that is full of thoughts and negative/positive things that was bothering me. I jolted down different quotes I found in the past and discussions I had with my instructors. In the mean time I'm staying Active with swimming lengths and walking outdoors.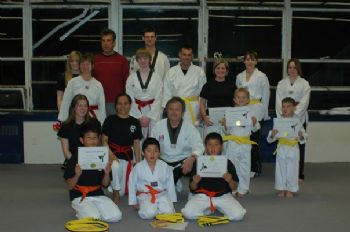 I watched this testing on the 18th of May.




Thursday, March 25, 2010
I was definitly ready to clean my slate this time around, which it said on my testing form. I was ready to say farwell to injuries, our family situation and expecially my lack of confidence. Test started tonight at 7:30 and we began with some "quick" kicks. My favorite fellow testers was Darryl and Jason .. who made the testing a hoot.

When I was watching, I felt nervous about it all (which is normal). Jr. called me up for my test.. I rememeber to bow before heading up. Houston, 10 ish year old, shared the floor with me tonight. We began in Cat Stance and went forward with (low, middle and high opened hand blocks). I breathed for each block, which helped me in the end... somewhat! Next we did some kicks, which I didn't do aswell. We got advanced kicks: jumping snap and double jumping snap kick...which I don't practice much.

Patterns came next and I found my nerves and breathing hurt my requirements....which my tester disagreed. I did Tae Guk Sa Jang 3 times and Oh Jang twice. It went well, my breathing kept my calm and got me threw it all. Self-Defense: I was asked before time who I wanted for an attacker and I choosed Jessica. I did my self-defense twice, for which again I was tired for. I showed lots of concentration and power in it all. I tried to do take downs for all that was possiable, some of them was harder to do. My favorite was #19 for which Jessica dropped from "standing" position.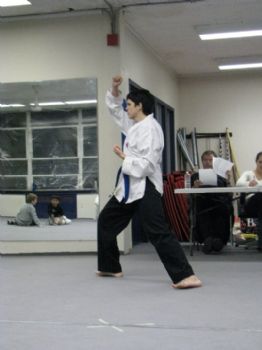 Sparring: I definitly was getting really tired and I could feel it. I did allot of double roundhouse.. the ones with the "fakes". I also got her a few times with different kicks. Breaking: Jessica asked if I wanted to start off the breaking, but I said I needed a breathier. I didn't watched Houstons break, because I had my head down and to try to relax. Jessica and Natasha was my board holders... which they forgot to bow in..lol. I started by just practicing and getting the feel for it... so that muscele memory would take over. After getting comfortable, I started to do my "real" practices". Stephannie, who was one of the tester, said out load to go for it. I replied saying: I'm not ready. A couple more practice and I stared away at the board.. ki-op. Crack.... I broke it on my first try!

Jr. was my tester tonight and he was very proud of me! I could see it in his face and I wouldn't been happy .. if he wasn't. When I first came up to him, I felt very out of it. I needed him to re-say his questions, because I definitly wasn't there. By the terms I was more alert and gave him straighter answer. He asked me about my "lack of confidence", which was part of my mental subject (self-confidence). I said that I lost my confidence when I hurt myself and took awhile to re-gain it. After a quick answer, he left it alone. As I said before, he was proud of me and ... he told me that during our hand shake. Oh... I mentioned how I was tired and he said not to worry about it.

My New Belt: I was the last one to head up for my belt. Jr. was first, Lloyd, Stephannie and my cheering section.. Jessica, Natasha and Amanda. Each one said good job and some kind of form. The funny part came next, I had my old belt off and was getting my new ready. I COULDN'T OPEN IT UP! I tried alteast 5-6 times to seperate the belt to break it in and no such luck. I look up and said to Jr; "I need help please"! Obviously I wasn't the only one, almost everyone needed a hand.





Friday, February 12, 2010
This is a class for the books, I enjoyed it this time around. I went to the YMCA for my class tonight because I missed Tuesday night class. To start, this was sooo random, Jr. did a pattern, ha! I turned around in the middle of the group session and said "Jr. is doing a pattern to my instructor!" I watched it alittle bit. I like his breathing and how he uses in the pattern to time himself. That is inspiration for me.

I did the Intermediate class tonight and Jessica taught us. Matthew and I were the first two students, which was really nice to do a class with him. We did a stretching, warm-up and kicking combinations. I didn't like the combination: inside-ouside/o-i/spinning.

Group Work followed about shortly after. We did our 3rd highest patterns, which was Sa Jang, E Dan and Oh Jang. I was just happy to run threw my testing patterns then anything else. When I was doing my patterns, I rememeber to breath for each movement. It helped sooo much to comcentrate, focus and just count myself into the pattern.

Jess. then asked me to teach Sa Jang to an A. Green Belt, which I did. He got passed the first ki-op and then we baro-ed. I said that we are just going to focus on this until you know it. Matthew then came to relieve me and we did Self Defense together. They had the mats out, so I got to do take downs :D. It was so much fun, I love taking me down. I'm going to get permission from Jr. and Lloyd for Matthew to be my attacker at my upcoming testing... they let him.

Afterwards, we did alittle bit of breaking on on the bag... until Jr. called us in. We did our highest pattern, which went good.. and then we finished the class. I shoked Jr's hands for the first time in months. Afterwards, I went to the coffee shop and talk to one of the girls. She was apparently at the club last Saturday and I didn't know about it. She said, she only knew me and just watched me. I said in response: was I terrible ...lol. She was amazed on my flexability in my kicks, which I was surprised. I also said, the day I was teaching aswell. I told her, you definitly need to try one class...so I could bug you and work you hard :D.




Saturday, January 16, 2010
Class Today. I got there just before Jessica arrived, so for 10-15 minutes we sat down and talked. Lloyd came over and Jessica mentioned how I need a testing form for this month. I haven't made up my mind about testing and Lloyd basically made it easily for me to decide. He said, that it's best to wait for atleast another month. He said that I need to do a few "full" classes and see if I get tired or sore afterwards. Hey, atleast he spoke up and told me what he thinks! I said to Jessica, I really needed to hear that from him. I broke the news to Joey afterwards when we did our own work and he thinks it's the best thing to do.

Class started and I went to the back and helped Ethan and Alex (our little white belts). There's actually coming along nicely, but still needs to learn allot for yellow belt. I stayed back with them during the kicks aswell and did the kicks myself. I'm proud to say that my kicks are mostly at shoulder level now! I said outload what was coming next and when Jessica said a command (like switch), I said it again for the kids. They did each kick except for spinning kick, I told them to return to snap kick.

Afterwards, Jessica asked me first what group I wanted... Yellow or White. I took the white belts (1 adult and 2 children) and Joey took the yellow belts. The children went straight to our area in the back, atleast they know where to go. I got them into fighting stance and they did snap, roundhouse and side kick on the paddle. Afterwards, we did a game... the one we do into a little ball and the person jumps on top of you. Blocks was next and after I got the adult to do her pattern. When her pattern was done, I did my Oh Jang for the children.

Game #2 was next, army crawling with Horseriding stance. I said to the Connie, I'm sorry that we played games, but I did it for the children. Some sparring rounds was next. There was three rounds, the two kids, Connie and myself and then a 2-on-1 with me (the kids really liked that). All the way threw the group session, I kept my voice load and cherry ... which kept the kids going.

Jessica then took all students and left Joey and I alone for our group work. We did Sa Jang and at one point Joey couldn't understand some parts. I mentioned how I do and he didn't believe me that I was right. Lloyd had to correct him and I was right at the end. We did Sa Jang another 3-4 times and started Oh Jang. Now again for Oh Jang, I commented how he was doing 3 snap kicks at the beginning and not 2 (which I always do). Lloyd came over and I said how Richard, Scott and most of the instructors taught me with two. Lloyd got both Joey and myself to do the first part of the pattern. He still agreed that I was doing it ALL right. This is good for Joey to learn before the actual test.

During patterns with Joey, I tried to work in some of the pointers from last class...and I think it went well? We returned did acouple more rounds of Oh Jang and then started SD. When SD was done, we helped the white belts for a moment and then called it a day.


1 2 3 4 5 6 7 8 9 10 11 12 13 14 15 16 17 18 19 20 21 22 23 24 25 26 27 28 29 30 31 32 33 34 35 36 37 38 39 40 41 42 43 44 45 46 47 48 49 50 51 52 53 54 55 56 57 58 59 60 61 62 63 64 65 66 67 68 69 Last Page

Get An Email Alert Each Time BULLET Posts