Monday, August 23, 2010
My teaching is going great! I was evaluated today, my lecturer watched me teach art. Her only negative comment was "who in their right mind teaches art when they are being evaluated?". The answer is ME! And I'm not in my right mind, I'm going to be a teacher and you have to be a little crazy for that! The lecturer then continued by saying that I have all the makings of a fabulous teacher and she is sure I will go far! WOOOOOOOOHOOOOOOOOOOOO

In fitness related news, I went for a 3km walk this morning. I ran a little because I felt like it, but I'm sore now, so I'm glad tomorrow is a rest day! I know it isn't recommended to run 2 days in a row when you are new, so I won't be doing it too often. I was just pumped, got caught up in the moment! Pearl and Mavis are serving me well and I looked forward to my walk because I know I was going to be able to wear my shoes!

In eating news...yeah... It was my boyfriends birthday last dinner last night at his parents who can't cook healthy if they tried. I managed to snatch some cauliflower before it got covered in cheese sauce and cheese, so that was fine. I also had a potato and some of the roast pork. There was no gravy, which was a good thing because I can't say no and I drown my plate in it. Then there was the cake.... Chocolate mud cake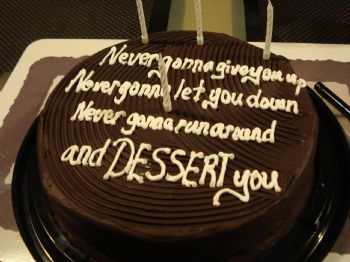 Yes, I Rick Rolled his cake. He appriciated it. We are weird, but OK with that.

I had 1/12 of the cake with a dollop of whipped cream. I didn't, however have the magnum ice creams that were on the table, I only had one piece and I didn't have the leftovers when I got home. I took some of the cake to school and gave it to my associate and the teacher aide and I had a piece with my lunch. The rest is going to school with the boyfriend tomorrow.

We have also been eating out quite a bit for a few reasons but I have been halving my portions or sharing with the boyfriend, as well as trying to make good choices! I'm getting there!