Tuesday, February 22, 2011
Right, hi. This is pretty much just for me to get stuff off my chest. I feel like I did when a girl in my class died when I was in school; I don't feel I have a right to be upset, yet I am, and I just have to go with what I'm feeling.

For those who don't know, there was another major earthquake in Christchurch this afternoon, follwing a major quake in September and basically non stop aftershocks. A friend who used to live there (moved a few weeks ago, thank goodness) told me "after a while you just get used to the shaking".

The first quake happened in the middle of the night and the damage was serious but no one was killed. Today it was in the middle of the day and the death toll was 65 when I turned off the TV.

I was sat on the couch glued to the TV for 5 hours (2 hours inbetween we went to the movies, tickets were booked) and I watched as people were pulled from buildings. I watched the pictures of this city, destroyed. I visited Chch a few years ago and it was disturbing to see the places I had been half ruined. Just to show you, here is what is left of the cathedral in the main square.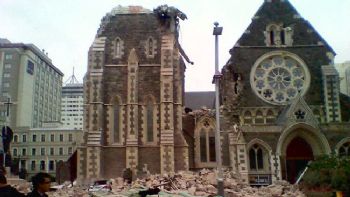 The last time I was in that building it was September 11, 2001 and I was lighting a candle for all the Americans who lost their lives. When I realised that I had to stop for a second.

I'm sad that my country is having to endure the effects of another earthquake and so sad for my fellow kiwis who have lost their lives today.

My dad, who is in the military is on standby to go and help out, as is my friend who recently moved from Chch to a milatary base to start his training.

I'm sure I'm not the only kiwi who is feeling like this tonight, and I don't even know anyone who is in the city. This is a sad day for NZ, but I know we will come together like we always do and we will get through this.

Kiwis, I have started a thread on our team board so we can keep in touch with other kiwi sparkers and give our support to those in Chch.