| | |
| --- | --- |
| | BROOKLYN_BORN's Recent Blog Entries |


Saturday, November 03, 2012
How about preventing weight gain in the first place?

Now I don't expect SP to be inundated with new members in their appropriate BMI range, but I'm glad to see a team of those with "Less Than 10 Pounds to Lose." My daughter is in that group. I understand that such a group can be diverse, including those who have managed a significant weight loss and now are working on the last difficult 10 pounds. It also includes those who have seen the first stage in the weight gain that affects so many of us.

10 pounds may not be concerning to a 200 pound man, but to a petite 120 pound woman, that's about 10% of her body weight. That may not yet be cause for alarm, but it's certainly worth considering the reason that it occurred. Without an honest assessment of lifestyle, that 10 pounds can turn into 20, 50 or more quite easily. For many of us that's exactly what happened.

The National Institute of Health maintains that "your weight may be affecting you more than you think… that even a few extra pounds each year can affect your quality of life"
www.nhlbi.nih.gov/health/public/hear
t/obesity/lose_wt/onepound.htm
Weight plays a role in blood sugar levels, knee, hip and back pain, sleep apnea etc. as well as the risk of serious disease. Losing even a small amount reduces those risks.

I definitely AM NOT referring to the few extra pounds we all seem to gain over a lifetime. I'm perfectly happy 13 pounds more than that sweet young mother I used to be.
(pictures here:
www.sparkpeople.com/mypage_public_jo
urnal_individual.asp?blog_id=5117642

I mean the few extra pounds that are added year after year until we reach that moment – Yikes! Who is that in the mirror? Or worse - whew, that was a steep flight of stairs!

I also DO NOT advocate badgering our children (usually daughters) into being obsessive about their weight and appearance. Well meaning efforts in that direction can be counterproductive at best and positively dangerous at worst.

That's why I love SP. The message here is a healthy lifestyle, not some quick fix diet or pill. It's like taking the wrong turn on a road trip. I would much rather discover my mistake 10 miles down the highway rather than 50.

I've written about my Dad's struggle to quit smoking. He told me that the easiest way was never to start. Similarly, obesity happens one pound at a time. So does preventing it.






Friday, November 02, 2012
I clicked the wrong category when registering for the SP 5K challenge. OK, no problem . This time I'll be a walker keeping one foot on the ground at all times.

Imagine my surprise to see that we've got world walking records here on SP. Some of the times recorded here beat the top women in the world. It looks like some others may have clicked the wrong category too, just in the opposite direction.

When it comes to diet and exercise, we often tend to underestimate what we eat and overestimate our exercise and calories burned. I use the database to search for foods that I don't eat often enough to be favorites that I enter myself. How happy I was to find that my name brand snack crackers had NO SODIUM AT ALL! Uh, no. Somebody obviously forgot to enter that line.

It's also easy to overestimate the distance we travel and underestimate the time it takes to cover it. I've done this myself, but the worst example was a colleague who told me she was walking 2 miles a day while at the conference we were attending. I congratulated her for finding the time for that and she replied that it only took 20 minutes. She walked from the hotel to Dunkin Donuts and back. Aside from the irony of her destination, Dunkin Donuts was only ½ mile from the hotel.

According to the US track and field website:
An ordinary person out for a walk averages about 16 minutes per mile or 3.75 miles per hour, a typical treadmill setting. A fitness walker tops out at about 12½ minutes per mile or 4.8 miles per hour." I know that beyond 4.6, I would be jogging not walking.

So, we would expect the recorded times for the SP 5K walk to be between 38 and 50 minutes for the fittest walkers among us and that seems to be true. There are a lot of people in that range, but some have reported covering the course in half that time. I know that it doesn't really matter. It's not like there's an Olympic medal at stake, but it brings up an interesting point.

When studies are done or claims are made using participants' self reported data, how accurate is it, really? Here on SP we are self reporting daily in our trackers and generally getting great results. Sometimes though, the results are not what we expect or want to see. Then it's time to reevaluate. Are we really doing what we said we're doing or have we just done the equivalent of clicking the wrong category – an honest mistake.

In any case, congratulations to all who completed the 5K Challenge regardless of your final time. The challenge is worth it, however we covered the distance or how long it took us. We do it for our health.

Throughout this journey we just have to be honest with ourselves and patient too. There's a solution out there for all of us.







Thursday, November 01, 2012
There was an article awhile ago asking if fat is the new normal. Recently I've been reading posts about people being called skinny and obsessive when they are actually in the normal BMI range.

The number of people reporting this phenomenon is cause for thought and even alarm. Apparently, just as some people stigmatize those who are overweight or obese, we now find people in the normal BMI range being put down as "skinny" or even "anorexic."
Even those above normal BMI, just trying to eat naturally and healthy, risk being called the "food police."

While the term "couch potato" was coined to describe someone who never exercises, suddenly people who workout regularly are hearing terms like "obsessive" or OCD being tossed their way.

I understand the tragedy of anorexia and other eating disorders as well as the difficulties faced by those with OCD. So it is disheartening to me to see these terms used pejoratively against those trying to live an active, healthy lifestyle. Being at goal weight isn't the end of the journey. Maintenance is a continuing commitment.

Some posts mentioned that people applying those terms were just jealous and perhaps that is the case, but those are hurtful, harmful words nonetheless. Would being confronted with that attitude consistently be enough to bully someone into backing away from their efforts? It's hard enough to turn one's life around without others throwing verbal obstacles in our path and filling our minds with doubt.

Since the overweight/obese population outnumbers the normal weight group 2 to 1 and the gap is still increasing, will we be hearing more of this as time goes on? The majority tends to make the rules. Normal BMI people and even those a bit above the normal range look skinny in today's environment.

There were many suggestions as to appropriate responses. Ignore them, laugh it off or stand up to them with a pointed response of our own. As with any bully, I tend to agree with the last option. That "turn the other cheek" thing is something I haven't quite managed to achieve yet.


EDIT: To clarify a point raised in the comments:
I chose "normal" BMI instead of "healthy" BMI because as others have maintained, you can be healthy even if somewhat outside what is defined as a "healthy weight" range and I agree.
There are always outliers in statistics, the professional football players who are above the range, and the world class gymnasts below it. I agree that both are healthy, but not many of us fall into either category. Most people fit somewhere in the middle.

A little above shouldn't be a problem, but there was an article a few weeks ago that insisted that a woman can be healthy at 5'4" and 225 lbs. I think that sends the wrong message to the average person. Is there no upper limit? The same destructive message applies at the lower end where eating disorders require serious intervention.

Another Edit: How about "recommended" BMI to refer to that range that most people are trying to attain?

Yet another Edit: For future blog posts I've settled on "appropriate" BMI to indicate that after careful consideration and honest self evaluation, everyone can decide for themselves.





Wednesday, October 31, 2012
I was probably about 9 years old and I remember that vise-like contraption that my mother and most of her friends used to wear. For you youngsters, it's what you would call a body shaper today. Except we didn't have the terrific fabrics you see now. Ours were heavy and tight and even had some strips of plastic through them. Synthetic whalebone, maybe?

Anyway, while other mothers may have told their daughters to stand up straight or given them some other bodily advice, mine regularly reminded me to "hold my stomach in!" And I did. After a while it became a habit and thinking back, it was probably the main reason that I was the sit-up champion of gym class.

A comment on my blog yesterday asked if there was any exercise I used to "stay trim in the middle" and I immediately thought of Mom.

After my 3rd child was born, the doctor at my 6 week checkup actually asked what I did to get my tummy back in shape so quickly. Nothing! Like a rubber band it just returned to normal. No stretch marks either. Now, before you hate me, I did get stretch marks on my boobs, rear end and thighs. They didn't have the muscle support my stomach did. Too bad Mom didn't have some warning advice about those parts of my anatomy. I could have saved a lot on gym memberships.






Tuesday, October 30, 2012
I can't call these pictures before and after, because they're really before and back to before – decades later.

I made this colorful jumpsuit for a trip to Hawaii in 1970 (meeting DH for RnR from Vietnam). This photo was taken in 1972 when our daughter was almost 3.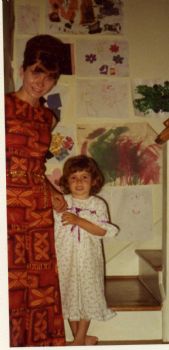 Here I am, older, wiser and in the same outfit in October 2009, exactly 3 years ago when I reached my maintenance weight. I'm still there.
On the wall is a picture of our grandchildren taken 7 years ago. They're a lot bigger now.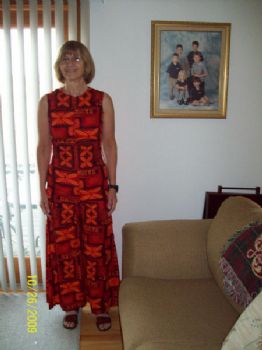 Disclaimer: I do weigh 13 lbs more than I did as a young mother 40 years ago and that's just fine with me. I really don't plan to wear this thing out anywhere. It's simply a nostalgic trip down memory lane.

I wonder what else I can find in my photo albums that might still be hiding in a closet or box in the basement?




First Page
1
2
3
4
5
6
7
8
9
10
11
12
13
14
15
16
17
18
19
20
21
22
23
24
25
26
27
28
29
30
31
32
33
34
35
36
37
38
39
40
41
42
43
44
45
46
47
48
49
50
51
52
53
54
55
56
57
58
59
60
61
62
63
64
65
66
67
68
69
70
71
72
73
74
75
76
77
78
79
80
81 82 83 84 85 86 87 88 89 90 Last Page

Get An Email Alert Each Time BROOKLYN_BORN Posts