| | |
| --- | --- |
| | BRITT831's Recent Blog Entries |


Thursday, June 02, 2011
So tonight was the first time I ate out as an Intuitive Eater! Hubby and I went out for dinner just the 2 of us at Chili's. Overall, I was upset with the situation, but not the food. We sat in the lounge and didnt realize there was a group of 4 chics out on a girls night and being SUPER loud! At first it was quite funny. They were 2 tables away so it wasnt that bad at first but then one of em got louder and louder and I couldnt even hear my hubby. I tried to ignore it and focus on our evening but as the night progressed and it was time to leave, it dawned on me that I had been robbed of personal time with my hubby.



On the good side, I ordered what sounded appetizing and not what was 'less calories' or 'less fattening'. We had an appetizer and even chips and salsa. Then the main entree and even dessert! I was so proud of myself for being able to tune into my body at different parts of the entree and 'check-in' if I was full yet. At one point, lil over half my plate gone, I wasnt sure if I was hungry still or full. I made a conscious decision to push it away and ask for a to-go box anyways. We ordered dessert and I stopped short what I usually would, not feeling full yet. Im glad I did too cuz abt 15mins later I felt myself feeling that full signal. Not stuffed but satisfied, happy.



So this Intuitive Eating process seems to be some good stuff.





Thursday, June 02, 2011
So yesterday after breakfast I remember feeling really nauseous. I couldnt pinpoint the reason so I brushed it off. Fast forward to today, and Im feeling nauseous again after breakfast. Yesterday morning I had a spinach, cheese, and sausage omlette with a piece of cinnamon raisin toast with butter, a few strawberries (omg - the strawberries were awesomely sweet!), and a cup of water and abt a half cup of milk. This morning I had a bowl of oatmeal with brown sugar, 2 chocolate kiss muffins (my own concoction - pic at the end of blog!), a fruit cup of pears, and again, a cup of water and a half cup of milk. The only common denominator is the milk . . . is it possible for me to become intolerant of milk after all these yrs??

I used to drink milk a lot. Like a full 8oz (atleast) daily. Well back a few months ago I tried the whole low carb thing and cut out the milk. I realized I didnt miss it much (and I am taking a calcium supplement) so I just never went back to drinking it much. Every now and then I will have a small cup (like 4 oz) with breakfast or a real rich dessert.

Any thoughts on this??!!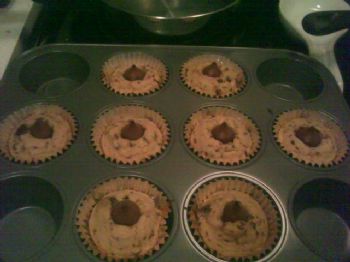 CHOCOLATE KISS MUFFINS ~~~ I used a chocolate chip muffin mix and added 11 chopped up Kisses to the mix. Baked em as stated on package and after 10mins of cooking, I placed another full Kiss on top of each! (btw I made 8 smaller muffins outta the mix instead of the 6 suggested amt) Very yummy and satisfying!! I had leftover Kisses from decorating my daughters bday cake and HATE em hard and cold. (we live in FLA and most chocolate left out of the fridge will melt easily) They were a great touch and the texture was amazingly soft atop of a hot muffin - mmmm!

Hunger Honored!





Wednesday, June 01, 2011
So as I sit here, and why Im sitting here, Im fighting this ever so present desire to eat. Ive been at this process of finding the Intuitive Eater in me for a few weeks and I know my hunger signals. Im doing really well at honoring my hunger.

But its the evening again and I have this desire to eat. Im not biologically hungry - I know it has something to do with emotions but Im not sure what or why. Im relaxing at home, watching a new season of a dance show (So U Think U Can Dance!). The hubby is playin WOW, my oldest child is playing nicely by herself, and the baby is asleep already. I dont feel upset, lonely, or bored. I am feeling a bit tired tho.

Not like 'eyes burning, Im gonna pass out' tired tho. Just a bit run down. We have been at Sea World for half the day and then the pool and hot tub for a cpl hours.

Is it possible I wanna eat cuz Im tired???!! That doesnt sound right but maybe? Im gonna do storytime with my daughter in 15mins and then head to bed myself.

I do feel a bit more in control now that I have finished this blog.

Sweet dreams fellow Sparkers!






Tuesday, May 31, 2011
So does 'uncondition permission to eat anything' equate to 'unconditional permission to buy anything'??? I went grocery shopping today and money wasnt an issue so I took it aisle by aisle and really listened to what my body wanted.

Every now and then I would reach for 'low fat' or 'whole wheat' but I caught myself and asked myself this question : "Do u really WANT this or are u grabbing it cuz u 'always have'?" Most of the time I switched versions and told myself if I dont like the taste/texture/smell of it when I eat it then I will toss it out and buy the other version next time.



I ALLOWED myself to grab a few 'junk foods' (as I USED to call them) and I look forward to trying them CONSCIOUSLY now.

Another success : Earlier today I was gettin a bit stressed (being a stay-at-home-mom of 2 young kids WILL do that!) and I grabbed a bowl of Froot Loops.

Knowing I could be eating out of emotions, I stood there in front of the bowl and asked myself if I was hungry. I could feel my tummy grumble, so I sat down and started eating. It satisfied my sweet tooth and I stopped mid bowl, checked-in with my hunger, felt that I was no longer hungry, and stopped eating. I still had a half of bowl left but I was done! I told myself it wouldnt taste as good as the first few bites and that theres no reason to eat something that doesnt taste good.



So today has been pretty good. Went down to the pool this evening and the hot tub was actually HOT! LOL - it was so nice, it relaxed my whole body. We came home around 9pm and both kids have been asleep since 10pm.

Im gonna try to get back in the swing of my morning, "me time" walks again. 530am is so early but I always feel so good after I walk in the morning and I almost always have a better day, as opposed to the days I sleep in til 73oam. We will see what my body wants to do at 530am tomorrow.



Keep Sparkin, my friends!




Monday, May 30, 2011
OK, so its abt swimsuit season again and recently, like the last month, Ive become more comfortable w my body. I have gone from a one piece to a 2 piece tankini and now an actual bikini!

I always had the feeling that if I didnt wanna see it then no one else does either. But one day something clicked. I think I heard myself talk abt my stretch marks from the 2 pregnancies and how they are 'battle scars' that I proudly wear. Well I never showed em, along with the rest of my 'middle' cuz I do have an extra roll and a lil belly and after all, "if I dont wanna see em, no one else does" right?! Well since then I wore my bikini top (from the swimsuit I wore at 200lbs before I got preg) w my swim skirt and love it! I feel so feminie and dont care what others think of my body. I even started tanning a lil - Im sure u can imagine how PALE my tummy is comparedto my FL girl tanned shoulders, arms and legs.

Anyways, I was looking for a new top (after all it was 4 yrs old and some of the stores in mall are having swimsuit sales) and started seeing all the cute suits. The green eyed monster started showing his ugly head. I want to be able to wear a regular bikini bottom! My skirt is a plus size, fitted for a few inches and then flowy as to not hug all the wrong spots. So I started looking at my body and the same idea keeps coming up . . . I have this pouch, this belly that hangs like from rt below my belly buttom to over my "ya know". I dont remember never having it there. While many chics worry abt the muffin top effect over their jeans (I do too now that I had my second baby - he stuck out way further than my first and I have yet to get back the flat stomach I once had) I always had the lower belly problem. Even went 'commando' for a few yrs bc it was embarrassing to wear high-waisted (granny) panties and the lower ones never came high enuf to not roll down under my lower belly.

So now that u know the inner workings of my brain on this issue - LOL - I started having these crazy thoughts. Is there a cosmetic surgery that would get rid of this belly? I know Im overweight and I can lose weight but the thing is, will this lower belly ever go away? If its possible and a dr says it can with exercise and eating healthy, then the thought would be brushed aside. I just feel like its been there for so long that maybe its something that Id need surgery for anyways once Ive lost the weight. Ive already been thru 2 c sections and a tubal, and I came thru those with great recoveries and yeah, not the same but my body reacts well to surgery is what Im pointing out. I would just DIE to be able to wear bikini bottoms or even bikini cut panties. I dont even want a FLAT tummy. Just a good bit of it taken away.

I know Im probably gonna get a variety of comments from a wide spectrum of reactions and I WELCOME THEM ALL!!! I really wanna hear anyone and everyones opinion on this matter. If u have had this lower belly and lost weight, what was the results of it? Did u lose the belly? Did u have to accept ur body for what it is?

Thanx in advance for being open and honest!


First Page
1
2
3
4
5
6
7
8
9
10
11
12
13
14
15
16
17
18
19
20
21
22
23
24
25
26
27
28
29
30
31
32
33
34
35
36
37
38
39
40
41
42
43
44
45
46
47
48
49
50
51
52
53
54
55
56
57
58
59
60
61
62
63
64
65
66
67
68
69
70
71
72
73
74
75
76
77
78
79
80
81
82
83
84
85
86
87
88
89
90
91
92
93
94
95
96
97
98
99
100 101 102 103 104 105 106 107 108 109 110 111 112 113 114 115 116 117 118 119 120 121 122 123 124 125 126 127 128 129 130 131 132 133 134 135 136 137 138 139 140 141 142 143 144 145 146 147 148 149 150 151 152 153 154 155 156 157 158 159 160 161 162 163 164 165 166 Last Page

Get An Email Alert Each Time BRITT831 Posts