| | |
| --- | --- |
| | BREW99's Recent Blog Entries |




Friday, February 11, 2011
Sorry about the delay, I have been taking photos but haven't had the time to load them onto my computer. Finally I am getting to the photos and also my daily blog entries. Today I also put up a few recipes onto my site. http://genkikitty.wordpress.com/ It's just my personal blog for fun and to share recipes and ideas with others.

Anyways, on to the food:

Breakfast: Cabbage and Rice Breakfast. I also had a few kernels of raw cashews, a blood orange, and Pirates Brew Coffee (or so I like to call it Pirates Booty). (299 cals)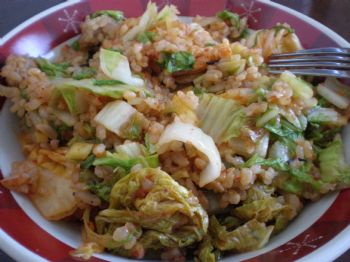 Lunch: Tofu Shirataki Noodles made into low-calorie mac-n-cheese. Also had a little baby bok choy drizzled with a little apple vinegar from a farm in MI. (178 cals)



Snack: Adina Holistics Passion Peach Drink. It's an all natural, vegan drink. I drank a few sips but then wasn't into it so I stopped and placed it back into the fridge. Additionally I made vegan vanilla cupcakes for my husband but then ended up eating two of them. Oops! No topping though - they were good right out of the oven.

Dinner: A little of everything thrown together for a meal since it's leftover week. We had some plain chinese noodles with tomato sauce & homemade japchae made with thai baked tofu. (422 cals)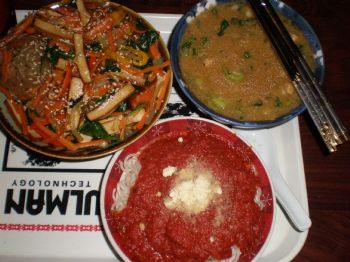 Total calories for the day: 1,220

Cute Photo of the Day: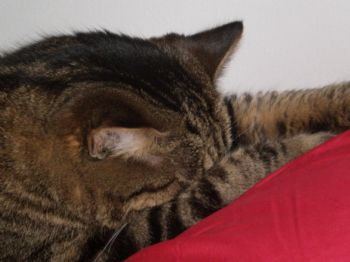 Wednesday, February 09, 2011
This last week has been a strange week since it is ďleftover weekĒ. This is basically the week that we take all those little bits and pieces from the fridge and come up with some food ideas without going to the grocery store. Yes we miss our fun time together going to the store but it is a good green way of clearing out the fridge. Sometimes we have the best entrees though from inspiration of ingredients in the fridge. So, you might be wondering why the meals look strange today, but its mid-leftover week. Haha

Exercise: I braved the freezing cold wind and sunshine to enter the gym. I ran for a total of 99 mins. I ran two miles to warm up and then I went ahead and did a session of fartleking. If you arenít sure what this is go to runnersworld.com and you will find great information about it. I had 670.8cals burnt shown on my treadmill. My nike+ that has my personal height and weight input, I burnt 543 calories. I could understand a little difference but that is way off. Not sure what to trust now. I haven't seen a difference in my weight, so I'm wondering if I have to do more.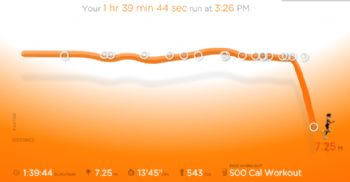 Brekkie: Rice melody with leftover Korean Brown Rice with hijiki. It was ďinspiredĒ by the brown rice and kimchi leftovers in the fridge. It was slightly spicy and with the additional ginger root that I threw in, it left my breath smelling neutral. Love ginger! Additionally had a Deva Multivitamin and Mineral Supplement (Vegan) and also Pirates Booty coffee. (252 cals)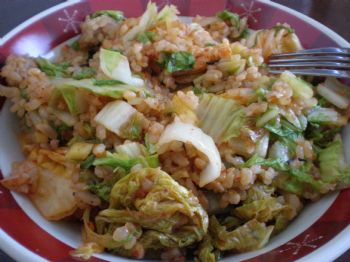 Snack: Spring Oreos again. Grrr to myself. I know they arenít really good for my body but then I am working on binge eating still so I have to give myself some credit. Thankfully I convinced my husband to take it to work with him Ė so itís out of the house.

Lunch: Nothing was inspiring me so I had tried a few things but nothing tasted good at all. Have one of those days that you just donít want to eat anything in the fridge? Today was my day. Tried to think of something to eat but nothing was sounding good. Then I went ahead and made oatmeal with chiaseeds but it wasnít satisfying. I threw it out (hate when I do thatÖ) So, I finally grabbed a Korean drink that is somehow made from corn. It was delicious, reminded me of Japanese corn soup that my Japanese mother used to make for me when it was cold outside. Mmmm It was zero calories. Then I took orbit gum and chewed on it to the gum as I walked there. I have picked up this habit for some reason or other and love it! Have you tried chewing on some gum before a workout? Gives you energy to have fresh breath, Iím sure the other people there wonít mind either. (97 cals)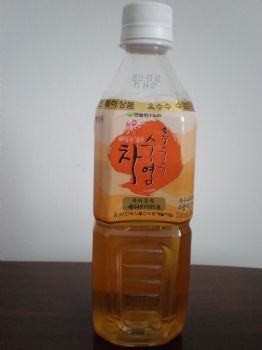 Snack: I had half a container of Mango Coconut Water by Zico at the gym. Yum! Seriously, if you havenít tried this after a long workout, or in the middle like I do, you are missing out! I snacked on a few pretzels as I made dinner for the hubster. Only a handful though so nothing crazy like I normally would have done. Drank some water too since I had just gotten out of the shower from the gym.

Dinner: Before I left for the gym I took a gander at the Post Punk Kitchen (Love Isa!) for some inspiration for tonightís dinner. Yes! She always has something for me, thanks Isa! We had a pkg of tempeh in the fridge so I picked Tempeh Helper. Yes, itís just what you were thinking when you read it, tempeh inspired Hamburger Helper. So much fun! We really didnít have this as a child but my husband does remember it. Plus, itís always fun to eat a healthy, vegan version of something isnít it? Totally pleased with the outcome of the entire meal, yay! I didnít have any special noodles, so I ended up using Ms. Leepers Corn pasta Ė itís tri-colored. The pasta was a little messed up looking but it did work as far as taste was concerned. Thatís the most important thing correct? Also, I added some bok choy for something green. I just steamed it a little in a pan on the stove. Husband also had some steamed edamame. (340 cals)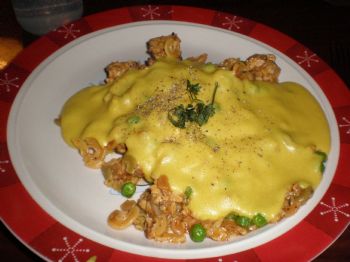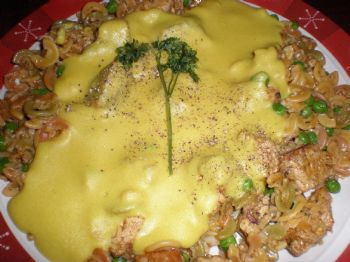 Snack: Yes, there was more food. I had Trader Joes Candy Cane Herbal Green Tea and some Japanese puffed chips (just four). (total snack calories for the day: 354 cals)

All in all, I had an okay day but I wish I would have eaten healthier. I think I need to go back to planning all of my meals just to make sure that I do not have any issues with missing meals and then snacking. I did exercise a little more than normal though to make sure that I was working off some of the oreos that I ate.

Eaten 1,044
BMR* 1,557
Exercise 345
Total Burned 1,902
Differential -858

It's cold in my home office, can you tell why? Oh, have to love your furry babies!






Tuesday, February 08, 2011
Monday, Monday, MondayÖ Normally, Monday is all about checking emails and setting up assignments for me in association with my goals for work and home. Today was different; it was all about doing personal and business taxes. Always a fun task! (Could you hear the sarcasm in my voice?) I have two major university degrees, speak a few different languages and seriously reading the instructions for taxes is like a whole new league of understandability beyond my comprehension. Finally I just about finished our federal and state taxes but still have to start the city taxes. Crossing my fingers I can finish them on Tuesday. It was even more hard with my "helper", see photo.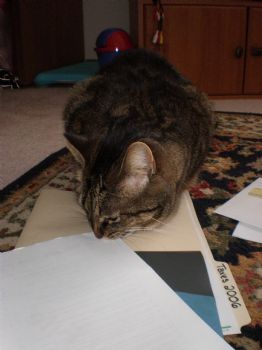 Enough grumbling, lolÖ My route for exercise was more mental than physical. By the end of the day, I was completely fatigued and mentally weary. So, we chose not to exercise Ė at least tax season is just one time a year. The hard-working man was bogged down too. Perfect timing for a night off from physical activity, or is that just an excuse?

We were able to go out for an hour or so and test drove two more vehicles. I really liked one but then really disliked the other one. Unfortunately the car that I really wanted to try out was just sold, boo! But, at least I found one car we are seriously thinking about Ė so hoping for the best.

Iím a little down on my food choices though. I managed to stay within my calorie count for the day however I did find that I was eating too many snacks. For some reason when I am doing taxes, I tend to snack. I snack more when Iím doing something that takes incredible concentration Ė maybe itís because Iím burning more through determination. These snacks were not the best choices since my calories were going in the wrong directions and not providing my body with the right calories. This is something that I have to work on still.

Brekkie: Coffee, of course right, and a sandwich. After living in a foreign country, I have learned to not conform to just having a traditional westerner breakfast. I have not problem eating a sandwich for breakfast. It was tofurky Ė no meat.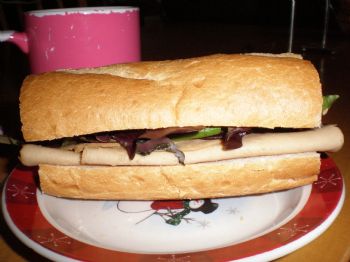 Snack: Oreos (yes they are vegan!).

Lunch: Mixture of veggies and vegan hot dog for higher protein.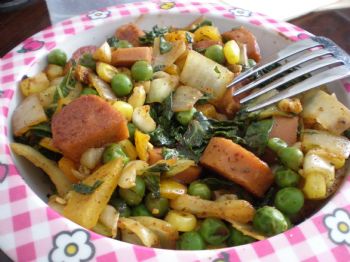 Snack: Collon, a Japanese snack. After we test drove a car, it was getting late so we ate a Melon Pan (Japanese sweet bread) together on the way home.

Dinner: Straight from the crockpot, 15 bean soup. Additionally I had some pretzels. Note: I do not use the seasoning pkg that comes with the mixture. I use a little vegan broth and then make the recipe from the back of the pkg. Hence, it's vegan.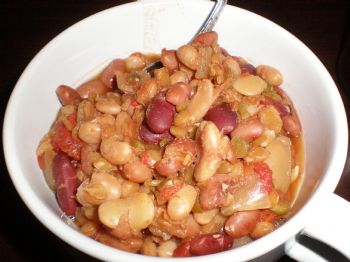 Eaten 1,295
BMR 1,557
Total Burned 1,557
Differential -262





First Page
1
2
3
4
5
6
7
8
9
10
11
12
13
14
15
16
17
18
19
20
21
22
23
24
25
26
27
28
29
30
31
32
33
34
35 36 37 38 39 40 41 42 43 44 45 46 47 48 49 50 51 52 53 54 55 56 57 58 59 60 61 62 63 64 65 66 67 68 69 70 71 72 73 74 75 76 77 78 79 80 81 82 83 84 85 86 87 Last Page

Get An Email Alert Each Time BREW99 Posts