| | |
| --- | --- |
| | BREW99's Recent Blog Entries |


Sunday, January 09, 2011
Happy New Years Everyone! I just wanted to give you all a heads' up that I am going to be starting up once again on January 10th, 2011! I caught a nasty virus that has been hitting me hard since Christmas. I love my nieces but the two little munchkins are sure germ carriers! Gotta love them anyways though.

So, during the days I was able to stay awake for more than ten minutes and not be coughing up a storm, I have been able to really think about what I wanted to do with my resolutions this year. Things are going to get shaken up and really exciting for 2011! I can't wait, I'll clue you all in tomorrow!




Tuesday, December 21, 2010
Lately I have been taking photos and talking about the foods that we have eaten. Unfortunately I am still a little lazy to connect the camera to the laptop. haha But, here are some missing photos that I have promised.

Refried Bean Soup - minus the black beans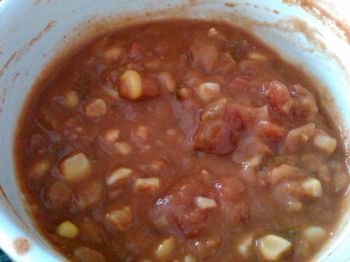 A little sweet here and there isn't that bad... Homemade Vegan Chocolate Thumbprints along with Westsoy Mint Chocolate Soymilk.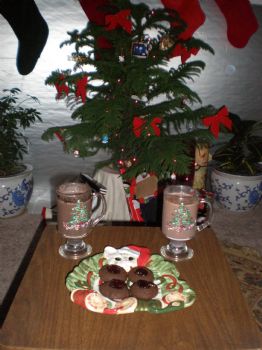 Vegan Veggie Fajita wtih Seitan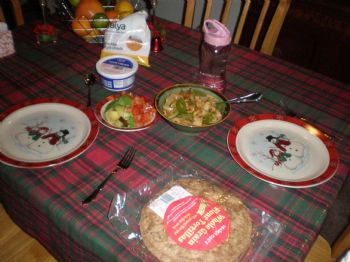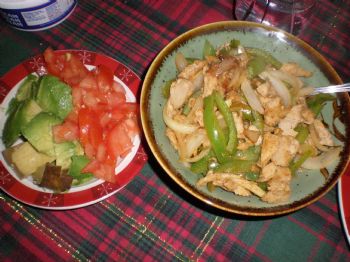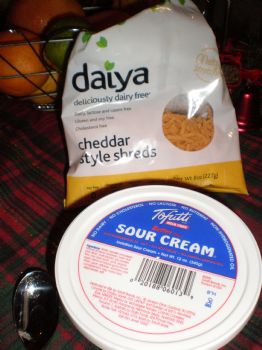 Avocado Pesto with Brown Rice Pasta & Steamed Broccoli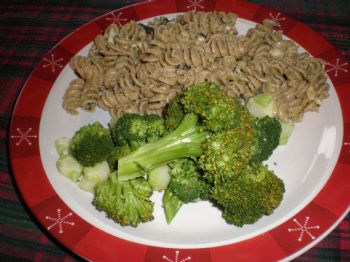 Mock Meatloaf - healthy Old-fashioned Lentil Loaf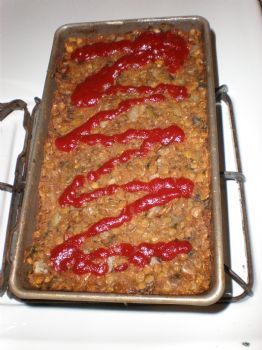 Entire Dinner made from Leftovers in the Fridge: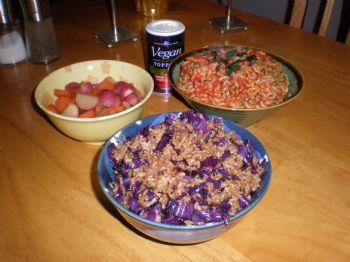 Carrots & Radishes steamed with a little veg broth (side dish)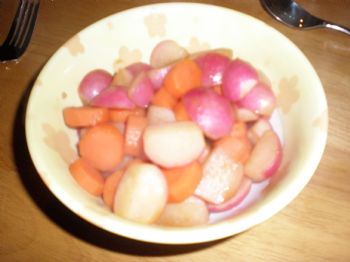 My favorite thing that I whip together: Leftover rice with hijiki, cabbage and a little reduced sodium soy sauce.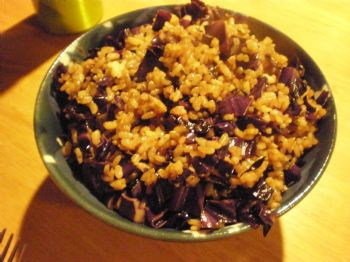 Vegan Pizza!!! Yum!!! Whole wheat grain pizza dough with daiya cheese and mock pepperoni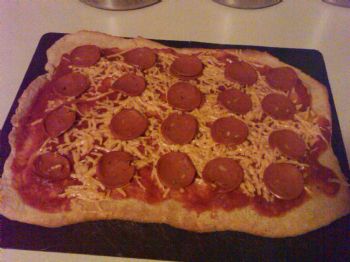 Monday, December 20, 2010
My mindset is upon the holiday season that has fallen upon on us once again. It seriously seems like December keeps getting shorter and shorter and the years go by each year. But, I love the holiday season so I guess I can't complain too much.

This last weekend my husband and I stayed in just about the whole time - gasp, we even skipped church on Sunday morning. Sorry God, please forgive us this once... Since we had already completed our shopping a few weeks ago and everything is wrapped and placed under our living Christmas tree, we had the chance to spend a lovely time together. We made about 9 different kinds of vegan Christmas cookies to take to friends and family members and spread joy. Lots of Live365.com streaming Christmas music in the household and the sounds of too highly excited carolers belting it out. (Sorry neighbors) Our furry babies loved it the whole time!

Thankfully we had so much energy that we decided we would go ahead and exercise on Saturday and Sunday! Yay! Saturday I managed to run only 2.7 miles in 25 minutes. Not the best time or length but at least we did it. I was a wee bit congested still so I didn't want to overdo the running. Then on Sunday I managed to run just shy of 5 miles in one hour. These were both runs on the treadmill seeing that it was dangerously cold outside. brrrr...

I am seriously crushing on my Nano Ipod and NikePlus trainer. It is amazing! We have always used the Garmin GPS watch but that was my husbands' job. Now, I can keep track throughout my running and keep control of what I want to do in my run. The NikePlus has the option to pick what you want to track - ie, miles, calories, time and so on. It will keep track of everything, no matter what type of "workout" you want to choose. The difference is when you are running you can press the center button any time and it will give you an update on say the calories (which is what I did Sunday) that you have burnt. So, seeing that I wanted to burn off 500 calories it did a countdown for me every 50 calories. It speaks to you telling you every 50 burnt off. Then when you go over the amount it keeps telling you how much more you are burning. It is a great motivation technology piece. I highly suggest it!

So, on to the status report. I haven't done one of these in a long time but figured I might as well do one before the holidays to keep me thinking about controlling my vegan cookie consumption to a minimum.



The last few days I have been seeing 117 on the scale so I'm pretty happy with that amount. Being the holidays for me usually means not seeing any change so a pound lose is amazing! Then, when I got on this morning (I do it every morning), I lost another partial pound! I saw 116.6!!! I was jumping up and down (sorry again neighbors). My husband was laughing at me because I was taking photos of the scale just in case. haha I'll post it later after I download it.



Other measurements: Basically everything has stayed the same but I did see a decrease in since my last status report a while back in Oct
Weight: 3 pounds
Waist: 1 inch
Hips: same (not much to lose there)
Neck: Same(not much to lose there)
Thigh: Same (not much to lose there)
Upper Arm: Same
Waist to Hip Ratio: .03
Body Fat: .23

All in all, I'm really happy with my weight lose! My BMI states that I can be around 96 to 120 for a normal range however I'm working on less body fat now so that I make sure that my heart is as healthy as possible!





Friday, December 17, 2010










The sickness struck me a little again, it's been about a week now - I hope it ends before Christmas. Crossing my fingers! But, as long as I have a few boxes of tissues with me, I'm good to go. It could be a lot worse, so I'm thankful I'm still healthy and only have a tiny cold. Major side-effect = fatigue. Hello nice and comfy bed...

So I haven't really exercised today since I am still feeling congested and have heavy lungs. I opted for a nice hot bath with mint Epsom salts. At least I smell nice.



Breakfast was really hard for me since I was feeling really tired and congested in the lungs. Around 9AM I was finally able to eat some homemade whole wheat bread along with some vegan butter and Vegemite. Plus, I had a nice mug of Jingle Bell Java. Sorry no photo...

Lunch was again a disappointment since I'm feeling blue. I managed to have some Suzie's Thin Cakes (Spelt and Flax) with about a tbsp and a half of Whole Foods hummus. I'm downing it with an unhealthy selection of soda. Usually I don't have soda except when I'm not feeling good... it's an old habit, haven't kicked that part yet. Oops!

Dinner I suppose will be Lentil Loaf - a mock version of meatloaf. I'm trying right now to get the motivation to start the recipe which takes about two hours.

This weekend I hope that my husband and I can sit indoors and enjoy each others' company. We have had our Christmas shopping finished for a few weeks now.


We always try to get things finished early so that we can spend the last weekend before Christmas just for the two of us. It's our little celebration each year before the hectic extended family celebrations.

How are all of you celebrating the weekend?















Thursday, December 16, 2010
Yesterday was my first day to actually run with my new nano 5g and Nike+. Granted it was really cold outside so I had to run on the treadmill but unlike our Garmin, it actually calculated the distance and time. I'm a little confused though about the difference in time and also distance. The time was off by a few minutes and the distance was off by about .3 miles. That is a long distance for runners so I have to get that fixed. I have read that you can calibrate the system after each run, but I haven't quite figured it out yet. It was supposed to ask if I would like to calibrate it after the run (according to the instructions) but I didn't get asked. Anyone had to deal with that before?

I'll get used to it more and more. It is different than my ipod shuffle though since it is a little more weight and goes on the arm instead of being clipped to my outfit. I like the idea of the TuneBand that I purchased as an armband but again I have to get used to it. It has a silicon case that attaches to a band - which is nice because I read in some reviews that serious runners found that their nano shorted out so I was freaked. Some of you told me it was never a problem but I become attached to things easily so I would go crazy if it shorted out in a day or two. haha I'm crazy, I know... The thing about this band is that there is a hole for the Nike+ receiver but it sticks out. Since I have short arms, I found that the receiver was hitting my skin a lot when they were bent to run. I pushed it up but I don't think I had it tight enough to stay in place up higher. Gotta work on that too.

As promised, dinner from yesterday we have the wonderful Veg Fajitas with Seitan. It was the most wonderful thing! Nom nom nom I will place the photo here in a few hours.

For breakfast, my husband got his wish and we had donuts. Ugh! I really don't care for sweet things in the morning or throughout the day but what can I do when the husband asks for weeks. Gotta give in sometime. So, we had the probably not vegan Krispy Kreme Donuts for the Holidays. (I'm trying to tell myself it was 100% vegan to make myself feel better, but not sure if that is going to change anything.)




For lunch I packed my husband a lovely bento with the leftover Fajita stuff so I was left with nothing. I decided that it was a soup day since it was only around 22 degrees outside with windchill. Threw together a lot of veggies such as fennel, swiss chard, onion, garlic, carrots, celery, leftover rice (that was too hard to eat normally), hijiki and probably something else that I am forgetting. Add some veg stock that is vegan and tada, lunch!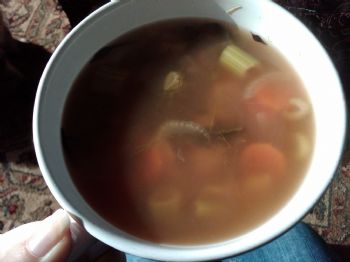 Tonight for dinner we might have leftovers again and some of the soup that I made too much of at lunchtime. I always seem to start out with a normal amount and then cook for an Army. I blame it on my German background since we are always cooking for tons of people. haha Oh, well, at least we can eat it for a few days. We also have some leftover homemade whole grain bread from yesterday and also some veggies for a side dish. Yum!

Yesterday we also had a little peanut butter (natural from Trader Joes) on a slice of homemade whole grain bread and Nico (Coconut Water) that was the flavor of mango. Yum! If you have never had it, it is wonderful! Fat Free, like 60 calories for a full container and refuels the body after workouts even better than water!





First Page
1
2
3
4
5
6
7
8
9
10
11
12
13
14
15
16
17
18
19
20
21
22
23
24
25
26
27
28
29
30
31
32
33
34
35
36
37
38
39
40
41
42 43 44 45 46 47 48 49 50 51 52 53 54 55 56 57 58 59 60 61 62 63 64 65 66 67 68 69 70 71 72 73 74 75 76 77 78 79 80 81 82 83 84 85 86 87 88 Last Page

Get An Email Alert Each Time BREW99 Posts