Wednesday, March 24, 2010
Monday Monday Monday... Still going strong in the 21 Day Vegan Challenge and loving it! But then again I was pretty much vegan already so... haha Not sure if it counts. At least I got rid of the casein in my diet though - goodbye potential cancer and heart disease risk....

Brekkie: Typical Monday morning and that means not a very exciting breakfast. It is cold and rainy outside so I just couldn't get myself out of bed this morning to make a full breakfast. At least the challenge was just cereal and fruit. It consisted of vegan soy yogurt from Trader Joes and also some bear naked granola from whole foods. We added a nice cup of steaming Numi Organic Chinese Breakfast Tea.


Snack: Today I was more hungry than usual since breakfast was not that exciting. Although I usually send the DH off to work with lovely vegan muffins, vegan peanut butter cups, and etc, I was stuck to having some bread. I had two slices of Trader Joes Sprouted 7 Grain bread with some Earth Balance Whipped Butter and some Vegan vegemite. Yummy!

Lunch: Today was leftover day. I had Thai Soup again along with some freshly cut pineapple and also a extra extra small orange. (seriously, I could eat the oranges as little mouth poppers...) I also used Sriracha (a Chinese hot spice) in my soup. I didn't notice any by-products so I hope it's vegan.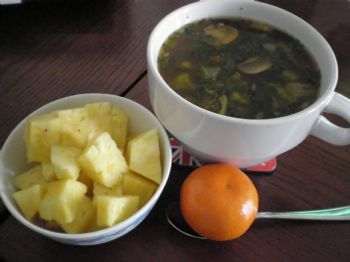 Dinner: Lentil Artichoke Stew was on the menu for tonight. It was okay however it wasn't that exciting. The DH loved it. I don't like hot fruits of any sort so maybe that is why I don't like hot tomatoes in stew - if they are chunky... It's funny, I loved the first two weeks of the recipes and he loves the last one. He loves meals that resemble things that he has eaten in a SAD (Standard American Diet) but I like to have just fresh fruits and veggies mixed together. I have to learn to incorporate both of our likes. Oh, also made some fresh vegan Cornbread Muffins to go along with the stew. It is from the challenge website.