Thursday, March 11, 2010
So today was an amazing day - not only for the weather but for my personal goals. My blackberry told me that it got up to around 70 degrees when our car stated around 72 degrees! Amazing weather for March! But I am seriously not complaining. It really has given me a spark of life once again and I am thrilled because it could not have come at a better time! Today I sat outdoors reading a lovely book that has been sitting on my bookshelf calling my name for some time now - book is called "1421". It is basically a research study and findings from when China discovered America and other countries such as Australia. I believe that my skin really soaked up all the sunshine and vitamins and gave life back to my white as paper body.

A few amazing things happened today:
1. I got to enjoy the wonderful weather as described above...
2. Got inspired to bring out my spring clothes which included my skinny jeans from college. I gave myself a talk that I was not going to fit but it was just to see how much farther I had to go. I wore these jeans when I was around 20 pounds like than I am today. Amazingly (yes, that is my word of the day it seems), they fit! Actually they were a little loose! I couldn't believe it because my jeans were from when I was lighter than I am today. And that was when I lost weight after I came back from Japan (gained 30 pounds there) and I was exercising about 2 hours a day! What a pick me upper! Highly suggest getting older clothes out of the closet and just giving it a try...
3. Ran 6.5 miles! Yes, you read that correctly. It has been five months since I started to run with my husband (on and off because of the cold weather) and we actually ran more than the distance of a 10K! Amazing (seriously, I can't stop saying that word...)!! We averaged around 10:45min/mile but our best time was 6:47min/mile. Yes, gotta love the play backs from our Garmin forerunner CX.
4. Completed Day 6 of our Vegan challenge.

Food for Today:
Brekkie: We ran out of garlic so we couldn't make the planned recipe of facon bacon and blueberry pancakes... try again this weekend. But had Vegan Sprouted 7 grain bread with a little Earth Balance Butter (yummy!!) and a little vegemite. In addition I had a lovely little treat from Korea that is basically a sweet potato that has been roasted and then sliced. I used to love them in Japan and Korea - found them at our local Chinese store. Go figure!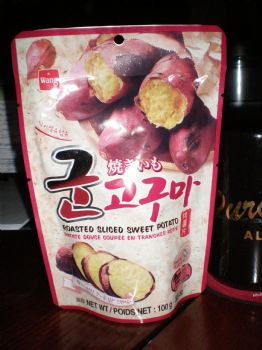 Lunch: Had the largest lunch that I have had in a long time. I was cleaning the house this morning though after I worked a little so I was hungry. Had leftover 1/8c Vegan chili mac; Vegan Salsa Bean Dip with homemade Corn Tortillas; a pear; earthbound salad mix with some Japanese sesame Ginger Dressing. It all come out to be around 300 calories and it was an amazing meal! Yummy! Photo is of the salsa/bean mixture in a bento box (2 servings) and the salsa that I purchased at Trader Joes.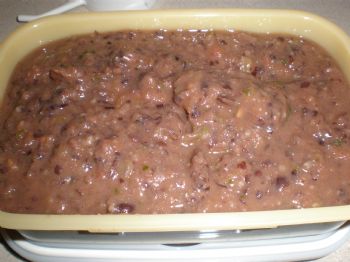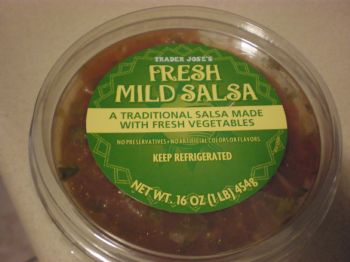 Dinner: Thankfully tonight's dinner was really easy to make - Easy Stir-fry dinner. I didn't purchase any stir fry sauce like the directions were from the kickstart challenge website however I used just some sake (which yes is vegan!) and also some soy sauce. So easy! Made my Japanese brown rice (short grain) and side of edamame. Then I had prepared Chocolate Raspberry Mousse for dessert a little earlier in the day. Perfect combination of everything and boy were we full! BTW, we added some raspberries and vegan chocolate chips on top the mousse for appearance. We sat outside so I didn't get a very good photo of everything put together... but at least you get the idea.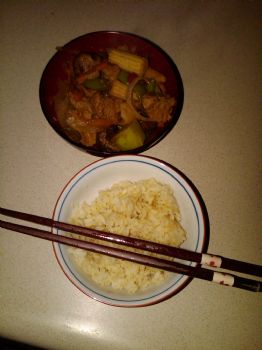 Day 6 gone and it was very good! We loved the food once again and we were full of energy - not sure if that was from the sunshine or from the food. Either way, we are loving this march!