Wednesday, February 24, 2010
Ever since the first day of my relationship with my husband, we both understand that we had a difference of opinions when it came to food. My husband was a meat and potato kind of guy while I was a vegetarian for about 15 years - more than half of my life! So, we knew it was something that we would have to learn to compromise throughout our entire lifetime together. That's okay though, it makes it more fun sometimes... Here is our breakfast comparison that I thought was really interesting.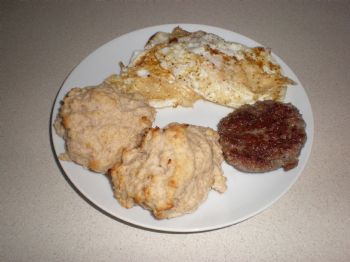 This is my husband's meal that I prepared for him. Homemade biscuits (yeah, about 250 calories a serving!); honey; two eggs and of course pork sausage (lean but he didn't know).



My healthier breakfast.. not my usual one but it was still a healthier option than above. Two egg whites; vegan cheese; a homemade whole wheat English muffin and my staple - vegemite. I had "cheese" and was still less than half of my husband's entire meal! Entire meal was less calories than one serving of biscuits from my husband's meal.

Amazing what we learn from living a healthier lifestyle!