| | |
| --- | --- |
| | BREEZY85's Recent Blog Entries |


Monday, September 23, 2013
So I came back on here and got a huge smack in the face had Sassy and Mr Tiger Mans pics still on the front page, I deleted them they both have passed. Sassy was expected but Tiger killed me, he was only 5. Still struggling with coming to terms with that and coping. Not gonna happen. Moving on.
So I have had hip prpblems for years, just finally found out the problem I have a labrel tear in my left hip that is what is causing the pain, limping etc. Finally going to have it fixed on Nov 22, back to work recovery is pretty quick but the full healing recovery can take 4-6 months. Once I am cleared I can finally return to the gym. I have 4 drs including my surgeon yelling at me to lose weight but I havn't been able to. I was on a medication for my IBS that made be gain about 60lbs. I have been off that medication since May and haven't lost or gained a pound. Now that I am trying to change things up and go partial gluten free. Since I changed things up I have lost 3lbs this month.
Chris the DBF of 10 yrs finally proposed to me on Aug 22. I am so happy and yet so nervous. We were engaged once before years ago but his family pulled the its her or us card. So we broke off the engagement but stayed together through hell and high water.
Started dress shopping this Saturday, cried, hate the way I look in the dresses. And out of all my faves there were only 5 I could try on in stock in my large size. The only good news is I am in a smaller dress size then we thought.
Well that is that.




Friday, February 22, 2013
Logging back on and looking at my page brought back a lot, I realized I haven't been on here since Sassy passed May 2012. That hit me hard. But I coped.
Well for over a year I have been living with IBS and on medication for it. Well the medication had one major side effect...weight gain. I went from approx 150 something to my highest 205. Just last month I was weened off of the meds and onto a new one already lost weight!!
But that is getting ahead of everything, Life was going good, too good. And then Mr. Tiger Man my beautiful 5 1/2 year old bottle baby had to be euthanized, in 2 days he developed lymphoma (his regular vet missed both emergency trips to them) a general medical specialist discovered it, he was severely anemica and there was zero chance for survival with blood transfusions and everything. I had to say good bye to him December 20. Merry Christmas right.
I have decided to no longer celebrate Christmas, I want nothing to do with that painful time. EVER AGAIN.

I also 50-50 live with my grandmother and for her, soon it will be full time, probably by the end of the year.

Things with DBF are stagnant and going nowhere which is better than over.

Having the hardest time coping with the loss of Tiger, and I even tried to look at another cat because I am horribly lonely and I sobbed all weekend because it hurt to look and meet with another cat. I am so lost with that.

For V-Day DBF thought its b nice to get me a betta fish and a snail, will Spiegel & Sluggo are okay companions and it gives me something to do.

Oh well thats my catch up.

Breanna

night




Tuesday, May 01, 2012
June 11, 1994 Sassy and her sister Muffin (she passed August 2011) came home with me and my mother from the Edison Animal Shelter Cage 17. She became my best friend, constant companion. My entire world.
8 years ago we becamse comcerned about her kidneys and swtiched her to dry kidney health cat food. She was doing great.
July 2011 we, dbf and I started doing subcue fluid 100mls a day 1x a day to help flush her kidneys the levels were deadly high. They came down somewhat but were not going to improve any more. We even started mixing wet kidney food with her favorite friskies and fancy feast cans.
March 2012 we had to start steroid injections once every 2 weeks her back legs were getting weak. that helped for a bit.
April 28 2012 I spoke to her favorite vet as she was weak like she hadn't had a steriod injection in weeks not a week. She was crying more, adament about getting outside (which is not her she has never been outside) and just gave me the look.
So April 30 2012 I had to make her final vet appointment she is weak and not herself. She will be going to kitty heaven on May 3 2012.
My heart is sharrtering, I can't stop sobbing. I am so miserable and despressed.
DBF doesn't understand. My work is ehh about it. My mom is trying. I think Sassy knows and understands.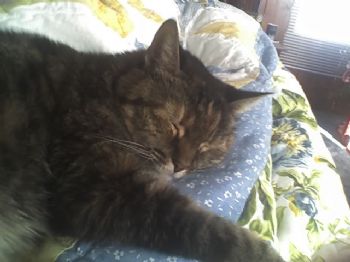 Friday, December 02, 2011
So far this week has been great. I really enjoyed my day off minus my dr telling me lose this weight by May 30.

Oh well, instead of dwelling on it I got remotivated and moving. I had a lot of positives.
Tuesday, went walking at the park after the vet appointment.
Wednesday hit the gym for the first time since july, then picked up some yogurts and fruits at the grocery store.
thursday- hit the gym, went out with DBF for dinner and had half of my portion of grilled salmon.
friday- gym, leftover salmon.
ate great so far, exercised four days so far, and got on the scale and it read 190.6!!! i started november at 195 and am down 4.6lbs fantastic. I hope to be able to keep up the momtemum and loss. I am going to need lots of support, motivation, a$$ kicking, and planning.
I have a calendar marked with weigh in dates and a spot to put my weight, I will weight myself 2x a week, and I will measure my body one a week or month.
I figure by the time I have to see him I sould be 145lbs or at last dang close to it. SO he should be happy.
Oh well, off to bed I guess, gym tomorrow, then DBF and I going to Peddler's Village to walk around and see it all lit up and enjoy it. Nite!





Monday, November 28, 2011
I have been so preoccupied that i have been too quiet on here but have been checking in and trying to keep up with entering foods, exercises and weight. i know over the past few months my weight went up, i though it might be stress and being absent from the gym since july...
well i have my check up at my gastro dr today, and boyh was he not happy to see my weight, 191.1. The begining of this month I hit 195. so so far I have lost 3.9 lbs. He wants me down to where I am suppossed to be 135 by the time he sees me at out next appointment, May 30. So I have to lose 56.1 lbs. If my weight goes up anymore then I have to go back and we have figure things out. He is pretty sure it is the meds making me gain the weight but I should not have let it put that much on me.
SO what a great start to my week off. SO I told my mom who btw is approx 250 and sees nothing wrong with that apparently, looks at me and goes good for you. her habbits do not help mine ugh. bad infulence.
so dbf and i talked about it bc the only way I see being able to lose that much weight in 6 months is to skip meals and have veggies, meal replacements and get back to the gym. well partly am i right and partly am i wrong.
Here is what I am going to do:
I will get back to the gym
I will NOT skip meals
I will use meal replacement drinks as my snacks once a day.
I will eat more fresh veggies and fruits.

I can do this. I think.


1 2 3 4 5 6 7 8 9 10 11 12 13 14 15 16 17 18 19 20 21 22 23 24 25 26 27 28 29 30 31 32 33 34 35 Last Page

Get An Email Alert Each Time BREEZY85 Posts