| | |
| --- | --- |
| | BRAVELUTE's Recent Blog Entries |


Thursday, September 27, 2012
I had never cared for Halloween decorations, even in my schoolroom. Too much orange. I'd rather eat a pumpkin pie than leave a pumpkin to rot on my front porch. Spiders belong outside catching bugs, and who wants dried cornstalks or moldy bales of hay next to your rocking chair on the porch? Bah humbug! So, my first night on the mountain, I noticed a strange orange glow in Golden Pond as neighbors turned on their Halloween lights.

Now, I like lights - the mini Christmas lights that twinkle like little white stars on the tree. I REALLY like my Christmas tree with its three hundred lights turned on in the dark so much, that I used it as a night light until June. But those orange lights were unnatural.

As the cold weather settled in, the sumac leaves started to turn red at higher elevations. I inspected the mountainsides and couldn't help thinking there had to be more to this autumn business than orange lights.

As I watched the trees changing their leaves from their usual greens to decorate my mountain with garish red, yellow and brown, I became a wild hunter-gatherer. I searched for fallen leathery leaves, virgin's bower vines, black walnuts, acorns with frilly caps, and sunflowers for the watering can on the deck. I had never noticed the black walnut tree growing up out of the first pond until I heard the green globes hit the water. I resisted the urge to turn the acorns into a necklace but I did cook three batches of walnut ink in my crock pot out on the porch.

I tried to capture everything I was seeing with watercolors and walnut ink. I even carved a bamboo pen so I could draw with that rich brown ink. Those paintings now decorate my walls in Florida with bright fall leaves, dried grasses, and sunflowers. And make me want to make that journey once again to turn on the orange twinkle lights that I left attached to my porch railing and play my harp on the porch in the twilight while the birds join in with their dusk chorus.

I never thought I'd ever get to experience Fall. I never thought I'd lose any weight after the steroids took over, either.

Never say never. Everything is possible.





Wednesday, September 26, 2012
Okay, Okay. The 2x4 hit again when I visited a Blog I follow this morning. Once again, MostMom1 outdid herself trying to convince us grown ups to have fun. And she did a fantastic job. She has sparked all kinds of memories.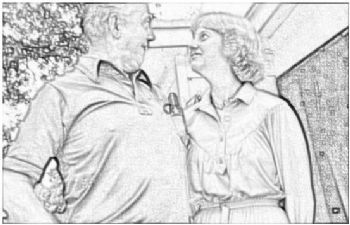 Dad was the fun "spark" when Sandy and I were growing up.
My humor was more academic.



See the little sign on the door of the camper? I bought it at a local hardware store. It says, "Please Use Other Door" and points you off to the right. Mom and Dad humored me and it wasn't too funny until friends walked all the way around twice and finally asked where the other door was.

Sandy went on to become a clown with the church youth group: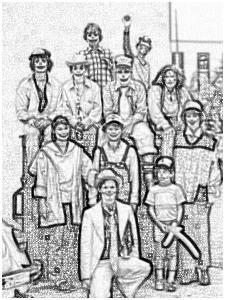 And her clowning even rubbed off on me when we appeared in a talent show together.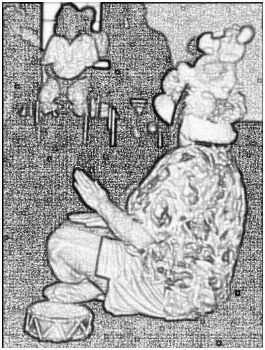 So I turned to humor all of those days in the infusion room, watching funny videos, or listening to Prairie Home Companion jokes. I'd recommend Lucille Ball, or Mork and Mindy, or Saturday Night Live, or Ed Sullivan, or Victor Borge or MostMom1 to anyone who finds themselves incapacitated by a bum foot, a broken leg, a blizzard, or one of life's depressing moments. Get up and move to something funny. How about Lucille ball and stompin grapes. You could do that sitting in a chair. And by the time you were through doing her routine in your chair, you'd be ready to do something else, and laugh at the same time.

And I'm realizing there's probably at least one generation of readers who won't know anyone I mentioned except for MostMom1. I don't mean she'll know them. I mean YOU should know HER. So if you're interested, everyone else should be available on YouTube so your funnybone can be sparked. If you go there, search for Gildna Radner. You shouldn't get another day older unless you get to know Rosanna Danna!! i154.photobucket.com/albums/s258/sha
keiteasy/snlroseannadanna.jpg

Gilda doing Roseanne Rosannadanna: www.youtube.com/watch?v=qd_syuD-N_k&
feature=related

Gilda doing Barbara Walters: www.youtube.com/watch?v=LQvRFrpKi-0&
feature=endscreen

Or Most Mom1 creating memories as herself:

www.sparkpeople.com/mypage_public_jo
urnal_individual.asp?blog_id=5075694


So, get going!! Find a spark to create some funny memories of your own, because life is too short to frown for any length of time.

Thanks MostMom1. You manage to put another smile on my face and a giggle or 2 is heard in my quiet house everytime a new blog appears on SP!







Tuesday, September 25, 2012
He walks in on little cat feet
Looks at my feet, and history,
Orders x-rays,
Then, hiding behind a screen, he returns and shoots it full of something.

At least I didn't kick him.

I'm home in much more pain than I was. It is strapped for 2 days then I switch to cute little elastic things with a foam ball attached that goes under my foot. For 2 weeks. I can pick up an anti-inflammatory tonight. Hopefully that will stop the throbbing.

No walking. No exercising. Though I can get in the pool if it is warm enough after I can take off the strapping. He doesn't know how much activity I do in the pool.

Well, I guess its okay. Virtual 5K trainings and walks keep on happening all the time. I can start that up again after the foot is ready for it.

But I was doing so well.





Monday, September 24, 2012
On August 9, my blood pressure was 139/80.
Today, September 24, my blood pressure was 132/70. Nice to see it going down, instead of up, and I owe it all to the tools available to me at SP!! I'm sure just losing 16 pounds helped, but it has been so easy adding in anti-angiogenic foods and fiber with the help of the food tracker, and to get up out of my chair and move with the fitness tracker needing to be fed.

As for the podiatrist tomorrow morning for my wayward foot, I chanted a mantra while I walked my 40 training minutes. on each breath: No Steroids No Steroids No Steroids No Steroids No Steroids No Steroids No Steroids No Steroids

Of course, if he DOES prescribe steroids, I'll be ravenous and I won't have any problem eating the extra calories SP wants me to eat with all the activity.








Sunday, September 23, 2012
Somehow, the SP system knows that I'm more active with the 5K training, and increased my calories I'm supposed to eat. Ya gotta love that!! But I don't seem able to eat all of that food. I am trying, but you know what happens when you try? Right. You just try, and nothing. Well, I Did eat a little more, mainly by sticking in snacks in between meals.

But what they didn't understand was that I'd be more tired, requiring more sleep. Luckily I completed the SP Sleep challenge not too long ago, and I recognized the symptoms of "tired"–irritable, whiny, achy, draggy, . . . So I went to bed an hour earlier yesterday. And I'm doing it again tonight. I felt so much better today.

And tomorrow, I will make my primary physician look like a cheshire cat when he sees how much weight I have lost. I'm taking my camera!!

Wonder what my blood pressure won't be!!

May your days be bright and crisp with the expectation of fall magic.
Can't wait to get to NC. Counting the days. I bet I won't even know I'm wearing compression socks up there in the mountains.



First Page
1
2
3
4
5
6
7
8
9
10
11
12
13
14
15
16
17
18
19
20
21
22
23
24
25
26
27
28
29
30
31
32
33
34
35
36
37
38
39
40
41
42
43
44
45 46 47 48 49 50 51 52 53 Last Page

Get An Email Alert Each Time BRAVELUTE Posts