| | |
| --- | --- |
| | BRAVELUTE's Recent Blog Entries |


Friday, August 24, 2012
I have copied the paragraph below from Dietary Guidelines for Americans, 2010 published by USDA, USDHHS, and dietaryguidelines.gov I have included the link for the complete document (pdf) which you can download and read on your kindle app or computers.

Chapter Summary:

"Many Americans do not eat the variety and amounts of foods that will provide needed nutri- ents while avoiding excess calorie intake. They should increase their intake of vegetables, fruits, whole grains, fat-free or low-fat milk and milk products, seafood, and oils. These food choices can help promote nutrient adequacy, keep calories in control, and reduce risks of chronic diseases. Consuming these foods is associated with a health benefit and/or with meeting nutrient needs. They should be emphasized to help Americans close nutrient gaps and move toward healthful eating patterns. They provide an array of nutrients, includ- ing those of public health concern: potassium, dietary fiber, calcium, and vitamin D. It is important that while increasing intake of these foods, Ameri- cans make choices that minimize intake of calories from solid fats and added sugars, which provide few essential nutrients. " Pg. 42

www.cnpp.usda.gov/publications/dieta
ryguidelines/2010/policydoc/policydoc.pdf

_____________________________
_____________________________

When I was teaching, we were bombarded with studies that seemed to have implications for teachers, without ever coming out and saying DO THIS to be a good teacher. So I got into the habit of looking at the implications that might have value and translating that information into an action plan. First I'd decide who would benefit if we were to do something with the information. Then if appeared that I had students who could benefit, I started examining how to make it happen. That usually meant I would list in two columns: more of this, less of that.

So, from this chapter of the document, I have decided I could definitely benefit from the recommendations because it would help control calories and chronic disease. Now I'm working on what that means to me, personally.

1. More variety in what I eat. Less in a rut. This should be easy for random me, and also keep me from getting bored with my program.

2. More vegetables. This will be difficult, because I'm only slightly better at it now that I've been all my life.

3. Actually plan meals with fruit and veggies being the stars.

4. And put whole grain products and meat in menus as guest performers. Once I actually am switched totally away from white enriched flour, this might be easier but right now white flour products seem to be a requirement as I plan meals.

5. Eliminate added refined sugars, so less processed food and restaurant food. Refined sugar products definitely send me into an out-of-control binge (cupcakes, donuts, etc.) But as long as I cook from scratch, from whole food, I'm not getting any hidden refined sugars. My rule to substitute fresh fruit when I want a bakery snack is very helpful.

6. More whole wheat products. Less "white" enriched products, or actually eliminate them. Needs to be said again. Plan a day in your routine to make whole wheat bread. You know you like to do this. Even if you need to get off the computer!

7. Continue efforts with fruits.
8. Increase fish
9. Investigate statement about oils and see if I should be more specific with the types of fats I track, instead of shooting for 30% of calories from fats.
10. More potassium, fiber, calcium, vitamin D (Public Health concern)
Learn foods that are good sources of potassium, fiber, calcium and vitamin D and work to hit the recommended levels on menu planner. Add calcium and Vitamin D to tracker.

11. Be careful with the menus that come up in the tracker. Sometimes they are repetitive from day to day, especially for snacks. If you notice that, simply switch out that menu for another you haven't eaten in a while.


12. Use the Nutrition tracker to plan and evaluate nutritional content of what I plan to eat BEFORE I've eaten the meals. Make adjustments when possible to increase nutrients which are lacking.

13. More of the OTHER nutrients, LESS of the energy nutrient (carbs, sugar)

14. Read more of the document to see if there are recommendations for limiting anything else, like sodium? or getting screened for any deficiencies?

15. Compare your anti-angiogenesis list and see if they support the recommendations, and continue planning meals around them, just increase veggies!!

What implications do you see for your life?







Thursday, August 23, 2012
I've known for a long time I had random personality. It's a good thing, because I find myself in many SP teams with many goals, which equates to many different tasks to accomplish during my days along with everything I started between retirement and SP.

It's almost becoming unmanageable, and unless the Fly Lady program works miracles with streamlining my routines, something will have to go.

But what? surely not exercise; not menu planning; not taking on challenges, for I find them to be very motivating to stick with it and learn new things; not Fly Lady so I can have the required "remodeled kitchen" for the Healthy Eating Challenge; not playing the harp that helps me get a good night's sleep for the sleep challenge that helps me get the required rest that helps me lose weight; surely not the organic gardening team that is motivating me to get 4 square foot gardening boxes planted with fall veggies and herbs; surely not painting or writing for my creativity will suffer and then so will everything else that is me.

So, perhaps I'll go sign off some of the team goals to drink water. I don't think I have to drink 8 glasses x 5 teams like I see on my goal tracking page, but I do try to do the necessary steps to be successful at this healthy living.

This dilemma reminds me of the book dilemma which reared its ugly head today. If you came into my house, you might think I am a book hoarder. I Do love books. I was a reading teacher in my pre-retirement career. And I do have many books. I still have many children's books because I thought I might tutor someone, and I love the stories. I have many books on topics that circle around my retirement interests like butterflies, gardening, watercolor painting. And of course things I truly like to read. On my sidetable right now, I have a vintage copy of a Ray Bradbury book which I ordered after he died. And I have tried to switch over to e-books, but it's not the same. I prefer to read the book I can hold in my hand and see the whole chart of information on one page.

So it's too many books. But which ones go to appreciative new homes? See, knowing that just doesn't help with these books. I've already pared down the collection when I was sick. And yes, I've added to the library, even this summer. Addicted. I admit it. and I'm probably addicted to the online aspects of SP. But it is time to wean myself off because I'm spending too much time sitting, doing all of the sedentary activities, and not enough time living.






Wednesday, August 22, 2012
My vitamin D3 results came back from the screening test that Blue Cross Blue Shield would not pay for. Vitamin D3 deficiency is now linked to so many health problems. You'd think the insurance companies would gladly pay for the screening AND the supplements to proactively prevent cardiovascular disease, stroke, osteoporosis, osteomalacia, cancer, and auto immune diseases such as multiple sclerosis, rheumatoid arthritis, and diabetes type 1 and 2.

They have paid close to $200,000 for both of my rounds of cancer diagnoses, surgeries, radiation, and 4 years of chemotherapy. And 2 weeks ago they had to pay for ultasound to see if blood clots were causing my calves to swell.

While the report said nothing per se about obesity, I'm hoping this is the last piece to my efforts to get healthy and lose weight.

Makes you wonder what my Vitamin D 3 level was in 2007. Well, we know it is 13 now. Many experts consider normal levels to be 36 - 100 with the optimal health range between 50 and 80.

In everyone's defense, even I didn't expect to have a vitamin D deficiency since I live in Florida. But there you go. And I'm now taking 10,000 units of Vitamin D3 daily for 3 months when we will test again. I bet I will have to pay for that test, too.





Tuesday, August 21, 2012
When I returned to Spark People in July, I was worried about my chances for not being successful again, so I set a goal that I felt was doable in a relatively short period of time-10 pounds in 2 months. If I stuck with it, I'd increase the goal.

So today, the scale showed 10 pounds flown away. I was surprised I made it there in a month because I am "dieting" very differently than I ever have before.

My avatar picture is of me in 2007 after I had lost 68 pounds doing the Medifast program, 2 medifast meals and one lean and green real food.

Then came the cancer diagnosis with surgery, radiation, and chemo for 6 months, and steroids with the chemo to help tolerate the effects.

I decided I had one job to do during that time-to eat as healthy as I could to help my body heal and deal with what was happening.

So I came through that with weight gain, not loss. Then a 2nd diagnosis a year after the first with major surgery in December 2008 and a redo in May 2009, 6 months of major chemo, then 28 months of maintenance chemotherapy with the hope we could keep it from coming back a third time.

I gained back 43 pounds. And started working on moving and trying to get healthy again after chemo ended November, 2011. Thanks to SP, I now have just 30 pounds to go to get to my precancer weight and the picture I've posted of me playing the harp.

After that milestone, we are going to see what will be. I always was a skinny minny. But I stopped being skinny after I broke my arm in 5th grade.

I am going to make an effort to find things to do for excercise that are fun for me now, that I can do outdoors when the sun isn't out, since I am now super sensitive to the sun.

Any suggestions besides getting new tires on my recumbent bike? I know I'd love it if I could figure out the gears. That seems more difficult than it was to learn stick shift.





Monday, August 20, 2012
Have I mentioned I found Fly Lady in an effort to fullfill the week I task for the Health Eating Challenge? I had no idea how to even start to organize my kitchen. Here is my clean, organized kitchen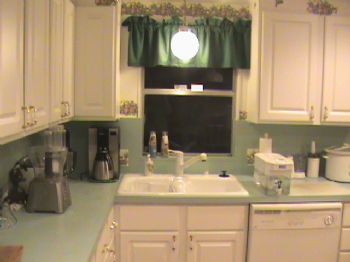 And my pantry/cupboards.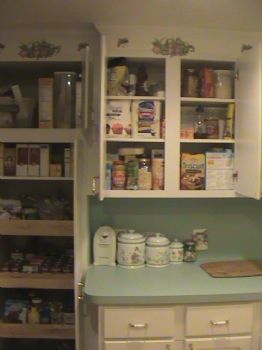 Well, thanks to the "Shine your Sink" command from the Fly Lady, I have begun to purge other areas of my home. Today was trash pick up, so I put in extra time trying to get as much as I could out to curbside before scheduled pick up time.

Last Thursday, I felt ten pounds lighter after trash pick up. I was really flying. So I decided to document the process today. If it was anything like last week, I was ready to float up into the air.

Here is my trash pile.




Here is my trash flying into the truck.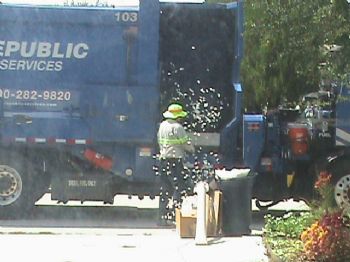 Looks like a snowstorm in August. The sanitation engineer was not pleased. I wasn't so happy either as I started to pick up packing popcorn that blew all the way to the end of the block on both sides of the street. I wonder if there is a place in the fitness tracker to enter, Picking up Packing Popcorn at Midday in the Hot, August Sun in Florida, 30 minutes?





I lost 2 pounds sweating, and yes, I did put it back on drinking the replacement water!!




First Page
1
2
3
4
5
6
7
8
9
10
11
12
13
14
15
16
17
18
19
20
21
22
23
24
25
26
27
28
29
30
31
32
33
34
35
36
37
38
39
40
41
42
43
44
45
46
47
48
49
50 51 52 53 54 Last Page

Get An Email Alert Each Time BRAVELUTE Posts