| | |
| --- | --- |
| | BRAVELUTE's Recent Blog Entries |


Wednesday, August 08, 2012
Not only did the swim relax me, the swelling in my calf was markedly improved this morning!! The record breaking night's sleep, coupled with good nutritious meals helped me get through two doctor's appointments and worrying about what I would hear. Absolutely nothing. Two more appointments tomorrow, and yes, I'm going to go swimming and play the harp again tonight!!

Recommendations for this week include turning the clock so you can't see it. That didn't work for me. I need to be able to see the time. But the colon separator between the hour and minutes blinks on my clock. LOUDLY!! I had to cover that part of the display with a piece of electrical tape. I no longer think a fire truck or ambulance is out front and can get to sleep.




Tuesday, August 07, 2012
I played hookey from the homefront today and went to a watercolor class and then the primary doctor' office, and then to Advanced Imaging for ultrasound to rule out blood clots. No blood clots, so 2 more appointments tomorrow. All that wore me out and after a nap, I went up to the pool to do some gentle water work in an effort to relieve some of the swelling. Knowing there are no blood clots will help sleeping tonight.

I'd recommend a swim before bedtime for anyone still struggling with getting a good night's sleep. I wish the pool were in my back yard. I'd be in the pool just before bed. But the community pool is the next best thing. I'm usually the only one there the last hour of the day.

The sleepy time play list is growing. I want to go work on my painting and listen to my music instead of playing tonight. Sometimes the routines have to be altered for the soul.




Monday, August 06, 2012
I worked on ear training on my harp last night. I worked out Silent NIght and fumbled through Taps in the dark. Fun. But then my brain wouldn't stop brainstorming songs to go to sleep by, so I had to get up and write a few in my journal, go play a couple of more, and then I slept through the night.

Lymphedema continues to be a problem. Left leg is 2.5 inches bigger than the right. Jewels and I walked all the same, though it was only .7 mile.

Going to go plan a painting now. Sweet dreams, everyone.





Sunday, August 05, 2012
What a day Thursday (Day 2) I actually thought I saw light at the end of the tunnel for getting rid of the fatigue, or recliner syndrome.

I spent 2 and half hours on day 3 at the chiropractor, for my weekly appointment. This was the exam to see how things are going. And all of my original ailments that took me there the beginning of March are gone. No more vertigo, headaches, tinnitus!! Energy level is up, and I was very proud of only sitting in the recliner for a 15 minute break in the morning and to watch the Olympics for an hour in the evening.

But my feet hurt, like they had the last visit. She did some looking and squeezing of feet and legs. She told me to wear compression stockings and keep some measurements before and after wearing and to take that info to my primary physician because she thinks I have lymphedema. I was to rest, ice my feet 3 times, and wear the compression stockings.

And the left foot is going to the podiatrist. Something about a "pimple around a nerve?""" If I were a teenager, I'd squish it and be done with it.

So Day 4 was pretty good. I found support hose and noticed a marked difference in how my feet and legs felt. I didn't get to as many goal activities as day 2, but I was very tired and went to bed early and got a great night's sleep.

Now Sunday, Day 5. I walked my morning route, 1.2 miles with support hose and shorts and sneakers. Took me an hour, but I did it. I spent about 3 hours in the kitchen preparing meals, etc. and I'm ready for bed again. And that's okay with me. If my body needs more rest right now, it sure is helping me with the sleep challenge!!

I tried the harp practice Thursday evening as the first thing in my getting ready for bed routine and it was wonderful. I slept like a log.

I'm going to work tonight on a "sleepy time" playlist!!

What songs would you include in your before bedtime playlist?






Thursday, August 02, 2012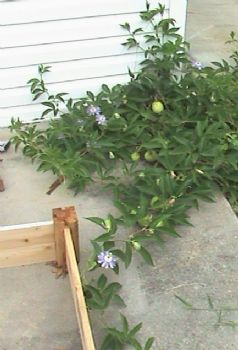 So my passion vine which I planted as a host plant for the gulf fritillaries and zebra longwings is taking over. It doesn't seem to want to grow up into the shade of the arborvitae so the zebra longwings won't use it in the sun. And it otherwise draws ants that patrol to capture the fritillary eggs and cats if one makes it to hatching.

Now I'm on a quest to learn what parts are edible, and if I can safely dehydrate those parts to make tea. I have heard the leaves, flowers, pods and seeds can all be dehydrated and are beneficial as a cure for insomnia.

And if I add some to a mint tea mix, will it make me want to spend more time in the recliner?

Any HELP or KNOWLEDGE out there?

Here is a picture of the flowers, leaves, and fruit.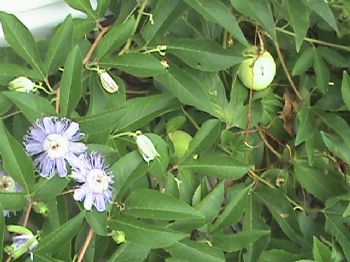 And I'm not exactly sure how to pick when the fruits or seeds are ripe like the three that were in this pod.





First Page
1
2
3
4
5
6
7
8
9
10
11
12
13
14
15
16
17
18
19
20
21
22
23
24
25
26
27
28
29
30
31
32
33
34
35
36
37
38
39
40
41
42
43
44
45
46
47
48
49
50
51
52
53 54 Last Page

Get An Email Alert Each Time BRAVELUTE Posts