Saturday, November 10, 2012
So, if you start using any of the ideas I've shared in this series, you will learn that kids will at least taste something they have helped cook from start to finish. I've even had kids who were in the same room, though not involved want to try new dishes that were prepared.

There are added benefits for their cooking experiences. They will have lots of opportunities to learn and apply real world skills that are usually taught in school from the textbook. And you will have lots of opportunities to send them off on a research journey to find the answers to their questions. And perhaps, most importantly, you get to turn the tables on all those "Why?" questions that are thrown at you. You get to sit back and ask, instead of tell.

Bam! The Math of it all when the Kids Cook

Application of learning seals the deal. Many math concepts are involved in cooking, menu planning and nutritional evaluation. Young children who have learned to count can inventory the fruit bowl when you're getting ready to go to the store. If they've learned to read, they can inventory the cans of legumes or boxes of cereal. As you have them cook and plan, your kids will have lots of opportunities to use measuring cups and a scale, and to graph information. Graphing can be done with pictures representing information. Have pictures of family members that move along a scale. For example, the face of each family members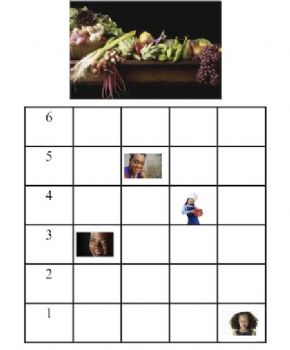 could move up a graph one box for each veggie eaten with a special reward when they reach the top of the graph. A digital scale will go a long way to help everyone understand the relationship between grams and ounces without having to convert with formulas. You just push the button and you know how many grams or ounces you have in that cup of sliced bananas.

And be sure you understand the math before you start discussing sodium. Do you know how many milligrams of sodium are considered optimum for your daily intake? Do you know what 580 mg. of sodium looks like? You know what it tastes like in canned soups or spaghetti sauce. You know what 1500 mg of salt tastes like in that restaurant meal. Do you know what that salt looks like in a dish all by itself? Could you measure out approximately 300 mg of salt or 1500 mg without a scale? And you can show what high sodium intake does with a blood pressure monitor, recording results before a high salt meal and after. Another possibility is to graph changes in blood pressure on one line and changes in salt intake on another. What's the difference between a gram and milligram?
 

Kids Find Out (KFO): Ask, Don't Tell, or Here's Where YOU get to ask Why? Why? Why?

Kids can find out more about what needs to happen in our diets than we give them credit for.

Please take time to watch this video, and if you have children, invite them along!!

www.ted.com/talks/birke_baehr_what_s
_wrong_with_our_food_system.html

I was so impressed with Birke Baehr the first time I saw his Ted Talk that I researched recipes on SP for Kale chips and made them right away. And I've since started my own organic fall garden for the first time in my life. Kids can truly be instruments of change. So if you start to implement some of the suggestions for having kids help cook and plan, then you are also going to have to be ready to talk the talk and walk the walk.

Now, I DO NOT mean to talk and talk and talk to your kids. They will usually turn you off quickly if you talk AT them. Kind of like the teacher episodes on Peanuts Cartoons. So get ready to Ask, Ask, Ask, and then Act, Act, Act.

Research Questions

You will be amazed at how many opportunities will come up for your younger charges to look for answers to questions. You need to be in the mindset of ASK, Don't TELL!! If your kids aren't asking questions, then you ask. If they ask, DON'T tell. Send them to find out at Spark People web search. KidsClick.org, a site created by librarians, has a wonderful list of internet sites available to help kids with their nutrition questions at http://www.kidsclick.org/searches/search.p
hp?keywords=nutrition&searchtype=all

The sites are evaluated for reading level– for example 0, 3, or 7. The site which required 0 reading level was created by first and second graders!! Older kids could help younger kids find answers at any of these sites, or use them to do research for a report for an assignment.

If you home school, outlaw research questions that can be answered with a yes or no, or one word (like a number).

So here are some questions about sodium moving from less desirable "outlawed" research questions to more desirable questions.

1. a. How much salt should you eat?
b. What does the amount of salt you should eat look like?
c. Plan 3 meals at ________________ (fast food restaurant choice) for the day that stay within your salt recommendation for the day. All fast food chains publish nutrition for all items on the internet) and explain what you could do to improve the menu for our health if you prepared it at home.

2. a. Should everyone have salt every day?
b. What does salt do for your body?
c. What happens to our bodies if we eat too much salt? What happens to our bodies if we don't eat enough salt?

And the last question can be changed to many other options like calories, fats, calcium, fruit, cupcakes, fast food fries, etc.

Conversation:
While you're cooking and planning, be sure to casually talk about the food, about life. Ask. Don't tell them what they should think. By the same token, you should answer their questions of you candidly.

Sample questions:
Which do you like better: riding a bike or jumping rope; apples or pears; painting or writing; red pears or brown pears; wheat bread or corn bread; tossed salad with oranges or tossed salad with shredded apples; walnuts or sliced almonds; steamed, raw, or roasted carrots; peel carrots or do the dishes? What did you think of dinner? the storm? the Lakers? the cassserole? the picnic? the appetizers? the carrot juice? the winner?


Now for the Act, Act, Act part. Do you believe kids watch you and emulate you? I do. So if they learn in their research that health problems are worsened by smoking, obesity, a nutrient poor diet, or a combination of high sugar/high fats snacks, and you march along doing one of those things, what are you teaching your child? You must set as a goal to walk the walk that the kids set for you. And celebrate the steps you take toward your healthy goals together.

I hope you've found something in this series to help you move your children along their journey to healthy eating and living!!