| | |
| --- | --- |
| | BRAVELUTE's Recent Blog Entries |


Friday, November 02, 2012
My Jeans don't Fit and that's a good thing.
I just took a SP quiz to see if I had a healthy respect for my body image. The final question asked me which of 3 actions I took if my jeans don't fit. The answer choices forced me into assuming I couldn't do them up.

Interesting that the SP body image quiz focused only on the negative.

But I recently had the lovely experience of having them fall down while they were done up. All 4 pair I had with me on vacation. So what do you do when jeans fall off? You jump up and down. You laugh!! You try a belt. You buy sexy suspenders. You gift the big jeans to someone else on your journey who is close to having their larger jeans fall off. You make a mental note of how great in feels to have them fall off and that it might be an activity to duplicate. You take a picture. You also pray it doesn't happen at work in front of 30 middle school students, however they probably wouldn't notice. You go SHOPPING for a pair that DO fit.




Friday, November 02, 2012
I have decided I'm going to track my journey toward becoming addicted to nutrient dense foods and sweat producing workouts.

I guess that also means that the addictions to sinful sweets and sitting in the recliner are extinguished. So I used to crave sweets (donuts, ANYthing with frosting, etc). That would have been okay if I went in to Mr. Donut and bought only one donut. But I'd buy half a dozen. And eat them all myself. Or smelling chocolate frosting would send me on a "sweet frenzy."

I became addicted to sitting in the recliner after the cancer diagnosis in 2007. And surgeries, radiation, chemotherapy and 2 more major surgeries in 2008-9 AND chemotherapy that continued from Nov. 2007 until Nov. 2011. Sitting up in the recliner was a step up to all the recuperating in bed. It was better scenery than the bedroom when dealing with fatigue or pain.

But all of that is over. I have had clear PET scans since 2009. Life is good. Except for all the weight I gained. I know. I didn't lose my hair, either. Not what you'd expect for a cancer survivor. But I blame it on the steroids themselves, and the fact that I always felt hungry.

So I want to be healthy. Eating nutrient dense foods is one aspect of my idea of a requirement of transforming into a body of HEALTH instead of sickness.

As long as I stay at home, I am very happy eating nutrient dense foods, shunning processed, enriched, chemical filled, sugar laden, fat charged foods. I don't even think of them.

I think the true test will be the next two months with the holiday opportunities to present a dearth of nutrient dense foods.

One sign I am on the right track is that I no longer stress over what to fix for meals.
Another, I'm checking to see if I have enough veggies for Saturday.
Another, I was frustrated because the bananas at the store were either bright green and hard or brown and mushy. AND I WANT (NEED?) bananas for a smoothie tonight.

Now as for the sweat-producing workouts, I don't think I'm anywhere near even approaching exorcising (spelled wrong on purpose) because I want to. Intellectually, I know my body NEEDS to workout. But I don't think there's anything intellectual about addiction. Perhaps physical, or emotional, or spiritual.

So intellectually, the decisions I make to exercise are to provide my body with what It needs, but there is no passion about the activity.

Don't get me wrong. I wouldn't miss my morning walk. But not because of an emotional high I get because I walked my buns off. I would miss the sunrise, the newness, the people I meet and greet, the birds' morning song.

In Sept. I was in training for a virtual 5 K when a foot problem prompted my podiatrist to pull me off of the walking circuit. But everytime the training upped the ante for distance, I was amazed that I could do it, and then do it in less time than the last time. When I logged in the 2 miles at one time, I realized that I had never walked 2 miles at one time before in my life. That was a real high.

Perhaps exercising will become something I NEED EMOTIONALLY after my new orthotics come in and the podiatrist gives me the all clear to be active again.

And then there are the compression stockings. They make me break out in a sweat, but that's not the kind of proof of addiction I'm looking for.

I want to Really Want to Do exercise. My inner child remembers being skinny and being very active. So I try to incorporate the kinds of things I did as a kid-biking, hula hooping, water activities. Forget the pogo stick, but I could do a rebounder. I hate the noise of a treadmill. I haven't given up on hula-hooping but I just don't feel the love for continuously picking it up off the driveway. I love the pool but currently just do strenuous treading and aerobics when there. It helps leg circulation and tones everything. But I love it because of the water, not the activity or benefits.

One sign that addiction might be looming on the horizon is that it rained today when I had scheduled to go to the pool, and I was very upset.

Another sign is that I was able to go an hour later, and I did my usual treading/aerobic schedule. AND I broke into actually swimming a couple of laps and I didn't die of a heart attack!!

So today I walked for 40 minutes, and went swimming for 30 despite how cold it was when I got out. No sweating for either activity, but I DID have fun.

And that might be the vehicle to get to the ADDICT stage: approach it from the fun angle. Swimming, biking, rebounding are fun. Focus on the fun and see if I get closer to being addicted to the activity!!

I'll tell you what I AM addicted to: Putting on something in my closet an it doesn't fit because it's TOO BIG.

Seeing the scale go down another half pound. Spark people doesn't register a half pound, but for me, I visualize another 2 sticks of butter melting in a frying pan. And that's a wonderful thing.

I had originally started this series of blogs on a community journal. But as usual, I was in the wrong place. That was for results, and I'm just learning how to be an addict. No time for results just yet, So I'm bringing the topic back here to my Spark Page Blog.






Thursday, November 01, 2012
2nd in a grouping of soul collage cards for the journey:




I am the Addict.
Through me, you know when you start to think that time or the job or that sweet snack is more important than life itself.
Through me, you will recognize when you are slave to work, when you are putting effort into non-rewards.
I am the one who helps you see when you and those around you are slaves to the philosophy that ďIím not sure if this is the best choice but itís what I know now, so letís do it some more, bigger and better.

I am the one who will help you know when the effort required to change IS worth it.

--Collage and statements by Sue Atkins






Wednesday, October 31, 2012
In early September, one of my teams offered sparkpoints for changing our sparkpage to reflect a back to school theme, and more for changing our profile picture.

I managed to do all of that, but switched my picture back when no one attempted to figure out which kid I was in the 4th grade class pic.

Besides, the picture of me playing the harp has a lot of meaning for me. I had learned to play the summer before my cancer diagnosis when I was in such pain, I'd lie o my bed with a smaller harp on top of me and play. It seemed to help me cope with the pain.

And in the summer, I started playing the harp in the picture as a calming sleep inducer during the SP sleep challenge.

So, the harp is important to me.

Then, it seems that there is a rash of people I know completely remaking themselves on SP: their profile pictures, spark page, AND their user name.

I don't know what is prompting that, but for me, I visited fullplatediet.org today. They have developed what they are calling a "game" for people following their diet. I guess they are working toward having something like Spark People.

I do like the way the game awards points for activities relevant to your goals and there are ways to have your goals fit you, as opposed to making your goals fit them. I should think about this some more, but that was my impression today. One thing they led me through was thinking about my user name, and why I would pick it.

So, instead of decluttering the entrance to my studio, I waxed creative with my profile name. I came up with BraveLute. This name is inspired by my 3 favorite harpists.

The BRAVE part of the name comes from Deborah Henson-Conant, a fierce electric harpist:

www.youtube.com/watch?v=VZNz8IM__9M&
feature=related

And even more phenomenal:

www.youtube.com/watch?v=0vXtywOlayc

And when I watch these girls playing music from my favorite set of books and movies, I imagine being one of the elves dancing in rings.

So, if I were going to remake myself, I'd take a fierce elfin name because when I'm done with the healthy weight loss, I'd like to look like one of these women, and be able to play like them, too.

Now, if I could find a pic of an elf playing a harp, I'd do it.

www.youtube.com/watch?v=O6iAaVY1G_c





Sunday, October 28, 2012
At a weeklong writing workshop at Campbell Folk School in NC, I learned about Soul Collage Cards. That was not the topic for the classes, but I went home, researched the what and the how, and started creating a set of cards. I had no idea what the cards would be as I started each one. I seem to have created "Committee" cards. Then 2 years later I got my cancer diagnosis and I have been amazed at the cards I created, the words that went with them and how much they have meant to me the last 5 years.

I feel there is a friend on SP who might benefit from seeing my cards, so I'm going to post some of them in the next few days.

You can learn more about creating your own cards at www.soulcollage.com

And there appears to be a Soul Collage team here on SP.

www.sparkpeople.com/myspark/groups_i
ndividual.asp?gid=33398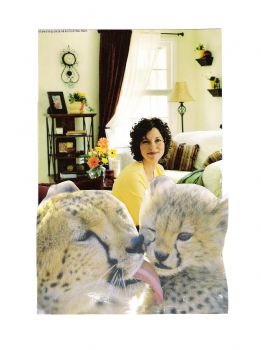 I am the Healer and Comforter.

I am not like the medical doctors you know.
I heal just by being.
Imagine wrapping up in a warm cozy blanket when youíre cold.
Imagine a warm cup of tea flowing throughout your body and soul.
Feel the hope as you see my loving smile.
Take comfort in that rough lick and know that I AM the one who will bring the sunshine back into your life.

--Sue Atkins 2005






First Page
1
2
3
4
5
6
7
8
9
10
11
12
13
14
15
16
17
18
19
20
21
22
23
24
25
26
27
28
29
30
31
32
33
34
35
36
37
38
39
40
41
42
43
44 45 46 47 48 49 50 51 52 53 54 Last Page

Get An Email Alert Each Time BRAVELUTE Posts