Wednesday, September 26, 2012
Okay, Okay. The 2x4 hit again when I visited a Blog I follow this morning. Once again, MostMom1 outdid herself trying to convince us grown ups to have fun. And she did a fantastic job. She has sparked all kinds of memories.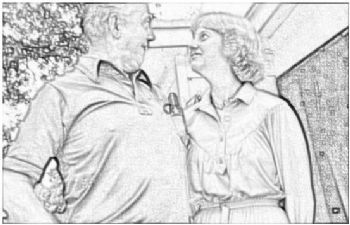 Dad was the fun "spark" when Sandy and I were growing up.
My humor was more academic.



See the little sign on the door of the camper? I bought it at a local hardware store. It says, "Please Use Other Door" and points you off to the right. Mom and Dad humored me and it wasn't too funny until friends walked all the way around twice and finally asked where the other door was.

Sandy went on to become a clown with the church youth group: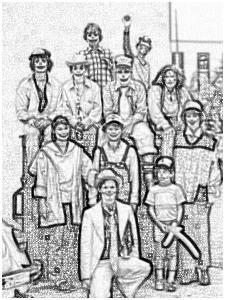 And her clowning even rubbed off on me when we appeared in a talent show together.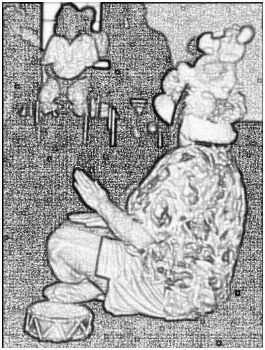 So I turned to humor all of those days in the infusion room, watching funny videos, or listening to Prairie Home Companion jokes. I'd recommend Lucille Ball, or Mork and Mindy, or Saturday Night Live, or Ed Sullivan, or Victor Borge or MostMom1 to anyone who finds themselves incapacitated by a bum foot, a broken leg, a blizzard, or one of life's depressing moments. Get up and move to something funny. How about Lucille ball and stompin grapes. You could do that sitting in a chair. And by the time you were through doing her routine in your chair, you'd be ready to do something else, and laugh at the same time.

And I'm realizing there's probably at least one generation of readers who won't know anyone I mentioned except for MostMom1. I don't mean she'll know them. I mean YOU should know HER. So if you're interested, everyone else should be available on YouTube so your funnybone can be sparked. If you go there, search for Gildna Radner. You shouldn't get another day older unless you get to know Rosanna Danna!! i154.photobucket.com/albums/s258/sha
keiteasy/snlroseannadanna.jpg

Gilda doing Roseanne Rosannadanna: www.youtube.com/watch?v=qd_syuD-N_k&
feature=related

Gilda doing Barbara Walters: www.youtube.com/watch?v=LQvRFrpKi-0&
feature=endscreen

Or Most Mom1 creating memories as herself:

www.sparkpeople.com/mypage_public_jo
urnal_individual.asp?blog_id=5075694


So, get going!! Find a spark to create some funny memories of your own, because life is too short to frown for any length of time.

Thanks MostMom1. You manage to put another smile on my face and a giggle or 2 is heard in my quiet house everytime a new blog appears on SP!