| | |
| --- | --- |
| | BRADMILL2922's Recent Blog Entries |



Wednesday, July 03, 2013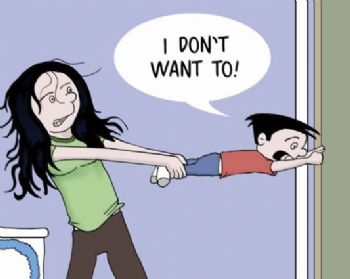 Have you ever felt like that on your journey? When it comes to working out or taking the healthy eating option, how many times have you said, "I don't want to"? I know I have. I know I have often! We have the easy options that we are all to familiar with. The easy option to sit on the couch and not put in the work. The easy option to grab that bag of chips and not slice and dice veggies for 30 minutes. We've taken that easier route for years! Taking that "easier" route is being stubborn! The "I don't want to" attitude is being stubborn!




The beautiful thing is, we do have an option. Why not say, "Not now! Not today!"? Be stubborn in the other direction. That was the old you who was grabbing at the door frame, kicking and screaming when a workout was pulling you! That was the old you who was fighting tooth and nail with you to eat that "junk" instead of taking the healthy option! That was the old you!

You are the NEW YOU!

Be stubborn in the other direction! You hold on to that door frame when your old habits are pulling you away from a workout! You fight tooth and nail to eat that healthy stuff as the "junk" tries to pull you away! We have that choice to be stubborn in a positive way. We can be stubborn against our bad habits! BE STUBBORN!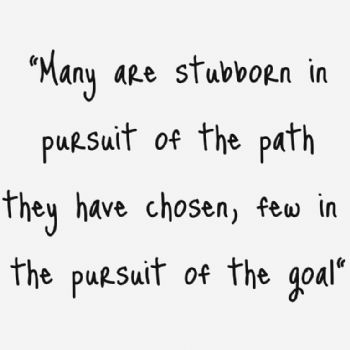 You know what you have to do to get where you want to go. Be as stubborn in your pursuit of your goal as you were in the path that led you to this point! You are here for a reason, so be stubborn in achieving your goals!

Embrace Your Stubbornness

Embrace Your Possibilities

Good Day Sparkville





Wednesday, June 26, 2013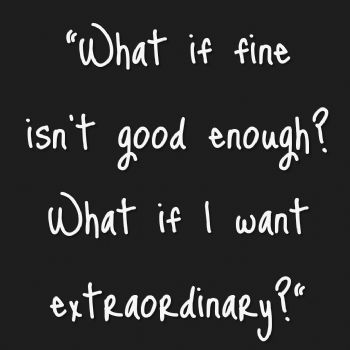 Did you come to Spark to become fine or did you come to Spark to be extraordinary? I will give you a minute to think about...oh, so sorry! Time is up!

Of course you came here to be extraordinary!

Isn't that what we all should have? Isn't that what we all deserve? Isn't that what we all want? We didn't come here to be average or fine (not that kind of fine!) but rather, we came here to be extraordinary!

Why should we want for, hope for, or have just fine? You don't want fine! I don't want fine! WE don't want fine!

The line, "What if fine isn't good enough? What if I want extraordinary?" was said by Will Smith to Eva Mendes near the end of the movie "Hitch". It is a line I have always loved that I think of when dealing with my own relationship (or lack of at the moment) things. I was thinking about it earlier and realized that it really does correlate with what we are doing on our journey's here on Spark.

Being on this journey has helped me realize that I want extraordinary in more areas of my life, and not just in a relationship. Yes, I want that too, someday, but why not strive for that in the other areas of life as well? Why not go for extraordinary in every aspect of life from jobs to weight loss? Why not?

I say we do! I say WE ALL strive for extraordinary today, tomorrow, and every day from now on!

Go get in front of your mirror and take a good look at yourself. Then I want you to ask yourself, "What is extraordinary in my life?" Do you know what your answer is?

The answer is...YOU!

You are extraordinary! You are here on Spark, trying to make major changes for the better in your life! You are extraordinary, on here looking for more extraordinary!

This is your life and his is your journey! Make of it what you would like, but for me, I am aiming for extraordinary! Not just on the scale but everything that comes with living a healthier, more active lifestyle!

Who knew that the movie "Hitch" was such a deep thought kind of movie? It also has one of my favorite quotes of all-time at the beginning of the movie...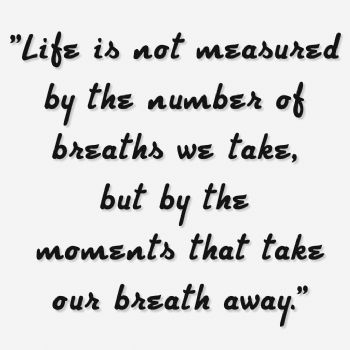 Words to live by. Words to strive for. Words that we can learn something from as we move onward in our journey. We deserve the extraordinary moments in our lives that take our breath away! That is the good stuff in life that we are working to have more of for as long as we can!

Live your extraordinary!

Embrace Your Possibilities!

Good Day Sparkville





Thursday, June 20, 2013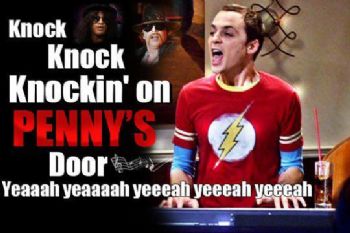 Apologies to all the Big Bang Theory fans in Sparkville, because this blog is not about Sheldon knock, knock, knockin' on Penny's door. Could be a funny blog, but not this time.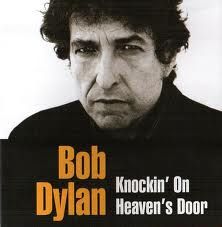 Likewise, apologies to all the Bob Dylan fans in Sparkville because this blog is not about knock, knock, knockin' on heaven's door either. Classic song, but sorry.

This blog is about something a little more personal to me. This blog is about a KNOCK KNOCK, KNOCKIN' on another kind of door. This blog is about me KNOCK KNOCK KNOCKIN' on the 200's door!

200's door? Let me explain...

There is a lot of talk on Spark about Onederland, and rightfully so! I love seeing everyone on Spark making Onederland after working so hard. Onederland deserves to be celebrated! But I do have a question...

What about those of us who will never see Onederland? What is it called when you get in the 200's?





Myself, being a man that is 6'7" and wears a size 16 shoe, I will never see Onederland, nor is that even a goal of mine. My goal from the beginning of this journey has always been 299 lbs. I remember thinking that was a lofty goal considering I started at 509 lbs.! I remember thinking that it would take me forever to get to 299 lbs. Well, I just weighed in at 301.7 lbs., which means that I am less than 2 lbs. away from my goal! That means in less than 2 lbs., I will be in the 200's! So, what do I call it when I hit 299 lbs.? I haven't seen any definitive branding anywhere, so, I will name it for myself...

Twohundoland!

Now, I stand on the precipice of Twohundoland. Now I am KNOCK, KNOCK, KNOCKIN' on the Twohundoland door! Now, I WANT IN!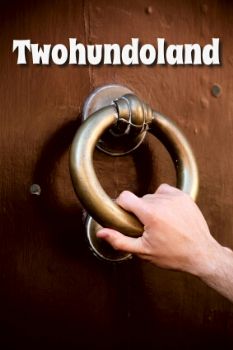 Embrace The Possibilities

Good Day Sparkville







Sunday, June 16, 2013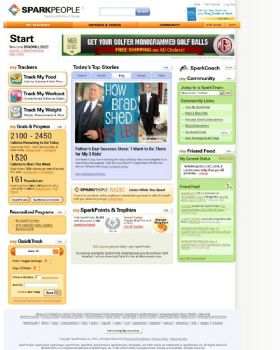 Surreal To Wake Up And See This Today

I have known for a couple of weeks that my story was going to run as a feature on the Spark People Blog but until last week, I thought it was going to be in July. Last week I got an email from the Spark PR department saying that they wanted to move it up to Father's Day.

www.sparkpeople.com/blog/blog.asp?po
st=fathers_day_success_story_i_want_to
_be_there_for_my_3_kids

I said, really? Father's Day? WOW! THAT IS REALLY COOL!

So I am both honored and humbled to be featured in the blog. I am also honored and humbled that the story is in the Success Story section. It is still hard for me to believe that I can be considered a success.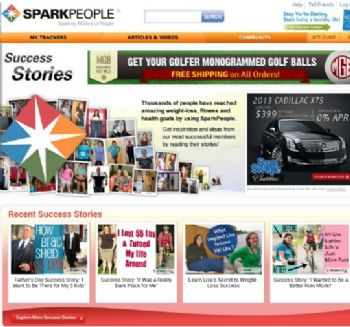 Oh Crap, That Is ME!!!

Thank you to Spark for the honor. Thank you to the Spark Community (all of you) for your love and support through this entire journey! I may have had it within me, but you all helped to bring it out of me! Without you, I could not have done it! Love you all!

Embrace Your Possibilities

Good Day Sparkville





Friday, June 14, 2013

Actual Picture of My First Mocha Light 03.25.13

I honestly never had Starbucks in my life until March of this year. I was told to try the Mocha Light frappuccino. Well, the only thing I could really say is, WHY HAVEN'T I TRIED THIS BEFORE?!? It was excellent!

To save some money and some trips to the local Starbucks, I set out on finding a healthy, homemade recipe that I could use to make my own Mocha Lights. I found one that was ok but I did some tweaking to the recipe. I ended up with something that is pretty good that I would encourage any frozen coffee drinker to try.

I'm not saying they are better than or even quite as good, but thy do the trick. Well, for me at least. Better than spending $5 a pop too! Actually, depending on the price you find the things for, the total cost of these is less than $.60 per 10 oz! Also, 105 calories, .5g fat, 18 carbs, 6 g protein.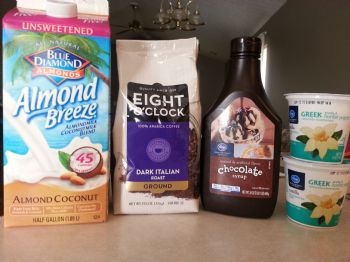 The Ingredients

I make about 32 oz of coffee. If you like coffee flavor, you can add a little more coffee. If you don't, add a little less and just add some water. Put it in the blender. Add 12 oz of Lite Vanilla Greek Yogurt, 8 oz of Coconut Almond Milk, and 8 tbsp of Chocolate Syrup. With all things, you can play with the amount of each that you like to taste. I then blend them up. Pour about 10-12 oz into 6 mason jars, throw them in the freezer. It makes 6 mason jars worth so I have one for 6 days of the week! Just set it out a little ahead of time so it thaws and you can break it up into a slushy consistency. Like I said, it isn't exactly, but it is really good. Also, the last time I made them I added some cinnamon...WOW! I would highly recommend that! You could also add whipped cream but of course that will add calories.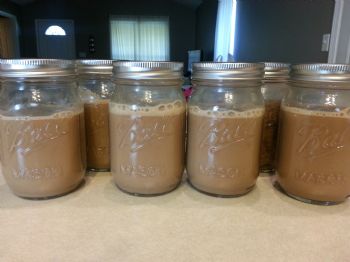 The Milligan Mocha Lights in Mason Jars

Had already shared this with a couple of people so I thought I would share with everyone. If any of you make it and/or have an idea for an improvement, let me know! I'd love to hear about it!

Embrace Your Possibilities

Good Day Sparkville



First Page
1
2
3
4
5 6 7 8 9 10 11 12 13 14 15 16 17 18 19 20 21 Last Page

Get An Email Alert Each Time BRADMILL2922 Posts