| | |
| --- | --- |
| | BRADMILL2922's Recent Blog Entries |


Thursday, June 06, 2013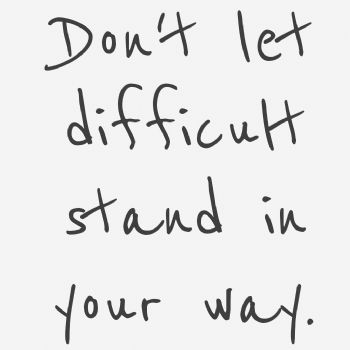 I really consider myself fortunate that I have this outlet here on Spark with all of you. A place where I am able to come and open up about what is going on in my life. There have been plenty of times in my life when I have kept things that are going on with me inside, and in the end, really wish I had that outlet, to just be me. I have that here. I have met some really wonderful people here over the last year that I am lucky to call friends and for those of you reading this that I don't know, maybe I will be fortunate enough to call you a friend real soon.

This particular blog is going to touch on a subject that I really haven't opened up much about here on Spark, and that is my relationships or "love life" if you will. I have to admit that I am feeling a little vulnerable but I want to share my life with you all....good and bad.

You may recall from my last blog "Suck It Up & Ride The Roller Coaster", I ended it by saying that I was going to cross off another "what if" on that Thursday (May 30th). I also said that particular "what if" scared me even more than the height of the roller coaster. I said I was going to put myself out there and try. No more "what ifs"!

I am happy to say, I did it. I put myself out there. I told a particular young lady that I was interested in her as more than just friends. I told her that I thought she was great. I thought she was smart, funny, pretty, strong, and caring. I told her that I was interested in her! She is someone that I could really see having something really special with. I think that highly of her.

So in the words of one of my favorite movies, 'Good Will Hunting', "I had to go see about a girl."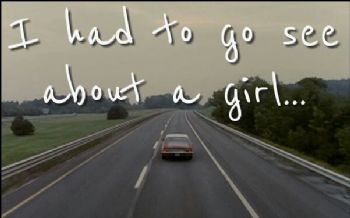 Some background is probably necessary at this point because that really may not seem like a big deal. Trust me when I say that it is a huge deal for me! I have only asked out one girl in my life. Let me repeat that, ONE! Yes, I have had 3 relationships in my life (4 + years, 4 + years, and 1 year) but those just kind of happened. I didn't just flat out ask any of them out. The one time I did was about 2 1/2 years ago and she still hasn't answered me! At the time she said, "I'm not saying no, but I will call you tonight and we can talk about it." Well, I still haven't gotten that phone call. STILL! Maybe she lost my number? Doubt it.

My biggest fear was always rejection (and being alone, but that is another blog for another day). No way I could handle rejection! But what I should have been fearing the most was NO ANSWER AT ALL! That feeling is far worse than rejection.

As for me, I am a hopeless romantic. I am sensitive when it comes to matters of the heart and take relationship stuff seriously. I don't do casual. I want something real. I'm the guy who wants to be married for 50 years! Of course I am 34 and have yet to be married! I want to wake up in the morning and see the same pretty smile and beautiful eyes every day for the rest of my life! I want all the little things that only couples have between them like walking up behind her and wrapping my arms around her or those looks that couple have where they don't have to say anything because the look says it all. The little things. That is the good stuff!

Back to last Thursday. There was one other hitch. It would be a long distance relationship. It would be about 300 miles worth of a long distance relationship. I have met her in person and we hung out as friends a couple of days when she was in Louisville so I knew her and she knew me. As much as I enjoyed being friends with her, I felt like there could be something more and I didn't want this to be another "what if" in my relationship life like I have had so many times before. There have been plenty of times where I have been interested in a girl only to never say anything and be eternally stuck with the "what if". Not this time. Not with this girl. Not now. Nope.

So I told her what I thought of her. I said, "I know you are there and I am here, but that doesn't have to get in the way of something between us. I have never done any sort of long distance thing but I'd be willing to try for you."

She said, "Thank you. I'm not going to lie, long distance things suck and I don't know where I am going to end up."

I said, "I know you don't know and I am not asking you to figure it out. I am just letting you know how I feel. I want you to know that I think you would be worth the effort.

She said, "I appreciate your honesty."

I said, "I know it would be difficult, but I think something that has the possibility of being great, is worth the difficulty."

She said, "I never really looked at it like that."

We talked some more and she said that we could continue talking and see where it goes. So, we have been talking over the last week but to be honest, it doesn't seem like the interest on her side is nearly the same as the interest on my side. That doesn't feel good to say. But, I could be wrong but at this point I would say that it probably isn't going anywhere, unfortunately.

I will take the positive of at least I tried and I don't have to wonder "what if?" Don't get me wrong, I'm not giving up but I at least know that she knows where I stand and how I feel. I still really hope something can work out but I don't have to sit here and think about what would happen if I actually told her how I feel. For better or for worse, I did that.

Maybe won't get the desired outcome from this situation but I hope that you can take two things from this blog...

First, if you have a significant other, boyfriend, girlfriend, spouse, or whatever, don't take them for granted. You may get sick of them from time to time and you may get tired of dealing with their crap, but they are with you! They love you! You love them! DO NOT take that for granted because there are people in the world like myself who would give just about anything to have to deal with someones crap because that someone is the love of my life. Don't forget that. Don't ever forget that! Cherish it because it is all good stuff.

Second, remember, if there is the potential for something great in your life, it is worth going through difficulty. That is true for so many of us here on Spark who came here to make real life changes. It is difficult, but isn't it worth it? Isn't it worth going through some difficulty for something that can be potentially great? I think so! Don't let difficult stand in your way wheather it be losing weight or going to see about a girl.

No more "what ifs"!

Embrace Your Possibilities

Good Day Sparkville






Thursday, May 30, 2013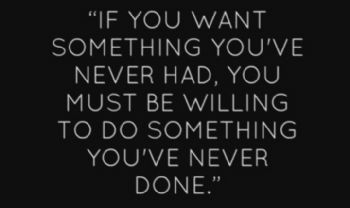 This thing. This journey. This lifestyle, is about true change. When I look back over the years of being unhealthy and gaining weight, I need not look any further than the lifestyle I was living. A lifestyle that included laziness. A lifestyle that included taking the easy road. A lifestyle that included unhealthy eating habit on top of unhealthy eating habit. It is no wonder I gained so much weight.

What is a wonder? What is a wonder is how I managed to make it out the other side.

It is easier to be lazy. It is easier to not watch what you eat. It is easier to just exist. That last part is really something to think about. It is easier to just exist...

I don't know about you, but I am done "just existing". I want to be the change in myself that I have always envisioned. I want to be someone that somebody can look up to and say, "because I've seen him do it, I CAN TOO!" I want to be the person who can look back on their life and not wonder "what if".

I have lived to many years of "what if". NO MORE!

Well, ok. How about one more "what if", for old times sake? What if I didn't live with "what ifs" anymore? What then? I can't say that I honestly know the answer to that question but what I can say is that I sure as heck going to find out because I am done with "what ifs". That is what I like that quote so much in the picture at the beginning of this blog...

"If you want something you've never had, you must be willing to do something you've never done."

I've never had a time in my life where I haven't wondered "what if". I have always been cautious with everything from my physical safety to my mental safety. I have never been one to climb trees or go much over the speed limit on the road. I have never been on to take that chance on asking a girl out that I probably don't have any business asking out in the first place because I was always afraid of "no". I have never been the one to put myself out on display in fear that other people would judge me harshly and I couldn't deal with that. I have never been one to push the envelope and take a risk.

Well, as Bob Dylan said back in 1964, "The Times They Are a-Changin'".

I have started "changin" a little bit at a time. Baby steps. Opening up to you guys on a more personal level in blogs (like this) is a baby step. I took another baby step this last weekend. However, by the picture, it doesn't look like a baby step...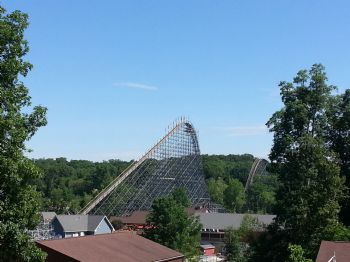 The Voyage at Holiday World

That is The Voyage roller coaster at Holiday World in Santa Claus, Indiana. I took the kids there this past weekend to ride some rides and have some fun. Guess who is afraid of heights? Me. Guess who doesn't like tall roller coasters? (The Voyage has a Max speed of 67 mph and stands 163' tall!) GUESS WHO RODE THE ROLLER COASTER AND LIVED TO WRITE A BLOG ABOUT IT?

ME!

Sometimes, you have to suck it up and ride the roller coaster! I did! Baby steps. I don't have to ever wonder "what if" about that and that is just the beginning!

It isn't easy. It isn't supposed to be. That is what makes it so much sweeter when you accomplish it. So go accomplish it today. You have it within you to "Suck it up & ride the roller coaster"! You have the ability to conquer your roller coaster and cross off a "what if" in your life!

Thursday, I will be crossing off another "what if" that I can blog about next time. Honestly, it is something that scares me even a little more than the height of a roller coaster. It also has a better upside so hopefully the outcome will be another positive cross off of the list, but if not, at least I won't be stuck wondering "what if" I had tried...because I am going to put myself out there and try!

Don't fall victim to "what ifs". Embrace Your Possibilities.

Good Day Sparkville





Thursday, May 23, 2013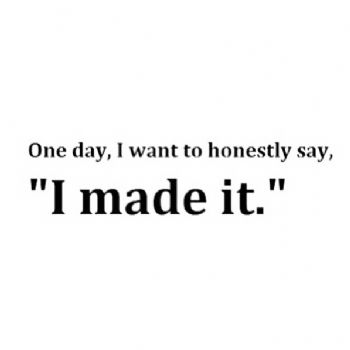 Someday, I honestly want to say, "I MADE IT". "I MADE IT". I MADE IT...

It is easy to sit around and complain about how hard things are. It is easy to sit around and complain about not being able to do this, or not being able to do that. It is just easy to sit around! Where will that get you in the long run? Right back to where you started.

That is not why we are here on Spark. We are not here to sit around and end up right back at where we started. We are here to forge new lives for ourselves. We are here to be the person that we know we can be. We are here to be the person we have always wanted to be.

I am not talking about just the number on the scale. I am talking about a lifestyle. I am talking about real change! We all came here because we weren't happy with a number on a scale but we can leave here knowing that we have the tools and resources to be a healthier and happier person. We know we can be that person we want to be. We know that we have it within ourselves to say that "I MADE IT!"

Did you fall down yesterday? Did you slip up? So what? Why not start today? I want you to think to yourself right now, what am I going to do today to make myself better than yesterday? What am I going to do right now to take a step (even a baby one) in the direction to meet my goal no matter what it is?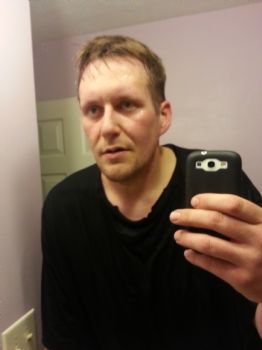 This is me on Wednesday, May 22nd. This is what I looked like 5 minutes after my workout. It is hard to tell with the picture but I actually took that shirt off and rung it out! That is one thing I did yesterday to make myself better than the day before. That is one thing I did to get one step closer to my goal! That is what I did to get myself closer to saying, "I MADE IT!"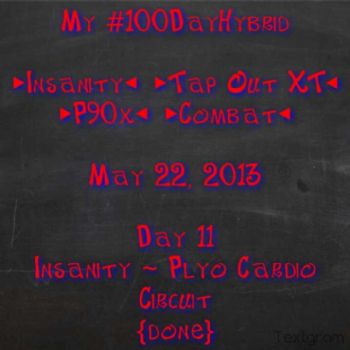 I'm not saying that you need to go do Insanity and you need to sweat until you can ring your shirt out. That is NOT what I am saying. What I am saying is that this thing takes work! This journey takes work! Nothing is handed to us, it takes WORK! So let's go out and earn it!

Go take a look in the mirror, and ask yourself, what can I do today, to get one step closer to you saying, "I MADE IT!"?

Embrace Your Possibilities Sparkville

Good Day





Monday, May 20, 2013
I am going to get to what my 100 Day Hybrid workout is in a minute, but first, I wanted to touch on something else real quick.

When I posted my vlog last week about losing 142 lbs. in one year, I had no idea that it would get the kind of response it got! Holy Toledo, you all here in Sparkville are AWESOME! I mean, I knew that you were already, but I think you all took it to another level last week! I have been kind of slow getting back to everyone and thanking them for all the wonderful comments, emails, messages, and goodies and I apologize. I really do appreciate every word! I have been reading them all and I will get back to you as soon as I am able to catch up. But thank you, thank you, thank you from the bottom of my heart! The outpouring of support and love from you all was something else! Thank you!

Like I have said many times, I still have a hard time believing that I can inspire anyone because there was a time in the not to distant past, when I couldn't inspire myself! I will say, that if I ever even inspire 1 person along the way here, that will be a major accomplishment! I am completely humbled when I read comments about being an inspiration. Every single one of us on here has it within themselves to be their change that they need. You have it within YOU to be your change! You can do this! We can do this!

I could go on and on about that all day but I will get back to the subject at hand of this blog, my workout program.

As some of you may know, over a 10+ month period, I finished, Insanity, Tap Out XT, P90x, and Les Mills Combat. None of them were easy as each had it's strengths. For me, Insanity was the best of the four for cardio. Tap Out XT was the best for overall strength. P90x was the best for flexibility and balance. Combat was the best for core & leg strength.

When I finished Les Mills Combat back on May 10th, I really wasn't sure what I was going to do next. Do I repeat one of the programs I already finished? Do I start something new like Asylum, P90x 2, Tap Out XT 2, or Turbo Fire? I was really unsure of where my next challenge was going to come from.

I had an idea. Hey, don't act so shocked...

I thought, how about I combine the hardest and most challenging workouts of the 4 programs I already finished into a hybrid and I can do that! Bingo! CHALLENGE ACCEPTED! I made a full workout calendar and when I was done, it was 100 days of the best and harderst workouts of Insanity, Tap Out XT, P90x, and Combat combined!

Crazy? Perhaps. I don't look at it like that. I look at it as the next evolution of challenging myself. I am always looking for that next challenge. I am always looking for the next way to step up my fitness. Not to mention I want to go ahead and knock of these last 25 lbs and hit my goal that I set back in May of 2012. So the 100 Day Hybrid is what I came up with and is what I am going with.

I kicked off the hybrid on May 12th with some P90x Yoga and here is what the entire 1st week looked like...




A few things with this program. One, I have already lost 6 lbs in the first five days! Two, I love it! Not just for the weight loss but for the mix of workouts. Three, doing the old workouts is actually fun! Some of them I hadn't done since last summer and it is AMAZING when I can do parts of them now that I couldn't do back then! Makes it even more fun for me and makes me want to push even harder!

The general rule for the program is 2 days a week of yoga, 2 days a week of cardio, 1 day a week of arms & core, 1 day a week of legs & core, and 1 day a week with all core.

So that is my 100 Day Hybrid plan! What do you think? I finished Day 8 (Tap Out XT - Yoga XT...Sunday is yoga day) and I am more sure about my decision to try this hybrid than ever. It will be a challenge but I really think that it will give me the results I want when it is over!

Thank you again for all of your support! You all help me push harder and farther every day and I couldn't be more appreciative! You all are the best!

Embrace Your Possibilities

Good Day Sparkville






Tuesday, May 14, 2013

My recap of my 1 year journey in which I lost 142 lbs. and some of what I have done over the last year that has helped me lose 142 lbs.

This isn't the whole story. Plus, I still have more to be written. But thank you for taking the time to watch my vlog and for all of your support. I hope you enjoyed the video :)

Music from the video...

Band of Horses "The Funeral"
Macklemore ft. Ryan Lewis "Can't Hold Us"
Will.i.am ft. Justin Bieber "That Power"
Pitbull ft. Christina Aguilera "Feel This Moment"
Israel Kamakawiwo'ole "Somewhere Over The Rainbow"



First Page
1
2
3
4
5
6
7
8 9 10 11 12 13 14 15 16 17 18 19 20 21 22 23 Last Page

Get An Email Alert Each Time BRADMILL2922 Posts