| | |
| --- | --- |
| | BOTZZZ's Recent Blog Entries |


Thursday, May 20, 2010

The weather said to me that if I was going to blog today it would have to be later because there was no way that I was staying inside on a day like today. Just that sentence could have not been said about me two short years ago, weather meant nothing to me, when it was cold outside I had the heater and when it was warm I had my air conditioner and the couch was always under my ass and that was the plan for the day. This morning I went out and installed a couple sections of split rail fence in my front yard as an accent and I will be planting a flower bed around it possibly this weekend as the trend of great weather is suppose to stick around for a couple few days. After cleaning up the mess that I made in the yard I weeded the front garden for a little while only coming in to get a drink then it was off to take my little darling to school in the bike trailer and here I am I find myself with a few minutes so I thought I would pop on here with a post.

I can honestly say that I don't want to waste any of my time sitting idle while the world happens around me, I lived that life for far too long and now that I am very much less limited if at all its all gonna happen on my terms. I did skip going to the gym today because I figure 10 miles of biking on hills pulling a 45 pound kid and a trailer around will fill my need for exercise for the day and in fact I may go out after dinner on a solo ride just to add some more mileage to the night as tomorrow is weigh in day and I did in fact get a new scale yesterday.

The new scale that I picked up cost me twenty six bucks out the door and can weigh a person up to 400 pounds so I should be covered for a good long while on that one. The good news is that it seems to be dialed in pretty much exactly where my old scale is on the weights because my daughter weighs 45.0 on the button so said the old scale and she has weighed that much for at least the last month and a half and when she gets on this one it reports the same exact figure. I stepped on this morning and I am actually up from last week by a fraction of a pound but I was pretty sore from the weights yesterday at the gym and thanks to my son whom thinks its a good idea to creep around the house at 1am and wake everyone in the house up I did not sleep well at all. Wednesdays I stay up a little later because I watch the ultimate fighter and then usually head to bed around midnight so being woke up at 1am and then not being able to fall back asleep for about 45 minutes took a chunk out of my already short night and then I was up at 6:15 thanks again to the stomping of his possibly hooved feet. Either way I am not too worried about tomorrows weigh in I do think that I will have a loss I just really have no idea where the wheel will stop spinning because of my not so good night last night.

So today is turning out to be an awesome day in lieu of my lack of sleep, I got some work done around the house and got a good solid ride in on my bike and will have another when its time to get the little one from school. Tomorrow is anyone's call on whether I lose or not but hopefully I will be able to post up some "what I have lost" images and can record a new low weight. I am down a total of 228 pounds to date and need to get another 31 to hit my first major goal of weighing 275 pounds and after that goal is met I am looking for 267 so that I can say I have lost 50% of my total body weight which is totally insane to me to think that I will have lost that amount when I get there.

Tomorrow shall tell the tale of whether I lost some or not so your going to have to wait until then, That's all I got for today.

As Ever
Me





Wednesday, May 19, 2010

Hi my name is Zeusmeatball and I am an addict....to the scale.. My scale is not working and I have to say that its driving me insane. Yesterday when I came home from the gym I stepped onto the scale to see where I was and nothing on the display, hmmm batteries must have died no worries I can weigh myself later. Fast forward to later and new batteries were placed into my cold black friend and still nothing, she is kaput and its been two days since I have been able to check my weight and I can't stand it. I am a daily weigher, EVERY morning only after using the bathroom and before I eat breakfast I step on to see where I am and not being able to do that since yesterday is bothering me way more than I thought that it would if ever I was not near a scale, what ever will I do?

I have a couple choices, A.) Go buy a new scale at Walmart or the likes, after all I can use normal people scales now so I have what you normal sized folk call options, or B.) Weigh myself at the gym later but then I am in clothing and its an afternoon weigh in which tells me nothing really because I am all over the place in the afternoons usually (yes I weigh myself more than once per day) or C.) don't worry about it at all and wait for the warranty scale to get here in the mail after of course I find my receipt and warranty paperwork for the scale that I have and send this one in, yeah like that's going to happen, so..I find myself looking at some options.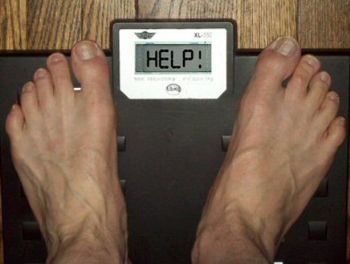 I mentioned that I weigh myself multiple times per day and thats true, I usually weigh myself in the am, then again after I get home from the gym and again right before bed and these different times tell me different things. The morning weigh in tells me exactly where I stand with my weight and is usually only fractionally different from the previous morning whether its up or down and this is the most important weigh in for me. The afternoon post gym workout is purely because I am nuts and addicted to checking my number on the scale and is usually only a pound or so over my am weigh in and if its more than that I usually drink more that day but it really is an unnecessary step on the scale. My before bed time weigh in tells me where I am going to be in the am and is usually not off my much at all, I tend to drop 3 to 3.5 pounds over night between my am trip to the little boys room and just night time burn off so it gives me an idea of how my morning will look. I promise you that I am not like this all of the time but when I am looking for a number, oh you know the 200's I tend to get scale happy and am on more than I want to admit for fear of being put into a 12 step program.

I will figure the scale out and will likely have a new one because I don't want to wait for warranty paperwork and mail etc etc to happen before I weigh myself again, yes the 550 pound limit scale that I bought has a 30 year warranty on it which is nice but I honestly don't know if I have that paperwork. Anyways, onto normal stuff and off of the broken scale, Yesterday I did about an hour of gardening in the morning before it started raining and I did miss out on my afternoon bike ride because of rain but made up for that at the gym. I got in 65 minutes of cardio yesterday by doing 25 minutes on the stationary bike, 20 on the arctrainer and 20 on the treadmill 6.5% incline 3.4mph so I feel good about the exercise for the day. I have also started doing my push ups at night again because I don't remember why I stopped and since there was no reason I figured they needed to be added in again so hopefully they help keep some muscle from leaving my chest.

My intake came in at 1910 calories for the day and I have to admit that I am enjoying having the extra 200 calories to play with. I am able to now include a couple more snacks throughout the day because of the up in calories and though I wasn't hungry before the additional calories I am feeling more than satisfied now that my limit is higher. Nothing has changed with my meals at all, I eat the same portions besides lunch where I do add a couple calories but for the most part it means 2 pieces of extra fruit sometime in the day for me or a yogurt and a fruit and I feel like I always have something in my mouth lately. Drinking is never an issue with me and averaging 2 gallons per day is pretty much how I roll, yes I just said its how I roll so get over it aight yo! don't start none won't be none..ok ok enough of that I drink a lot and that's that.

I am pretty much doing what I need to do and expect that the scale will reflect the work BUT without knowing for sure I am going a tad bit insane currently and though I will check in on the scale at the gym today I know that its not really accurate so...yeah I think that I will be stopping to buy one on the way home from the gym. That will sum up this episode of as the fat guy turns, be sure to tune in tomorrow to see if our Hero makes it through the day without imploding as a result of not knowing his starting weight for the day! Let us hope he makes it!

As Ever
Me





Tuesday, May 18, 2010

Today it will rain, my herb garden is in dire need of being weeded, de-stoned, raked and, and. and... this fact bothers me and its time to just do it already. This means that I have a choice to make, I can sit on my rump and type out a long in detail blog about how yesterday went (superbly by the way) or I can go outside before it starts raining for 3 days and clear that garden. Once upon a time I would have loved having an excuse to take the easier of the two tasks and would 100% decide on sitting here and typing but now that I actually have the ability to do the labor?

No choice there, free exercise, I will be back tomorrow with another bone chilling episode of as the fat guy turns...

what choice will you make today that will effect you in a positive way?

As Ever
Me





Monday, May 17, 2010

Straight to the point all week is my plan, I weighed in at 306 pounds on Friday and something in me wants to get to that 300 pound mark by this coming Friday and I know that it isn't likely but just you try and stop me. I got through the weekend with a perfect caloric intake and I drank enough, I did not in fact do anything that I would call real exercise besides pouring some cement pads helping my neighbor fix his deck and some calisthenics Sunday. The calories will be easy, The killing myself in the gym and on my bike on the other hand though not so easy but I suspect it will be fun.

The plan is as follows, get to the gym every day this week which is par for the course but I am going to add some evening calisthenics every night and I will use my bike to ride my daughter home from school every day that it does not rain this week. Each night after dinner a bike ride will be on the menu and if I succeed in getting onto the bike as often as I am aiming for that will be 10 miles per day pulling my daughter in her trailer which would likely be enough exercise for a day but then when you add the trips to the gym and the calisthenics I have a feeling that I will be getting my moneys worth in the workout department.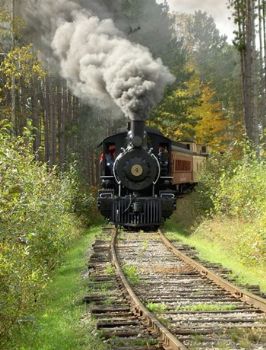 I am too close to crossing that line in the sand that has been there for more than a couple months and its time to just step over it already and see how the 200's feels after so long. For me getting into the 200's almost feels like I did an impossible thing, when I found out that I was more than 500 pounds its almost like a baseball bat to the skull feeling when thinking about making it that far down and to be a mere 6 pounds from being there is awesome. I have only been doing this whole better health thing for a bit more than two years now and that's not long in the grand scheme, I can remember like it was yesterday some of the struggles that I had to deal with at five hundred plus pounds and to be where I am today just goes to show that some hard work and discipline can move mountains at times. I am just a fat guy that decided to take control of some out of control habits and actions but honestly its like a door opened up and the entire world was behind it, why did it take so long?

Of course there are variables that were in place that helped the process along and because it is such a slow process it sort of creeps in and one day you realize that you have hand grenades in your knees and back and its only a matter of time before they go boom. How can getting to 500 plus pounds creep up on you man? what are you fuvking insane?? trust me, it creeps up, the excuses roll on through and each day will be the day that you start doing something about it or becoming blind to the process is the flavor of the day but by the time we look at it in as serious a light as it needs to be its too late and there we are covered in sweat, breathless at the top of a 7 stair flight of steps wondering when the fuvk this happened. It snapped for me and here I am 228 pounds lighter and possibly in better shape than I have ever been in my entire life, I am on my way to becoming what I want to be physically and I don't see a roadblock that can stop me, speed bumps are absolute but ultimately I will get there.

By weeks end I will be healthier no doubt, I will be a week stronger and will have done things for my health that will only effect me in a positive way and I may get under that 300 pound line in the sand by weeks end but I may not and I am ok with that too BUT......

I will do everything in my power to try and get there and I don't think that you should stand in my way..unless getting plowed over is in your plan for the week.

As Ever
Me






Friday, May 14, 2010

This week I pretty much busted my ass where working out was the subject and its the first week where I am at 1900 calories and I had the entire week on point and I have to say that I am happy with what the scale said to me. Last Friday I was 311.2 pounds which was up by two pounds from my lowest weight of 309 pounds and this morning I weighed 306.0 pounds three times in a row which means a five pound drop for the week and I am now three pounds lower than my all time low! This weeks weigh in means that I have lost 42.69% of my total starting weight and the closer that number creeps up towards that 50% mark the crazier it feels to me that I was ever that big, how was I doing anything past breathing?? This weeks weigh in leaves me 31 pounds from my original goal weight of 275 pounds and a mere 6 pounds from busting that 300 pound mark and entering into the two hundreds, hopefully its not a stubborn six.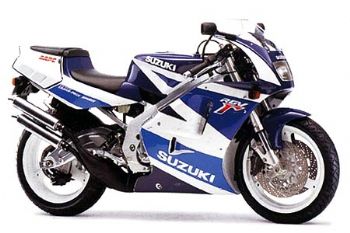 This 1991 Suzuki RGV 250 comes in at 306 pounds and of course thats what I weigh now or you wouldn't be seeing this image.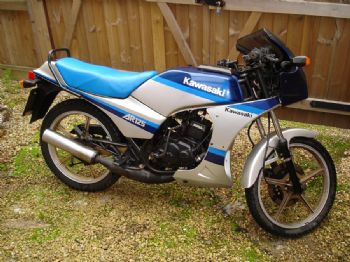 This 1986 Kawasaki AR 125 comes in at 228 pounds and now try to imagine carrying that around all day, motorcycles are made to carry us around right?

I tried to get an picture of the scale but the light in the room wouldn't cooperate and the flash kept hiding the number but man was I happy to see it there. I was expecting a decent number but I was not expecting five pounds loss for the week and a three pound difference from my previous low weight, did I mention that I am happy to see a good loss? I mentioned bustin' ass this week and to give you a sample of my workouts yesterday I went to the gym and did my normal 20 minute bike ride and 20 on the treadmill but called it a day there for the gym because I knew that I was going to pick my daughter up from school on my bike. I did 10 miles on my bike all hills towing my 45 pound daughter and the trailer which is quickly becoming my favorite form of exercise, you know the towing part, the kiddo loves it and we chat the whole time so its like I said, fun.

The plan is to stick to the plan, I am going to eat 1900 calories per day, keep drinking the same way, ride my bike as much as possible as long as the rain doesn't stop me and sleep a plenty this week and hopefully I can duplicate the results come next Friday. I am only 31 pounds from my original goal weight which will be my first stop on the "Holy $hit did I actually just do this" tour with the next stop being 267 pounds and that number will get me to that 50% total weight lost mark and I want that one just for the sheer size of the number. Ultimately I believe that I would like to end up closer to 250 pounds but once I am at 275 and then 267 I will make that decision on whether I will keep trying to go lower and I already know that at some point gaining some more muscle will become the main focus because lets face it, I can't lose weight forever right?! I mean, I am going to hit a point where I weigh what I should and I have been bitten hard by this workout bug so I am not letting that go to waste. This train only goes one way and the destination is somewhere that I am a healthy weight and after that lots of lean mass will be added to the already present size that I do have underneath the skin cape.

This week is what I needed to see, I needed to see a loss and I worked hard for it now its time for some rinse repeat and lets see if I can get under that 300 mark come next Friday. I will need to drop six pounds to get there by then but its not impossible, improbable perhaps but impossible I think not and we will have to wait and see how it all pans out in the next weeks episode of As the fat guy turns.

As Ever
Me



First Page
1
2
3
4
5
6
7
8
9
10
11
12
13
14
15
16
17
18
19
20
21
22
23
24
25
26
27
28
29
30
31
32
33
34 35 36 37 38 39 40 41 42 43 44 45 46 47 48 49 50 51 52 53 54 55 56 57 58 59 60 61 62 63 64 65 66 67 68 69 70 71 72 73 74 75 76 77 78 79 80 81 82 83 84 85 86 87 88 89 90 91 92 93 94 95 96 97 98 99 100 101 102 103 104 105 106 107 108 109 110 111 112 113 114 115 116 117 118 119 120 121 122 123 124 125 126 127 128 129 130 131 132 Last Page

Get An Email Alert Each Time BOTZZZ Posts