| | |
| --- | --- |
| | BOTZZZ's Recent Blog Entries |


Monday, May 17, 2010

Straight to the point all week is my plan, I weighed in at 306 pounds on Friday and something in me wants to get to that 300 pound mark by this coming Friday and I know that it isn't likely but just you try and stop me. I got through the weekend with a perfect caloric intake and I drank enough, I did not in fact do anything that I would call real exercise besides pouring some cement pads helping my neighbor fix his deck and some calisthenics Sunday. The calories will be easy, The killing myself in the gym and on my bike on the other hand though not so easy but I suspect it will be fun.

The plan is as follows, get to the gym every day this week which is par for the course but I am going to add some evening calisthenics every night and I will use my bike to ride my daughter home from school every day that it does not rain this week. Each night after dinner a bike ride will be on the menu and if I succeed in getting onto the bike as often as I am aiming for that will be 10 miles per day pulling my daughter in her trailer which would likely be enough exercise for a day but then when you add the trips to the gym and the calisthenics I have a feeling that I will be getting my moneys worth in the workout department.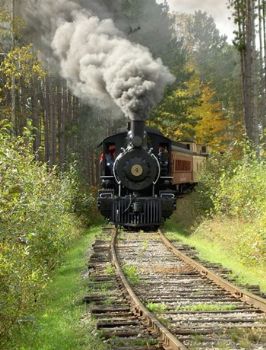 I am too close to crossing that line in the sand that has been there for more than a couple months and its time to just step over it already and see how the 200's feels after so long. For me getting into the 200's almost feels like I did an impossible thing, when I found out that I was more than 500 pounds its almost like a baseball bat to the skull feeling when thinking about making it that far down and to be a mere 6 pounds from being there is awesome. I have only been doing this whole better health thing for a bit more than two years now and that's not long in the grand scheme, I can remember like it was yesterday some of the struggles that I had to deal with at five hundred plus pounds and to be where I am today just goes to show that some hard work and discipline can move mountains at times. I am just a fat guy that decided to take control of some out of control habits and actions but honestly its like a door opened up and the entire world was behind it, why did it take so long?

Of course there are variables that were in place that helped the process along and because it is such a slow process it sort of creeps in and one day you realize that you have hand grenades in your knees and back and its only a matter of time before they go boom. How can getting to 500 plus pounds creep up on you man? what are you fuvking insane?? trust me, it creeps up, the excuses roll on through and each day will be the day that you start doing something about it or becoming blind to the process is the flavor of the day but by the time we look at it in as serious a light as it needs to be its too late and there we are covered in sweat, breathless at the top of a 7 stair flight of steps wondering when the fuvk this happened. It snapped for me and here I am 228 pounds lighter and possibly in better shape than I have ever been in my entire life, I am on my way to becoming what I want to be physically and I don't see a roadblock that can stop me, speed bumps are absolute but ultimately I will get there.

By weeks end I will be healthier no doubt, I will be a week stronger and will have done things for my health that will only effect me in a positive way and I may get under that 300 pound line in the sand by weeks end but I may not and I am ok with that too BUT......

I will do everything in my power to try and get there and I don't think that you should stand in my way..unless getting plowed over is in your plan for the week.

As Ever
Me






Friday, May 14, 2010

This week I pretty much busted my ass where working out was the subject and its the first week where I am at 1900 calories and I had the entire week on point and I have to say that I am happy with what the scale said to me. Last Friday I was 311.2 pounds which was up by two pounds from my lowest weight of 309 pounds and this morning I weighed 306.0 pounds three times in a row which means a five pound drop for the week and I am now three pounds lower than my all time low! This weeks weigh in means that I have lost 42.69% of my total starting weight and the closer that number creeps up towards that 50% mark the crazier it feels to me that I was ever that big, how was I doing anything past breathing?? This weeks weigh in leaves me 31 pounds from my original goal weight of 275 pounds and a mere 6 pounds from busting that 300 pound mark and entering into the two hundreds, hopefully its not a stubborn six.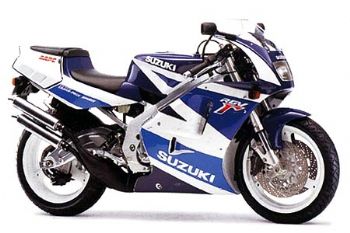 This 1991 Suzuki RGV 250 comes in at 306 pounds and of course thats what I weigh now or you wouldn't be seeing this image.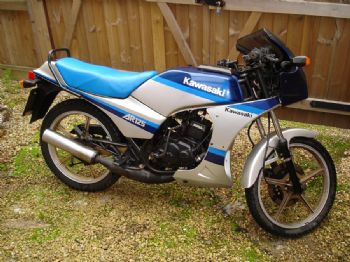 This 1986 Kawasaki AR 125 comes in at 228 pounds and now try to imagine carrying that around all day, motorcycles are made to carry us around right?

I tried to get an picture of the scale but the light in the room wouldn't cooperate and the flash kept hiding the number but man was I happy to see it there. I was expecting a decent number but I was not expecting five pounds loss for the week and a three pound difference from my previous low weight, did I mention that I am happy to see a good loss? I mentioned bustin' ass this week and to give you a sample of my workouts yesterday I went to the gym and did my normal 20 minute bike ride and 20 on the treadmill but called it a day there for the gym because I knew that I was going to pick my daughter up from school on my bike. I did 10 miles on my bike all hills towing my 45 pound daughter and the trailer which is quickly becoming my favorite form of exercise, you know the towing part, the kiddo loves it and we chat the whole time so its like I said, fun.

The plan is to stick to the plan, I am going to eat 1900 calories per day, keep drinking the same way, ride my bike as much as possible as long as the rain doesn't stop me and sleep a plenty this week and hopefully I can duplicate the results come next Friday. I am only 31 pounds from my original goal weight which will be my first stop on the "Holy $hit did I actually just do this" tour with the next stop being 267 pounds and that number will get me to that 50% total weight lost mark and I want that one just for the sheer size of the number. Ultimately I believe that I would like to end up closer to 250 pounds but once I am at 275 and then 267 I will make that decision on whether I will keep trying to go lower and I already know that at some point gaining some more muscle will become the main focus because lets face it, I can't lose weight forever right?! I mean, I am going to hit a point where I weigh what I should and I have been bitten hard by this workout bug so I am not letting that go to waste. This train only goes one way and the destination is somewhere that I am a healthy weight and after that lots of lean mass will be added to the already present size that I do have underneath the skin cape.

This week is what I needed to see, I needed to see a loss and I worked hard for it now its time for some rinse repeat and lets see if I can get under that 300 mark come next Friday. I will need to drop six pounds to get there by then but its not impossible, improbable perhaps but impossible I think not and we will have to wait and see how it all pans out in the next weeks episode of As the fat guy turns.

As Ever
Me





Thursday, May 13, 2010

Week two of raising the calories to 1900 will come to a close tomorrow morning and we will see where the wheel stops spinning for a number. Last Friday I was 311.2 pounds of luvvin and I am hoping that I get to post some "what I have lost" images in tomorrows post, 309 is the lowest point that I have seen so far on the scale so anything under that and we have a happy boy. If raising my calories to 1900 I still lose pounds I am going to stick with that number until that result changes and even then I may stick to it anyways because though I have had incredible success with my 1700 calories I have been doing much more in the way of exercise since about October of last year and perhaps a change is needed on a more permanent basis to keep the weight heading south.

My wife weighs in almost every day taking a page from my book and she does not have a weigh in day, she just weighs herself and whatever the lowest weight was on any given day is what she calls her lowest. This way of doing things is awesome and honestly I do it too but for the sake of having a day where I post the weight each week I post my weight on Friday "for the books" so to speak and if I was following what she does I would have a new low weight because this morning I was lower than I have ever been. This is the bane of so many people that are trying to lose weight, you know, the having a day where we weigh in and judge our entire week off of that single number and for the most part that works but, there is always a but. BUT this morning I am lower and I will almost positively show a loss from my last Fridays weigh in on the scale tomorrow but regular fluctuation may stop me from getting that new low weight "on the books" because I have been less on Thursday than on Friday lots of times but Fridays weight is Fridays weight and that's what gets put up on here.

I have a feeling that I will be able to post a new low weight come the morning but crazier things have happened but man I tell ya I need a win this week because its been a couple since I showed a loss. Today I am planning on having a perfect day where my food and exercise is concerned, I am also going to go to bed at a reasonable hour to help me along with that new number because even though I am lower this morning than my all time low its not much lower at all and I would love to see an even lower number tomorrow. I am on a roll with the exercise this week and I say that because I have made it to the gym every day as well as a few bike rides after the fact including pulling my daughter around in our bike trailer and I want to keep that momentum. I only have one hurdle this week that I can foresee and that's on Sunday we are having a friend come by and we will be cooking out on the grill which is no big deal but the Corona's might be. This is a new lifestyle for me but I refuse to miss out on a few beers with a friend that I haven't seen in a while because I want to have a better number at the end of the week, Living life is why I am doing this and it seems silly to miss out on things because of the very thing that I am trying to preserve.

In summary, My week has been awesome with the intake and exercise, I have stayed hydrated and slept decent and I only say decent because I have been up later than normal a few nights this week but otherwise I am doing good. Sunday I will have a beer or three but what I am going to do to counter it is add 15 minutes of cardio to each day next week, I will add the cardio regardless of whether its one Corona or three and that right there feels like a compromise that I can live with. As long as I can keep the number good over night I will be able to post up some what I have lost images tomorrow as well as adjusting my percentage lost and total weight but I am very much not low enough that I don't have to worry about it, there is a good chance that I will break even or be slightly higher and that's to be found out in the am.

Keep on keepin on and all that and Thanks for following along.

As Ever
Me






Wednesday, May 12, 2010

The next time that you feel like not doing something for your health whether it be a walk, a run, choosing the right food, skipping a workout or whatever I ask that you first consider the alternative. If I skip this workout it may be the beginning of a bad habit that costs me much more than I have in my pocket right now, If I decide to eat that way again the possibility of developing type 2 diabetes multiplies by some number that I have no clue what it is. Perhaps death is just waiting for the right moment to stick his hand in and twist something inside that will ultimately take us out and it can all start with a wrong decision. Now I am not saying that a single bite of chocolate will be the doom of you but can it be? can it be the snowball that starts the avalanche? bad habits have to start somewhere right? they just don't appear one day unexpected and unexplainable they are created by making the wrong decision too many times and ultimately end up being the norm in our lives.

I have heard that bad habits are hard to break and I have to agree with that statement but I also believe that if the bad ones are hard to break so then are the good ones that we create. There was a time in my life when I couldn't walk past the refrigerator without popping it open to see if I missed anything the first time around and I always seemed to find something to grab and stick in my mouth, always. Grabbing the gallon of milk from the shelf and taking a few chugs right from the bottle was a familiar sight in my house, we literally went through more than a gallon of milk a day and it wasn't because I needed that milk, hell did I even want it? it was just a habit and so it was. I have shifted my habits towards things that are better not only for my health but for my entire life as a whole because now a gallon of milk lasts a week, and I instinctively get up and start getting ready for the gym without thinking about it just because its that time of day. Looking out the window and seeing the sun shining instantly makes me think about a bike ride or heading outside to do some yard work and in the past all it meant was that I would need to start the ol air conditioner up or make up an excuse for why I wasn't going to join someone doing somehting that required some movement to participate.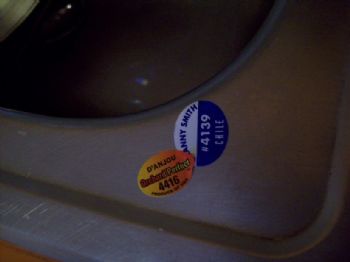 Taken 5 minutes before this post was published, its the corner of our kitchen sink and I'm askin for it by taking a picture instead of taking them off and dropping them into the trash but hey! live dangerously I say!

All habits are hard to break and its that simple, and if all habits are hard to break then why not try and make all of our habits good ones? I know that it really isn't that cut and dry but why not try and make as many good habits as possible when its health that is in the equation? I have some bad habits that Wify really gets annoyed at as illustrated above and I know that I should stop doing them but I think that she knows they were and can be worse so she allows me to live when she finds the pear, apple and other assorted fruit and vegetable stickers on the corner of the sink, hey its an easy spot to stick them when I rinse the food off! The old habits were closer to eating an entire box of cereal or stopping at Del taco on the way home from work bringing sacks of goodies for the both of us home at ten O clock at night and the stickers on the corner of the sink don't look so bad when compared to that and that is a bad habit, but like I said they are all hard to break! right?

The next time that you are reaching for that bag of chips or into that cookie jar think about whether your hand is diving into the bag or jar because you want whets inside or if its just because of a habit. When you realize that its a habit and not because you need it recoil your arm empty and keep on walking, your ass will thank you for it come summer time when the shorts are being slipped on. In addition to that I would like for you to do something that you know is good for your health today, walk upstairs and use the bathroom up there instead of the one twelve feet from you, take the stairs instead of the elevator or drink a glass of water in place of the juice or diet soda. Whatever you did that was good for yourself, do it again tomorrow, then again the next day and keep that up until its a glass of water that you go for first, or you notice that you are taking the stairs more often than the elevator and before you know it you will have another habit in your repertoire but instead of cookies it will be stairs or H2O and viola! see I told you they were the same.

Every choice that we make on a daily basis is exactly that, a choice, some are easier to make than others and many of them are habits some good some bad but all are yours to decide which way to go.

So which side of the force will you choose young Padowan?

As Ever
Me






Tuesday, May 11, 2010

To say that I was worked like an animal yesterday where exercise is the subject would be an understatement and surprisingly enough I am not sore this morning. I woke up and decided that some calisthenics were in order so I did some push ups on the stairs in my hallway followed by crunches, dips and some triceps extensions with some dumbbells that I have at the house. My daughter and I went for a walk before school and though it was only about a mile and a half I carried the 45 pound darling for part of it and then we did some light yard work before I head off to the gym. At the gym I rode the stationary bike for 20 minutes covering 7.5 virtual miles and then it was time for some weights, I lifted for about 45 minutes and then onto the treadmill for 25 minutes. After dinner I gathered the whole family up and bolted the new trailer to my bike and we rode to a nearby playground to let the animals kids play for a bit, its just under 5 miles round trip but there are some very mean hills on the way and towing a trailer along with my 45 pound daughter made them that much more of a challenge.

A day like that when I was much heavier would have very likely left me dead...what am I saying, a day like that would not have been possible. When we got to the playground I was chatting with wify and thinking about how something as simple as riding a couple miles away on a bike to let the kids play on a playground was not a possibility a short time ago and about all of the things that I must have missed out on because of the weight. Its amazing how when you weigh as much as a sports bike that you don't even see all of what you are missing because of convincing yourself that its other things, anything but the weight. When I was heavier I hated the summer weather, the slightest up in humidity had me sitting in front of the air conditioner with a double gulp cup full of cherry coke in one hand and the tv remote control in the other trying not to move more than it took to push the button and raise the cup to mouth. Now I can't wait for it to get warmer out so that I can spend as much time outside as possible on my bike, hiking, playing with the kids and that list goes on for a good long while.

Not being leashed to a 20 foot radius and inside the house is just normal for people and yet knowing how it feels to have that leash on is a reality for me as well as many other people that struggle with weight, it truly is a disability. At 500 plus pounds we can trick ourselves into believing that we are living but other than the fact that we are breathing we aren't really doing much living because missing out on everything that is happening around us is more than depressing so its no wonder that so many people including myself get caught up in that downward swirling vortex. Why do we get to this point? how can someone let them self get that far gone? I was there and I still don't have that answer, its sort of like a little bit at a time and one day reality pops up and slaps you in the face and you realize that you need to turn sideways to get into the bathroom, holy $hit when did this happen to me? Pushing the limits of a 6XL shirt and starting to think about buying a 7XL? Seven extra large, say it out loud and you have to wonder just how big is that? I never made it into a 7XL but this size is out there and in my mind I was covered because what the hell is one more size when you are that big right? besides the big and fat shop carries it so I'm good to go.

I can remember sitting on the couch and actually waiting until the last minute to get up and go to the bathroom, or timing things so that I would only have to get up once and get my sandwich, the game controller, the giant glass of milk, hit the head and adjust the angle of the fan all on one trip so that I wouldn't have to get up twice. True enough I have/had a back injury that gave me more pain than if I was just that big and it was a huge factor in why I gained so much so quick but that's still just an excuse, just because my back hurt didn't mean that I had to eat like I was three people but I suppose that's all a part of it. We can't do what we want to and food is instant gratification and does not judge and takes minimal effort to get all of that tasty goodness down the hatch so its the last resort for pleasure and bamn! the next thing we know we are wondering just how far gone we are and contemplating getting surgery to force some discipline onto our self.

A simple bike ride to the park and I can honestly say that I appreciate the smaller things today more than I ever have, I can appreciate the effort that it takes for me to push myself up that hill on my bike without stopping for a break. I can look at the 350 pound woman at the gym and smile because I know the heart that it takes for her to walk into that gym day after day and bust her ass no matter who may be looking at her, or the 400 pound guy on the treadmill walking at 2.0 mph because that's what he can handle at this point in his journey. I know first hand the effort that has to go into taking on a fight like this and one hundred percent admire every person out there that chooses to take their life back and not just sit there hoping that things change but instead forcing things to change and not taking anything less than total success for an answer.

I look back at what I have done and appreciate the gift that I have given to myself.

As Ever
Me



First Page
1
2
3
4
5
6
7
8
9
10
11
12
13
14
15
16
17
18
19
20
21
22
23
24
25
26
27
28
29
30
31
32
33
34
35 36 37 38 39 40 41 42 43 44 45 46 47 48 49 50 51 52 53 54 55 56 57 58 59 60 61 62 63 64 65 66 67 68 69 70 71 72 73 74 75 76 77 78 79 80 81 82 83 84 85 86 87 88 89 90 91 92 93 94 95 96 97 98 99 100 101 102 103 104 105 106 107 108 109 110 111 112 113 114 115 116 117 118 119 120 121 122 123 124 125 126 127 128 129 130 131 132 Last Page

Get An Email Alert Each Time BOTZZZ Posts