| | |
| --- | --- |
| | BOTZZZ's Recent Blog Entries |


Thursday, May 06, 2010

Heading into that place again, you know the one where being in my way will only get you one thing and its none too pleasant for the recipient because I have somehow become focused again. When I began down this road weighing more than 500 pounds I was very limited as to what I could do physically and was forced by my size to go at a pace dictated by the very thing that I was trying to get rid of. Now that my body has caught up with my mind I think that its time for the gray matter to dictate what happens, I have always done what I could with my workouts but rarely pushed myself further than a certain comfort zone for no real reason, but its time. I have as of late been creeping along at a slower than I would like it to be pace and am noticing that because I have some heavier than normal stress in my life lately I am slowing that pace further and I just can't let that be the case. I have come 225 pounds into a 267 pound journey and seeing it through to the end has got to be priority one for me because going in reverse cannot be an option.

There comes a time
In all our lives
You must sacrifice
Put you in the ground.
No falling.
No entry.
No forgiving.
Come on now, this is the...
Come on, I'm your enemy
Try to, try and step to me
What you gonna do
You can't pull me down....
~VOD~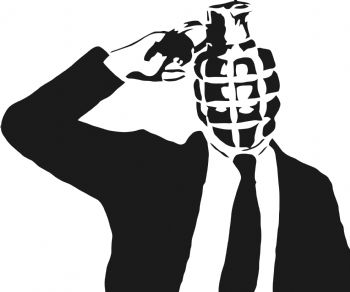 There is something to be said for a motivated person and their chances of success versus that of someone that has not crossed that threshold into a frame of mind that allows them to understand what exactly is at stake. Letting the mental control the physical is the key and the curse all at once, if we let the mental tell us that we cannot complete a task then it will be the downfall of each of us, but if we force the mental to do what we need it to then it is what will drive us into success. Knowing that the mental part of everything that we do trumps anything physical is what will make tragic situations turn the other way and force a win in our favor and getting back to that is what I am forcing myself to do because I have eased back a tad bit too far as of late and I won't stand for it.

There was once a 534 pound guy that did not know what he could do in order to keep living in this world, he believed that a surgery was the only way that a smaller version of himself would exist and that was proven to be incorrect information. There is a 310 pound fella roaming around now unlimited, active, doing what he wants to do yet a task is left unfinished at this point, comfortable would be a good way to put it and I think that its time for him to feel some discomfort in the interest of forcing some results. It's time to punish myself physically and once and for all finish this damn thing correct like, I sat on the sidelines for far too long wishing that I could do something about the situation that I found myself in and now that I am able without risk of literally hand grenading my knees or heart its on.....

As Ever
Me





Wednesday, May 05, 2010
Sometimes things get a little harder than normal and pushing through the bull$hit is more difficult than we think it will be and sometimes its straight through the brick wall without even the slightest change in direction or momentum. The most important thing is that we stay on task as to not sabotage any work that has been put in to that point. I seem to have mastered what needs to be done to maintain my weight, admittedly there are some things not related to my weight loss that are slowing the process but I have to say that I am happy about how things are going down because I am not gaining anything back in lieu of anything else that's in the background.

Tuesday was a pretty good day all around for me where intake and movement are the topic, I went for a late morning walk while my daughter rode her bike so it was more like a late morning jog/walk as I chased her most of the way. The gym later in the afternoon was 45 minutes of cardio mixed between a bike and a treadmill then home I went for lunch which was an omelet for 425 calories including a multigrain english muffin. My calories for the day came in at just over where they should have been for a total of 1945 and I am still not use to the up in the food, I am still finding that I am stopping at 1700 and left with a couple hundred at the end of the night but we're getting there. Of course I was hydrated because that's the one thing that has become so much of a habit that at 8:00 am as I write this post I am already most of a half gallon of green tea into my fluids for the day and that is the case every day.

I upped my intake to 1900 calories over the weekend because I felt that I had been stalling with the drops and I am giving it two weeks to see what happens, if I start dropping pounds faster than I have been the 1900 stays, if not? I will likely go back to my 1700 but that's to be found out. The more I looked at it the more I thought about just how much exercise I was doing every day and the amount of exercise vs the rate that the weight was coming off just isn't adding up to me. I mean hell, I am still more than 300 pounds and I think that the weight should be coming off just a tad faster than it has been with the work that's being put in. I do understand that its going to vary from week to week, month to month but I am really taking it off very slow lately and I do know that life stresses are not helping the cause but at the same time I am eating well and exercising so I think there is more to it than the personal situation that we are going through currently.

Any way its cut Friday will let me know how the up in calories is effecting my body even though this week will be sort of a push for me where my up is concerned as I was getting things back to normal but I am looking for a loss either way. Hopefully I will be able to post some images of what I've lost in a couple days and I can get this weight down below that EVER ELUSIVE 300 pound mark sooner than later..its starting to feel like a cruel game by some higher power because this milestone has been in my sight for what feels like forever yet just out of reach. The plan for today is the same walk/bike ride with the kiddo, hit the gym, eat 1900, drink 2 gallons and see where that brings me in the morning, wish me luck!

Thanks for following along with this fat guy getting slim, that's all I got today.

As Ever
Me






Tuesday, May 04, 2010
I was asked by spark to please edit the title of this blog because someone reported it.......whomever had their little eyes scorched by the bad bad F word please stay away from reading any more of my blogs if you are that sensitive...

apparently the "Voted Popular Blog Post" says that more than a few people enjoyed it so to you guys Thanks!! If you are not too faint of heart the original uncensored title and post can be found here zeusmeatball.blogspot.com/

Today is the day, its the day that I change my life, today is the day that all of the madness stops and the living begins, get in my way and you will end up on your back, try and stop me and you will not succeed because failure is not an option for me. I am an unstoppable force in your world of excuses and an easier time will be had trying to move a mountain than to steer me off course because by the throat I take this challenge and straight through it I go with reckless abandon, I will see it through to the end. Break me or I break you one of the two will happen this time around, I have been broken so many times before and its my turn to show you how it feels because I can't do this any more, I won't do this any more and you have no choice but to submit to my will. Try and resist and You will fail, try to slow me down and you will fail, into a corner I am backed and there is only one direction that I can move so I suggest that you step aside before somebody gets hurt.

Deciding to live or deciding to see how big the balloon can be blown up before it bursts are a couple of the choices, if it were an actual balloon perhaps it would have been a fun game but when its a body, a heart that can blow up at any time it becomes less of a game. At 534 pounds a ticking time bomb in a padded chest waiting to go off at any minute leaving a giant laying on the ground with no choices is not how its going to go down. Do you remember? breathless at the top of the stairs taking a moment to catch that breath so that she wouldn't know just how bad it was as if that was fooling anyone, do you? Do you remember not being able to walk more than 5 minutes because of the pain in your back? remember how that felt? Now remember when I said that you have no choice? remember when I told you that you would fail? well you are failing, you are submitting because I will not, I am not going out like that and have come too far for anything to get in my way now.

There will be days that you win, there will be days that the daily stresses force me to make choices that will set me back but in the end you lose. I made the decision that I am going to do whatever it takes to get to the end of that road and though I am at a point where my back is not to the corner any more, I do remember the direction of the exit and that is where I am headed. Now if you would please get the f@#k out of my way I promise it will be over quickly and you won't feel a thing....choose not to move and onto your back you go...

Capiche?

As Ever
Me





Monday, May 03, 2010

Loads of movement for the weekend and it was all around fun, Losing 225 pounds has done wonders for my views. Wify secured a babysitter Saturday morning and we decided that we would go on a hike at a local spot and all in all it was a 4.5 mile hike which was pretty therapeutic if I am being honest. Two years ago a hike like that would have been just a thought followed by some excuse as to why we shouldn't go but with the weight gone I am again seemingly unlimited by what I can participate in. There was even a time when I may have been able to go out on a hike like that but it would have pushed me to my limit and a few days rest would have been needed just to function afterward but this time around its just not the case and being able to do whatever I want to do and not worry about the aftermath is a good feeling. Sunday my father in law invited all of the grand children to go to a science museum in the area and it was a good time, the building is 6 floors and I used it as an opportunity to get some exercise in by using the stairs to go from floor to floor all day. We spent about 4 hours there and if I was changing levels I was using the stairs and my daughter insisted that she come with me on the stairs each time and I thought that was awesome because it reinforces the habit that some work to move around should just be normal day to day stuff, have a look at a few photos from our Saturday morning hike.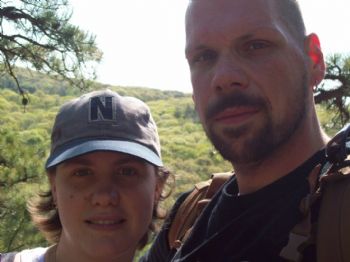 Me and the boss lady at a cliff near the highest point of the hike.



Enjoying the view from the highest point of the hike.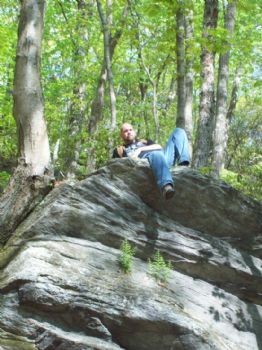 Taking a break up on a big ol cliff Wify snapped this one from below.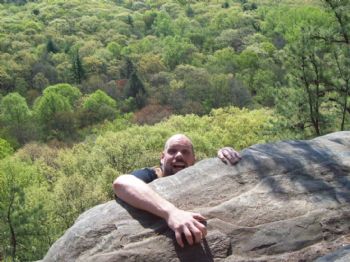 Oh no!

Keeping my calories within range has been easier than ever since I upped them to 1900 per day, in fact I am finding that I am so used to my 1700 that I am having oh...200 calories left to use late in the day. Keeping hydrated is easier than ever and I am at 2 gallons of fluid by dinner most days, this weekend I drank at least 2.5 gallons per day but I am a tad sore from all of the stairs yesterday so I have a feeling that I am hanging onto more of that fluid than normal.

This week I am going to eat clean, exercise a lot and get in all of my sleep because I am too close to being under 300 pounds to not just get there already. I've talked to Wify and we are going to try and work more of these "date hikes" in so that we can mix the exercise up a bit, though I LOVE the gym I LOVE hiking more than that so if I have the chance I'm gonna jump at it. Just two years ago the Saturday that I had would be just a thought in my head and then some time on the couch sulking but this time around it was a great day out with a lovely lady. To think that if I hadn't decided to change the way things were being done I would have totally missed out on the great weekend that I had will only keep me rollin' in the right direction, I know I missed out on all too many chances when I was heavier and that's just not how its going to be any more.

Thanks for following along while this fat guy gets slim, and thank you for the support that you give me, it is appreciated more than you know.

As Ever
Me





Friday, April 30, 2010

Being sore and stressed over the last week had me back peddling and this week I used my time wisely, I ate within my calorie range, I drank enough and I slept well all while taking it easy on my back. I did return to the gym yesterday and did an easy 40 minute cardio workout split between the bike and the treadmill and it felt good to get back in there and get my heart rate up. This morning it was time to get on the scale to get an "official" weigh in number for the blog and though I did not get a new low weight today I am back down to my lowest number again, I came in at 309.2 lbs and that's just fine by me.

Not making that May 1st goal stinks a little bit but there is really not a whole lot that can be done about it now so I ain't gonna sweat it but I will just for the sake of sticking with it post up what my weight is tomorrow morning for an official end to the challenge. I am predicting that I will be under 300 pounds within two weigh ins unless something outside of my control happens and I was thinking about it and I am at a point in this whole process that in the beginning I had wondered if I would ever get to. When you weigh more than 500 pounds and are starting out on a weight loss plan things can look almost impossible, in fact when I started out and didn't know what I weighed I was afraid that I was closer to 600 pounds so imagine that frame of mind, staring down at 275 pounds and thinking you are at 600.

The plan for today is to hit the gym, eat within my calorie range and stay hydrated and I am well on my way to having a great day already. I have a pretty active weekend planned as well and I am hoping to have a new low weight come Friday, actually I am betting that I will have a new low weight by tomorrows May 1st weigh in. This episode of Fat man and Blobin is a quickie, short and to the point as Wify is home from work today and we have some errands to run so that's all I got for today.

If you are in the beginning of a weight loss adventure and think that its impossible, know that if you want it bad enough you can do it, I am down 225 pounds and once weighed more than 500. I know that it looks like an impossible task but its not and in fact the longer you do it the more you want it so make today the day that you put down the fork and pick up your movement and just start living the life that you know is there for the taking.

Now that's really all I got for today.

As Ever
Me



First Page
1
2
3
4
5
6
7
8
9
10
11
12
13
14
15
16
17
18
19
20
21
22
23
24
25
26
27
28
29
30
31
32
33
34
35
36 37 38 39 40 41 42 43 44 45 46 47 48 49 50 51 52 53 54 55 56 57 58 59 60 61 62 63 64 65 66 67 68 69 70 71 72 73 74 75 76 77 78 79 80 81 82 83 84 85 86 87 88 89 90 91 92 93 94 95 96 97 98 99 100 101 102 103 104 105 106 107 108 109 110 111 112 113 114 115 116 117 118 119 120 121 122 123 124 125 126 127 128 129 130 131 132 Last Page

Get An Email Alert Each Time BOTZZZ Posts