| | |
| --- | --- |
| | BOTZZZ's Recent Blog Entries |


Thursday, April 29, 2010
I usually repost my blogspot page here for everyone to take a look at but I have a ton of old and some new pictures in this post and in the interest of keeping them only in one place I decided to just link to this particular post, the entire post is here on my blogspot page.

zeusmeatball.blogspot.com/2010/04/wa
lk-through-time-and-ton-of-pictures.html

this post is brought to you by the number 10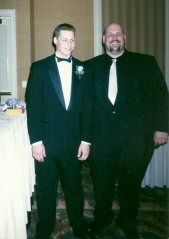 As Ever
Me





Wednesday, April 28, 2010

The week is looking decent and I was lower in weight this morning than I was yesterday, I haven't got back to the gym just yet but today I am planning on poppin in for a ride on the bike perhaps more a little later. My intake was on par and I have upped my calories just to see what happens, I am eating around 1900 calories per day all week so far and I want to see what happens for a week or two at this rate just for kicks. Oh yeah and as the title of this post may lead one to believe, I was featured in a Woman's day article with Wify and 6 other couples in a "couples edition" weight loss before and after which was pretty cool! Here is the link for the article Woman's day article featuring Zeusmeatball www.womansday.com/Articles/Health/Di
et-Nutrition/7-Weight-Loss-Transformat
ions-Couples-Edition.html . I was contacted by Grant from sparkpeople asking me if I was interested in a National magazine opportunity and I thought that it could be fun so I agreed and shortly after I was contacted by Woman's day and viola! there you have it.





We were asked a few questions by Woman's day and while we were answering them Wify started crying when she said that "I feel like I got my boyfriend back" which is quoted in the article and I had a moment of raw happiness because I know how much I've effected not only myself but the person that I consider the only gal for me. I have said this before and I have to reiterate it so much because its the truth, I started this blog 2 years ago as a way to possibly stay on track because one or two people might just find what I was writing interesting enough to give me some accountability and its become much more than that for me. From being asked to go to the Dr Oz show to now being featured in an article for a national magazine article its more than I would ever thought could come from a fat guy trying to get healthy and I still have a long way to go.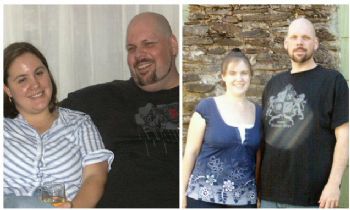 I needed something like this to get me back into the full swing of why I am doing this whole health thing, and I don't exactly mean the article. My wife being happy because she feels like she got her boyfriend back is more than enough to get me rolling in the right direction again, not that I was rolling in the wrong direction but I was in a stress situation and not moving forward when I still have so far to go in order to get to that end game that I am looking for. I (we) have come a long way since that cold day back in 2008 when a decision was made, more than 300 pounds have been lost between my wife and myself, 225 of that off of my bones alone and things are getting back to normal all because of a whole lotta discipline and bust assedness that is being applied on a daily basis.

I am going to post up a weight come Friday and unfortunately it does not look as if I will get under 300 pounds by May 1st but I am ok with that as I have come to understand this isn't a race and as cool as its going to feel to get under that milestone I can wait. The plan is to eat well, drink a plenty and start hitting the gym regularly again and I think that I will have a big drop in the next week or two just because of the calorie change and the getting back in the gym after almost a two week hiatus.

Thanks for following along while this fat guy gets slim and thanks for all of the support that you give me along the way.

That's all I got

As Ever
Me





Tuesday, April 27, 2010
Sometimes life just happens in a way that nothing can be done about it but hold on and hope that the ride ends well and other times we have to take control and make it go our way. The last week and a half has sucked ass to put it as plainly as I can without getting more into it and to summarize, everything is working itself out and it looks as if the ride ended without too much damage. Now onto that second scenario, you know the one where the 534 pound guy took control and is making it go his way? I have not been on the scale all week until this morning and I am slightly up from my lowest weight which is actually unexpected because I thought it would be WAY up after the week that I had with my ~devouring everything in sight~ eating.

Last Sunday my good old back injury from 2000 decided that it was going to intervene in my life for the week and while putting a jar of jalapenos into the refrigerator it almost dropped me to the floor. This is pretty much how the last 10 years has been for me but on a much more frequent basis when I was heavier but it goes to show that no matter how much weight that I drop the most remedial task can get me if I bend just right, er wrong. This is a big part of my misery for the last week though I have had no issues since about Friday of last week with my back there were other things in my equation of torment that were keeping me not interested in basically anything. As you can guess the sore back kept me from the gym and that right there just added to my mood and honestly I learned that once an addict always an addict because turning to extra food jumped right in about mid week, but in my man Forrest Gumps words, That's all I got to say about that..

I got a ton of emails asking if I was ok so thanks for that! yes I am alive! someone asked me that in an email, I suppose that I should have answered that one very quickly as to not reinforce the possibility that I wasn't! This is a blog about a 534 pound guy getting his $hit together and dropping 225 pounds so far and still has a way to go before getting to the end of that proverbial weight loss road and not about any personal non weight loss/health hurdles that are in my way. We all have $hit to wade through in our personal lives, some deeper and thicker than others but $hit none the less so I won't put any of that here as it was never my intention when I started writing this blog, this is about better health and weight loss.

I said once an addict a couple paragraphs up and that goes for my working out as well, I am starting to get miserable because I couldn't/can't work out! I mean bat $hit fuvkin nuts! I know that I am addicted to the exercise at this point because I am bouncing off of the walls as a result of not being able to do anything past walking when my back was sore and now my daughter gave me a bit of a chest cold thingy that seems to be going away but I am still taking it easy until tomorrow because of that. I am on day 11 of no gym, no bike rides, no anything but a short hike last Friday at a 4 year olds pace and to say that I have a case of cabin fever would be putting it very much too mildly but we will get there again.

My intake has been dragged back to normal and I am drinking enough green tea and H2O again, I am making a couple changes to the program in the coming weeks but I will write more about that later. I should be back to daily posts now so check in tomorrow for another mind boggling episode of as the fat guy turns and remember that sometimes life is gonna kick us in the gut but that doesn't mean that we give up, we may take a break but giving up isn't an option.

As Ever
Me






Saturday, April 17, 2010
This episode of The 1700 is brought to you by Harvey McDullardsonfengenden zeusmeatball.blogspot.com/2009/10/i-
found-miracle-diet-plan-you-have-to.html and the Jujuberry 7.2 people in an effort to get us in a frame of mind that promotes good eating and more movement in place of miracle diet plans. We will bring you through all the phases of a regular run of the mill day in the life of a fella getting healthy from the inside out. Lets start with an omelet made from 1 whole egg, 4 whites, Jalapeno, red onion, green peppers grape tomatoes, turkey pepperoni and some Asiago cheese with a side of a multi-grain english muffin. If you think that this dish is anything but a big ol pile of yum and more filling than almost any breakfast you need to rethink how you look at food.




Next we have a Zone perfect bar and this was the pre-gym snack? meal? whatever you call it, it had pecans, chocolate and caramel and let me tell ya, yeah let me tell ya. These little beauties run between 190 and 210 calories depending on which you choose and give me the boost that I need to make it through my trip to the gym. This is the point of the day where I am starting to feel like I am a tad hungry and honestly this is the only time of day that I get that feeling but after that omelet I ate it just because I knew that I was going to bust arse in a bit so down she went.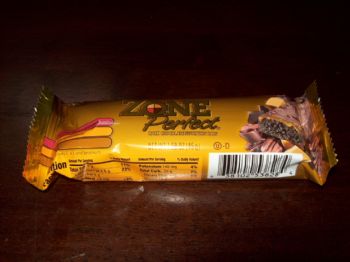 And then there were none...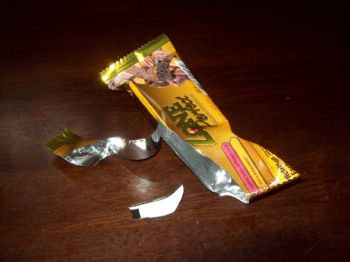 Post gym meal looked a lot like a Turkey sandwich, an apple and a Yoplait yogurt, oh wait...anyways I am trying to eat bigger lunches lately and saving less calories for dinner ie: later in the day so that I give my body a chance to burn off the calories in the day. Harvey would have eaten this from a blender with 7 scoops of the miracle powder and subtract the apple and yogurt but wait! if you order right now you can have 12 weeks worth of meetings and a workout video that will shape your buns into a perfect rump O steel for free!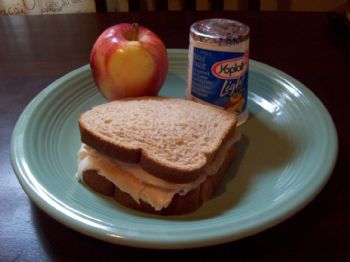 Nothing special here, just a few ounces of baby carrots to keep something processing in the gut, Sponge Bob square pants plastic kids bowl $1.45, Bag of baby carrots from the market $2.99, Having those baby carrots taste sweet like candy? Priceless!




Dinner I indulged in something that though I don't eat it often I do eat plenty when I do eat it, that's my chips, choosing something to say that I am addicted to it would be chips. This meal was a can of Tuna with red onion chopped into it served on whole wheat bread with some lettuce and 2oz of Lays light potato chips and I love these because they are cut super thin so it feels like a lot and really helps with that salty urge that I get. This portion of the 1700 is brought to you by the Storm trooper cows zeusmeatball.blogspot.com/2008/04/cl
oned-beef-and-storm-troopers.html as no bovine were hurt, injured or cloned in the making of this post or any of these meals.




There always seems to be a grip of something in my day, its sort of um a tradition? sure, lets call it a tradition. This was 1/2 oz of Turkey pepperoni as I made a pass by the fridge and heard it calling to me, honest I did! and when I opened the door it was being held hostage by a a couple of bad apples and a cornish game hen so I did what I needed to in order to make sure it was safe.




The end of the night came and there was 70 calories left in the daily budget and this Blueberry pie was staring me down so I asked mommy if I could borrow 30 and bamn! I was set to have a nice treat to end my evening by and my day came in at a total of 1730 calories.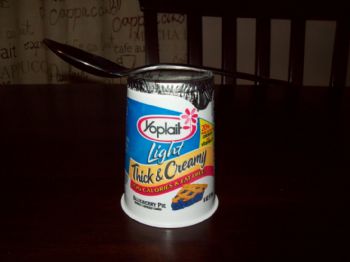 Once again I would like to add that 1.25 gallons of green tea went down the hatch throughout the day as well as 1 gallon of H2O, I think that I have again shown that a person CAN have a good amount of food on a budget of around 1700 calories. I will restate that this is a lot of food and if you don't think so you may just want to reconsider the way that you view food because it is merely fuel for our bodies to function on a daily basis.

That's all I got for today.

As Ever
Me





Friday, April 16, 2010

As predicted by my daily weigh ins this week its not one for the record books, I did show a slight loss but nothing that would match the effort that went into this week and that can sometimes be a bit frustrating but it is what it is. I stepped onto that cold black measurer of flab and it said 309.2 lbs the first time on, blah! that's only .2 lower than last week but better than a gain I suppose, second time on it said 308.8 lbs so onto the kitchen floor for the tie breaker and it said 308.8 lbs once again so that's what we'll call it for today. I am down just slightly more than a half of a pound from last week with a .6 loss and though I should be happy that its a lower number I am a bit annoyed by this number today, I am not down or anything about it just annoyed a bit because I know what went into this week. I seem to cycle one great week followed by a not so great week and back again and I am not too worried about what the scale said today as there is always next week.




Having a week like this where I do everything 100% and have a .6 loss makes me think about what I am doing and am I missing something but then I have a week like last week where I had more than a 5 pound loss doing the exact same thing and I just chalk it up to there will be variations. I averaged my calories per day for the week and I am pretty much perfect with an average of 1760 per day when added together and divided, I made it to the gym five days this week not including today so that will be six days this week and I got in good solid work outs every day. Sleeping was good this week and there was only one night that I got less than optimal rest and I drank more than enough fluids so biology is to blame this week for the less than stellar drop and again I am left thinking about whether I need to adjust my calories from the 1700 that I currently eat per day.



This orange represents .6 of a pound and that's what I lost this week.

Onto how Thursday played out, I ate 1705 total calories, drank 1 gallon of green tea and 1.25 gallons of H2O and I slept my 8 hours last night so that was all good. My trip to the gym was slightly different than usual and I decided that I was going to do 45 minutes on the arc trainer and let me tell ya it kicked my arse! When I got off of that thing I was soaked and knew that I had worked out, upon getting to the gym there was a fella on the arc trainer that I wanted to use so I hopped onto the bike to warm up a bit and I ended up riding for 15 minutes while he finished up. Onto the arc I go, set it to level 85 and I started in on myself, 15 minutes in I started thinking "I should just do 20 minutes" after calling myself a pussy ass punk for even thinking that I brought up the rpm's to punish myself for letting a weak thought into my head. At the 30 minute mark I did drop the resistance down to 80 and I finished off my 45 minutes there and my new gym play list that I put on the mp3 player yesterday helped because I wasn't sure what song was coming next or its duration, I finished up with a 10 minute cool down walk on the treadmill and back home I went.

The play list.

Fall out boys - Dance Dance Dance
Gia Farrel - Hit me up
Gwen Stefani - Holla back girl
Rob Base - it takes two
Justin Timberlake - Sexy back
Live - I Alone (acoustic)
Limp Bizkit - Livin' it up
Busta Rhymes - Pass the Courvoisier pt 2 (jump jump)
Lynard Skynard - Simple man
Ludacris - Stand up
Limp Bizkit (feat Eminem) - Turn me loose
DMX - up in here

That play list is a bit different and kind of mixed but then that's what I was going for when I loaded it and it did the trick of making me not really notice the time. My May 1st goal is now 8.8 pounds from being realized and that means that I need to do an average of 4.4 pounds per week for the next two weeks and honestly that looks like quite the task. Everyone of you reading this knows that I am going to push myself to the limit to try and hit that number that is a long time coming and I will get sub 300 pounds to show up on that scale at some point but I do think that I may need to consider either less exercise which we all know won't happen, or I need to adjust my calories somewhere and I don't think down is the direction they need to go in. I burn a ton of calories at the gym each day and according to the burned calorie calculator on the sidebar I burned 1200 calories yesterday in the 45 minutes on the arc and I didn't even input the bike or treadmill time into that 1200 so perhaps I need a few more calories to keep the engine running efficiently but its not an easy change to make for me.

Over all the week is a success because I did not gain anything and did show a loss even if it was a mere .6 of a pound, I am a week stronger and I proved to myself that I can do sprints as well as go 45 minutes on the arc-trainer without too much fuss other than a soaked shirt. Figuring out the calories in vs calories burned along with what the scale says at the end of the week will be the plan for this weeks adventures, perhaps I leave it alone for a week and see where the weight goes before I make any changes or maybe some time mid week I switch things up, all to be found out but I do know that I will eat within whatever range I have, I will workout at least 6 days this week and I will sleep enough because its what I have to do to get where I am headed.

Since the loss is less than a pound and I round up for the most part no images of what I have lost total will be posted today and I will call it 309 lbs still. Thanks for reading along as this fella drops literally an entire person worth of weight off of his body and brings himeslf into a healthy body, your comments and support mean more than you know.

As Ever
Me



First Page
1
2
3
4
5
6
7
8
9
10
11
12
13
14
15
16
17
18
19
20
21
22
23
24
25
26
27
28
29
30
31
32
33
34
35
36
37 38 39 40 41 42 43 44 45 46 47 48 49 50 51 52 53 54 55 56 57 58 59 60 61 62 63 64 65 66 67 68 69 70 71 72 73 74 75 76 77 78 79 80 81 82 83 84 85 86 87 88 89 90 91 92 93 94 95 96 97 98 99 100 101 102 103 104 105 106 107 108 109 110 111 112 113 114 115 116 117 118 119 120 121 122 123 124 125 126 127 128 129 130 131 132 Last Page

Get An Email Alert Each Time BOTZZZ Posts