| | |
| --- | --- |
| | BOTZZZ's Recent Blog Entries |


Thursday, April 15, 2010

Something funny going on with the weight this week because upon waking up this morning I am actually up in weight by about half a pound its more than I was last Friday and that's just not cool. This up on the scale is odd because I have done everything right this week, my calories are in check and I have been to the gym every day this week, the only thing that I can think of that could be messing with me is the fact that I lifted weights on Monday and my chest is still sore a tad and sore muscles usually mean there is some water retention. I am on the fence with what I should do today as far as the gym goes, on the one hand I feel that I should go and beat the hell out of myself on an arc trainer and take a loss on the scale tomorrow with a show of force but on the other side is taking a day off to see if I am over training as I have been getting in some pretty decent workouts this week. It would be too easy to stay home today and knit so of course I will go beat the $hit out of myself in an effort to come in lower tomorrow than I am as of 10 minutes ago but man, what the...

Anyways...nothing good shall come from getting stuck on a slight up on the scale when I know how hard I've worked, I am stronger for the week of exercise and hey! its nor Friday just yet so we shall see what happens. I tried something a little different at the gym yesterday in the way of sprints/intervals on the treadmill, it was different and I knew that I was working out if being out of breath and sweat count as a gauge. I started off at 3.0mph for 2 minutes to warm up and then put the machine at 6.1 mph, yes I know that is hardly a sprint but at just over 300 pounds believe me when I say that its enough! I ran one minute on, one minute off for 6 intervals at 1% incline and then finished the remainder of a 20 minute session walking at 3.3 mph on a 3.5% incline. I liked it! I am adding it to my workouts twice per week and will either increase the number of intervals or the speed as I get stronger at it and I am now starting to get myself quite the little repertorie of workouts that I use regularly.

Wednesdays menu.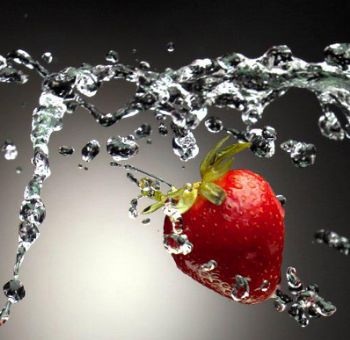 Breakfast
7:15 AM
2 cups honey combs 220
8oz 1% milk 110

8:30 AM
1 T peanut butter 95
1 banana 105

12:00 PM
1 apple 85

Lunch
2:30 PM
4oz grilled chicken breast 200
rosemary wrap 100
1/2 oz American cheese 55
onion/tomato 20

Dinner
5:45 PM
4 slices whole wheat bread 280
2.5oz American cheese 275
1 can green beans
60 smart balance
45 diced onion 10

8:15 AM
10oz strawberries 80

A total of 1740 calories for Wednesday which is just about perfect in my book, and I have been upping my fruits and veggies all week because I noticed that I was lacking in that department. Whatever that scale whispers to me in the morning I know that I have done my part this week, if this slight gain stays I feel good about my week, if its a loss, I feel good about the week because in all honesty there was nothing that I didn't do right according to everything that I have done from the get go. My feeling is that its the early in the week weight lifting that's hanging onto some extra fluid weight and once I am not sore any more it will drop down a pound or so and next week I will have a decent sized loss, OR I will have a loss this week, to be found out I suppose.

Tomorrow will be another weigh in for the record book and I am hoping for a loss so that I might be able to post some "what I have lost" images and honestly I am planning on kicking my ass at the gym today and perhaps I will go for a post dinner bike ride as well just for good measure. Making good decisions has become the norm for me and it is inevitable that I am going to come down in weight because I demand it, I insist to my body that it let go of the fat and enjoy the ride that I am taking it on because its just how its going to be and there is nothing that it can do to stop the punishment.

Make sure to pop in and check out the weigh in tomorrow morning because whether its a gain or a loss it will be put out there and into the tracker, will I make that goal of being 300 pounds or under by May 1st? I honestly don't know but what I do know is that I am going to bust my ass trying to get there and that's all that I can do aside from lopping off a limb or something. Thanks for the support and thank you for following along with this fat man getting thin, That's all I got for today.

As Ever
Me






Wednesday, April 14, 2010
Yesterday was one of those days for me, you know, feeling a bit run down and early in the day thinking about skipping the gym and ordering a pizza for lunch kind of days. 10:00 am my daughter says "Dada, lets go play" and that tiny sentence from that beautiful little girl changed my whole thought pattern for the entire day because there was a time in my life where I would not have had a choice, the answer would have had to be "I can't" and I am glad that I did something about the weight before it ever had to come to that with her. Those kinds of days come around for everyone on occasion and what we do next is what defines us I believe, I could have sulked in my funk or I could go jump on the bed with my daughter, guess which I did. I had all but decided that I was going to lay low for the day and skip the gym but I was reminded that this is not something that I can do half assed and I ultimately ended up with a great workout at the gym, jumped on the bed for about 30 minutes, well the kid did I just played with her, read about 7 books to her and like I already said had a good day over all.

I cannot think of this better health thang as anything less than something that I must do because before I made the choice to change things daily tasks were not exactly peachy and I struggled to do the most remedial things and I ain't goin back to that folks. Changing the way that I think about health has been the best thing that I could have done and is a critical part of my success as far as I am concerned because without changing the mental the physical is only temporary in my opinion. The physical differences are so amazing to me and I almost forget where I once was until I look at an old photo or an old piece of clothing that seems like it is so big and I can almost not imagine fitting into it yet it was mine. It is amazing for me to look at my more than 5 foot long belt now and know that it was once almost too small to fit me, I have a pair of shorts that I saved that I can stand inside one leg and a shirt that I am sure can fit my entire family in and I look at these things and have memories of completely filling them out.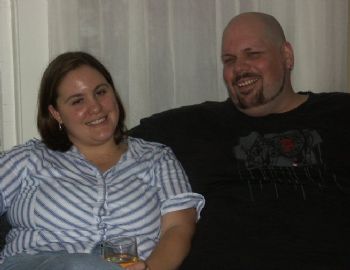 Thanksgiving 2007, Fat n Happy.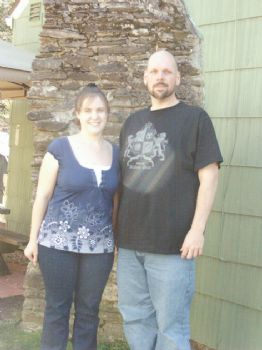 April 2010, 300 pounds lost between the both of us.

That first picture is from Thanksgiving 2007 and I have posted it before Here zeusmeatball.blogspot.com/2009/01/wo
ah-moment-compare-photo.html with a picture of wify and me in the same shirts on, but its pretty much 2 months before we started eating right and exercising, I was 500 plus pounds and I am not sure what Wify weighed but judging by the looks on our faces we were fat and happy. That second picture is from this past weekend and I am 225 pounds lighter than I was in the first and Wify has lost 74 total pounds to date from her highest weight and that's 300 total pounds between the two of us and honestly, that's just insane! The first picture I have a 6XL shirt on and in the second that is a 2XL shirt, I am still amazed that I can fit into and wear outside a 2XL shirt because the last time that I was able to do that I was unable to grow facial hair. The fact that we have lost 300 pounds together is crazy to me but it shows what can be done with some hard work and dedication to something and all without any surgeries or Miracle diet plans zeusmeatball.blogspot.com/2009/10/i-
found-miracle-diet-plan-you-have-to.html

Every aspect of my life has been enriched from making the decision to drop the weight and get healthy, and I will never say that it was/is an easy thing but I can say with 100% confidence that everything that I do now at just over 300 pounds is easier than it was at over 500 pounds. Every ounce of blood sweat and tears, yes there have been tears were worth the results that I have gotten so far and I am not even close to finished with this process, I have weight goals that I need to reach, I have weight lifting goals that I want to reach and I have over all fitness goals that must be reached so I will be here for a good long while whilst I get there.

Move more, eat less and drink a plenty, this is what I do, this is my mantra and if you want it you can have it as well.

As Ever
Me





Tuesday, April 13, 2010

Heading into the week full on and expecting to have at least a decent loss come Friday I am on track to do so thus far if my intake and exercise is the gauge. Getting right to it I made it to the gym yesterday and did 25 minutes on the stationary bike, 30 minutes on the treadmill and 40 minutes of weight lifting and I feel good about the workout. My intake was 1730 calories total and I drank, um, I lost count at almost 3 gallons, yes I said 3 gallons, I was up in weight Monday morning from my off kilter Sunday intake schedule and wanted to sort of flush the system and make sure that hydration was not an issue so that I did. After dinner we made it out for a walk while my daughter rode her new bike so it was more like a walk/jog along with her and was about 1.25 miles total so that was relaxing, but enough about that have a look at yesterdays menu.

Breakfast
7:15 AM
2 cups honey combs 220
8oz 1% milk 110

8:30 AM
banana 105

11:45 AM
zone bar 190

Lunch
2:45 PM
2 slices wheat bread 140
4oz turkey breast 100
1 T miracle whip 40
1oz chips 75
4oz baby carrots 45

4:15 PM
apple 85

Dinner
5:45 PM
1 hard roll 180
4oz turkey breast 100
1 T miracle whip 40
1.5 oz light chips 110

8:30 PM
Yoplait yogurt 110
10oz strawberries 80

Making my way towards a healthy weight one day at a time I am getting closer to that coveted 2XX weight that I seek and I have a good feeling that it will be sooner than later that it shows up on my scale. If you think that its an impossible task to lose a massive amount of weight and keep it off you have to get past that overwhelming feeling and push through, if I had stopped at my thoughts about how impossible it seemed I don't know where I might be today. It is not easy, it is not a walk in the park but I can tell you that all of the hard work that goes into a healthy lifestyle comes back ten fold in the rewards that are there for the taking when success comes. The hard work starts feeling less like hard work and more like just the way things are and I think its at that point when we start feeling more normal and I can see just how clear of a line there is between living healthy and living the way that a 500 pound guy has to be living to maintain that weight because it is night and day.

You can drop the weight, you can get healthy and you do have the willpower to make it happen, the biggest question is will you take your health into your own hands and make that choice to live a life that is full of what you want, or will the choice be to sit back and feel bad for the situation. I chose the latter for all too long and it got me where I was, the choice really does fall on my shoulders to make sure that it does not happen again and every time that I look into a mirror I can blame that fella for everything that I have done for my health in the last two years but on the other side of that its the same guy that was there at 534 pounds so he gets the blame for his part as well.

Today I will eat within my calorie range, today I will go to the gym, today I will drink enough to assure that I am hydrated and tonight I will get a full nights sleep, what will you do today for YOUR health?

That's all I got.

As Ever
Me





Monday, April 12, 2010

Moving right along and the start of a new week is upon us, Over all I did very well this weekend with all aspects of this whole better health thang, almost. Saturday was date night with wify and Clash of the Titans was decent, I felt that it didn't stick to the story exactly but a good watch none the less, call me a movie nerd but Bubo needed to be a character in the flick and he wasn't so it was lacking for me. Anyways, I did get to the gym Saturday afternoon and made an awesome BBQ chicken on the grill with a honey pecan sauce that was pretty amazing with some of my rice and beans but I ended up going over on my calories because of the movie treat. Now before you start snapping your fingers and rolling your eyes because you think that I ate popcorn and chocolate know that I bought an apple, a gallon of green tea and a bag of light sour cream rice cakes to have as a movie snack so though I went over it was by about 250 calories because of the rice cakes and I actually woke up Sunday lighter than Friday.

Sunday we went to a flea market and that messed up my eating program as it was hours between breakfast and lunch and I did not bring anything to drink and refused to pay three dollars for a 12oz bottle of water. I did stay under calories for the day but by 3:00pm I was sunburned if only slightly, tired and hungry and we bought some Turkey breast for lunch and headed home to a picnic lunch out on our picnic table. I did get a couple decent scores at the flea market in the way of a new collapsible fishing pole for my back pack and an old school Starr X bottle opener to put out on my porch as someone is always looking for a way to crack a Corona open for the low low price of $11 for both items, $8 for the pole and $3 for the opener. My father came up for a visit so we didn't really do anything that could be called exercise besides the few hours walking around the flea market but I felt good about the day over all and everyone seemed to have a good time.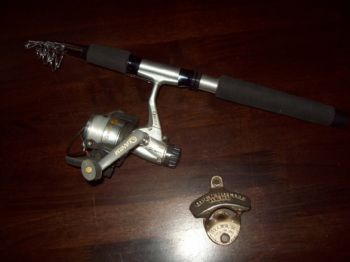 My rod and opener.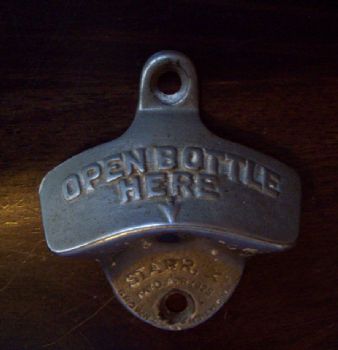 close up of the bottle opener.

I am heading into this week with high hopes that I will have a great weigh in again come Friday and will do everything in my power to make sure that if I don't that it was not for lack of bust assedness. Being so close to that 300 pound mark has gotten me all Ornery and I am planning to bombard my body with exercise this week while staying within my calorie range which should produce a good number come weeks end. Making good choices where food is the subject is a HUGE part of why I have been able to take off 225 pounds and keep it off, even when I slowed way down with the pace I was still not gaining which showed me that I can maintain without too much change in what I was doing and that really is one of the most important things. If I were to lose all of the weight that I need to lose because I was starving myself and doing an unrealistic plan then when the time came to maintain I would be lost. I am confident that I will keep every last pound off once I reach my goal weight and I will continue to get healthier and stronger every day because I truly have changed the way that I see food and exercise.

In five days time we shall find out how much closer to my goal that I am, in five days time will be another "official" for the blog weigh in and every day that I follow my plan I will be stronger than I was the day before. This is just how it is for me, I don't want to know anything else, I don't want to be on the wrong side of health ever again and I am refusing to walk over there again. I get asked often in emails and or comments about my exercise and the way that I feel about it, in fact just this morning I got an email saying " How did you come to love it as you do?" referring to exercise. I suppose the only answer is that when you have seen 500 plus pounds and what that has to offer, being unable to run with your child, or walk with your wife without turning 12 shades of red and getting soaked with sweat, sore back for 3 days after, or just being left out of most of the things that happen daily and go unappreciated by somebody that's never been as good as tied to a couch an appreciation for the movement occurs. I would compare it to caging an animal for years and making it watch the other animals run care free and untethered while it sat in the cage unable to do anything and then one day opening the cage and letting it go, that animal appreciates the freedom more now than it did before the cage and that's the only way that I can explain it. That and the fact that I love the way that I feel after a good solid workout, my wife says to me when she notices that I am in a not so good mood "Go outside and run around for a few minutes or something" and she says that about 30 minutes of hiking/walking that I suddenly get a case of diarrhea of the mouth so there is obviously more going on than just the un-caging but it is how I feel about it.

My day is starting and I have lots to do so this episode of as the fat guy turns has run its course, Thanks for following and thanks for all of the support. Make sure you drink that H2O and the rest is up to you so before you slip that brownie into your mouth think about how its gonna look on your ass and then decide if you want it, I bet ya put it down.

As Ever
Me






Saturday, April 10, 2010
The Story you are about to see is true. Only the names have been changed to protect the innocent....This is a day in the life of just your average Joe living and eating with a healthy lifestyle, It was Friday April 9th it was raining in New England and I was assigned to the vice squad working a case, more like a bowl, a bowl of oats to be exact. There was 430 nutrition filled calories in this bowl of goodness and its phallic yellow friend not to mention the splash of Milk,"Vitamin D, calcium, essential for good strong bones and healthy teeth. But that's all Greek to you, isn't it, Mr. Gingivitis?" No not you, I was talking to Streebeck there.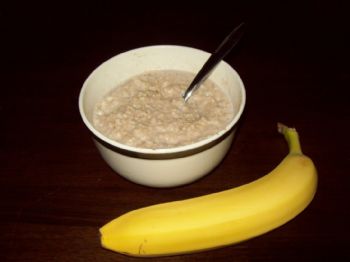 11:30 am, subjects stomach made an odd sound, a rumble if you will so something had to be done, I witnessed a short stroll to the cabinet from my hidden position behind the curtain where the last Cadbury egg was and I got ready to make my move. There was something in his hand, Making out the shape of it was difficult but then I saw the red flesh of the apple in his hand and I relaxed, its only 85 calories and that's good enough for this fella.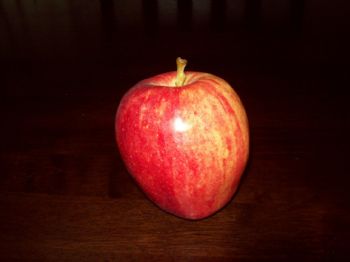 A simple enough childs treat of a lunch minus the cut off crusts, not much I could say here, it is what it is I can't fault anyone for a good old fashioned peanut butter and strawberry preserves sandwich, 275 calories and went down as fast as it was built up, not the most satisfying meal but it did the trick and the sounds from the subjects gut had subsided.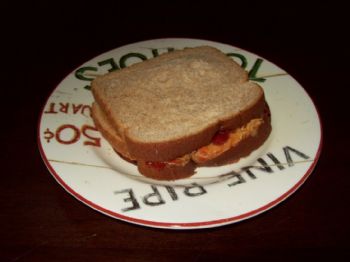 An hour later I heard a conversation about some "Red velvet cake" so decided to take a look and since it was only 100 calories it was good to go and hit the spot.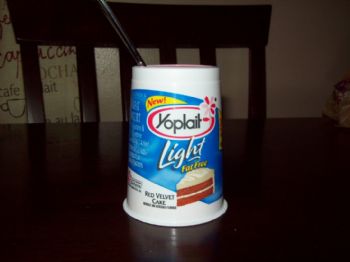 Sesame seed and honey candy from the local health food store, something that no fat kid can ignore, wait did I just say that? I mean its sesame seeds and honey mixed and shaped into a rectangle right? seeds? yes they are indeed delectable and at 25 calories a piece I ate 2 of them on the way out to dinner, and I have come out of the theme I was going with for this post...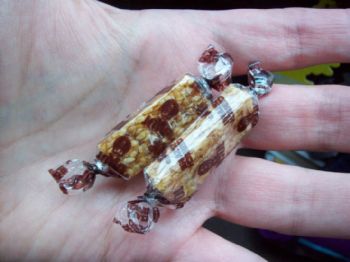 When I decided to start taking pictures of everything that I ate Friday for a post I had no clue that Wify was going to say "Hey hon lets go out for dinner tonight, how about Applebees?" so I agreed because of their under 550 calories meals and off we went with Camera in hand. I ordered the Asiago cheese Steak (which I ordered med rare) and veggies to drink? an unsweetened tea! the steak was more medium than rare, I kept the steak as is so that I would not have to wait for a new one to be cooked (it took a long time to come out) and the manager came over and offered us free dessert because of the mistake. I passed on the dessert but we let the kids get sundaes on the house and all in all it was a nice meal that shows that someone on a limited calorie budget CAN go out to dinner and not go over. I counted this meal at the 550 calories that the campaign would lead you to believe that it is but when looking at Applebees nutritional information it claims that the meal is 390 calories but the steak is a 7oz steak so the cals don't exactly add up to me so I just used the 550 calories on my spreadsheet.



Ok back in character for a minute.."My partner and I witnessed that little torchlight picnic you threw last night, we're gonna put you where your kind always ends up - in a seven by seven foot grey-green metal cage in the fifteenth floor of some hundred-year-old penitentiary, with damp, stinking walls and a wooden plank for a bed." Since we know that you're not perfect and it was just a couple fries off of the kids plate you get a pass this time fat boy, but don't let it happen again understand? I have no idea how many calories were in this little grip of fries that I stole off my daughters plate but with a smirk and an insisting voice Wify said that I needed to take a picture of it since its what I was doing so there you have it.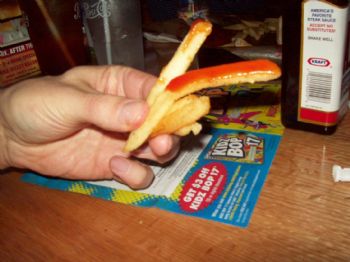 Roughly 9:00 pm I was at 1495 calories (not including the fries) and that's just not acceptable to be that low for me so I needed to make up some calories and a quick table spoon of peanut butter spread over a banana gave me 200 calories bringing me to 1695 for the day.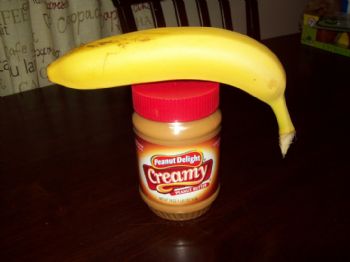 In addition to all of the tasty goodness that has been presented before you I drank 1 gallon of home brewed green tea, 2 glasses of unsweetened tea and a glass of H20 at Applebees and another 1.25 gallons of straight H2O at home. My calorie total was 1695 for the day and this is pretty typical for me as far as food goes besides the Applebees steak and steak in general as I tend to steer away from red meat usually. There you have it, one random day picked out of plenty of days that look very similar and I think I will do a post like this again as it was interesting, even if the waitress looked at us funny when I was taking pictures of my plate. If you think that this is not a lot of food then you may want to rethink the way that you look at food because honestly I could have stopped at the 1495 pre that banana with peanut butter on it after dinner, its easy when you look at it all spread out like this I think.

1695 calories plus some fries, 8 photos and just the facts ma'am.

As Ever
Me



First Page
1
2
3
4
5
6
7
8
9
10
11
12
13
14
15
16
17
18
19
20
21
22
23
24
25
26
27
28
29
30
31
32
33
34
35
36
37
38 39 40 41 42 43 44 45 46 47 48 49 50 51 52 53 54 55 56 57 58 59 60 61 62 63 64 65 66 67 68 69 70 71 72 73 74 75 76 77 78 79 80 81 82 83 84 85 86 87 88 89 90 91 92 93 94 95 96 97 98 99 100 101 102 103 104 105 106 107 108 109 110 111 112 113 114 115 116 117 118 119 120 121 122 123 124 125 126 127 128 129 130 131 132 Last Page

Get An Email Alert Each Time BOTZZZ Posts