| | |
| --- | --- |
| | BOTZZZ's Recent Blog Entries |



Saturday, April 17, 2010
This episode of The 1700 is brought to you by Harvey McDullardsonfengenden zeusmeatball.blogspot.com/2009/10/i-
found-miracle-diet-plan-you-have-to.html and the Jujuberry 7.2 people in an effort to get us in a frame of mind that promotes good eating and more movement in place of miracle diet plans. We will bring you through all the phases of a regular run of the mill day in the life of a fella getting healthy from the inside out. Lets start with an omelet made from 1 whole egg, 4 whites, Jalapeno, red onion, green peppers grape tomatoes, turkey pepperoni and some Asiago cheese with a side of a multi-grain english muffin. If you think that this dish is anything but a big ol pile of yum and more filling than almost any breakfast you need to rethink how you look at food.




Next we have a Zone perfect bar and this was the pre-gym snack? meal? whatever you call it, it had pecans, chocolate and caramel and let me tell ya, yeah let me tell ya. These little beauties run between 190 and 210 calories depending on which you choose and give me the boost that I need to make it through my trip to the gym. This is the point of the day where I am starting to feel like I am a tad hungry and honestly this is the only time of day that I get that feeling but after that omelet I ate it just because I knew that I was going to bust arse in a bit so down she went.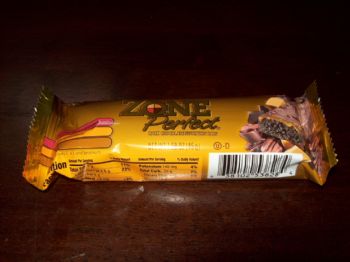 And then there were none...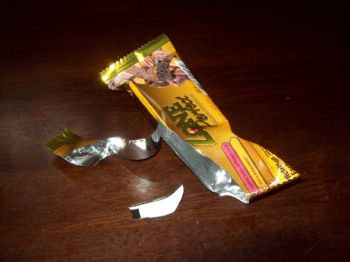 Post gym meal looked a lot like a Turkey sandwich, an apple and a Yoplait yogurt, oh wait...anyways I am trying to eat bigger lunches lately and saving less calories for dinner ie: later in the day so that I give my body a chance to burn off the calories in the day. Harvey would have eaten this from a blender with 7 scoops of the miracle powder and subtract the apple and yogurt but wait! if you order right now you can have 12 weeks worth of meetings and a workout video that will shape your buns into a perfect rump O steel for free!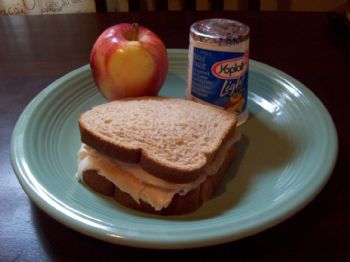 Nothing special here, just a few ounces of baby carrots to keep something processing in the gut, Sponge Bob square pants plastic kids bowl $1.45, Bag of baby carrots from the market $2.99, Having those baby carrots taste sweet like candy? Priceless!




Dinner I indulged in something that though I don't eat it often I do eat plenty when I do eat it, that's my chips, choosing something to say that I am addicted to it would be chips. This meal was a can of Tuna with red onion chopped into it served on whole wheat bread with some lettuce and 2oz of Lays light potato chips and I love these because they are cut super thin so it feels like a lot and really helps with that salty urge that I get. This portion of the 1700 is brought to you by the Storm trooper cows zeusmeatball.blogspot.com/2008/04/cl
oned-beef-and-storm-troopers.html as no bovine were hurt, injured or cloned in the making of this post or any of these meals.




There always seems to be a grip of something in my day, its sort of um a tradition? sure, lets call it a tradition. This was 1/2 oz of Turkey pepperoni as I made a pass by the fridge and heard it calling to me, honest I did! and when I opened the door it was being held hostage by a a couple of bad apples and a cornish game hen so I did what I needed to in order to make sure it was safe.




The end of the night came and there was 70 calories left in the daily budget and this Blueberry pie was staring me down so I asked mommy if I could borrow 30 and bamn! I was set to have a nice treat to end my evening by and my day came in at a total of 1730 calories.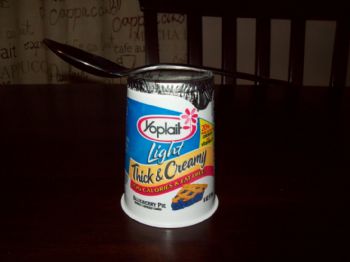 Once again I would like to add that 1.25 gallons of green tea went down the hatch throughout the day as well as 1 gallon of H2O, I think that I have again shown that a person CAN have a good amount of food on a budget of around 1700 calories. I will restate that this is a lot of food and if you don't think so you may just want to reconsider the way that you view food because it is merely fuel for our bodies to function on a daily basis.

That's all I got for today.

As Ever
Me





Friday, April 16, 2010

As predicted by my daily weigh ins this week its not one for the record books, I did show a slight loss but nothing that would match the effort that went into this week and that can sometimes be a bit frustrating but it is what it is. I stepped onto that cold black measurer of flab and it said 309.2 lbs the first time on, blah! that's only .2 lower than last week but better than a gain I suppose, second time on it said 308.8 lbs so onto the kitchen floor for the tie breaker and it said 308.8 lbs once again so that's what we'll call it for today. I am down just slightly more than a half of a pound from last week with a .6 loss and though I should be happy that its a lower number I am a bit annoyed by this number today, I am not down or anything about it just annoyed a bit because I know what went into this week. I seem to cycle one great week followed by a not so great week and back again and I am not too worried about what the scale said today as there is always next week.




Having a week like this where I do everything 100% and have a .6 loss makes me think about what I am doing and am I missing something but then I have a week like last week where I had more than a 5 pound loss doing the exact same thing and I just chalk it up to there will be variations. I averaged my calories per day for the week and I am pretty much perfect with an average of 1760 per day when added together and divided, I made it to the gym five days this week not including today so that will be six days this week and I got in good solid work outs every day. Sleeping was good this week and there was only one night that I got less than optimal rest and I drank more than enough fluids so biology is to blame this week for the less than stellar drop and again I am left thinking about whether I need to adjust my calories from the 1700 that I currently eat per day.



This orange represents .6 of a pound and that's what I lost this week.

Onto how Thursday played out, I ate 1705 total calories, drank 1 gallon of green tea and 1.25 gallons of H2O and I slept my 8 hours last night so that was all good. My trip to the gym was slightly different than usual and I decided that I was going to do 45 minutes on the arc trainer and let me tell ya it kicked my arse! When I got off of that thing I was soaked and knew that I had worked out, upon getting to the gym there was a fella on the arc trainer that I wanted to use so I hopped onto the bike to warm up a bit and I ended up riding for 15 minutes while he finished up. Onto the arc I go, set it to level 85 and I started in on myself, 15 minutes in I started thinking "I should just do 20 minutes" after calling myself a pussy ass punk for even thinking that I brought up the rpm's to punish myself for letting a weak thought into my head. At the 30 minute mark I did drop the resistance down to 80 and I finished off my 45 minutes there and my new gym play list that I put on the mp3 player yesterday helped because I wasn't sure what song was coming next or its duration, I finished up with a 10 minute cool down walk on the treadmill and back home I went.

The play list.

Fall out boys - Dance Dance Dance
Gia Farrel - Hit me up
Gwen Stefani - Holla back girl
Rob Base - it takes two
Justin Timberlake - Sexy back
Live - I Alone (acoustic)
Limp Bizkit - Livin' it up
Busta Rhymes - Pass the Courvoisier pt 2 (jump jump)
Lynard Skynard - Simple man
Ludacris - Stand up
Limp Bizkit (feat Eminem) - Turn me loose
DMX - up in here

That play list is a bit different and kind of mixed but then that's what I was going for when I loaded it and it did the trick of making me not really notice the time. My May 1st goal is now 8.8 pounds from being realized and that means that I need to do an average of 4.4 pounds per week for the next two weeks and honestly that looks like quite the task. Everyone of you reading this knows that I am going to push myself to the limit to try and hit that number that is a long time coming and I will get sub 300 pounds to show up on that scale at some point but I do think that I may need to consider either less exercise which we all know won't happen, or I need to adjust my calories somewhere and I don't think down is the direction they need to go in. I burn a ton of calories at the gym each day and according to the burned calorie calculator on the sidebar I burned 1200 calories yesterday in the 45 minutes on the arc and I didn't even input the bike or treadmill time into that 1200 so perhaps I need a few more calories to keep the engine running efficiently but its not an easy change to make for me.

Over all the week is a success because I did not gain anything and did show a loss even if it was a mere .6 of a pound, I am a week stronger and I proved to myself that I can do sprints as well as go 45 minutes on the arc-trainer without too much fuss other than a soaked shirt. Figuring out the calories in vs calories burned along with what the scale says at the end of the week will be the plan for this weeks adventures, perhaps I leave it alone for a week and see where the weight goes before I make any changes or maybe some time mid week I switch things up, all to be found out but I do know that I will eat within whatever range I have, I will workout at least 6 days this week and I will sleep enough because its what I have to do to get where I am headed.

Since the loss is less than a pound and I round up for the most part no images of what I have lost total will be posted today and I will call it 309 lbs still. Thanks for reading along as this fella drops literally an entire person worth of weight off of his body and brings himeslf into a healthy body, your comments and support mean more than you know.

As Ever
Me





Thursday, April 15, 2010

Something funny going on with the weight this week because upon waking up this morning I am actually up in weight by about half a pound its more than I was last Friday and that's just not cool. This up on the scale is odd because I have done everything right this week, my calories are in check and I have been to the gym every day this week, the only thing that I can think of that could be messing with me is the fact that I lifted weights on Monday and my chest is still sore a tad and sore muscles usually mean there is some water retention. I am on the fence with what I should do today as far as the gym goes, on the one hand I feel that I should go and beat the hell out of myself on an arc trainer and take a loss on the scale tomorrow with a show of force but on the other side is taking a day off to see if I am over training as I have been getting in some pretty decent workouts this week. It would be too easy to stay home today and knit so of course I will go beat the $hit out of myself in an effort to come in lower tomorrow than I am as of 10 minutes ago but man, what the...

Anyways...nothing good shall come from getting stuck on a slight up on the scale when I know how hard I've worked, I am stronger for the week of exercise and hey! its nor Friday just yet so we shall see what happens. I tried something a little different at the gym yesterday in the way of sprints/intervals on the treadmill, it was different and I knew that I was working out if being out of breath and sweat count as a gauge. I started off at 3.0mph for 2 minutes to warm up and then put the machine at 6.1 mph, yes I know that is hardly a sprint but at just over 300 pounds believe me when I say that its enough! I ran one minute on, one minute off for 6 intervals at 1% incline and then finished the remainder of a 20 minute session walking at 3.3 mph on a 3.5% incline. I liked it! I am adding it to my workouts twice per week and will either increase the number of intervals or the speed as I get stronger at it and I am now starting to get myself quite the little repertorie of workouts that I use regularly.

Wednesdays menu.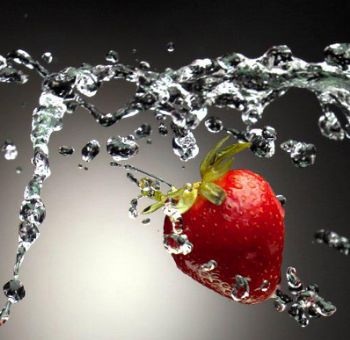 Breakfast
7:15 AM
2 cups honey combs 220
8oz 1% milk 110

8:30 AM
1 T peanut butter 95
1 banana 105

12:00 PM
1 apple 85

Lunch
2:30 PM
4oz grilled chicken breast 200
rosemary wrap 100
1/2 oz American cheese 55
onion/tomato 20

Dinner
5:45 PM
4 slices whole wheat bread 280
2.5oz American cheese 275
1 can green beans
60 smart balance
45 diced onion 10

8:15 AM
10oz strawberries 80

A total of 1740 calories for Wednesday which is just about perfect in my book, and I have been upping my fruits and veggies all week because I noticed that I was lacking in that department. Whatever that scale whispers to me in the morning I know that I have done my part this week, if this slight gain stays I feel good about my week, if its a loss, I feel good about the week because in all honesty there was nothing that I didn't do right according to everything that I have done from the get go. My feeling is that its the early in the week weight lifting that's hanging onto some extra fluid weight and once I am not sore any more it will drop down a pound or so and next week I will have a decent sized loss, OR I will have a loss this week, to be found out I suppose.

Tomorrow will be another weigh in for the record book and I am hoping for a loss so that I might be able to post some "what I have lost" images and honestly I am planning on kicking my ass at the gym today and perhaps I will go for a post dinner bike ride as well just for good measure. Making good decisions has become the norm for me and it is inevitable that I am going to come down in weight because I demand it, I insist to my body that it let go of the fat and enjoy the ride that I am taking it on because its just how its going to be and there is nothing that it can do to stop the punishment.

Make sure to pop in and check out the weigh in tomorrow morning because whether its a gain or a loss it will be put out there and into the tracker, will I make that goal of being 300 pounds or under by May 1st? I honestly don't know but what I do know is that I am going to bust my ass trying to get there and that's all that I can do aside from lopping off a limb or something. Thanks for the support and thank you for following along with this fat man getting thin, That's all I got for today.

As Ever
Me






Wednesday, April 14, 2010
Yesterday was one of those days for me, you know, feeling a bit run down and early in the day thinking about skipping the gym and ordering a pizza for lunch kind of days. 10:00 am my daughter says "Dada, lets go play" and that tiny sentence from that beautiful little girl changed my whole thought pattern for the entire day because there was a time in my life where I would not have had a choice, the answer would have had to be "I can't" and I am glad that I did something about the weight before it ever had to come to that with her. Those kinds of days come around for everyone on occasion and what we do next is what defines us I believe, I could have sulked in my funk or I could go jump on the bed with my daughter, guess which I did. I had all but decided that I was going to lay low for the day and skip the gym but I was reminded that this is not something that I can do half assed and I ultimately ended up with a great workout at the gym, jumped on the bed for about 30 minutes, well the kid did I just played with her, read about 7 books to her and like I already said had a good day over all.

I cannot think of this better health thang as anything less than something that I must do because before I made the choice to change things daily tasks were not exactly peachy and I struggled to do the most remedial things and I ain't goin back to that folks. Changing the way that I think about health has been the best thing that I could have done and is a critical part of my success as far as I am concerned because without changing the mental the physical is only temporary in my opinion. The physical differences are so amazing to me and I almost forget where I once was until I look at an old photo or an old piece of clothing that seems like it is so big and I can almost not imagine fitting into it yet it was mine. It is amazing for me to look at my more than 5 foot long belt now and know that it was once almost too small to fit me, I have a pair of shorts that I saved that I can stand inside one leg and a shirt that I am sure can fit my entire family in and I look at these things and have memories of completely filling them out.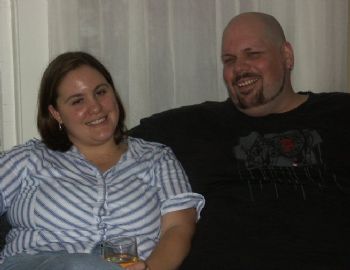 Thanksgiving 2007, Fat n Happy.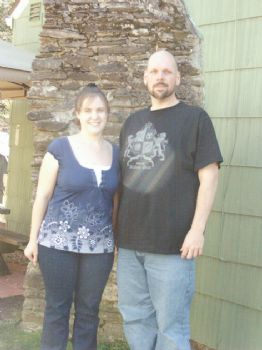 April 2010, 300 pounds lost between the both of us.

That first picture is from Thanksgiving 2007 and I have posted it before Here zeusmeatball.blogspot.com/2009/01/wo
ah-moment-compare-photo.html with a picture of wify and me in the same shirts on, but its pretty much 2 months before we started eating right and exercising, I was 500 plus pounds and I am not sure what Wify weighed but judging by the looks on our faces we were fat and happy. That second picture is from this past weekend and I am 225 pounds lighter than I was in the first and Wify has lost 74 total pounds to date from her highest weight and that's 300 total pounds between the two of us and honestly, that's just insane! The first picture I have a 6XL shirt on and in the second that is a 2XL shirt, I am still amazed that I can fit into and wear outside a 2XL shirt because the last time that I was able to do that I was unable to grow facial hair. The fact that we have lost 300 pounds together is crazy to me but it shows what can be done with some hard work and dedication to something and all without any surgeries or Miracle diet plans zeusmeatball.blogspot.com/2009/10/i-
found-miracle-diet-plan-you-have-to.html

Every aspect of my life has been enriched from making the decision to drop the weight and get healthy, and I will never say that it was/is an easy thing but I can say with 100% confidence that everything that I do now at just over 300 pounds is easier than it was at over 500 pounds. Every ounce of blood sweat and tears, yes there have been tears were worth the results that I have gotten so far and I am not even close to finished with this process, I have weight goals that I need to reach, I have weight lifting goals that I want to reach and I have over all fitness goals that must be reached so I will be here for a good long while whilst I get there.

Move more, eat less and drink a plenty, this is what I do, this is my mantra and if you want it you can have it as well.

As Ever
Me





Tuesday, April 13, 2010

Heading into the week full on and expecting to have at least a decent loss come Friday I am on track to do so thus far if my intake and exercise is the gauge. Getting right to it I made it to the gym yesterday and did 25 minutes on the stationary bike, 30 minutes on the treadmill and 40 minutes of weight lifting and I feel good about the workout. My intake was 1730 calories total and I drank, um, I lost count at almost 3 gallons, yes I said 3 gallons, I was up in weight Monday morning from my off kilter Sunday intake schedule and wanted to sort of flush the system and make sure that hydration was not an issue so that I did. After dinner we made it out for a walk while my daughter rode her new bike so it was more like a walk/jog along with her and was about 1.25 miles total so that was relaxing, but enough about that have a look at yesterdays menu.

Breakfast
7:15 AM
2 cups honey combs 220
8oz 1% milk 110

8:30 AM
banana 105

11:45 AM
zone bar 190

Lunch
2:45 PM
2 slices wheat bread 140
4oz turkey breast 100
1 T miracle whip 40
1oz chips 75
4oz baby carrots 45

4:15 PM
apple 85

Dinner
5:45 PM
1 hard roll 180
4oz turkey breast 100
1 T miracle whip 40
1.5 oz light chips 110

8:30 PM
Yoplait yogurt 110
10oz strawberries 80

Making my way towards a healthy weight one day at a time I am getting closer to that coveted 2XX weight that I seek and I have a good feeling that it will be sooner than later that it shows up on my scale. If you think that its an impossible task to lose a massive amount of weight and keep it off you have to get past that overwhelming feeling and push through, if I had stopped at my thoughts about how impossible it seemed I don't know where I might be today. It is not easy, it is not a walk in the park but I can tell you that all of the hard work that goes into a healthy lifestyle comes back ten fold in the rewards that are there for the taking when success comes. The hard work starts feeling less like hard work and more like just the way things are and I think its at that point when we start feeling more normal and I can see just how clear of a line there is between living healthy and living the way that a 500 pound guy has to be living to maintain that weight because it is night and day.

You can drop the weight, you can get healthy and you do have the willpower to make it happen, the biggest question is will you take your health into your own hands and make that choice to live a life that is full of what you want, or will the choice be to sit back and feel bad for the situation. I chose the latter for all too long and it got me where I was, the choice really does fall on my shoulders to make sure that it does not happen again and every time that I look into a mirror I can blame that fella for everything that I have done for my health in the last two years but on the other side of that its the same guy that was there at 534 pounds so he gets the blame for his part as well.

Today I will eat within my calorie range, today I will go to the gym, today I will drink enough to assure that I am hydrated and tonight I will get a full nights sleep, what will you do today for YOUR health?

That's all I got.

As Ever
Me



First Page
1
2
3
4
5
6
7
8
9
10
11
12
13
14
15
16
17
18
19
20
21
22
23
24
25
26
27
28
29
30
31
32
33
34
35
36
37
38 39 40 41 42 43 44 45 46 47 48 49 50 51 52 53 54 55 56 57 58 59 60 61 62 63 64 65 66 67 68 69 70 71 72 73 74 75 76 77 78 79 80 81 82 83 84 85 86 87 88 89 90 91 92 93 94 95 96 97 98 99 100 101 102 103 104 105 106 107 108 109 110 111 112 113 114 115 116 117 118 119 120 121 122 123 124 125 126 127 128 129 130 131 132 Last Page

Get An Email Alert Each Time BOTZZZ Posts