| | |
| --- | --- |
| | BOTZZZ's Recent Blog Entries |


Thursday, March 11, 2010

Watching the scale can drive me insane at times because I just don't understand what the hell is going on inside my body going off of the weights from day to day. Because of the bad food weekend that I had last week I have been on the scale every day just to watch the fluctuation and its been steadily going down since Monday and I was hoping to get back to that 315 pound mark by tomorrow and have been doing everything right as far as following my plan. Yesterday morning I weighed 316.2 pounds and that was the lowest point all week and for a Wednesday was a good weight and I thought that I should get below 315 by tomorrow with a 316 mid week, its how it usually works out but then this morning I get on and the scale said 318.4 pounds. Yes I know that fluctuation is fluctuation but I ate 1800 calories on the nose yesterday, went to the gym and got in 45 minutes of cardio half of it was bike riding at a good pace with the treadmill being a mild walk @3.2 mph 3.5% grade but how can that equate to an up?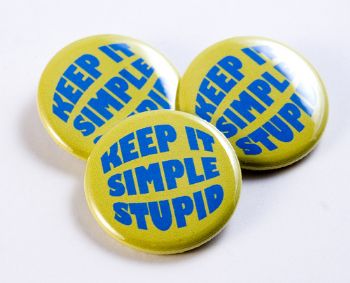 This is not a race to get to a certain weight so I am not worried about it but man! I am going to chalk this one up to the health gods standing in the corner of the room looking at me with a shrug and a look on their faces like "ya shouldda passed on that grinder last weekend bub" but then again I may be premature with my conclusion and I will be lighter that I think tomorrow morning. Something else that I am thinking more about is the fact that my workouts at the gym have been pretty for lack of a better word intense and maybe I should be eating more on the days that I workout which is every day because I am working out harder now than I have during this whole process. An average of an hour of cardio per day along with weight lifting at least 3 days per week is what I do lately and that doesn't seem like too much to me at all and I feel that I could do more but don't because I run out of time but once upon a time 15 minutes on a stationary bike 4 times per week was doing the trick. I don't want to start over thinking things at this point so I won't, eat less move more has always been how I roll and I am down 219 pounds doing so and I am going to stay with that plan but its weeks like this one that I gotta wonder.

My plan from the beginning has always been to eat what I want to as long as I stay within a calorie range, drink lots of H2O and green tea while exercising daily or K.I.S.S Keep it simple stupid, and this is still the plan to a point. I try now to eat as many whole foods as I can without obsessing over it and the exercise has been kicked up a bit because I am less limited now by my weight and I still drink like a fish but basically I am doing the same thing that I was in the start of this. My goal is to get down to a healthy weight and live a long happy life and so far so good on the plan so getting hung up on an erratic week where the raw weight is concerned isn't gonna happen, and who knows, I may actually get a new low weight this week after all. I know that there is no way I could have gained 2 pounds from yesterday to today so maybe I am retaining something somewhere but again I am not going to over think it, wait am I over thinking it? I keep going back to that so um yeah I just gotta remember keep it simple stupid and let it go.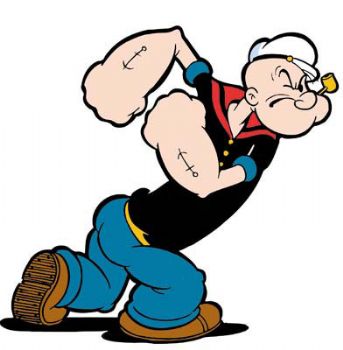 Whatever that scale tells me in the morning is what it is and that's all that it is which is the next week in a row of weeks that have lead me to this point in the process, wow say that 5 times fast. I am looking at 22 more days until my line in the sand will be stepped over and we see if I made that 300 pound mark by April 2nd and the closer it gets the more I think I will be close but no cigar on that number, to be found out still I suppose. Weight loss sure is a fickle bitch and sometimes it does what it likes no matter what we do to beat it into submission and then there are other times that it just falls off like dead leaves on an autumn tree but time and willpower proves the strongest beast in that fight so that's where my money is going.

Tomorrow we weigh in and that weight gets recorded, will it be a loss? perhaps a gain? maybe break even? oh my! you will have to check in with tomorrows post to find out where the next chapter of as the fat guy turns heads.

Until then make the best choices that you can, you owe it to yourself.

As Ever
Me





Wednesday, March 10, 2010

Making my way through the week and looking for a new low number come Friday has been my focus for so long that I am starting to feel like this is my job. I don't mean the job that you wake up every morning and start loathing before the crust has even fallen out from the corners of your eyes but the kind of job that we wake up early because we can't wait to get started. This whole healthy living thing has become my purpose in a way, its like I have to prove to myself that I can do it again and again day after day so I wake up and start thinking about my meals and how my calories will play out throughout the day each end every day on the calendar. It use to be that waking up meant another day of struggling to move around comfortably and wondering when that time bomb in my chest was going to pop and that is quite different now that I chose to do something about my situation.

This morning I sat thinking about what I would do for exercise today, would it be business as usual and off to the gym for my 50 minutes of cardio on a machine? perhaps I would hike the 3 mile trail down the road from my house? Maybe a bike ride through the hills around the lake? Then I started thinking about my meals, would I have cereal for breakfast? perhaps today was an egg white omelet kind of day, or maybe I would make some steel cut oats and what of lunch? I am making Cornish game hens for dinner tonight whats that leave me for a calorie balance to use at lunch? I have a good idea of how my day will play out food wise as well as exercise and that was within the first 20 minutes of my day. Actually as I write this I am still unsure what I will do for exercise today but I am leaning towards the gym followed by that walk on the trail but I won't know until after I click publish and walk out the door.

My life is entirely different for the choices that I make each day where my diet and exercise is the subject matter and last night I was chatting with wify and I said to her that I wonder where I would be right now if I hadn't changed the path I was walking when I did. Truth is that I honestly believe that I would be either in a wide hole covered with turf and daisies or stuck in a bed that had some sort of reinforced frame underneath it wishing that I had the willpower to make a change in my habits. Finding myself at that impasse in my life when I did surely saved my life and has hopefully added many years to my existence on this planet.

I listen to people talk about how hard it is to lose weight or get started losing weight and I honestly start getting choked up because I totally understand how difficult it is to get that ball rolling and stick with it. I feel for those people because I was in those very shoes not so long ago and still am in a way because I am still a ways from being where I need to be with my health and honestly some days its like balancing on knifes edge with the staying on track. Making losing weight and getting healthy my goal in life is the key to my success thus far and I have to maintain my level of dedication and focus on the subject so that I will see this through to the end, I AM going to realize my fitness goals and I AM going to get where I need and want to with my health.

How are you going to make a change in your life today?

Fini

As Ever
Me





Tuesday, March 09, 2010

With the weather getting nice I am running into an uncomfortable situation with my clothing, ya see the top of me is a comfortable 2xl and where my gut use to be comes in at a 3xl so finding clothes that look decent is becoming a task. I have one shirt that fits me perfectly and the rest look god awful or too tight which I guess equates to god awful and now that its warm out I will be forced into wearing shirts that are too big up top or too small down below and this is bugging the $hit out of me and its only the first week of warm weather! I loved this fall and winter because I don't look half bad in my hoodie as it hides the loose skin issue that I am seeing, I mean don't get me wrong it looks better than the filled out gut but man I'm tellin ya. The thing about it is that I CAN see that its shrinking up somewhat but I am losing weight faster than it shrinks so I am left with a gut that looks bigger than it is because of the skin.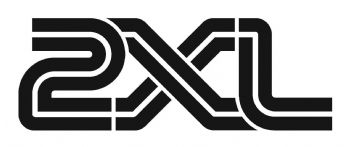 This week its been in the high 50's outside and I am finding that nothing I own for shirts fits! I have some 3xl Adidas tee shirts that I bought in the beginning of the winter and they are loose now so look bad and everything else that I own is either 3xlt or 4xl and well yeah. I have a Reebok sweatshirt that fits me good and I have been using it at the gym over my tee shirts but it will be way too warm for that soon and I will be stuck, whats a guy to do? This is a very frustrating situation for me because there is no amount of work that I can put in and change it, I am stuck with this until it either shrinks and tightens up some or I get a surgery down the line and either one of those is a wait kind of thing so nothing that will be fixed in my immediate future.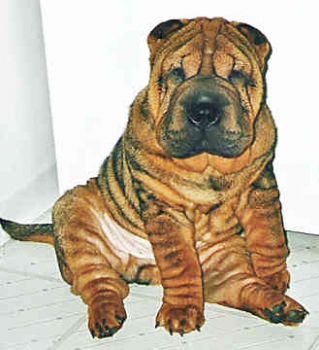 Part of my plan is to bulk back up some by weight lifting to help fill in some of the shar pei effect that I have going on but again that's something that will take some time. I am starting to see results with the weights and I have mentioned in earlier posts that my chest and arms are starting to show some definition through the skin but I think that I am going to have to get a lot bigger for it to make a real difference. Lifting weights and getting some of my bulk back has always been the plan and I am looking forward to getting in some serious lifting as I don't really consider what I am currently doing serious as much as base building and getting my muscles back into a routine so that when it is time to start serious lifting I am ready. My legs are actually huge right now muscle wise and its no wonder with carrying 500 plus pounds around for all of that time but in all honesty the bike riding and weight lifting that I have been doing on my legs has got to be making a difference also because when I say my legs are big I mean there is definition there that almost makes them not match the loose skin on the rest of my body.

Since I mentioned my legs I will mention my jeans and how they fit, I currently have a few pairs of 42 waist jeans that I wear BUT they are seriously loose on me and without a belt they will fall down with my first step. I have a size 44 belt that I have punched 3 holes in so far so that I can keep using it and I need to punch one in it now because its getting loose again so I am not really sure what size jeans I should be wearing but I am less concerned with that because I wear my jeans loose and the belt cinched up takes care of them falling down. I mention my pants because they are going down in size faster than my shirts and I figure that's because of the skin on my upper body (belly) area and I wear my jeans lower than I probably should (always have) but it is an indication that I am getting smaller either way and my gut is forcing me to wear super big shirts or suffer tight ones.




So you see my predicament right now with the weather warming and not being able to find something that fits properly. I stopped by the local Big and Fat shop over the weekend and tried on a few shirts in different brands and they either fit perfectly on top and were tight on the bottom or fit on the bottom and were very loose on top so I passed on all of them. I can't see buying an off branded shirt for $20 that doesn't fit right and that $20 was the sale price! when I have a whole closet of shirts that don't quite fit right at home. I have 3 of the same Adidas shirts because when I bought them they fit perfect for the size I was when I purchased them and I am on the lookout for the next shirt that fits so that I can buy 3 or 4 of them again but this time around its proving harder than it has been in the past.

More of a talking out loud, or typing out loud if you will kind of post today because of this problem that's coming on strong lately and it is directly related to my weight loss so I thought I would share. I can't exactly go through the summer in a hoodie or sweatshirt and it is what it is but man I tell ya its more frustrating that I wanted to believe it would be when I first started thinking about the fact that it would eventually be a reality for me. This will work itself out because there is nothing else that can happen so no point in stressing over it too much, but that doesn't mean that I won't be frustrated with it because imagine busting ass as hard as I am to eat right and exercise every day and not being able to see the results as strongly as they are felt which Isuppose could be called a Vain look at it but it is what it is.

I just want to feel comfortable in my own skin and right now with this new issue of nothing fitting and the weather warming up its whats on my mind.

Thats all I got.

As Ever
Me





Monday, March 08, 2010

This weekend did not go so well and I am unsure why, Let me start at Friday and we shall move forward from there. I did not take anything out of the freezer for dinner on Friday so when wify came home from work and asked what was for dinner I stated "Tuna melts?" as it was the only thing that did not need to be defrosted in the house and the look on her face told me it wasn't gonna happen. She said "How about Chinese food?" half joking with that I know that ain't happening look on her face and my reply was "I could do a chicken grinder from the pizza place if you wanted to order out?" and it was done. we ordered a small plain pie for the kids to split, she ordered a spinach calzone and I got a chicken parm grinder with peppers and onions on it and that would have been all well and good if I had eaten the grinder and nothing else for the remainder of the evening. My yummy grinder went down rather quickly and I ate a piece of crust thanks to my insane daughter that doesn't like the crust, I mean who doesn't like pizza crust? and I couldn't let it go to waste right? and then I had a taste of the spinach calzone as well, so much for being able to count the calories in the grinder eh? I also had some popcorn with a movie Friday night as well but no worries as I had made it to the gym and drank what I needed to so I put it down as a day of extra calories and that was that.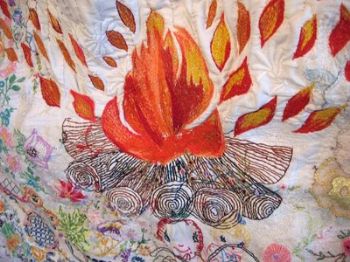 Saturday came around and my intake was perfect right up until dinner but I was kind of forced to do a light dinner because I ate heavy during the day. I ended up with 1800 calories after dinner but that wasn't counting the 3 marshmallows that I had eaten a little earlier up at the bon fire that I lit oh my! We had to do a dump run and I got rid of a bunch of junk from the basement and in the process ended up bring a lot of scrap wood back up to the fire pit in my yard and when I got back there noticed that there was a ton of wood that needed to be burned so a fire was lit and now my back yard is scrap free but it cost me a few marshmallows. Other than those tiny cylinders of puffed sugar goodness I did ok with calories but I didn't drink half as much as I should have for the day and I was up in weight that morning but come Sunday morning I was back down to 316 pounds so it went down as fluctuation.

Sunday I did drink enough but and this is the maybe too much info part of todays presentation so if you are currently eating read no further, you have been warned! I had a date with the porcelain throne late Sunday morning and the meeting lasted roughly 30 minutes and started out well enough besides the twist in my gut but before we were done we had filled the bathroom with solids, liquids and gasses and by last night my weight fluctuated up almost 9 pounds! I am assuming that after the performance in the bathroom and yes it was a performance with many encores that I was light on fluids so I am retaining every drop that went in yesterday. In addition to that I maybe did have a little more than I should have at dinner last night but that wasn't my fault! I swear! Ok maybe I did have a little to do with it, I made BBQ chicken out on the grill and as a side I tried my hand at some "spanish style rice and beans" which to me really didn't taste spanish at all but I do have to admit that it came out more than fantastic! everyone liked it and when I was making it I have to admit that I did a lot of tasting just to make sure it was um seasoned correctly, yeah lets go with that, and it was maybe the best rice that I have ever made in my entire life! I will post the recipe up in a later post. If I had not done all of the taste testing while it was cooking I would have been ok on calories but I know that I went over calories for sure.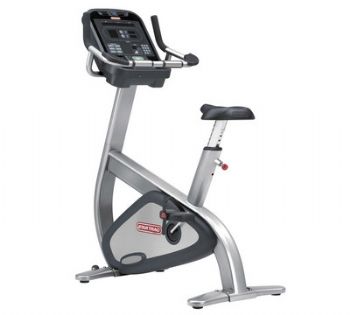 Getting to the gym this weekend just was not going to happen between the dump run and the bonfire on Saturday and then Sunday was our bulk grocery shopping day so I just didn't have time to get out there. I did get out for a walk with wify and the kids Sunday, we walked along while the kids rode their bikes and that was relaxing as the weather has been more than awesome here we were in the high 50's all weekend and should have the same weather for a couple days so I may just get a bike ride into one of these days while its nice out. I am planning to get to the gym every day this week and my calories shall not go above 1700 all week unless I have a lifting day at the gym and then it only goes over by a whey shake, thats my story and I'm stickin to it.

There is something about the weather warming up that makes me want to hang out in the yard with a beer and a pizza but I am going to have to get past that feeling and keep pushing hard with my routine because getting under 300 pounds I am guessing will feel better than any pizza and beer taste. My fluctuation up yesterday has to be retaining fluids because there is no way that I consumed more than 31000 extra calories so I am not to worried about it and know that it will sort itself out in a few days if not sooner. I can't wait to see a new low come this Friday and am honestly excited about getting under 300 pounds, I mean who wouldn't when they started out above 500 right?

This is turning into a Novel of a post so I shall end it here for now, I may pop in later with another post on skin issues because its on my mind lately but maybe not either way this one is done. Thanks for reading along and thank you for the support that you guys leave me in the comments as they help a bunch, keep on keepin on and all that.

As Ever
Me





Friday, March 05, 2010

I'm just going to get right to it today because I am more than happy with what the scale told me this morning. Last week I was 319.0lbs on the nose and this week I am down to 314.6lbs! that's a 4.4 pound drop this week folks! and it would appear that I am on a roll with more than 8 pounds lost in the last two weeks and of course a new low weight this week. I am down a total of 219 pounds now or 41.01% total body weight to date and both of those numbers are incredible to me as I can still remember day 1 like it was yesterday and how I felt like this was going to be the next attempt that didn't quite go the distance. I am a mere 40 pounds away from my initial goal of hitting 275 pounds and slightly less than 15 pounds from getting below that 300 pound mark and both of those figures don't seem so far away to me and I am pretty confident that I will get there sooner than later but more on that later, here are some images to show what I have lost and what weighs the same as me currently as well as a shot of the scale this morning.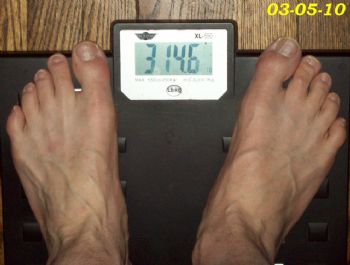 My beautiful dogs standing on the scale this morning I still can't believe the drop this week!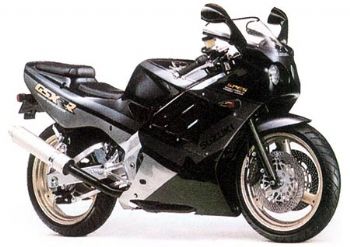 This 1989 GSXR 250R weighs in at 315 pounds just like me.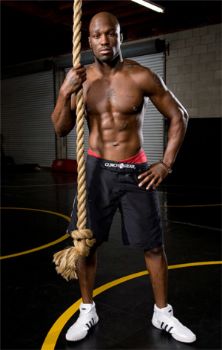 MMA fighter Muhammed Lawal comes in at 219 pounds and is what I have lost to date.

I did get out to the gym yesterday if only for a short not very intense workout, it was more than I had done all week so it felt good. I rode the stationary bike for 20 minutes 90rpm on level 11 and then I walked for 10 minutes on the treadmill at 3.2mph on an incline of 3.5% and called it a day because I didn't want to push it and end up coughing as I am feeling better but not 100% just yet. The walk on the treadmill was so short partially because I was picking wify up from work so that we could get home early and take a walk so I did get that in as well. The walk was rather relaxed at the speed of a 4 year old pumping up hills on a training wheeled Dora the explorer bike but I jogged around my daughter as she rode and walked most of the just over a mile backwards, it was nice to get out with the kid and I can't wait for it to warm up some so that bike rides can come back into play.

I need to lose 3.75 pounds per week until April 2nd in order to hit that under 300 pounds goal by then, I have dropped 4 pounds two weeks in a row so I am not expecting another awesome week next week but stranger things have happened. A trip to the gym is in the plans for today but I will see how I feel later before I decide for sure, I do believe that if I keep my calories in check and get a couple workouts in this week and don't over do it before I am fully back to my normal self that I can have another good week and perhaps I will dip into single digits as in 309 pounds come next Friday. There I go again, mister ambitious and I know that would be a HUGE number for this week but pair the fact that I have missed the gym all week with the fact that I will feel much better in a couple days time (hopefully) and I have a feeling that I will be in full on bust ass mode all week.

Being within 15 pounds of getting under 300 pounds has put me in a more than great mood today and I am looking forward to next week already and I haven't even made it through today! Remember to get that H2O in and eat well because we are responsible for what we do or do not eat, we are the only one holding the controls when our daily decisions come into play and at the end of the day that person looking back at us in the mirror is the reason that we fail or succeed.

Thats all I got.

As Ever
Me



First Page
1
2
3
4
5
6
7
8
9
10
11
12
13
14
15
16
17
18
19
20
21
22
23
24
25
26
27
28
29
30
31
32
33
34
35
36
37
38
39
40
41
42
43 44 45 46 47 48 49 50 51 52 53 54 55 56 57 58 59 60 61 62 63 64 65 66 67 68 69 70 71 72 73 74 75 76 77 78 79 80 81 82 83 84 85 86 87 88 89 90 91 92 93 94 95 96 97 98 99 100 101 102 103 104 105 106 107 108 109 110 111 112 113 114 115 116 117 118 119 120 121 122 123 124 125 126 127 128 129 130 131 132 Last Page

Get An Email Alert Each Time BOTZZZ Posts