| | |
| --- | --- |
| | BOTZZZ's Recent Blog Entries |


Wednesday, February 17, 2010

The thing about weight loss on a large scale is that it must consume you, it must become like a job, it is something that is on the mind of the loser 100% of the time and it has to be this way. I would suspect that people with less weight to lose experience this on a smaller scale or perhaps I am wrong and they experience it just the same as a one time mammoth such as myself. I am finding that the closer I get to my "goal" weight which that number was basically pulled from a hat that it is harder to get the weight coming off in as big of chunks as it once did. I am still three hundred twenty some odd pounds and its slowing down but I don't think that its a physical thing, what I mean is that I believe I am doing what I need to do for the most part but I am letting myself get away with more than I have in the past during this trip to a slimmer me.

There was a time during this process where I was the biggest pain in the ass in the world if you had invited me to dinner, I would walk in with my salter scale asking a ton of questions about how the food was prepared. Under one arm would be my light salad dressing and under the other the remainder of my gallon of green tea for the day and I would weigh every bite of food and writing it down so that later I could transfer it to my excel sheet. My mother in law would call and ask "How do you want this prepared? what sides can you have? if I use x amount of butter is that ok?" so on and so on, and this helped immensely more than she probably knows but a pain in the ass I was none the less. Now a days I "eyeball" lots of things and honestly there is no doubt in my mind that I am as close as a person can be to the actual measurement without actually using a measuring tool but it still leaves room for error..um yeah we will call the extra scoop of this or that error for todays discussion and I need to get back on the strict wagon at least until I get under 300 pounds.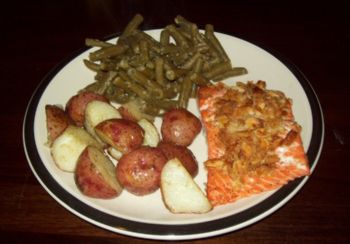 Random insert of last nights salmon dinner, 475 total calories for the plate.

Lately I am relaxed where my intake is the subject matter, I was in NYC last week and started off well enough by going to Fresh & co after the Dr. Oz show and got some whole wheat crusted veggie pizza and a bottle of water but after that not so much. We ordered a pizza up to or room and I had 3 slices that night which is leaps and bounds better than how it use to go down and the fact that we would have ordered 2 pizzas but still, pepperoni pizza? I know that I am doing this and its because I am back to the way I use to be, you know that I am unstoppable feeling, well its back. I have written in this blog about how I was always a bigger guy but that people had an image of me as that big guy that could do anything, I ran, I climbed, I worked 12 hour days digging holes and pouring cement and I worked in a lumber yard stacking, loading and climbing racks like a monkey, when I say that I did not let being a big guy get in my way I mean it. I am at a point where I am doing whatever I want to again and perhaps its getting in the way of my end game because its been too long since I got some big numbers off and kept the momentum, it seems that as of late I get a roll going and then something happens that gets in the way, and by something happens of course I mean I relax.

I set a goal for myself to be at or under 300 pounds by April 2nd 2010 and looking at the numbers I do believe that I will fall short but that doesn't mean I will not try to get it. I was on a roll and doing great but have had some distractions that kept me from staying 100% focused on that goal and I am left with having to lose 3.4 pounds per week until April 2nd to make this goal and thats going off of my this mornings weight. I will have some big numbers in the coming weeks as I am going to amp up the cardio a bit at the gym because I can taste sub 300 pounds at this point. Breaking out of this "I'm comfortable" mode is proving harder than I thought it would be, I knew that it would come at some point but man I gotta get it out of here so that I can get to that tape waiting for me at the end of the road.

I talked about the weight loss game having to consume a person for it to work and I think that it was an easier thing when I was worried about death on a daily basis than now. I am getting stronger by the day, I am physically capable of lasting longer in something that takes good cardiovascular conditioning to accomplish and my clothing keeps getting looser despite the fact that the weight has slowed. I think that its time for that pain in the ass that use to carry his salter scale around to return for a while because I am going to get to my bottom goal weight in 2010, not "going to try" not "I hope" but I WILL be there before too long. My habits have changed completely in the past two years, I have gone from a guy that sat around wishing that he could do things to a guy that does the things now, I make excuses to move now a days and look for things that will get me moving instead of sitting on my posterior.

That's all I got for today, make sure to tune in tomorrow for the next adventure of Fatman and Blobin, thanks for following along.

As Ever
Me






Tuesday, February 16, 2010

Who is this guy that calls himself Zeusmeatball? Who is he? The short answer is that he is just a guy that was fatter than he is now once upon a time and decided to lose some weight and get healthy. The slightly longer story has a man scared of sudden death at the hands of an encasing layer of fat that covered his body to the point of ceasing normal every day life being forced to doing something about his dwindling health because of that fear, that's the Zeusmeatball that started writing a blog on January 1st 2008. I wish that I didn't know him so well, at times I hoped it was a dream and that I would just wake up sitting on my bed looking down at the smaller me from my past but it never happened, instead disappointed at myself I sat there wondering what I could do about this situation that I had gotten myself into while the answer was there the whole time.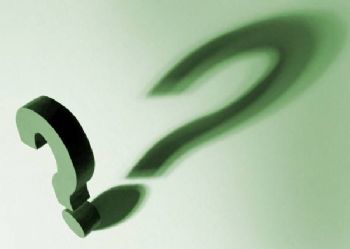 The answer was there the whole time? indeed it was, Stop wishing and start doing even if it was just cutting back on some of the $hitty food that was or is being shoved down just stop it. Wow what a simple concept that is! why didn't I think of that? its what every person that has an eating problem wonders about while they are standing in the kitchen shoveling calories into their pie holes at O dark thirty, and it really is as easy as just stop. I didn't say that just stop was easy, but its as easy as that statement. It does take a huge amount of will power and determination but at the very most basic level if the calories are not going in they can't exactly attach themselves as fat so I am stickin with my its that easy statement, I just wish I had talked myself into that a long time ago.

I can remember a time in my life when I would wake up and have to sit in bed for 20 minutes just to let my back warm up and stretch enough so that I could stand without extreme pain from an injury that I got back in 2000. I was on my way up to the 534 pounds where I stopped at that point and it was a daily thing for me, wake up, roll over, sit up and stay there until the pain went away finally dragging my big ass out of the bed. After that it was time to sit on the couch for a while so that my back pain would go away a little more and I could start functioning the best I could at 500 plus pounds. I worked evenings at that time in my life and it was a good thing because I used the day to get my back ready to be able to do what I needed to in order to get to work and complete my day there. At work I sat in a chair all day and that wasn't really a good thing or a bad thing as sitting hurt just as bad as standing sometimes, it was literally pain 24/7 in my back the only difference was the level of pain at any given time and still I ate the Cheetos and strawberry milk every time I had a break.

We had a Ford Focus at one point and there was a time or three where I had to take that car into work in place of my Mustang and I literally had to squeeze into it for my 45 minute commute and I mother fuvked that car the whole way. It was Wify's car so when we bought it and I test drove it I didn't care that it was a tight squeeze for me because I never thought that I would have to drive it. My gut hit the steering wheel in a way that I did not have to hold the wheel and could literally drive using my girth to steer if need be and still on the way home I stopped at Del Taco for my sack of greasy burritos. Driving is something that I have always been passionate about, I LOVE driving and I LOVE my Mustang and there was even a point in my life where I hated driving that car too, shifting sucked at 500 pounds because of the lack of room in the cockpit when you are 6'5'' and weigh as much as a pony.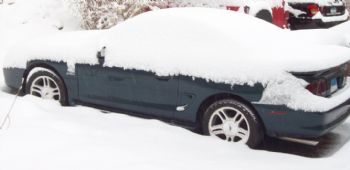 My Mustang this afternoon, I swear I heard it cuss at me for moving from California.

I can remember the day we brought our daughter home from the hospital and I pulled that mustang around to the pick up area, a prouder dad there will never be and has never been. I was brought home from the Hospital when I was born in my parents 65 mustang and here I am bringing my daughter home in my 97 mustang so many years later and there was something cool about that to me. That time of my life I hated cameras, I would never allow anyone to take my picture and if they did I would confiscate their camera and either delete the image if it was digital or remove the film if it was a regular camera, yes I said confiscate. On that day I didn't even notice my wife was taking pictures, I was just making sure that the beautiful little girl was strapped into her new seat perfectly for her maiden voyage in a mustang. A month or so later the pictures were developed and I saw myself squatting down next to the baby carrier and I loved that the picture was taken because its a snap in time that will never happen again but I despise that picture because of my size. My daughter whom means more to me than anyone has ever meant to another will now have to see how weak her dad was at that point in his life and how I let things get out of control and that's something that I cannot change. There is another side to that coin that plays completely different and is totally positive but that's a conversation for Me and her when she is a bit older.

I am the same guy that I was two years ago the difference is my outlook on certain aspects of my life and the way that I live them. I mentioned earlier in this post that it was easy and I stand by that because once you realize that you are slowly killing yourself by doing nothing about the situation its easy to fix it, its easy to change the way that you think about food and your relationship with it when death is on one side of the line. That photo of me and my daughter coming out if the hospital? I am in fact looking forward to the day when she sees it and says "Dad that's not you" because all she knows is the healthier me and she would be right because physically its not going to be me, I am glad that I stopped wishing and started doing something about the weight because if I had not who knows where I would be today and what my relationship with that little girl would be.

Zeusmeatball is no one special and soon enough he will blend into a crowd and not a single person will be the wiser that he once weighed more than a quarter ton.

Then all we will have is pictures to prove it because I ain't goin back.

Fini

As Ever
Me





Monday, February 15, 2010

Making good choices has been the thought of the week for me it seems, I have been finding myself thinking about things a little more than I have lately and not in any way other than looking at my choices and deciding on which would be the best. This afternoon I have the pleasure of having wify with me at the gym as she has the day off and my Mother in law has agreed to watch the kiddos for us so I have a running partner if you will for the day.

Last night I made a particularly good dinner of some baked Haddock fillets which I lightly breaded with panko bread crumbs that I seasoned myself, I made some seasoned rice with peppers and onions and green beans with pepper on the side. The total for my plate was 405 calories and the fish was a hit with everyone, wify loved it and my son couldn't get enough so into the bag of tricks it goes. I seem to be on a roll with snapping pictures of my meals and this one was no different, I am getting odd looks at the table but hey! have a look.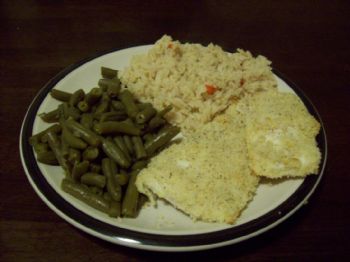 405 calories panko breaded Haddock, so good!

I am again craving a ride on my bike so I cannot wit for the weather to warm up a bit so that can happen, My son has a new mountain bike that Santa brought him so maybe he can keep up a bit better with the new ride. I have been preparing for spring to get here for the past month or so buying things that I need here and there and I always take a look at "the bargain cave" in Cabelas just to see whats there and yesterday I scored a pair of Columbia hiking shoes for the low low price of $12.50 after all discounts were applied. There are plenty of trails in my area that are not too far off the beaten path yet provide lots of scenery and fair distances and then I am not too far off from the Appalachian trail if feeling bold, Man I can't wait for spring.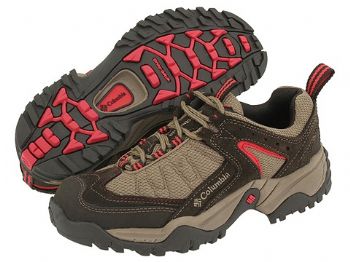 Can't beat these for $12.50! and they were in my size too and that's lucky considering that I am a size 14!

Over all this week seems to be starting off well and off to the gym I go to start it off! Eat well, drink much and bust my ass at the gym is my plan and barring any road blocks unforeseen will be what happens. My drive has not changes, my determination is unmatched and the only thing left to do is execute for me to get where I must go. I need to get my ass to the gym so thats all i got for ya today, thanks for following along and remember that if you don't decide that its time to do something about your own health there is no one else thats gonna do it for you.

As Ever
Me





Sunday, February 14, 2010

Things is things and my weekend is progressing nicely, Valentines day is upon us and another Hallmark Holiday will have bitten the dust in some hours. I did not really do well while in New York with the food and hydration, oh the sleep and exercise lacked somewhat as well but I am back home and immediately straight back to the program. I did go over my calories by about 100 because of a late night snack of a fiber one bar but its nothing that I am worried about at all. I say that exercise suffered but I did get two roughly hour long walks in while in the city and with all of the hurry up and wait at the show I suppose I wasn't stationary all that much but it wasn't what I would call a workout so there you have that.

I thought that I would snap a couple pictures of my lunch and dinner from yesterday and post them up to demonstrate that fairly large meals could be had for minimal calories and maximum impact on hunger. I did not however take a picture of my breakfast as we all know what a bowl of cereal looks like and that is a typical breakfast for me, either cold cereal or some steel cut oats. Lunch was a chicken wrap that I made with left over teriyaki chicken that I had grilled out on our gas grill Friday, I love grilling in 18 degree weather. The wrap had 4oz of grilled chicken with a sesame teriyaki sauce on it, some chopped lettuce and a couple cherry tomatoes sliced in half on a 100 calorie whole grain wrap and a shake of black pepper, simple right? I did have a dill pickle spear and my obligatory giant glass of green tea with this as well and the entire lunch hit the spot perfectly and for only 285 calories, have a look.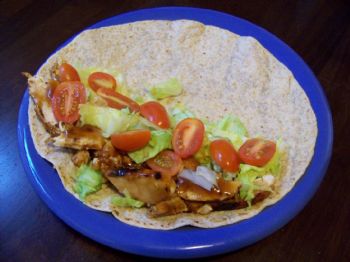 285 total calories for this plate, and thats a full size dinner plate.

For dinner I forgot to take something out of the freezer so I asked wify if breakfast for dinner would be ok with her and of course she loved that idea and I started in on some pancakes for the kids while she started breaking eggs. I had an omelet which was 4 egg whites, 1 whole egg, chopped onions, red bell peppers, jalapeno, tomato, 1/2 oz turkey pepperoni and 1oz of sharp cheddar cheese. With the omelet I had a multigrain english muffin a dill pickle chopped up and 4 slices of turkey bacon and let me tell ya wify can cook a mean omelet! The entire meal was 565 calories and of course once again that big ol glass of green tea on the side to wash it all down.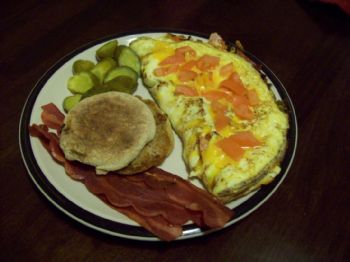 565 total calories for this plate of deliciousness.

Today I am planning on making some panko breaded Haddock fillets for dinner with roasted red potatoes and garlic and Parmesan green beans on the side and I will try to get a shot of that to post up later. I am going to focus on food for a while and try to get the biggest bang for my calorie buck with every meal, not that I haven't done this all along but lately I feel like I am settling for fast meals over quality meals that take a little more time to prepare, not that either of the meals above were fast or not good.

We are planning on taking the kids out later today for some Sundaes because of Valentines day and I will be passing on one of my own and having a glass of tea instead. I am unsure if making it to the gym is in my near future for today but I will attempt to make it at some point but if I don't I am not too worried about it and will be back in the full swing of things again come Monday, I missed going on Wednesday and Thursday because of going to the Dr. Oz show but I am ok with that.

They are our choices to make and our choices dictate where we will ultimately end up and that goes for health, wellness and just about every aspect of our daily lives, Lets make the best choices that we can.

Thats all I got for today I hope everyone enjoys the weekend.

Fini

As Ever
Me






Friday, February 12, 2010
So since last I posted a trip to The city was had, I was asked to be a part of The Dr. Oz show's 100th episode which was 100 people that have lost 100 pounds or more with special guest none other than Richard Simmons. The plan was to hop on the train to NYC at 4am to be at Grand Central station by 7:16am and walk on over to NBC Studios for the taping of the show and head home that afternoon after lunch in the city but alas its not how it went down.

Snow was expected on a large scale and we started questioning whether we would be able to make it out to the city for the show not because of getting there but instead getting home was the worry as the snow was suppose to start a little later in our neck of the woods. While debating on whether it would be worth it to go I got a call from the Travel coordinator chick Sarah from the show and she said that she could offer us a Hotel for the night if we were interested because of the storm and traveling in it would not be good. Long story short we arranged for my mother in law and brother in law to help out watching the kiddos and packed a day pack with enough to last us through our stay and off to bed we went at midnight-ish. Did I mention that we had to be at the train station by 5:40 am? and that we are a little more than an hour away from said station? which meant leaving the house at 4:00 am! yep that's about a 2 hour sleep that I had before heading out for NYC, the train ride was uneventful.

Upon arriving at Grand Central I get a text from the driver that NBC sent and headed out to where he was and I met Ramon outside and he drove us to the studio where I was greeted and brought inside to hurry up and wait for a couple of hours. I met lots of great people who have all gone through the weight loss process including Bonnie Matthews who blogs for the Dr. Oz show as one of the Wellness warriors. I also met Ann from I'm a Phoenix ,Baby who saw me and mentioned that Sean Anderson from The daily Diary of a winning loser said that she should say hello if we bumped into one another, we got the chance to get a shot of the two of us together a little later after that first hello. I met Don (DDORN) from Sparkpeople as well and I also had more than a few conversations with a great lady (I am so sorry but I cannot for the life of me remember her name but she was the assistant of the day on the show) who we ran into at our Hotel after the show and chatted with in the lobby for a bit if you by chance read this please send me an email! EVERYBODY that I talked to from the guests right to the staff of the Oz show was very nice.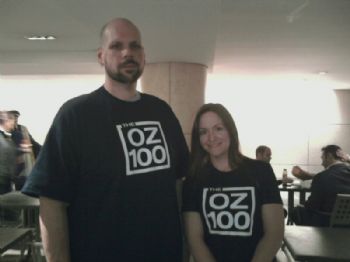 Me and Ann from "I'm a Phoenix, Baby" pre show



Me and Don shortly before heading into the taping.

We were all corralled into a line which apparently had some sort of order as we each had letters on the back of our tickets which dictated our position in line and ultimately placed us into our seats in the audience. Like trained puppy's we stood when the fella raised his hands, we applauded when the sign lit and it was cool to be in Conan O'Brien's old studio, HUGE Conan fan I am. The taping was ok but felt seriously long and I kept thinking "Man just one glass of H2O would be great!" once we were in that was it and I had not drank nearly as much Water as usual and no green tea all day the Horror! I was not properly hydrated, not even close and man I felt it, that paired with the lack of rest and the coffee that I was running on at that point left me a bit off to say the least. Something funny about the whole thing was that it was a show about people that have lost a lot of weight and were getting/staying healthy and I did not eat good while there, I mean C'mon, I was in NYC for the first time since moving back from California and it had been 8 years that I was in Cali, you do the math it was too long to go without a slice of real NY pizza! but more about that later.

The show ended and I won't say exactly what they had "The Oz 100" do with Richard Simmons to "wrap up the show" but lets just say the words "Hey man I didn't sign up to dance with Richard Simmons to no oldies!" came out of my mouth, to which the producer replied "try and fake it" but yeah....it was an experience and over all a good time. While they had us lining up on stage apparently I wasn't smiling enough and Richard Simmons taunted me with "whos that big sewious man back there...look at that sewious man" as he walked towards me, I did end up laughing and that's all he wanted, he was awesome. My wife and I were waiting in the lobby after the show for the car to take us to the hotel and out ran Richard (yeah we're on a first name basis now people) and I got get a few pictures with him as he teased Wify for fumbling the camera "C'mon Phyllis press the damn button! I don't think you know how to use that thing!" while taking said pictures hence my big $hit eatin grin, I was cracking up he was hilarious.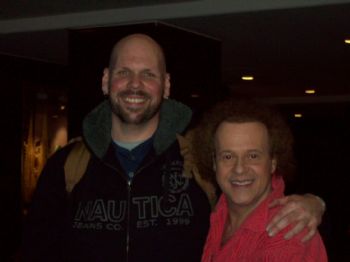 Me and Richard Simmons in the lobby of NBC studios.

Ok lets get to the food for the excursion, after the show wify and me were starving all I had to eat to that point was an orange and a coffee and here it is 1:30 pm! so we get to the hotel after chatting with another fella in the lobby who had lost 150 pounds for about 30 minutes (I can't remember his name I met so many people that day!) where the very nice lady says "I'm sorry but your room isn't ready yet, it should be ready by 3:00" I really didn't care as food was what I wanted and we headed out to Fresh & co where I got 2 slices of whole wheat crusted pizza covered in veggies and a big bottle of Poland springs. We headed back to the Hotel after our lunch and it was about 2:30 now, our room still wasn't ready but the lady said "let me just give you a better room that is ready now" and off we went to an apartment sized room that had a Bedroom, kitchen, 2 bathrooms, a living room and dining room and more closet space than I have ever seen in a hotel room and at this point I was happy that we decided to come for the show.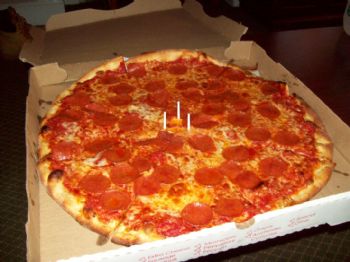 I snapped a shot of our dinner before digging into the best pizza I have had in 10 years!

We took a nap for a couple hours and when we woke up decided that it was time for some dinner and supplies, we headed out around 6:30 in search of some water and a place to eat. There was a drug store in Penn station and we were right across the street so we walked through the slush, wind and snow and got a couple gallons of water and some breakfast stuff for the next morning only after we walked down to time square. To say that we were soaked for our efforts would be putting it lightly but I suppose walking around in a storm for 45 minutes will do that. We ended up bringing our newly aquired booty back to the hotel and ordered a pepperoni pizza to be delivered to our room, this was the most amazing pie I have had in a long time, I figured I was in NY and it was a once in a while thing so really didn't care that it was probably not the best food choice in the world, it is what it is.

Thursday morning came and we woke up, decided on which train we would take home and headed out to walk around while making our way towards Grand Central station which was just over a mile away but we took our time. I snapped a few photos of me and wify for the photo album along the way and onto the train we went for a very relaxing ride home.



Wook at the big sewious man...Me and wify near time square.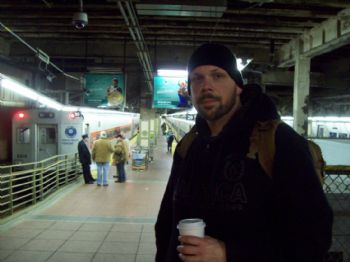 Waiting for our train in Grand Central station with my second coffee of the trip, oh my!

I would have to say that I enjoyed the whole trip and it was nice to get away for a couple days with wify. It was awesome to meet Richard Simmons and other than spending the time with the love of my life I would have to say he was the highlight of the trip, Everyone from the Dr.Oz show was great as well! and the hotel was a very nice addition to the trip, it was a good time and I am happy that I decided to do it. The show that was filmed will air on Feb 16th 2010 and as I mentioned earlier is the 100th show, I don't know how much I will actually be on the show as I was just in the audience as one of "the Oz 100" but I will be recording it either way.

Today is Friday and thats usually a weigh in day but I figured this trumped that so no weigh in for today, you'll have to wait until next weeks edition of as the fat guy turns to see how it went! Thanks for stopping by and remember to watch the show on Tuesday!

Fini

As Ever
Me



First Page
1
2
3
4
5
6
7
8
9
10
11
12
13
14
15
16
17
18
19
20
21
22
23
24
25
26
27
28
29
30
31
32
33
34
35
36
37
38
39
40
41
42
43
44
45
46 47 48 49 50 51 52 53 54 55 56 57 58 59 60 61 62 63 64 65 66 67 68 69 70 71 72 73 74 75 76 77 78 79 80 81 82 83 84 85 86 87 88 89 90 91 92 93 94 95 96 97 98 99 100 101 102 103 104 105 106 107 108 109 110 111 112 113 114 115 116 117 118 119 120 121 122 123 124 125 126 127 128 129 130 131 132 Last Page

Get An Email Alert Each Time BOTZZZ Posts