| | |
| --- | --- |
| | BOTZZZ's Recent Blog Entries |


Sunday, February 14, 2010

Things is things and my weekend is progressing nicely, Valentines day is upon us and another Hallmark Holiday will have bitten the dust in some hours. I did not really do well while in New York with the food and hydration, oh the sleep and exercise lacked somewhat as well but I am back home and immediately straight back to the program. I did go over my calories by about 100 because of a late night snack of a fiber one bar but its nothing that I am worried about at all. I say that exercise suffered but I did get two roughly hour long walks in while in the city and with all of the hurry up and wait at the show I suppose I wasn't stationary all that much but it wasn't what I would call a workout so there you have that.

I thought that I would snap a couple pictures of my lunch and dinner from yesterday and post them up to demonstrate that fairly large meals could be had for minimal calories and maximum impact on hunger. I did not however take a picture of my breakfast as we all know what a bowl of cereal looks like and that is a typical breakfast for me, either cold cereal or some steel cut oats. Lunch was a chicken wrap that I made with left over teriyaki chicken that I had grilled out on our gas grill Friday, I love grilling in 18 degree weather. The wrap had 4oz of grilled chicken with a sesame teriyaki sauce on it, some chopped lettuce and a couple cherry tomatoes sliced in half on a 100 calorie whole grain wrap and a shake of black pepper, simple right? I did have a dill pickle spear and my obligatory giant glass of green tea with this as well and the entire lunch hit the spot perfectly and for only 285 calories, have a look.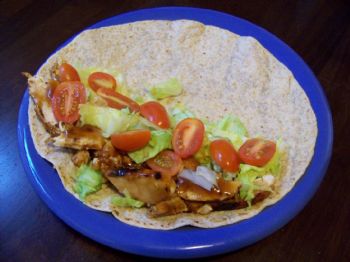 285 total calories for this plate, and thats a full size dinner plate.

For dinner I forgot to take something out of the freezer so I asked wify if breakfast for dinner would be ok with her and of course she loved that idea and I started in on some pancakes for the kids while she started breaking eggs. I had an omelet which was 4 egg whites, 1 whole egg, chopped onions, red bell peppers, jalapeno, tomato, 1/2 oz turkey pepperoni and 1oz of sharp cheddar cheese. With the omelet I had a multigrain english muffin a dill pickle chopped up and 4 slices of turkey bacon and let me tell ya wify can cook a mean omelet! The entire meal was 565 calories and of course once again that big ol glass of green tea on the side to wash it all down.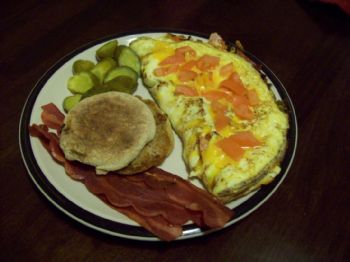 565 total calories for this plate of deliciousness.

Today I am planning on making some panko breaded Haddock fillets for dinner with roasted red potatoes and garlic and Parmesan green beans on the side and I will try to get a shot of that to post up later. I am going to focus on food for a while and try to get the biggest bang for my calorie buck with every meal, not that I haven't done this all along but lately I feel like I am settling for fast meals over quality meals that take a little more time to prepare, not that either of the meals above were fast or not good.

We are planning on taking the kids out later today for some Sundaes because of Valentines day and I will be passing on one of my own and having a glass of tea instead. I am unsure if making it to the gym is in my near future for today but I will attempt to make it at some point but if I don't I am not too worried about it and will be back in the full swing of things again come Monday, I missed going on Wednesday and Thursday because of going to the Dr. Oz show but I am ok with that.

They are our choices to make and our choices dictate where we will ultimately end up and that goes for health, wellness and just about every aspect of our daily lives, Lets make the best choices that we can.

Thats all I got for today I hope everyone enjoys the weekend.

Fini

As Ever
Me






Friday, February 12, 2010
So since last I posted a trip to The city was had, I was asked to be a part of The Dr. Oz show's 100th episode which was 100 people that have lost 100 pounds or more with special guest none other than Richard Simmons. The plan was to hop on the train to NYC at 4am to be at Grand Central station by 7:16am and walk on over to NBC Studios for the taping of the show and head home that afternoon after lunch in the city but alas its not how it went down.

Snow was expected on a large scale and we started questioning whether we would be able to make it out to the city for the show not because of getting there but instead getting home was the worry as the snow was suppose to start a little later in our neck of the woods. While debating on whether it would be worth it to go I got a call from the Travel coordinator chick Sarah from the show and she said that she could offer us a Hotel for the night if we were interested because of the storm and traveling in it would not be good. Long story short we arranged for my mother in law and brother in law to help out watching the kiddos and packed a day pack with enough to last us through our stay and off to bed we went at midnight-ish. Did I mention that we had to be at the train station by 5:40 am? and that we are a little more than an hour away from said station? which meant leaving the house at 4:00 am! yep that's about a 2 hour sleep that I had before heading out for NYC, the train ride was uneventful.

Upon arriving at Grand Central I get a text from the driver that NBC sent and headed out to where he was and I met Ramon outside and he drove us to the studio where I was greeted and brought inside to hurry up and wait for a couple of hours. I met lots of great people who have all gone through the weight loss process including Bonnie Matthews who blogs for the Dr. Oz show as one of the Wellness warriors. I also met Ann from I'm a Phoenix ,Baby who saw me and mentioned that Sean Anderson from The daily Diary of a winning loser said that she should say hello if we bumped into one another, we got the chance to get a shot of the two of us together a little later after that first hello. I met Don (DDORN) from Sparkpeople as well and I also had more than a few conversations with a great lady (I am so sorry but I cannot for the life of me remember her name but she was the assistant of the day on the show) who we ran into at our Hotel after the show and chatted with in the lobby for a bit if you by chance read this please send me an email! EVERYBODY that I talked to from the guests right to the staff of the Oz show was very nice.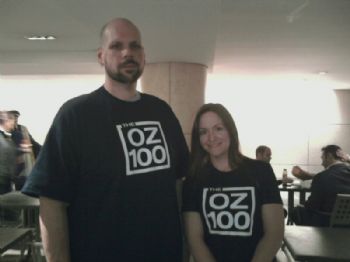 Me and Ann from "I'm a Phoenix, Baby" pre show



Me and Don shortly before heading into the taping.

We were all corralled into a line which apparently had some sort of order as we each had letters on the back of our tickets which dictated our position in line and ultimately placed us into our seats in the audience. Like trained puppy's we stood when the fella raised his hands, we applauded when the sign lit and it was cool to be in Conan O'Brien's old studio, HUGE Conan fan I am. The taping was ok but felt seriously long and I kept thinking "Man just one glass of H2O would be great!" once we were in that was it and I had not drank nearly as much Water as usual and no green tea all day the Horror! I was not properly hydrated, not even close and man I felt it, that paired with the lack of rest and the coffee that I was running on at that point left me a bit off to say the least. Something funny about the whole thing was that it was a show about people that have lost a lot of weight and were getting/staying healthy and I did not eat good while there, I mean C'mon, I was in NYC for the first time since moving back from California and it had been 8 years that I was in Cali, you do the math it was too long to go without a slice of real NY pizza! but more about that later.

The show ended and I won't say exactly what they had "The Oz 100" do with Richard Simmons to "wrap up the show" but lets just say the words "Hey man I didn't sign up to dance with Richard Simmons to no oldies!" came out of my mouth, to which the producer replied "try and fake it" but yeah....it was an experience and over all a good time. While they had us lining up on stage apparently I wasn't smiling enough and Richard Simmons taunted me with "whos that big sewious man back there...look at that sewious man" as he walked towards me, I did end up laughing and that's all he wanted, he was awesome. My wife and I were waiting in the lobby after the show for the car to take us to the hotel and out ran Richard (yeah we're on a first name basis now people) and I got get a few pictures with him as he teased Wify for fumbling the camera "C'mon Phyllis press the damn button! I don't think you know how to use that thing!" while taking said pictures hence my big $hit eatin grin, I was cracking up he was hilarious.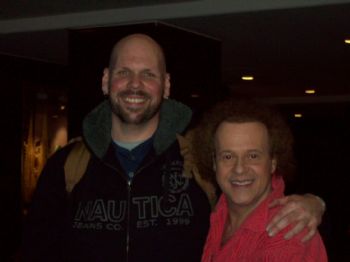 Me and Richard Simmons in the lobby of NBC studios.

Ok lets get to the food for the excursion, after the show wify and me were starving all I had to eat to that point was an orange and a coffee and here it is 1:30 pm! so we get to the hotel after chatting with another fella in the lobby who had lost 150 pounds for about 30 minutes (I can't remember his name I met so many people that day!) where the very nice lady says "I'm sorry but your room isn't ready yet, it should be ready by 3:00" I really didn't care as food was what I wanted and we headed out to Fresh & co where I got 2 slices of whole wheat crusted pizza covered in veggies and a big bottle of Poland springs. We headed back to the Hotel after our lunch and it was about 2:30 now, our room still wasn't ready but the lady said "let me just give you a better room that is ready now" and off we went to an apartment sized room that had a Bedroom, kitchen, 2 bathrooms, a living room and dining room and more closet space than I have ever seen in a hotel room and at this point I was happy that we decided to come for the show.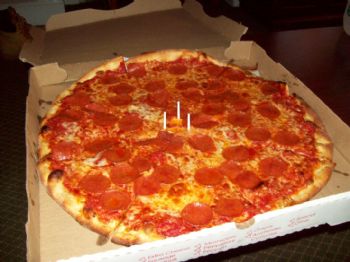 I snapped a shot of our dinner before digging into the best pizza I have had in 10 years!

We took a nap for a couple hours and when we woke up decided that it was time for some dinner and supplies, we headed out around 6:30 in search of some water and a place to eat. There was a drug store in Penn station and we were right across the street so we walked through the slush, wind and snow and got a couple gallons of water and some breakfast stuff for the next morning only after we walked down to time square. To say that we were soaked for our efforts would be putting it lightly but I suppose walking around in a storm for 45 minutes will do that. We ended up bringing our newly aquired booty back to the hotel and ordered a pepperoni pizza to be delivered to our room, this was the most amazing pie I have had in a long time, I figured I was in NY and it was a once in a while thing so really didn't care that it was probably not the best food choice in the world, it is what it is.

Thursday morning came and we woke up, decided on which train we would take home and headed out to walk around while making our way towards Grand Central station which was just over a mile away but we took our time. I snapped a few photos of me and wify for the photo album along the way and onto the train we went for a very relaxing ride home.



Wook at the big sewious man...Me and wify near time square.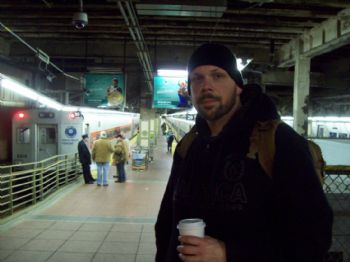 Waiting for our train in Grand Central station with my second coffee of the trip, oh my!

I would have to say that I enjoyed the whole trip and it was nice to get away for a couple days with wify. It was awesome to meet Richard Simmons and other than spending the time with the love of my life I would have to say he was the highlight of the trip, Everyone from the Dr.Oz show was great as well! and the hotel was a very nice addition to the trip, it was a good time and I am happy that I decided to do it. The show that was filmed will air on Feb 16th 2010 and as I mentioned earlier is the 100th show, I don't know how much I will actually be on the show as I was just in the audience as one of "the Oz 100" but I will be recording it either way.

Today is Friday and thats usually a weigh in day but I figured this trumped that so no weigh in for today, you'll have to wait until next weeks edition of as the fat guy turns to see how it went! Thanks for stopping by and remember to watch the show on Tuesday!

Fini

As Ever
Me






Tuesday, February 09, 2010

Once upon a time I would have to be dragged kicking and screaming to do anything physical past daily functions, those days I was a lot heavier than I am right now. The only veggies or fruit that would enter my body were the ones that came in the tin of General Tso's chicken and fried rice or the warm dilapidated lettuce on my 3 pound burrito. A 64oz soda would accompany most meals breakfast included and throughout the day close to if not an entire gallon of milk would go down the hatch and looking back at those old habits I have to wonder how I did it. Since making positive changes in how I look at food and exercise everything has changed from my health and fitness right on down to everything that goes into my mouth for nutrition, I am not the same person that I was at the pinnacle of my days of bad choices and it shows in every aspect of my life.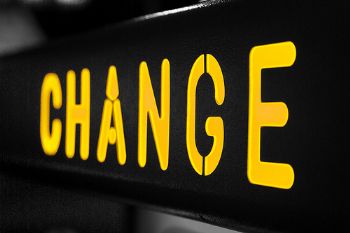 These days I look for things to do that are physical because I see it as a chance to do something that I was unable to do just two short years ago, from stacking firewood to digging around in the yard making planters for some tomatoes I jump at the chance. When I think about what would be an awesome meal to have it is now not even close to a sack of McNasty with a side of bubbly sugar laced cola syrup but instead a Salmon steak with a side salad and some baby red potatoes with a big glass of green tea and lime. The norm around here is to eat reasonably, exercise daily and reap the benefits and these habits are starting to show with my kids and I have to say that as great as it is to have dropped the more than 200 pounds that I have so far, seeing my kids following suit with their habits is my favorite part of this process.

Losing the equivalent of an entire person does great things to a fella in every aspect and I suspect that this is the same for any person that drops a good amount of weight. These days I look forward to my trip to the gym, or that hike on a local trail, taking a ride on my bike is one of my favorite things to do and making the choice to drop the weight 2 years ago was one of the best decisions that I have ever made in my entire life.

I believe that anyone can do it if they put their minds to it.

I am feeling random today and I get a good amount of emails saying that posting my menu's and workouts helps so lets have a look at my menu from yesterday, it came in at 1950 calories for the day and I was not hungry at all pretty much all day.

Breakfast
7:45 AM
1/2 cup steel cut oats 300
1/2 cup 1% milk 50

11:30 AM
1 banana 105
1 T peanut butter 95

Lunch
2:30 PM
1 Scoop whey protein 130
1 cup 1% milk 110

3:30 PM
1.5oz turkey pepperoni 105
hard roll 170
1oz american cheese 110
pickle/tomato 15

Dinner
6:45 PM
Big salad 365
8.5oz salmon steak 340
2 wheat ritz crackers 30
smart balance spread 25

Fluid totals
Green tea - 1 gallon
H2O - 1.25 gallons

My trip to the gym Monday included 25 minutes on a stationary bike, 25 minutes on a treadmill alternating between 3.5% incline @ 3.5mph for 1/4 mile followed by 1% incline @ 6.0 mph for 1/4 mile until the timer stopped, 10 minutes on an arc-trainer and 35 minutes of weight lifting. This afternoon when I get to the gym I am planning on doing my 15/15/15 cardio routine which is 15 minutes on a stationary bike, 15 minutes on an arc-trainer and 15 minutes on the treadmill and no weights today but it doesn't always work out the way I plan and I get in a zone sometimes and up the times so we shall see.

I have experienced almost immeasurable changes in my life since beginning this trip to the half and changed my life surely for the better with all of my efforts.

That's all I got for today so with that the end has come to another episode of as the fat guy turns, thanks for the support and thanks for following along.

As Ever
Me






Monday, February 08, 2010

If you would have asked me whether I was happy or not at 534 pounds I would have said proudly "I am happy with everything that I have" it would have been a lie but the funny thing is that at the time I wouldn't have known it. Last year we went to a local apple orchard for a festival type thing and a picture was taken of me and my daughter walking up the road, when I saw that picture I thought about how different I looked from what my minds eye showed me, I was happy with how I looked in that image. Fast forward a year and back to the orchard we went and I stood on the side of the road in the same spot and had a photo taken of me to compare, the second year again I was happy with what I saw but when compared to last years photo I thought "wow I was big in that other picture" and yet can totally remember thinking about how small I looked in it just last year. I see myself today at this weight and honestly feel great about what I see regardless of the fact that I am still a big guy, I wonder if this time next year I will look back at photos and feel that I look big in them once again.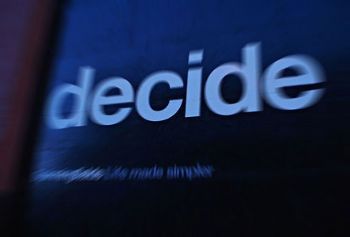 Things change so quickly now that a successful plan has been executed for so long, I have been at this for more than 2 years now and daily life is completely different from back then to the point that thinking back to how it was feels like someone Else's life. Almost as if I was in another persons body back then and I am now returning to the real world, it is that different when a fella weighs more than 500 pounds. Chatting with a friend of mine this weekend we were talking about the weight I have dropped in the past 2 years and how I have lost what he weighs, I joked with him saying imagine how it would feel to carry a whole him around on his back and that's what I was living day to day. I told him to imagine that and here I was the guy that was living it and honestly it was hard for me to imagine carrying that around today, I don't know how I was functioning honestly and the simple answer is that I was barely able to.

This year will most likely be the one where I hit and surpass my weight loss/fitness goals and I am looking forward to the day when I can look in the mirror and see the guy that dropped more than 50% of his body weight. I will have to lose a total of 267 pounds to get to that 50% lost mark and the more that I think about it the more I think that I will go beyond that point because as I lose more and more weight I am gaining double that in strength and endurance and truthfully I could probably get below 267 pounds easily and still be considered over weight according to one of those silly charts. My father stands slightly taller than six feet tall and weighs anywhere between 270 and 285 pounds and one of my goals for this year is to weigh less than he does because at those weights he does not look like what I would consider fat, could he stand to drop a few? sure but not fat.

I have never been at that stage where someone could look at me and say "That guy needs to drop a few pounds" and literally mean a few, somewhere along the way I am sure I went straight past that point and the statement "That KID could stand to lose a few pounds" but I was probably 12 or so when that happened. I have never in my adult life been not a fat guy, I mean I have been at different stages of big, from slightly big to huge and everything in between but I was a 300 plus pound freshmen in high school and it only went up from there. I am already lighter than then and its only getting lower and lower from here on out, yes I just said that I weigh the same now as when I was 12 years old.

Looking back at the past 2 years forces me to realize all of the work that has been put into this whole new lifestyle that I have taken on and the changes that come with it. I hear people debating over the semantics of calling it a "diet" verses a "lifestyle change" verses whatever else you want to call it but I will say this, calling it a lifestyle change is most accurate to me not because of anything other than lives do change because of taking on better eating and more movement when you start out well over obese, and for that reason I call it a lifestyle change. Fast food, video games and missing out on the simple things in life like walking through a garden or missing a ball game or concert have been replaced with healthy whole foods, running around the yard with the kids, working out, riding my bike and never missing out on anything and that is in fact a change in lifestyles at its very core.

Which life will you choose?

As Ever
Me





Friday, February 05, 2010

This week's "official weigh in" for the blog does not offer up a new low weight BUT the old low weight hath return, upon stepping onto my scale this morning 322.2 flashed across the display the first time on, 321.8 the second and finally 322.0 so three hundred twenty two pounds is the weight for the week. Last week I was 327lbs so this is a 5 pound drop for the week but since its not a new low weight there shall be no what I have lost images, hopefully I can get a new low next Friday and finally get into the teens. This week I am going to attempt to get to the gym every day until next Friday and see what that gets me, I have gone every day since Monday of last week where I usually take a mid week day off I did not last week. I already spoke with da boss lady about trying to get a sitter for Saturday and Sunday so that we can go together and it looks like I will be able to go all week so I am looking forward to beating the twenties down into nothing.

Skin issues becoming more apparent, to me at least, I have made a decision to hit the weights a little harder to try and fill up some of the space that was formerly being used to house fat with some muscle. I have been lifting for a while now but nothing that I would call a really hardcore workout and I have really just been focusing on my chest/shoulders/biceps for the most part tossing in some leg movements here and there I want to write up a complete workout for myself that will get everything involved a bit more. My cardio is doing very well, on average I have been doing 20-25 minutes on a stationary bike followed by 20-30 minutes on a treadmill at variable inclines and speeds ranging from 3.5% grade to 13% grade and speeds range from 3.2mph tp 6.0 mph on running days and I sometimes hit the arc-trainer for 20 minutes or go back to the bike for a 2nd 20 minute ride so anywhere from 40 to 60 minutes of cardio per day.

Each day at the gym a spinning class starts just about when I arrive and I have been contemplating giving it a try because I focus so much on the bike while I am there anyways. As soon as it warms up a bit and more importantly the ice, snow and sand is off of the roads I am looking forward to getting back on my mountain bike and going for some rides and I figure a spin class could improve my stamina while on a bike. With all of the cardio that I do my endurance is improving and I am hoping that with the addition of some more serious weight lifting I can bulk up a bit and take care of some of the skin stuff that's just hanging around, literally in places.

A five pound drop for the week is great! the fact that I can do cardio an hour of cardio and feel awesome afterward is an amazing thing to me considering where I began with my 5 minute walk then rest plan. To say that I have changed my life for the better with the decision to get healthy is the understatement of the century and from the looks of it things just keep improving so as long as I do my part I am expecting good things. That's all I got for today so this episode of Fatman and Blobin is fini, keep on keepein on and all that and don't forget that H2O.

Until next time...

As Ever
Me



First Page
1
2
3
4
5
6
7
8
9
10
11
12
13
14
15
16
17
18
19
20
21
22
23
24
25
26
27
28
29
30
31
32
33
34
35
36
37
38
39
40
41
42
43
44
45
46
47 48 49 50 51 52 53 54 55 56 57 58 59 60 61 62 63 64 65 66 67 68 69 70 71 72 73 74 75 76 77 78 79 80 81 82 83 84 85 86 87 88 89 90 91 92 93 94 95 96 97 98 99 100 101 102 103 104 105 106 107 108 109 110 111 112 113 114 115 116 117 118 119 120 121 122 123 124 125 126 127 128 129 130 131 132 Last Page

Get An Email Alert Each Time BOTZZZ Posts