| | |
| --- | --- |
| | BOTZZZ's Recent Blog Entries |


Monday, August 17, 2009
Some of you know how I gained a lot of the weight that I have recently lost and I suspect that other newer readers might not know and today is a day that I shall recap a bit. I was injured in 2000 and I explained just how in This post zeusmeatball.blogspot.com/search/lab
el/injury , and lately I believe that I have grown numb to that injury and am feeling pretty invincible but as it were I was reminded that I am and probably will always be at least a little bit limited by this old scar of an injury that I carry around with me on a day to day.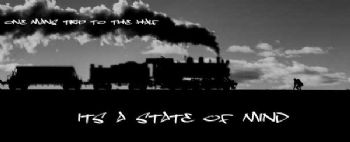 Thursday I went for a bike ride which I mentioned in Fridays weigh in post and it was only a 4.5 mile ride but it was all hills and I did finally make it all the way up a big ol hill that I had not been able to make it up but when I got home my lower right back/hip area was a tad bit tight. Blah, whatever, I just rode hard and its just tight, or so I thought. I went about my night and Friday morning I felt that it was still there but not too bad, posted up the challenge on the weigh in post and again went about my day which included moving some furniture around and walking around all morning and afternoon and by the time I got home late afternoon my back was not feeling too good at all and I decided that I would do the challenge push ups on Sunday after a good nights rest on my back. Same deal happened on Sunday and I picked up where I left off on Saturday where pain was concerned and had a few errands to run and by the end of the errands I had to sit down because standing just hurt too much and I started to be reminded of the Bad good ol days when I was first injured but did I stop? nope, I moved one more dresser with wify, killed some wasps that thought that they had a warm safe place to live and then I stopped but only because I couldn't go any more. I did not do my challenge push ups (You can bet your ass when this goes away they will be paid in full) and I slept for about 2 hours last night while the rest of the time was spent attempting to get into a comfortable position, so yeah, I am not a happy camper today but this whole thing forced me to realize something.

No matter how good I feel, no matter how much weight I have lost or will continue to lose I have to remember that I have that limit. I need to listen to my body and when it says that its time to take it easy because a small pull in my back will become a big problem ie: 2 hours sleep and sitting in a contorted position as I type this post out I NEED to do so. Nothing is more frustrating to me than this predicament that I am in currently, I AM stronger than I have been in years, I CAN run now, I CAN do just about anything that I want to do yet I am limited by this old injury, I have no choice in the matter. No amount of determination or willpower can make this go away, it is not within my power to take this limitation away from myself and squash it with the hundreds of pounds that I have lost in the past year and a half and yet it is the mindset that I have come to know, that I can willpower my way through anything.

Imagine, I have come so far with my weight loss and health and there is not a damn thing that I can do about this problem that I have barring being aware that it exists and respond to it by resting it when it shows up. This is only the second time since losing the weight that I have been frustrated by this issue which should be considered a blessing by me because it was a daily issue when I was heavier, but I just cannot get past this frustration, I think that the frustration is worse than the actual pain for me right now. I bust my ass and I eat correctly now a days, I work hard to maintain a level of activity and eat good solid whole food meals as much as possible and this one obstacle is in my way and there is nothing that I can do to make it go away, I need to remember that I am not Superman no matter how Wify makes me feel and I need to pay a little closer attention to things like soreness in my lower back because it is one thing that I don't have control of.

I feel unstoppable (see that image at the top of my blog? it is how I feel all of the time) and when something like this happens it reminds me that no matter how I feel that I do have that limitation and I need to act accordingly when it shows its ugly face sums up this post. Don't read any of this as me whining I want my Mommy I was just trying to type out how I feel about it which is mainly FRUSTRATED! so that I could look back at it as a reminder that taking a break is much better than feeling completely broken.

That's all I got for now.

As Ever
Me






Friday, August 14, 2009

It's that time of the week again kids, that's right its the day that we record any losses for the week so lets get to it. When I woke up I went straight for the scale and the number that flashed across the display was 330.2lbs, second go at it was 330.0lbs and finally attempt number three was 330.2lbs and that's a 2 pound loss for the week and I'll take it! That's 204 total pounds lost since starting and obviously a new low weight for me. I haven't focused on the number that I have left to lose in a while and when I just did the math and saw that I am 55 pounds away from my first goal weight I have to admit that I grinned to myself, I say my "first goal" because I want to get to 267 pounds as my goal instead of 275 and I am 55 away from 275. Why 267 pounds you ask? because at 267 pounds I will have lost half of my total body weight and I figure whats an extra 8 pounds to get there right? and then my Ultimate goal weight (which I am sure will change again anyways) is to weigh 250lbs but that bridge will be crossed when I get there and here are some pictures to visualize what I have lost as well as what I currently weigh.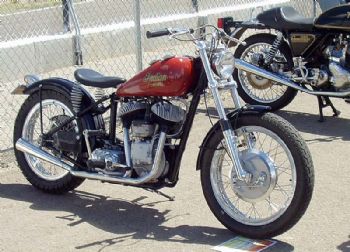 This old Indian weighs in at 330 pounds, yep, I weigh the same as that there motorcycle.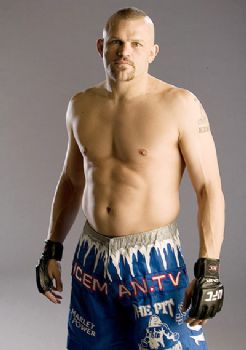 Chuck Liddel from the UFC weighs 204 pounds, I have lost an entire Ultimate fighter dude, who wouldda thunk.

Yesterday I ate a lot! it was all good food and all fit within my calorie range but I felt like it was a lot of food and the day before weigh in too! have a look at the menu.

Breakfast
7:15 AM
2 cups honey comb cereal 220
1 cup 1% milk 110

10:00 AM
1 plum 75

Lunch
12:00 PM
3oz deli turkey 75
2 slices light rye bread 80
1 T miracle whip 40
lettuce/tomato/pickle 30

1:00 PM
cereal bar 90

1:30 PM
1 apple 90

3:15 PM
9oz strawberries 70

3:45 PM
1 plum 75

Dinner
6:45 PM
1oz pretzels 110

7:00 PM
6oz tilapia 200
3/4 cup white rice 150
green salad 45
dressing 60
olive oil 50

Grand total of 1570 calories but I did have a handful of my daughters chocolate peanut butter cereal after my bike ride so the calories are a tad higher but still under the 1700 that I allow myself to have. I mentioned my bike ride, I did 4.5 miles and made it all the way up that hill I mentioned a few posts back, you know, the one that kicked my ass pretty decently. I am paying for it a bit this morning with some tenderness in my right side and low back but hey! Hydration was on par with about 1.75 gallons of water but no green tea because I forgot to brew it the night before, so in addition to the H2O I did have two 33oz bottles of a sugar free drink, one cranberry and one fruit punch.

I said in yesterdays post that for every comment that I get on this post that I would do 5 push ups tomorrow, so there it is, each comment that I get here on this post before midnight tonight (ON MY BLOGSPOT PAGE zeusmeatball.blogspot.com/ please be kind lol) will make me do 5 push ups, the catch is that you need to tell me that you drank a glass of H2O and actually drink it! also posting 12 comments from the same person still only gets 5 push ups! so its 5 push ups per unique comment (I paid for not making that clear last challenge) and there you have it, two pounds lost this week, a new low and a challenge so all in all today has started out well enough besides the tenderness in my side and back.

Thanks for reading along.

As Ever
Me






Thursday, August 13, 2009

Fat biased attitudes do exist in our world, I hate to say it and I didn't want to believe it but since I have lost the weight that I have it somehow feels like the world looks at me through different eyes. I can clearly remember the way that some people would look at me when I was at my heaviest weight and I can remember that it was not a good thing, almost like an alien was walking amongst the population or perhaps they were wondering if I had just eaten a piece of three course meal gum and thinking about how long the Bluing effect takes to start showing up. It somehow felt like all eyes were on me and each and every pair had an evil mind connected to them and fat jokes were flipping through their heads on a fat joke rolodex as I was glared at through sideways stares.

At times there were comments spoken a tad to loudly and they fell on my ears and sometimes it was easier to just keep walking and pretend not to hear it, while others I was prompted to turn and walk up to the person and ask them if they would like to repeat for me what they just said, funny enough no one ever took the offer to repeat it. I am noticing lately that there are less and less stares and whispered snickers when I walk through a public place, or when I am out for a walk around the lake the reactions that I am getting lately are closer to a cheerful smile, or a wave but are these different reactions coming from the fact that I though still a large piece of real estate walking around am not literally round anymore? perhaps, but perhaps it is me that has changed.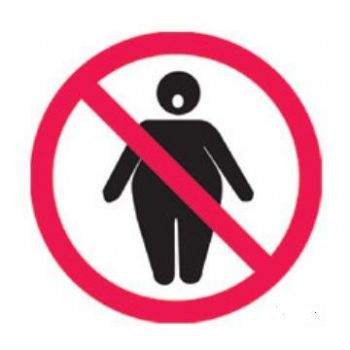 The possibility that MY outlook on things have changed and instead of looking at things through negative fat clouded goggles I now see things differently hence my outward presentation may be just a little different than that fat bitter fella that once was, perhaps? Maybe, but maybe its a bit of both of those views, I do think that people look at fat people as lesser than equals in society and on the other side of the same coin I think that obese people (man do I hate that f#&kin word) are very defensive by nature and rightfully so with the barrage of comments and stares they get on a daily because of the added weight, so a vicious circle is created and neither side will admit they are wrong even though in my humble opinion we fat people of the world do have an honest to goodness reason for being withdrawn and take things with a grain of salt in the climate that has become normal where its ok to talk about fat people, I mean C'mon a smoker is far more intrusive to the people around them than any fat person and that is accepted by a lot of the same people snickering at the heavier people walking around.

I am torn on this topic and my feelings are split because I do honestly believe that there is prejudice against heavy people but I also believe that the way we present ourselves to others can make a difference in at least some of the encounters between other people out in society. Right now this very second I am around 330 pounds so I am not petite by any reach of the word, and I do still have a long way to go before I would be considered not fat and I have to say barring the random sideways look from mostly early teen kids here and there that I do get treated differently by the general populace than I did 200 pounds ago. Now the question is this, am I being treated differently because I am physically 200 pounds lesser of a man? or is it because I am now more confident and walk a little taller? both because of the loss and because gravity hasn't the same effect on me. Its not fully clear to me but I tend to think that its more because of the actual raw 200 pounds that's not adorned unto me which actually makes it worse because I am the same person, and being treated differently because of ones weight just is not cool in my book. The bottom line, or the point you ask? Stop judging fat people folks! I am the same person that I was 590 days ago just a tad lighter and yet I can honestly see that I am treated differently than back when I was 534 pounds. I have gotten lots of positive comments or smiles lately as well while I exercise out in public, but that's for another post.

Tomorrow I weigh in and I am looking for 2 pounds, will I get 2? possibly, but there is a chance that I will stay at 332 as well and I do not know as I have not stepped on the scale today so tomorrow will be a total surprise to me. My calories for yesterday were at 1500 so just a little low but there was lots of fruits and veggies in there so I was full even though the calories were down. Of course I drank my gallon of green tea and about a gallon of straight H2O along with a 33 oz bottle of a no calorie fruit punch so I am hydrated, exercise for the day turned out to be a walk with the kiddos early in the day because we were expecting rain so I anticipated my bike ride not happening, and today I am hoping to get out for that missed bike ride. I am thinking about a challenge for tomorrows post since I wanted to add them back in on some of the Friday posts so for every comment that I get on Tomorrows post (ON MY BLOGSPOT PAGE @ zeusmeatball.blogspot.com/ if I did both here and there I would be doing push ups for a week! lol so the comments for the challenge will be there) before midnight eastern time I will do 5 push ups (I have not been doing push ups so its only 5 this time around, yeah yeah I know I am a wuss) in addition to the 30 that I was going to do, the challenge push ups will be done on Saturday August 15th.

With that I will end this very long post, keep on keepin on and all that.

As Ever
Me





Wednesday, August 12, 2009

Tuesday went well in an all around kind of way, I ate within my 1700 calorie limit, I exercised and I drank more than my share of fluids for the day. My weight last Friday was 332 pounds which was a new low weight and I want to aim for at least a 2 pound loss this week, obviously more would be better but 2 pounds will make me a happy boy so that's where I will point my sights. If I stay within calories, exercise daily and drink my H2O and green tea I believe that I will make that mark barring of course I don't get any sleep this week but that is a controllable variable for the most part so I am not too worried about it.

I have been tracking my food daily once again and posting it here for you to see, to continue that trend here is Tuesdays Menu.

Breakfast
7:15 AM
2 cups honey comb cereal 220
1 cup 1% milk 110

Lunch
1:15 PM
1 tomato basil wrap 100
5oz grilled chicken 250
lettuce/tomato 30
pickle 5

4:00 PM
banana 105

Dinner
7:00 PM
2.5 oz Tortillas 350
4oz ground turkey 160
tomato/jalapeno/olives/onion 55
salsa 30
1.5 oz low fat cheddar 120

8:00 PM
2 apples 140

Grand total of 1675 calories and those apples at the end of the day were exactly what I needed after my bike ride to go along with the half gallon of H2O. My bike ride went fine and was typical, which means pedal as hard as I can for 20 minutes up the hills and down the hills, I always feel like I get a workout into my day when I ride that way and I am getting faster as the same route that use to take me 20 minutes now takes me 16 so I will need to add some distance sooner than later. I did have to go alone last night because we did not have a sitter for the kiddos so wify sat out so that I could get a ride in. I drank enough water and green tea yesterday to keep me hydrated for a week! 1 gallon of green tea and more than a gallon and a half of straight H2O, it was just one of those days for me and i figured as long as it was going down that I would keep the pace up.

Over all this week is going great and I need to keep my cardio going all week if I am to see a loss, it would be awesome to hit the 320's by Friday but I will be happy with any loss honestly and like I mentioned am shooting for a 2 pound loss, 330? yeah that would be cool. That's all I got for today so keep on keepin on and all that and remember kids that H2O is in my opinion one of the most important things in a good solid weight loss regimen.

As Ever
Me






Tuesday, August 11, 2009

Just walking along this path to better health this week, I am making good choices with food and exercising when I can. Sunday I had an attack from mister Gallbladder and this one was a doozy lasting more than a couple hours and keeping me up until 3:30 am so needless to say I did not exercise Sunday and I took yesterday off as well just to let the residual (if only tiny) pain subside, actually I did go swimming last night and wify says that I am improving so that is a plus but I would not call what I did true exercise because it was random and the rest was splashing around with the kids. I am planning on a bike ride tonight with wify as I want to make up for the couple days of non exercising to keep the weight moving in a downward direction and I am looking to get into the 320's this week, which would in all honesty be awesome if I do. Sunday because of the stomach pain I skipped dinner besides having a small dish of green beans and rice that I thought would not upset the stomach issue (boy was I wrong) so I was way under calories and yesterday I was just above by 25 so not too bad, have a look at the menu from yesterday.

Breakfast
7:45 AM
2 cups grain & fruit cereal 240
1 cup 1% milk 110

Lunch
11:45 AM
1 tomato basil wrap 100
5oz grilled chicken 250
lettuce/tomato 30
pickle 5

2:30 PM
1 banana 105

4:00 PM
small apple 65

Dinner
6:45 PM
1 tomato basil wrap 100
6oz grilled chicken 300
lettuce/tomato 25
pickle 5

7:15 PM
1/2 cup peas 60

8:45 PM
2 cups honey comb cereal 220
1 cup 1% milk 110

Grand total of 1725 calories for the day and that menu is a little redundant with breakfast and the last meal being some cereal and lunch and dinner being almost the exact wrap, but hey! it was all light and it fell within my calories for the day. Exercise was just the swimming that I mentioned and I did not have a drop of green tea, but did polish off 1 3/4 gallons of straight H2O before days end so I rehydrated after Sundays no drink, no eat rule because of the stomach pain. This week is off to a we shall call it, decent start as I am under calories, exercise has happened and is planned and hydration is happening and I am drinking a big ol glass of Green tea as I type this out.

Something to keep in mind, The only thing that is needed to drop pounds is determination, maybe a little bit of discipline and a lot of consistency, the rest is just excuses.

* It is NOT hard to plan meals.
* It is NOT expensive to eat healthy meals.
* It is NOT someone else's fault that you are over weight.
* You do NOT need to join a gym to exercise.
* You WILL NOT lose weight unless you get up off of your ass and do something about it.


Finally, No amount of complaining or blaming will help either, so that's the first step for so many of us, are you ready to take that step?

As Ever
Me



First Page
1
2
3
4
5
6
7
8
9
10
11
12
13
14
15
16
17
18
19
20
21
22
23
24
25
26
27
28
29
30
31
32
33
34
35
36
37
38
39
40
41
42
43
44
45
46
47
48
49
50
51
52
53
54
55
56
57
58
59
60
61
62
63
64
65
66 67 68 69 70 71 72 73 74 75 76 77 78 79 80 81 82 83 84 85 86 87 88 89 90 91 92 93 94 95 96 97 98 99 100 101 102 103 104 105 106 107 108 109 110 111 112 113 114 115 116 117 118 119 120 121 122 123 124 125 126 127 128 129 130 131 132 Last Page

Get An Email Alert Each Time BOTZZZ Posts