| | |
| --- | --- |
| | BOTZZZ's Recent Blog Entries |


Sunday, June 28, 2009

I have been thinking about buying a bike for a while now, BUT, and there is always a but right? I was worried about ending up on the internet in a video titled "fat guy on a little bike" or something of the likes. Getting to the point I got past all that and decided that I would entertain looking around at a few bikes at a local bike shop yesterday to get a feel for what I might want if I were to get over this phobia of being too big for a bike and I talked to the fellow in the bike shop about a few different options and rode a couple around the parking lot and had my father pop off a couple of pics with my cell phone to see just how awkward I looked on these tiny skeletal contraptions that I have not ridden on since I was a youngster, I was ok with how I looked perched on top of the bike so a roadblock was out of the way. Upon entering all of the info that the bike shop fella gave me into my noggin I thanked him for all of his help (and he really did bring me up to speed on some things in the world of bike technology) and told him that I may be back in to order one of the bikes as he did not have the frame size on hand that fit me in the model that I was considering.

Onto a couple of different stores more just looking around and my father needed to pick up a few things and I walked past the bike section in a sporting goods store and a pretty beefy looking mountain bike caught my attention for a split second so I walked on over. The price tag said "Was $599.00, Now $319.00" and I thought that sounds good to me as it was around the price that I was looking for and I took it for a spin around the store and it fit better than the bike I was shown at the bike shop earlier. After riding it around a bit I decided to give wify a call and see how she felt about me pulling the trigger on this bike and she was game and said that it was ok with her and Happy birthday so off to get someone to help me out making sure the bike was working properly and it was mine, I snapped a couple of pics this morning and thought I would post them up.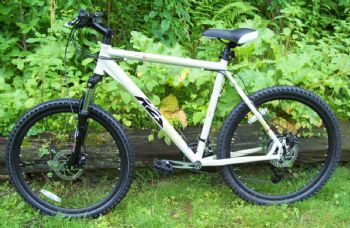 Here she is, the wheels are 26 inch and the frame is XLG and says that its for people that are 6'1'' to 6'4'', I am an inch taller than that but close enough.



Front angle view, I love the color on this bike for some odd reason, who wouldda thunk a tan bike could look nice?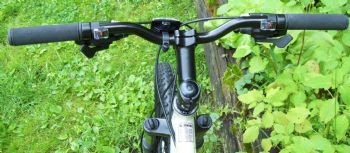 Handlebar shot, I may need to adjust these up a little bit but we shall see.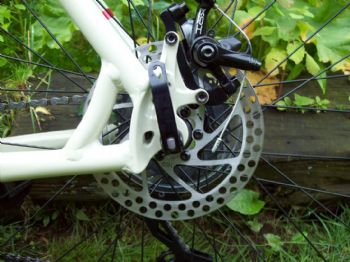 Rear brake shot, I have never had a bike that had disc brakes on it so this is just cool.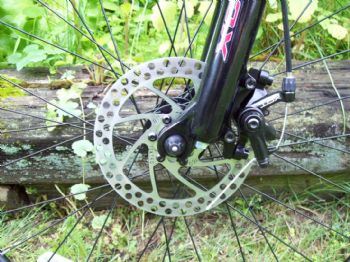 Front disc brake shot.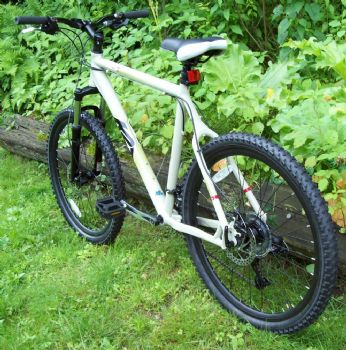 Finally a shot from behind, over all I like the bike so far but as I said I haven't really ridden it yet but am looking forward to getting it out for a longer ride soon.

It is a K2 Zed 3.2, I did get a chance to take it on a quick spin immediately after unloading it from my car but it was damp out as it had just rained and my father was over so I did not go far and literally just played with the gears a bit and came back up to the house. A big part of why I picked this particular bike is that the frame looks and feels really heavy duty and for obvious reasons this is a benefit for me. I have not ridden it enough yet obviously so I cannot give a review of how I like or dislike it as of yet so I won't try to say anything past so far I like the look of the bike, its big so I do not feel crowded on it, the front forks have a suspension on it and the bike has disc brakes both of which are new to me and far beyond the 10 speed huffy I had as a kid. I am looking forward to getting some rides in and maybe getting some things like a water bottle and seat bag in case I end up going on longer ventures.

With that the end has come to another post and I have some things to do (like take a spin on the new ride before the rain starts) so this post shall end here, don't forget that H2O and today I leave you with a quote.

"Speed has never killed anyone, suddenly becoming stationary... that's what gets you."- Jeremy Clarkson

As Ever
Me





Friday, June 26, 2009

Weigh in day just sort of popped in on me this week with the still feeling under the weather, only running on Monday so far this week and the stomach pains I haven't been paying attention to the days, but its Friday so I must step on the scale. Getting right to the point I will say that I am up 1 pound this week and I am not really surprised and do not think that its a true gain, I have not been drinking as I should and exercise this week was limited to the one run on Monday and I swam last night for a little bit which was fun but not a whole lot of exercise this week. I did stay within my calories all week besides the night that the wrench was in my gut when I had a coke and a hard roll to try and calm my belly ache but otherwise like I said pretty good.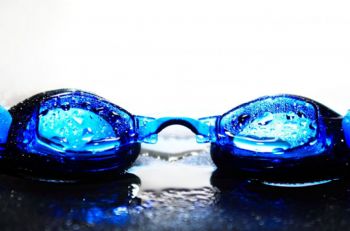 I am not a strong swimmer at all, which is the complete opposite of my fish of a wife and last night she explained how a back stroke SHOULD look and I basically swam the same 40 feet back and fourth until it felt semi natural to me, how it looked may be another story but she said that I was doing fine and my form, yeah we will call it form, looked good but she may have been being nice. I can feel it in my shoulders and a bit this morning but its a good soreness and only very slight, she wants to start swimming more often again since its warmed up outside and I don't see why I couldn't use that time to learn how to swim a bit better while getting some extra exercise into my days.

My running, I decided not to run W3D2 last night because my stomach was feeling a bit less than it should have and I figured splashing in the water with the kids would still be exercise without having to exert myself possibly to the point of puking. I am extremely anxious to get back on schedule with the C25K program and actually plan on running tonight as long as the bubbleguts stays away. This week has been a little off the beaten path because of me getting rid of the remnants of my daughters illness, that stomach pain and the lack of a solid exercise regimen but I can see the light through the woods ahead and when I get there its Forest Gump time once again, I really want to get through C25K because running a continuous 5k I think will be Uplifting to say the least.

With that the end comes to a Friday weigh in post, make sure to drink that H2O and remember that no one can do the work for you, so get on up and do it.

As Ever
Me





Thursday, June 25, 2009
I have linked to some old posts that explain some things on my blogspot with this post here is a link to that post if you are interested in reading the older posts zeusmeatball.blogspot.com/200
9/06/fairy-taleor-is-it.html

There once was a guy from Nantucket...since I don't know him let me tell you about another guy from New England, He once weighed more than 500 pounds, that's a quarter ton for you people doing the math. He would sit on his couch and wait as long as he could to do anything because getting up from the indented leather couch was a task that took lots out of him, he watched out his window as people strutted by and his thoughts were about how can people want to walk around. Often he thought about how easy life would be if someone would invent some handles that hung from the ceiling on tracks of some sort or even better that technology would allow for something to be made that flew in the room that he could grab a hold of to help him get up off the couch when the need arose (true story folks as sad as it sounds) that was easier than eating better? When the time came for him to use the bathroom it was a struggle, first he had to stand up and walk to the bathroom and when he got there he had to turn sideways to get through the door and even then his belly scraped the side of the opening, after his business was done is when the real fun started but I will save you that visual for now.

Missing out on baseball games, movies at the theater and basically anything that "normal" sized people take for granted life was not exactly peachy for this fine young man, father and husband. Then it happened, fear entered the picture and he had too much to lose and a decision was made, he was going to lose weight and this time and he meant it! His 250 pound wife came home on New Years eve with 2 pints of Ben and Jerrys ice cream so that they could have some ice cream while watching the ball drop on the television and somehow that pint felt like a slap in the face and became a goal of sorts, this guy decided that he would not eat that pint until it was on his own terms and into the freezer it went...for a whole year.

January 1st and off he went into uncharted territory and started counting calories, eating better and drinking a ton of water, would it last? He started off walking, true enough that he could only make it for 5-10 minutes before his back hurt and he was covered in sweat but hey! he had that stroller to lean on while he walked and he was getting out with his 2 year old daughter all at the same time so he kept going. Eventually he was able to make it all the way around the block, and then twice around as the weight was coming off he often thought about how great it would be to lose 100 pounds in a year. Five months later he had reached that goal of 100 pounds lost and was starting to realize that he was doing it, all by exercising more and eating less? who wouldda thunk?

The walking had turned to hiking and longer walks and the weight was coming off, what was this magic? where was the reasoning in this? no pills? no surgery? yet the weight was coming off? how could that be? He was not missing out on things much anymore and was always out and about going on hikes or walks with the family, There was no more loathing people walking outside and the handle from the ceiling idea was long gone, he was changing his life.

A year later that pint of Ben and Jerrys was about ready to eat and that once 500 plus fella was down 165 pounds and moving in the right direction for such a long time that there were new habits hanging around. He was doing push ups for the first time in a long time and over all was feeling great, his 250 pound wife was now down to 175 pounds and things were looking up, all because they were eating better and moving more? maybe there is something to this.

17 months later he weighs 200 pounds less than he did at the start, he has begun a running program and life is as grand as it has been in quite some time. I know because I lived it, I was once a 500 plus pound man which I do not say proudly but the facts are the facts and there is no argueing with them. I blew up over a 6 year period after having a back injury and just when I started wallowing in my own self pity and thought about having a surgery to fix my weight problem, reason came along and slapped me in the face because fear was smiling at the front door, I am glad that I chose not to open that door and keep on wallowing because who knows where I would be today if I had.

Odds stacked against me, 500 plus pounds, back injury, probably on a path to depression, big bag of health risks because of it all and here I am 200 pounds lighter and trying to get tuned up enough to run a 5k race.

The only thing holding you back is yourself, now you don't have to ask me how I know.

As Ever
Me





Wednesday, June 24, 2009

I wanted to post up a short post even though I do not feel like writing right this second, last night I had terrible stomach cramps that would make a silverback gorilla cry for his mommy, I know that I was. it came on suddenly and stayed for 2 hours or so right at bed time, laying down hurt so I sat up and ended up falling asleep that way for about 30 minutes only to be woken up by my daughter calling for mommy and thank god that she did because my back was now sore from the position that I had fallen asleep in, long story short at that point the stomach pain had gone away but now my lower back hurt and still hurts as I write this. I ran out for some veggies and a few other things at the supermarket this morning and I could feel my back getting worse as I walked around so I cut the trip short and here I am home again relaxing on the couch with my laptop where else? in my lap and I figured I would post up a quick glance at my night and morning.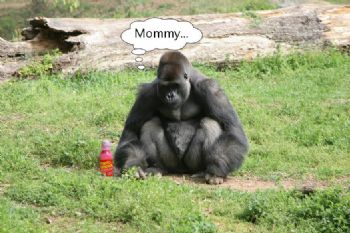 The lower back pain is at my point of injury and is not muscular and mostly a pinch at this point and hopefully it goes away fast but I think I am going to hold off on W3D2 of the couch to 5k thang until tomorrow night and then I will run the 3rd day on Saturday. Now I know that some of you are probably thinking "oh dear, he is going to run and has back pain?" No I am not, with the injury that I got about 8 years ago the pain comes, it lasts as long as its going to last and it goes away and feels 100% until the next episode, if I did nothing because I had pain the day before, well, I would do nothing at all...ever! all it means is that I wait for tomorrow night to do day 2.

Otherwise everything is on track, my calories are good and I am drinking more than enough fluids so I am hydrated, I have no clue what that gut wrenching stomach ache was all about but I do hope that it never happens again! it is something that I will have to keep my eye on because I cannot think of anything that I ate yesterday that was any different than how I always eat. On played the band and everything kept going, I am excited to be on week 3 and look forward to my run tomorrow night if not slightly disapointed at the fact that I am not running tonight but it is what it is.

Keep on keepin on and all that.

As Ever
Me





Tuesday, June 23, 2009
When we doubt ourselves or our abilities we do nothing positive for our end game outcome, in fact when that bar is set low because of that doubt we are once again acting like a fat person. That is the thought that came out when I thought about last nights run, I am still somewhat sick from last weeks barrage of symptoms that my lovely daughter gave me and I was starting week 3 of the C25K program, I was not looking forward to it all week. I started week one and thought "how am I at 345 pounds going to run 60 seconds in a row?" then I did it, week two came and I thought "90 seconds? that's like double the time I hope I can do this" then I did it and now week three has begun and a 3 minute interval was introduced and with the not being 100% added to that its 3 minutes I was sure that I would be collapsed on the side of the road gasping for air like a freshly caught fish laying on the shore.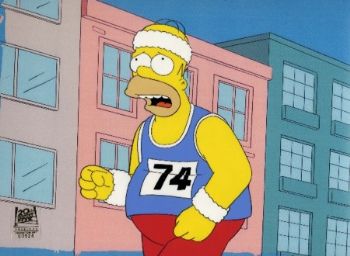 I felt strong as I did the 5 minute warm up walk, the first 90 second interval I felt a bit and while walking on the 90 second cool down I was thinking about the 3 minutes of hell that was surely going to hit me in the chest, there is that doubt again. Robert said "It's just 3 minutes..Go!" and for those 3 minutes I was Forest Gump, I felt nothing in the way of being too tired, I felt nothing in the way of loss of breath, and about halfway through that interval I see a fellow standing in the road ahead having a cigarette and the closer I got I could see that he was smiling and when I got close enough he said "Good for you!" to which I replied "Hows it goin" he said "I am good, but man, good for you" and clapped his hands once or twice, I just kept going and the 3 minutes ended and interval from hell (which turned out NOT to be from hell ) number 1 was fini. I walked my 3 minutes and then the 90 second interval came and went, The 2nd three minute interval was coming and off I sprinted (yes I said sprinted) I felt great at his point and ran a few seconds longer after the voice in my ear said that the 3 minutes was done, I felt good.

I went 1.94 miles in 28 minutes so I was on my pace if not slightly faster than week 2, I was very surprised to see how NOT difficult the 3 minute intervals were which is not to say that it was very easy, I just seemed to run them with no problem at all which was a surprise. The way that I looked at the start of week 3 was the way that a fat person would approach it, since I am still a fat person I guess I fell for the bait that my psyche laid in front of me. That fellow that said "good for you" when I ran by got me thinking as well, what might he have said if I was a svelte 190 pounder running by? my thought is that he would not have said anything but just stepped to the side to let me run by unobstructed, maybe a hello, BUT I guess its not every day that you see a 330 pound guy running so it is what it is and I wasn't the one standing on the edge of a dark road smoking so indeed good for me.

When we act like we will fail, we will fail and I believe that is the downfall of most fat people (there is no political correctness here friends, we are fat people whether we want to believe it or not) that try and lose weight, it was my downfall for so many years. "I can't not eat so much", yeah I know that one, "I can't walk" me either and I was 534 pounds when I started WALKING so I had a proper excuse, right?, "its too hard to lose weight" why? because it takes effort? "I can't run 3 minutes in a row!" To hell with all that, You can and you DID! You are no different than me, I am no different than that older fella that runs around my lake daily and he is no different than whoever won the Boston Marathon last time around, apply yourself 100% to what you want to achieve and my guess is that it can and will be yours. What do you have to lose besides the weight? perhaps the burden? or maybe the excuses?

The bottom line is that if you get on up off of your fat ass (I did) and do something, anything! the possibilities are endless, if not? you will just get the end.

As Ever
Me



First Page
1
2
3
4
5
6
7
8
9
10
11
12
13
14
15
16
17
18
19
20
21
22
23
24
25
26
27
28
29
30
31
32
33
34
35
36
37
38
39
40
41
42
43
44
45
46
47
48
49
50
51
52
53
54
55
56
57
58
59
60
61
62
63
64
65
66
67
68
69
70 71 72 73 74 75 76 77 78 79 80 81 82 83 84 85 86 87 88 89 90 91 92 93 94 95 96 97 98 99 100 101 102 103 104 105 106 107 108 109 110 111 112 113 114 115 116 117 118 119 120 121 122 123 124 125 126 127 128 129 130 131 132 Last Page

Get An Email Alert Each Time BOTZZZ Posts