| | |
| --- | --- |
| | BOTZZZ's Recent Blog Entries |


Wednesday, June 24, 2009

I wanted to post up a short post even though I do not feel like writing right this second, last night I had terrible stomach cramps that would make a silverback gorilla cry for his mommy, I know that I was. it came on suddenly and stayed for 2 hours or so right at bed time, laying down hurt so I sat up and ended up falling asleep that way for about 30 minutes only to be woken up by my daughter calling for mommy and thank god that she did because my back was now sore from the position that I had fallen asleep in, long story short at that point the stomach pain had gone away but now my lower back hurt and still hurts as I write this. I ran out for some veggies and a few other things at the supermarket this morning and I could feel my back getting worse as I walked around so I cut the trip short and here I am home again relaxing on the couch with my laptop where else? in my lap and I figured I would post up a quick glance at my night and morning.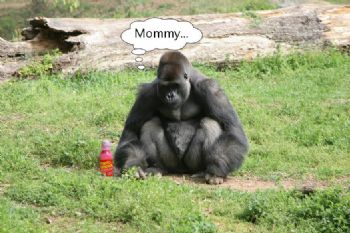 The lower back pain is at my point of injury and is not muscular and mostly a pinch at this point and hopefully it goes away fast but I think I am going to hold off on W3D2 of the couch to 5k thang until tomorrow night and then I will run the 3rd day on Saturday. Now I know that some of you are probably thinking "oh dear, he is going to run and has back pain?" No I am not, with the injury that I got about 8 years ago the pain comes, it lasts as long as its going to last and it goes away and feels 100% until the next episode, if I did nothing because I had pain the day before, well, I would do nothing at all...ever! all it means is that I wait for tomorrow night to do day 2.

Otherwise everything is on track, my calories are good and I am drinking more than enough fluids so I am hydrated, I have no clue what that gut wrenching stomach ache was all about but I do hope that it never happens again! it is something that I will have to keep my eye on because I cannot think of anything that I ate yesterday that was any different than how I always eat. On played the band and everything kept going, I am excited to be on week 3 and look forward to my run tomorrow night if not slightly disapointed at the fact that I am not running tonight but it is what it is.

Keep on keepin on and all that.

As Ever
Me





Tuesday, June 23, 2009
When we doubt ourselves or our abilities we do nothing positive for our end game outcome, in fact when that bar is set low because of that doubt we are once again acting like a fat person. That is the thought that came out when I thought about last nights run, I am still somewhat sick from last weeks barrage of symptoms that my lovely daughter gave me and I was starting week 3 of the C25K program, I was not looking forward to it all week. I started week one and thought "how am I at 345 pounds going to run 60 seconds in a row?" then I did it, week two came and I thought "90 seconds? that's like double the time I hope I can do this" then I did it and now week three has begun and a 3 minute interval was introduced and with the not being 100% added to that its 3 minutes I was sure that I would be collapsed on the side of the road gasping for air like a freshly caught fish laying on the shore.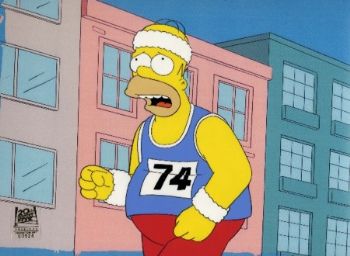 I felt strong as I did the 5 minute warm up walk, the first 90 second interval I felt a bit and while walking on the 90 second cool down I was thinking about the 3 minutes of hell that was surely going to hit me in the chest, there is that doubt again. Robert said "It's just 3 minutes..Go!" and for those 3 minutes I was Forest Gump, I felt nothing in the way of being too tired, I felt nothing in the way of loss of breath, and about halfway through that interval I see a fellow standing in the road ahead having a cigarette and the closer I got I could see that he was smiling and when I got close enough he said "Good for you!" to which I replied "Hows it goin" he said "I am good, but man, good for you" and clapped his hands once or twice, I just kept going and the 3 minutes ended and interval from hell (which turned out NOT to be from hell ) number 1 was fini. I walked my 3 minutes and then the 90 second interval came and went, The 2nd three minute interval was coming and off I sprinted (yes I said sprinted) I felt great at his point and ran a few seconds longer after the voice in my ear said that the 3 minutes was done, I felt good.

I went 1.94 miles in 28 minutes so I was on my pace if not slightly faster than week 2, I was very surprised to see how NOT difficult the 3 minute intervals were which is not to say that it was very easy, I just seemed to run them with no problem at all which was a surprise. The way that I looked at the start of week 3 was the way that a fat person would approach it, since I am still a fat person I guess I fell for the bait that my psyche laid in front of me. That fellow that said "good for you" when I ran by got me thinking as well, what might he have said if I was a svelte 190 pounder running by? my thought is that he would not have said anything but just stepped to the side to let me run by unobstructed, maybe a hello, BUT I guess its not every day that you see a 330 pound guy running so it is what it is and I wasn't the one standing on the edge of a dark road smoking so indeed good for me.

When we act like we will fail, we will fail and I believe that is the downfall of most fat people (there is no political correctness here friends, we are fat people whether we want to believe it or not) that try and lose weight, it was my downfall for so many years. "I can't not eat so much", yeah I know that one, "I can't walk" me either and I was 534 pounds when I started WALKING so I had a proper excuse, right?, "its too hard to lose weight" why? because it takes effort? "I can't run 3 minutes in a row!" To hell with all that, You can and you DID! You are no different than me, I am no different than that older fella that runs around my lake daily and he is no different than whoever won the Boston Marathon last time around, apply yourself 100% to what you want to achieve and my guess is that it can and will be yours. What do you have to lose besides the weight? perhaps the burden? or maybe the excuses?

The bottom line is that if you get on up off of your fat ass (I did) and do something, anything! the possibilities are endless, if not? you will just get the end.

As Ever
Me





Monday, June 22, 2009

A weekend of not really counting calories but staying withing my range none the less to my best guess, Friday I ate steak for the first time in a long time and Saturday indulged in a sundae from Dairy queen, Fathers day was spent at my fathers house and we ate BBQ chicken, cucumber salad, home made baked macaroni and cheese along with baked sweet potatoes and I did not weigh or measure a single bite that went down the hatch. I did not plan on having a weekend of non measurement but sometimes it just happens and in walks normal eating habits with a bit of indulgence tossed in for good measure, here I am, its Monday and the excel sheet reigns supreme again. I see this weekends eating as a successful look at how eating sans my Salter scale can be as I do not think that I went too far above my calorie limits on any given day, though the sundae may have been pushing my luck.




I am not insane eat nothing but what the earth grows raw diet guy and I don't think that it is realistic to say "I will never eat an ice cream again" I do not eat red meat or pork but not because either one is bad for me, but because the FDA does not regulate these products in a way that says that the person selling said meat products has to say whether the meats are from cloned animals or not so I choose not to eat it for that reason, vote with your dollars right? My normal eating habits have become lots of whole foods, chicken, fish and green tea galore and that's fine by me but it doesn't mean that I will never have some "comfort foods" again, I mean should I not have rum cake on my birthday any more? I am in my 30's and cannot remember having a birthday without a rum cake, should I never have a piece of my aunts peanut butter fudge on Christmas ever again? nah, not going to happen. My point is that a piece of plain New York style cheese cake tastes wonderful! a warm apple pie on a cool Autumn afternoon made from fresh orchard picked apples is just simply delightful and not many people could honestly argue that fact and I have no plans to never have those things again in my life.




Whats changed is the fact that instead of a slice of that pie that could serve 3 people followed by a second piece that is big enough for most people to call it a large piece, is that I will have a small slice and enjoy every bite of it and those gigantic slices will not ever be the norm again for me. I love the flavor of a simply baked or grilled sweet potato with nothing on it, I crave apples and the natural sweetness they hold, grilled fish has become my favorite meal and when I have it I feel like I had a "treat" of a meal. Another thing is that because I had a sundae, or an unmeasured portion of that macaroni and cheese that I mentioned does not mean that I failed, and it doesn't mean that I went off of plan, it just means that it was a nice day for a sundae and I forgot my scale when I left for my fathers house.




Tonight I plan on running W3D1 of the C25K program even though I still feel some of the effects of this whatever it was that I had last week, I seem to feel bleh in the am and right before bed but otherwise I feel pretty good so I think that it is time to get back out there running, yes yes I know I am a baby when it comes to being sick. I have been staying hydrated with my minimum of 1 gallon of green tea and 1/2 to 1 gallon of straight H2O and my eating has been on par besides the weekend of non measure. I am anxious to get back into the C25K program but I have to admit that I am a tad worried that starting week 3 after my little hiatus from the program may prove more difficult that it would have been if I had started it last Monday, but we shall see how it goes tonight.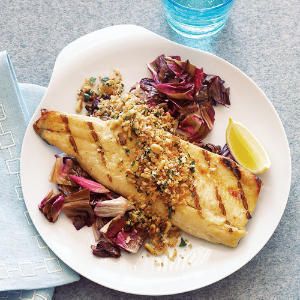 That will conclude this message from the emergency fat loss channel, if this had been an actual emergency you would have been instructed where to tune in your area for news and official information. Now go grab yourself a big ol glass of H2O because you made it through another post filled with randomness and a little insight to a once quarter ton fella, keep on keepin on and all that, and wish me luck on week 3 tonight, I have a feeling that I will need it.

As Ever
Me





Friday, June 19, 2009

Friday has come and I have not exercised all week because of this chest congestion and sore throat that I have been dealing with, I put C25K on hold all week but I kept the intake where it needs to be and decided early on in the week that I would be happy this week if I could hold onto the loss from last week without a gain. I will get right to it and say that I am down 1.4 pounds from last Friday coming in at 333.0 pounds, I must say that I am pleased with that as a loss is a loss in my book. This week brings the objects that I weigh as much as I do and as much as I have lost back and with that have a look.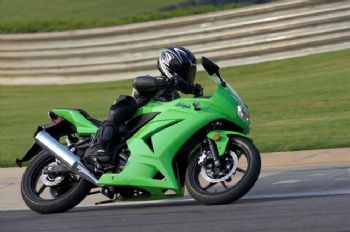 This Kawasaki Ninja 250R weighs in at 333 pounds which is of course the same as yours truly.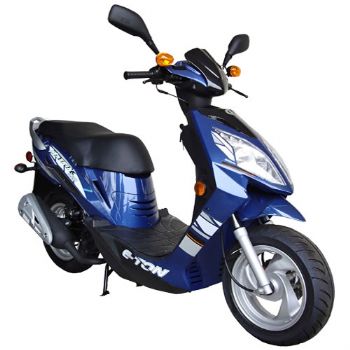 This little Matrix scooter comes in at 201 pounds and is what I have lost so far.

201 pounds gone and another 58 to go to hit my goal of weighing 275 pounds, My best guess would never have had me at more than 200 pounds lost at this juncture of my journey, in fact when I began I thought that 100 pounds in the first year would have been pushing it. I struggle with the fact that I am more than 200 pounds lighter than I was a short time ago where how I look enters the picture. Walking through Walmart last night I saw a fella whom I thought was my approximate size and sized him up a bit thinking about how he and I were comrades in fat floating through the store together so I asked Wify "How close to that guys size am I?" just to get confirmation on my thought. Wify looked at me as if I had a turnip growing out of my forehead and said "You are not even close to his size" so I took another glance but what I saw was me again, "Are you sure you are not just being nice?" I asked her and she then just said "Shut up Tony, stop playing dumb, you are not even close" in that way that only a loving wife could say it, From her answer I have to believe her but at the same time he was honestly how I see myself, so maybe I need to face the fact that I have lost a lot of weight.

I think a lot of people have the issue of not being able to see the weight loss even though it may be obvious to most people, I mean I know that I am not thin by any stretch of the word but I may not be considered HUGE to all people now either. I bought a shirt recently and tried it on last night and felt that it was too tight on me so I of course asked for Wify's opinion and she said "I know that you don't like when your shirts touch your belly but that one just looks like it fits" of course I had to have her take pictures from all sides so that I could determine whether I would be comfortable wearing this new shirt outside the house and of course it looked just fine on me, when will this unsure feeling go away? Honestly, I am still 333 pounds so it isn't like I am small or something so there is some weight behind how I feel but how will I feel at 275 pounds? or even 250 pounds? is Wify doomed am I doomed to taking pictures of my self in new clothing for eternity? or does this go away? hopefully the latter but right now I still feel like my old rotund self more often than not when I try on anything new or see other big people.

With all of that said, I am a different person than I was 17 months ago, I am more than 200 pounds lighter than I was 17 months ago, I am going to drive my beautiful wife nuts with my ever growing insanity and obsession with weight loss and better health, I am going to weigh less than 275 pounds sooner than later.

Try and stop me, go ahead I dare ya.

As Ever
Me





Wednesday, June 17, 2009
This week has been less than productive where weight loss and better health is concerned, going off of that statement You can probably conclude that I am still feeling blah. This whatever it is has moved from my throat to my chest and over all I am feeling better but I still don't think a run would help move things in a positive direction so I have decided to wait this out and I will run on Friday as long as I am still progressively feeling better each day. As long as everything goes my way and I do actually start getting better by Friday and I run, I will do W2D4, and then start fresh on Monday with W3D1. To say that I am getting anxious to start back up is the understatement of the year, I can hardly believe that I am the same guy that was damning people for walking and smiling at the same time just over a year and a half ago and here I am wishing that this gift from my wife and or daughter would go away so that I can go run again.

Besides the non exercising I am sticking to what I need to do with this weight loss thang, My total calories for yesterday was 1590 and I drank 1 gallon of green tea along with about 3 quarts of straight H2O. I don't feel like drinking that much but I know that its what has been working so I am making myself drink the extra H2O so that the only thing missing will be the cardio exercise. I am getting some small things around the house done because I am just sitting around and I get bored easily so I have been doing small tasks here and there to take up some time, touching up the paint in some of the newly painted rooms, hanging new switch plates, weeding the flower beds a bit and things like that so to look at this in a positive light I am getting random odd things taken care of because of it.

I have not been on the scale since Friday's weigh in and I am unsure what will be reflected back at me come this Friday when I weigh in for the blog again, will there be a loss? will there be a gain? maybe just stay the same? to be seen I guess in a couple days. I do know that my life has changed for the better since dropping most of the weight that I needed to drop and I am looking forward to hitting another 59 pounds lost so that I can hit my original goal of weighing 275 pounds, which brings me to my next point.

I originally wanted to weigh 275 pounds and that was just a number that I picked out of the air, a number that I thought I would look ok at and since then I have come to a few conclusions and have had a few thoughts. I have read and been told by a number of people that when I am at a healthy weight that I can expect to have anywhere from 20 to 30 pounds of extra skin on me and if I were to get a skin surgery I would be that much less, so at 275 I am actually 255 of muscle, bone, fat and skin plus that extra stuff. Now my father the last time he was on a scale weighed 265 pounds, he stands between 6'1'' and 6'2'' and has a large build, you would NEVER guess him at 265 pounds if you saw him but anyways, I told him that I would weigh less than he does by Christmas, which means that I need to get below that 265 pound mark by then so in reality my goal is to weigh 265 pounds for all intents and purposes. To reach that goal of weighing less than my father by Christmas I need to lose an average of 2.46 pounds per week until then, this is a very achievable number I think but I will have to stay focused to get it. To hit my original goal of weighing 275 pounds I will have to lose an average of 2.10 pounds per week until Christmas and I am going to try my hardest to get there, That whole last paragraph was sort of random but hey! I am in a random mood this morning as I type.

I also wanted to post a thank you to all of the comments and emails that I received due to the 200 pounds lost post last Friday zeusmeatball.blogspot.com/2009/06/20
0-pounds-lost-photos-inside.html , it really put into perspective just how many people I have effected by losing this 200 pounds of burden. 37 comments on my blogspot post, more than 250 and counting on the post over at sparkpeople so I thank you all as sincerely as I can through a post on a blog floating around cyberspace, I usually like to respond to all of my comments on spark but that would be close to impossible for that 200 pound post and I thought a post would serve the same purpose.

As Ever
Me



First Page
1
2
3
4
5
6
7
8
9
10
11
12
13
14
15
16
17
18
19
20
21
22
23
24
25
26
27
28
29
30
31
32
33
34
35
36
37
38
39
40
41
42
43
44
45
46
47
48
49
50
51
52
53
54
55
56
57
58
59
60
61
62
63
64
65
66
67
68
69
70
71 72 73 74 75 76 77 78 79 80 81 82 83 84 85 86 87 88 89 90 91 92 93 94 95 96 97 98 99 100 101 102 103 104 105 106 107 108 109 110 111 112 113 114 115 116 117 118 119 120 121 122 123 124 125 126 127 128 129 130 131 132 Last Page

Get An Email Alert Each Time BOTZZZ Posts