| | |
| --- | --- |
| | BOTZZZ's Recent Blog Entries |


Saturday, June 13, 2009
A later than normal post for your viewing pleasure, Friday night I completed W2D3 of the couch to 5k program and I went about a tenth of a mile further than I have gone yet on the plan. Something that I am noticing with this C25K program is that I am not limited by my being able to breath like I thought, but by my legs, they are wearing out before my breath is which is not to say that I am unable or even laboring to finish but my legs are the thing that I feel most. That fact is both a relief and a bother to me because it means that I am not working as hard as I thought that I would with the breathing but my legs need some conditioning. Monday I will try W3D1 and see how it goes but I really do believe that it will give me some trouble because of fatigue in my legs and the new 3 minute intervals.

My intake has been on par and Friday I came in at 1610 total calories for the day, 1 gallon of green tea and 1.5 gallons of straight H2O went down. My exercise for the day was W2D3 of the C25K program and I honestly feel really good lately.

This morning I had the chance to meet someone that has been walking the same road that I have been on and has lost over 100 pounds herself. Some of you that read this blog know that I have a spark people page and some of you may not know, well I guess now you do! Anyways, as I said I had the chance to meet Heather, or if you are on spark you might know her as PUMPKINFACE73, as it turns out she lives about 20 minutes from me and we actually have been to the same park that is local to us and we decided to go for a walk this morning. So Wify and I headed out to meet up with Heather and we ended up walking for a total of 2.8 miles through the park and chatting a bit, I think everyone had a good time and it looks like we will be meeting for a walk or a hike again, here are a couple of photos that we took at the park after our walk.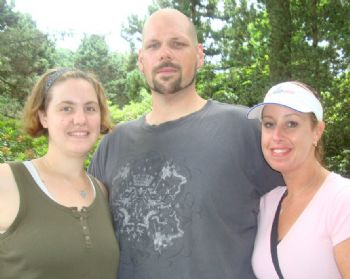 Wify, Me and Heather (PUMPKINFACE73) at the park.



Wify and me on a bridge, you can see we BOTH need some clothes that are not 2 sizes too big! such is life when you are losing weight.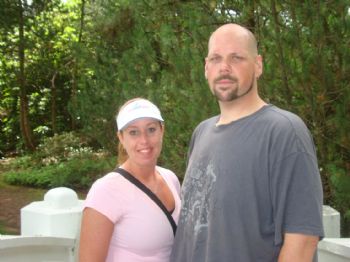 Heather and me on the same bridge.

I will admit that I felt the walk a bit after I sat in the car because of the run last night but as I type all is well, in fact I came home and planted 2 rows of peppers that I had started in buckets, half Jalapenos and the other half is green bell so I couldn't have been too bad off. I also noticed that I have a small tomato beginning to grow on one of my tomato plants so hopefully I will have enough to make a totally home grown salsa in a couple months time, I have Egyptian onions, sweet basil and thyme growing as well.

The kids are sleeping and Wify rented a movie so I am about to go over my calorie limits for the day because of a big bowl of popcorn with my name on it. So far my weekend has been a nice one and I got to meet someone that is as determined as I am to get to and stay at a healthy weight, which is byproduct of this blog that was not expected, I will keep this post relatively short and will surely post more about the park later.

As Ever
Me





Friday, June 12, 2009

Today is that day, the day that I was to wake up and see if I hit that 200 pound mark, a double century if you will, I am just going to get right to it and tell you that when I woke up this morning I went straight to the scale and well what do ya know, it said 334.4lbs and I know that I had a smile on my face. That is a 5 pound drop from last week and let me tell ya I earned it this week with the running and ST that I have done!




528 days ago I weighed 534 pounds and I can still remember how I felt on that day when I started down this path to better health, unsure that I would make it a week and decided to start a blog to stay accountable. Now through nothing more than sticking to it I have lost 200 pounds of extra weight, No miracle pill, no costly plan that makes someone else money so that I can try to lose weight, I did not have a surgery, I did not eat a Gypsy pie and I do not belong to a gym and yet here I am 200 pounds less. I, if I am being honest did not think that I could do this without a surgery but I had to try something because I was getting to a point where daily life was getting harder and harder and having a surgery seemed like the only way that it would happen. I figured what do I have to lose besides the weight, and the decision was made to try it on my own and here I am today 200 pounds less for my efforts, here are some "200 pounds lost pics" or your viewing pleasure, they are all clickable for a larger image. All of these images are on my blogspot page in full sized form if you wanted a better look zeusmeatball.blogspot.com/2009/06/20
0-pounds-lost-photos-inside.html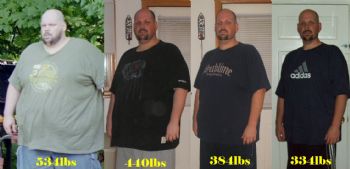 From 534 to 334 all together.



Face from 534 to 334 pounds, I am unsure of the second photo's weight but the first is 534lbs, 3rd is 134lbs lost and the final is obviously 200lbs pounds lost.




Full length shot, 200 pounds lost.



Finally my muscle man pose, I took this one just fooling around but I liked it so here it is.

At the end of the day its just a number but man what a number it is! I don't think this club has all too many members but I am one of those people that can say "I have lost 200 pounds" and I did it based purely on determination. I have watched a couple people in my family struggle with weight for a long time and they always seem to put the weight back on within a month or 2 after losing a few pounds and I am hoping that me dropping 200 pounds in the last year and a half might get them to stick with it and see that it is possible to lose massive amounts of weight and not put it back in the following month.

I still have a long way to go before I hit my goal weight and beyond but if I were the betting kind of guy I would go with whoever thinks that I will get there because I have no plans on stopping now. Thanks for all of the support and emails that you all have left for me in the last 17 months and if you are reading this blog for the first time now you know that losing this kind of weight IS possible with some hard work, good food choices and exercise.

In the words of Forest Gump, "that's all I got to say about that".

As Ever
Me





Thursday, June 11, 2009

Things have been going pretty good this week, but yesterday was pretty stressful (non weight loss related) and I did not feel like running W2D2 of C25K because I got home late which meant a later than normal dinner (7:45PM I finished dinner) and I usually run around 8:30PM so I was thinking about skipping it. I did end up going out for day 2 and when the time for the first interval came around I began running and quite literally felt like I was shuffling along and thought about stopping and calling it a night. I figured I would at least go to the second interval before I let that happen so I did and when it came time to run again I was taking large strides and felt pretty good about continuing on and by the third interval had forgotten all about what was stressing me out. I was ahead of my fastest pace and I knew this by the 5th interval because I ended the 5th where I began the 6th on day 1 of week 2. I started interval number 6 and it was on a spot that dips down pretty steep and then gets steep uphill so I had to run on that uphill portion but I convinced myself that it was the last interval and I could push myself on it so I did and ended up going 2.212 total miles last night and felt good at the end of the run, though I still find myself questioning Mr.Ullrey's ability to count to 90 seconds at times during the running portions of the program.

Now that the C25K report is out of the way I am thinking about the weigh in tomorrow, will it be the day that I join that 200 pounds lost club? will I be a part of that crowd that can say "I lost 200 pounds" on pure determination (does that club even exist?) will I prove myself wrong? once upon a time I said "no one can lose 200 pounds just by eating right and exercising" that was fat Tony talking, or should I say "fatter Tony" because I am not quite the svelte specimen of a young man that I would like to be just yet, but either way will tomorrow be that day? I sure would like it to be, because its going to be hard to cancel the fireworks show that I have arranged! 527 days ago I decided to get healthy, that's slightly more than 17 months ago and I am on the edge of having lost 200 total pounds, did I mention that I am amazed by this? yes I think that I did but I wanted to say it again.

Intake for Wednesday was 1695 total calories and I drank just under 1 gallon of green tea and 1.5 gallons of straight H2O, exercise for the day was W2D2 of the couch to 5k program. Things are right where they should be lately with diet and exercise and I am happy with the direction I am heading with the running, the only question left is will tomorrow be THE day that I hit that 200 pounds lost mark? since I am not stepping onto a scale until then, both you and me will have wait until then to find out.

Don't forget to drink that big ol glass of H2o that you just earned for reading through all of my morning ramblings, and keep in mind that if I can do this weight loss thang, you can do it as well.

As Ever
Me





Wednesday, June 10, 2009
zeusmeatball.blogspot.com/

I have decided that because of me being so close to the 200 pound lost milestone that I am not getting on the scale for the rest of the week because I want Friday mornings weigh in to be a surprise to me. You will notice that I put a count down clock on the left panel (this is at my blogspot page, the link is above) and that will be when I step on the scale next, yesterday morning I stepped on and this morning I did not, with any luck I will reach that mark this week. I have to admit that I am a bit excited to be so close to that 200 pound lost mark, and at the same time I feel like its not something that many people would like to be able to say, the fact that I HAD the 200 extra pounds on me to lose is quite disheartening. On the other side of that coin is the fact that I have stayed strong enough through this whole experience to successfully drop that kind of weight and that side of it is quite the opposite of disheartening.

To think that one day I woke up and decided that I was going to lose 259 pounds that was my goal number and actually am doing it without any miracle pill, surgery or pay by the month plan amazes me to this day. I think people should do what works for them but I am also in the camp that believes that nothing more than determination and willpower are the only things needed to have success in weight loss, No Gym membership or miracle pill can do the work for us, we have to do it ourselves. I started out just eating less calories and walking however long I could, eventually buying an exercise bike off of craigslist for $40 if I remember right and now my main form of exercise is running, or building up to running anyways. I shop smart and eat well, I do not spend thousands of dollars on specialty foods or meal packets, I eat real food prepared by yours truly, in fact and I have said this before, I spend less now on groceries than I did in my 500 pound days. Relearning how to feed our bodies so that we are fueling our days instead of filling the craving void with junk processed foods, it only takes a little bit of dedication to make sure that we stay on track and after that it becomes habit and before you know it you are writing a post on a blog that was not expected to last a week about having lost almost 200 pounds.

My intake for Tuesday was a bit high at around 1800 total calories, damned evil doritos and I did not exercise at all because I was a bit sore from Monday's run, 1 gallon of green tea and more than a gallon of straight H2O went down the hatch. Tonight is W2D2 of the C25K program for me and I am looking forward to the run tonight and honestly feel pretty good about how it will go even though the forecast calls for rain.

I feel like since being cleared by the doc to run I have had a couple productive weeks where health is concerned, I started running and am back on track with the pounds coming down again. Over all I feel great and am looking forward to this Fridays weigh in because I think that I have a chance to hit that 200 pounds lost mark, I just might do a video post if I do hit it this week. With that the end has come to another exhilarating episode of as the fat guy turns starring the God of Meatballs himself! Thanks for following along and here's to Fridays weigh in!

As Ever
Me





Tuesday, June 09, 2009

Last night was the start of week 2 of the C25K program for me, I was going to hold off on starting week 2 until I let my body adjust to week 1 but I really wanted to see if I could do it. New Mp3 in hand I headed out and noticed that the week 2 podcast is 31 minutes so a little more than a minute longer than week 1 so I had a feeling that I would add distance to where I have been running to by the end of the run. The first interval came and I was feeling pretty good but by the middle that interval I was starting to doubt Mr.Ullrey's skill at counting to 90 seconds as it felt very long compared to week 1. by the second interval I decided that I needed a way to judge the length of the runs so I knew how hard to push to make it so I counted my steps and from here on out I just counted how many steps I took so that I would know when the end of the interval was coming. The entire run went ok besides the fact that I had to run up that hill that I was cussing at last week in its entirety and it took a little out of me.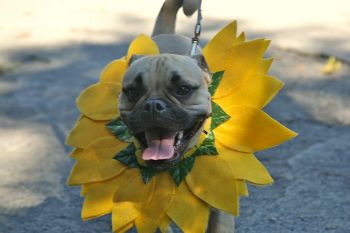 At the start of the last interval I had a little surprise because some people were leaving what looked like a BBQ and they had a dog with them. I was maybe 5-8 steps into the last interval when I hear the jingle jangle of dog tags to my left and then a growl, I glanced down to see a dark brown pooch running at me so I stepped further into the middle of the street hoping that he would not keep coming as his owner was right there with him but he did keep coming. I turned so that he was coming at me straight on and was moving backwards, still hoping that the owner would pull the leash and I could continue on my run but that's not what happened, all I hear the fella say is a meek little "sorry" That's great man! I am glad that you are sorry BUT your dog is still growling and coming at me! is what I was thinking and the dog was too close to me at that point for me to just keep doing nothing but backing up and he got a face full of size 14, he yelped and ran towards the owner who now says "why did you have to do that!" all I responded with was "keep it on a leash a$$hole" and on my way I went. I ran for my counted steps for the last interval even though the podcast had told me to stop because the dog encounter messed me up and I did not enjoy the rest of the run/walk because of the dog. I went 2.12 miles on this run and that is just short of my furthest distance on week 1 which is not so bad considering the run in with cujo and the fact that it was day 1 of a harder run.

My food for Monday was on par coming in at 1750 total calories consumed and I drank 1 gallon of green tea and 1.5 gallons of straight H2O. Obviously my exercise was C25K W2D1 and over all I feel pretty good this morning if not a little fatigued, almost like W1D1 without the soreness. Where Couch to 5k is concerned, I did complete W2D1 of the program but I did not feel strong while doing it, and what I mean is that W1D1 I felt like the only thing holding me back was going to be my being out of breath but last night my legs were quietly complaining to themselves by the second interval. By the time I hit that hill I was not taking long strides at all, I wouldn't say I was shuffling along or anything but it definitely was not my normal stride and because of my weight I can't help but to think about maybe repeating week 1 just for the slow but steady strength gains for my body. The plan is to run W2D2 Wednesday and see how I feel and if there is no improvement from Monday I will look at what I need to do.

Over all I am loving the C25K program and am looking forward to completing it and being able to say that I can run a 5k race to completion. I am forgetting that this is a weight loss journey lately because of this program and have to remember that I am less than 5 pounds away from having lost 200 pounds total since starting and will be trying to hit that number by Friday so I have a lot going on as far as this weight loss gig goes right now.

Don't forget that H2O, Keep on keepin on and all that.

As Ever
Me



First Page
1
2
3
4
5
6
7
8
9
10
11
12
13
14
15
16
17
18
19
20
21
22
23
24
25
26
27
28
29
30
31
32
33
34
35
36
37
38
39
40
41
42
43
44
45
46
47
48
49
50
51
52
53
54
55
56
57
58
59
60
61
62
63
64
65
66
67
68
69
70
71
72 73 74 75 76 77 78 79 80 81 82 83 84 85 86 87 88 89 90 91 92 93 94 95 96 97 98 99 100 101 102 103 104 105 106 107 108 109 110 111 112 113 114 115 116 117 118 119 120 121 122 123 124 125 126 127 128 129 130 131 132 Last Page

Get An Email Alert Each Time BOTZZZ Posts