| | |
| --- | --- |
| | BOTZZZ's Recent Blog Entries |


Tuesday, May 26, 2009

Working towards a goal that has been almost 17 months in the making has taught me a few things about myself and about weight loss in general. I in the last five hundred eleven days have made changes in my life and created habits that will hopefully trickle down and become habits of my children as well, My wife has become more health conscious and has recently started running to go along with her better eating habits as well and I can say with 100% certainty that my choice to lose all of the weight and get healthy will mean that I get a little more time to enjoy with my family as well as enjoying things a bit more myself.

Thinking back to Jan 2008 I can't remember being 534 pounds, when I think back to that time I can remember being out of breath from walking up the stairs, I can remember not being able to walk very far without sweating like I had just run a marathon, I can remember how it felt to say no to going out because I was uncomfortable but I cannot believe that I was 534 pounds. I weigh almost 200 pounds less than I did back then and still feel like I am big, mostly because I am but what I mean is that I look at photos from then and I do not see me in the pictures, maybe more like a me suit. My day literally went the same way every day, well there are two versions really and the first version went like this, wake up around 10am (I worked nights at the time), play some video games while rotting on the couch with my 64oz double gulp cup filled to the brim with whole milk or coke, eating a breakfast that consisted of more calories than I eat all day now, 3pm drive to work and basically sit there until 1am, drive home grab del taco and stay up until 3 or 4am watching tv or playing more playstation. Then version 2 was after my daughter was born, wake up 6:30 am and sit on the couch, play time was on the bed, not like a new born could run around too much which worked out perfectly for me at the time but as she started getting older I noticed that I could not keep up with her very well and would need breaks from playing, or we would sit in the yard or should I say I would sit in the yard while she played on the playground set that was in our yard at the time the entire time me not enjoying the fact that I could not run around with her.

That was the me that I do not want to remember, I should actually say that I want to remember enough to not go there again but not remember because it was like a bad dream. I was thinking about this weight that I have lost and something dawned on me because Wify came and sat on me while the thought was in my head, She was on my lap and if I were to stand on a scale it would read a lower number than it would have with just me on it less than one and a half years ago. As I sat there I felt a tug and before I knew it my daughter had climbed up onto us now making it s pile and I thought about how there are 3 of us sitting here now and I am just about the same weight as I was when I started this weight loss regimen, Me my wife and my daughter all piled up and the couch was holding the same weight as it would have if it were just me a short time ago, I don't think Wify even knew what I was thinking about at that moment but imagine that, 3 people and that is just about exactly what I weighed all by my onesome.

Ok enough of all of that, lets get to how the weekend went intake and exercise wise and I will attempt to keep it to the point. Friday went as planned with the food but my back was bothering me so I did not workout at all so food was good no exercise, not so much. Saturday my intake was perfect up until Wify told me that she got a movie for us to watch and a rule that I made a long time ago is that it does not matter what my calorie level is at I will have a big ol bowl of popcorn with a movie, so I was at 1650 calories and went over by whatever that jumbo bowl of the good stuff amounted to, again no exercise on Saturday besides some light yard work. Sunday was going good enough and then I found out that my brother in law who is a vegan was coming down for Lunch and my Mother in law cooked a completely Vegan lunch for the occasion and I decided that I wanted to try some of the vegan dishes and ended up not counting calories at all because it was a lot of things that was like salads etc that I couldn't really judge. after lunch my father in law stopped by for dinner and he brought hot dogs, potato salad and macaroni salad with tuna and once again I decided that I was just going to enjoy the meal, I did stick to only water and tea for the entire weekend so that was good but Sundays calories were way over. Monday I was within my calories coming in at 1695 for the day but then later on in the evening I was very hungry for whatever reason and I gave in and ate a Fiber bar which cost me an extra 140 calories so I did go over on Monday slightly as well.

Zero exercise all weekend besides rearranging a walk way made of stone in my back yard and some random light yard work, the docks are very backed up and I for the life of me cannot figure out why. The situation at the docks is hindering my ability and desire to get a good solid workout in and I am starting to think that the pain in my back may be related to the clogged pipes but after I click "publish post" I am going to head out for a walk around the lake and plan on riding my bike this afternoon. I also wanted to mention that I am tentatively penciling in Monday June 1st as my C25K start date since the doc cleared me, I wanted to start this week but with the pipes and the raw back I have decided it was not the best week to start something that I am anticipating will be a challenge.

Now that I have typed out this epically long post it is time for me to get on up and get outside for a walk, don't forget that H2O and keep on keepin on, it is after all the least we can do for our own health.

As Ever
Me





Friday, May 22, 2009

As expected this week is not going to be the week that I bust that 200 pounds lost mark, I have to admit that I am a bit confused about this weeks weigh in but it is what it is and like I said yesterday I am stronger this week from last and that's the important part. When I stepped on the scale it said 340.2 pounds so that's exactly 2 pounds up from last week and I said that I was confused but I do have a couple theories to go with that plate of confusion. I have eaten perfectly within my 1700 calorie limits all week so that's a non issue I think besides the fact that I probably could have had more fiber, I have drank at least a gallon of green tea every day this week along with about a gallon of straight H2O each day as well so hydration is there. The two things that I suspect are hindering the loss this week are the fact that I have/had jammed up docks for almost the entire week and the fact that I have been going to bed later than usual, after midnight and as late as 1:00 am for the last 4 nights or so.

Now that I have analyzed the week it is time to plan for the coming week and I will keep it simple.

1.) Eat no more than 1700 calories per day and watch the fiber intake.

2.) Drink at least 1.5 gallons of Green tea or straight H2O per day.

3.) Now that I have the all clear from the doc, I will hit the cardio hard this week.

4.) Work out every day this week, no days off until the next weigh in.

I know that looks a lot like what I already do, but the two major differences are that I will not be taking a day off of exercise this week and I will really amp up the cardio because I have been holding back and only walking since the doc told me to do so until an ECG was done. Honestly the mere fact that the ECG results came back clean has relieved a huge amount of stress that I was under for the past 3 to 4 weeks and I feel like a weight has been lifted off of me and I plan on taking full advantage of my stress free high by hitting the exercise hard this week to try and make up for the lack of any real cardio work in the last few weeks.

This weeks weigh in shows a positive number as far as the raw number goes but I honestly think that I will hit that 200 pound mark my Friday if not sooner. I did everything that I could do this week including extending my walking distance because of feeling like 2 miles wasn't enough when walking was the only exercise and it was upped to 3 miles, My raw weight may be up by 2 pounds (even if its the docks or lack of sleep) it is up and I have to accept that fact, the other fact that I accept is that I have done everything that I could given the circumstances of the last month and the halt of movement by my doc so I am happy with the scale this week even though it is not a loss.

This week was not the week that I become the fella that can say that he lost 200 pounds, but next week I think that little fact will not be a fact any more. Don't forget that H2O and always remember to keep on keepin on because if you don't nobody else will do it for you.

PS: C25K coming to a theater near you very soon!

As Ever
Me





Thursday, May 21, 2009

Today is a good day, and what I mean is that a worry that has been on my shoulders for about a month now is gone. About a month ago I had a docs appointment and he heard a heart murmur and told me that I needed to get an ECG done to make sure everything was ok with my ticker, he also told me that I could not run or work out too hard until that was done hence all of the walking in the last month instead of other things. Today was my follow up appointment to see what the blood tests from the initial appointment said and to find out about how the ECG went and apparently everything is good with the old ticker, he used a term that I cannot recall right now to explain the murmur and said just as a precaution that we will look at it in 2 years but it was something about a valve being a little loose or something like that but he said that and I quote "You can do a triathlon if you like, everything came back great" then he repeated that he was impressed with what I have done so far with the weight loss. I will tell you that having a doctor tell me that I am doing everything right and then tell me that all of my blood tests came back "great" and when I asked him if I can run now his reply being "You can do a triathlon if you like" really does something to reinforce in my mind that I have to keep on keepin on with what I am doing.

Onto this week and tomorrows weigh in, though I have eaten perfectly (besides not enough fiber apparently) and exercised daily I do not think I will be at a lower weight than I was last Friday, but then where have I heard that before? this morning I weighed more than I did last Friday, not by much but more none the less so I do not think that I will cross that 200 pounds lost barrier this week but who knows. I have consumed an average of 1650 calories per day when I do a 7 day average off of my excel sheets so I am right where I should be with intake, I have drank 1.5 to a little more than 2 gallons of fluid per day every day this week and I have exercised every day except one in that same time, and if I don't weigh less than I did a week ago it doesn't matter to me.

I am stronger than I was last week, I am a week healthier come tomorrow morning and 7 days wiser where health in general is concerned. I have the all clear to run to my hearts desire from my doc so I plan on starting C25K most likely come Monday and there is a nice long stationary bike ride in my immediate future. As I write this I am 3/4 of a gallon worth of green tea into my daily hydration and have eaten a nutritious breakfast and dinner, things are as they should be at the moment. I am expecting to either break even or be slightly above my last weeks weight come tomorrow morning going off of this mornings weight but like I mentioned yesterday the docks are clearing out so I guess anything can happen.

The bottom line is that I am in control of my eating and now can do what I want to physically with the all clear from my doc this morning so once again the sky's the limit and I will be at my goal weight before years end. Make sure to remember that H2O and keep on keepin on, tomorrow I weigh in and there is a possibility that I will break that 200 pounds lost mark but I just don't think this will be the week.

Until then...

As Ever
Me





Wednesday, May 20, 2009

I seem to have forgotten that I write in this blog every day! I have been a busy little boy playing outside in the dirt the past few days and just have not had the time to write a post but here I am! taking a break so I thought I would post up. In the past few days I have pretty much spent my entire days outside in the yard making it look how I want it to instead of the previous owners vision of beauty, which happens to be in the eye of the beholder in this case because this yard was jacked up. I removed a brick patio and neatly stacked the 8x16 paver bricks for later use, reshaped and moved a stone edged gravel filled path that ran through the back yard while retaining any plants and or shrubs that were to be moved and tilled the soil and planted grass on all of the bare spots from where I pulled up the patio and moved the walk way. I now have a new tomato garden that I cut into the yard and edged with stone and some railroad ties, its a tiny little spot holding only 3 tomato plants but it took more than an hour to complete and plant into, I hope I get a few tomatoes off of them, here are a few pics that I just snapped after I started writing (full sized pictures can be seen at my blogspot @ zeusmeatball.blogspot.com/2009/05/cl
ose-to-200-pounds-lost-update-and-few.
html )



Here is my tiny little tomato garden, the two on the left are Beefmaster and the one on the right is a better boy, they probably could have been planted a bit further apart but hopefully they do well there, the entire thing is 5 feet across.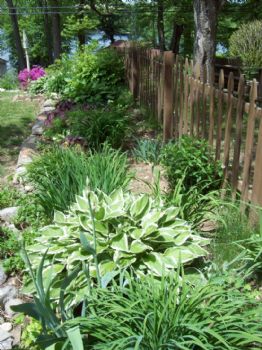 A shot down the fence line at part of our garden, you can see the tomatoes at the top left.



Just a random shot of the little bird house that lives in our yard, you can see the still bare butterfly bush on the right side of the purple flowers.


This week is going well and I have stayed within calories every day this week, with all of the yard work I am definitely getting some exercise into the days but on top of that I have walked every day besides yesterday this week with my shortest walk being 1.8 miles and the longest was 3 miles. I am lifting weights and doing my push ups every other day and staying thoroughly hydrated drinking 1 gallon of water and 1 gallon of green tea per day over the past 5 days or so. We did have a hold out on the docks, I think that the teamsters were asking for more fiber and I just was not listening because the docks were jam packed and not moving for almost 4 days so I don't know how that will effect Fridays weigh in. I am actually up from last Fridays weight at this point in the week, I have done everything right this week but I have a couple of theory's on why I am up. I have been doing a lot of work around the yard and I am sore in a few places that are not usually sore so I may be retaining some fluids because of that, or it may be that the docks are still jammed up a bit, though the teamsters have agreed to let the ships unload I have a feeling that there are still a lot of ships waiting to land at port and unload so that's theory number two.

Either way I am doing everything right this week and Fridays weigh in will be whatever it is and I will keep going, will it be the week that I hit that 200 pound lost mark? I sure do hope so! BUT if its not, then it is not and that's all. When I do hit that 200 pounds lost mark I plan on posting up a few more comparison shots because I have not posted any in a while, I believe the last time I put one up was at 150 pounds lost but I could be wrong and I don't feel like searching to find out right now but its close if not 150. For me to say Two hundred pounds is what I have lost seems so bizarre to me, and only because of the pure size of that number, there are whole human beings that do not weigh that much and have lost that amount of fat off of my body? just insane to me if I think about it for too long.

Apparently my time is up because my daughter just finished her lunch and wants to go back outside to play some more so I will end this post here and off I go to do more yard work, make sure you stay hydrated and drink 20 extra oz for me today! keep on keepin on and all that.

As Ever
Me





Friday, May 15, 2009

I was worried that I would not have a loss this week because of an earlier in the week look at the scale and the fact that last Saturday I ate pretty bad but this morning I was pleasantly surprised. I will get right to it, I stepped onto the scale and it said 338.2 pounds, that's a 3 pound loss for the week and I am more than happy with that three pounds. 196 total pounds lost since Jan 2008 and a mere 4 pounds separates me from being able to say that I have lost 200 pounds, maybe I will actually get there by next Friday, maybe not, either way when I think back to day one (which is as clear as yesterday) I can remember how I felt that I was starting in on another attempt to lose weight that was bound to fail and here I am 4 pounds away from having lost 200 pounds, here are the Friday photos for your viewing pleasure.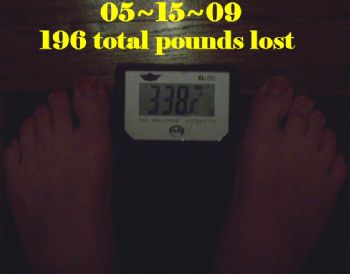 No flash in a dim room but there it is! 338.2 pounds!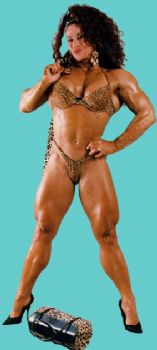 This is Laura Vukov and she weighs 196 pounds, I lost a whole her!

Over all I am feeling good about what I have accomplished but then who wouldn't feel good after losing close to 200 pounds? It is a bitter sweet feeling if I am being honest, on the one hand I have just lightened my body by just about 200 pounds and have been living healthy for about 17 months, more than likely I have added years to my life and I feel awesome! on the other side of the fence is the years gone that cannot be gotten back, 200 pounds ago I was unhappy and how many years have I wasted by allowing myself to get to that size? I mean its awesome that I have lost this much but at the same time is that really a title someone should try to attain? "the guy that lost 200 pounds" (do not think for a second that I dwell on this, it is merely a thought in the many that enter my head daily) The fact that I have lost this amount with nothing more than determination is the awesome part to me, I did not use any miracle diet plan or pills, I did not have to buy into a plan that offers pre made meals, and I did not buy any books or cards that tell me how much to eat and when, and the best part is that I did this without surgery.

The reason that I started doing this the way that I did was because I feared for my life, I was honestly afraid that I would walk down the street and bamn! dead from a heart attack. Imagine living a life where you honestly thought that any day could be the day, just from walking up stairs to go to bed, or carrying something heavy up stairs for your wife could kill you because of the strain that was on your heart, hell, just walking up the stairs I was carrying something heavy! Myself! Now imagine that you were responsible for that condition only because you could not control how much and what kinds of food you were eating, imagine.

I do understand that losing weight is much more difficult than anyone that has never struggled with it knows but at the end of the day we are responsible for what we choose to eat, we are the one responsible for whether we do some exercise or not, I am responsible for my actions and you yours, everything else is an excuse. I have heard people say things like "but I can only walk 5 minutes before I cannot walk any more" ok, then walk for 5 minutes per day until you can walk 6, so on and so on. When I started off I could barely walk a 1/3 of a mile trot around the block and that was at a 2 year olds pace! now I walk just under 2 miles 5-6 times per week and can walk more than 3 miles straight without feeling anything but relaxed. "but I can't afford a gym" I have never belonged to a gym in my entire life, which may explain a few things! but my point is that its not needed, body weight exercises, walking, yard work, anything can count as exercise when you are as big as I was! "I have a limited budget and cannot afford to shop the way I need to in order to lose weight" as my Grandfather use to say "awe horse puckey" I am by no means well off, in fact I am a stay at home dad so we live off of one income currently and let me tell ya with 2 kids and one of them special needs I do not have money to burn! smart shopping along with bulk shopping will do the trick every time, give it a shot.

I will get on down off of my soap box for now because I want to get out there and get a walk in this morning, 3 pounds down and that much closer to that 200 pound lost mark and I am feeling pretty good this morning. Anyone reading this for the first time, know that it is possible to lose the weight and live healthy with a little determination and discipline, toss in a bit of smart shopping, exercise and recipe planning and well, ya get what we got right here!

Thanks for following along and thank you all for the support that you leave me daily.

As Ever
Me



First Page
1
2
3
4
5
6
7
8
9
10
11
12
13
14
15
16
17
18
19
20
21
22
23
24
25
26
27
28
29
30
31
32
33
34
35
36
37
38
39
40
41
42
43
44
45
46
47
48
49
50
51
52
53
54
55
56
57
58
59
60
61
62
63
64
65
66
67
68
69
70
71
72
73
74
75 76 77 78 79 80 81 82 83 84 85 86 87 88 89 90 91 92 93 94 95 96 97 98 99 100 101 102 103 104 105 106 107 108 109 110 111 112 113 114 115 116 117 118 119 120 121 122 123 124 125 126 127 128 129 130 131 132 Last Page

Get An Email Alert Each Time BOTZZZ Posts