| | |
| --- | --- |
| | BOTZZZ's Recent Blog Entries |


Wednesday, May 20, 2009

I seem to have forgotten that I write in this blog every day! I have been a busy little boy playing outside in the dirt the past few days and just have not had the time to write a post but here I am! taking a break so I thought I would post up. In the past few days I have pretty much spent my entire days outside in the yard making it look how I want it to instead of the previous owners vision of beauty, which happens to be in the eye of the beholder in this case because this yard was jacked up. I removed a brick patio and neatly stacked the 8x16 paver bricks for later use, reshaped and moved a stone edged gravel filled path that ran through the back yard while retaining any plants and or shrubs that were to be moved and tilled the soil and planted grass on all of the bare spots from where I pulled up the patio and moved the walk way. I now have a new tomato garden that I cut into the yard and edged with stone and some railroad ties, its a tiny little spot holding only 3 tomato plants but it took more than an hour to complete and plant into, I hope I get a few tomatoes off of them, here are a few pics that I just snapped after I started writing (full sized pictures can be seen at my blogspot @ zeusmeatball.blogspot.com/2009/05/cl
ose-to-200-pounds-lost-update-and-few.
html )



Here is my tiny little tomato garden, the two on the left are Beefmaster and the one on the right is a better boy, they probably could have been planted a bit further apart but hopefully they do well there, the entire thing is 5 feet across.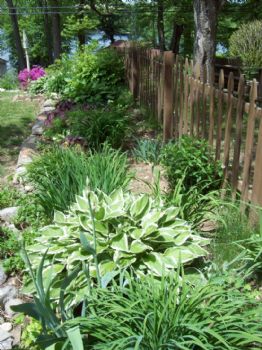 A shot down the fence line at part of our garden, you can see the tomatoes at the top left.



Just a random shot of the little bird house that lives in our yard, you can see the still bare butterfly bush on the right side of the purple flowers.


This week is going well and I have stayed within calories every day this week, with all of the yard work I am definitely getting some exercise into the days but on top of that I have walked every day besides yesterday this week with my shortest walk being 1.8 miles and the longest was 3 miles. I am lifting weights and doing my push ups every other day and staying thoroughly hydrated drinking 1 gallon of water and 1 gallon of green tea per day over the past 5 days or so. We did have a hold out on the docks, I think that the teamsters were asking for more fiber and I just was not listening because the docks were jam packed and not moving for almost 4 days so I don't know how that will effect Fridays weigh in. I am actually up from last Fridays weight at this point in the week, I have done everything right this week but I have a couple of theory's on why I am up. I have been doing a lot of work around the yard and I am sore in a few places that are not usually sore so I may be retaining some fluids because of that, or it may be that the docks are still jammed up a bit, though the teamsters have agreed to let the ships unload I have a feeling that there are still a lot of ships waiting to land at port and unload so that's theory number two.

Either way I am doing everything right this week and Fridays weigh in will be whatever it is and I will keep going, will it be the week that I hit that 200 pound lost mark? I sure do hope so! BUT if its not, then it is not and that's all. When I do hit that 200 pounds lost mark I plan on posting up a few more comparison shots because I have not posted any in a while, I believe the last time I put one up was at 150 pounds lost but I could be wrong and I don't feel like searching to find out right now but its close if not 150. For me to say Two hundred pounds is what I have lost seems so bizarre to me, and only because of the pure size of that number, there are whole human beings that do not weigh that much and have lost that amount of fat off of my body? just insane to me if I think about it for too long.

Apparently my time is up because my daughter just finished her lunch and wants to go back outside to play some more so I will end this post here and off I go to do more yard work, make sure you stay hydrated and drink 20 extra oz for me today! keep on keepin on and all that.

As Ever
Me





Friday, May 15, 2009

I was worried that I would not have a loss this week because of an earlier in the week look at the scale and the fact that last Saturday I ate pretty bad but this morning I was pleasantly surprised. I will get right to it, I stepped onto the scale and it said 338.2 pounds, that's a 3 pound loss for the week and I am more than happy with that three pounds. 196 total pounds lost since Jan 2008 and a mere 4 pounds separates me from being able to say that I have lost 200 pounds, maybe I will actually get there by next Friday, maybe not, either way when I think back to day one (which is as clear as yesterday) I can remember how I felt that I was starting in on another attempt to lose weight that was bound to fail and here I am 4 pounds away from having lost 200 pounds, here are the Friday photos for your viewing pleasure.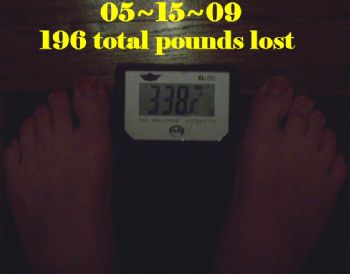 No flash in a dim room but there it is! 338.2 pounds!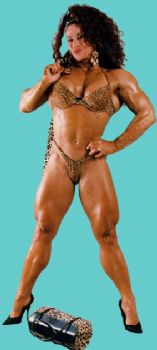 This is Laura Vukov and she weighs 196 pounds, I lost a whole her!

Over all I am feeling good about what I have accomplished but then who wouldn't feel good after losing close to 200 pounds? It is a bitter sweet feeling if I am being honest, on the one hand I have just lightened my body by just about 200 pounds and have been living healthy for about 17 months, more than likely I have added years to my life and I feel awesome! on the other side of the fence is the years gone that cannot be gotten back, 200 pounds ago I was unhappy and how many years have I wasted by allowing myself to get to that size? I mean its awesome that I have lost this much but at the same time is that really a title someone should try to attain? "the guy that lost 200 pounds" (do not think for a second that I dwell on this, it is merely a thought in the many that enter my head daily) The fact that I have lost this amount with nothing more than determination is the awesome part to me, I did not use any miracle diet plan or pills, I did not have to buy into a plan that offers pre made meals, and I did not buy any books or cards that tell me how much to eat and when, and the best part is that I did this without surgery.

The reason that I started doing this the way that I did was because I feared for my life, I was honestly afraid that I would walk down the street and bamn! dead from a heart attack. Imagine living a life where you honestly thought that any day could be the day, just from walking up stairs to go to bed, or carrying something heavy up stairs for your wife could kill you because of the strain that was on your heart, hell, just walking up the stairs I was carrying something heavy! Myself! Now imagine that you were responsible for that condition only because you could not control how much and what kinds of food you were eating, imagine.

I do understand that losing weight is much more difficult than anyone that has never struggled with it knows but at the end of the day we are responsible for what we choose to eat, we are the one responsible for whether we do some exercise or not, I am responsible for my actions and you yours, everything else is an excuse. I have heard people say things like "but I can only walk 5 minutes before I cannot walk any more" ok, then walk for 5 minutes per day until you can walk 6, so on and so on. When I started off I could barely walk a 1/3 of a mile trot around the block and that was at a 2 year olds pace! now I walk just under 2 miles 5-6 times per week and can walk more than 3 miles straight without feeling anything but relaxed. "but I can't afford a gym" I have never belonged to a gym in my entire life, which may explain a few things! but my point is that its not needed, body weight exercises, walking, yard work, anything can count as exercise when you are as big as I was! "I have a limited budget and cannot afford to shop the way I need to in order to lose weight" as my Grandfather use to say "awe horse puckey" I am by no means well off, in fact I am a stay at home dad so we live off of one income currently and let me tell ya with 2 kids and one of them special needs I do not have money to burn! smart shopping along with bulk shopping will do the trick every time, give it a shot.

I will get on down off of my soap box for now because I want to get out there and get a walk in this morning, 3 pounds down and that much closer to that 200 pound lost mark and I am feeling pretty good this morning. Anyone reading this for the first time, know that it is possible to lose the weight and live healthy with a little determination and discipline, toss in a bit of smart shopping, exercise and recipe planning and well, ya get what we got right here!

Thanks for following along and thank you all for the support that you leave me daily.

As Ever
Me





Thursday, May 14, 2009

Yesterdays calories came in at 1685 total and though pretty balanced I think there is something amiss this week, I drank 1 gallon of green tea and another gallon of straight H2O throughout the day. I did zero exercise on Wednesday, not even a short walk, I tend to like to have at least one day off per week where exercise goes just to sort of recoup (not that my workouts have been intense lately) but all the same that day off is nice once in a while, here is a look at yesterdays
menu.

05/13/09

Breakfast
8:00 AM
2 cups honey combs 220
1 cup 1% milk 110

11:00 AM
1 banana 105

Lunch
12:00 PM
1 lavish bread 100
3 hebrew national hot dogs 120
1 wedge laughing cow 35

3:00 PM
2 small oranges 120

Dinner
7:00 PM
9oz grilled chicken 450
6oz broccoli 60
2 slices wheat bread 120
smart balance 25

9:00 PM
2 small oranges 120
2oz grilled chicken 100

I said that something is amiss this week and what I mean is that I have done everything right besides a HUGE not so good nutritionally meal on Saturday and yet the scale is not cooperating with me. I think at least partially to blame is the 8 pound drop last week, though I came down 3 pounds below my lowest weight last week it was an 8 pound loss for the week and I think that the large drop has slowed things down this week as the trend has been a small drop after a large one since I have started this weight loss regimen. Looking at my menus for the week another thing that I have noticed is that my sodium is way up this week and I can't help but to think that has a hand in the slow dropping numbers over the past few days but with 2 gallons of fluid per day you would think that it would not be a factor, I fully expect to break even this week with the poundage and I am ok with that, its just odd that the weight has not budged at all.

Tomorrow when I weigh in I am not expecting to be below the 341 pounds that last Friday produced, if I am it will be a bonus to what I am expecting. this week I am going to actively watch my sodium closer to see if it is playing a part in this slow week because throughout this weight loss process the weeks that I have done everything correct I always saw a result no matter how small and the weeks that I had no losses I had a good idea why. The scale may surprise me in the morning and record a loss and that would be optimal and I do hope that is the case, we shall see in the morning.

Over all everything is going well and I have started doing more strength training again in the form of push ups and dumb bell exercises. I don't know if its the power of suggestion or just my muscles remembering what to do when pushed but I feel stronger and I have only been doing the ST for 2 weeks now. Whatever the scale says will be what I have to take because it is what it is and either way I am stronger mentally as well as physically for all that I have done this week and that's what makes the weight loss possible. Being mentally prepared for losing weight is more important than anything else related to the subject because if a person is unable to sustain a consistent positive state of mind, failure is right around the corner.

I am prepared to go the distance and see this weight loss through to the end, here's to tomorrow.

As Ever
Me





Wednesday, May 13, 2009

Tuesdays intake went ok if a bit high, I consumed 1725 calories says my excel sheet but I did have a couple mini pretzels as I walked past an open bag on the table which are not on that sheet so only slightly more than that, not bad either way. The green tea was flowing with slightly more than a gallon of that going down the hatch along with a gallon of water and I am planning on drinking the same amount today. Yesterday I went for a walk earlier than normal because it was suppose to rain and about 1/3 of a mile into my walk it started drizzling but I kept going but I did pick my daughter up on my shoulders, so for the rest of the walk (about another mile) I had a 40 pound little girl up on my shoulders and to my surprise it was not at all a burden to have her up there, in fact I felt pretty good considering it was drizzling on me and I was up 40 pounds! on the way back we decided to walk down to the waters edge and when we got there we saw a swarm of little flies or something just above the water and there was fish everywhere! back to the house we went to grab a fishing pole and if I cast the line into the water 15 times we caught something or had a bite EVERY one of those times, we caught 7 sunfish and a small bass on my daughters Disney fishing pole so the decision to walk when I did turned out nice, and just in time because it started thundering and raining almost immediately after we got back in the house. Have a look at yesterdays menu, and as you can see compared to Mondays menu I am a creature of habit.

05/12/09

Breakfast
8:15 PM
2 multigrain english muffins 200
2 wedges laughing cow cheese 70
1 serving turkey pepperoni 70
sliced tomato 15

Lunch
12:45 PM
1 lavish bread 100
4 hebrew national hot dogs 160
1 wedge laughing cow 35

2:45 PM
1 scoop whey protein 130
1 cup 1% milk 110
1 banana 105

Dinner
6:00 PM
6oz roasted chicken 360
3/4 cup white rice 150
1/2 cup black beans 100

7:00 PM
2 small oranges 120

Grand total of 1725 calories plus whatever 4-6 mini pretzels comes to, not so bad and I know that I was hydrated enough so I am doing my part. Making these changes in my life has been the best thing to happen to me since my daughter was born just about 4 years ago, in fact she is a part of why the decision was made. Funny how the inability to walk more than 200 feet from my front door wasn't enough, or that sack of Del taco that I was bringing home after work every night, not to mention the 3 cheese burgers that I would eat BEFORE I got home so that wify would not see me eat them did not scream to me that there was a problem. Right now it is so clear that there were signs and what those signs were that I cannot believe that it was me doing some of the things that I was doing.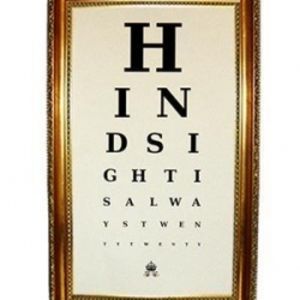 It was almost like I needed a warm up meal before I ate my already too large supersized double heart attack burger and grease fries with a ginormous tub of sugar laced fluid, going to Jack in the box? yep I will have 4 of your 2 for 2 tacos to go with my meal please do you have a trough that I could eat out of to go with that? Wendy's? sure thing, drop a couple of those Jr. bacon cheese burgers in there to warm me up to my triple cheese burger meal after all they ARE Jr. sized right?, McNasty? hey pimple faced high school kid can ya toss a couple few cheese burgers in that bag to go with my supersized stroke in a shiny yellow wrapper? and the list goes on and on and on. I had a prerequisite starter meal to go with every meal that I would eat at a fast food drive through window and if I had my way I would eat it before I got home if I was alone and if wify was with me I would say "what? I am hungry leave me alone about it" thinking about eating that way honestly right now floors me and I cannot believe that was me not so long ago.

In just under 17 months I have completely changed the way I live where my health is concerned, I have come from a person that didn't realize how unhappy he was at 534 pounds to a fella that appreciates every minute that he has to spend on his own terms at 340 pounds.

As Ever
Me





Tuesday, May 12, 2009

Monday went as planned where diet and exercise were concerned, I ate a total of 1650 calories which included my whey protein so calories were pretty much right on the button, I drank 1 gallon of green tea and more than a half of a gallon of straight H2O and for exercise I took my daughter on a 1.8 mile walk (her in the stroller) in the afternoon as it was a pretty nice day yesterday, Have a look at the menu from Monday.

05/12/09

Breakfast
8:15 AM
2 multigrain english muffins 200
2 wedges laughing cow cheese 70
1 serving turkey pepperoni 70
sliced tomato 15

Lunch
12:00 PM
1 lavish bread 100
3 hebrew national hot dogs 120
1 wedge laughing cow 35

3:15 PM
1 scoop whey protein 130
1 cup 1% milk 110

Dinner
6:15 PM
8oz roasted chicken breast 400
3/4 cup white rice 150
1 cup green beans 40
pueblo pepper sauce 30

8:15 PM
18oz watermelon 180

Walking has quickly become my relax time, I get to have no particular place to go and many times its just me myself and I having a conversation with ourselves as the thoughts just randomly jump from subject to subject. I am lucky enough to live where I live and walking around the lake really does make getting out and exercising easy, in fact it does not feel like exercise at all most times, maybe its just because I have a nice place to walk or maybe its because I for so long was trapped inside a 534 pound body and limited to what and where I could go so now that weight is not such a factor I can appreciate the simplicity of a walk.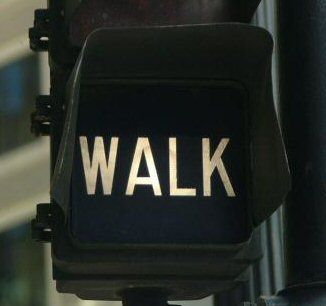 Which brings me to my next point, hiking, I have not hiked yet this year and it is about time that I go out and get hiking! the difference this year is that wify has agreed to join me and has even suggested that we come up with a way to do "date hikes" imagine that, a hike being someones idea of a date. I think the idea of calling a hike a date is an awesome idea and I see it this way, a date is suppose to be something fun, something that is enjoyed by both people, time spent together doing something that bonds the two or brings them closer through a common interest so actually hiking should be on everyone's list of things to do for a date! I am really looking forward to getting out there with wify and just wandering around through some trails in the near future.

This week has been good so far besides Saturdays picnic at my mother in laws and I am hoping for a loss come Friday, The man in the plastic magic box said it would rain this afternoon so I am going to end this post here so that I can get out for a walk this morning before it starts. Don't forget to get that H2O into your day and thanks for following along with me as I change my life as well as those around me all for the better.

As Ever
Me



First Page
1
2
3
4
5
6
7
8
9
10
11
12
13
14
15
16
17
18
19
20
21
22
23
24
25
26
27
28
29
30
31
32
33
34
35
36
37
38
39
40
41
42
43
44
45
46
47
48
49
50
51
52
53
54
55
56
57
58
59
60
61
62
63
64
65
66
67
68
69
70
71
72
73
74
75
76 77 78 79 80 81 82 83 84 85 86 87 88 89 90 91 92 93 94 95 96 97 98 99 100 101 102 103 104 105 106 107 108 109 110 111 112 113 114 115 116 117 118 119 120 121 122 123 124 125 126 127 128 129 130 131 132 Last Page

Get An Email Alert Each Time BOTZZZ Posts