| | |
| --- | --- |
| | BOTZZZ's Recent Blog Entries |


Monday, August 08, 2011

A flawless weekend where my intake was concerned and got out for a 20 mile ride on Saturday, my weight is down a good amount and things are feeling "normal" again. My normal once upon a three years ago was completely different than what I consider my normal now so getting back to it is definitely a good thing! Almost as if a light switch was clicked into the up position I am back to weighing and measuring things that go into my body, I decided that I need to focus on what I need to do in order to get my health in line and the rest will hopefully follow suit.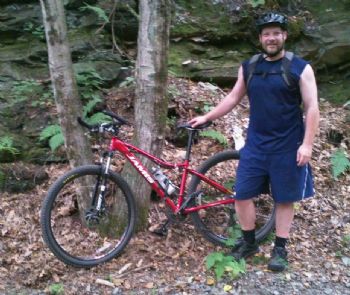 Just Ed and his new Jamis Exile 1.

My riding has gotten easier the last few weeks as well, I ride the same 20 mile section of trail each week sometimes changing it up a bit but its mostly the same area. The last three weeks after our weekend ride I feel like I can do another 10 miles with ease.. ok maybe not with ease but I know that I could do it and its not been the case until about 3 rides ago. The way I see it is that if my weight keeps coming down back to where it was and beyond that the rides will just get easier and that is a good thing! Getting stronger while getting lighter is a formula for better rides so that's what I am going to do as last year I was riding easier than this year and I would like to get back to that level. I have mentioned that I have a riding buddy now and we snapped a couple few photos during one of our stops this Saturday but the images of me came out blurry, I suspect that sweaty Ed touched the lens of the camera so all ya get is the shot of him and his new Jamis this time around.

Aiming for 1700 calories per day is where I am at but on "bike ride" days I allow myself an extra 200 calories for the Zone bar that I eat at the half way point of my rides. I have been doing good with the intake with lots of fruits going in which is very easy this time of year as everything is in season! Yesterdays fruits included 2 plums, an apricot, a peach and a banana which were all very good and sweet, then trying to keep the carby stuff for the earlier part of the day is part of the plan as well so over all I am doing well on the intake.

Focusing on me again is trying, its hard to focus on something that does not take up most of your thinking time but I have to do it because like I said, without my health everything else will surely fall apart that much faster.

Until next time...

As Ever
Me





Friday, August 05, 2011
So, the little animal... er baby has fallen blissfully to sleep and I had a moment so I thought it was a good time to pop a post up here, yes yes, I could be exercising instead and that I did! I did a push up routine along with some stretches and for now that's what its going to be. Life lately has not been peaches and cream but that doesn't mean that there aren't high points! and with that thought lets us focus on my bicycling for a moment.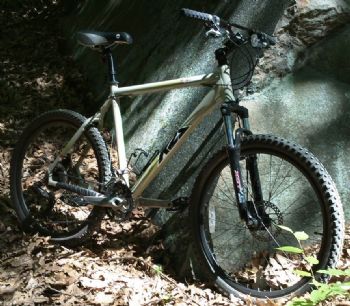 A quick stop from last Sundays ride I took a shot of ye olde steed leaning on a rock with her new handlebars/grips installed.

Last year I was riding a just under 20 mile section of a local rail trail and not feeling it besides for the immediate hour after the ride and that stamina deteriorated over a long winter. I started riding again more regular like when the weather warmed up but couldn't really get back to that pre winter oooomph that I had, that is until the last two weeks in the saddle. The week before last we went out for our Sunday ride and by the end of the ride I felt like I could have kept going, it would appear that the stamina has returned? after one week? nope not gonna believe it. This past Sunday we left on the same ride, same bat time same bat channel and waddya know? same deal, felt awesome after the ride so if this weeks ride goes as well I am going to declare that I am back stamina wise on the bike.

In other news wify asked me to start wearing protection a while back...no no pervert get your mind out of the gutter she meant a helmet, and though I wasn't against the idea it just wasn't on the top of the list for me. I happened into a local Eastern mountain sports a couple weeks ago and meandered on over to the helmet section where I saw more than a couple brands and designs to consider so I popped a few onto my bald melon to see how fitment was. Now the fella that I ride with on the weekend has a Giro branded helmet, it seems nice and he said that it worked for what it was suppose to all while being fairly comfy so onto Giro brand brain buckets I went. Finding a Giro Xar on the shelf I placed it onto my cranium and it felt like I was wearing a ball cap, maybe even less bothersome than a ball cap but the price was $130 and I was meh on that. I tried on a couple few more but kept coming back to the Xar because if I am buying a helmet its gotta be comfy or I will just strap it to my back pack and not wear it, I left the store.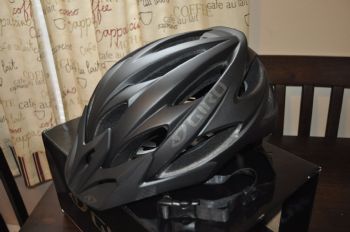 My new brain protection unit, I give to you the Giro Xar.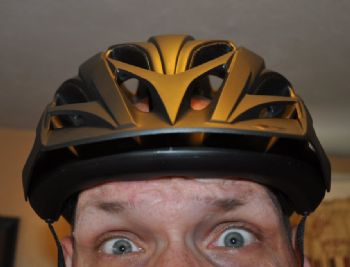 I was extremely surprised when my wife asked me to start using protection after so long as you can see in my expression.


Talking to wify about the choices that I found and the fact that this Xar for $130 was perfect but I did not want to spend that much on a helmet her response was "go back in and get it, I don't care what it costs if you'll wear it its worth it" I told her I wanted to research it first. I got home and couldn't find a bad review online so I started looking around online for a better price since I now knew what size fit and that it was in fact a comfortable fit, not one of the one size fits all helmets that never seem to feel right on my head. I pull up ebay and Viola! found one for almost $40 less than at EMS so using buy it now the helmet was here 2 days later, I haven't had a chance to ride with it yet but it is all adjusted and this weekend I shall give its first test ride.

I need to start gettin down like I know how to again, not because I want to and not because of anything other than I NEED to, I worked more than extremely hard to drop the weight that I have thus far and life is not what it was at 534 pounds. I have to try my best to stay in line and Yoda once said "Do or do not, there is no try", fortunately for me Yoda is just a puppet and I do not hold his words very close to my heart. Try is all anyone can do, we will all slip and fall from time to time and we are not a single one of us perfect and all as human as the next guy or gal, the way I see it is as long as we get back up and keep going we will not have failed.

stick that in your pipe and smoke it Yoda...

That's all I got for now, keep on keepin on and all that.

There is another post posted from last night but since spark censors me for saying $hit it didn't get posted here, feel free to check that one out on my blogspot if you are interested zeusmeatball.blogspot.com/

As Ever
Me





Thursday, June 23, 2011
So where were we? that's right I was a fat guy losing weight, a Dad taking care of the small herd of children that have amassed in my house and someone that was putting it all out there for the world to see in the name of accountability via this blog. I am not limited to any of those titles but as far as whats on the surface those are up there, I have over the last few years dropped more than 200 pounds and kept most of it off for the entire time BUT I am going to admit something that I was none too happy nor proud of. In April I began to notice that some of my clothes were snugging up...ok lets just call it what it was, $hit stopped fitting and I hadn't been on the scale in quite some time so it was in fact the right time for a reality check. On April 28th I decided to see what I weighed, the dim blue light lit the dark kitchen as a zero flashed across the display signaling that she was indeed ready to ruin my evening. My feet made contact with the cool unforgiving black plastic that makes up the platform of my scale as the digital dots danced around in a circle where she would stop nobody knows and bamn! 370.4 flashed onto the display.... what the $hit?!

I had not seen a number that high since October of 2008! which was 10 months into my weight loss, to say that I was and am disappointed in myself is an understatement, the word failure comes to mind. There is a lot that goes on in my life which does not make the blog, some of those things keep me from making me the most important thing in my life and it is what it is, with that said I do need to keep an eye on myself and my health. That night I got Pissed, upset, and as I mentioned disappointed with myself, so I decided that enough of the bull$hit and doing what I need to do must be a big part of my life and must remain a big part and since that day I have been on point with my intake. In the beginning of April a 10 mile ride just about killed my legs and ass, I am happy to say that I am back up to 25 mile trail rides on my newly upgraded with a new and improved bottom bracket and crankset bicycle. My calories are as I said on point while getting in loads of veggies and whole foods, oh I have also dropped 31...yes Thirty one pounds in the last 56 days aka since that night when I stepped on the scale.

Learning to balance all that life has to throw at us with the hardest thing that I have had to face all at the same time is just a part of the game that needs to be dealt with, making an excuse is just that an excuse...to fail. Sure I have a $hit ton of other fires burning that need attention but without handling the fire that is me the rest will burn out of control without me here planted with my feet on this planet. Finding time to do what I do is a priority, there will be times when it slips, there will be times when a workout is just not a possibility but if I let myself to slip back into the abyss that was my life at 534 pounds I will have let every single person in my life down including myself and that I will not allow.

Oh yeah...and those shirts that were snug? yep they fit again..

I am making every effort to get posting more regular like but time is at a premium these days, so don't be shy, drop a comment I am not so proud to not admit they help...

As Ever
Me

Join me on Facebook
www.facebook.com/people/Zeusmeatball
-Zm/100000803315795

Or on my blog
zeusmeatball.com/ zeusmeatball.blogspot.com





Tuesday, June 07, 2011

A little more than a year ago I picked up a little project that I have been playing around with when I have time in the way of a 1988 Specialized Rockhopper Comp. It is kind of the bike that started me in on my "Buy fix sell at a profit" thing that I do from time to time with bicycles but there is something about this one that I liked so I could never bring myself to sell it. The frame is an 18 inch and I can ride comfortably on a 19 to 21 inch frame depending on the bike so it is a tad small but with the stem up as high as it can go and the seat is up almost as high as it can go I can ride the bike comfortably. Whats your point Mister Meatball? I'm gettin' there, I'm gettin' there, Last weekend I grenaded the bottom bracket on my K2 AKA my main bike and I ordered a new BB/Crankset but the catch is that it will not be here until Monday the 13th and there ain't no way I'm going to not ride until I get the BB and get it installed. I suppose a 300 plus pound fellow Hammerin' on a bike for the past two years warrants the equipment failure, especially as it appears that the BB that was on the bike when I bought it was not of the highest quality so onto an upgrade it is.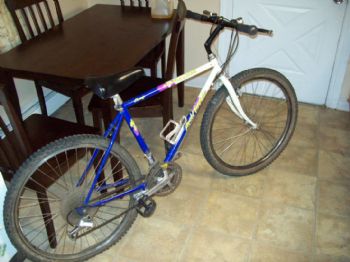 Here is the Rockhopper the day I brought it home mangled and forgotten.... until that day.

So I looked to the Rockhopper with soulful eyes and requested its help, it looked at me as if to say that there were some conditions to this arrangement and I listened. I did an initial clean up and rust scrubbing a while back and got the bike looking decent but never finished the job to a point where I would call the bike perfectly ride-able. This time around she ended up with a new pair of shoes even if they are only 26 x 1.95 instead of the 26 x 2.2 that I normally like, some Brandy spankin' new grips and I cannibalized a seat and post from an old Trek that I have just sitting there doing nothing in particular. I figured that since She was getting a make over and going into temporary service I may as well pull out some touch up paint and hit the spots that were chipped up. Since the bike was going to be in service for a bit I may as well give it a proper tune up while I was at it right? so that I did, out came the tri flow and the tool bag and 15 minutes later she was right as rain.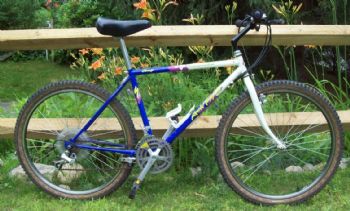 This is what it looked like after my first go at it to get the heavy rust and grime off.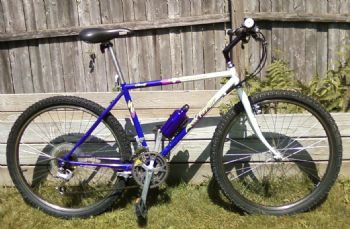 New grips, new/old tires, cannibalized seat and post, changed out the bottle cage, touch up paint and a tune up this is as she sits right now, sorry for the cell pic.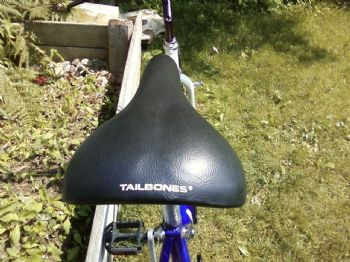 New/old seat, its pretty comfy I do have to admit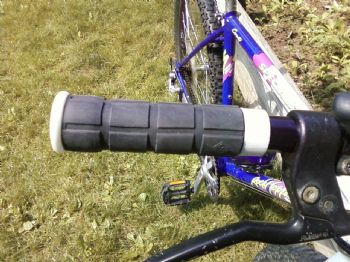 New grips, no more styrofoam these are knock off Oury grips I think, Origin 8 is the brand, knock off or not they are comfortable and very grippy.

After the tune up I took the bike for a quick ride around the lake and I have to admit it rides really nice for a 23 year old bike that a novice like myself had a whack at fixing up, I like it. It is a tad too small like I mentioned but it is honestly comfortable enough that I believe I can make a 20 mile ride without issue on my body and plan on testing that theory out on the weekend! I have exactly $22 into this bike and some of my time and am very pleased with how it has come out so far, I may just keep going with it and make it "nice" I think right now as it sits it looks pretty cool and is a good solid road ready Vintage mountain bike, not bad for $22!

The K2 will be fixed sometime next week after I take possession of the new crankset and the repair is not exactly a surprise. I knew the BB was going because of a noise it has been making and I am looking at it as a chance to upgrade something rather than "damn I have to fix my bike", gotta look on the bright side sometimes. If the Specialized ends up being a good rider on longer rides for me I will very likely upgrade the pedals to a set of Odyssey Trail Mix pedals like I have on the K2 but otherwise I like the fact that this old bike is what it is, an old, well used vintage mountain bike that is still bringing enjoyment to someone riding down a trail on it and won't change too much more.

I have been more than busy with the new addition to the Fam and trying to stay on my bike as much as possible (I almost have my 2010 legs back) but am trying to get back to daily blogs again, I promise! Putting my time where it is needed most is what I am doing and I love writing this blog but it is just not possible for me to find enough time in every day to get here and post up my thoughts. I am on track with my calories, I am riding my bike LOTS! and I am in fact down 26 pounds from where I was just a tad over a month ago so trust that I am doin' what I do where my health is concerned.

Until next time..

That's all I got for tonight...

As Ever
Me





Tuesday, May 24, 2011

Well well well...Look who just walked through the door.

My life is how do I say? hectic lately hence the lack of attention to this very blog but in an attempt to, and I will put this bluntly, get my $hit together again Making time to post more often is back on the card. This winter was not good to my waist line and with the new addition among some other things I just haven't had the time to sit down and dedicate time to writing posts here, but fear not my good people! I am here, healthy and kicking. My last post was on April 13th and I had gone on a 10 mile ass molesting ride on the local rails to trails, unsure how I let myself get down to a 10 mile ride kicking my ass like that I kept riding and you will be happy to hear that I am back to a 20 mile ride without too much fuss again.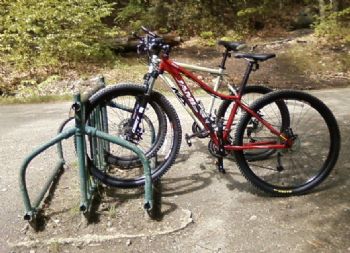 Random shot of our bikes at a stop on the trail from Sundays ride.

Mister inspiration got a reality check recently, I was doing some yard work and hiding in the pachysandra was some poison ivy and anyone that knows me knows that me and poison ivy do not get along at all. Two days later my arm was itchy and puss filled so off to the doctor I went and he asked "How's everything?" to which I responded "Great besides having this poison ivy all over my body"I got a smile and then the reality check, my doc replied with "That and the 40 pounds that you put on since I seen you last" FUVK! Forty pounds? Gained?? Ok I more than definitely have to get back to where I was because 40 pounds ain't no drop in the bucket! so Its on....

Since that doc visit I am down 24 pounds and have been riding my bike on the trails again, my intake has not been higher than 1700 calories per day since that day and I am eating very cleanly. There is no way am I going backwards because being on the other side of the equation sucks ass like nothing else that I know and I won't allow it back into my life. When I started this blog I started it on the terms that I would be honest with myself and put myself out there good bad or ugly and the fact is that this blog helps me to stay on track more than I know or want to admit so I will do my best to get posts up here again while the new addition naps. Finding myself home again and somewhat limited to what I can do during the day hours after basically having the freedom to take a ride or hit the gym whenever I needed/wanted to is a challenge but I've worked with less and got more in the past so its going to boil down to how bad I want it.

I refuse to make excuses, it is what it is and I'm just a Dad, fat guy, Husband or whatever you want to call me trying to get more fit. Getting back to posting is phase two in my plan to get my Juju back, getting back to basics with my weighing and measuring the intake has been reinstated, biking has been reinstated and my calisthenics routine has been making appearances in my each and every once again so the sky is the limit.

Look for posts to come more frequently again as the plan is the plan again, That's all I got for today.....

"Failure is not falling down but refusing to get back up"

As Ever
Me

Join me on Facebook
www.facebook.com/people/Zeusmeatball
-Zm/100000803315795

Or on my blog
zeusmeatball.com/ zeusmeatball.blogspot.com



First Page
1
2
3
4
5
6
7
8
9
10 11 12 13 14 15 16 17 18 19 20 21 22 23 24 25 26 27 28 29 30 31 32 33 34 35 36 37 38 39 40 41 42 43 44 45 46 47 48 49 50 51 52 53 54 55 56 57 58 59 60 61 62 63 64 65 66 67 68 69 70 71 72 73 74 75 76 77 78 79 80 81 82 83 84 85 86 87 88 89 90 91 92 93 94 95 96 97 98 99 100 101 102 103 104 105 106 107 108 109 110 111 112 113 114 115 116 117 118 119 120 121 122 123 124 125 126 127 128 129 130 131 132 Last Page

Get An Email Alert Each Time BOTZZZ Posts