| | |
| --- | --- |
| | BOSSYBELLY's Recent Blog Entries |


Sunday, December 23, 2012
Bruh bruhs,

The winter break has brought out the night owl in me. Since I donít have to work tomorrow morning, I thought seriously about attending yet another event tonight. (That makes five nights! Thatís like a workweek of being ďin those streetsĒ as mama likes to say.)

Instead, I have decided to sit in my bed with a cup of soup, a turkey sandwich, and the World Wide Web.

(I normally post everything here on Sparkpeople, but I have a lot of links that look crazy here so please visit the Wordpress version.)

See you there! bossybelly.wordpress.com/




Thursday, December 20, 2012
It has been politely suggested that I try a torso shaper. Thanks. But now I think that youíre trying to kill me.

I have seen them, and already I shiver in fright. I am not trying these without some more guidance. Now, I must admit I like my Spanx, but sometimes they are not enough. Are there such things as Flogx?

First of all, why do catalogs always show skinny people modeling body shapers? I want to see a true before and after. I donít want to see someone who canít pinch half an inch become perfected. I want to see someone who has lady lumps in unlady like places. Iím talking four breasts because only half of them fit in the bra. I want to see a body shaper on her.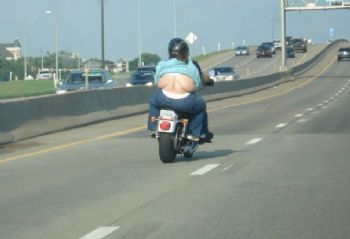 Secondly, I want to make sure that these body shapers donít dig into my flesh like chastity belts. Iím quite chaste enough. I donít need to be chafed too. Seriously, I have worn knee highs that left me with scars. Sometimes the elastic of underclothes can take its job too seriously. I want my fat rolls to be roped in. I donít want to be left with rope burns.

Apparently, there is a store in my city that specializes in hard to fit shape wear and underclothes. Iíd like to visit them soon to see what they can suggest.

Until then, Iím happy to breathe without being kidney punched by a modern day corset. And until you tell me otherwise, Iíll think that all torso shapers are just bear hugs in disguise.

Waiting without bated breath,

Bossy






Monday, December 17, 2012
Today I have discovered Fashion bloggers. Iím not going to say anything about any of them yet because I donít know internet blogging etiquette . . .

OK. I lied. I just came across Fatshopaholic. That lady is the business. I would like to marry her blog and let our hypothetical, chubby, ultraliterate progeny take over the blogosphere.
Alas, Computer Love is only a song. Sigh.

Well, Iím looking for information on plus size bloggers because I need help. Iíve said it, and I will say it againóThe Gutstapo is out to get me. My stomach runs my life. Today, I tried on a size 24 dress. Breasts? Check. Hips? Check. Gut? Heck no. The evil was trying to pour out through my waist. I looked like a scene from Constantine.

So, Iím seeking some information about how to dress with a gut. Iím working to accept myself exactly as I am right now. That means I want to be my best today, whether I have a flat or fat stomach. I still have to wear clothes, and Iíd like to look and feel good in whatever I wear.

Wish me luck,
Bossy






Wednesday, December 12, 2012
This will be short and sweet, like my encounters with Krispy Kreme donuts.

Listen, I eat too much. You know it. I know it.

Somebody stop me.

Today I ate two paltry meals at home. I ate breakfast, a milkshake, and a meal in my car. I also ate one meal at work, and one meal at a restaurant. I would like to say that Iím just really healthy and Iím trying to rev my metabolism with mini-meals. That would be a lie. Iím just enjoying too many meals each day.

Honestly, Iím not even enjoying them. I keep thinking about rats pressing the same button in order to get a past emotion. I keep pressing this button and nothing is working. When I eat certain foods, I donít feel full. I just feel like I need to eat more of them.

At least I am done eating for the night.

Sweet dreams (Yum),
Bossy






Friday, December 07, 2012

Well, $241.00 actually. That is the approximate dollar amount that I spent on food Ė this week.
I guarantee you Ė I ainít got it like that. I donít even want it like that, but between eating out at King, Donald, Bell, Kentucky, or anyone elseís kitchen over my own, Iím stuck.

Granted, I did spend about $100 on groceries. I saw a show once that suggested that people who eat a lot of fast food could benefit from buying frozen dinners. The meals are still convenient, but healthier.

That might have worked if my stomach werenít always in Man vs. Food mode. If I see, smell, or sense anything edible and succulent, I want it in the worst wayó like Rihanna and Chris Brown duet chanting birthday cake. (For the record, as a former fat kid and current fat adult I donít ever crave cake. Contrary to what Fifty Cent would have you believe, I would rather eat macaroni and cheese.)

So, when I bought the weekís worth of frozen meals, I told myself that I would also eat vegetables at lunch and dinner to complement my entrees. However, when it was time to eat, I just ate double entrees instead. Hence, the gaping hollow inside of my freezer shelves, wallet, and waistband buttonhole.

Plus, my lovely family wanted pizza with cheese . . . that I ate, along with cheddar and sour cream chips. What a difference a day makes! Take that Essylstyns!

I donít cry over spilt milk. I curdle and eat it melted or dried over golden waves of potatoes and grains.

Love you like a fat kid loves dairy,
Bossy

Post Namesake: http://www.mtv.com/videos/misc/173418/240-
dollars-worth-of-pudding.jhtml



1 2 3 4 5 6 Last Page

Get An Email Alert Each Time BOSSYBELLY Posts