| | |
| --- | --- |
| | BOBCATGIRL76's Recent Blog Entries |


Wednesday, December 11, 2013
Acceptable.

The word may almost sound like an insult, but yesterday, that word brightened my whole day.

You see, a few months ago, I wrote a blog about having to do a health assessment to get a deduction on my health insurance. And stepping on the scale at 180, I was told I was 38% body fat. And that number hit me like a ton of bricks.

On this journey, I've tried not to make it about numbers on the scale, or clothes sizes. I really am doing this for my health and my future as a wife and mother. However, after losing nearly 100 pounds, being told that day that I was still 38% body fat and obese really upset me.

So I decided to get a second opinion. Luckily, on my campus, they have a thing called a Bodpod. It's one of those egg things you sit in and it is a much more exact judge of body fat. It's said to be close to water weighing, which they do on TV show like the Biggest Loser. But this one only cost me $20 to do.

During the test, I wasn't really thinking and forgot to snap a pic of me in the swim cap and sports bra, but I headed back after work and told them I write a blog and they snapped this pic for me.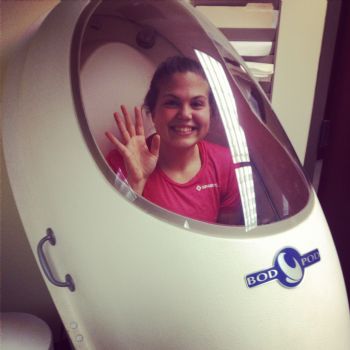 It is definitely not for the claustrophobic. Also, please notice I'm wearing my Sparkpeople workout shirt... :)

Well, I was trying to guess what the test results would say. The scale that put me at 38% has about a 6% error rate, so even if it was way off, I was just hoping for low 30s.

Well, I got my results back and a smile just spread across my face. If the man who did the test for me hadn't been standing there, I may have cried.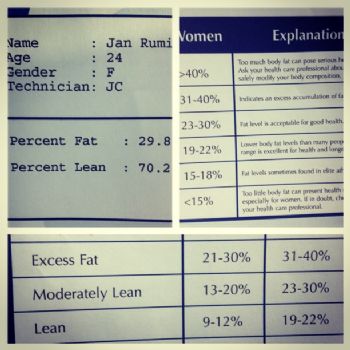 You probably can't read that, but it said that I was 29.8% body fat. And on the chart 23-30% falls into Moderately Lean category for women, which states that my "fat level is acceptable for good health."

Meaning, I could logically stop right now, and still be considered healthy! I may look larger than what some people consider healthy, but I'm apparently 125.4 pounds of "Lean Weight." So if I set a goal of 125, I would literally be skin and bones. I've always used the big bone phrase and said that I thought I was muscular, but in the back of my mind, they seemed like excuses.

But now I know they aren't. Now I know that in 2 years, I went from morbidly obese to moderately lean, and from serious health risks to acceptable for good health. And that has just renewed my desire to keep improving myself.

I think I want to start strength training because I've focused so much on losing weight due to numbers, but now that I realize I'm healthy, I think my focus should be to lose fat weight and gain lean weight. So I'm going to start researching beginner's weightlifting for women. Any suggestions would be greatly appreciated. I'm healthy! Now I want to be fit and strong.







Monday, December 09, 2013
So I won a contest and got a $200 Apple Gift Card and decided to get an iPad Mini. I obviously got the SparkPeople App, but any fun apps, games or otherwise I should check out?

Not much going on life wise. Work continues to be stressful. My assistant's contract ends December 31, and the plan was to have a new job posting listed in December so we'd have someone hired and ready to work by January 6, but that position hasn't even been posted. So I feel a bit on the edge of the brink, and am worried about when I come back from break and no longer have help and will have to do all my work alone. Plus, I'm not sure when the position will be posted so that could mean months without an assistant. I think I'll manage, but I'm already stressed so I'm just hoping it will all work out.

Last week wasn't a great week for me workout wise, but I stayed relatively on track with food and managed to lose 1.6 of the pounds I gained over Thanksgiving. I'm in a bit of a funk. I think it's a combination of the cold weather as well as JD being gone, that I just don't feel like doing anything. I know I should, but he's such a good motivator and when he's home in Dayton, I'd rather just catch up on my laundry, and sleep. Maybe the seasons affect me too.

Who knows. At least I'm still headed in the right direction. I had hopes of hitting 170 by New Year's but that is a bit of a stretch now, so let's just focus on feeling good and destressing. Maybe I'll try some YouTube Yoga videos.

Love you Sparkfriends!






Tuesday, December 03, 2013
Two years with Sparkpeople.

Wow.

To think I started this journey two years ago, with very little faith in what I was capable of, only to be where I'm at now is just overwhelming.

If I've learned anything through this process, it is that progress, no matter how slow, is still progress. Yes, I lost 90 pounds my first year with SparkPeople and only 10 new pounds in my second year. But the point is that I didn't give up or go back to my old ways.

In my first year, I developed eating and exercise habits that I think I'll keep with me the rest of my life.

As I start my third year on this weight loss journey, I still have about 30 pounds I'd like to lose, and seeing how my second year went, I know that I will need to stay more focused and continue to track my food. I think the wedding next November will be a huge motivator to stay on track, but also, I realize I could already be at goal if I had stuck closer to my plan in my second year.

But life happens. My grandma died last December, I was stressed out with Graduation, I started a new job.

And I don't look at these as excuses. Just things that took my focus off my health momentarily, so that I stayed in a 10-20 pound range from 180-200 for almost an entire year.

But that also let's me know that I can be successful at maintenance. Because during that time, I wasn't really tracking much, just was more aware of my eating habits than I had been in the past because of the knowledge that SparkPeople has provided me.

I guess what this rambling blog is getting at is, two years down, and many more to go. I think that SparkPeople will always be a part of my life, because it has helped me become the person I always knew I could be.

So here's to year 3!






Friday, November 29, 2013
I thought about writing this blog on Monday night, but I wanted to wait until I had the time to sit down and really think about what I was saying before I did. You see, Monday, I planned on skipping the gym because I couldn't find my tennis shoes or gym bag. But when JD texted me that afternoon asking me if I was working out, and I told him that, he searched our house, found my shoes and bag, packed me work out clothes and met me at the gym after work. And even writing that now it makes me emotional. So I wanted to write this letter to J.D. but also share it with you, because I think it's important that you all know what an amazing support system I have.


Dear J.D.,

Thank you.

Thank you for loving me at my largest.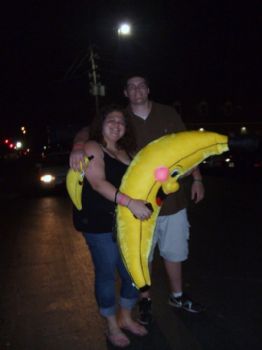 By loving me at my largest, you loved me when I didn't love myself. I know that my insecurities and my lack of self-esteem led to problems. I was so jealous, and so scared that you would fall out of love with me, due to the way I looked. I was so frightened that eventually, you would realize you were out of my league and just leave. But you never did. You stayed with me through many unsuccessful diets.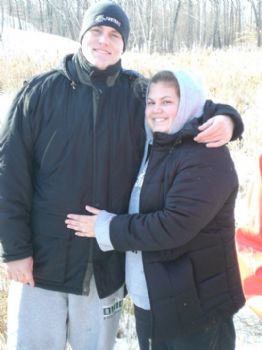 You always tried to help in any way that you could whether that was gently asking if I really wanted that extra helping, or inviting me to work out with you, you tried very hard to help me,long before I was willing to accept the help. But you never gave up on me, even when I gave up on myself. And for that I can't thank you enough


When I finally found SparkPeople, and got into a groove, you couldn't help but tell me how proud you were. You were constantly commenting on my weight loss and mentioning how light I was every time you picked me up.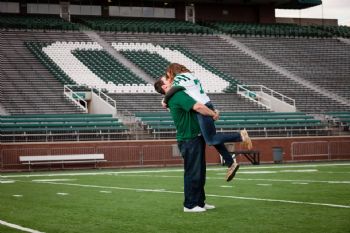 And you weren't just picking me up literally, though you do enjoy that.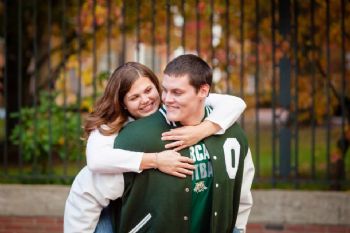 You pick me up from my lowest of lows. When I've had a bad day eating, or a day when I don't want to go to the gym, you pick me up and make me better. You make me a better person. You've been along for 6 and a half years of this roller coaster and I feel so lucky to have found you so early in life.

You've shared in so many of my triumphs. You proposed the weekend of my half-marathon, and yesterday, you ran your first 5-mile Turkey Trot with me and your mom and sisters.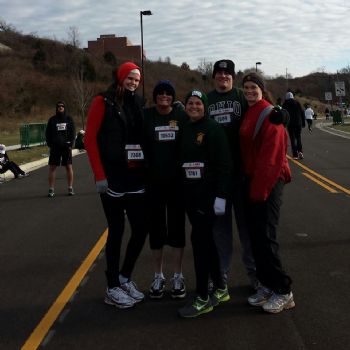 On a day where we reflect on what we're thankful for, I'm thankful for so much. I'm thankful for my wonderful family. I'm thankful for SparkPeople and finally gaining control of my life and becoming a healthier happier person.

And I am so incredibly happy to have you in my life J.D.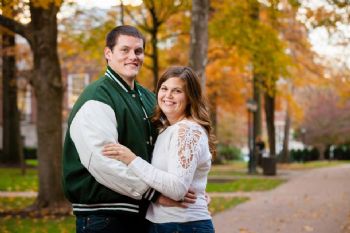 You are the best thing that has ever happened to me. And I'm so glad I get to spend the rest of my life with you.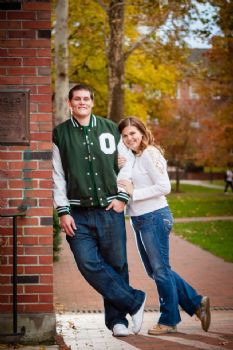 Thank you for your love and support, J.D. You're stuck with me forever.








Monday, November 25, 2013
This weekend, I went shopping for some new work clothes because my size 14 and size 12 dress pants have gotten a little baggy and saggy.

Well, I'm still a bit of a negative Nancy because when I take things off the rack, I almost always preface it with "I doubt these will fit."

Well, I ended up with 4 pairs of size 10 pants. TEN! I'm almost into single digit clothes!

And I bought a large shirt that doesn't buckle at the bust line, which is crazy!




Sorry for the bathroom pic. I was in a rush to get to work this morning, otherwise I would have taken the pic at home.

I gained one pound over the weekend, but it was my dad's birthday, and we ate out and had cake and ice cream. And it was funny because the next morning, I almost felt hungover. My body isn't used to eating crappy food anymore and I spent the majority of the weekend trying to recover. It just goes to show that this is truly a lifestyle change because even my body is rejecting high-sugar, high fat, unnecessary food.

I think Thanksgiving will be much easier because turkey, green beans, potatoes, salad, and all that jazz is all okay for me to have. And one slice of pie won't kill me either, especially after the 5-mile Turkey Trot that morning.

I hope you all had a great weekend!



1 2 3 4 5 6 7 8 9 10 11 12 13 14 15 16 17 18 19 20 21 22 23 24 25 26 27 28 29 30 31 32 33 34 35 36 37 38 39 40 41 42 43 44 45 46 47 48 49 50 51 52 53 54 55 56 57 58 59 60 61 62 63 64 65 66 67 Last Page

Get An Email Alert Each Time BOBCATGIRL76 Posts