| | |
| --- | --- |
| | BOBCATGIRL76's Recent Blog Entries |


Friday, March 07, 2014
Dearest Sparkfriends,

Yesterday was a stressful day for me, and I was feeling a bit exhausted. But all it took was one look at my SparkPage and the amazing wall posts, and comments on my photos and blogs to almost bring tears to my eyes.

You all are such a wonderful and positive part of my life. Although I've only met a few of you in real life, my friends on SparkPeople give me so much drive and desire to succeed that I'm not sure what I would do without all of you. I feel like you all have really gotten to know the true me, who I am and who I've always been, no matter what weight I've been. The love and support you provide on a daily basis is such an amazing gift and I'm so thankful.

So I've been toying with an idea. While I obviously can't invite my 1800+ SparkFriends to my wedding, I'm trying to figure out if there is a way to live stream my reception on here! You all have been with me through my dating and engagement and now I'm getting married and still want you all to be a part! There are services that are quite costly that can do it live, but I'm also looking at posting it possibly on YouTube so y'all can watch at your leisure. It may seem crazy to some people but if I can figure out how to do it (without infringing on copyright or some other weird obstacles) I'm going to. Because y'all mean so much to me.

I'm also currently in a contest to win all my invitations, programs, thank you notes...etc. for free. Please don't feel at all obligated but if you don't mind and have a facebook account, you can vote here.

www.facebook.com/DiscoveringDimples

This is my Facebook Fitness Page and feel free to like it too! The first wall post is for the contest.


You can vote once every day, until March 17. So only ten more days. We only have to be in the top 50 to get to the judging round, and currently we're #20! Woohoo! Again, please don't feel obligated to vote at all. I'm hoping we have enough votes now to remain in the top 50 for the next 10 days. I'm just hoping that if we were to win, and save around $500 we could pay for the live stream and that would just be AWESOME!

Plus this pic is such a good representation of our journey. In this pic I finally felt small enough that JD could pick me up without me worrying about hurting him. Our lives have revolved around football and our school and heck I'm BOBCATGIRL76! Haha.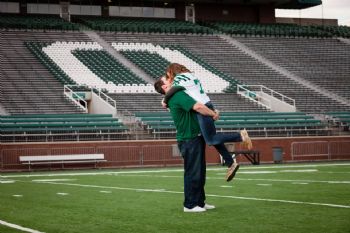 Basically, I just wanted you all to know how much you mean to me. I will never be able to thank you all for all your positive support. Each time one of you tells me I'm an inspiration or I give you hope, you just give me all the drive to keep going on this journey.

Wow, I'm a mushy ranter today. This is what you do to me, Sparkfriends.

I love you.









Wednesday, March 05, 2014
After a lot of research as well as soul searching, I've decided to change my goal weight to 155. At 5'8" with a large frame, I think I would have really been pushing it to get to 145.

Plus, when I had my bodpod test done a few months ago, it told me that 129 pounds of me was lean mass, meaning my bones, organs and muscles weighed 129 pounds. If I was 145, that would put me at 11% body fat which is just unrealistic for me to achieve or maintain. So, I've decided that my goal weight is 155 and when I get to that point then I may reevaluate if I want to go any lower.

I'm also excited because this week is J.D.'s spring break, so he is going to come to the gym with me today, and help me start a lifting routine. I've been reading my book The New Rules of Lifting for Women, and I think it may definitely help with my plateau. I'm prepared to see some type of gain due to water retention and muscle development, but I think the inches and clothes fitting better will make up for it.

I feel better about 155. It seems like I can do it. It's put me in a more positive mindset. And I changed it because of supportive SparkFriends and articles here on SP.

So thank you all for letting me know it was okay to reevaluate my goals.





Tuesday, March 04, 2014
And what did you learn?

The question asked by parents or teachers when a child does something wrong and learns a lesson from it.

This weekend was my good friend's bachelorette party and bridal shower, and being one of her bridesmaids, I was with her the whole day Saturday.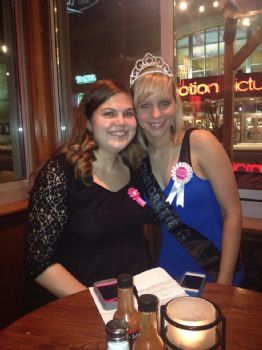 As part of this journey, I've always said that I wanted to be able to celebrate and live a normal life, not be so strict that I was constantly reminding myself of rules and not having any fun. Well, we went out this weekend and had a great time, and I celebrated and enjoyed the bridal shower and bachelorette party, but Sunday morning, the scale looked back at me and said "And what did you learn?" in a nice 189.6 staring back at me. After being at 184.6 Saturday morning.

I know I didn't gain 5 pounds overnight, but now I have to work harder just to get back to that 184.6 rather than being that much closer to my goal weight.

It's very frustrating trying to balance having fun and living a normal life, and being truly 100% dedicated to weight loss. I love food, and I'm always going to. I just need to try and minimize the celebrations for the rest of the year until I reach goal weight. Once there, I know that I can stay within 5-10 pounds of that weight as long as I work hard. But I just need to focus for right now. If I don't I'll probably be in this 180 range for the rest of my life. There are worse things I know, but I just want to say I reached my goal.

Anyways, drinking water and working out all week and hoping to see that 184 again on Saturday when I weigh in.

Hope you're having a good week Sparkfriends!





Friday, February 28, 2014
After some research as well as some days of exhaustion, I've decided to try calorie cycling for the month of March.

One thing I love about SparkPeople is how much knowledge I've gained by reading articles and friends' blogs. I knew nothing about my Basal Metabolic Rate before joining, but now understand so much more about how my body works and how many calories are required for my body to function correctly.
( www.sparkpeople.com/resource/fitness
_articles.asp?id=385 )


Because of that knowledge and my year and a half long plateau in the 180s, I began to question if I was eating enough for my new work out routine. I've been working out for almost an hour 4 times a week. When I used a BMR calculator I found online (google it) it told me by BMR was close to 2500 calories a day. Meaning to maintain my weight, I should eat 2500 calories. Well this just shocked me, because I've been religiously eating between 1400-1800 and have been plateauing. But taking into consideration my workouts that sometimes burn 800 calories, I realized that it is possible that my body is going into starvation mode.

You see, while I'm eating 1800 calories, if I burn 800 in my workout, my body is trying to survive on 1000 calories a day, when it needs 2500 maintain. If this was actually working and I was at a 1500 calorie differential for even 5 days a week, I'd be losing over 2 pounds each week. But since I seem to be plateauing, I think my body may be holding on to all fat and nutrients because it thinks I'm starving or something.

So I decided to research Calorie Cycling. The concept behind this is your metabolism can never fall into a pattern because some days your eating at a higher calorie range and others you are eating at a much lower range. www.rd.com/health/healthy-eating/los
e-weight-with-calorie-cycling/

So after using the Calorie Calculator : I've decided to Calorie Cycle for the month of March. If I see good results, then I'll probably keep doing it until I'm at goal. If I don't, hey what's one more month in a plateau right? www.freedieting.com/tools/calorie_ca
lculator.htm

My current schedule will be as follows:

Saturday- 2047 cals
Sunday- 1861
Monday- 1861
Tuesday- 1489
Wednesday- 2233
Thursday- 1861
Friday 1675

Definitely doesn't seem too bad at all. I haven't eaten over 2000 calories without it being a binge in a long time, so eating nutritious and good food to get to that will be new to me.

All I know is Albert Einstein was right. Insanity is doing the same thing over and over again and expecting different results. Maybe when I was 275 pounds, cutting calories and light exercise was my key to the first 90 pounds. But now that I'm an athlete, exercising 4x a week, I need to change my plan up to see if something else can work for me now.

Anyone want to join me in March Madness? Calorie Cycling for 31 days? Who's with me?







Wednesday, February 26, 2014
Last night, I went and visited with some of my mom's friends. They are great women and are always a great time. When I walked in, they both said "Look at you skinny mini!" And ranted about how great I looked.

Now, I've never really been one for compliments. Back when I was 275 pounds, it was because my self-esteem was so low and my self-image so negative that I thought they were saying whatever they were saying to try and make me feel better. That I couldn't possibly deserve their praise.


And even now, I still have a hard time accepting these compliments. My mother's friends both thought I was at goal weight and were shocked when I said I was around 185 currently, the same weight I've been for almost a year and a half. And they were simply shocked, thinking I was much lower than that and couldn't believe I still want to lose 40 more pounds.

And I've written so many blogs about this situation, but I just don't know when it will finally click for me that I'm no longer that 275 pound girl that I once was. I see her every now and again when I have a minor pig out. But the fact that I start the next day anew with a new effort to stay on track and exercise should prove to me that I've changed so much since then. I need to believe that I'm worthy of these comments and compliments.

I've never really thought I was a beautiful girl, and that's probably because I grew up in the 90's and 2000s and we all know the media has completely changed and defined beauty in an unrealistic way. This isn't meant to be a "woe is me" blog that leads to a bunch of comments telling me how pretty I am, so please know that is unnecessary. I've just never really been satisfied with how I look and maybe that is just the plight of the woman these days. Maybe we will never be satisfied no matter what size, shape, weight, hair color, etc. just because we are trying to achieve an unachievable perfection.

Maybe I need to find a self-help book. Or talk to a counselor about how to reset my mind and the way I think about myself. I've already started to value myself more. I would have never dedicated myself to this journey of health if I didn't realize I was worth it. But I just need more positivity and happiness with who I am right now, and less worry about who I'm still trying to be.

But when I opened my email this morning, I found my professional headshot that was taken for my new job. And a huge smile came across my face, because I just thought I looked great. No asterisks or disclaimers, I took an awesome picture and like how I look. I've grown to appreciate my chubby cheeks and dimples as just part of being me. And I'm so thankful to be able to take normal pictures and be pleased with the results.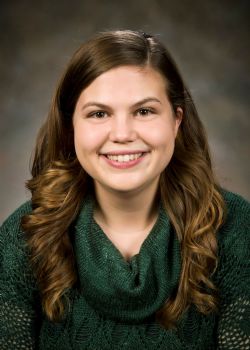 Keep smiling Sparkfriends!



1 2 3 4 5 6 7 8 9 10 11 12 13 14 15 16 17 18 19 20 21 22 23 24 25 26 27 28 29 30 31 32 33 34 35 36 37 38 39 40 41 42 43 44 45 46 47 48 49 50 51 52 53 54 55 56 57 58 59 60 61 62 63 64 65 66 67 68 69 70 71 72 Last Page

Get An Email Alert Each Time BOBCATGIRL76 Posts