| | |
| --- | --- |
| | BOBCATGIRL76's Recent Blog Entries |


Monday, July 28, 2014
So a while back, I wrote a blog about going to a concert and almost being denied because I no longer resembled my driver's license. Well with my 25th birthday just 8 days away, I decided to go and get my license renewed because I'd done my hair nice this morning.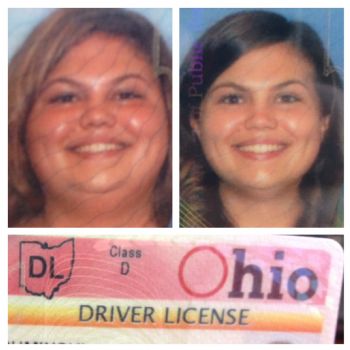 I've come so far, and am so much closer to my goal than I've ever been. I even had them lower my weight to my goal weight.

Last night, I ran a 5k in my neighborhood in 32:07. I'm hoping that at some point in my life I'm going to break 30 minutes, but the only way that's going to happen is if I keep trying. I've been in the 31-32 minute range for a while now. I can run one mile in under 8 minutes but I just don't have the endurance yet to sustain that speed over 3.1 miles.

As for Whole 30, I have hit a point they sometimes call "food boredom" where I'm not really hungry or desiring any food, but I still plan to eat my three meals a day. This morning I had eggs with proscuitto cubes, and for lunch I'm having roast beef, cauliflower, and applesauce with blueberries. I plan to make spaghetti squash with meat sauce for dinner.

Eating whole foods isn't nearly as hard as I thought it would be. For anyone considering Whole30 but unsure of the restrictions, I'll tell you what the book says. ANYONE can do ANYTHING for 30 Days. And battling cancer is hard, beating a drug addiction is hard. Drinking your coffee black and avoiding certain foods for 30 days is something you are totally capable of, you just have to be willing to put your mind to it.

I lost my first 90 pounds by tracking my calories and eating what I wanted. But there is no doubt in my mind that dining on 100 calorie snack packs and fat-free artificial sweetener loaded foods did not improve my health. Yes, I lost weight, but by putting a whole bunch of unnatural processed foods and chemicals in my body. I can honestly say I feel so much better eating fruits, veggies and organic proteins, than I did 22 days ago. So I hope some of you that are on the fence realize that you ARE capable of this. It's just 30 days.





Sunday, July 27, 2014
I had a successful weekend celebrating J.D.'s grandmother's 85th birthday. I packed a ton of fruit, and cashews. I bought some more hard boiled eggs and ate green beans and potatoes at dinner.

And I did go fishing and put a worm on the hook. I even caught two bluegills! And J.D. didn't catch a thing! I almost felt bad.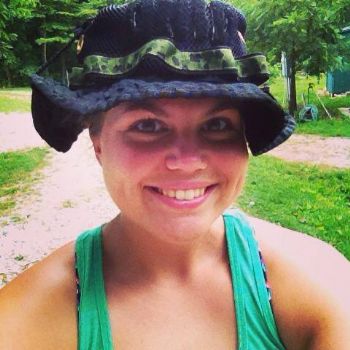 After fishing, we headed back to the hotel to shower before the birthday party. I decided to run a mile on the treadmill, just to see if I could get close to under 8 minutes like I did outside last week. And this was the result...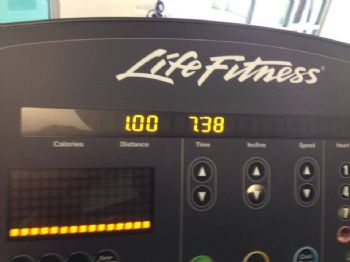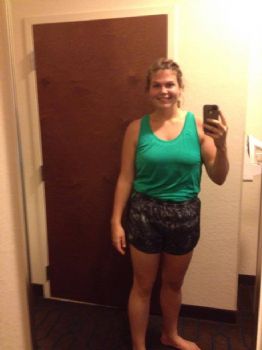 I was a sweaty mess but I'm beginning to realize that just like my mind has control over my food, my mind has control over my body's ability to exercise. Most of the times I slow down it's because my mind is thinking "Man you're breathing hard, your calves are kinda hurting. Give yourself a break." But when I decided to go as hard as I can at 8 mph on the treadmill, I ran a mile in 7:38!

And today is the end of Day 21. Which means I've done Whole30 for 3 whole weeks!

I am so flattered with all of you who have been telling me you are starting your own Whole30 experiences because of my blogging! I'm so happy to be able to share my experiences especially if they help some of you also make healthier decisions. I'll be very interested to hear about all of your Whole30s.






Friday, July 25, 2014
I'm lazy. Not in the I don't like to exercise way, but in the I don't like to meal prep way.

Before Whole30, I was a ranch dressing abuser. Carrots, cauliflower and broccoli were not safe around me if I had ranch dressing.

But now that I'm not using ranch dressing, it is incredibly hard for me to eat plain raw carrots, cauliflower or broccoli.

I know what you're thinking. So cook them Jan-Marie!

But this is where the laziness comes into play. The whole getting the pots out and the steamer basket thingy, and filling with water, and waiting for the water to get hot, and then having to wash all those items...I just don't want to do it!

But I also realize that only eating fruit because it's ready to eat and something I love was not giving me the entire Whole30 experience and that I really need to work more veggies into my diet.

So while shopping at the store last night, I decided to buy some Frozen Steamers, you know, the bags with frozen veggies that you just plop in the microwave and nuke for 6 minutes!

LIFE CHANGER!

Okay not really. I've had microwaved veggies before. But the ease of microwaving the vegetables this morning, while I was making my breakfast meant I had a veggie filled lunch! As well as a veggie filled dinner last night.




So while I may be spending a few extra dollars for pre-cut frozen veggies to come in a steaming bag, I'm so much more likely to eat veggies now, that I think it's probably worth it.

Also, I've never before yesterday just eaten lunch meat like it was a main course. It was shredded in a salad or on a sandwich. But roast beef is great on it's own!

The point is, yes, I am sometimes lazy when it comes to meal prep. But I'm worth the few extra dollars to ensure I'm eating what's best for me.

Have a great weekend Sparkfriends! I'll be sure to post pictures from J.D.'s grandma's birthday! J.D. said I'm going to have to learn how to put a worm on a fishhook this weekend. I somehow survived 24 years of life without knowing how to do that, so I'm hoping I can survive these next few days too...








Thursday, July 24, 2014
Don't Worry! I didn't ruin my Whole30!

But I did have a moment of panic this morning. About 15 seconds after turning on the stove to heat up my pan for my scrambled eggs this morning, I heard a loud boom and my house went dark. I turned around to my dad sitting at the kitchen table and muttered..."stupid squirrels." We frequently lose power due to our transformers blowing, due to squirrels on the wires. Well that little guy gave his life, and in the process, prevented me from fixing breakfast.

I hurried and packed my lunch, which is basically a bunch of fruit, and the chicken and apple sausage I didn't eat for breakfast that I'm going to try making in the microwave. It's fully cooked so I don't think it should be a problem.

And then I headed to Kroger to find something for breakfast. And this is what I ended up with.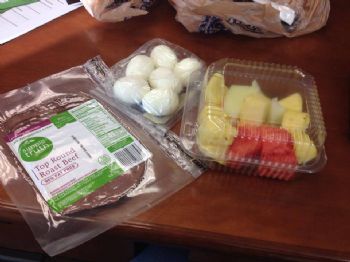 Any other morning, I would have just had cereal, or a peanut butter and jelly sandwich. But instead of taking the power outage as an excuse to stray from Whole30, I went to the store and made it work. And I'm glad I did!

Though I will tell you that hard-boiled eggs from the store are no where as good as homemade. Not sure why, but I still ate them.

Now if I could just get rid of these stupid fruit flies in my office. I guess I eat too much fruit.






Wednesday, July 23, 2014
Wow! Thanks for all the suggestions on my last blog about our honeymoon.

With J.D. still in the job search, we are going to hold off on booking anything right now since we don't know how much time he'll be able to take off after the wedding if he's in a new job.

But we researched many of your suggestions last night and are excited for our options. Even if we don't get to take our honeymoon this November, we've decided that if we have to wait a year to be able to take a decent amount of time and enjoy ourselves (as well as save up, since we aren't made of money right now) that will be completely fine.

We will be going to J.D.'s grandmother's birthday party this weekend in Indiana. It should be a fun trip and I plan to make a stop at the local grocery store in Indiana to make sure I have food for the celebration. A few of J.D.'s cousins eat a paleo diet, so there also might be a few options if they bring anything to the potluck.

Today I realized there are only 115 days left until my wedding and only 13 days until my 25th birthday. I weighed in this morning at 178.0. The greatest birthday gift that I'm really hoping to give myself is to be at my lowest weight ever. Which would mean weighing in at anything lower than 174.8, so a loss of 3.4 or more in the next two weeks. I'd hoped to be in the 160s by my birthday this year, but I didn't put in the effort I needed to reach that goal. But I know I'm going to reach the 160s this summer because my wedding is such a HUGE motivator.

The closer it gets, the easier it is to focus on making great choices in the food and exercise department. I need to figure out when I want to get my dress fitted because I'm still hoping to lose at least 20 more pounds before the wedding. I see the extra weight in my arms mostly, and my thighs. But you won't be seeing my thighs in my wedding dress! So the workout focus is going to be on my upper body. I still love doing squats and lunges so I'll keep doing those too, don't worry!

Hope you all are having a good week!



1 2 3 4 5 6 7 8 9 10 11 12 13 14 15 16 17 18 19 20 21 22 23 24 25 26 27 28 29 30 31 32 33 34 35 36 37 38 39 40 41 42 43 44 45 46 47 48 49 50 51 52 53 54 55 56 57 58 59 60 61 62 63 64 65 66 67 68 69 70 71 72 73 74 75 76 77 78 79 80 81 82 83 Last Page

Get An Email Alert Each Time BOBCATGIRL76 Posts